Have you ever been to the beautiful Rainbow Beach Queensland Australia area?
If not why not? It is probably the most spectacular, adventurous, and unique untouched destinations in Australia!
Trust me I have been all around this sunburnt country and not much compares.
Rainbow Beach is well discovered nowdays but if you can visit out of holiday season you may have it to yourself!
Why is Rainbow Beach Called Rainbow Beach?
Rainbow Beach Queensland Australia is situated in the Wide Bay–Burnett, east of Gympie.
The town's name derives from the rainbow-coloured sand dunes surrounding the small town which are rainbow in colour. Put some in a glass jar and you will see what I mean.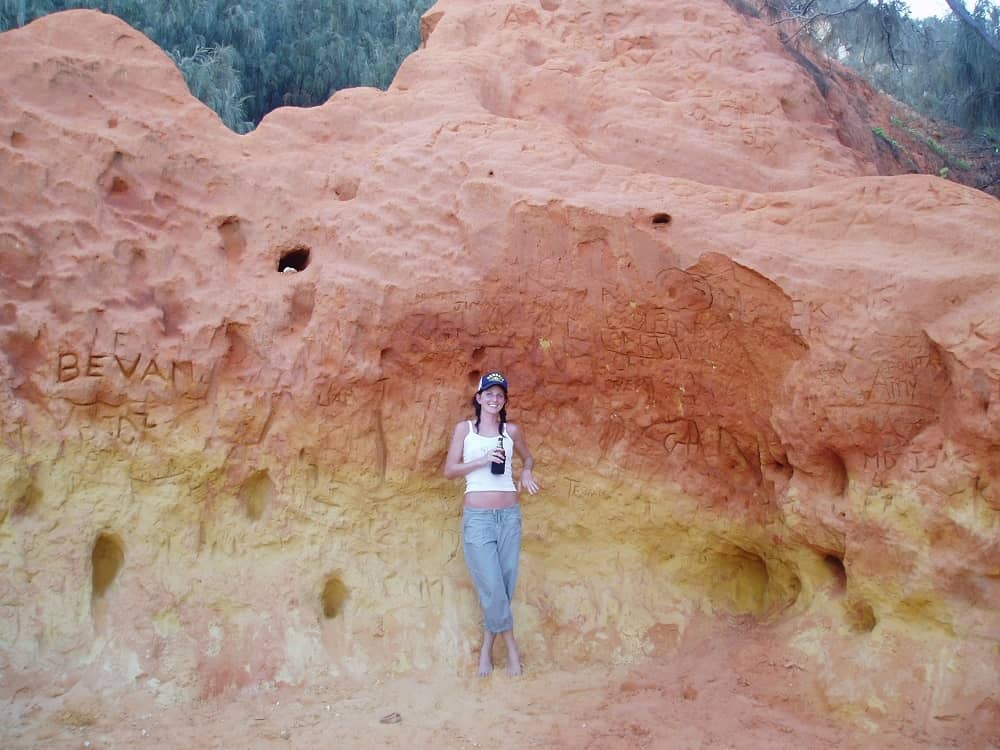 The Amazing Cooloola section of the Great Sandy National Park borders the town to the south. You can see the sand dunes from the town.
Is Rainbow Beach Queensland Australia Worth Visiting?
No! Stay away from this secret patch of paradise! Just kidding, it is no longer a secret place, so go enjoy yourself and get amongst it. Just on one condition, look after it ok!
Rainbow Beach Queensland Australia Things to Do!
There is so much to do in and around the Rainbow Beach area such as:
4wd along the beach to Inskip or Double Island Point
Visit the coloured sands
Fraser Island day trips
Try sandboarding
Visit the Carlo Sand Blow
Go kayaking, surfing, sailing, Sup or swimming
Try and catch a delicious fish along the beach
Diving
Fishing charters
Horseback riding
Golf
Restaurants and fine dining
Pubs and bar hopping
Relaxing and just kicking back
Camping on the beach at Inskip or Double Island point
Walking/hiking to explore the lighthouse
Helicopter flights
Whale watching
The list goes on and on…
Look on this map at the main attractions to give you a good bearing of it all.
Where is Rainbow Beach Queensland Australia?
Rainbow beach is located just south of the famous Fraser Island, 100 Kilometers East of Gympie, and 20 kilometers north of the Great Sandy National Park (Double Island point)
This little quiet town is basically the starting point for Fraser Island tours, Inskip point camping areas, and access to Double Island Point.
If you are coming from Brisbane, it is 240.6 kilometers north (2hrs 56min drive). Just plug in Rainbow Beach Queensland into your phone and follow.
Here is a location map to follow below.
You can access Rainbow Beach Queensland two ways! Either from beautiful Noosa region straight up the great sandy straight or via the mighty Bruce Highway.
Option 1 – Great Beach Drive (Noosa North Shore)
This option is a must and so much fun! We just went up the other day. To access the Noosa North Shore just head north from Noosa through Tewantin and follow the signs.
You need to cross over a river via a ferry to access the beach. (Hot tip!! The ferry only takes cash and it is $8 dollars!)
Once across follow the road and head to the beach. Let those big 4WD tires down before you go onto the beach and make sure it is around low tide.
We only let our pressures down to 20PSI because the sand is quite hard on low tide.
Now just head all the way up to Double Island point, cross over the headland to Rainbow beach bay and keep driving to the township of Rainbow.
This way takes about 2 hours from Noosa.
Option 2 – Drive up the Bruce Highway Turn to Rainbow Beach Queensland Australia
Depending on where you are coming from you will have to turn off at Gympie and follow the Tin Can Bay signs.
These signs will take you to Rainbow, (Approx 1.5 – 2 hours from central Sunshine Coast Area.
Can you Get to Rainbow Beach Without a 4wd?
Yes you can! Just take the highway option it is all sealed. Take the Bruce Highway to Gympie then take the turn off to Tin Can Bay / Rainbow Beach.
Do You Need a Beach Permit for Rainbow Beach?
Definitely! New rules rolled out a couple of years ago to keep the numbers down at Double Island Point and Rainbow Beach.
For the Great Sandy National Park driving permit, it costs $50 dollars for 7 days per vehicle. Print out your permit and it must be displayed on your dash.
Don't get one and you could face a fine.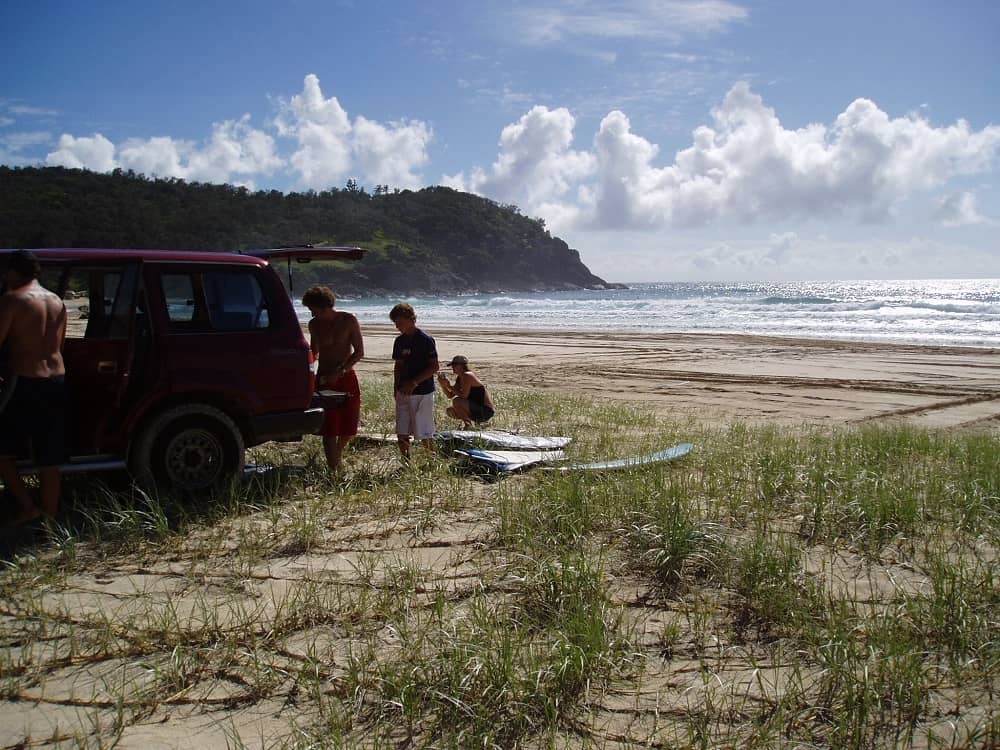 Accommodation Rainbow Beach Queensland Australia
Rainbow Beach has some excellent accommodation options no matter your preference.
Do you like fancy then we have some amazing options to suit you?
Love camping near the beach in a tent or with your big shiny caravan, they offer that too.
No matter what you enjoy you are never far from the beautiful beaches and action of Rainbow.
Here are some amazing options to suit your group size and budget:
Debbie's Place is only 150 meters from the Great Sandy National Park and 500 m from Rainbow Beach.
Rainbow Getaway Holiday Apartments is centrally located, only 5 minutes' walk from the beach, and offers 1, 2, and 3-bedroom self-contained accommodation.
This luxury resort is the only beachside resort with direct access to the patrolled Rainbow Beach in the heart of town.
Just a 2-minute walk from Rainbow Beach and close to town.
Rainbow Beach Camping
Can't afford to stay in an apartment or resort? Don't worry there are plenty of better options that are way more adventurous.
Here are your camping options in and around Rainbow beach: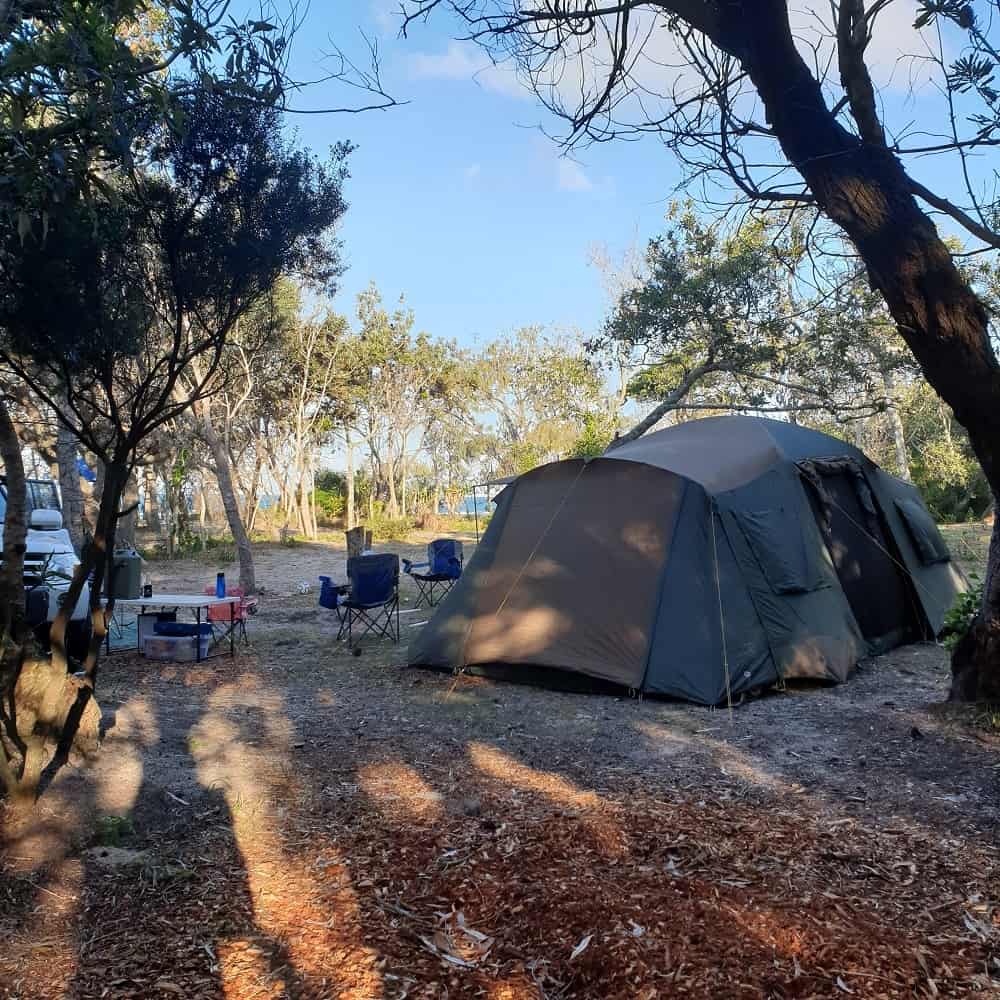 Inskip Point Camping Area
This beautiful spot is situated on Inskip point which is only 10 minutes drive from town along a sealed road.
You have a huge option of beachfront sites to choose from. These can be booked online here.
Rainbow Beach Camping
Rainbow Beach is basically a camping oasis! So many awesome spots within pretty close proximity to everything.
The closest and most popular camping area is the famous Inskip Point.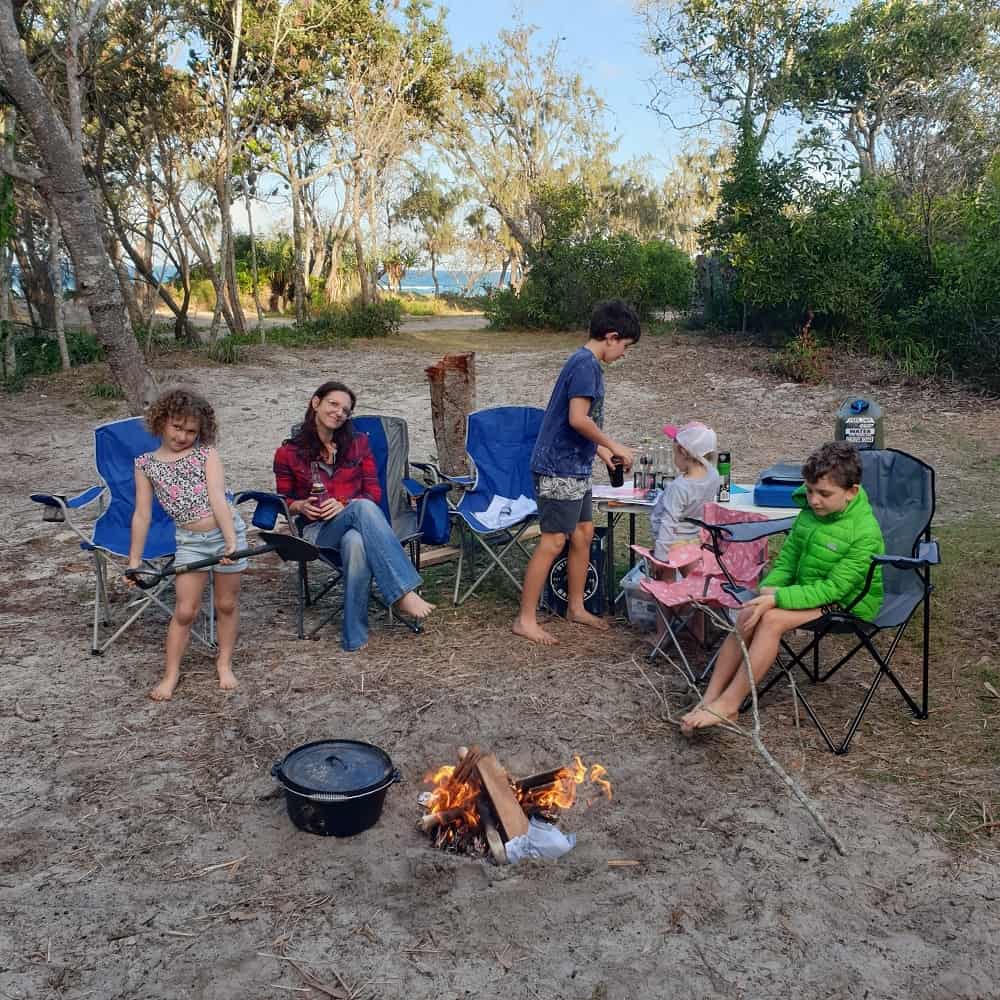 Inskip Point (Rainbow Beach Camping)
The Inskip Point Peninsular recreational area includes several top-notch camping areas that generally have sandy access.
Inskip point is only 15 minutes drive north towards the fraser Island ferry and can be accessed by any type of vehicle. (Certain sites require a 4wd!)
Camping permits for Inskip Peninsula camping areas are required before setting up camp. See the national park link here.
Inskip Camping sites include:
M.V. Sarawak Campsite
Sarawak West camping area
Beagle Campground
M.V Natone
S.S. Dorrigo Campground
Dorrigo South Campgrounds
Pelican Bay camping area
M.V. Sarawak and M.V. Sarawak West camping area
Is best accessed by 4WD vehicles
Has limited 2WD accessible sites from the bitumen road
Has limited number of sites for caravans, campervans, and camper trailers
S.S. Dorrigo camping area
Is best accessed by 4WD vehicles
Has limited 2WD-suitable camp sites near the entrance
Has a limited number of sites for caravans, campervans and camper trailers
Pelican Bay, S.S. Dorrigo South, M.V. Natone and M.V. Beagle camping areas
Are accessible by 4WD only
Are not accessible for all-wheel-drive vehicles, vehicles with low clearance, or vehicles towing trailers, boats, or caravans
2WD vehicles, camper trailers, caravans and boat trailers cannot get into every camping area.
We have tried them all and our favourite is the Dorrigo South Campground. This is on the beach, has some great tree coverage with spacious sites. (No toilet though!)
If you want the safe river side then stay up at the M.V. Natone campground area on the river side.
These areas are very popular so get in early.
Want some more adventure towards Double Island Point? Check out these amazing natural beauties!
Teewah Beach Camping (Great Sandy National Park)
This camping area is probably the best national park camping in Australia and isn't too far from Rainbow Beach. This Double Island Point Camping experience will stay in your memories forever and you will probably never want to leave.
Access can be made from Rainbow Beach or Noosa Northshore. But a 4wd is compulsory.
The camp area is set at the foothills of the Great Sandy National Park cliffs and has a mixture of shady and exposed campsites. Watch the sunrise over the ocean from your tent and feel the freedom of remoteness.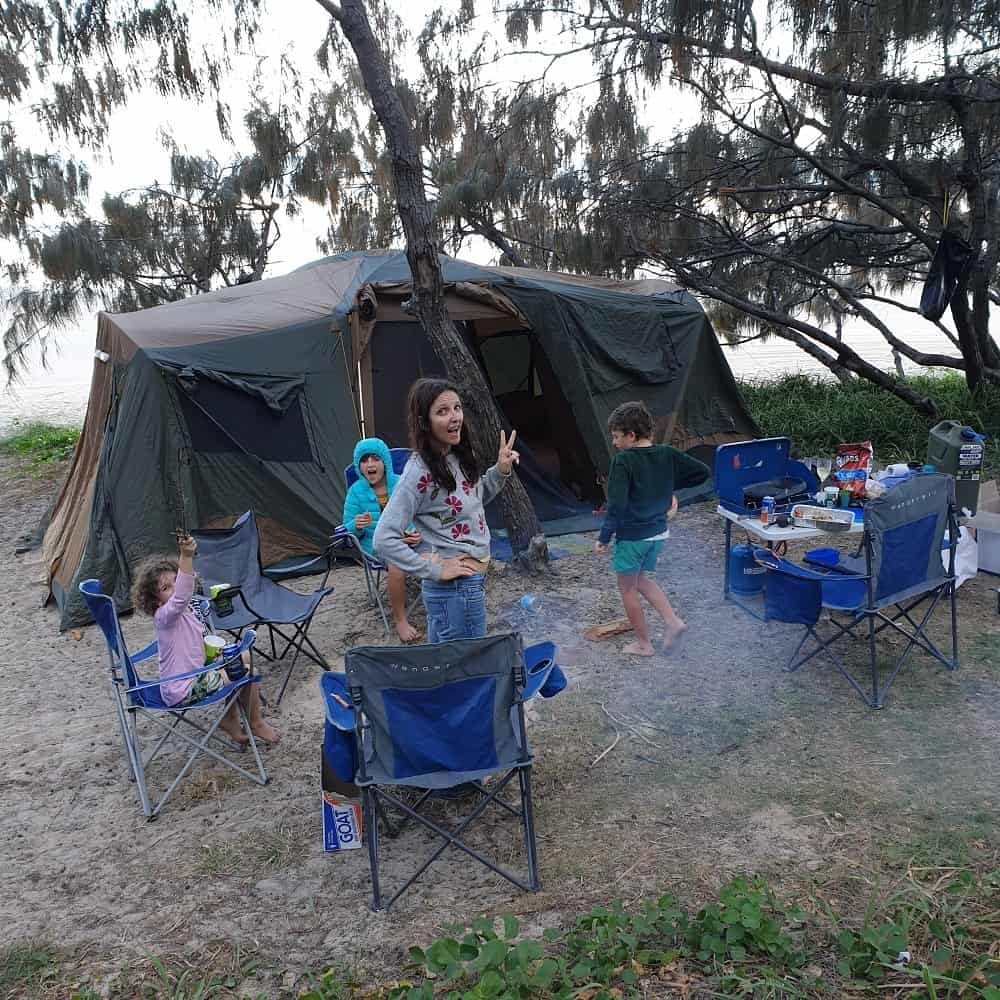 Bookings must be made prior to camping via the online booking system here.
Freshwater Camping Area
Just a short distance inland from the Teewah Beach Camping area is the Freshwater camping area. This site is nestled amongst the trees and can be accessed via the beachside and main road into Rainbow Beach.
Rainbow Beach Caravan Parks
Want to be closer to the action and town life? Then staying at the caravan parks near town maybe more for you.
Stay 5 minutes from town at the Rainbow Beach Holiday Park and enjoy a relaxing camping getaway.
With an awesome range of facilities this camping, caravan area makes a superb base for your next holiday to explore the Fraser Coast and Double Island point area.
They even cater for guests who are travelling with their dog.
Rainbow Beach Holiday Village is the perfect accommodation base for your Rainbow Beach/Fraser Coast adventure getaway. You don't even need a caravan or tent.
Situated smack bang in the middle of town close to shops, restaurants, pubs, beaches and sand blow.
Want some more adventure towards Double Island Point? Check out these amazing natural beauties!
Rainbow Beach Restaurants
We have been to Rainbow Beach quite a bit over the years and have seen it get busier and busier.
The restaurant and drinking scene has really improved over the years with so much to choose from.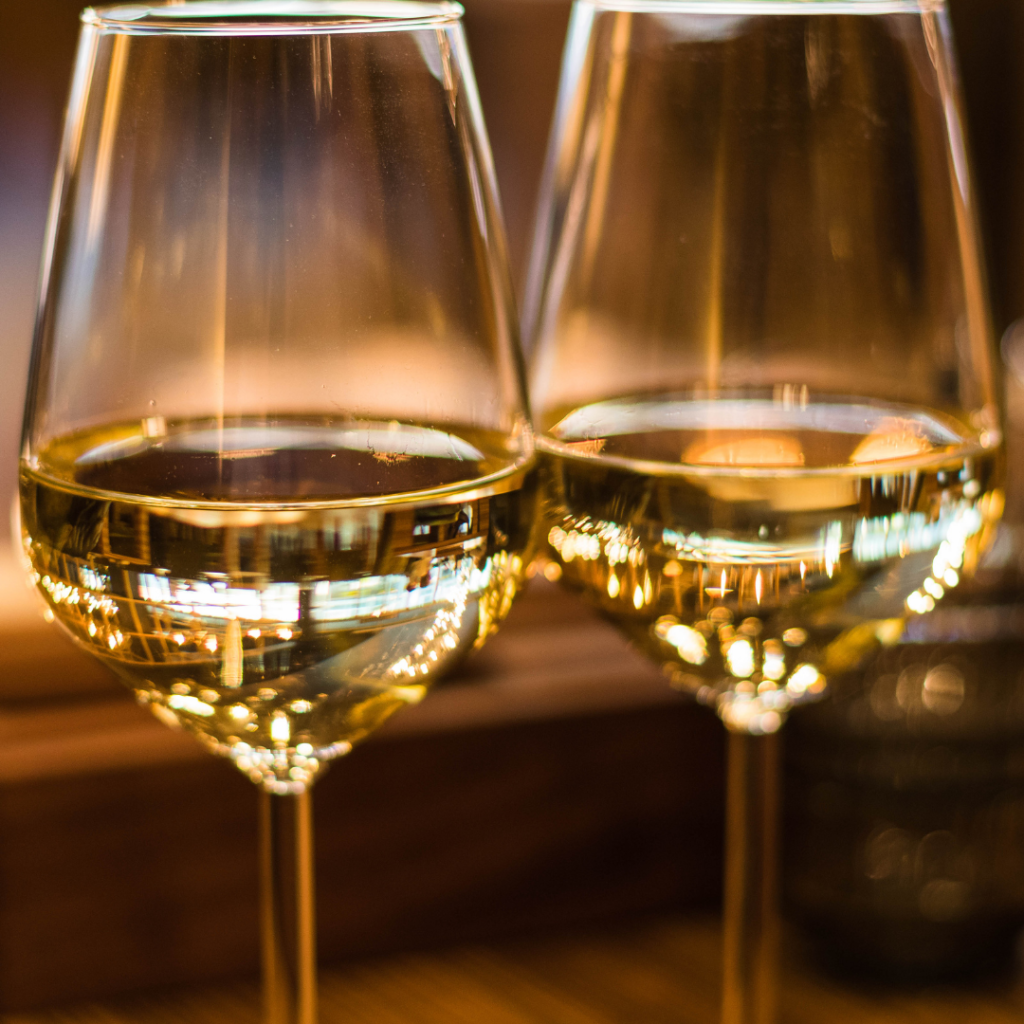 You can grab a drink and an awesomely delicious meal from many classy establishments.
Food to suit all tastes from fish and chips, burgers, fine dining, and do-it-yourself IGA supermarkets.
Here are some of the amazing places you need to try the next time you visit:
Great place with awesome views, priced reasonably, friendly locals and cold beer!
Love the classic old Queenslander feel and ambiance? Well located pub with two levels of dining. This is the place for you and probably one of our favourites. The food is amazing, the staff are super friendly and our kids loved it. Make sure you check out the hall of shame on the wall near the toilets!
Trendy is the word here and the place to get all your craft beers on tap. They serve cocktails, meals, and have a deck overlooking the ocean!
Make sure you check this place out when visiting Rainbow Beach.
Italian food experience. The staff are meant to be super helpful, courteous & a pleasure to deal with.
Rainbow Beach Facilities
Here is a list of the facilities available at Rainbow for your convenience:
Cooloola Coast General Practice – Rainbow Beach
Rainbow Beach Adventure Centre 4WD Hire
Lawrie Hanson Park
Rainbow Beach Surf Life Saving Club
QML Pathology
Rainbow Beach Tourist Information Centre
BP service station
Shell service station
Dingos Fraser Island 4WD Tours
Pippies Fraser Island Tours
1. Rainbow Beach Library
2. Rainbow Beach Fire Station
3. Rainbow Beach Neighbourhood Police Beat
4. Rainbow Beach State School
5. Rainbow Beach Sports Recreation and Memorial Club
6. Rainbow Beach Pool
Good Shepherd Anglican Church
The Laundry Tub Rainbow Beach
Manta Ray Barge Permit Office
Rainbow Beach 4×4 Hire
Saturn Antennas
Rainbow Cruisers
Camps Australia Wide
Rainbow Beach Hardware, Fishing, and Camping
IGA
7.Rainbow Beach Horse Rides
8.Rainbow Beach QPWS Information Centre
Rainbow Beach Queensland Australia Verdict
We love rainbow beach Queensland Australia so much that we would love to move there. It is a little piece of paradise that I hope stays the same.
Limiting the number of permits for the beach is a really helpful system so that everyone can enjoy without overcrowding. The town is simple and quite out of the holiday season. But in the busy holiday season, accommodation is scarce for latecomers.
National parks Queensland does an amazing job at keeping the whole area safe and enjoyable for all.
Our highlights would have to be checking out the Carlo Sand Blow, exploring the lighthouse at double island point, swimming and surfing at the double island point, driving along the great sandy beaches, relaxing at our campsite, and having a few drinks and a meal in Rainbow beach itself.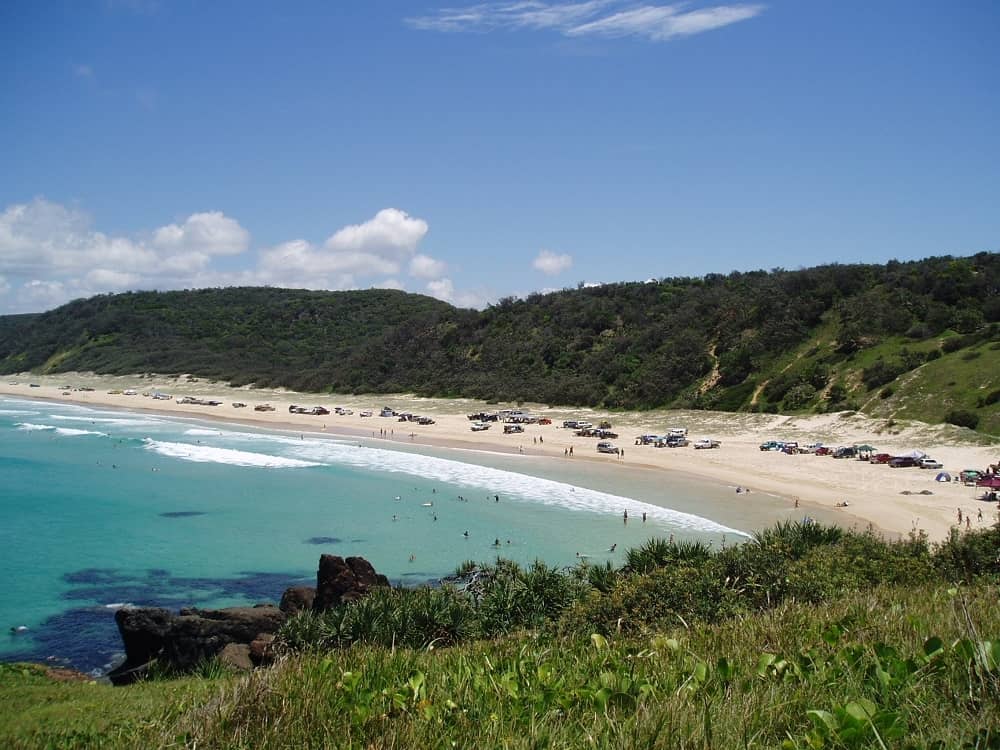 So much on offer at this little place.
You will not regret visiting the magical Rainbow Beach in sunny Queensland.
Read all about our other favourite destinations in Australia here: