Take your loved ones on a family-friendly adventure this year! Visit the sensational Inskip Point Camping Area near Rainbow Beach.
Our family loves Inskip Point Camping because it's easy to get to and has heaps to do for everyone.
Inskip Point is the main access to the famous Fraser Island via the Inskip Point Barge.
Don't let the sinkhole deter you! That has long gone and you can't even tell it happened.
The choices for camping here are enormous also. 7 unique spots in and around the Inskip Peninsular are the perfect base camp for exploring Fraser Island also and its attractions if you just want to do a day trip.
Find out everything below and get ready for a unique camping adventure that you will never forget.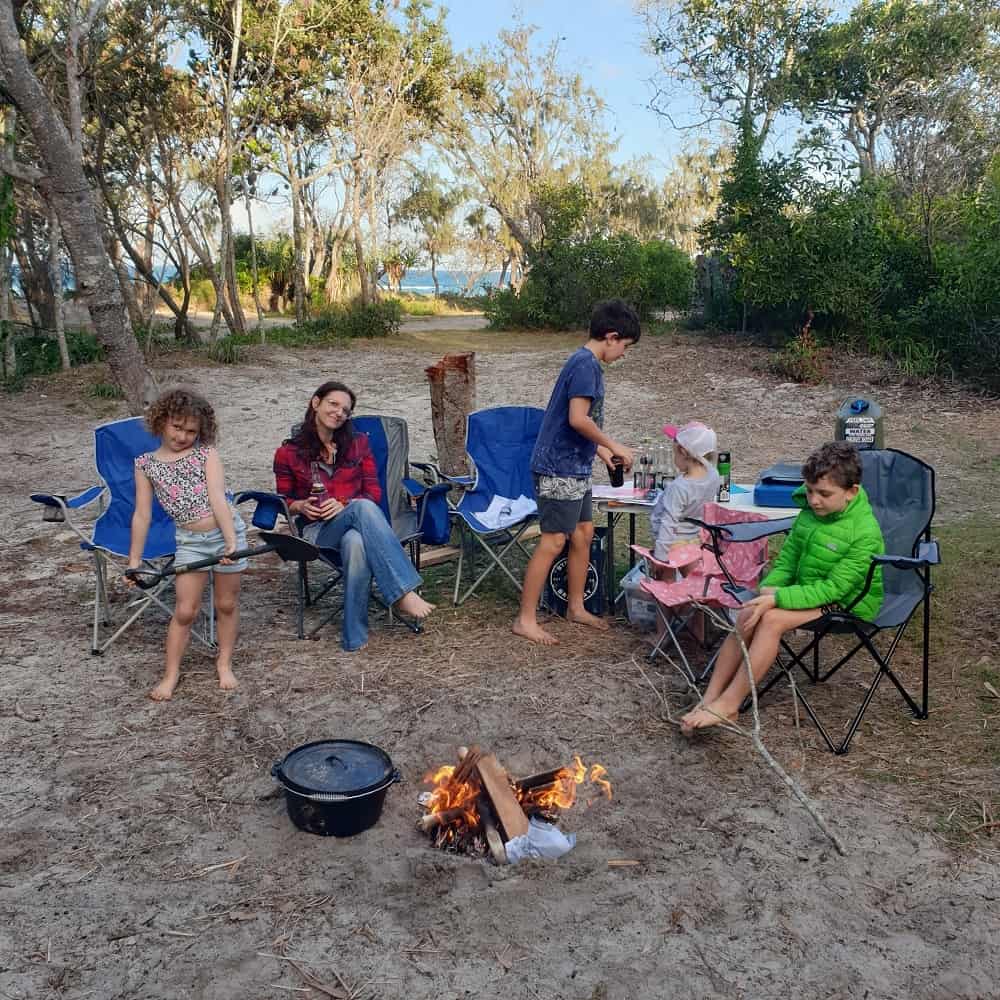 Where is Inskip Point?
Situated in the wonderful and pristine Inskip Point Recreational Reserve 19 km south of Rainbow Beach.
Fraser Island can be seen from here and this is where you catch the Inskip Point barge.
Here is the Inskip Point Camping Map below.
How Do You Get to Inskip Point Camping Area?
It can be a little confusing on your first go. It depends on where you are coming from also.
Option .1 Access from Noosa (Drive Up Beach)
If you feel like taking the beach option, you need to find the iconic Ferry that takes you across the Noosa River. (Old cable Ferry that fits around 10 cars onto it!)
Just follow the signs to Noosa North Shore Ferry (Brown signs) You will have to pass through Tewantin.
Once at the Tewantin ferry (make sure you have cash! Or you will have to backtrack. This is embarrassing trust me.
How Much is the Tewantin Ferry?
Hop on, pay your $8 dollars for a 2wd or 4wd, sit in the car for approximately 4 minutes then drive off and follow the made road. Here is a table of rates for Tewantin Ferry.
| | |
| --- | --- |
| Standard car & 4wd | $10.00 |
| Standard cars with caravans or trailers | $20.00 |
| Large Coaches | $29.00 |
| Pedestrians and bicycles | $1.00 |
Tewantin Ferry Rates
Drive to the conditions, follow the speed limit of 80km/h in general, and be aware that normal road rules apply.
Option 2 Access From Bruce Highway
Coming From Brisbane?
From bustling Brisbane, Inskip Point is about 250km. Make sure you take the turnoff to Tin Can Bay, Rainbow Beach, and just follow the signs.
Inskip Point Camping Areas
The Inskip Point Peninsular recreational area includes several top-notch camping areas that generally have sandy access.
Inskip Point is only 15 minutes drive north towards the Fraser Island ferry and can be accessed by any type of vehicle. (Certain sites require a 4wd!)
Camping permits for Inskip Peninsula camping areas are required before setting up camp. See the national park link here.
Inskip Camping sites include:
M.V. Sarawak Campsite
Sarawak West camping area
Beagle Campground
M.V Natone
S.S. Dorrigo Campground
Dorrigo South Campgrounds
Pelican Bay camping area
M.V. Sarawak and M.V. Sarawak West camping area
Is best accessed by 4WD vehicles
Has limited 2WD accessible sites from the bitumen road
Has limited number of sites for caravans, campervans, and camper trailers
S.S. Dorrigo camping area
Is best accessed by 4WD vehicles
Has limited 2WD-suitable camp sites near the entrance
Has a limited number of sites for caravans, campervans and camper trailers
Pelican Bay, S.S. Dorrigo South, M.V. Natone and M.V. Beagle camping areas
Are accessible by 4WD only
Are not accessible for all-wheel-drive vehicles, vehicles with low clearance, or vehicles towing trailers, boats, or caravans
2WD vehicles, camper trailers, caravans, and boat trailers cannot get into every camping area.
We have tried them all and our favourite is the Dorrigo South Campground. This is on the beach, has some great tree coverage with spacious sites. (No toilet though!)
If you want a safe riverside then stay up at the M.V. Natone campground area on the riverside.
These areas are very popular so get in early.
Inskip Point Camping Map
Browse below the Inskip Point Camping Map and see where you would like to camp.
Do You Need an Inskip Point Camping Permit?
The Inskip Point camping permit is a must before staying at Inskip point because they still have a limit of available camping spots.
If you plan on driving on the beach at Inskip you will also need a vehicle permit displayed on your car at all times which you can get for 1 week or 1 year.
The camping permit needs to be displayed on your tent or caravan at all times for when rangers come to check if you have paid.
If you are camping, you need to pre-book your stay online here.
How Much is a 4 Wheel Drive Permit For Inskip Point?
1-week: $50.60
1-year: $158.00
It makes sense to get the annual pass if you are planning on visiting regularly.
Your 4wd beach permit is available here.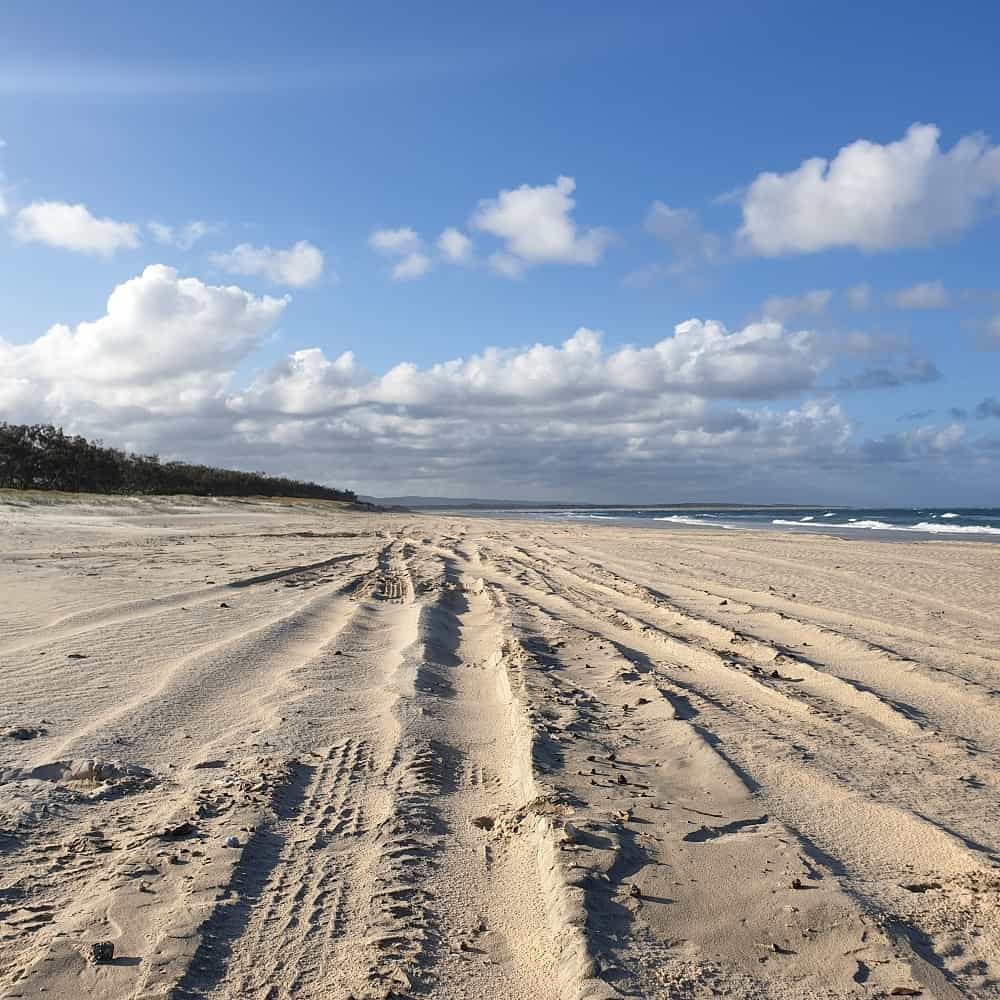 Can You Drive on Inskip Point at High Tide?
I have driven the Inskip Point Recreational Area a few times and recommend waiting for a low tide. It isn't much fun and can be a tough slow slog.
You can't drive from Inskip point to Double Island Point due to regulations, So you need to exit before Rainbow Beach drive on-road then re-enter at Rainbow Beach to get to the point.
Before driving check the Inskip Point tide charts here.
Inskip Point Tides
For up-to-date Inskip Point Tides visit Willy Weather and work out if low tide fits in with your journey time. Check tides here!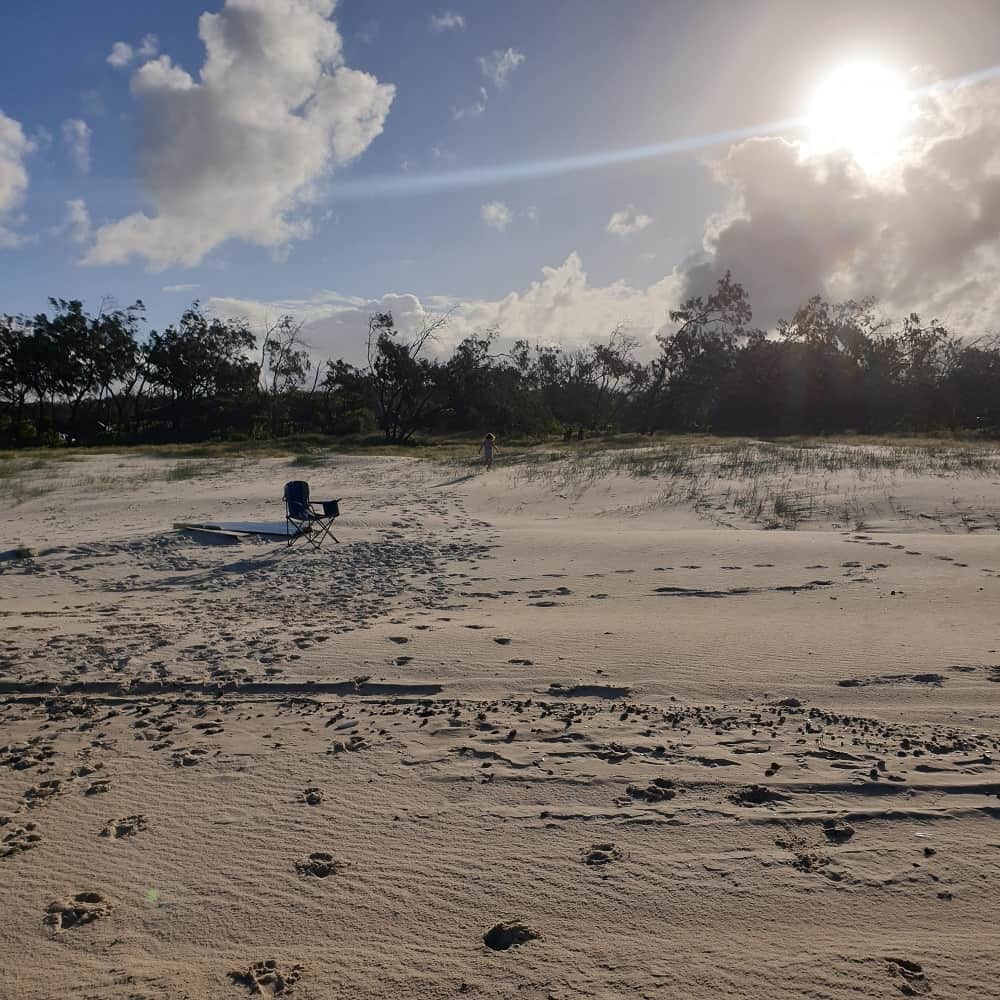 Booking Inskip Point Camping
Normal Queensland National Park Fees apply when booking Inskip Point Camping, except for the Dorrigo South Campground. This is not a national park area. There are only a limited number of campsites so first in best dressed applies here.
Choose the site you prefer here! Print out your Inskip point camping permit booking form and bring it with you in a protective sleeve.
Grab a spot and enjoy your stay!
We personally like the first camping areas because they are a little quieter and secluded and closer to the ocean main beaches. Campgrounds closer to the ferry tend to be busier and are on the river mouth side.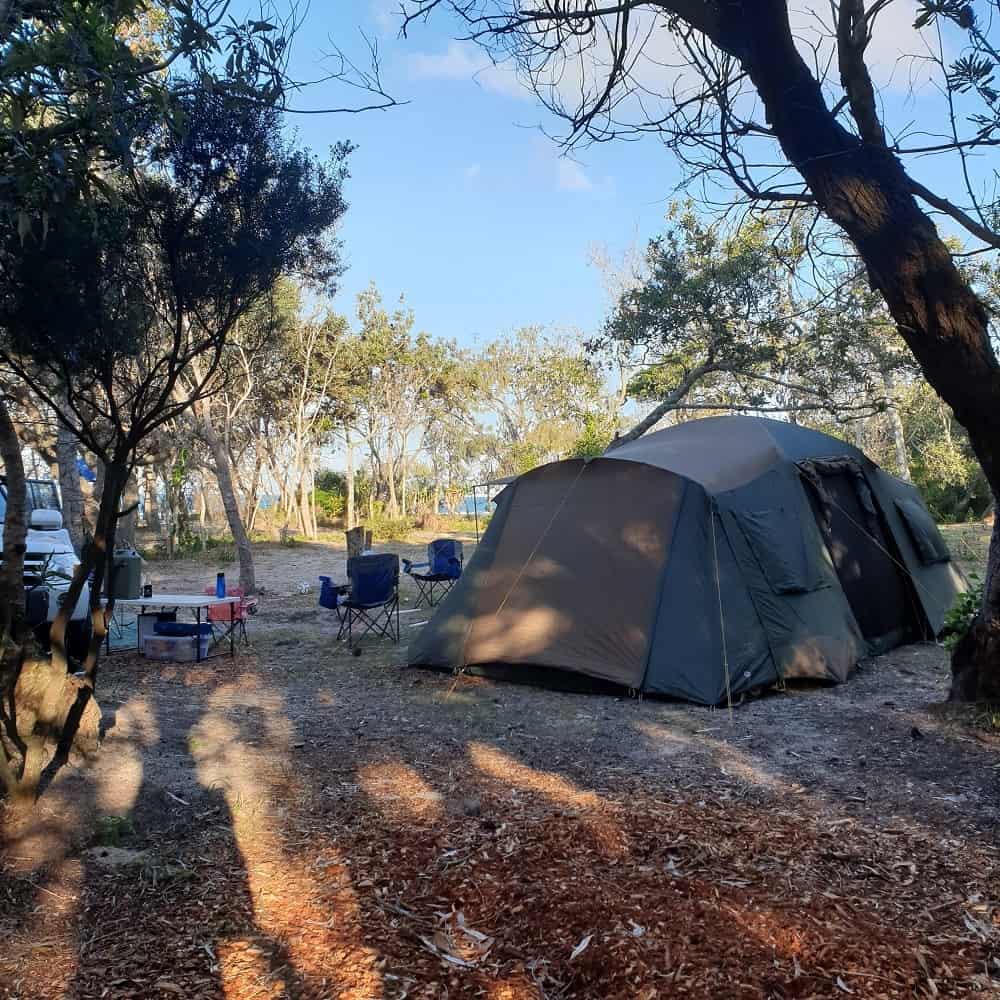 Inskip Point Camping Fees
Visit the National Parks Website to make your booking here!
Here are the Inskip Point Camping Prices:
$6.65 per person per night, or $26.60 per family per night;
$3.65 per person per night for students and accompanying adults on approved educational excursions.
Family rate
A family is 1 or 2 adults and accompanying children under 18 years.
The family rate applies to a maximum of 8 people in total.
Free of charge for children under 5 years.
Book your campsite online, in advance at QLD National Parks Booking Service.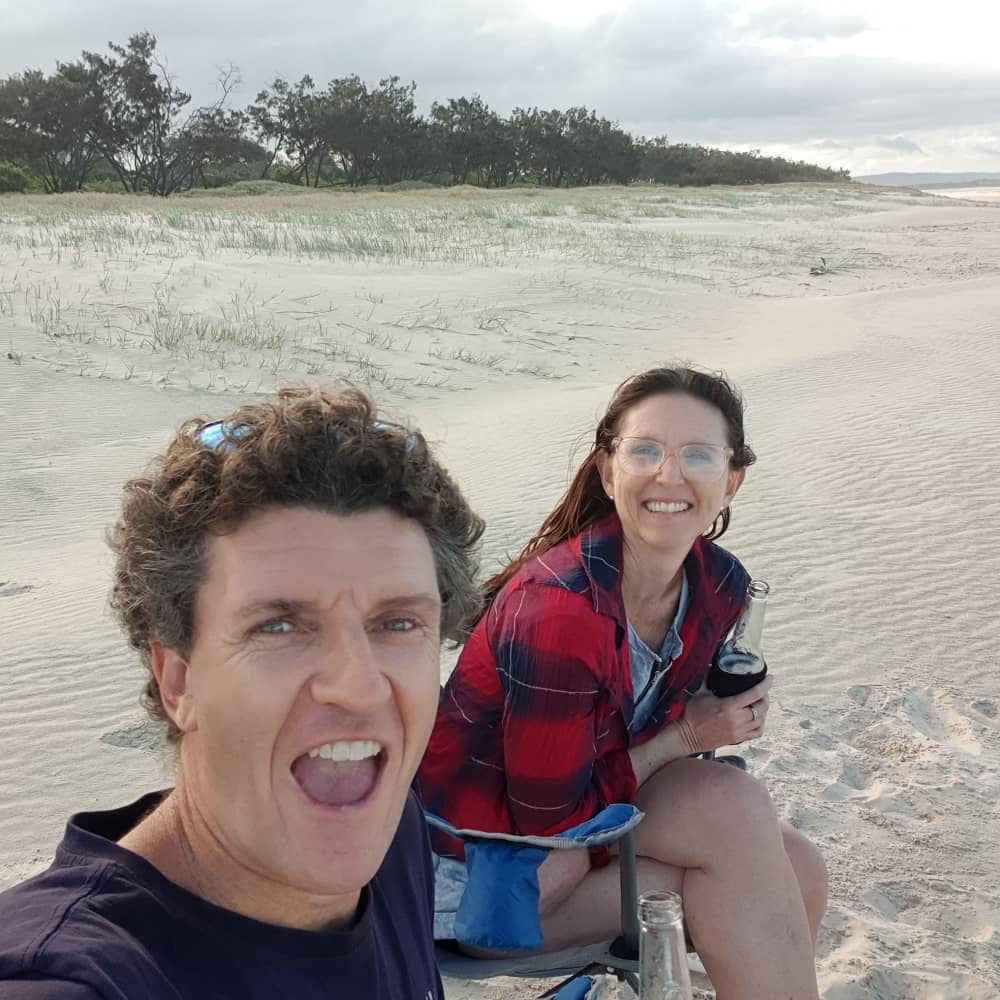 Is Inskip Point Camping Dog Friendly?
Dogs are permitted here, but only on a leash.
Is Inskip Point Suitable for Caravans?
Inskip Camping Area is suitable for:
Tent camping beside a vehicle
Walk-in camping
Off-road caravans and
Camper trailers with high clearance
Some camps such as SS Dorrigo Campground and M.V. Sarawak Campsite area can cater for caravans, 2wd, and motor homes
Things to Do at Inskip Point
This is such a convenient spot! So much on offer in this amazing part of Queensland and that is why it is so popular with camping and adventure enthusiasts.
Here are some amazing things to do the next time you head up to Inskip Point:
Inskip Point Surfing
Surfing here can be a little fickle and the sandbanks move a lot due to the river mouth. But you can find some fun empty little beach breaks that you can carve up all along the stretch from Inskip Point to Rainbow beach.
Double Island Point Walk
Take a leisurely stroll up the lighthouse which boasts amazing views of the surrounding coastal area. This walk takes you along the cliff tops and around the headland of Double Island Point. (Easy walk)
Inskip Point Fishing
Bream, flathead, whiting, trevally, and more can be found in the fertile waters off Inskip Point. You will need surf gear to cast past the breakers on the ocean side and normal rods for the Great Sandy Strait side. There is a lot of action around here due to currents etc.
4wd Inskip Point – Rainbow Beach – Double Island
Get into your 4wd and explore the beaches and tracks from Inskip Point to Double Island Point. Just make sure you have your permit.
Book a Kayaking Tour
Organise a tour with Epic Ocean Adventures which is based in Rainbow beach.
Relax by the Beach
Do nothing! The best thing to do at Inskip Point is to hang out and just get away from it all.
Play with your kids, play games, go swimming, and eat loads of camp food.
This is what Inskip Point is all about and probably the best thing to do because it is FREE and pure.
Other nearby activities to do!
Explore Fraser Island
Horse Riding
Carlo Sand Patch
Scenic Helicopter Flights
Fishing Tours
Restaurants and bars at Rainbow Beach
Visit the tourist information center at Rainbow Beach for more details and information for all you crazy go-getters.
Is The Inskip Point Camping Area Safe For Kids?
Our kids love it up at Inskip Point, where you can really get away and relax. Swimming, building fires, roasting marshmallows, playing the guitar, fishing, and surfing.
This is what real camping is all about.
You just have to keep an eye out for 4wd cars on the beach. Especially with kids.
Supervise you, children, in the surf and look out for rips and strong currents because there are no flagged areas or lifeguards and you are near a river mouth.
There aren't too many native animal dangers around here. But still be aware of goanna's, snakes, and spiders that can give you a little bite.
So just be aware that you are camping in the bush, and there is wildlife about.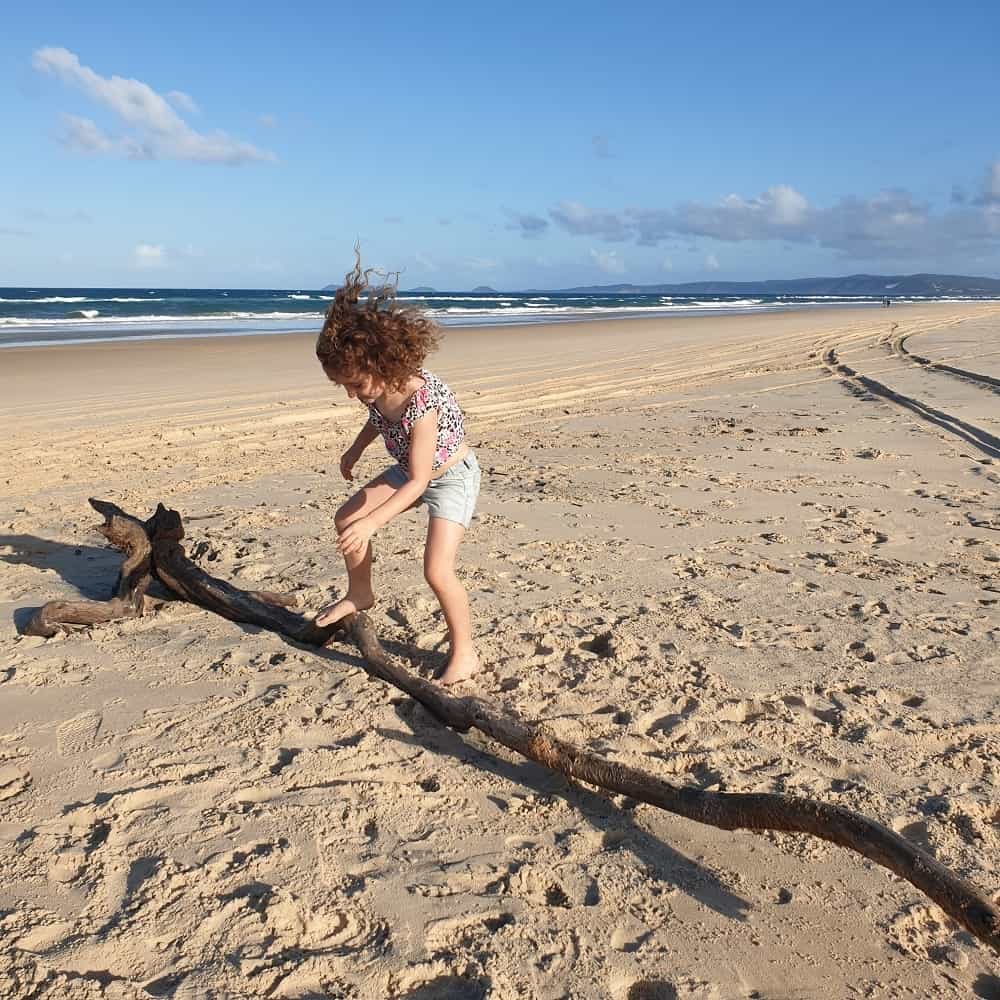 National Park Rules & Regulations
No pets
Campfires permitted
Bring your own firewood – don't collect it from the bush
Rubbish bins are provided, at all spots
Be considerate to other campers
Generators up to 2.0Kva are permitted in the Inskip Recreation Area, but can only be used between 7 am and 9 pm so everyone can enjoy a quiet night.
Obey road rules when beach driving
Inskip Point Camping Facilities
Here is a list of the facilities available at Inskip for your convenience:
Bulk rubbish bins
Drop toilets
Ice Man
Inskip Point Camping Essentials to Bring
Make sure you bring these essential items when you visit the Great Sandy National Park wonderland:
drinking water
fuel or gas stove
rubbish bags
first-aid kit
insect repellent
sunscreen
sand pegs and
clean firewood such as untreated mill off-cuts, not bush wood
Fishing lines
Inskip Point Camping Phone Reception
There is phone reception here! Like all these areas, it can get a little patchy.
You can get FM radio up here like Triple J!
Dangers at Inskip Point Camping Area!
Here is a list of the dangers you may encounter while staying and playing at Teewah.
Large waves, rips, and strong currents
4wd vehicles, collisions, losing control, and tides (The beach can become a bit of a highway so watch your little kids!)
The main road runs past campsites
Washouts and rocks
Mudlo Rocks, just south of the beach ramp at Rainbow Beach
Sinkholes have taken caravans
Bush fires (extinguish campfire when finished)
Sun Exposure
Dysentery (Runs!! Don't ask me why but it happens quite a lot!!)
In an Emergency at Inskip
Phone Triple Zero (000) for all life-threatening, critical, or serious emergencies, or for reporting a bushfire or acts of arson.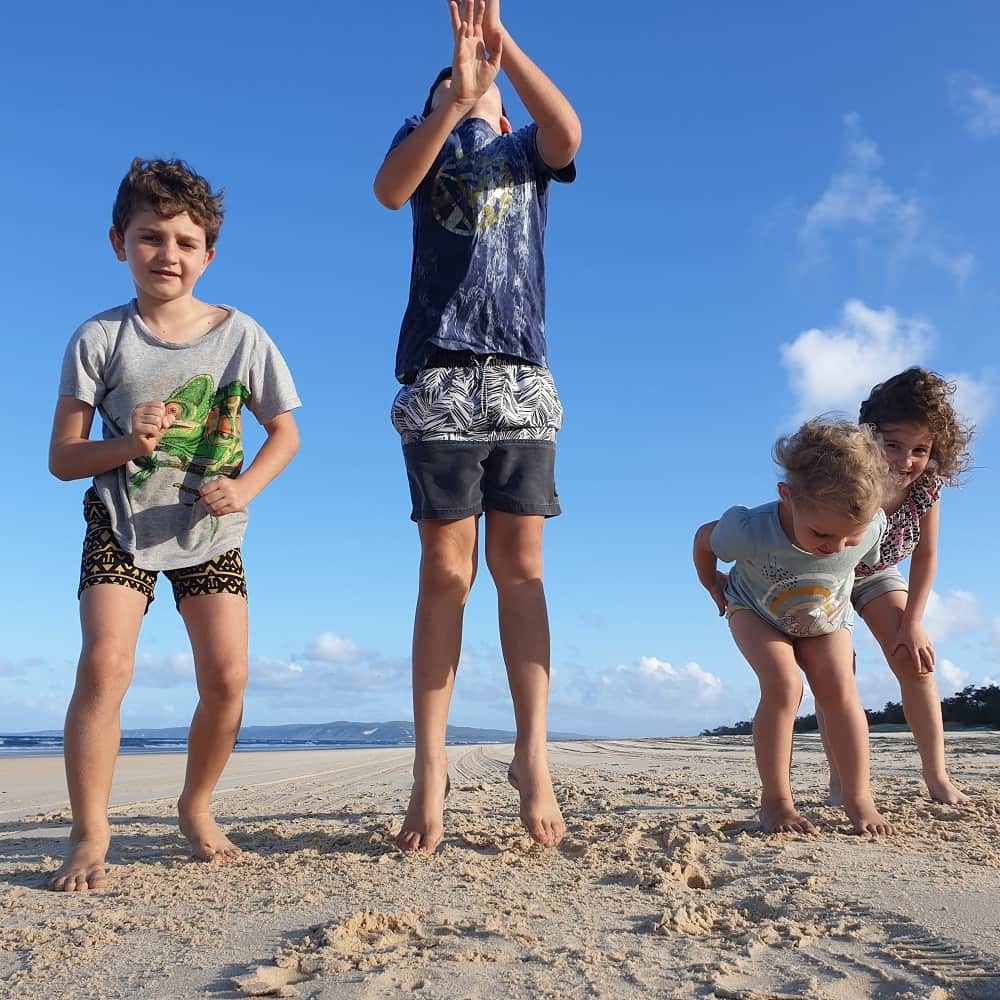 Inskip Point Camping Experience
This camping area is such an easy, hassle-free getaway.
No need to lower those tires or do the old underbody car wash(if you don't want to go beach that is!)
The beach here is beautiful. White soft sand and the campground is beautifully nestled in amongst the trees of the Inskip Point Recreational Area. There are so many camping spots and each spot is well catered for.
There are a lot of sites with grass coverage, which I love!
Sites are generally pretty hidden and most have easy access. Because it is so easy to get to though, it can be booked out. Just make sure you get in early or go out of the holiday times for peace of mind.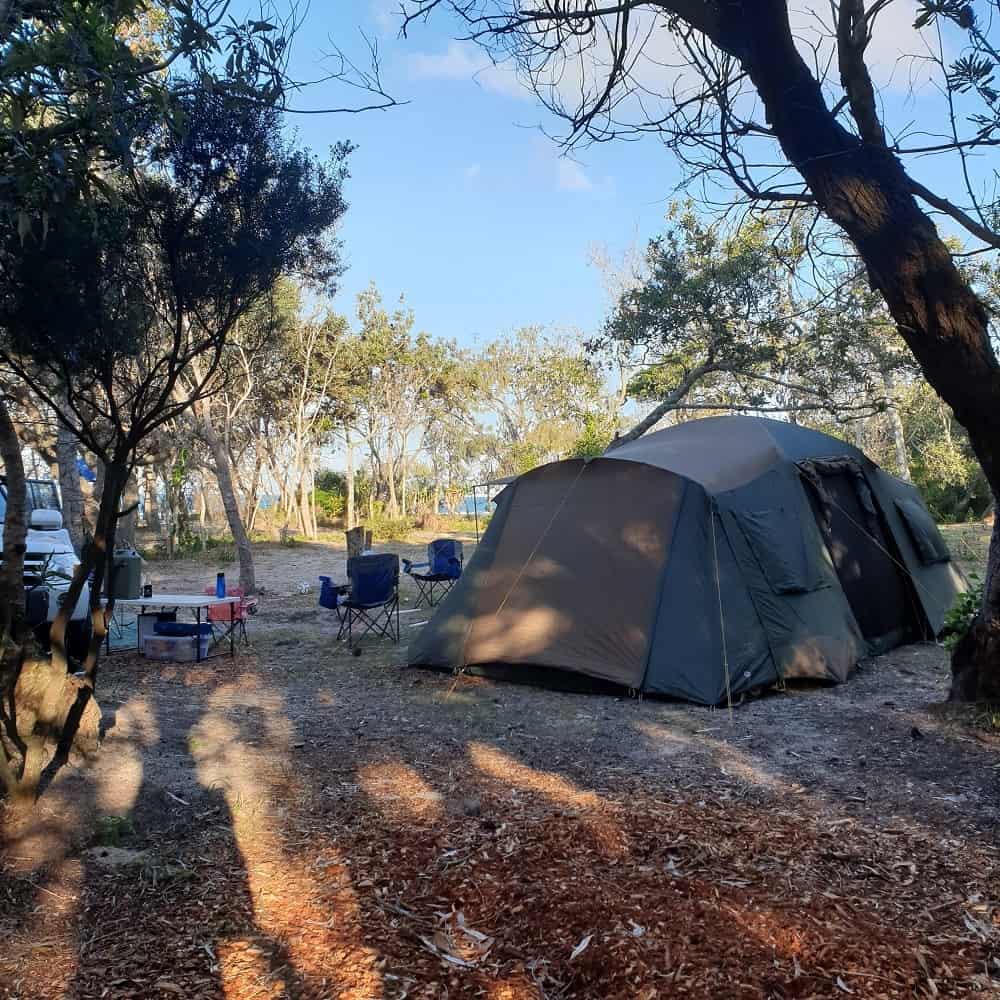 Native bushland covers the National Park offering shady spots to camp and enjoy your day.
There are a few mosquitoes and march flies but it's not too bad.
Brush turkeys in your camp can totally destroy your rubbish bin and are not a pleasant sight to wake to!
Slip. Slop. Slap!
The sun can tend to get a little much after a couple of days, so slip, slop, slap and drink plenty of water, not just beer.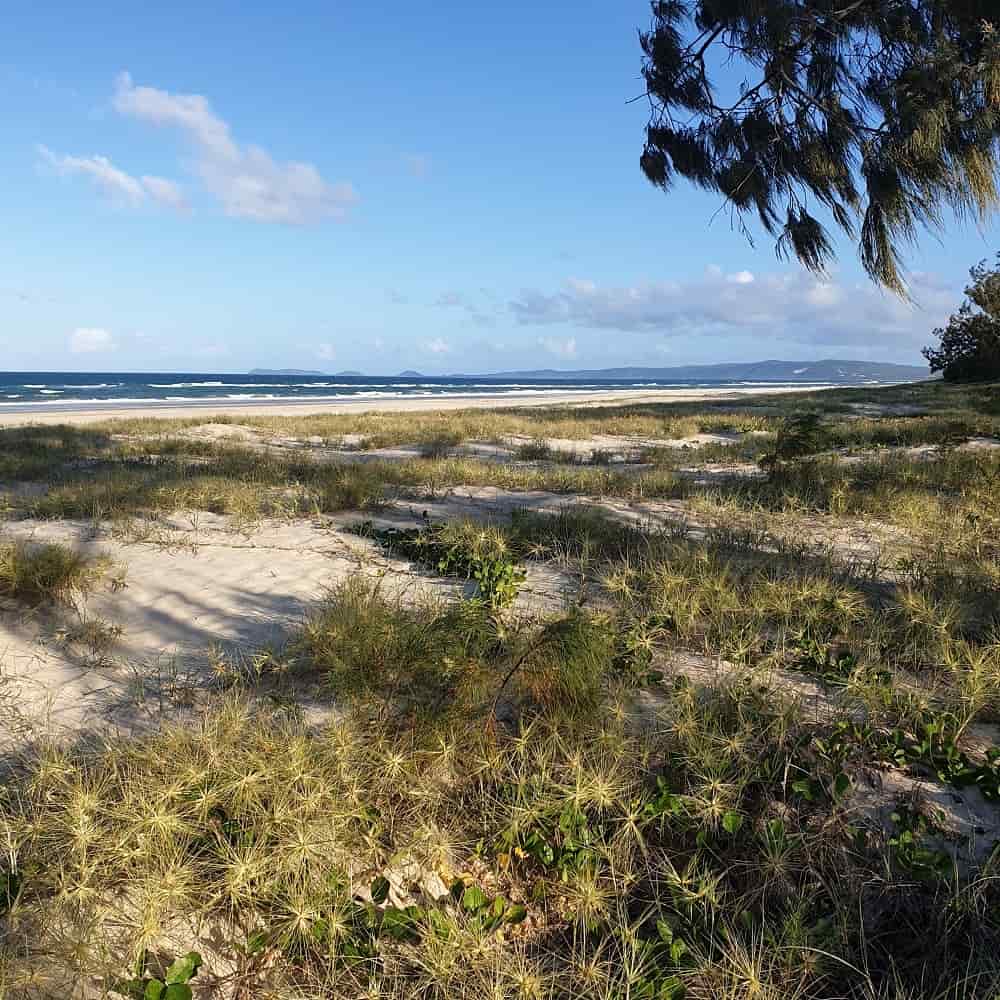 The Ice Man Services Inskip Point
Forgot something and left it at home? No worries, every day the region has the services of the "Ice Man" The Yellow 4wd Ice Trucks carry ice, firewood, bread, milk, ice cream, coffee, bait, snacks, coffee, and newspapers. Visit his Facebook page here!
We always have a cool time at Inskip Point Camping Area and would recommend a weekend getaway with family and friends anytime.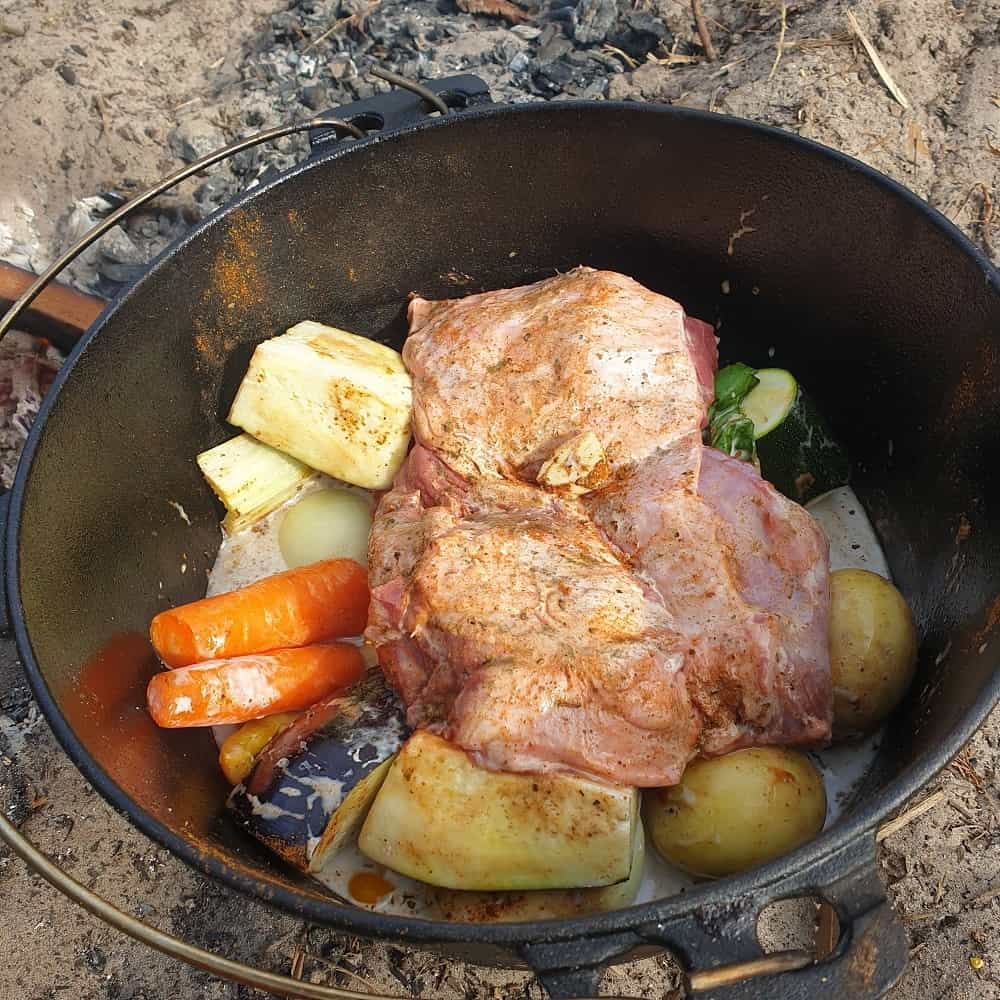 Inskip Point Camping the Verdict
The main advantages of Inskip Point camping are:
Close and easy to get to from Gympie and Rainbow Beach
Need supplies or want a pub meal only 15 minutes to town
All sealed roads to Inskip Point (Campsites sandy)
Unmarked campsites – camp where suits
Rubbish bins provided
Toilets
Ice and firewood truck service
Close to beach and river system
phone service
Cheap and basic
The main disadvantages were:
Expensive car driving permit for 4WD unless you go for an entire week
4wd vehicles, traffic
Toilet problems occasionally (Dysentry problems at certain sites sometimes!)
Busy and crowded especially holidays
Mosquitos – Goannas – Brush turkeys in camp
These are minor problems and it is truly a magic spot for a getaway.
The recommended perfect amount of time is 2-3 nights.
Other amazing Australian campsites you may like to check out are: