One of the best and educational activities to do with the kids when visiting Mooloolaba is to visit Sea Life Sunshine Coast.
The once named Underwater World Mooloolaba has been a popular attraction for young and old for years. Sea life Mooloolaba is still going strong and looking better than ever!
Read on to find out how you can save money on your visit and find out how you can help save our oceans from destruction.
>>Click Here to SAVE big on Sea Life<<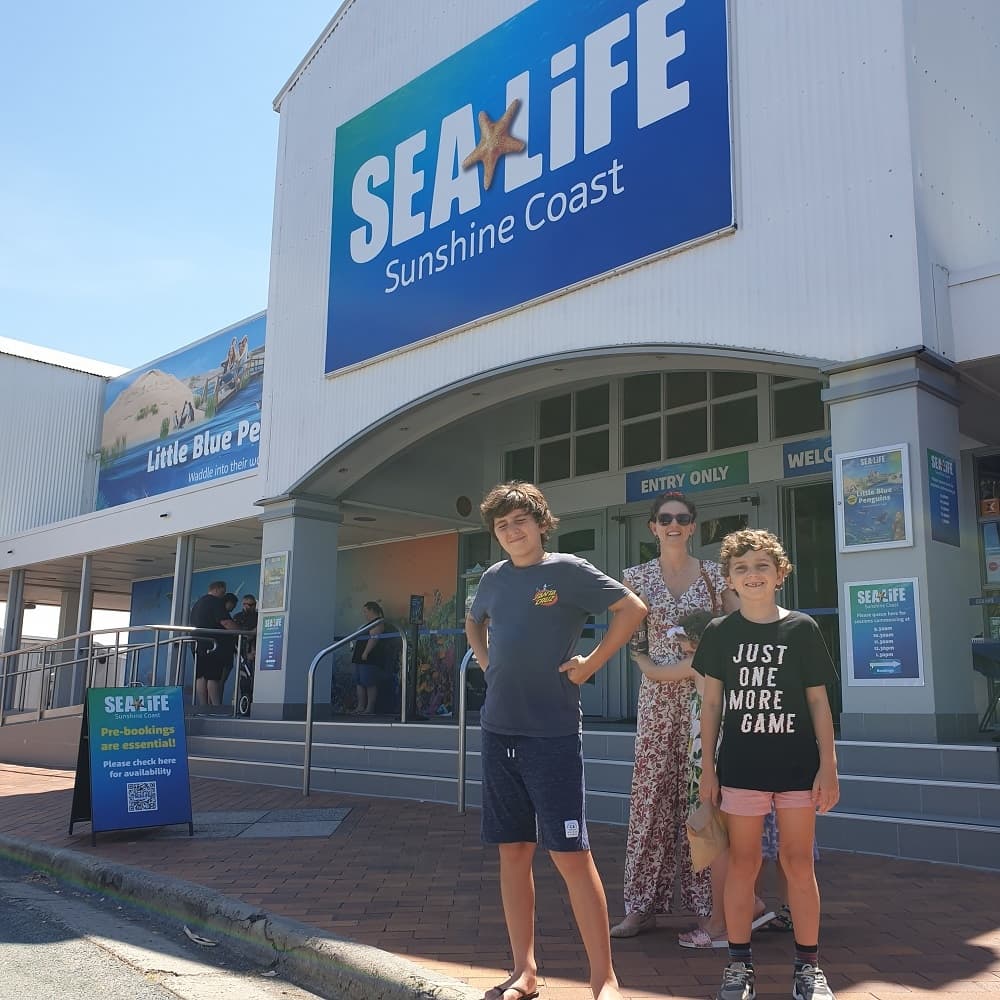 Human Impact on Sea Life
Humankind has been using the oceans for a very long time, but not until the last few centuries have our activities become a real threat.
Today humans have been polluting, over-fishing, over-hunting, mining, destroying the ocean's richest areas, overpopulating the coastline, and altering the composition and temperature of our coastlines.
This is extremely difficult to erase. And that is why visiting Sea Life Sunshine Coast is so important to the future of our oceans to teach our kids how important our sea life is to the circle of life.
The Sea Life Sunshine Coast Aquarium
There are thousands of amazing aquatic creatures at Sea Life, so you are sure to be intrigued by their underwater and above water exhibits.
Situated smack bang in the heart of Mooloolaba, you and your excited family will see hundreds of unusual marine species living inside their carefully throughout themed aquarium habitat zones. 
Some exhibits include the brand new Penguin area, the already famous Ocean Tunnel (our personal favourite!), The playful Seal Island exhibit and their Tidal Touchpool area.
So much to see and experience at Sea Life that should entertain you and your young ones for a couple of hours.
Sea Life Sunshine Coast Map
Find out below how to get to Sea Life Sunshine Coast.
How Much Does It Cost To Go To Sea Life Sunshine Coast?
Being local to the Sunshine Coast area we think it is slightly overpriced for the amount of time you spend there!
Here are the general admission prices if you just buy direct from the website:
Online Adult – $35.20 (1 day entry) & Child $31.00
SEA LIFE Sunshine Coast Annual Pass – $80 Adult (15+) & $55 Child (3-15)
But if you want a better discount BUY your tickets here from GetYourGuide.
>>Click Here to SAVE big on Sea Life<<
Opening Times for Sea Life Sunshine Coast
Sea Life is open 7 days a week from 9 am – 5 pm. Last entry at 4 pm to the public.
The Sea Life Sunshine Coast Tickets & Experiences
Not only can you explore the underwater world from outside the exhibits and tanks but you can experience the animals first hand.
Here are the amazing experiences that you can try if you are up for it:
Shark Dive Xtreme
Go cage-less diving and experience enormous sharks and rays if you are brave enough.
This two-hour adventure takes you behind the scenes of the huge aquarium and unique ocean tunnel.
They will conduct a safety briefing first, followed by dive training before you take the plunge into the tank.
Cost for Shark Dive Xtreme experience = $290 for an adult and a child must be over 14 years.
Penguin Encounter
Experience the cute Little Blue Penguins' habitat at SEA LIFE Sunshine Coast. You can meet the utterly adorable colony of penguins inside their enclosure and hand feed them a glorious tasty fish.
Cost for Penguin encounter experience = $104 for an adult and $91 for a child.
Seal Swim Experience
Take a swim with the playful resident seals and seal team. Here you get to take part in a seal swim experience like no other in Queensland at Seal Island. This experience includes a souvenir photo with a resident seal. Ages 13+ only!
Cost for Seal Swim experience = $154 for an adult and $141 for a child, this also includes admission to the world.
Behind the Scenes Tour
Experience an exclusive look into the aquarium behind closed doors with the behind-the-scenes tour. 
Teach your kids to look after our marine life and how to care for them with this amazing unique experience at Sea Life.
See how marine conservation works at Sea Life Sunshine Coast and get your kids involved.
Cost for Seal Swim experience = $59 for an adult and $46 for a child, this also includes admission to the world.
Sea Life Mooloolaba Discount Tickets!
Booking online is your cheapest option for tickets which gives you savings of around 20% which still equates to $44 dollars.
But for the ultimate savings on top of the online price that nobody knows about except for us is $35.20 for adults and $24.80 for children over 3. Since you read this post you get to save by buying your tickets here!
>>Click Here to SAVE big on Sea Life<<
What Is There To Do in Sea Life Mooloolaba?
Sea Life Sunshine Coast Exhibits
When entering Sea Life you will first come across the preview touch tanks which hold some interesting marine species such as:
Starfish such as Blue Sea Stars, Thorny Sea Stars, and Sea Urchins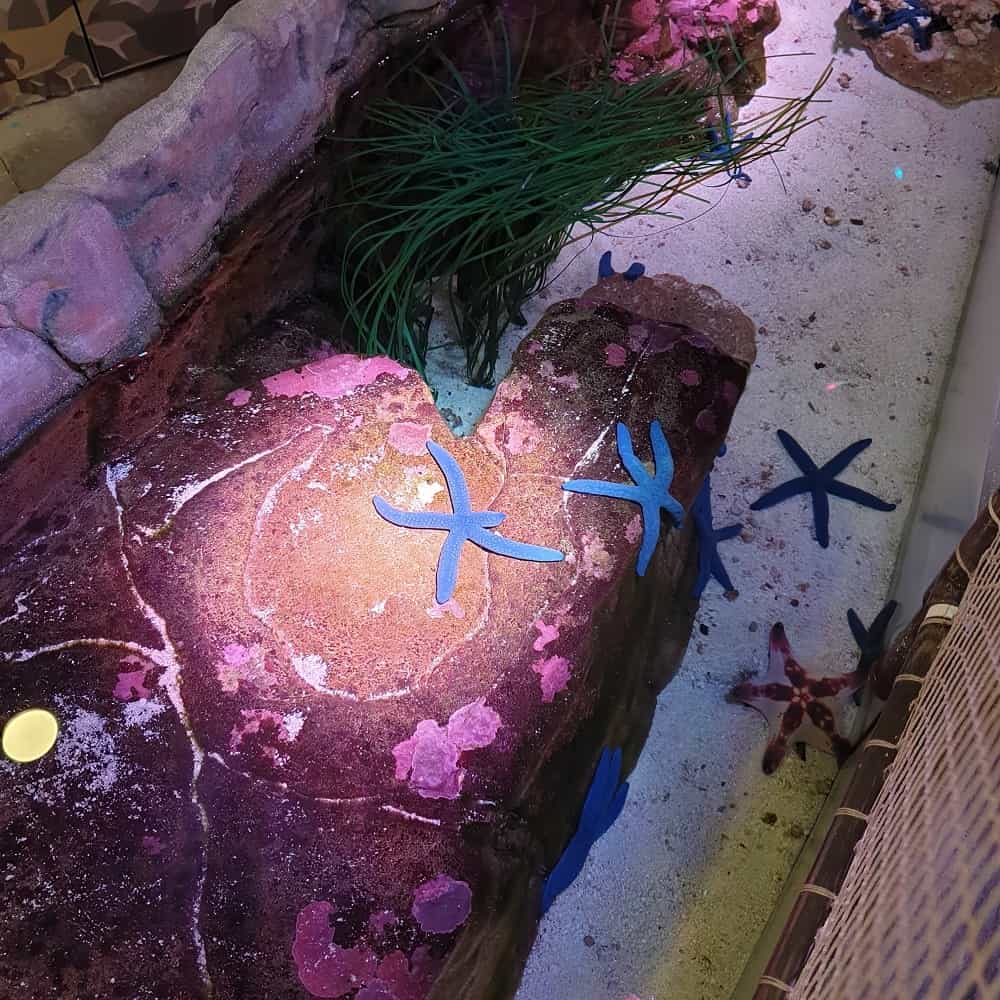 After entering this area you will continue onto the Seahorse Sanctuary full of cool seahorses dancing around such as the:
Weedy Sea Dragons and Pot-bellied Seahorses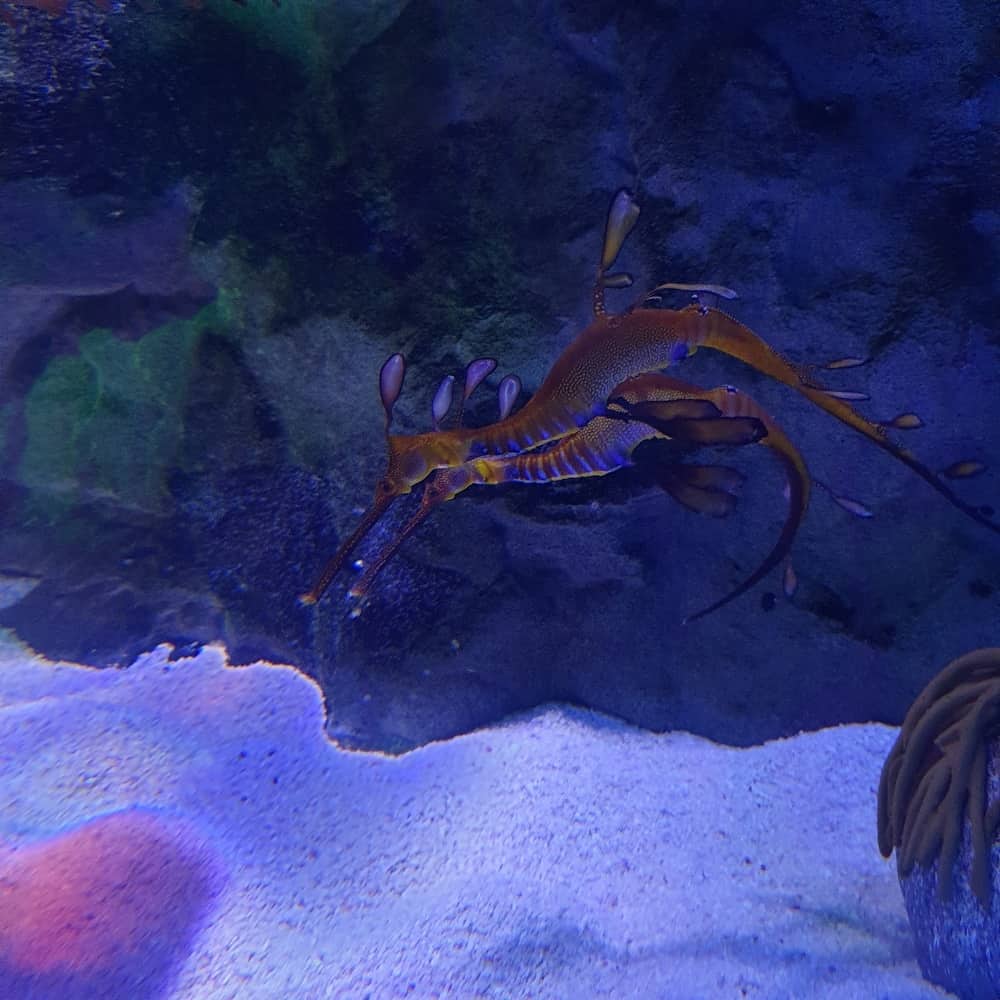 The next exhibit will include Australia's Coastal Creatures that live on our East coast. They include creatures such as:
Lionfish, Eels, the Common Octopus and other tropical fish
Keep strolling along the path and decide either to enter the famous Ocean Tunnel or the Little Blue Penguin exhibit.
Ocean Tunnel at Sea Life Mooloolabah
Explore beneath the waves, dive deep into the ocean, and walk beneath the 80 meters long Ocean Tunnel of wonder. (Kids love this!!)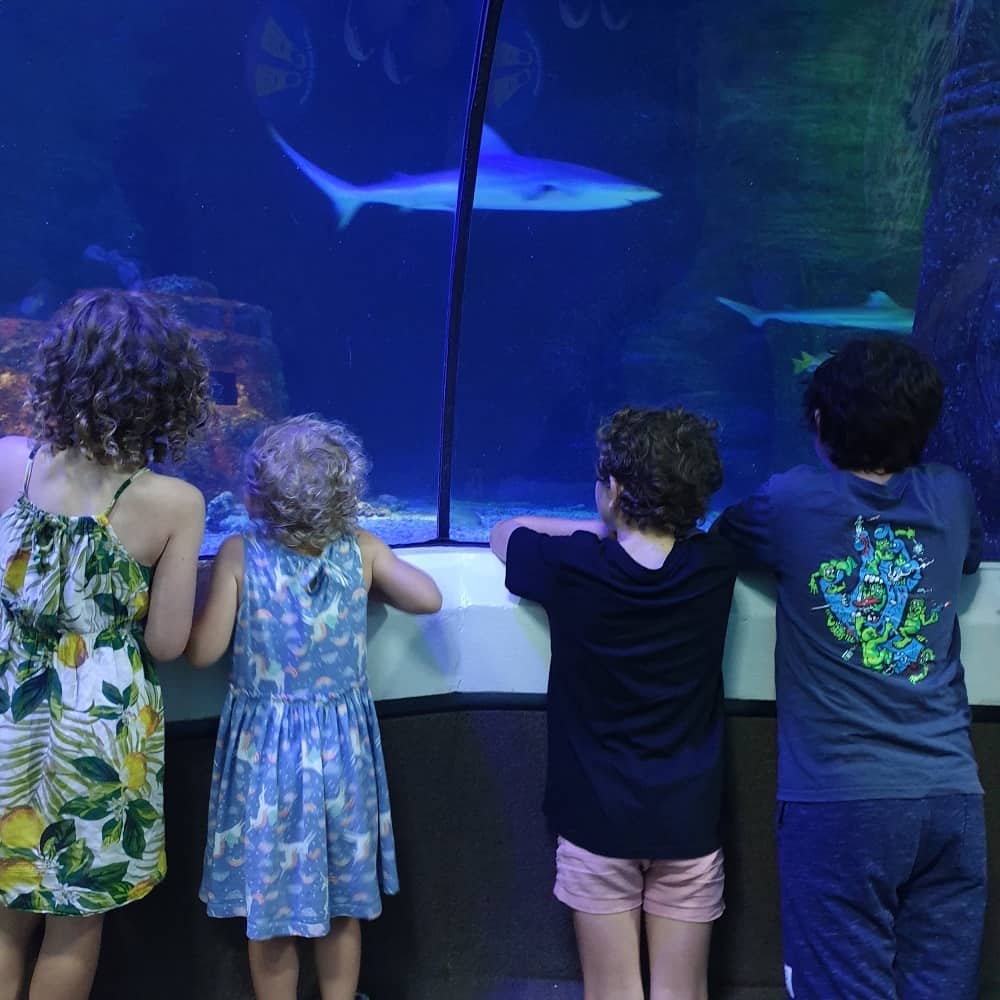 View huge sharks, rays, reef fish, giant groupers, and much much more! Soak in the amazing sea view and discover the three different and highly unique zones.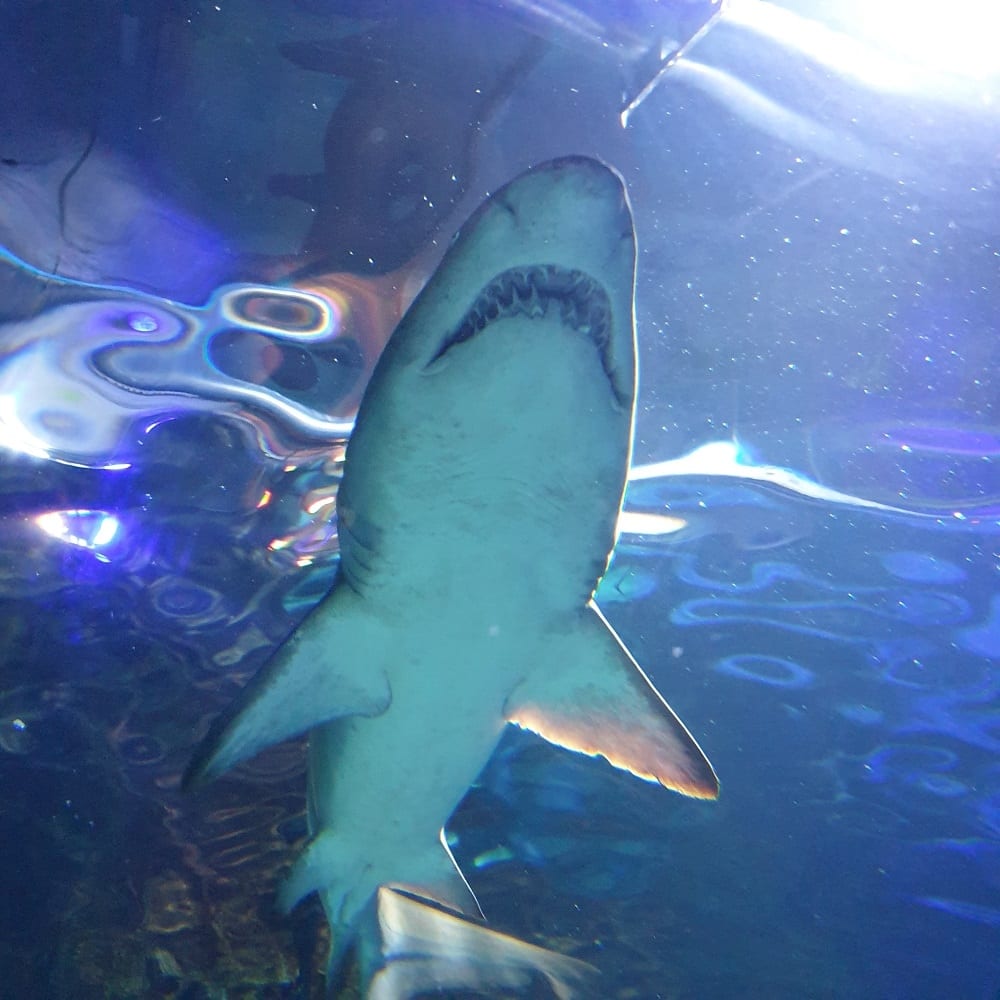 The Little Blue Penguin Exhibit
This awesome area is home to a wonderfully playful colony of little blue penguins. The interactive exhibit consists of 2 levels, above water, and below water.
The Penguin zone will immerse guests in the amazing world of the smallest penguin species around. These guys are so cute!!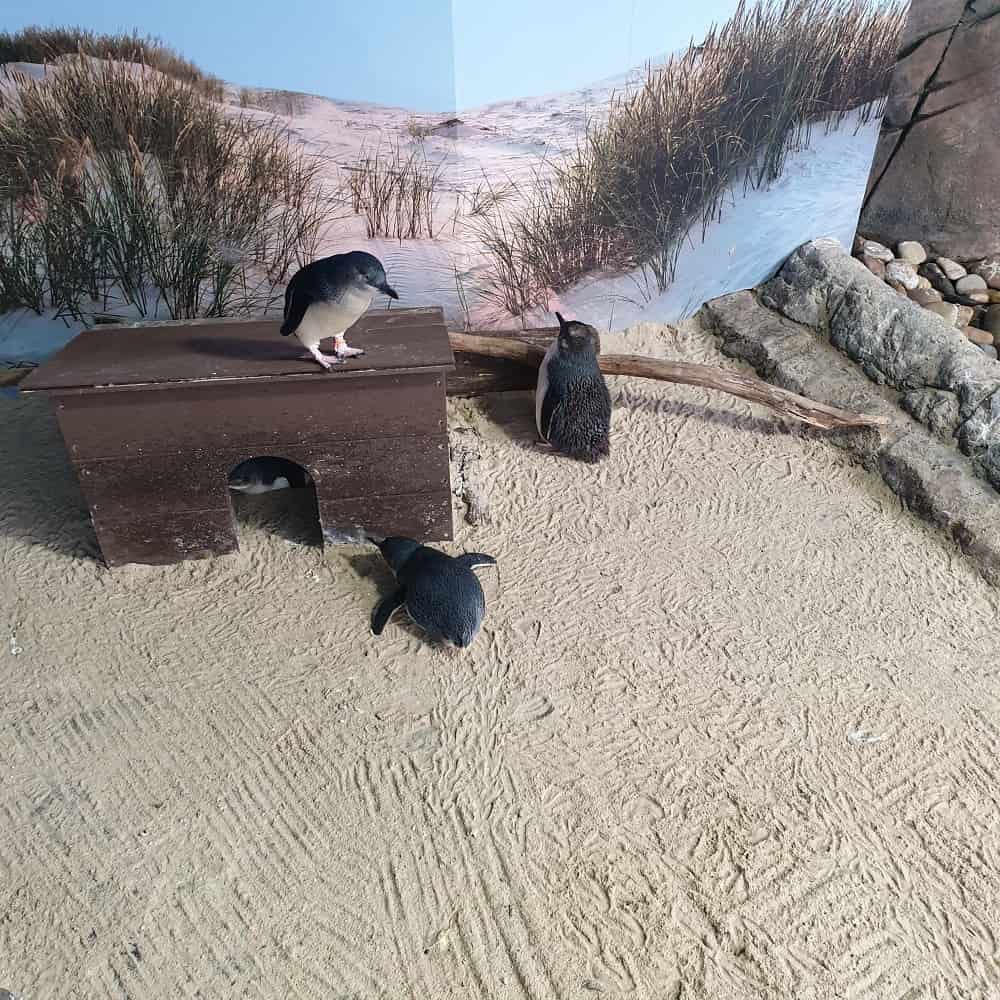 Amazing and Fun Seal Island
Seal Island has daily presentations for your entertainment. You get to watch the trained seals perform tricks and have fun in the specially made pool.
If this isn't enough for you and the family then you can get even closer! Go downstairs and take a close look at our playful seals underneath the water. (My favourite aspect is because they are so graceful when they glide around!)
Discover the personalities, smell, and sound of their seals through the fun and educational interactives located at Lower Seal Island as you watch and learn about their resident seals.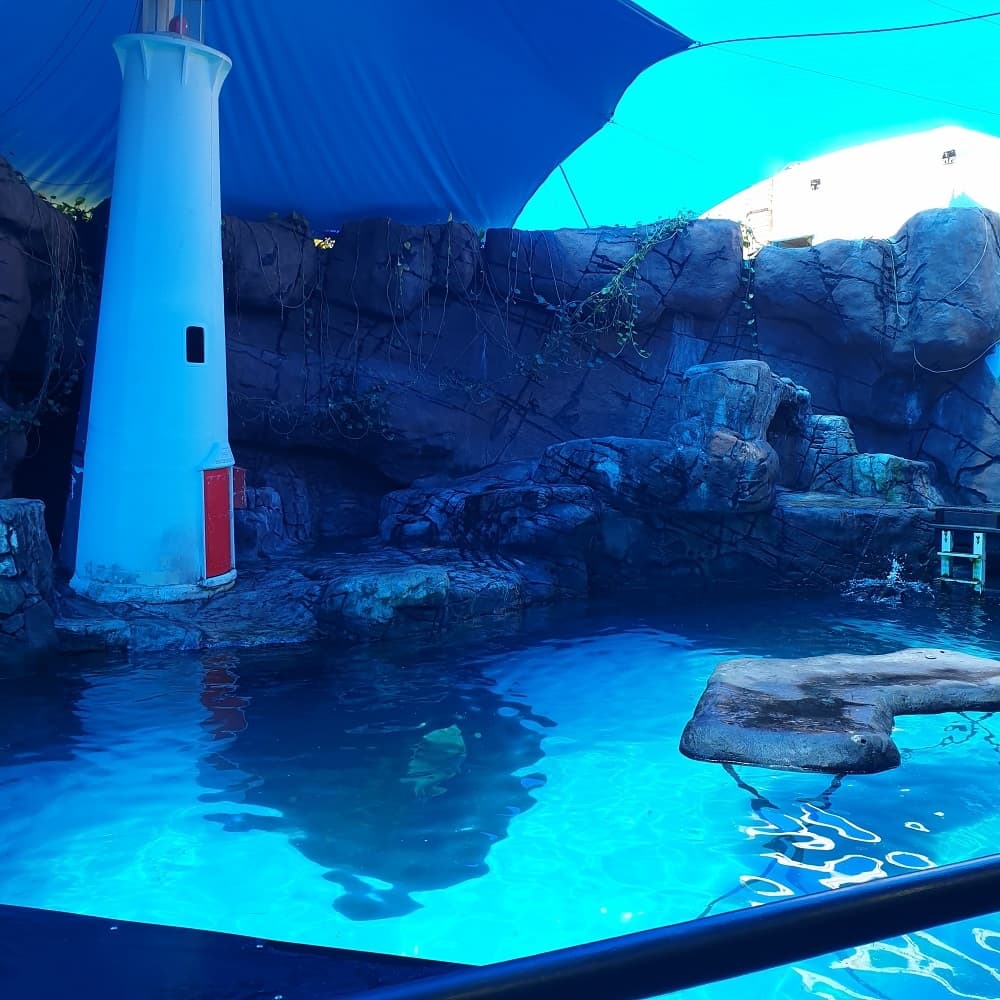 Dory and Friends Experience
Have little ones? Then the Dory and friends exhibit area is for you!
This features interactive magical moments from the box-office smash hit, Finding Dory.
This includes Pipe Pals trail will guide and surprise with tales of amazing underwater animals, leading guests into Dory's Reef.
Your kids will have heaps of fun playing in the tunnels, discovering how the East Coast Australian current works and sea anemones work. Also, find Nemo and see real-life, Dory.
After all this, you will have to take you and your family through the tourist shop.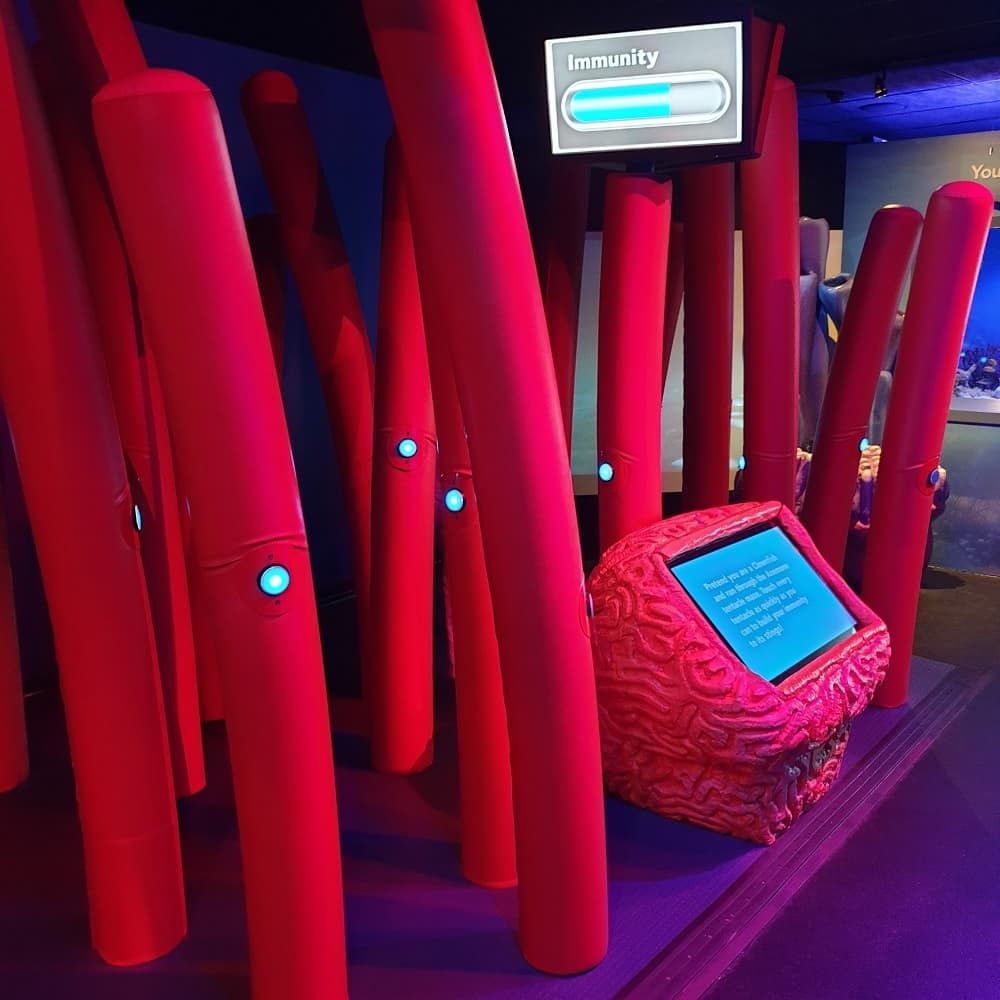 Seal Life Mooloolabah Souvinier Shop
No matter where you go you can never get away from gifts and souvenirs. But this particular one has some really cool gifts related to Sea Life.
The prices are reasonable but watch your kids don't buy too much stuff!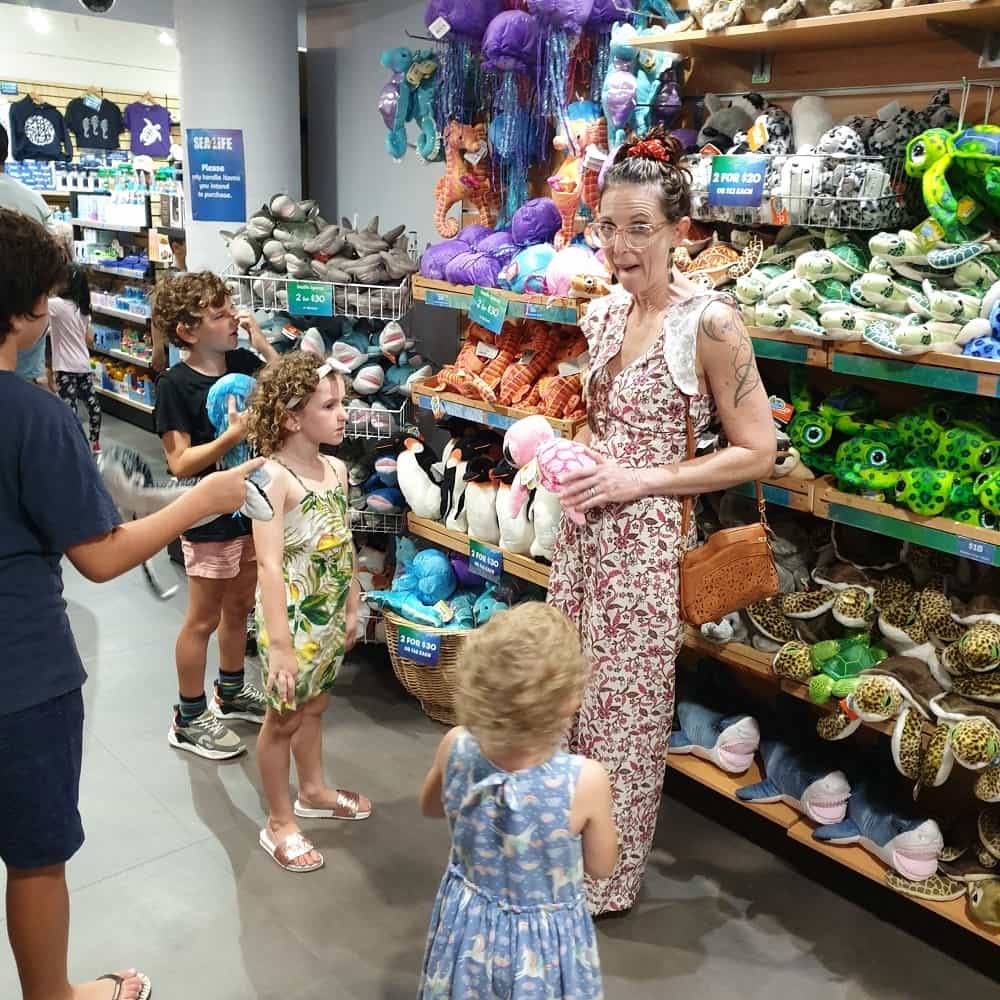 Sea Life Cafe
After spending all your remaining money on toys and gifts you can now grab a bite to eat and a drink from their onsite cafe. Nicely decorated with some ambiance you can hang here and drop your kids into the Multilevel Play Zone Shipwreck kids area.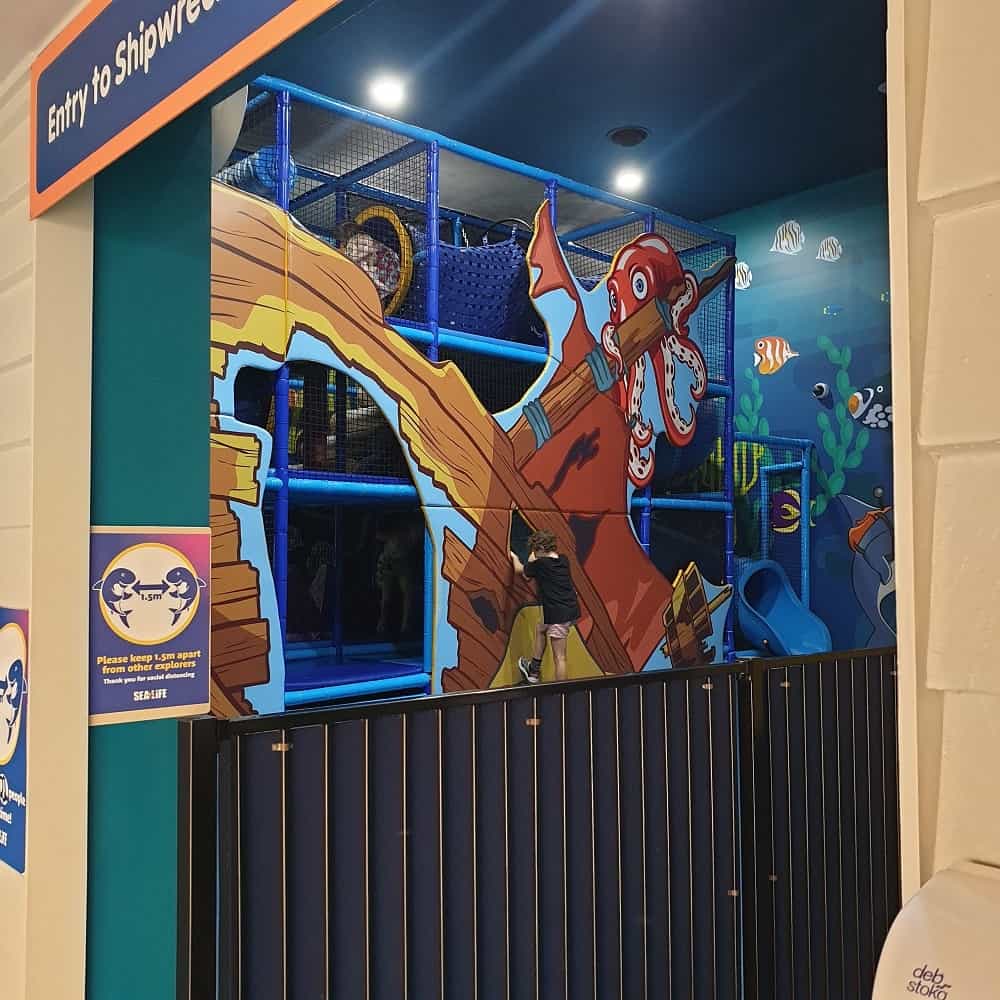 Our kids had a ball in here, and it has a kid-safe gate so they can't escape.
Now that everyone has had fun you can begin to exit Sea Life, but not before you head out through the magical Jellyfish Kingdom.
Magical Jellyfish Kingdom
The Jellyfish Kingdom features some of the most mesmerizing jellyfish species on our planet. Did you know that jellyfish have lived in oceans for over 650 million years?
Stop and stare at these majestic animals up close, marvel at their wonderful highlighted colours, smooth and graceful motion.
This was one of my favourite exhibits, they just amaze me.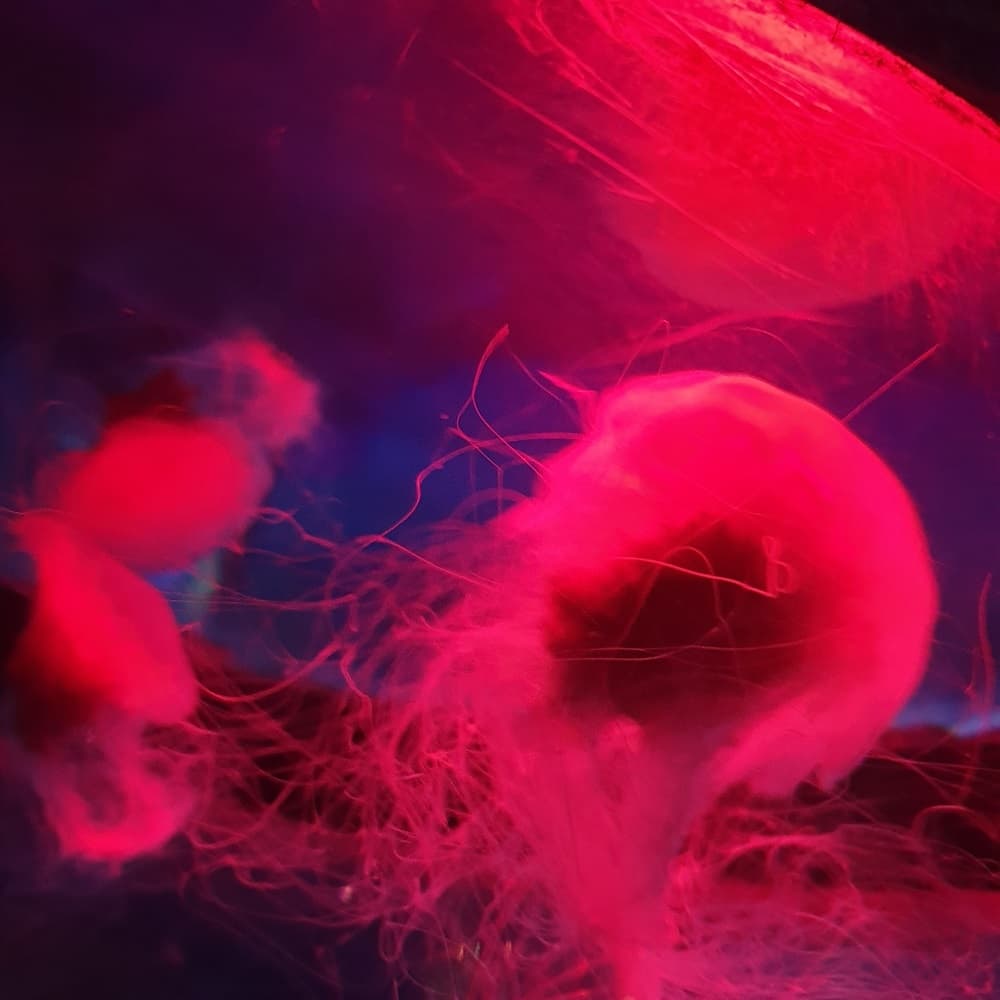 What Animals Does Sea Life Have?
Some of the unique species at Sea Life that will blow your mind include:
Sharks
Seals
Penguins
Turtles
Rays
Jellyfish
Starfish
Sea Horses
Reef fish
And much, much more!
How Long Do People Spend at Sea Life?
You can spend several hours here if you wait for shows and love just watching sea creatures for hours and hours.
But for our family, we spent about 2 hours here and saw everything. I wouldn't spend any longer here than that or else your kids will get grumpy and tired.
Our Sea Life Sunshine Coast Review
Personally, Sea Life Sunshine Coast is a little overpriced for my liking, but that is me and I do have 4 kids to pay for.
But if you love educating your children on nature then the money is worth every penny.
The exhibits are well maintained and all the animals look very happy. Clean and well organised throughout with easy-to-follow pathways that link all the exhibits.
I thought it would be a little bigger for the money you need to pay but for a one-off activity to do on the weekend or holidays it is well worth it!
Parking can be an issue at the Mooloolaba Wharf, especially at lunchtime. (Hot Tip!! Park undercover near Hogsbreath)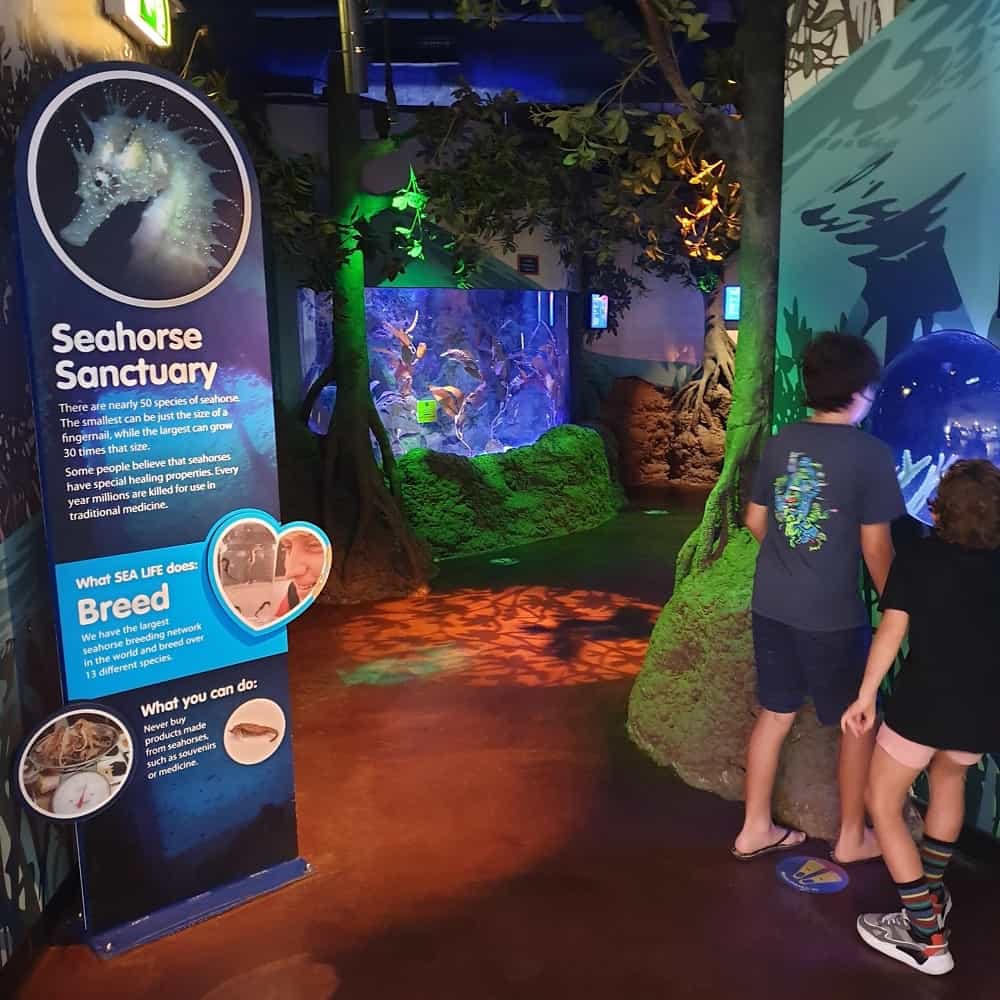 Sea Life Mooloolaba Verdict
Our family loved it! There was enough to keep the kids entertained with plenty of interactive displays and short walks between exhibits.
I would recommend taking your family at least once to Sea Life Sunshine Coast to teach your kids a little more about protecting our Sea Life for the future.
>>Click Here to SAVE big on Sea Life<<
Where to Stay in Mooloolaba
There are so many places to stay around Mooloolaba. Right near the beautiful beaches of the Sunshine Coast, White sand beaches, cafes, and heaps of things to keep you busy, including Sea Life Sunshine Coast.
Definitely recommend staying at Mantra Mooloolaba Beach for a great night's stay right in the action. This great value resort is a 10-minute walk to Sea Life Sunshine Coast.
Check the latest prices and book now
Want more things to do on your weekends? Then check these out:
Eat Fish and chips at the Mooloolaba Spit
Explore the Mooloolaba Wharf
Cruise the Mooloolaba Canals by boat
Visit the beautiful beaches of Mooloolaba
Grab a coffee and people watch on the esplanade of Mooloolaba
Book a dive lesson and go explore the offshore wreak
Explore Mudjimba Island on a snorkel tour
Visit the Sunshine Plaza for some retail therapy
Take the kids to Time Zone in Maroochydore