Sleepy old Hervey Bay may look a little boring but let me tell you there are heaps of amazing things to do in Hervey Bay for all ages.
I used to stay at Hervey Bay every Xmas as a little kid and used to love it! Now as a full-grown human with kids of my own I found it is even better than I remember.
Awesome playgrounds, waterparks, ice cream shops, and more are just the beginning for the Hervey Bay township by the sea.
Hervey Bay is only a couple of hours north of Brisbane with some of the calmest waters around. Being only a skip, hop, and a jump away from Fraser Island it is a great place to spend a couple of days before heading over to the sand island.
Being the gateway to the beautiful Fraser Island and humpback whale tours. There's plenty to do in town.
So, if you're not sure what to do in Hervey Bay, read on to find out how to make the most of your time exploring Hervey Bay and its picturesque coastline.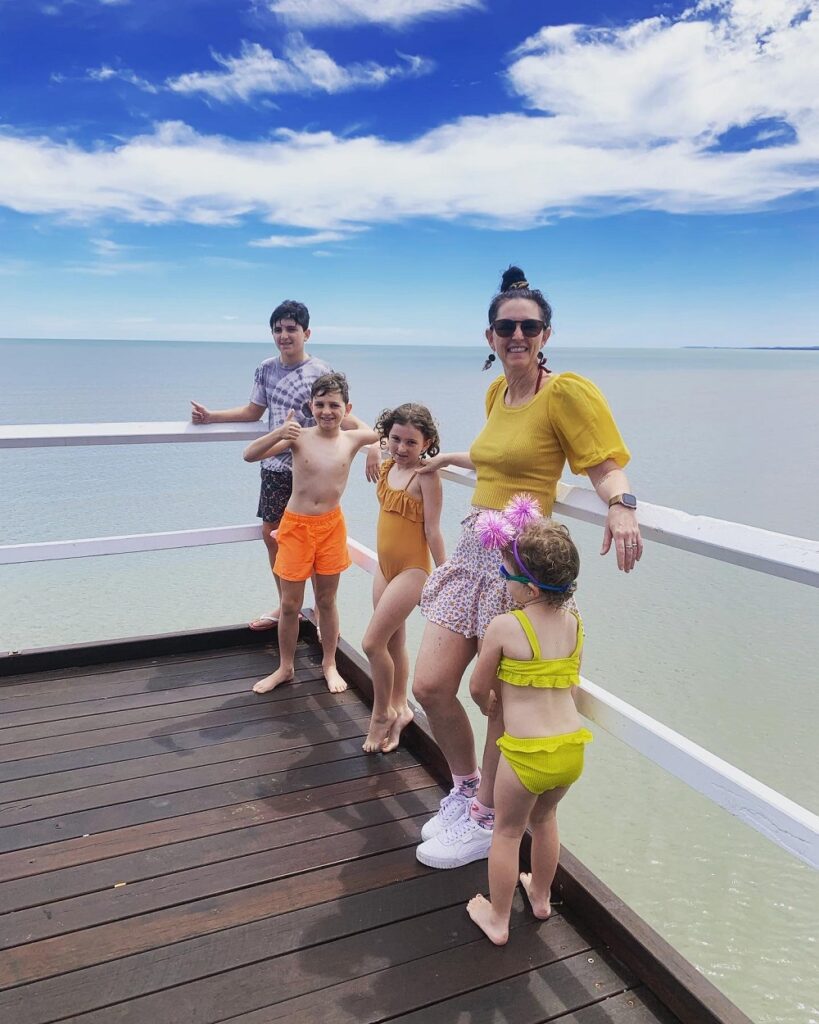 When To Visit Hervey Bay?
Anytime is a good time to visit the old Hervey Bay region, but if you want to see the whales then make sure you head here at whale season that runs from July to November in Hervey Bay.
These amazing things to do in Hervey Bay are surely why Hervey Bay even exists. So make sure you book yourself a tour in the bay to see these majestic animals.
Summertime is best for waterparks and beaches, while winter's weather is generally nicer and has less rain. Just visit anytime if you are just having a weekend away.
How To Get To Hervey Bay
Check out the Hervey Bay Map on directions on how to get here from Brisbane.
How Many Days Do You Need in Hervey Bay?
We recommend around 3 days would be perfect if you were to only visit Hervey Bay and its surroundings. If you were to go further afield to say Fraser Island, I would be setting aside 1 week.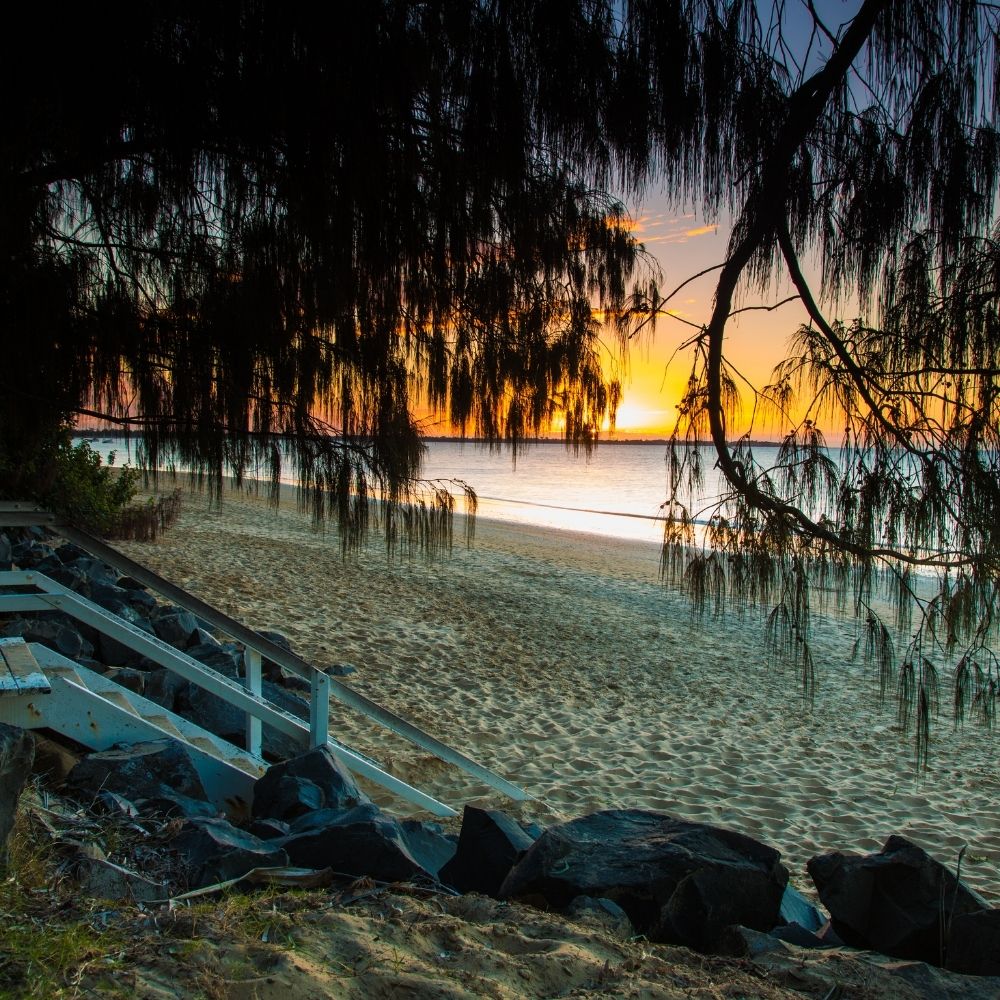 Things To Do In Hervey Bay
Go Cycling Or Strolling Along The Esplanade
Did you know that there are approximately 17-kilometers of beachfront in Hervey Bay?
You will be spending heaps of time on the esplanade because that is where the action is. All the restaurants, cafes, and clothing shops line the esplanade.
Even the taverns are on the foreshore. There are two, one a little fancy, while the other is a little more local.
Did you know there are like 12 parks along the esplanade! So many playgrounds for the kids to play on.
If you don't have a bike or scooters you can just rent them. But walking and taking your time is the most relaxing way to experience the area without spending a dime.
HOT TIP: There are countless bike rental shops along the waterfront. The best price we could find was $15/day for a standard rental from the Hervey Bay Bike and Scooter Shop.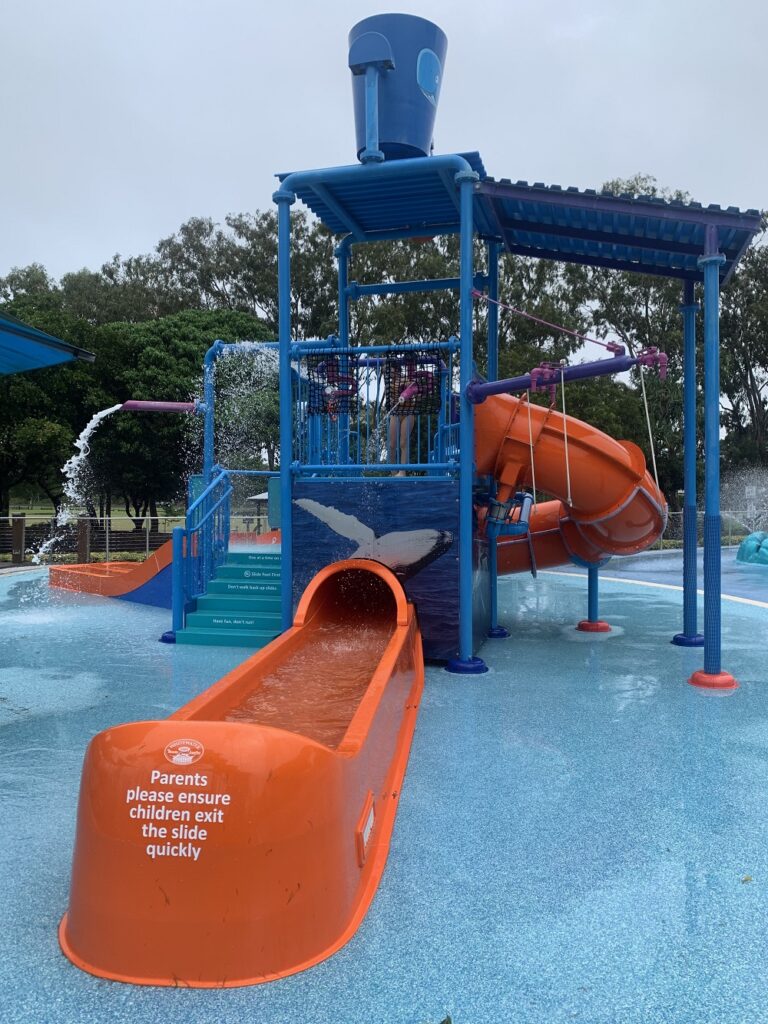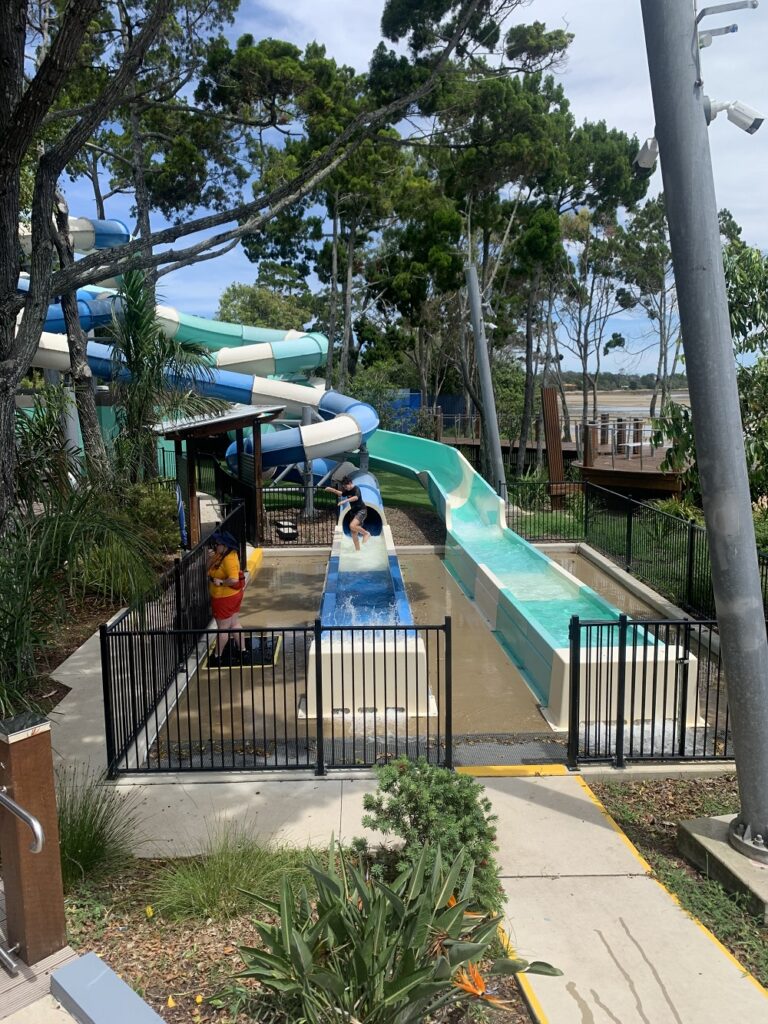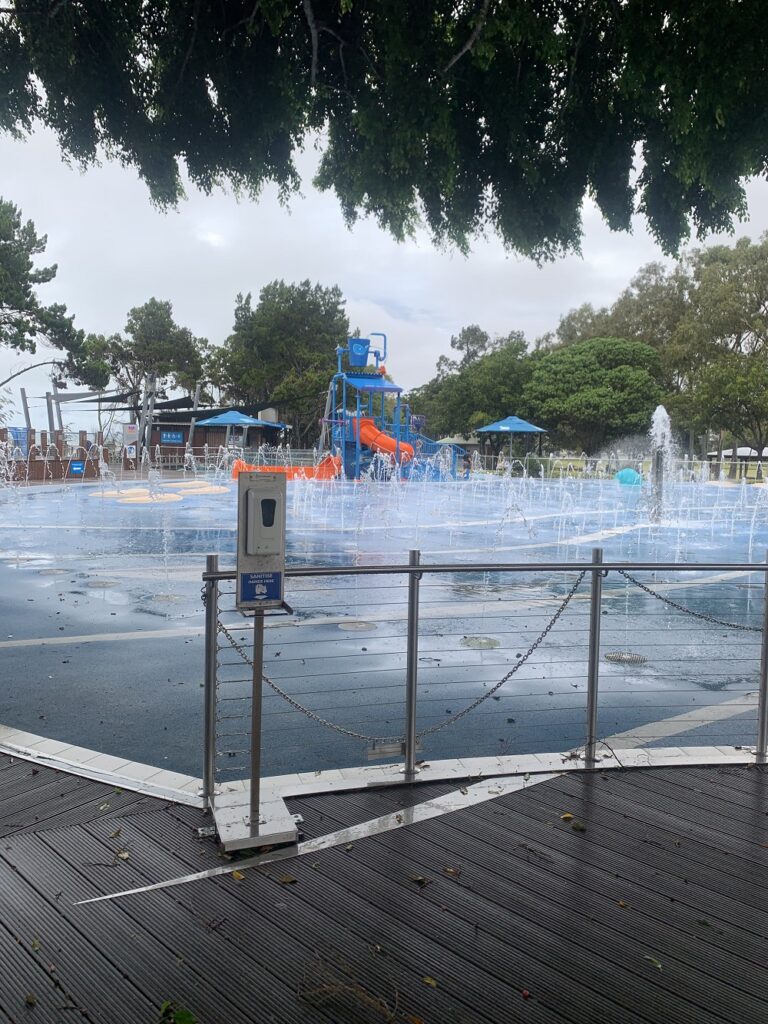 Let Some Steam Off At The Wetside Waterpark (Best Things To Do In Hervey Bay)
It's not often that water parks are FREE! But the Wetside Waterpark has no entrance fee or height restrictions.
If you want to ride the big slides you will have to pay. It costs $6.00 per person for around 10 slides and you need to buy tickets before entering and you need to be a certain height.
Our older kids loved it, but it was over pretty quick. Better than going to wet n wild and waiting in line for 2 hours plus.
Currently, the FlipSide Board Rider was closed for repairs when we visited but maybe open now if you love to get axed.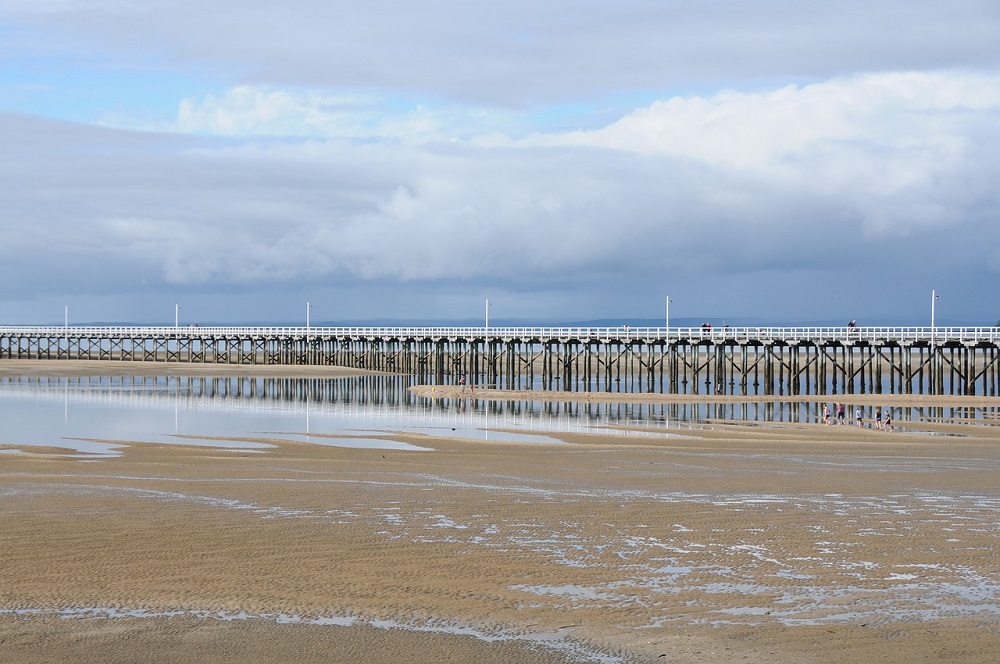 Catch A Big Fish At The Urangan Pier
The Urangan Pier Hervey Bay is so long! It stretches 900 meters into the bay and is totally made of wood.
This jetty is so iconic and a great place for photos. If you love to fish, then this pier is for you, just find a spot and cast that line.
It's the best spot in town for catching whiting – a popular breed of fish that's cooked and served as a local delicacy in lots of the waterfront restaurants.
Did you know that the Urangan Pier was originally built in 1913! This makes it over 100 years old!
It was built to transport cargo between the railroad and the large cargo ships that couldn't come into shallow waters.
The end of the pier is a great place to spot lots of sealife like stingrays, dolphins, and possibly a whale!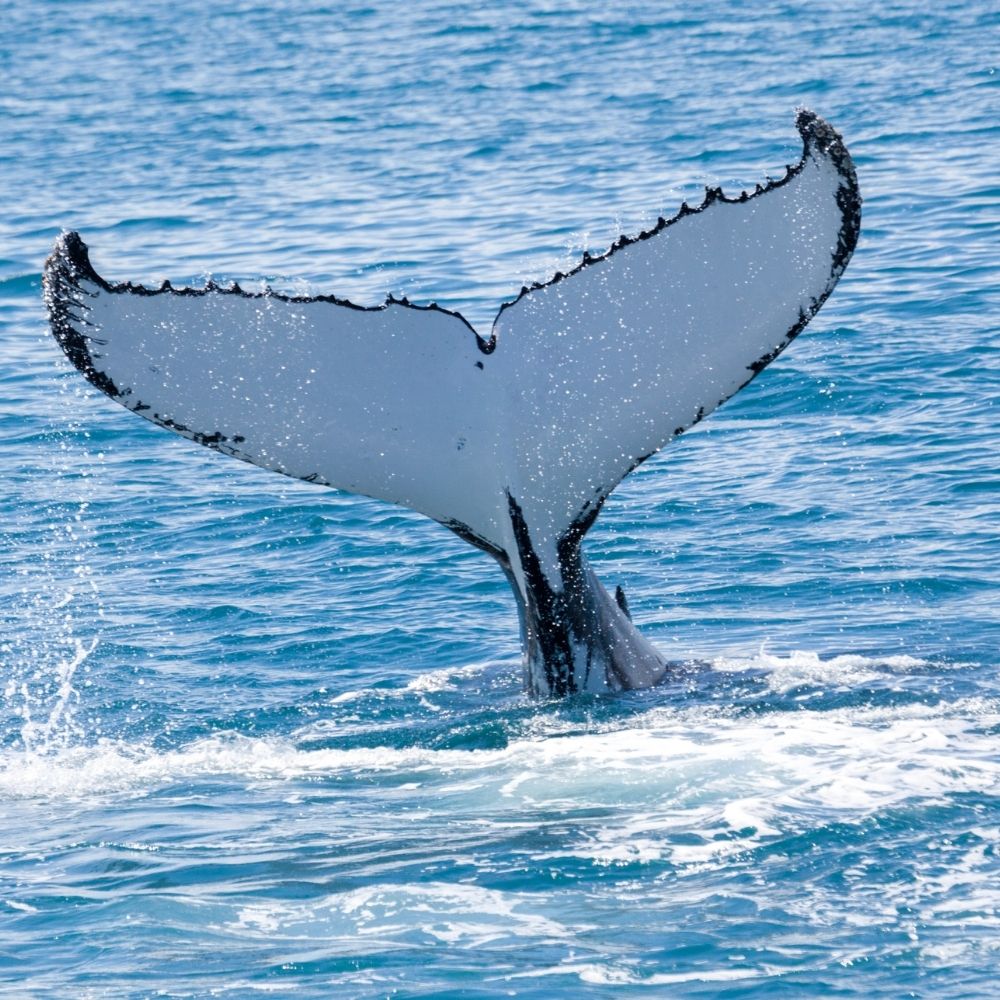 Whale Watching
The whale watching season goes from mid-July through to November. 
You still may see whales outside of these dates but many of the boat trip operators offer a full refund if you don't spot any whales which gives you an idea of just how many visit the Hervey Bay area.
Visit The Hervey Bay Botanic Gardens
There are many free things to do in Hervey Bay, and this is one of them.
While walking around town, we found the Hervey Bay Botanic Gardens, it covers 26-hectares of peace and tranquility, complete with a huge lake, orchid house, Chinese garden, and small turtle pond.
Swim On Torquay Beach
Torquay Beach is the place to go if you're seeking an afternoon of sun, sea, and relaxation in a sheltered harbor with your kids.
It's only a 20-minute stroll along the esplanade or a short drive from Hervey Bay. This beach is ideal for families with young children who wish to spend a stress-free few hours by the water, thanks to the shallow and safe waters. Thanks to the shallow and safe waters, this beach is perfect for any family with young kids that want a stress-free few hours by the water with no rips.
Try to swim here are high tide, that is the best time.
Visit The Market Stalls At Hervey Bay
Looking for some market goodies? Try the markets at Hervey Bay.
Torquay Beachside Market – 2nd, 4th, and 5th Saturday of each month
Urangan Pier Park Market – every Saturday
Koala Markets – 2nd and 4th Sunday of each month
Howard Country Markets – 1st Saturday of each month
Take A Sunset Cruise (Top things to do in Hervey Bay)
Want to experience an amazing sunset while visiting Hervey Bay? Then another amazing thing to do in Hervey Bay is taking a sunset cruise on the bay.
Sure, you can see the sunset from one of Hervey Bay's beautiful beaches, but why not go the luxury option and do it from the comfort of a sunset cruise boat.
The sunset cruise includes a hotel pick up and drop-off, unlimited beverages, and around 90-minutes on the open waters of the bay.
This experience is for the adults, so leave the kids at home.
Explore The History Of The Hervey Bay Historical Village & Museum
If you are interested in history, then take a wander through the historical village and museum at Hervey Bay. It includes buildings dating back to the 19th-century and includes free workshops and demonstrations that include blacksmiths and carpentry.
The price: Adults – $10, Kids – $3, Kids under 5 go free.
Learn More About Marine Life At The Fraser Coast Discovery Sphere
The center has a 12-meter sculpture of Nala the whale sitting in the car park of the Fraser Coast Discovery Sphere.
This museum is dedicated to the fauna and landscapes that make the amazing Fraser Coast what it is.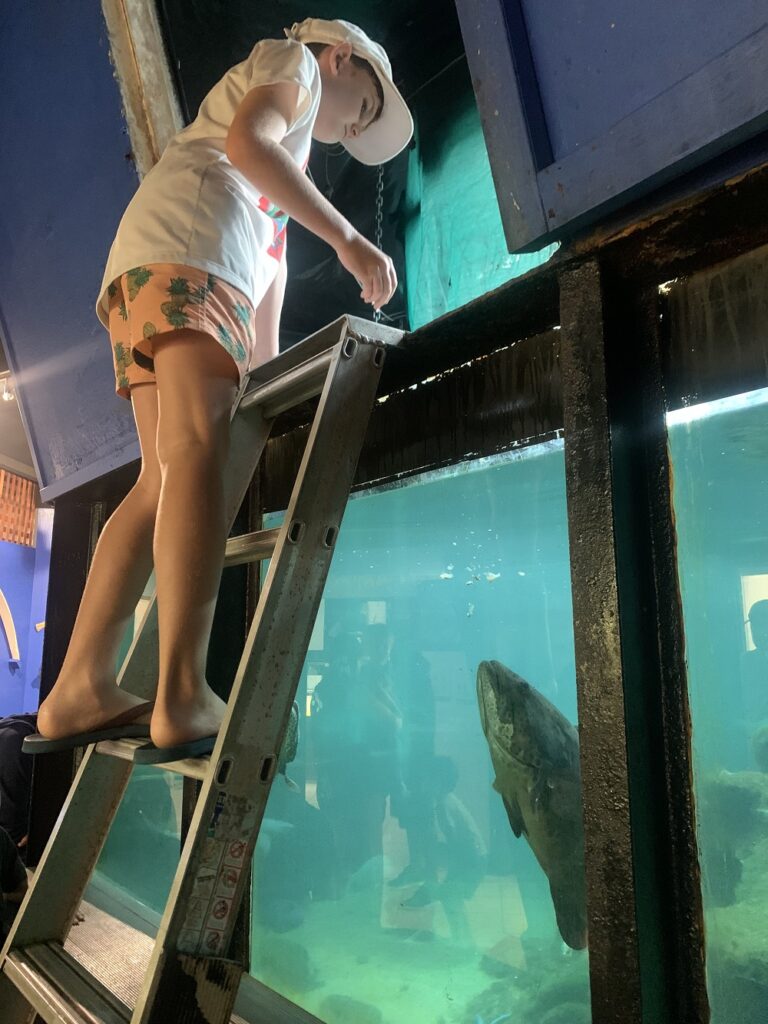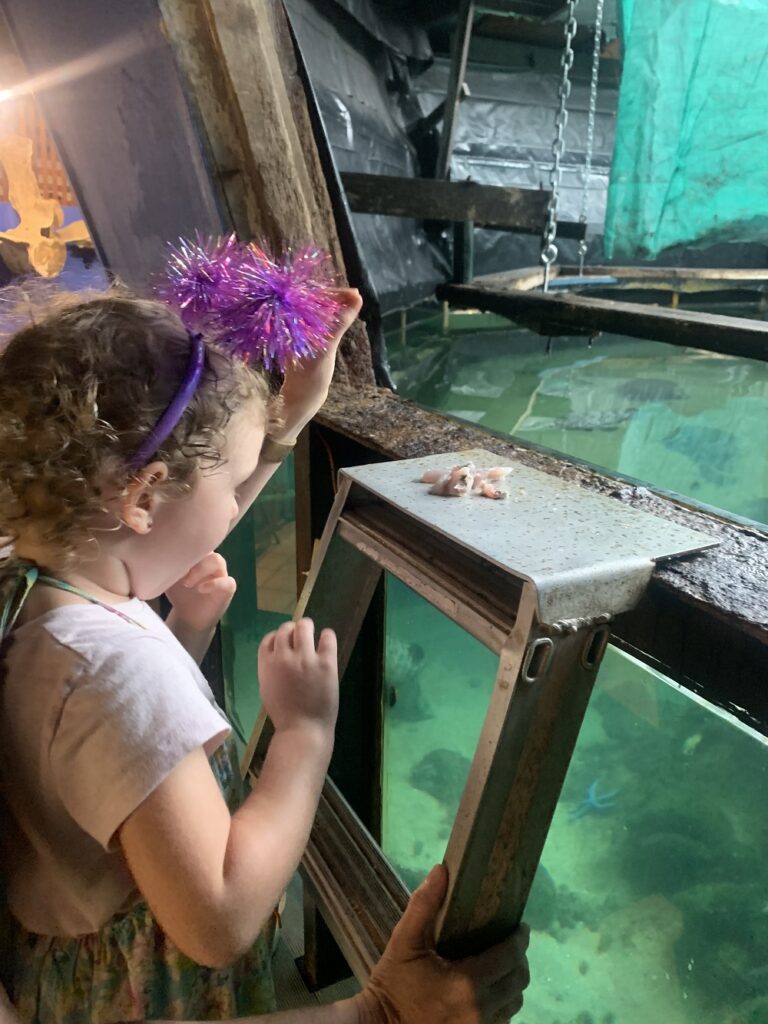 Reefworld Aquarium Experience (Funny Amazing Things To Do In Hervey Bay)
We thought the visit to the Reefworld Aquarium was going to take up some serious time but be warned it is smaller than you think.
It is pretty cool for what it is because you do get to touch massive green turtles, feed fish and the local shark, and feel around in the touch tank, but that is pretty much it.
For the price, it is a little bit of a rip-off, but our kids had fun.
PRICE: Adults – $20, Kids – $10, Under 3s go free!
Visit Point Vernon & See Kangaroos
A little peninsula immediately north of Hervey Bay is known as Vernon Point.
It's famous for its spectacular reef, which is located just off Gatakers Bay, as well as its large population of kangaroos.
Awesome Popular Day Trips From Hervey Bay (More Amazing Things To Do In Hervey Bay)
Visit the Famous Fraser Island
If you have time and a 4WD you can book the ferry from Hervey Bay and pop over to the Island. For more information on Fraser Island read our article here!
Tours to this amazing sand wonderland island come in all forms. If you love camping on the beach or forest for a couple of nights, they have got it here.
If you only have a night or two and need to do a whirlwind day tour around the main areas you'll be able to book it here also.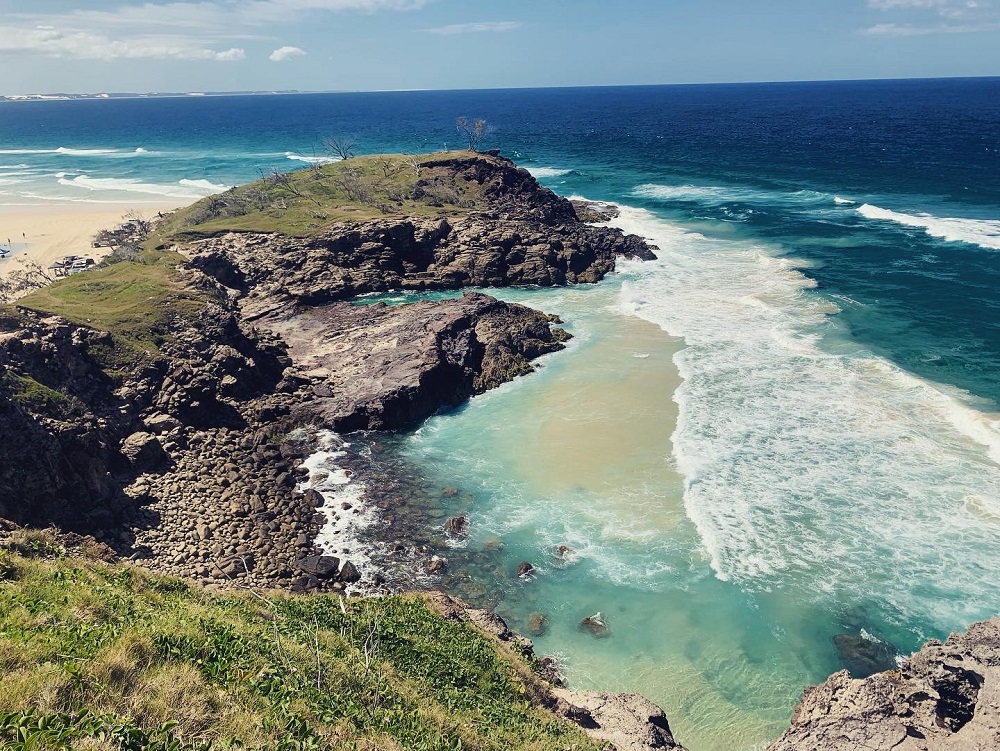 Hervey Bay Accommodation
Old Hervey Bay is a popular place to visit for all ages, it is just chilled out and slow-paced with plenty of things to keep you entertained for a few days,
Hervey Bay has accommodation options for everybody, no matter your budget. Here is a couple for you to look into if you like.
Absolute Luxury ($250 AUD and up):
The Akama Resort is one of the most luxurious stays in Hervey Bay. With a huge heated pool and private balconies looking over at Fraser Island.
If you're looking for a truly relaxing holiday, check out the Oaks Hervey Bay Resort and Spa, which sits right on the waterfront, close to most of the main things in Hervey Bay.
All guests can access the day spa and fitness centre along with two beautiful lagoon pools.
In The Middle (between $80 and $180 AUD):
Middle-range accommodation is abundant in Hervey Bay. Our top choice would be the Comfort Inn on Main Hervey Bay, which, along with being within walking distance of the town's main bay and top activities, features new rooms and an outdoor pool.
If boutique hotels are more your style, I'd recommend the cozy Torquay Terrace Bed and Breakfast, which is found in a quieter area of town.
Also, there are plenty of affordable caravan parks shattered around Hervey Bay that cater to families. Most have a pool area, cabins, caravan sites, and camping areas.
Budget (up to $100 AUD):
There's no need to worry if you're on a smaller budget when you travel to Hervey Bay.
The Woolshed Eco Lodge offers up a series of basic double rooms with huge communal areas and free BBQ facilities. Otherwise, consider staying at Hervey Bay Flashpackers, which offers free continental breakfast each morning and swimming pool access.
As well try the camping areas on the main beach and opposite the Waterpark area.
Amazing Things To Do In Hervey Bay Experience
There is truly no shortage of amazing things to do in Hervey Bay for young and old. The water park area was our kids favourite part when we visited. They spent hours on the slides, running around having fun.
Next door to this was a really cool playground with a parkour area, huge slides, and swings. As you drive along the foreshore you will come across other playgrounds.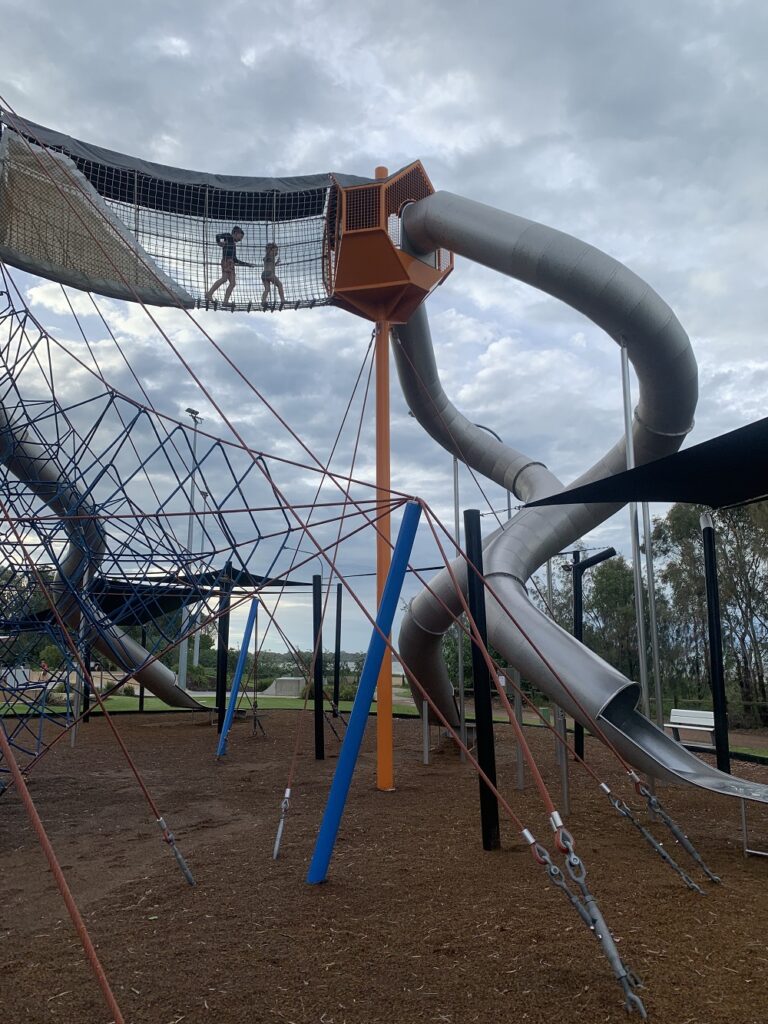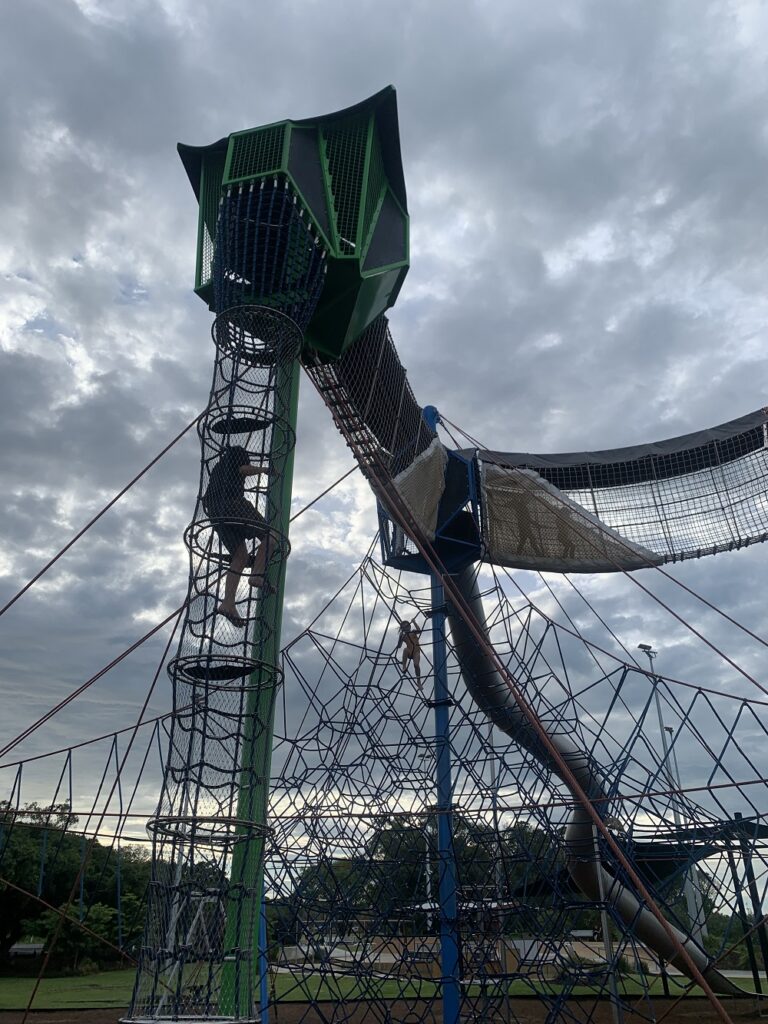 Also Hervey Bay has some other interesting jetties to capture into your camera lens. They are dotted along the beach foreshore.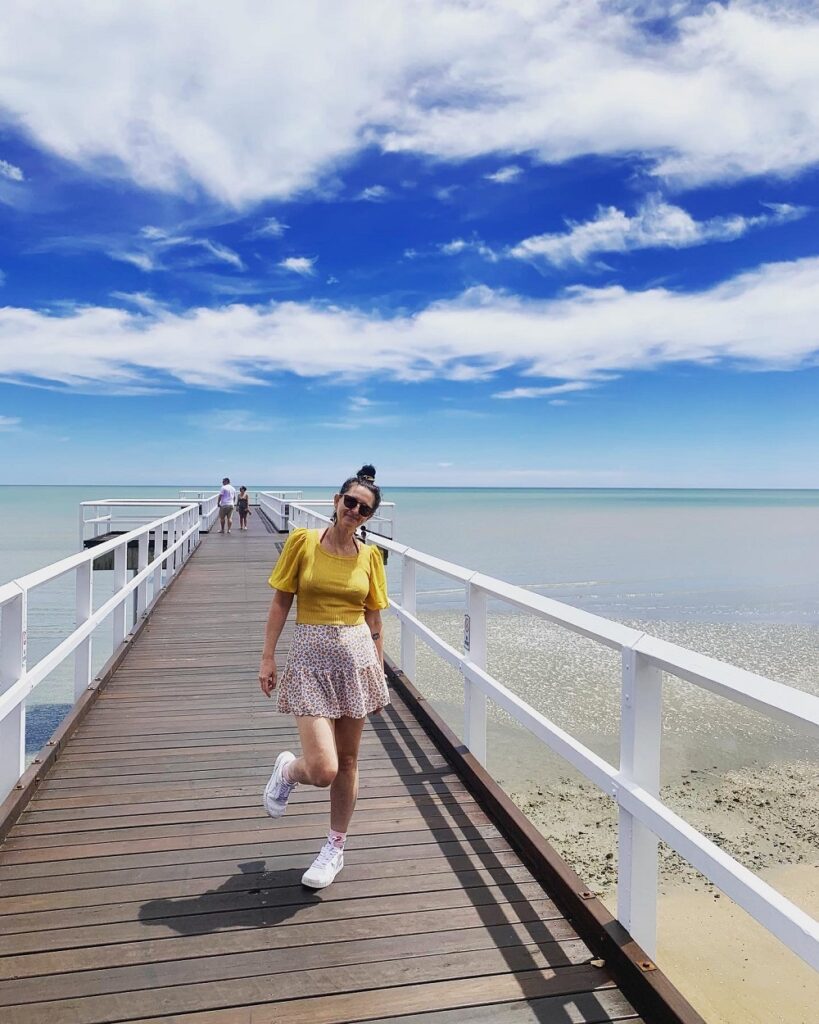 Our kids loved skating and riding bikes along the foreshore because it just never ends. You can camp right on the beach if you want also.
The locals are super friendly and the taverns have great priced meals and drinks for everyone. There is a little bit of a dodgy side to Hervey Bay also, so beware of your belongings and keep things locked away. (You were warned!)
I hope this article gives you a little bit more of an understanding of what is at Hervey Bay and helped you decide on a visit or not in the near future.
Want some more ideas on places to visit around the area? Check out our other favourite places to hang: