I have heard about the Hangar O Camping area ages ago and have always wanted to visit. Last weekend we finally ticked that box and camped at Hangar O.
If you want a totally different camping experience this year you have to spend a couple of nights north of Gympie at Hangar O.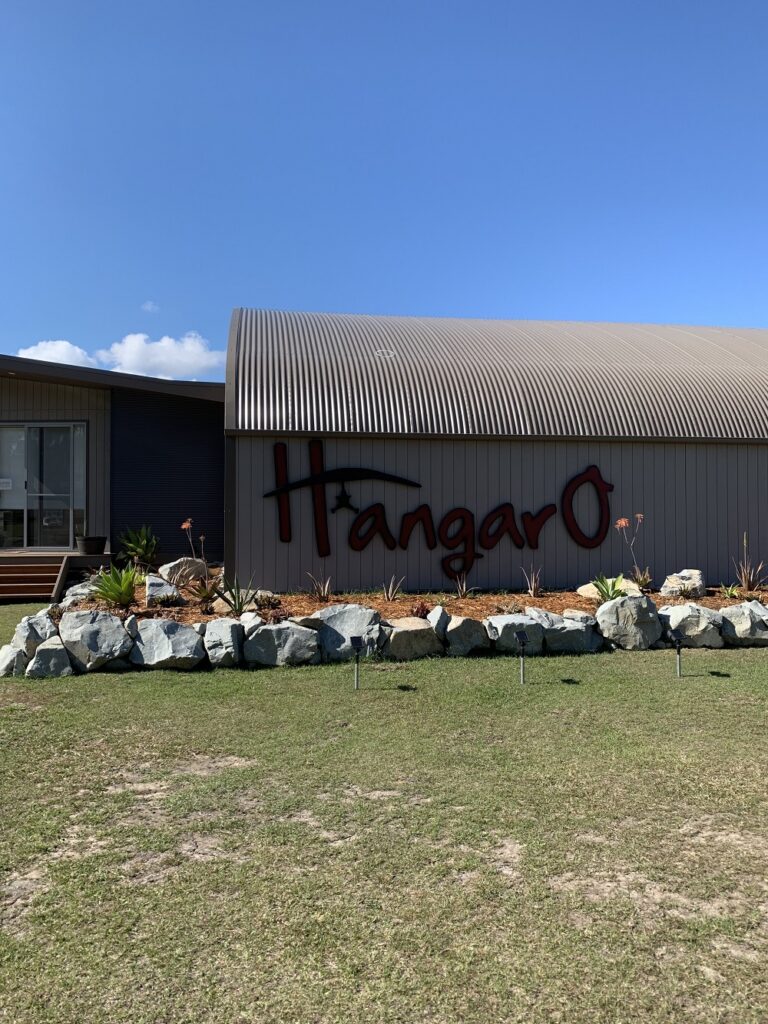 Where Is Hangar O?
Hangar O Camping area is set amongst 160 acres of open forest grazing land located at Gunalda, about 2 hours drive north of Brisbane smack bang on the Bruce Highway. 
It is a quick drive North due to the best highway in Queensland, but turning off into the Hangar O campground is a little sketchy. It is advised to drive past the campground for about a kilometer and turn around to avoid an accident.
See the below map for the location of the Camp.
Accomodation At Hangar O
The accommodation options at Hangar O vary and will suit your needs. Want romance? Why not stay in the onsite Luxe Tents.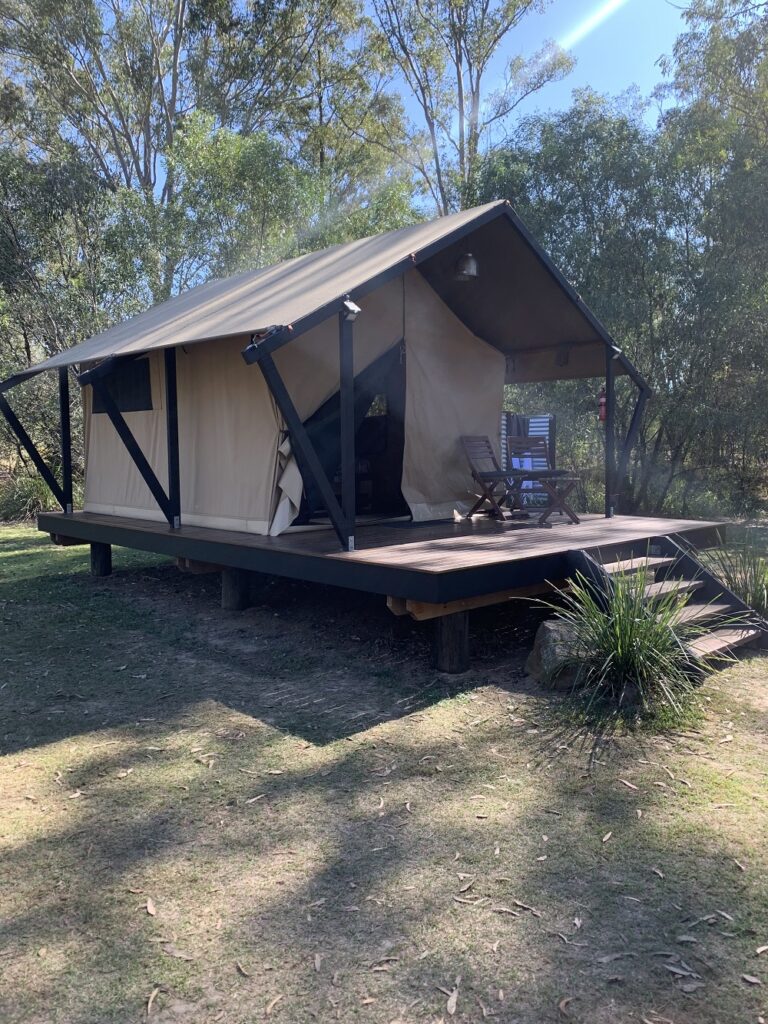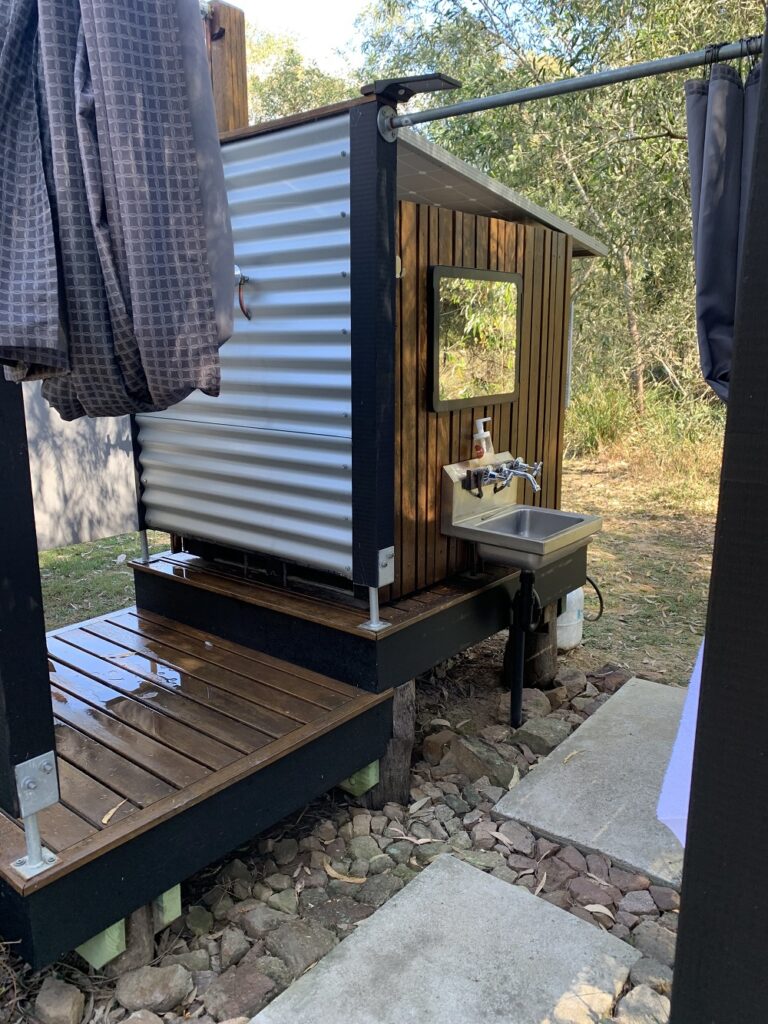 Need some more luxury and homely comforts? Book a cabin.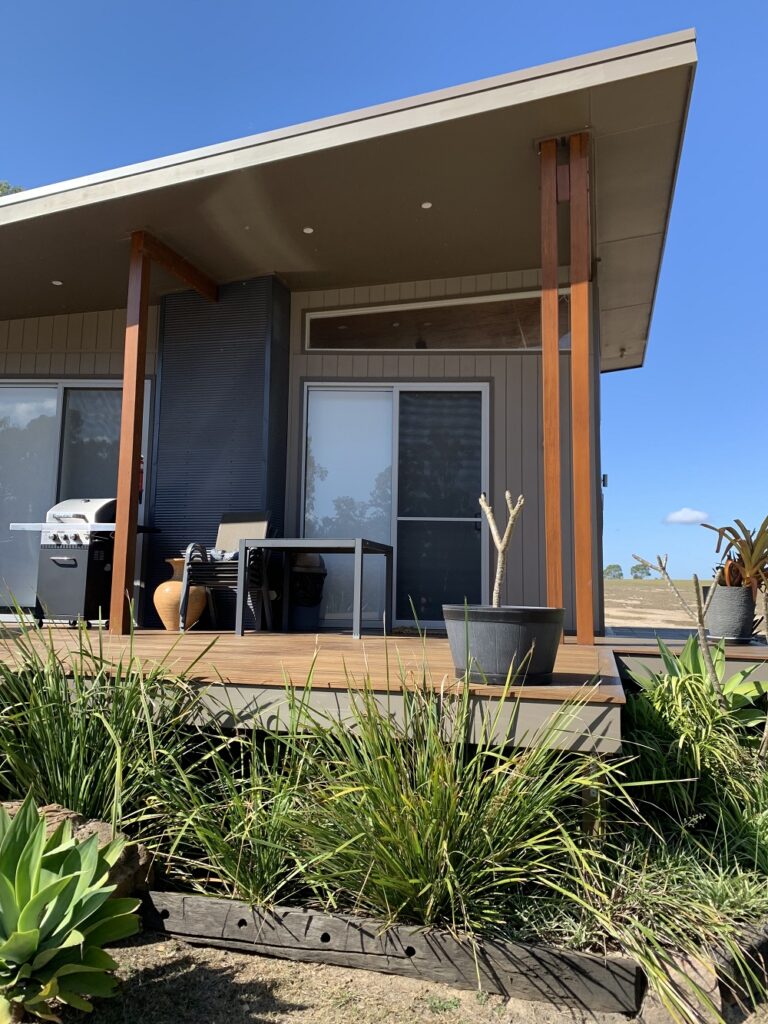 Got your own tent, caravan, or camper? Then book a campsite!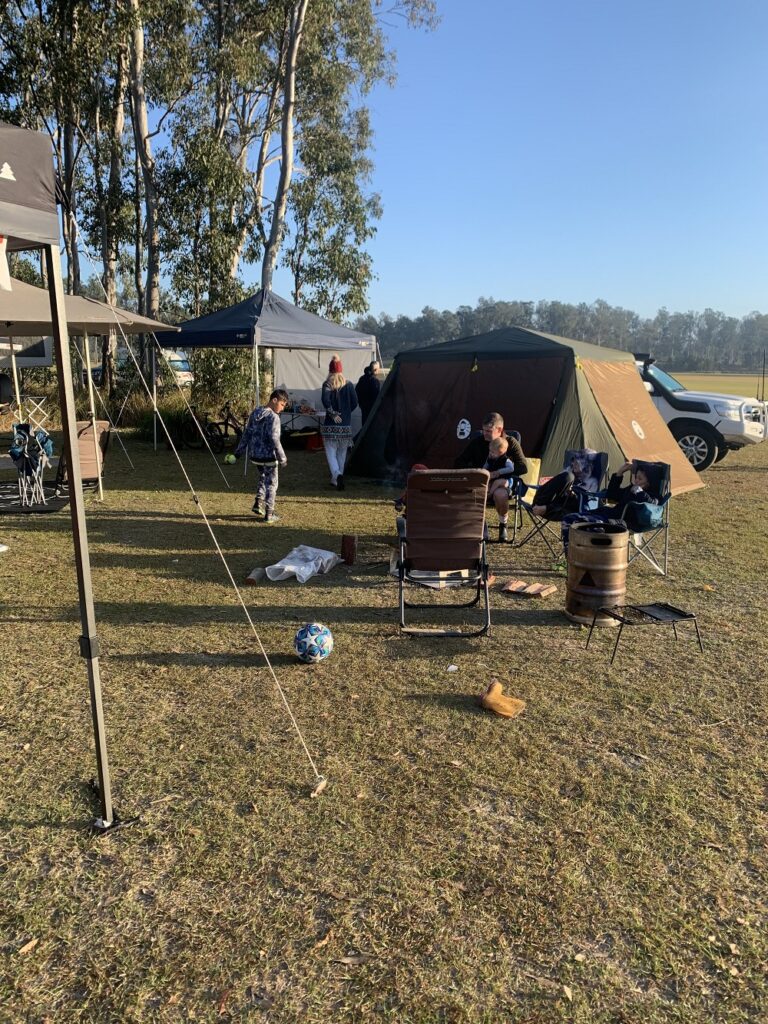 The camping ground area is so flat and hard which makes it great for big rigs, tents, and just about anything. No need for allocated sites, you just rock up and pick an area to set up.
How Much Does It Cost to Stay At Hangar O Camping Area?
​Un-powered campsites
$30 per night for up to 2 ppl $5 per person, per night for kids over 3 (kids payable upon arrival)
​Tripod Camping
From $65 per night for 2 ppl
​Couples Luxe Tents
From $165 per night for upto 2ppl
​Family Luxe tents
From $215 per night for upto 2ppl
​Luxe Studio
From $230 per night for upto 2ppl
​Billabox (Coming soon):
From $135 per night for upto 2ppl
Things To Do At Hangar O Camping Area
This unique camping ground has an airfield running right through the middle with a light plane hangar attached to the office.
This little area is where the entertainment happens. Music bands are hired on most Saturday nights and play in the Hangar. Usually, a food truck arrives also that provides snacks and meals.
In the morning coffee is served at the Hangar for your convenience. On the weekends you will get to see ultralights and small planes landing and taking off which is always entertaining.
You can even take a ride in one and view the local area from the air. ( It costs around $100 dollars per person to take a thrill ride!)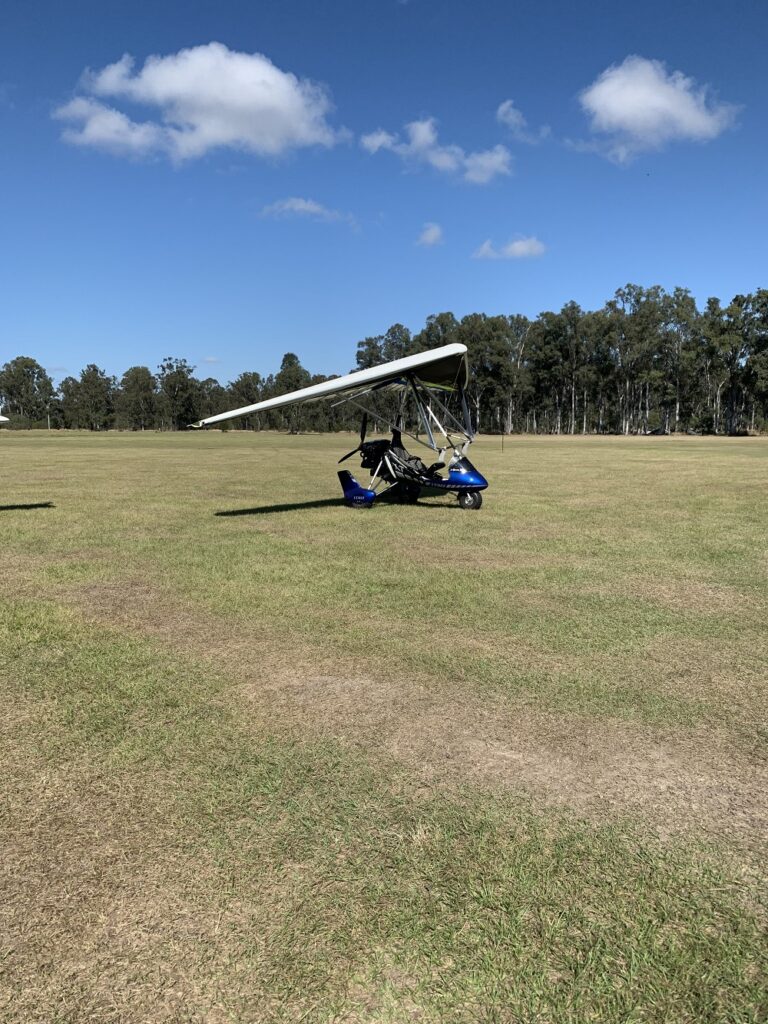 They have a pool and waterslide for the kids over the creek. The slide is fun for kids and the pool is around 25 meters long.
The BBQ area is situated at the pool also.
Here is what is on offer at Hangar O:
Drinking Wine and Beer (This is a great one!)
Riding Bikes (Nice and flat with fun hills)
Plane rides
Cooking and Eating
Swimming & waterslides
Massage Treatments
Games and activities
Explore the region (Gympie, Tin Can Bay, 1770)
Walk around the farm area, creeks and billabongs
This is a really relaxing place and great for the kids to explore and just be kids.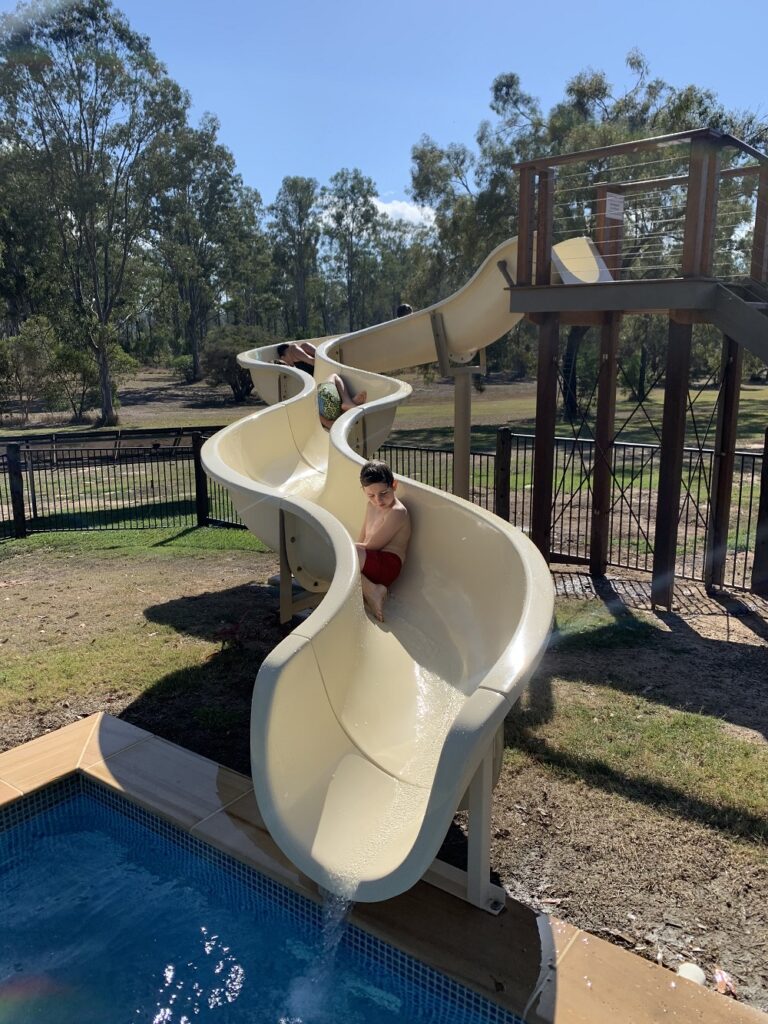 Fascilities At Hangar O Camping Area
This place has everything you need for a weekend getaway camping.
Facilities include:
Drop toilets around campsite
Bins for rubbish
Coin Operated Shower at pool area
Pool & BBQ
Food Truck on weekends
Firewood for a fee
Fireplaces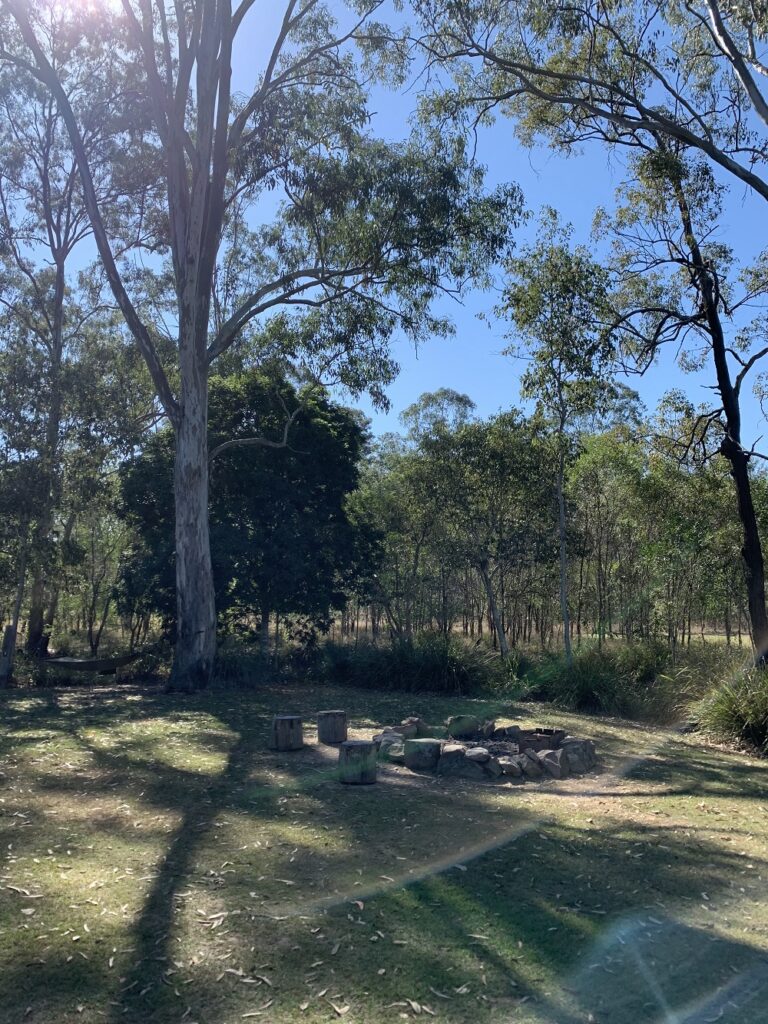 Hangar O Camping Expereince
When you enter the camping ground you will be amazed at the huge space and how flat this area is. The entrance gate requires an access code, but once in drive along a gravel road slowly to the check-in sign and grab your paperwork.
Camping is along the creek but not on the runway.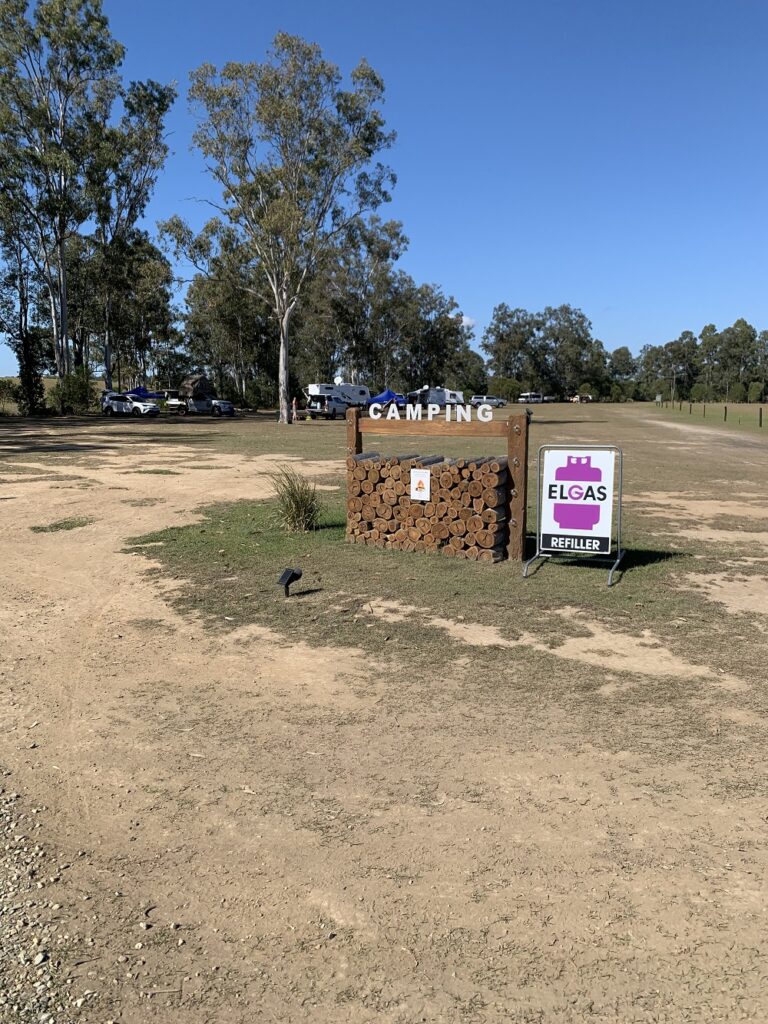 No need to worry about finding a flat spot because it is all flat. The ground can be a bit hard if hitting in pegs.
If you want a fire you must bring a fire pit, you can hire them and buy firewood from the owners.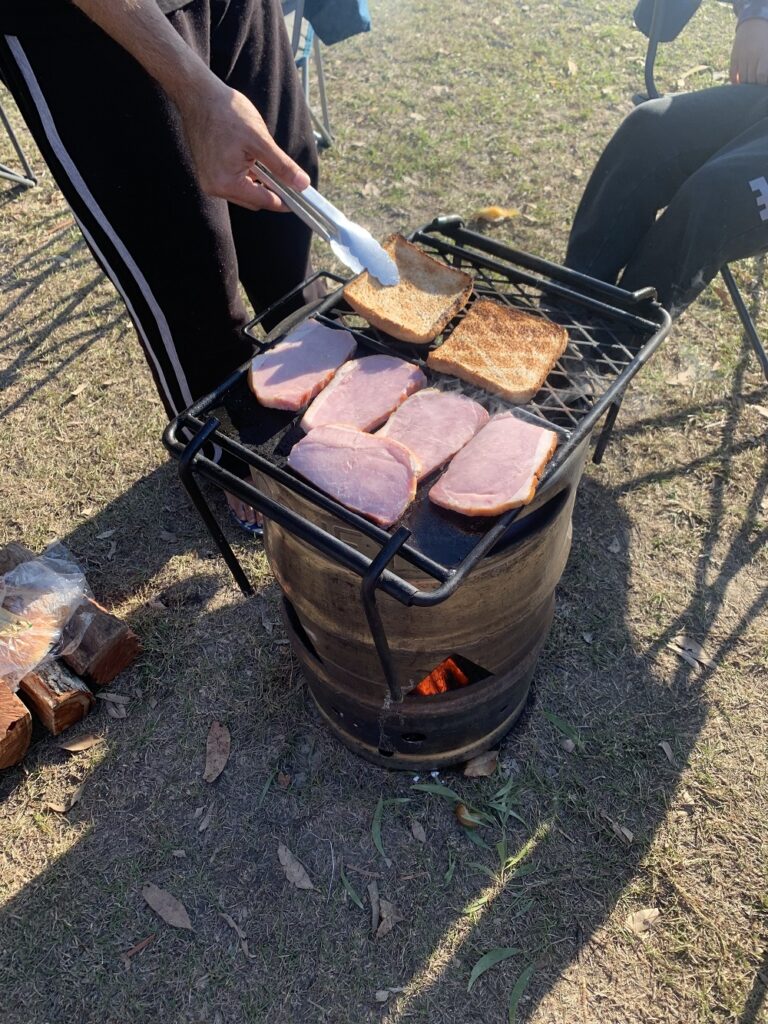 The creek is often dry and depending on whether you like the morning shade or afternoon shade will dictate where you camp.
Driving on the runway is prohibited and also driving across the creek to the pool area is not allowed. I (Not sure why, because it is a fair hike on foot.
The luxe tents look amazing and romantic. They offer a bed, hammock, fire pit, and separate shower and toilet area.
It is a really open area, and I think it would be very hot in the summer months. I would probably spend all my time by the pool at this time.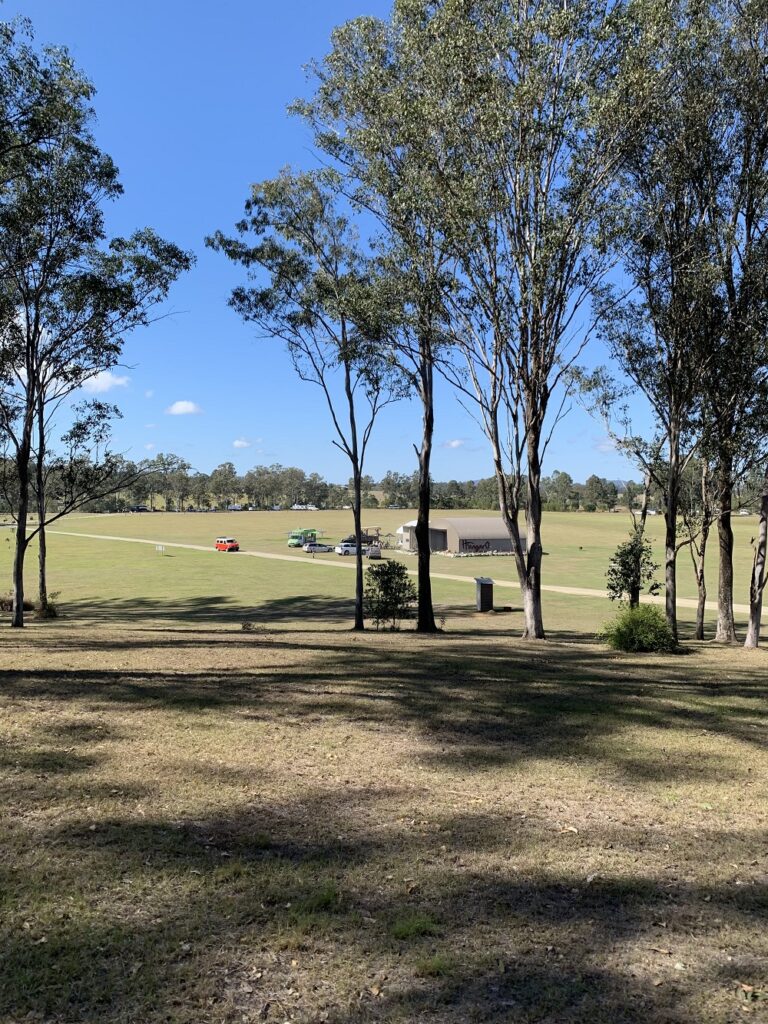 Winter the pool is freezing, so bring a wetsuit. The kids love the slide, but it is a little slow.
We found the shower system is a bit backward, coin area is outside the shower so don't run out of time!
Kids had a great time riding bikes, playing ball sports, pool, and entertainment. Also watching the planes land and take-off was cool. Those ultralights look crazy!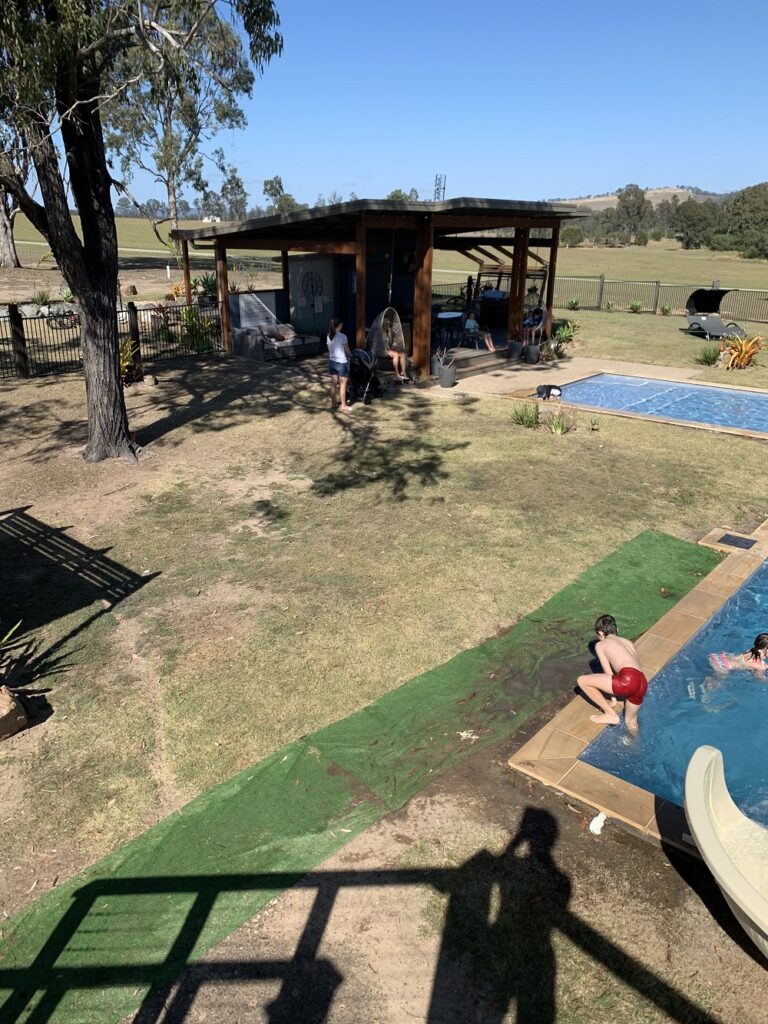 All in all, we had a terrific experience at Hangar O and will return one day again.
Hangar O Camping Review
Our overall rating of this place would be 8 out of 10. We recommend anyone with kids and a large group to have a weekend here because it is fun!
Next time we will look into taking a flight. Riding your bike around the grounds is fun.
Drop toilets are never our favourite thing, but at least they were clean and in handy locations. The pool location is interesting but it is a little oasis and well landscaped and designed. Can get a little hectic when big groups arrive.
So why not try out the Hangar O Camping experience the next time you have the weekend off!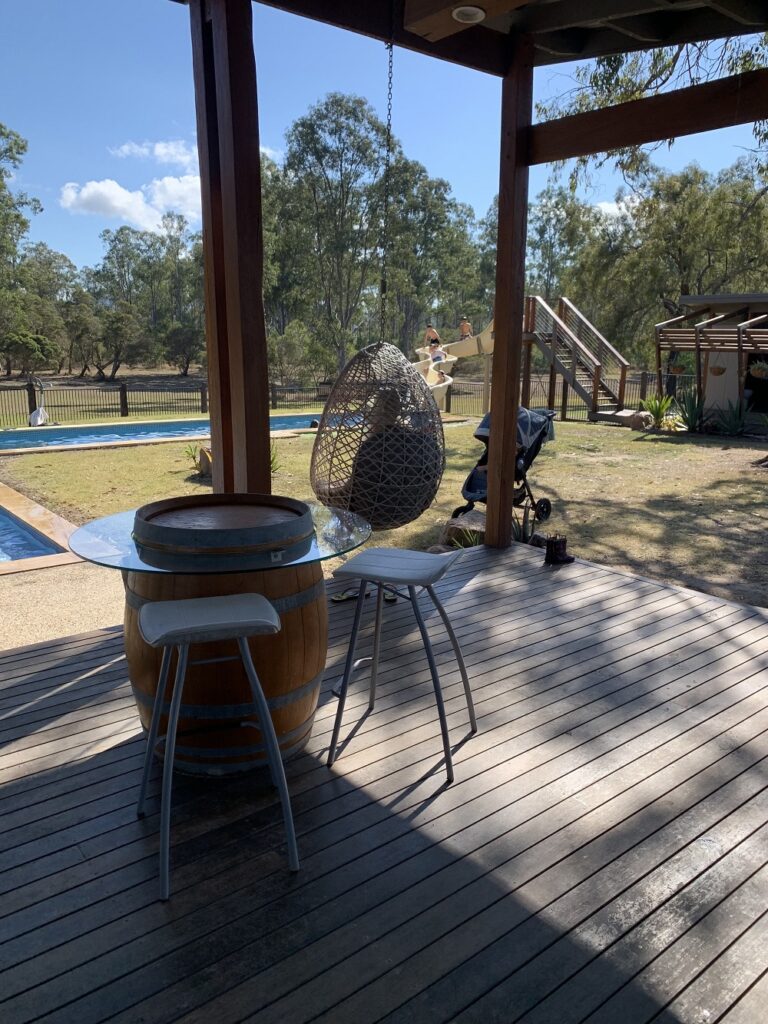 Thanks for reading.
Want to find other amazing camps in Queensland? Click below!