We just got back from an amazing weekend getaway at the beautiful Booloumba Creek Camping Area near Kenilworth.
Let us tell you this, it is amazing, adventurous, wild, and cheap!.
Cheap camping is a huge tick for our large family of 6 and being able to have campfires is a massive plus. How else am I going to cook chocolate chip scones?
Find out everything below and get ready for an adventure of a lifetime that you will never forget.
Watch this video to see what it is like!
Where is Booloumba Creek Camping Area?
Situated in the Imbile forest just west of the old town of Kenilworth. If you don't know the area and can be a little tricky to find.
Basically if you can find the turn off for Charlie Morland Camping Ground keep going over the big bridge and it is your next right turn to Booloumba Creek.
Here is the map below on how to get there from Brisbane.
How Do You Get to Booloumba Creek Camping Area?
Once you arrive make sure you have a 4 wheel drive vehicle. Why? Because you need to navigate two average depth creek crossings.
Water levels vary and the creek bottoms are loose medium-sized rocks but easy to drive through with a standard 4 x 4. A trailer is fine to bring also.
Once past these two obstacles, the road is basically just a gravel road with a few potholes and washouts.
From here you will have to find the camp area you pre-booked online.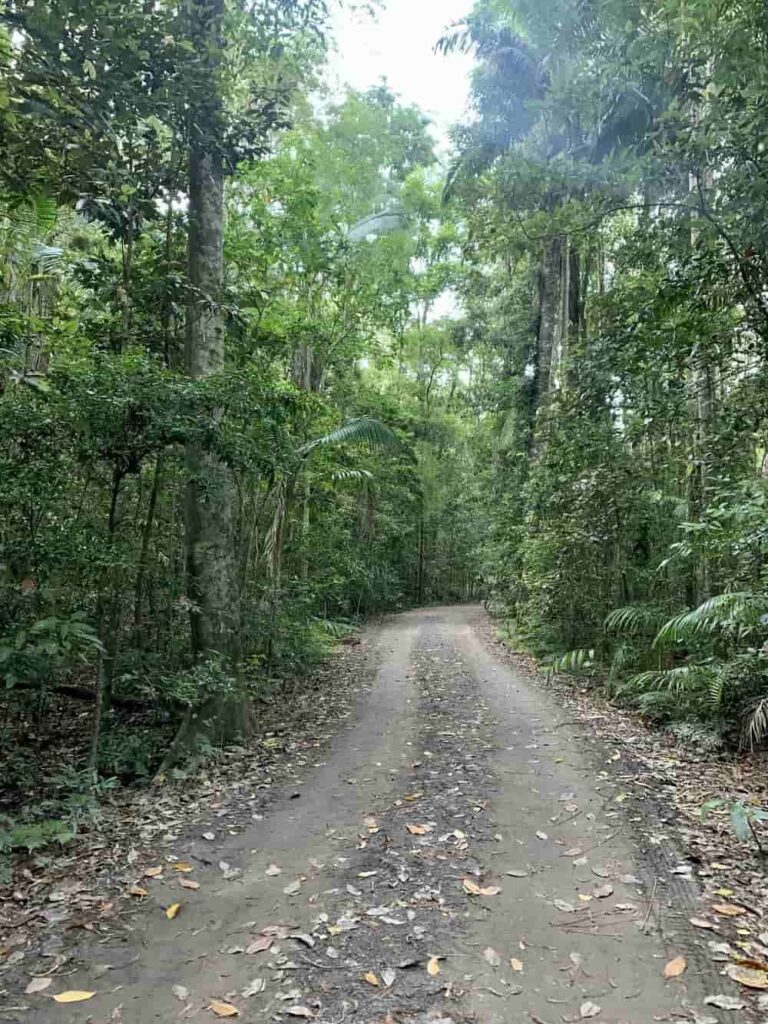 The Booloumba Creek Camping Areas (Which One?)
Booloumba Creek Camping Area 1
Upon arrival, the first camping area you will come to is area 1. This is a beautiful camping area full of trees and various types of sites suitable only for camping tents.
The terrain is a little hilly and can be seen from the main road but all in all a nice relaxing spot to stay.
Our favourite camping sites that we liked the look of were sites 10 -17 down the bottom.
Camping area 1 also has access to bushwalking tracks and a flushing toilet. This camping area also has the only payphone for if you need to contact the outside world.
Other major bonuses included in area 1 are:
Individual fire pits
Payphone
Level hard site pads
No generators
Running Water (no drinking)
No dogs
Shallow creek for kids to play safely in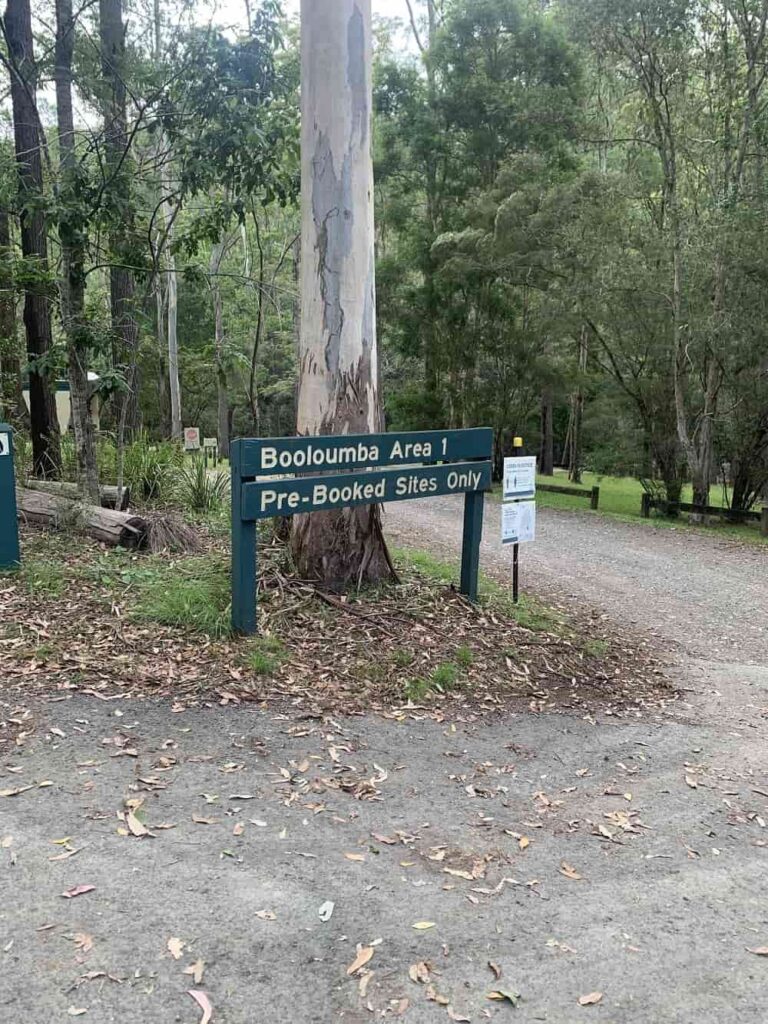 Booloumba Creek Camping Area 2 (Day Use Area Only!)
This area is for day tripper's only.
Perfect for a day trip, BBQ, and the beginning of some great hiking trails that connect all the awesome sites together.
Camping here is not an option.
Booloumba Creek Camping Area 3
This is our favourite camping area at Booloumba Creek. The jungle here is dense and super green.
Each site is tucked away from the public which is great for privacy with awe-inspiring outlooks into the forest.
All sites have their own fire pit with a cooking lid and dirt, with compacted granite tent pads for your tent.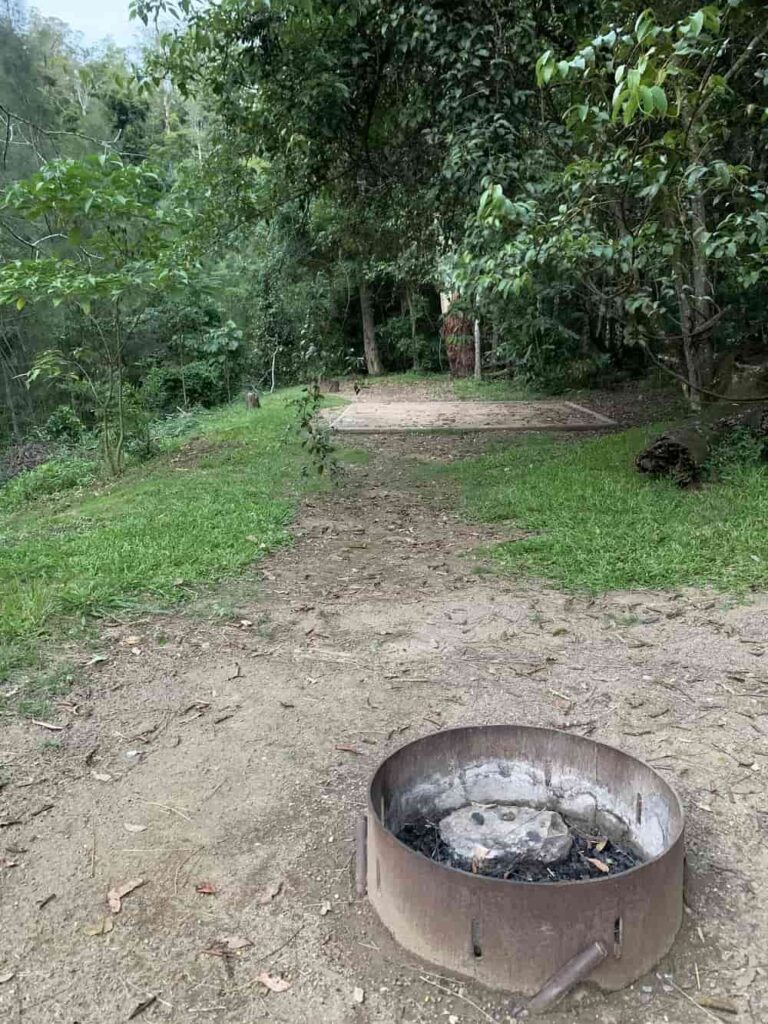 Tent Camping Only Here!
Only tent camping in this area and you can't generally park your car right beside your camp, so you will need to carry some things in a few meters.
The noise of the birds and insects is pretty intense at times here and the way the national park is set up you really do feel like you are in the middle of nowhere.
Camp area 3 also has great access to the major bushwalks in the national park.
The best sites in our opinion are down the front near the Booloumba creek ranging from site 1 to 10.
Beware site 1-3 is near the waterhole so can get pretty noisy with visitors so if you like it quite aim to choose from 4 – 10 sites.
The best sites in our opinion were sites 4 – 10, they were just the most secluded with great ambiance.
Camping up the top looked great also but further away from the creek for the kids.
All camping areas have toilets, they even flush with toilet paper provided. Another bonus is they provide running water that is unsuitable to drink but great for washing dishes etc.
Do not bring a caravan or camping trailer in here, camp area 4 is for these types of rigs.
Other major bonuses for us included:
Major waterhole for swimming
Shallow creek for kids to play safely in
Access to all walking tracks
Real Toilets
No generators
No dogs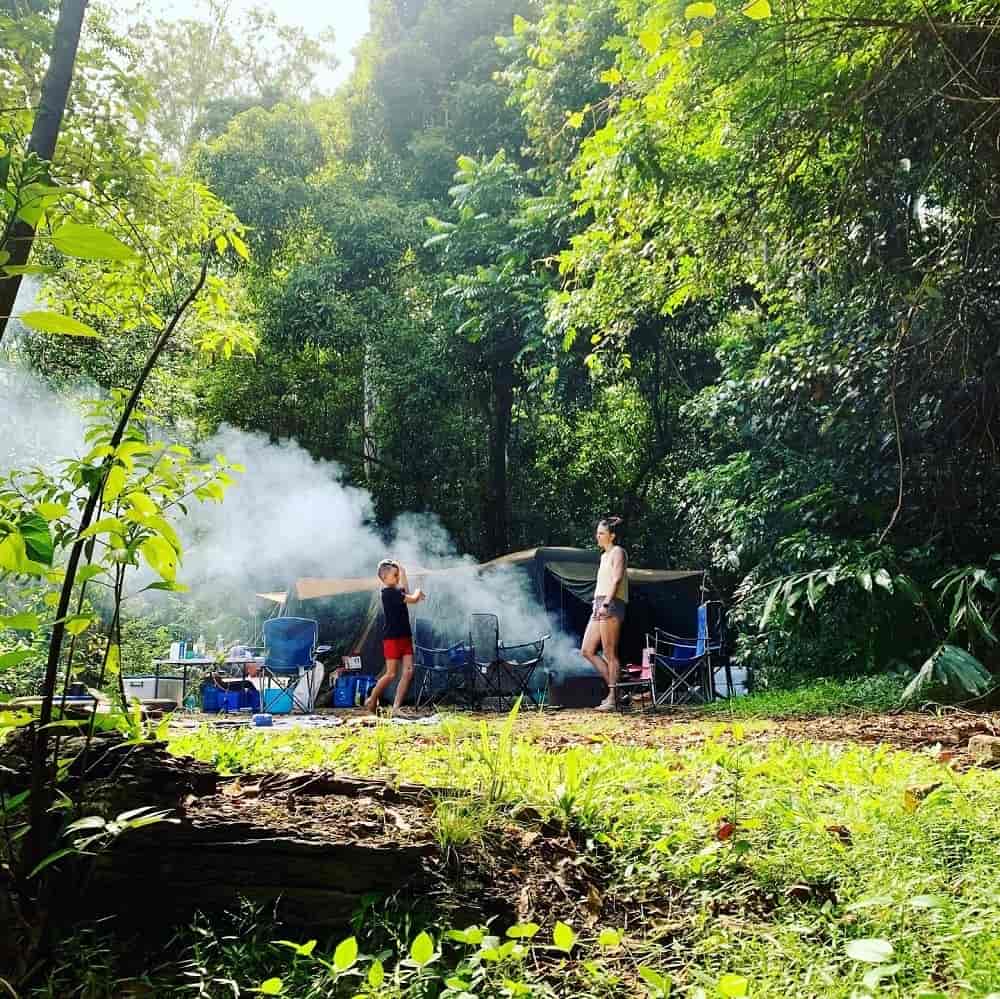 Booloumba Creek Camping Area 4
Have a caravan or camping trailer? This is the spot for you! Here you can camp with your huge group of friends and have fun.
Sites are open and spacious with patchy shade cover. Fire pits for fires are positioned around the park camping area and generators are allowed.
Access to drop toilets are over the road.
If you have a big rig or large group book camping area 4 for sure.
Booloumba Creek Camping Map
The Booloumba Creek Camping Area 1 Map
Take a look at which spot suits you by clicking on the pdf map here.
Booloumba Creek Camping Area 3 Map
Check out the best camping spot that suits you by clicking on the pdf map here.
A Booloumba Creek Camping Area 4 Map
Check out the best spot that suits you by clicking on the pdf map here.
If you are camping, you need to also pre-book your stay online here.
How Much Does it Cost to Camp at Booloumba Creek National Park?
Family per night up to 6: $27.00
Per-person per night: $6.75
So affordable! Who wants to stay at Big 4's and pay $12 dollars a night per child and $50 per site unpowered? When you can stay here!
Book your Booloumba Creek Campsite here.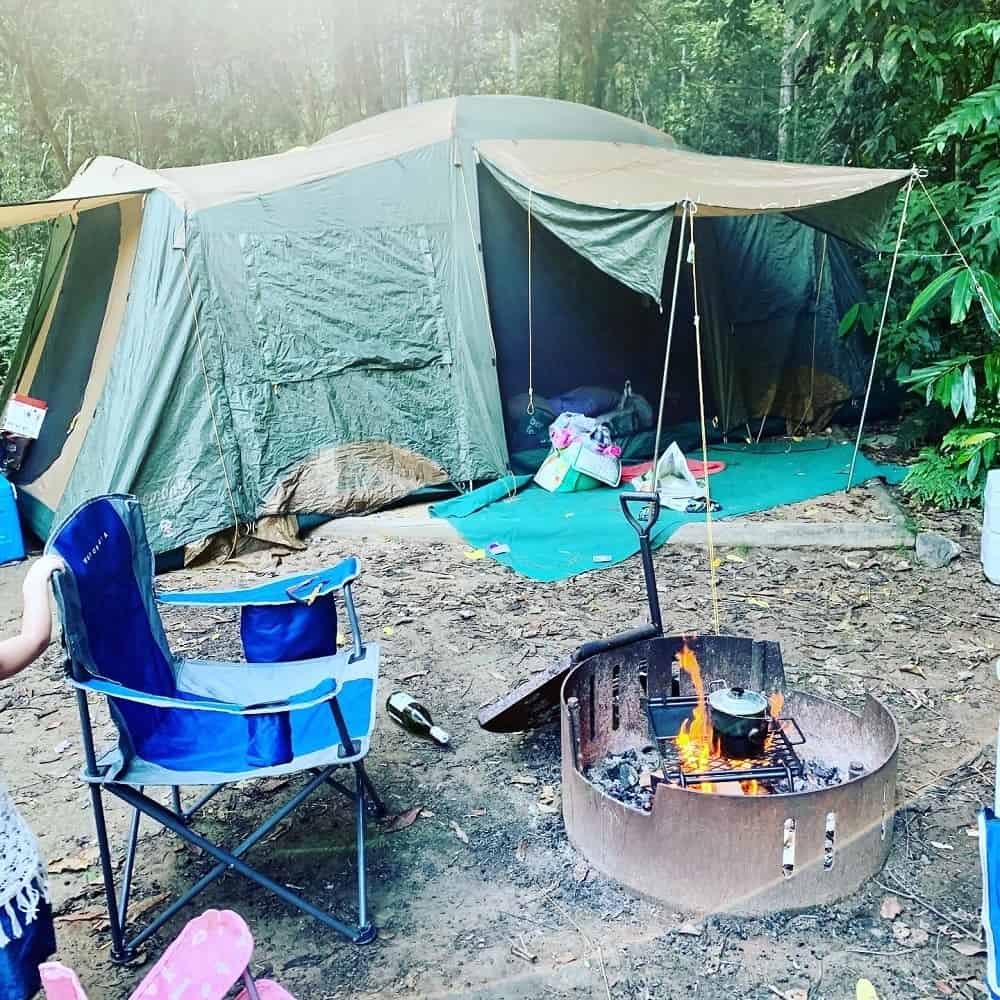 Things To Do At Boolomba Creek Camping Area
So much to do here for a few days. Here we have compiled a list of adventurous and amazing things to do while camping in the area:
Bushwalking – Exploring
For nature lovers and avid hiking experts, there is plenty of hiking tracks taking you to various destination around Conondale State Forest.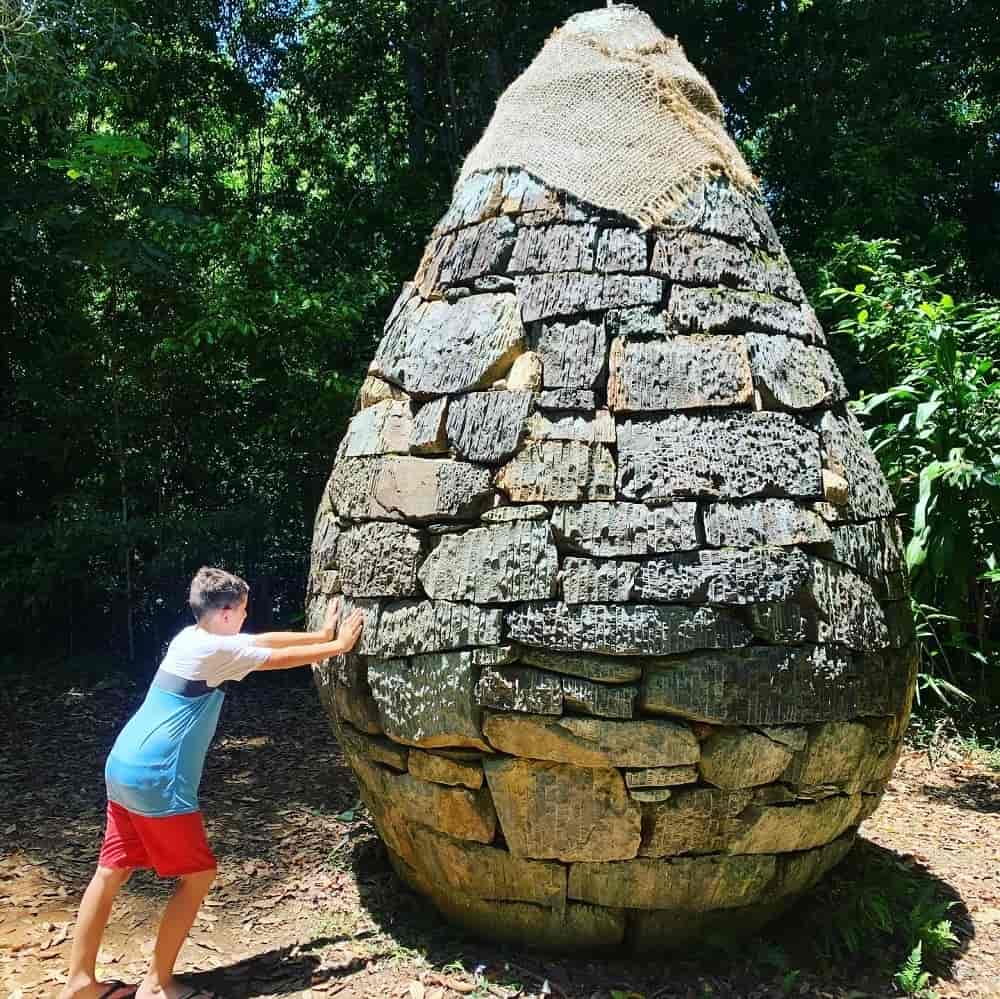 Highlight walks (taken from camp area 3) include:
Gold mine circuit (1.6km)
Strangler Cairn (2km)
Booloumba day-use area (2.1km)
Booloumba Camping Area 1 (2.8km)
Artists Cascades (4.7km)
Mount Allan Fire Tower (6.8km)
The walks are very cool and set in dense forest for most of the parts. You could walk around for hours out there, it is very interesting with plenty of waterholes along the way.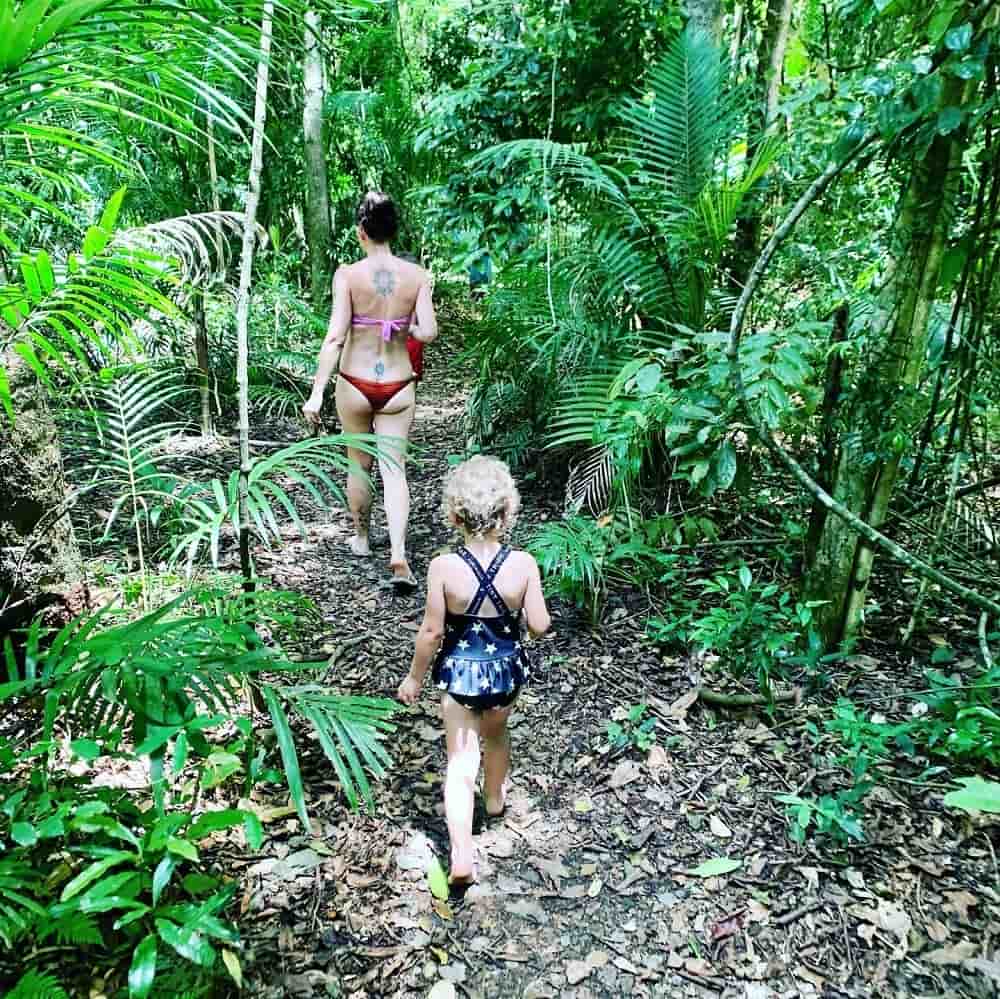 Visit Booloumba Creek Falls
If you take the main road track to Booloumba creek falls the distance is 9 kilometers from camp 4. The track is a little steep at first but worth a look.
Swimming in Local Waterholes
Two of the best swimming holes that we found were just north along the walking track and at the south of Camp Area 3.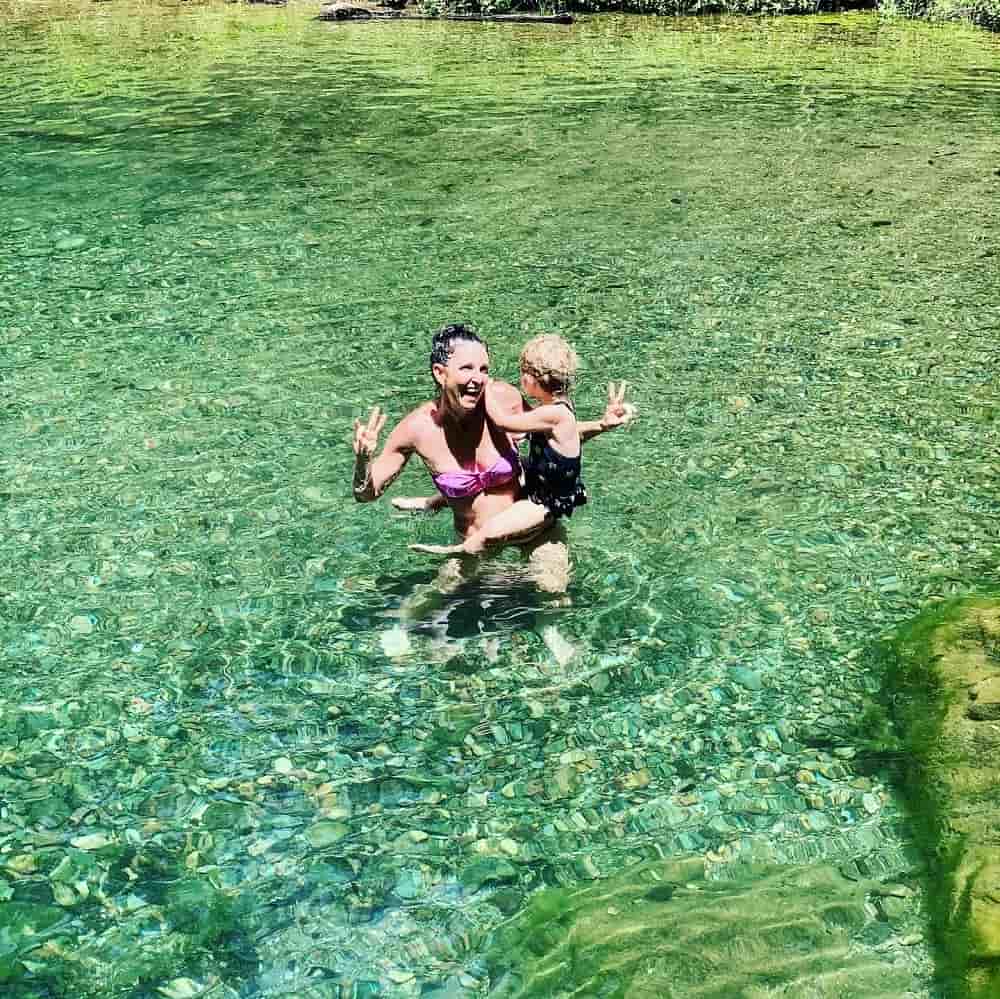 The northern waterhole was quiet and crystal clear with plenty of space to swim and explore.
While the southern water hole got a little busy and rowdy.
Hot tip! Get to these waterholes early because they can get a little stirred up after people have swum around. The water is so fresh and cool.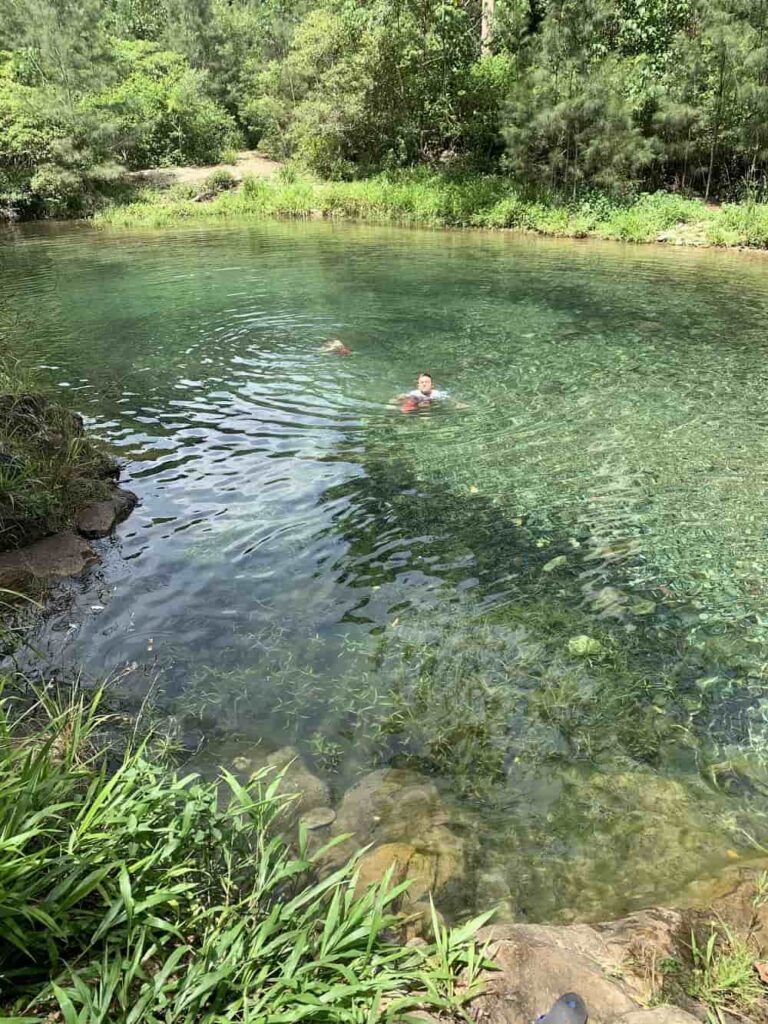 Relax & Unwind at Camp
Take a good book or just meditate by yourself if you can. This is really a good place to do it! Relax and unwind from your busy life, that is what these amazing places are for.
Camp Cooking – Eating
Grab some firewood from town and cook up a storm over your hot coals. We have a camping pot and plate that makes delicious dampers, scones and camp cook ups!
Eating and drinking is the best thing to do when camping. If you need some great camp recipes to get you started grab yourself a copy of this book.
Camps Australia Wide Cookbook review!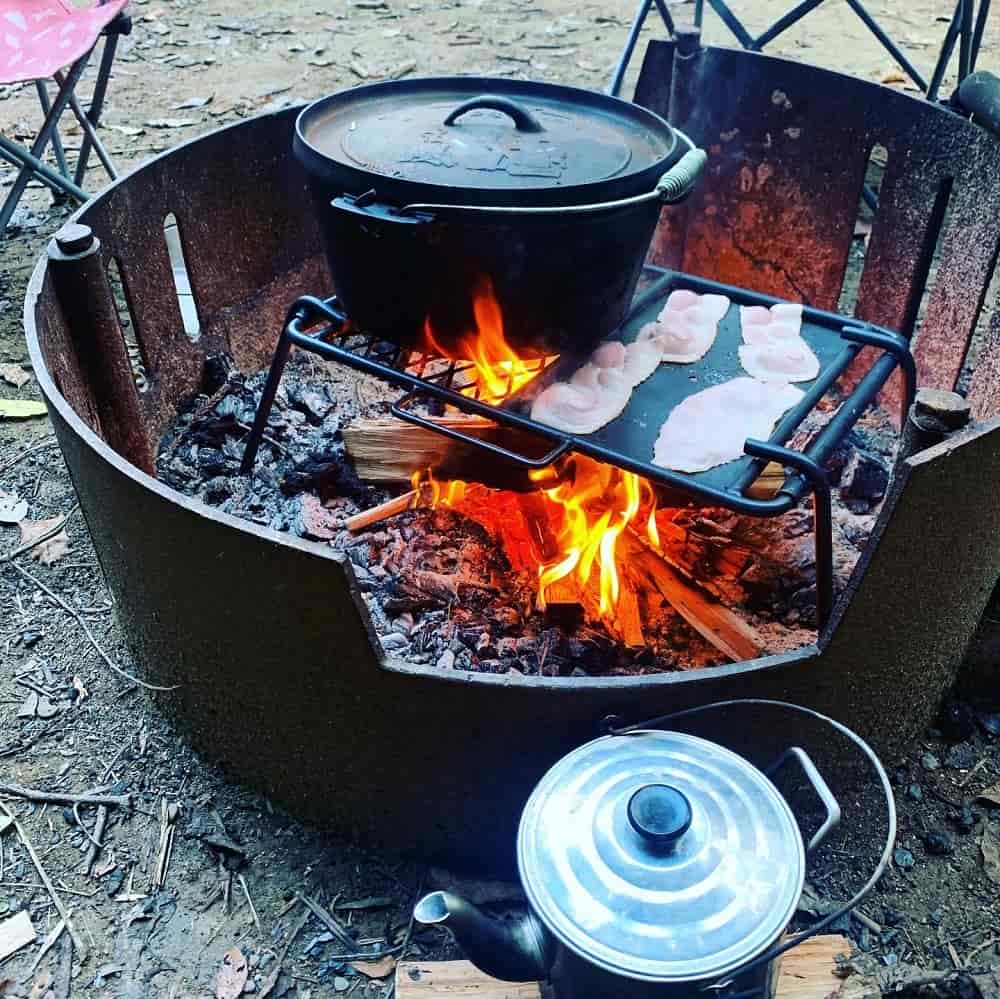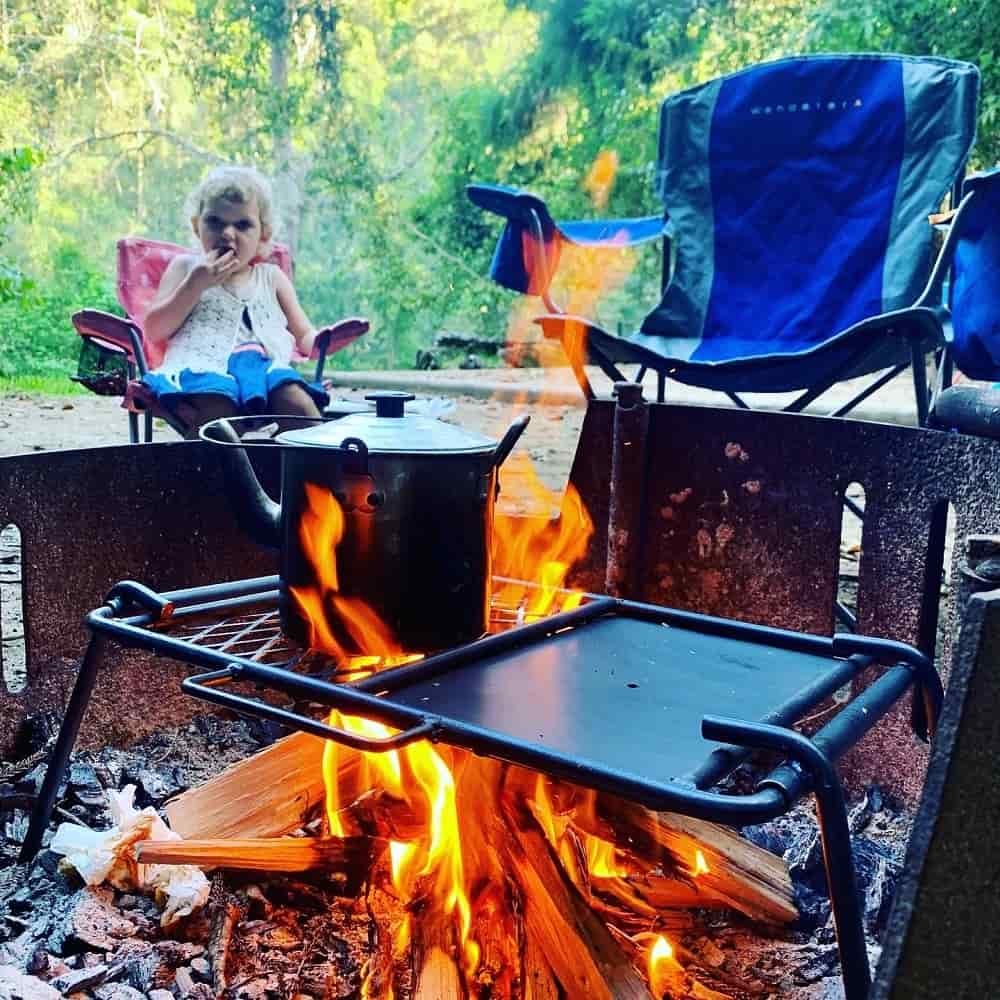 Nearest Pub
Kenilworth Hotel is your nearest pub if you are keen for a meal and tasty beers on tap! They are delisious and it is only roughly a 15 minute drive away.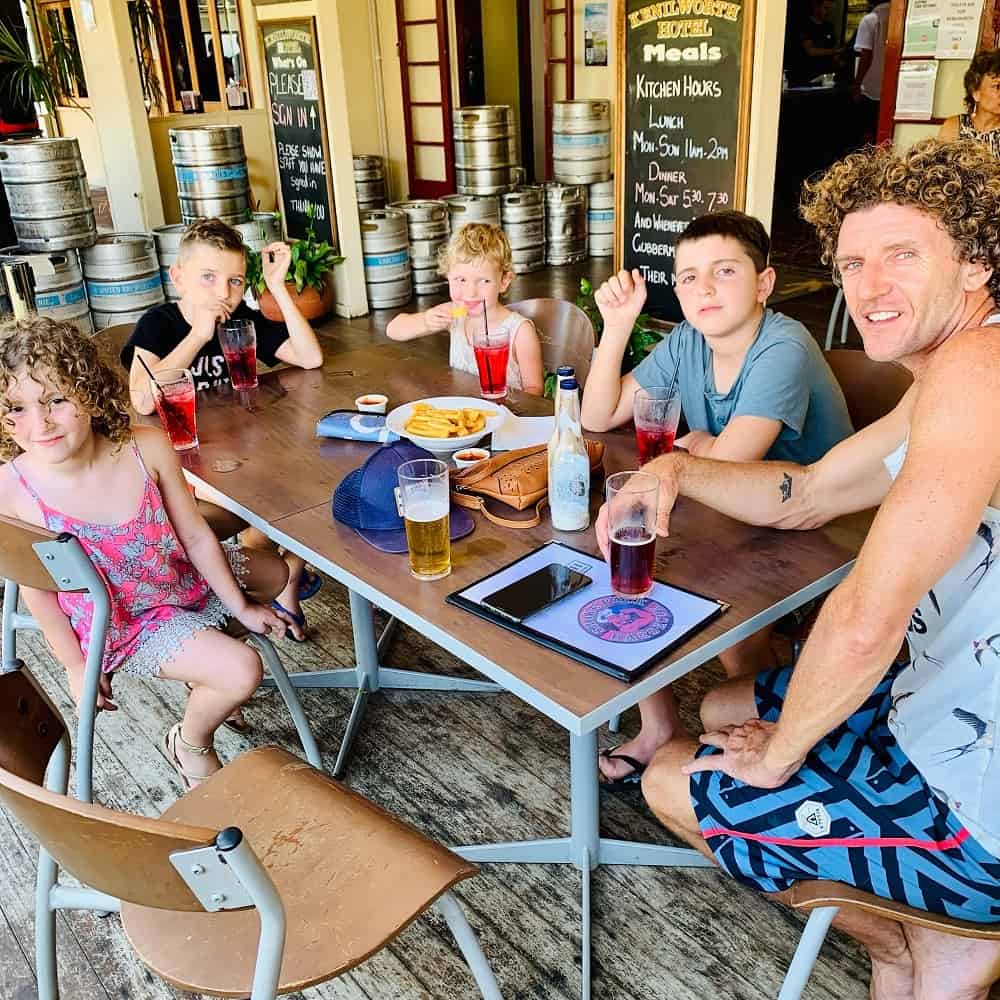 Booloumba Creek Dangers
Like all national parks in Australia you need to keep an eye out for dangers and risks to your safety.
Always supervise your children camping because anything can happen.
Here is a list of some dangers when camping at Booloumba Creek:
Becoming lost in the forest (there are many tracks that can lead kids down the wrong path, so stay close.)
Don't dive headfirst into water holes and supervise children while swimming
Water in drinking taps is unsuitable for drinking
Insects and bugs bite. For most kids, this won't matter but if allergic it could pose a threat. (Watch out for jumping ants, scorpions, mosquitos, march flies, snakes, and spiders when in the bush)
Stinging trees (Gympie Gympie tree) This can cause the worst pain and no one tells you about it. Did you know that a man years ago wiped his bottom with the leaf and endured the worst pain of his life and shot himself? Yes, it is supposedly true!
Slips & Trips such as twisted ankles
Burns from fires
This is not scare you but to have you think a little before you relax in nature.
Is Booloumba Creek Camping Area Dog Friendly?
Nope. Because this is a National Park, dogs, and other pets are not permitted at Booloumba Creek.
Is Double Island Point Suitable for Small Cars?
Booloumba Creek is suitable for:
Tent camping beside a vehicle
Off-road caravans and
Camper trailers with high clearance
4 x 4 vehicles
Booloumba Phone Reception?
No! Sorry guys just use your phone as a camera because you won't get a signal out here!
It is nice to get away from technology and let your mind breath.
There is a public phone at Booloumba Camping Area 1 to use if you really need to phone home.
National Park Rules & Regulations
No pets
Campfires permitted unless stated
Bring your own firewood – don't collect it from the bush
No Rubbish bins are provided, carry out your rubbish
Be considerate to other campers
Quite time after 10 pm
Obey road rules when driving
Boolomba Creek Camping Facilities
Here is a list of the facilities available at Booloumba for your convenience:
Toilets are situated throughout the area at camp areas. They even flush some of them!
There is running water around the park at the provided taps (do not drink!)
Firepits with cooking plates
Payphone at Camp area 1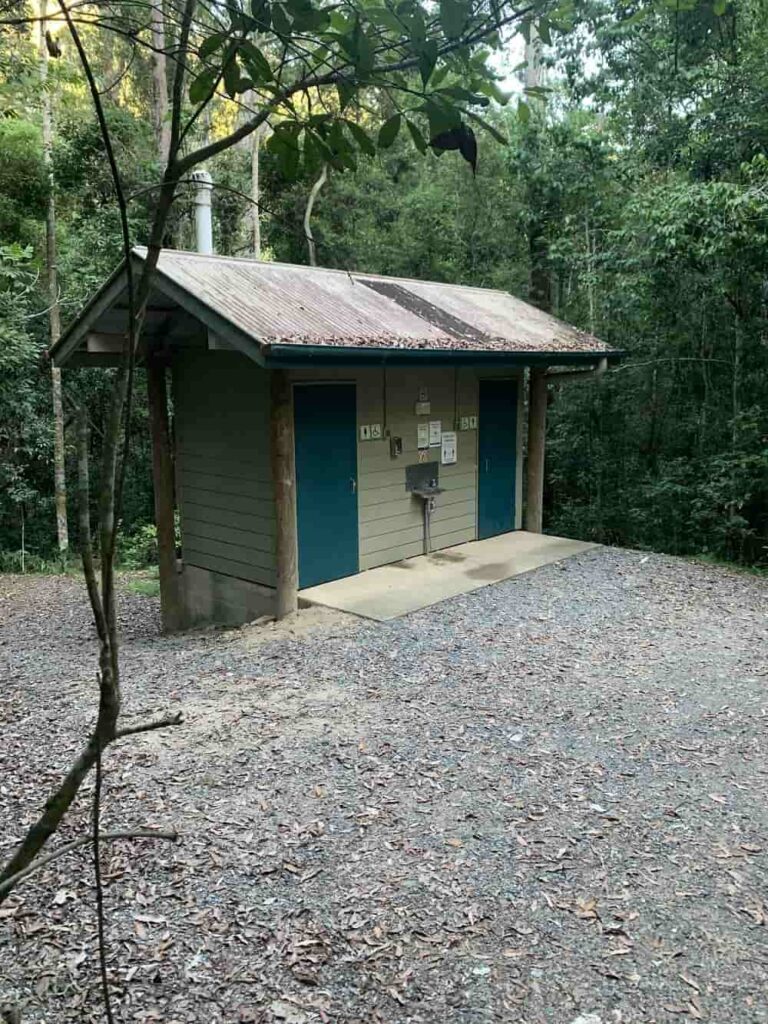 Booloumba Creek Camping Essentials to Bring
Make sure you bring these essential items when you visit the Conondale National Park wonderland:
drinking water
fuel or gas stove
rubbish bags
first-aid kit
insect repellent
sunscreen
Tent
clean firewood such as untreated mill off-cuts, not bush wood
Food and drink
4wd vehicle
Booloumba Creek Camping Phone Reception
There is no phone reception! There is a payphone at the Booloumba Creek Camping Area 1.
Booloumba Creek Camping Experience
This camping area has to be experienced one time in your life if you are into adventure, camping, bushwalking, sitting around fires, swimming, and relaxing in nature. Roughing it in the great outdoors is the best way to camp in Australia.
The forest at Booloumba Creek is especially lush and full of life!
Driving into Booloumba is such an epic adventure, even when it is dry the creek crossings are still full of water.
Water levels generally come up halfway on your tyres and looks great on video. You really feel like you are driving in the Kimberleys.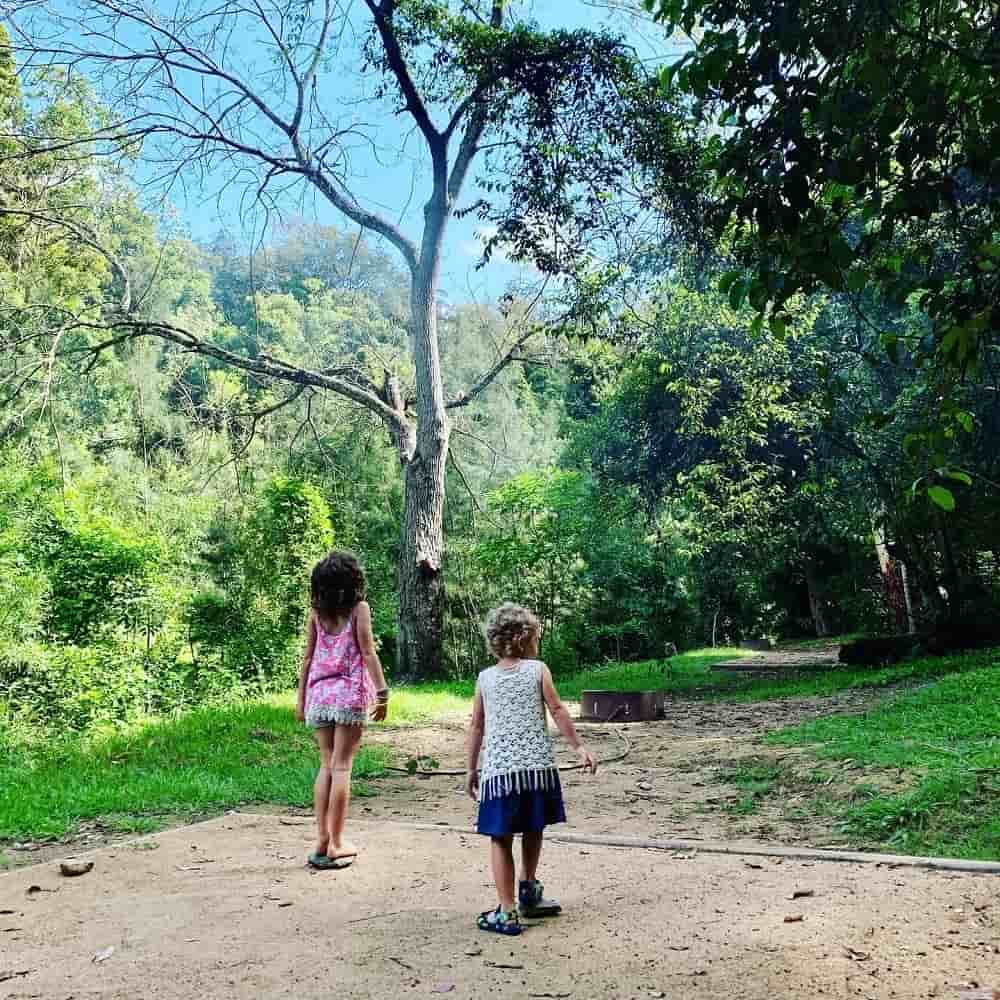 Booloumba Creek Campsites Are Awesome!
Once at your booked campground you will be impressed with how they have designed the sites. Each site is well posted with a level compact raised pad for your tent.
The tracks in and around the campground are gravel and wind through each site. Most sites are very private so it easy to keep to yourself.
Flushing toilets are a luxury that I could not believe we're here. But watch out for the moths in the cubicles. (our kids could not do the deed because of this!) And running water from a tap is awesome too!
There really is a site to suit all tastes at Booloumba so choosing any of them will leave you satisfied, we still like Booloumba Creek Camping Area 3 the best.
Walking Tracks Galore
Walking tracks were beautiful and set in shade most of the time with so much to look at. The water in the creek was crystal clear and waterholes picturesque. You don't even need goggles to see underwater.
We had the best time here cooking over the fire and chilling out away from it all.
Very noisy insects and birdlife at Booloumba Creek, with quite a few biting insects about. Our kids all got done by jumping ants, a few mosquitos, and a stinging tree incident. Apart from that, it was pretty safe.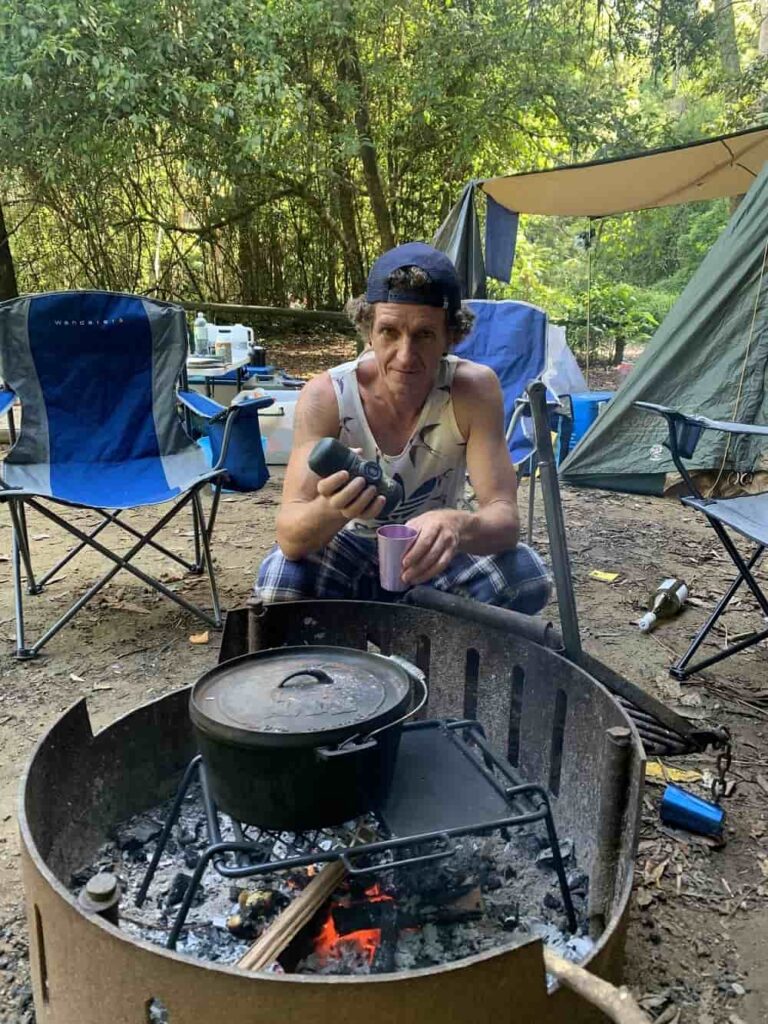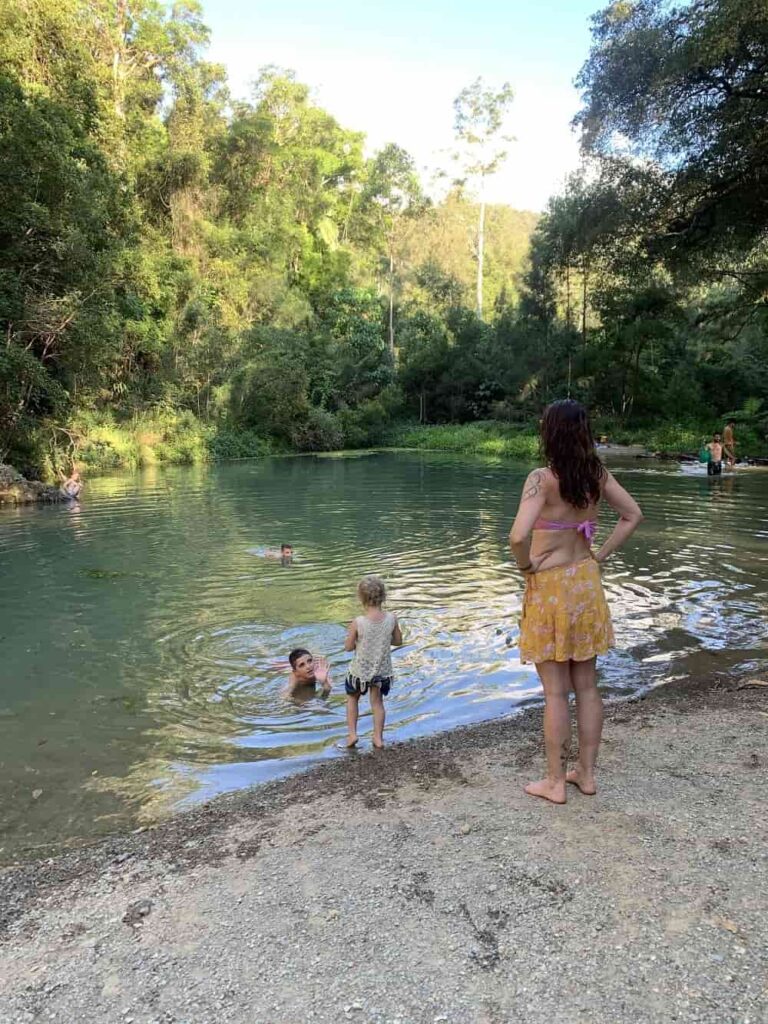 Camping At Booloumba Creek Verdict
The place is fantastic and one of my favourite places to stay on the Sunshine Coast.
We loved everything about our experience. The creek, waterholes, sites, cost, facilities, rangers, wildlife, and walks.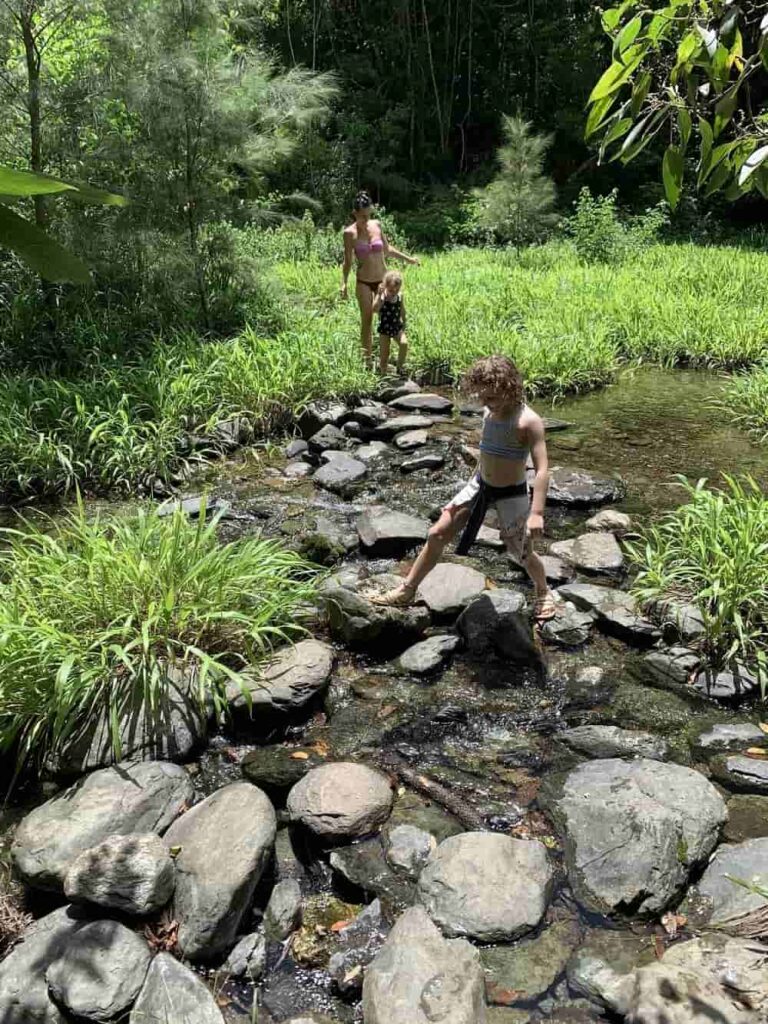 The only things that were a little annoying were the waterholes can get crowded and stirred up during the day, also they can get crowded and a little rowdy with groups.
Apart from that, I would give it a 9.5 out of 10 for everything!
So do you and your loved ones a favour and check out the Booloumba Creek Camping area this year if you dare!
Other amazing Australian campsites you may like to check out are: