Do you want 155 good recipes for camping in Australia this year?
I know I do! That is why every camping lover in Australia needs the Camps Australia Wide Community Cookbook in their camp kit.
The camping recipes in this book are amazing! Your camping experience will never be the same once you get your hands on this book. Follow link and to save 15% use coupon code CAWAFGAD at checkout!
==>Grab Your Copy of the Best Camping Cookbook in Australia Here!<==
What are the Best Meals for Camping?
We don't always put enough effort into our meals while camping. But it doesn't have to be this way.
Food makes up some of the most memorable experiences in camping so why cook bad meals? Just use good recipes for camping.
Camps Australia Community Cookbook will change all this by inspiring you to create gourmet dishes that will blow your mind and taste buds.
There is a lot going on when camping and we don't always have the time to plan and prepare amazing meals. With this cookbook you can make amazing food without a lot of gear or ingredients because they are so darn simple!
In general the best meals for camping are:
Omlettes – Eggs
Bacon & Sausages
Steak & Mince
Breads & Dampers
Pasta dishes (spaghetti bolognaise)
Potatoes, assorted fruit and vegetables
Snacks such as chips, dips & biscuits
These all normally make it into the classic camping getaway but are pretty basic and boring.
Why not spice up your weekend getaway with some new recipes that will impress your friends and family.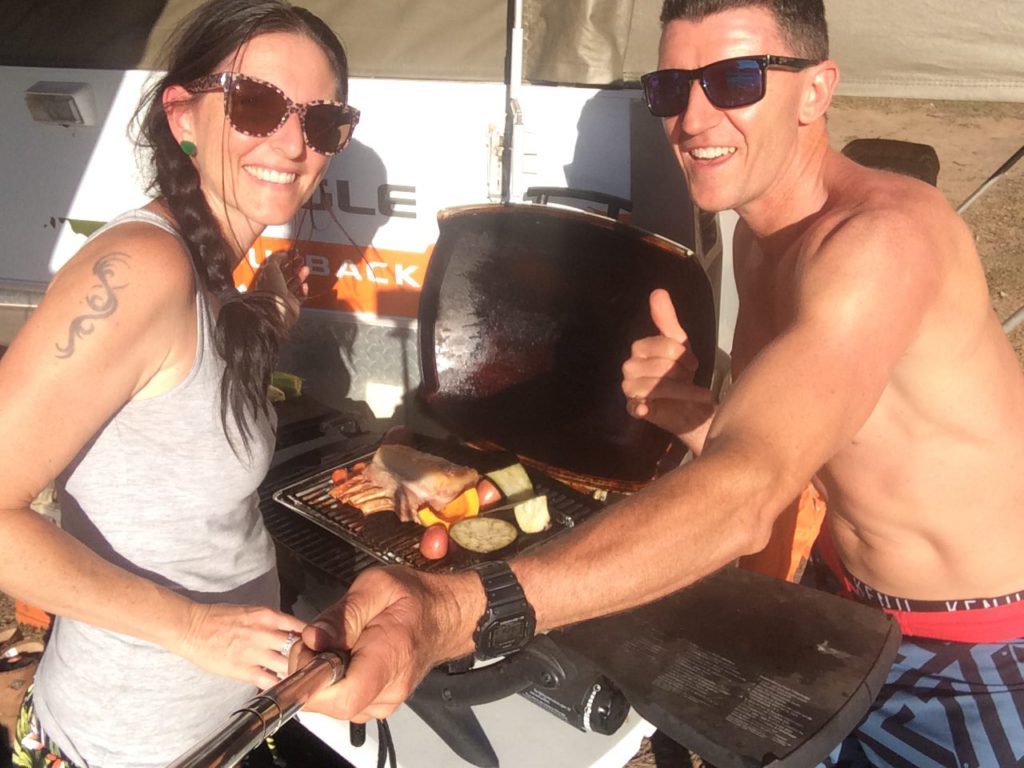 How Do I Plan a Meal for Camping?
Buying food for camping can really get out of hand. One minute you are buying some chips and essentials next minute your tapping your credit card and paying for $300 dollars worth of crap!
Here are some helpful tips to save you money and make it simple:
Create a meal plan (shopping list) using the community cookbook
Keep it simple
Avoid messy, complex meals
Bring reusable cutlery and crockery made from bamboo and natural fibres (no need to wash up!)
Try to keep in minimalistic
Take into account the size of fridge and storage
Try to buy local produce and in season
Have a supply of staples
Having a solid plan and budget will make you buy what you need without waste and no worry.
What Food Should I Bring for 3 days Camping? (Good Recipes for Camping)
Make sure you stick to your meal plan and pick a series of recipes from either your favourites or the community cookbook.
Your first night you are probably going to want to keep it super easy. Pick something you can just re-heat or add pasta to.
Here are our favourite quick and easy meals for the first night of camping:
Spaghetti Bolognaise
Quiche (cook at home first)
Eco pot silverside and potatoes
Apricot chicken (3 ingredients)
Sausage and onion on bread
These are awesome for those times when you finish work and don't get to your campsite until 5 – 6 o'clock.
Super easy, quick and simple!
What is in the Camps Australia Wide Community Cookbook?
Oh my goodness! When I first started exploring this book I thought it would just have some basic meals that I already knew about.
I was wrong, the recipes in this book are so practical and come straight from seasoned travellers.
The book has over 155 tried and tested recipes explained using simple methods and ingredients.
Camps cookbook covers 7 food sections such as:
Starters & sliders
Meat
Chicken
Fish & Seafood
Damper, Bread & Scones
Sweat Treats
Basics, Breakfasts and others
Towards the end of the book they give you tips on cooking know how, recipe hacks and a helpful index.
The cookbook is so easy to use.
Here is an example recipe to show you how simple and helpful this book really is: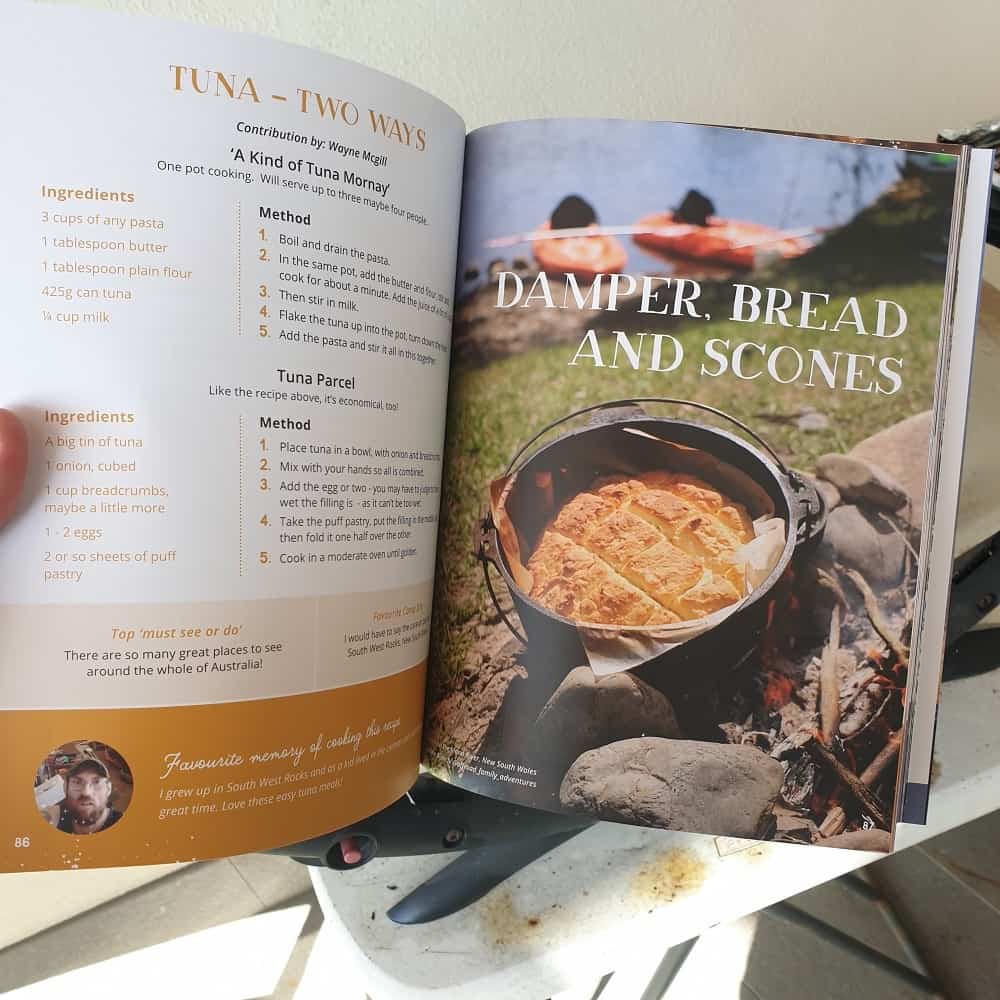 Each meal has been contributed to the camps book by a fellow camper in their online camps community. (You can join also!)
Recipes include a description, set of ingredients, method to follow step by step and a little story behind the contribution, what a cool idea.
Remember to use this coupon code CAWAFGAD to save 15% on your order!
==>Grab Your Copy of the Best Camping Cookbook in Australia Here!<==
Example of a Few Good Recipes for Camping in Cookbook
Here is a sneak peak of some meals that are in the cookbook. Meals include:
Oyster Dip
Curried Sweet Potato Soup
Tuscan Mushrooms
Tom Yum
Cheats Lasagne
Stuff My Pumpkin
Rabbit Stew
One Pot Lamb Boulangere
Lemon & Herb Bush Lamb
Spaghetti Hash
Bush Bread
Damper
Beer Bread
Paella
Quinoa, Chorizo & Prawn Jambalaya
Chicken Massaman
Salmon Risotto
Tuna Pasta
Pizza Pull-Apart
Scones
Welsh Cakes
Coconut Cake
Pumpkin Cake
Custards
Apple & Ginger Pie
Quiche Boats
Breakfast Bacon Pie
Savoury Omelette
The list goes on and on. So many amazing recipes in this book to try. It just means we have to go camping a lot to try every meal out.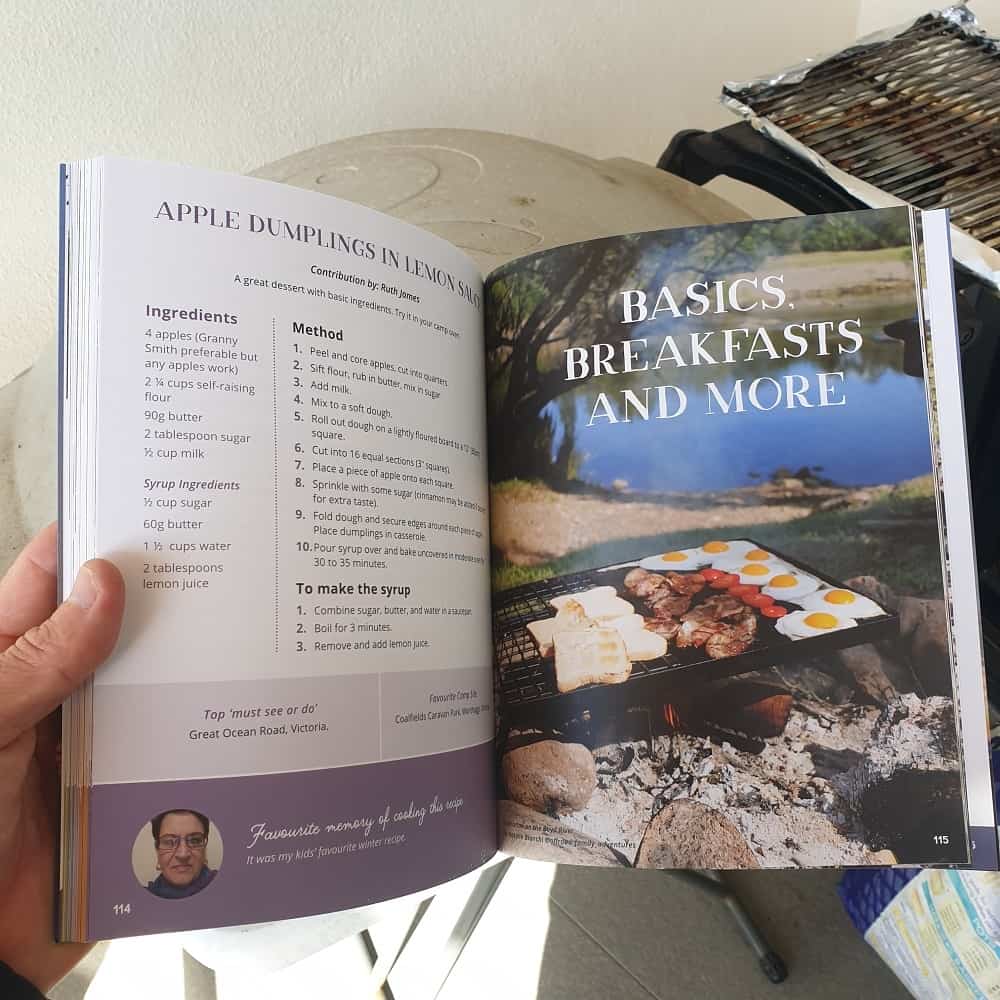 Community Cookbook Verdict
Our professional travellers verdict of the Camps Australia Wide Community Cookbook is that it is totally worth it in every way.
This book has given us inspiration a plan something to strive for and accomplish rather than just getting the same old boring things to eat.
Camping will no longer be the same for us. Our family is going to experiment and have the best meal plan ever.
Other campers will be jealous for sure but I am so glad we came across the one and only camping cookbook Camps Australia Wide Community Cookbook.
What are you waiting for! Get you copy here today and start cooking up a storm the Aussie way. Remember to use this coupon code CAWAFGAD to save 15% on your order!
==>Grab Your Copy of the Best Camping Cookbook in Australia Here!<==
Need to find sensational campsites and caravan parks in Australia that wont break the bank? Find out more here: