If you haven't already heard of Habitat Noosa Everglades Ecocamp you may well have been living under a rock. This epic and lush new glamping ground on the shores of Lake Cootharaba has been grabbing a lot of attention lately. Sunshine Coast residents are absolutely buzzing about it. Maybe its thanks to the on-site brewery, or the brilliant natural setting, or the luxury tents on offer. Have you been yet?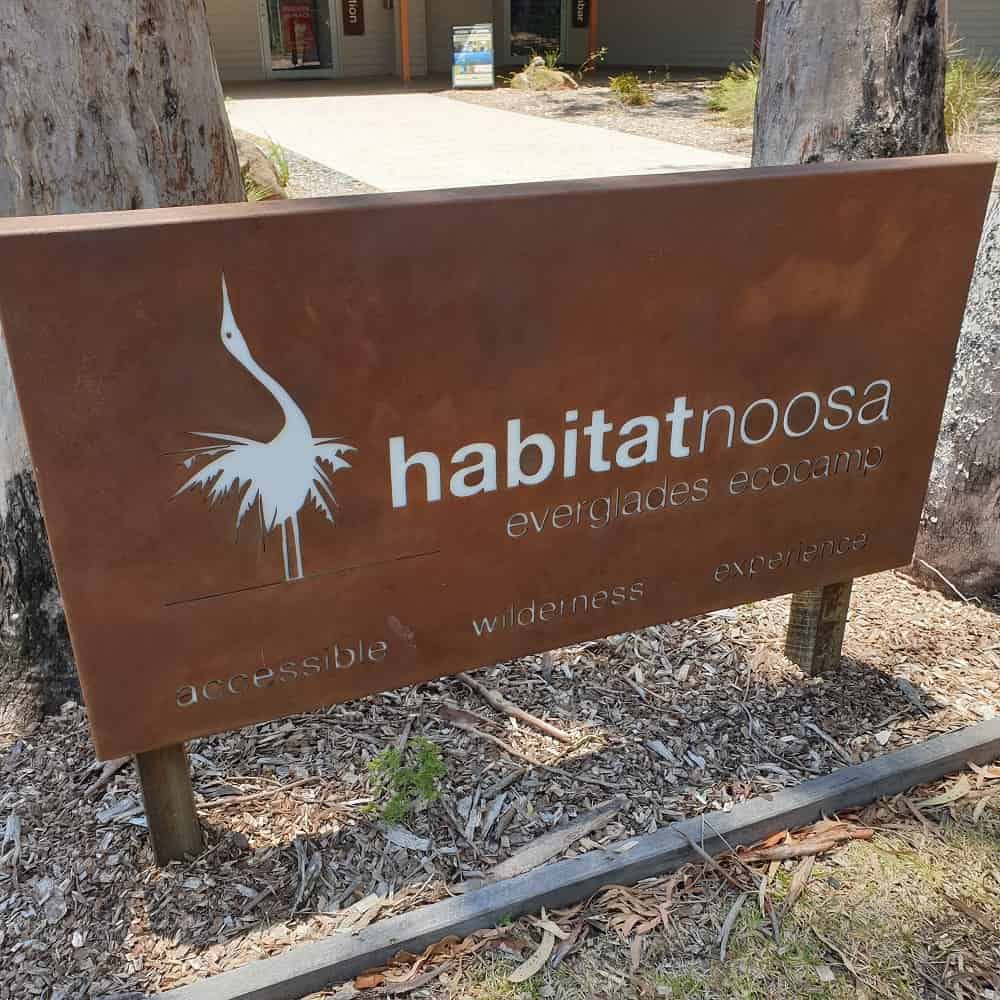 In the following article, you will discover all you need to know about staying at Habitat Noosa. Find out what to bring and how to get there for your next camping or glamping trip.
---
Where is Habitat Noosa Everglades Ecocamp?
The camp itself is located at Elanda Point on the site of a former camping ground that will be familiar with 90s schoolkids from the region.
Lake Cootharaba is about an hour drive from Maroochydore and a simple trip straight up the Sunshine Motorway.
You sit on the western shore of the expansive lake with views over to the Cooloola Sandpatch which then provides access all the way over the hill to Teewah Beach (by boat and by foot).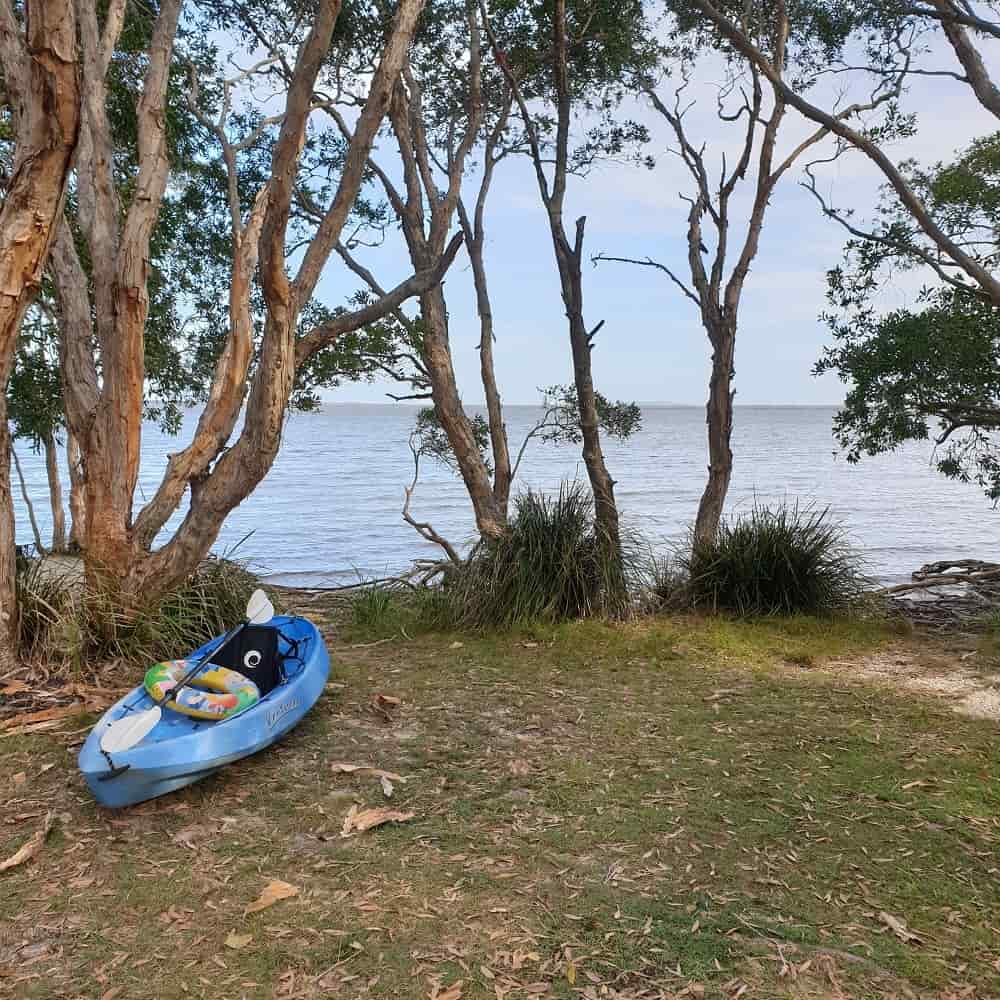 The lake is so nice to relax on, or in. And we loved it especially because it is super safe for kids. The water is clean and clear, the bottom soft fine sand with a few sneaky rocks and it is only shallow for a long way out.
Where do you Sleep at Noosa Habitat?
There are some great value options for accommodation at this fresh ecocamp. Click here for easy cabin bookings, or for sites ring the resort on 07 5485 3165.
Unpowered Sites
From undesignated shady bush camps to waterfront or premium waterfront sites, there are a great variety of places to set up. The mostly level ground ranges from sandy to grassy, and prices range from $33 up to $80 for a site with kids an extra $11 each.
(Kids under 4 are FREE)
For a map of the unpowered areas, see here.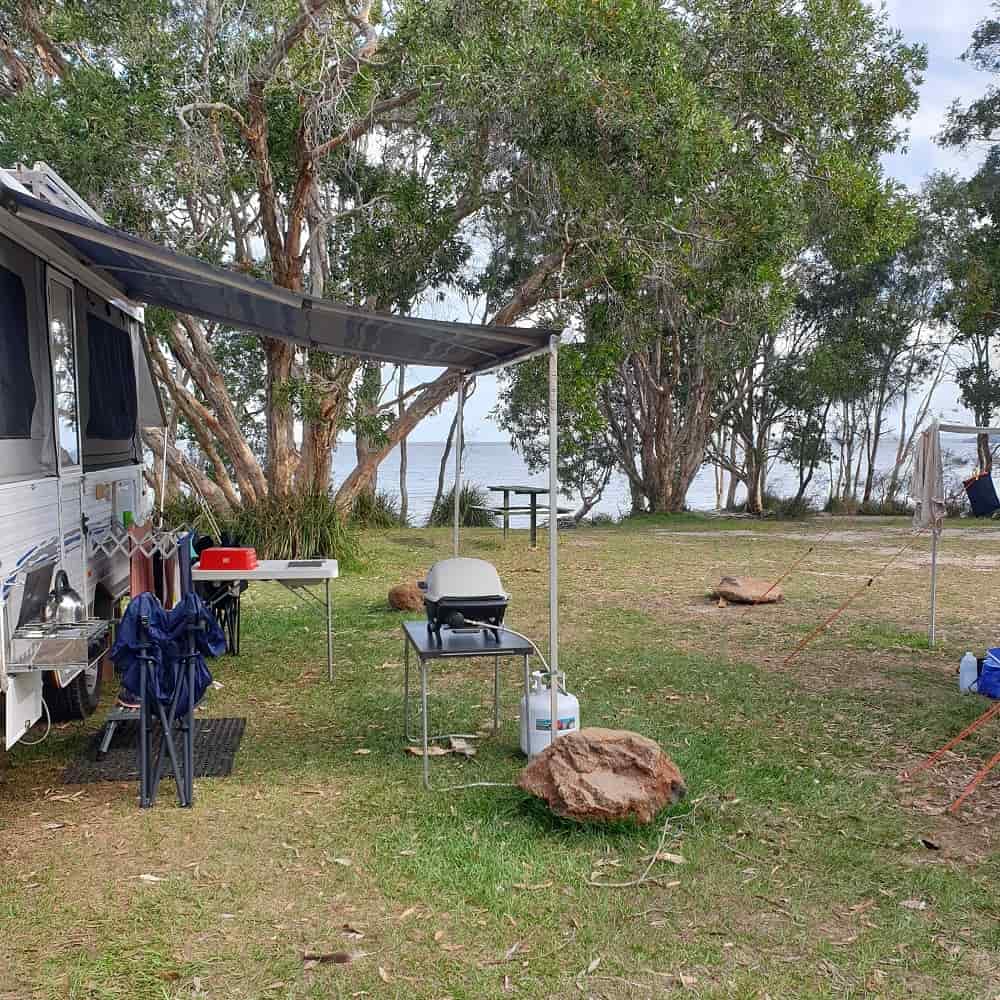 Powered Sites
The powered sites are found behind the unpowered, close to the amenities block. Rates for 2 people is $44 a night, with extras $13 per person. If you can handle a couple of nights without power, the unpowered sites are better located.
Wilderness Tents
These basic tents are great for a hassle-free camping experience. They are set next to the bar/restaurant on a beautiful grassy hillside close to the paperbark grove. Rates start at $160 for a couple, and tents can sleep up to 5. The tents include linen, but not towels and it is only a very short stroll to the amenities block.
To book your Wilderness Tent click here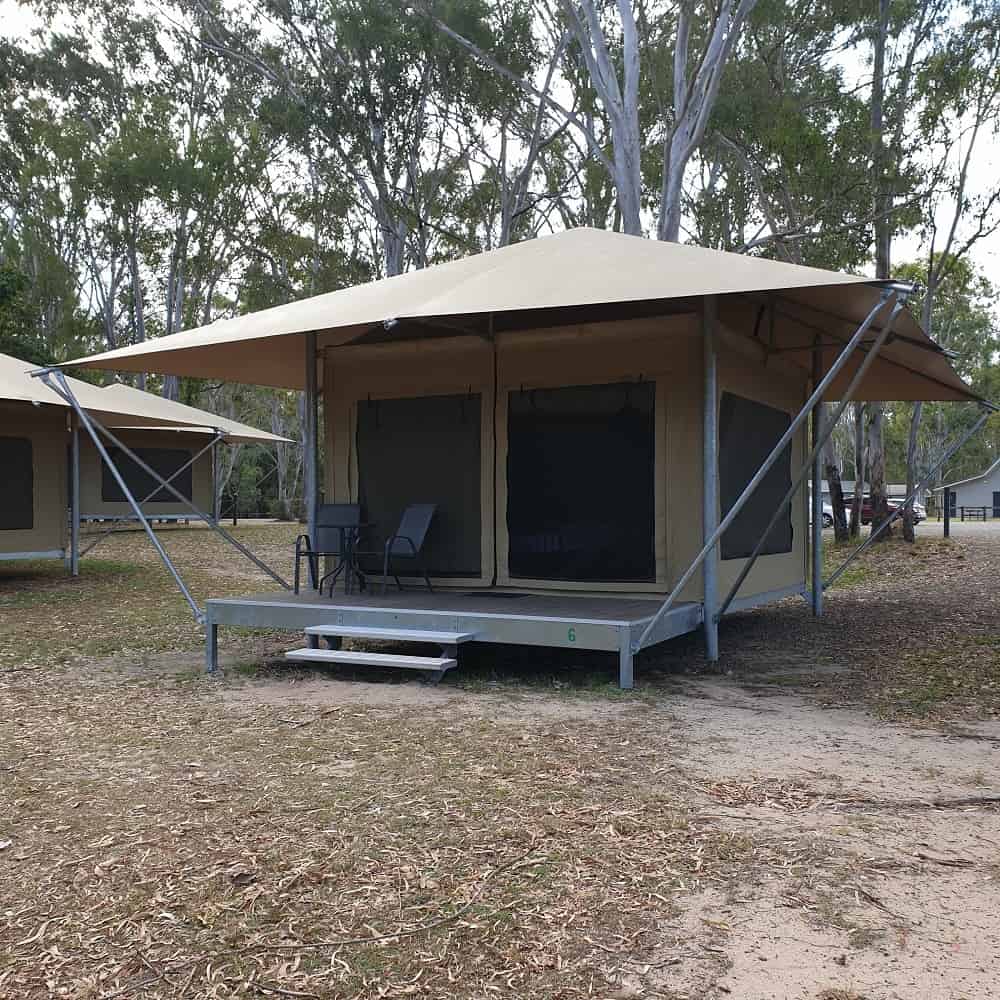 Paperbark Tents
These more luxurious tents will have you glamping in total style! With their own ensuite, they can fit up to 4 people with a queen bed and a set of bunks. The Paperbark tents are stylishly furnished with a short walk to the lake. Rates start at $260 a night per double.
To book your Paperbark Tent click here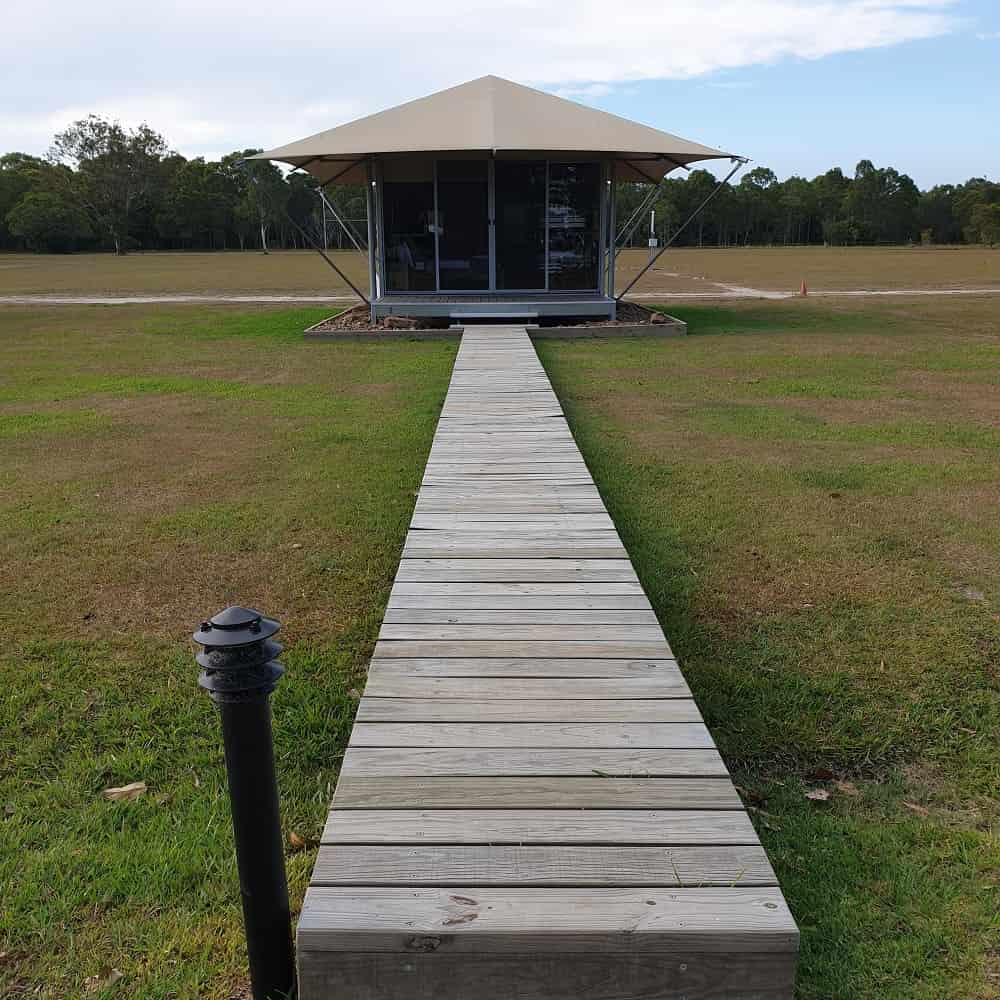 In my opinion, the Wilderness Tents are in a better position, surrounded by lush gum trees but are more basic and don't have their own bathroom. Whereas the Paperbark Tents are sort of sitting in a sunny open field behind the powered sites, which are behind the unpowered sites and at least 150 metres from the shore. But they are more lavishly appointed. I guess it depends on how much you value that ensuite.
Air-Conditioned Cabins
These bunkhouses are exclusively for group bookings of 30+ guests. For enquires, you need to contact the resort directly res@habitatnoosa.com.au or call 07 5485 3165.
What Food and Drink Options are Available at Habitat Noosa?
Now, this is where this place gets really interesting. Comfortably nestled in the campground you will find your very own micro-brewery and cafe. The CootharaBAR is a unique blend of modern and sharp interior spilling out onto a classy grassed beer garden. The only thing missing was a tyre swing for the kids but they do have live music on Saturdays and a fireplace for those cooler evenings.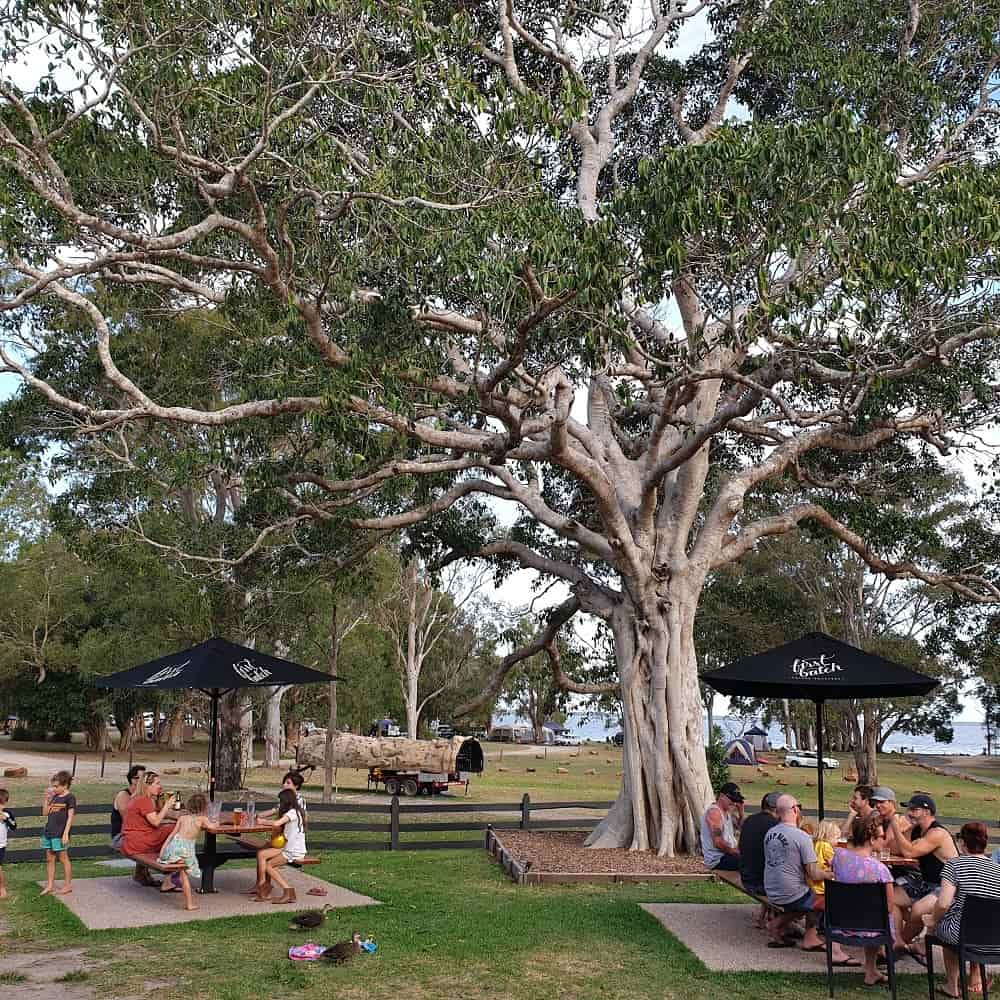 The beer here is a classic refreshing craft drop and we especially loved the XPA.
Staff here are super friendly, meals are amazing and they even provide hot takeaway dinners if you prefer a quiet night in.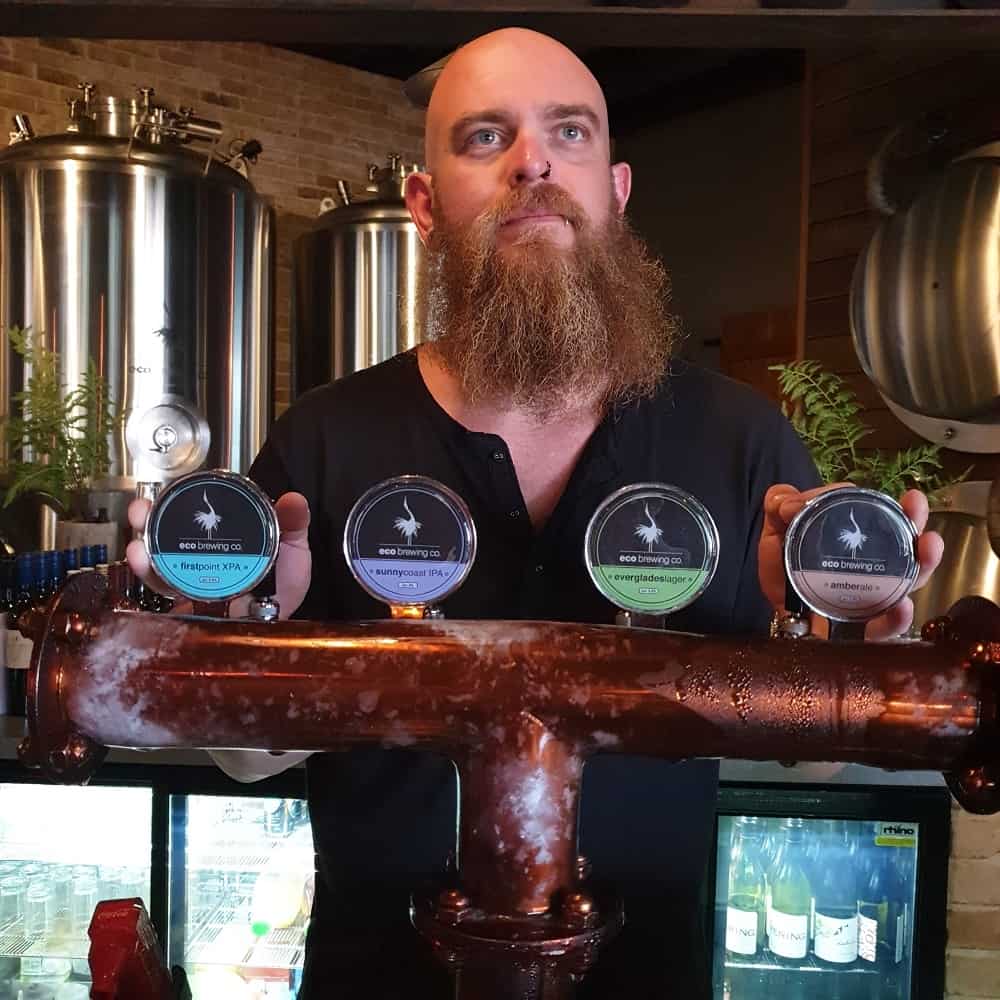 The kiosk is the place to go for fresh barista brewed coffee. Opening hours are:
Kiosk: 8 am – 11 am Saturday-Sunday & every day during school holidays
CootharaBAR: from 11 am daily
Bistro lunch: 12 pm – 2 pm daily
Bistro dinner: 5:30 pm – 8 pm daily Thursday-Sunday & every day during school holidays
Click here to see the current menu for Spring 2019
As the brewery and bistro are open to the public, not just to park guests, the place does get pretty busy. Most visitors arrive by boat on the Everglade tours. It is advisable to book a table in advance by visiting reception.
Amenities
There are a total of 3 amenities blocks. The Wilderness Tent area has a dedicated toilet and showers. There is a second lot of showers in the main reception building. The 3rd block over in the undesignated camping area is toilets only.
Also at the main reception area building are coin-operated washing machines and dryers for your convenience.
The camp kitchen includes a double sink with hot water, a full-sized fridge, kettle, toaster, microwave and hot plate BBQs. Utensils and crockery are not provided.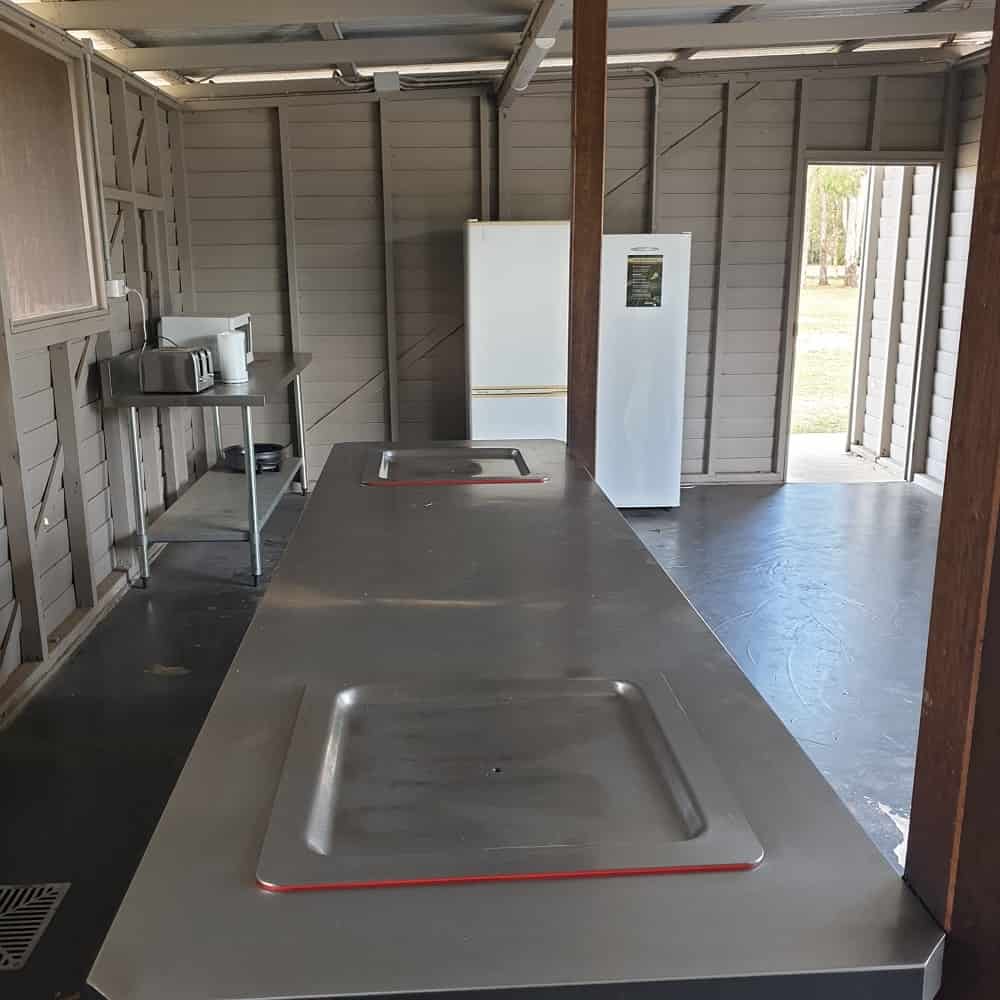 There is a dump point.
There is an ATM at the reception area that takes all major cards.
Canoe hire is available for paddling yourself up to the Noosa Everglades.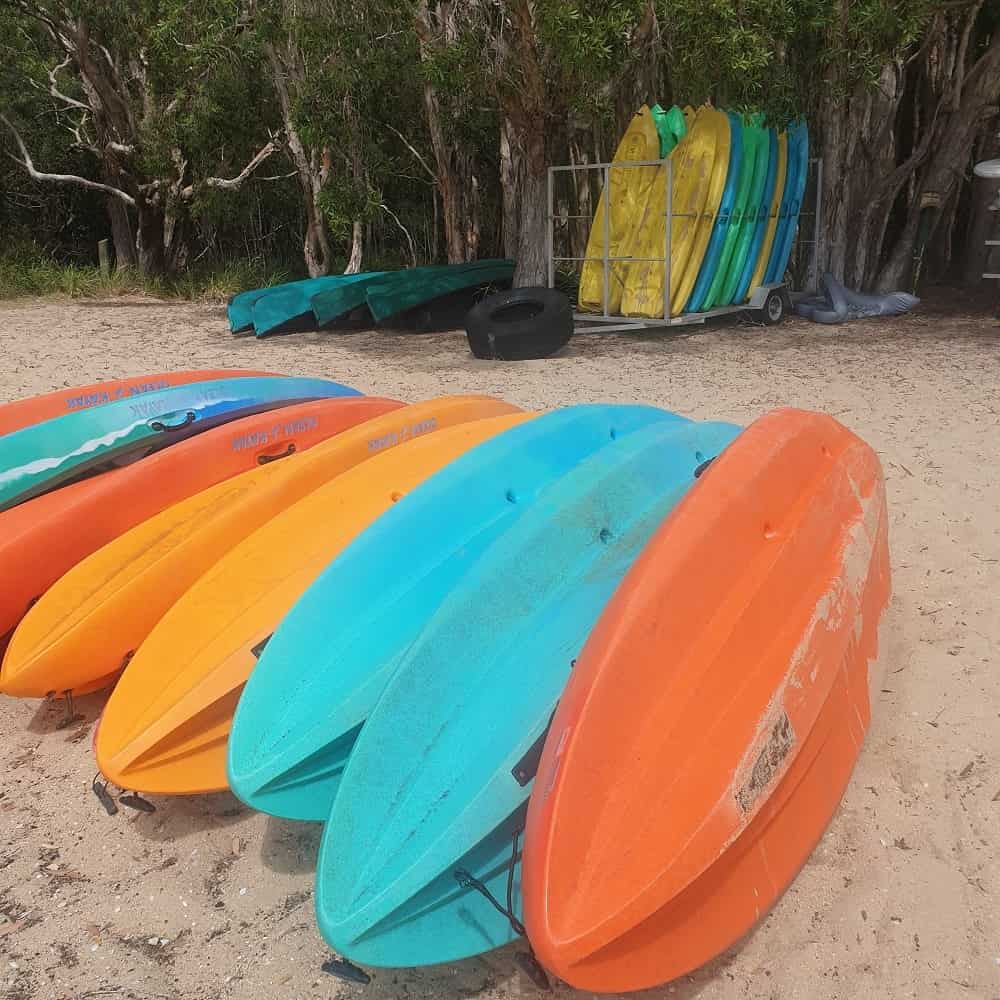 What is there to do at Habitat Noosa Everglades Ecocamp?
Bushwalking – There are a variety of excellent walks in reaching distance from the park. Find the details here: https://parks.des.qld.gov.au/parks/cooloola/
Relaxing – Easy to do. Pull up your comfy chair under the shade of the paperbark trees and enjoy the serenity of getting away from it all.
Sampling quality craft beers – CootharaBAR has you covered here.
Watersports – either BYO or hire from Habitat's extensive range of canoes, kayaks and SUPs. Lake Cootharaba is a perfect place for a paddle.
Climbing – The camp has it's very own climbing wall ($5 dollars for the day)
Golf – There is a 9-hole golf course hidden here somewhere.
Explore – head up to Harry's Hut by boat, car or on foot to get a glimpse of the amazing Noosa Everglades.
Everglade Tour – bookings are available at reception
Play – There is plenty of open space to kick a ball, ride bikes and throw a frisbee
Campfires – Are usually allowed in a brazier, however, there is currently a QLD fire ban. The National Parks website can give you the latest advice.
Just remember as Habitat Noosa Everglades Ecocamp is inside the Cooloola National Park, no dogs are permitted.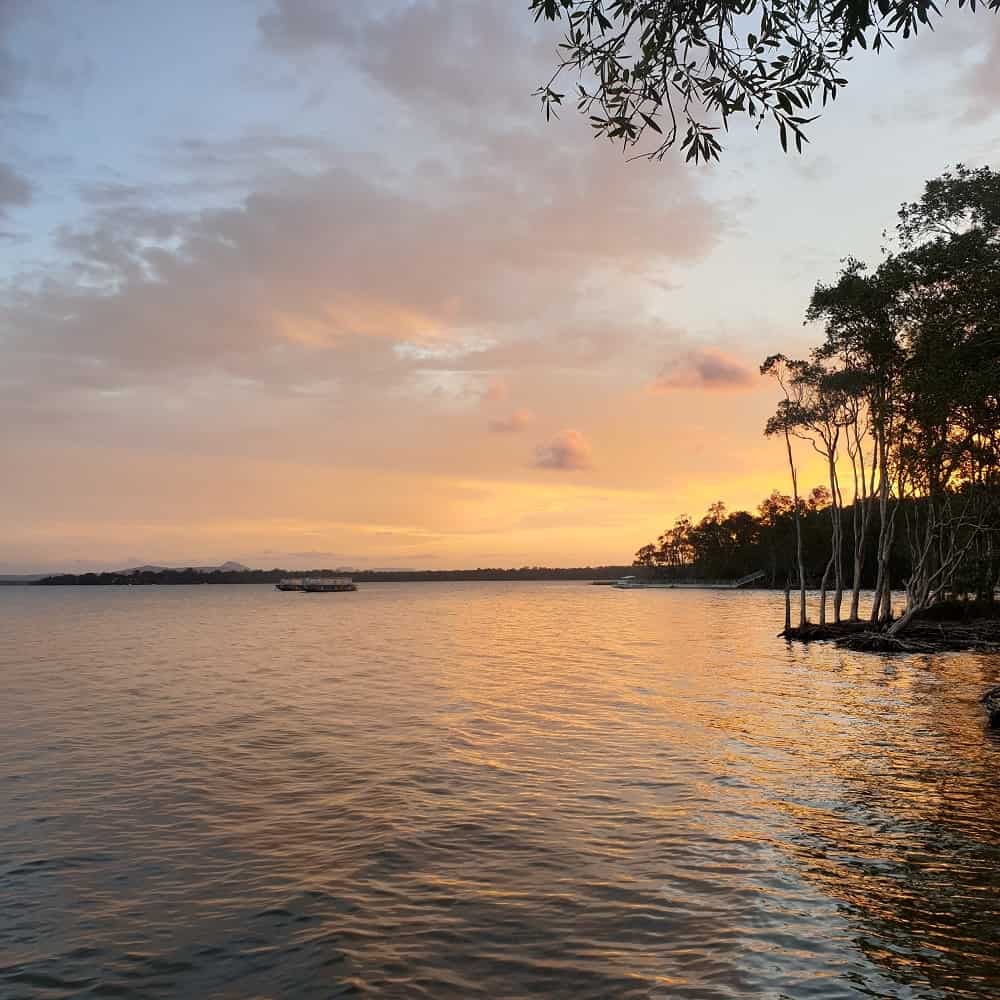 Any Dangers and Annoyances?
I'm going to be picky here because that's what you want right?
It's expensive. For an unpowered site just back from the water but a long way from the amenities we paid $66 a night (that's with 3 kids and one under 4). I think that is a little steep. In a few years I will be paying $77 for a patch of dirt! I am not sure what has happened to camping. It used to be the cheapest weekend.
The amenities. They are a long way from the camping sites and there is only an old toilet block in the middle. The showers are way over in the reception building. After swimming in the lake all day, and with 4 kids, we didn't even bother having a shower. (Lucky it was only a short trip.) The shower block is clean and new, but note that the showers are solar powered so don't leave your shower until late at night on a cloudy day or it won't be hot.
Bugs. It's QLD. At the wrong time of year you will get mosquitoes. We visited in November and there were none.
It's popular. This is great for the business! But bad if you want to grab a quiet weekend getaway. You have to book well in advance these days. Try to go mid-week or a Sunday night to get all the good bits to yourself.
If you want a quiet Saturday night retreat, don't book the Wilderness Tent right next to the bar 😉
Remember to supervise small children at the water's edge.
Habitat Noosa Everglades Ecocamp – The Verdict
We loved this place. The brewery is a definite bonus! But the surroundings are incredibly beautiful. There are kangaroos and so many birds around the park all adding to the peaceful bush feel. We will definitely come here again and stay in the undesignated campsites as the cheapest option. We had our friends on a waterfront site which made access to the water easy for us otherwise we would have had to navigate our way to get to the lake.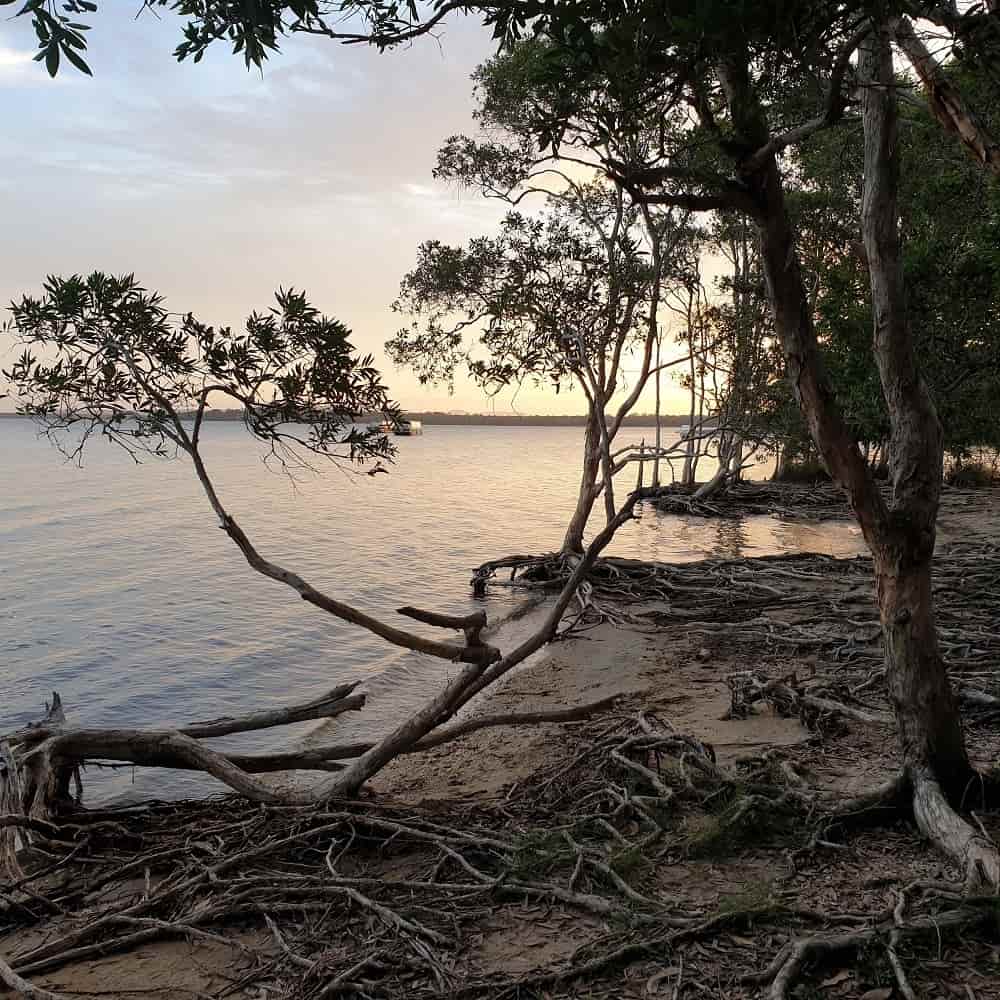 I think another shower block over in the campground would be great, and a fort or a swing for the kids to enjoy while the parents relax in the beer garden would make this place just perfect.
Having 4 kids, camping is still our cheapest opportunity for weekend getaways. However, we are starting to avoid the fancier caravan parks due to the increased prices. I wish places would just charge us for 2 kids, but then it's our fault for having 4 I guess. LOL.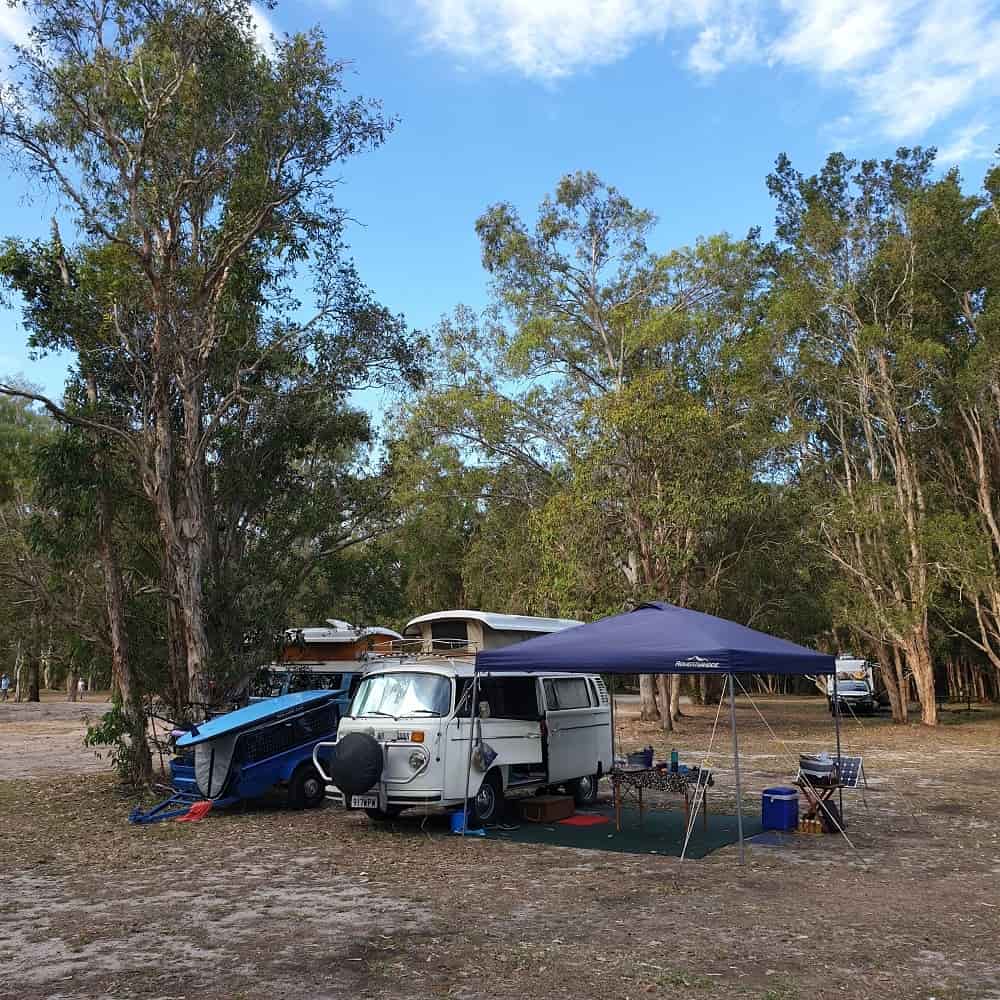 Reviews by Gadsventure
After a year on the road travelling around Australia, we know our camping. Fresh from our 8-month tour of Southeast Asia, we are excited to get back to our roots and explore Australia once again.
Enjoy some of our top camping spots in Australia:
We are on the hunt for ultimate camping around SE Queensland and I think we have our work cut out for us with so many exciting options. If you have a camp you want us to review, drop us an email at kris@gadsventure.com
Have you stayed at Habitat? Let us know in the comments below!