Wow!  We have just returned from one of the best caravan parks in our region and I want to share it all with you!
Big 4 Airlie Beach, or the Adventure Whitsunday Resort is actually located at Cannonvale, which is just before you reach Airlie, and is only a 1.5 hour drive from Mackay, Queensland.  Airlie Beach is itself a hub of activity, being the launch pad for cruises to the wonderful Whitsunday Islands.  All year round you can find the little village, the Port of Airlie, Abel Point Marina, and the Airlie Beach Lagoon heaving with visitors from all around the world.  If there is a cruise ship in town, the atmosphere is even more electric as cashed up tourists splash their cash in town and on the islands.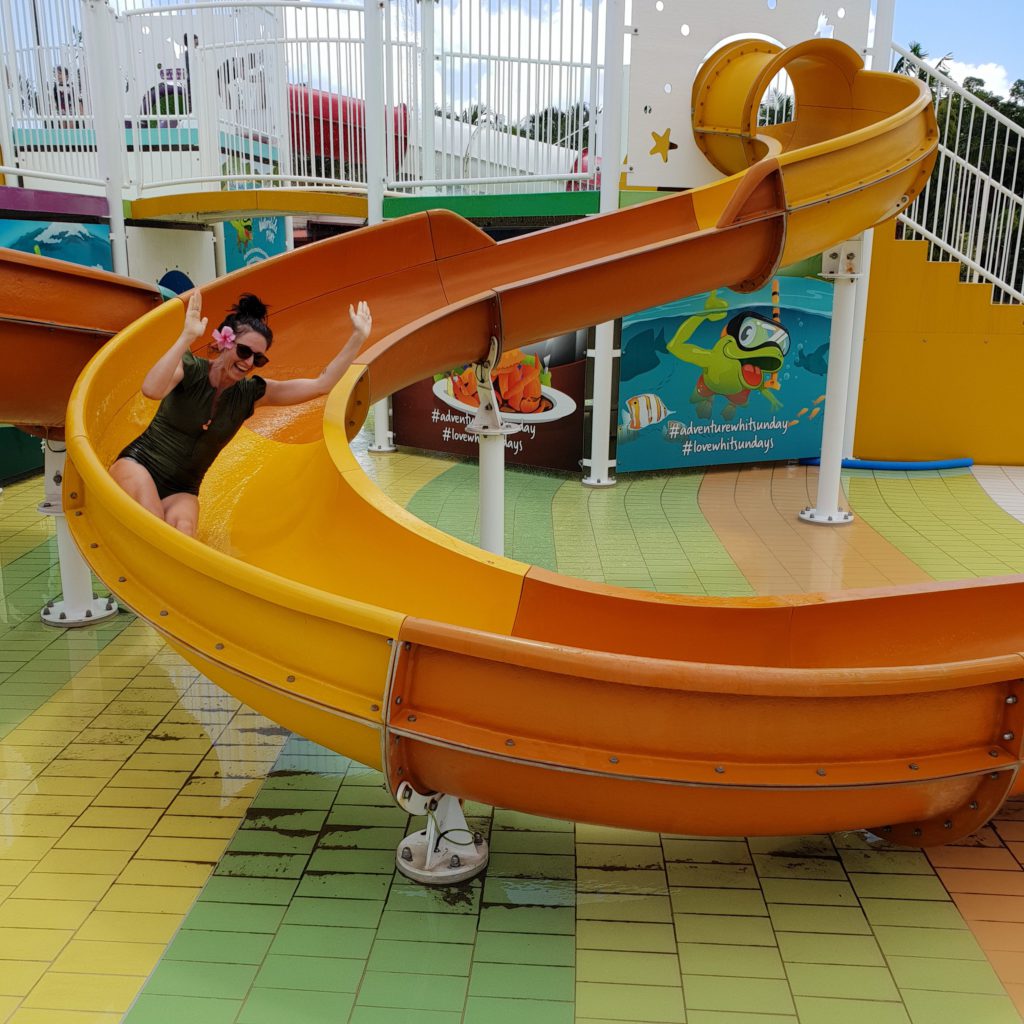 From Mackay, Airlie Beach is a great place to have a day trip, but it is even better to spend the weekend.
Big 4 Airlie Beach Adventure Whitsunday Resort Cannonvale is the best place to stay, especially if you have a family.
What makes it so good you ask?
Well, if you have been looking for a quick and easy weekend getaway for your family, you can't go past this resort.  It has so many fun activities for the kids, the parents actually get to kick back and relax!  Imagine that!
18 Waterslides.  Count them.  18!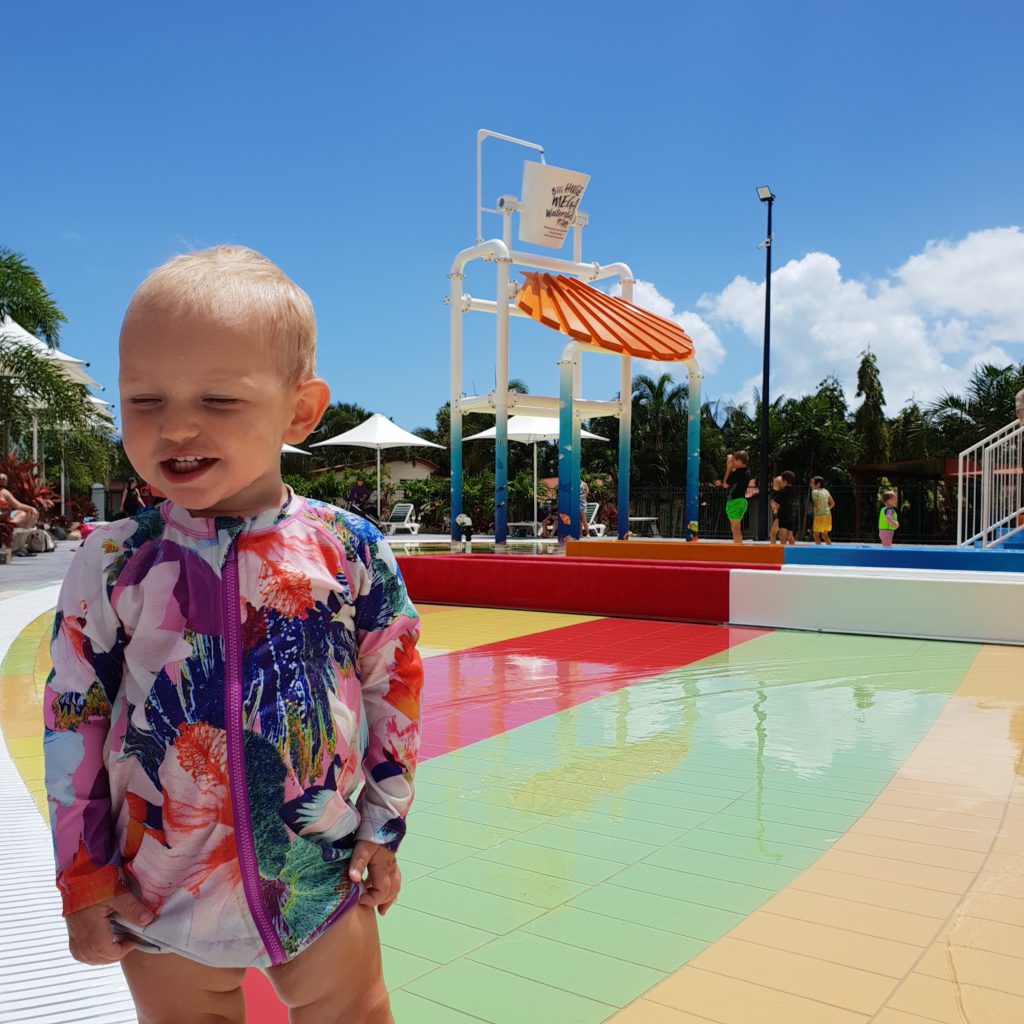 A beautiful resort style pool with 2 original slides and some cute mushroom fountains in a shallow area for the little ones gives way to a brightly splashing wonder park with a mass of colourful slides of varying speeds and ability.  There are even 5 mini slides in a knee-deep pool for the really little ones!  Our older kids enjoyed the slides for as many as 6 hours per day!  They only had to stop because they were exhausted, not because they were bored.  The pool and waterslides are open between 8 am and 8 pm daily. 
There are sun lounges galore, shaded areas, a freshwater shower, a toilet, and grassy spaces for the parents to hang out in while the kids frolic in the water, and the massive pool is perfect for a refreshing dip.  It is even heated in winter!  Massages are sometimes on offer in the poolside cabana, and on Tuesdays and Thursdays you can find a fresh seafood van and often a vintage cafe adjacent for refreshments.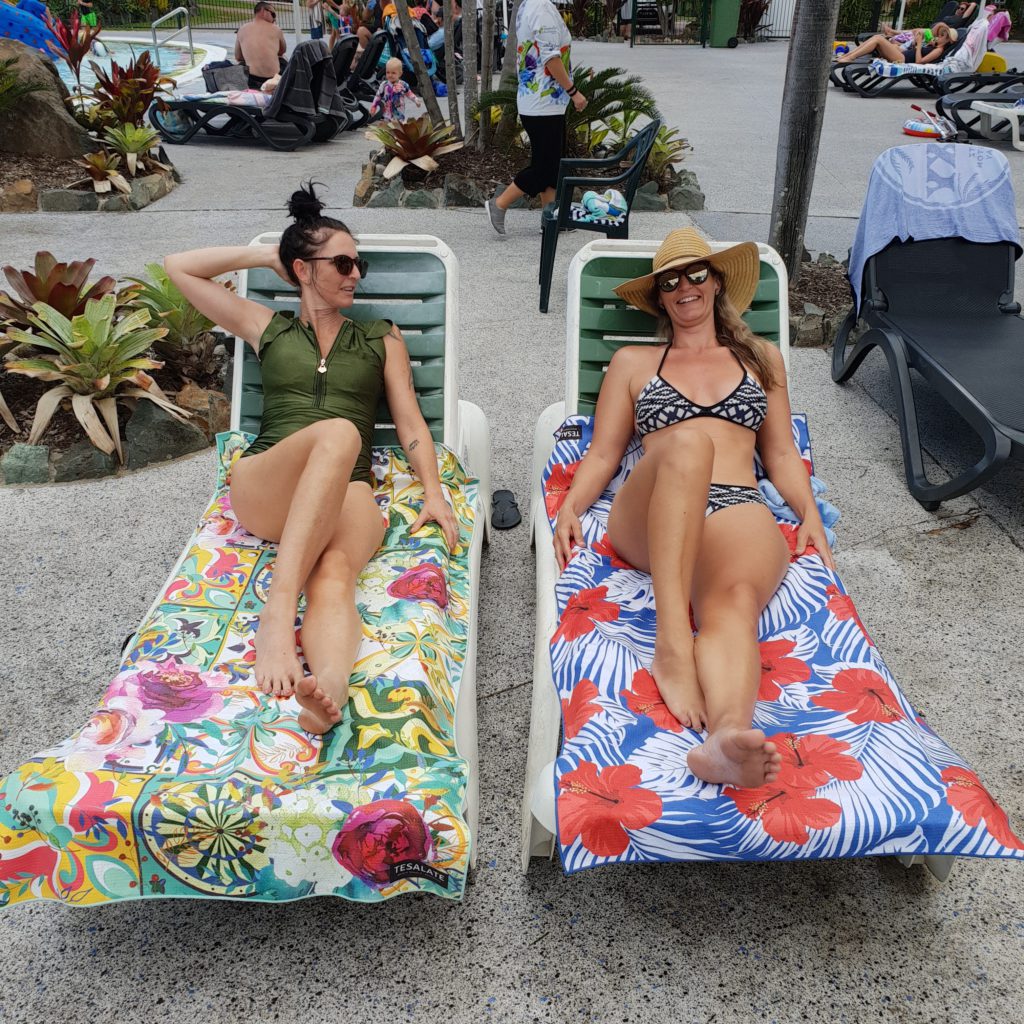 2 huge jumping pillows cater to all ages, and a big multi-level playground is perfect for all sizes.
We stayed on a busy and fully booked weekend, but nothing felt really overcrowded thanks to the massive 26 acre tropical site.
A little animal farm out the back plays host to animal feeding once per day, but a spot here needs to be reserved in advance as it is a very popular activity.  They house a couple of cows, sheep, goats and a myriad of chooks and ducks, all vying for your attention and the younger kids especially love it.  Horse riding was on offer for a $10 fee and there was also some craft activities to keep the kids occupied throughout the day.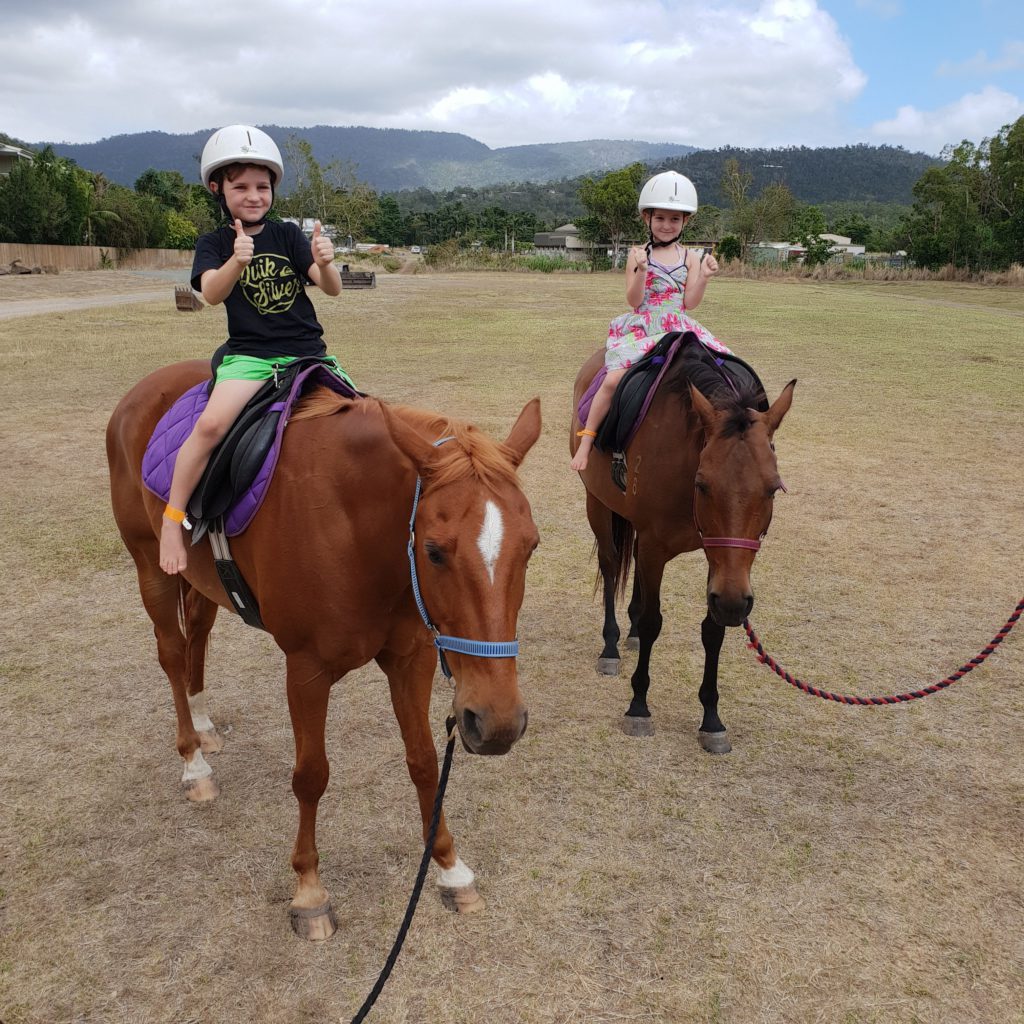 One thing the Big 4 Adventure Whitsunday Resort does really well is it keeps the kids entertained and engaged.
On check in you are presented with a simple schedule of activities including a movie on the big screen and a disco for entertainment on some weekends.  They had pancakes by the pool on Saturday, and an evening BBQ to enjoy too.  One of the kids' favourite activities was to get the daily word puzzle from the reception, and receive a little treat upon completion.  The reception also has a small practical mini-mart selling things like ice-blocks, milk and sunscreen.  All the essentials!
It's these little things that make this particular park a special place to visit.  
The beautiful shady mini golf course is wonderful fun for the family, and is especially nice in the heat of the day thanks to its lovely cool grove of trees.  There is a tennis court, basketball court, volleyball, badminton and more with all equipment available at reception.  
The accommodation options range from unpowered campsites and shady powered grass or slab sites to self contained deluxe studio and 2 bedroom cabins which will sleep up to 6 guests.  It is advisable to book well in advance though, as this park quickly gets booked out during school holidays and long weekends.
Location
The Big 4 park is located just before Airlie beach at Cannonvale and is within walking distance to conveniences such as Woolworths, Cellarbrations, and McDonalds as well as being almost directly across the road from a big Tavern that has a fantastic kid's area.
There are 2 Big 4 parks in Airlie, so make sure you know which one you are booking.   It wouldn't be the first time that someone has thought they booked one and ended up at the other!  The other Big 4 up the road is actually really good too, so it wouldn't be the worst weekend, but if you promise the kids 18 waterslides, well, you had better come through with the goods.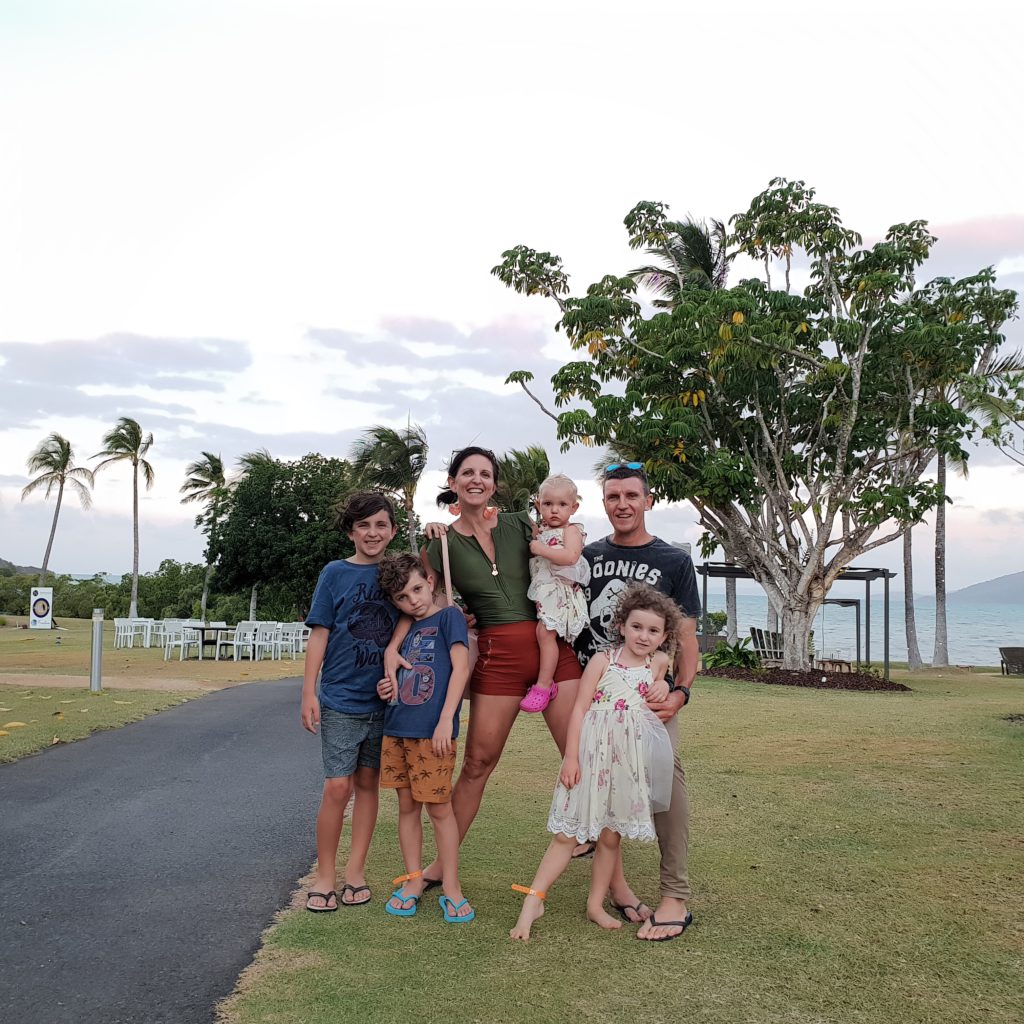 Cost
I have always been vocal about how much these big caravan parks charge for extra kids.  And unfortunately, this is no exception.
Luckily the sheer number and array of amazing facilities really lessen the blow here and it seems you actually get what you pay for!
If you book a powered site for $35 a night, and add in a few kids over 2 years of age at $15 each, this site ends up costing $80 per night.  That sort of makes me cringe.  These prices also go up in school holidays and peak periods, so beware!  I really wish Big 4 parks should drop the 'every kid over 2 pays $15 rule' and make it a little more reasonable.  Maybe charge over 5s?  Or only charge for 2 kids and then put a cap on it?  
There are special deals on regularly such as pay 2 stay 3 nights, but this is not always convenient for work/school obviously but then this will bring the nightly cost right down to a more reasonable $53 or so.  The last weekend we visited we took advantage of a special deal offering complimentary late 3 pm checkout which was so great.  Having to get up and get going by 10 am after a great weekend is really hard to accomplish sometimes.
To save money on Big 4 parks around Australia, you can become a Big 4 Loyalty Club member and get 10% discount per visit.  If you are a frequent visitor to these sort of parks, then the $50/2 years membership is definitely worth the outlay!  Find out more here.
The gorgeous self-contained air-conditioned cabins are well appointed and have a generous verandah for enjoying the tranquility.  They are priced anywhere from a deluxe studio containing a double bed, double bunks and a futon sleeping up to 5 from $327 per 2 nights.  Or they have awesome spacious 2 bedroom villas with 4 bunk beds, and a double bed sleeping up to 6 from $442 for 2 nights.  For even more stunning luxury, check out the 3 bedroom 2 bathroom condos.  The prices depend on the dates booked, peak or off peak, and number of people included.  For latest prices please check below:
As an extra, go down to Woodwark Bay and check out Northerlies Beach Bar and Grill for a super special experience while you are staying here.  Have a refreshing afternoon cocktail or two as you sit on the shore and watch the gorgeous view over the Whitsunday Passage.  Make sure you book first if you want to stay for dinner.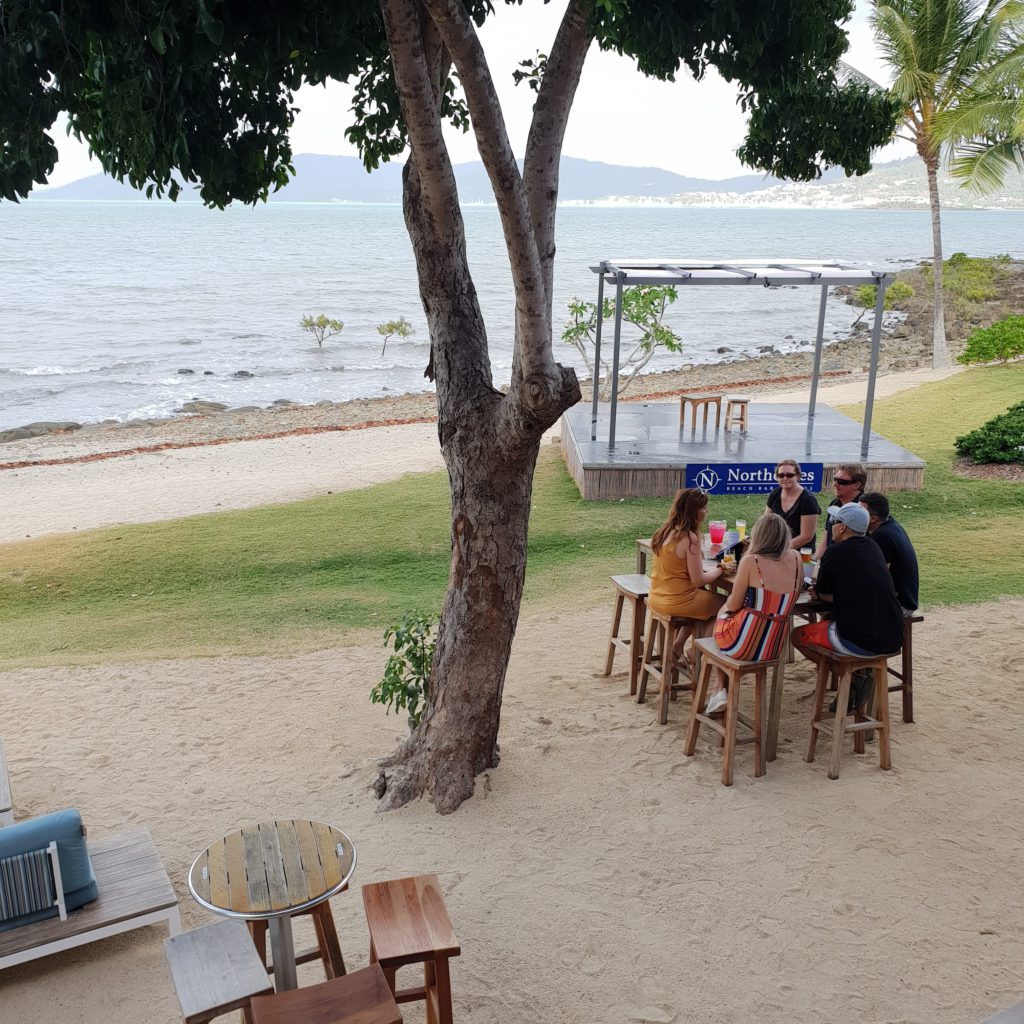 The Airlie Beach Markets are on Saturday morning too and are a great place to while away a few hours.  If you have longer, then the Whitsunday Islands beckons!  Tours and trips can be booked at the reception desk.
A trip to Big 4 Airlie Beach Adventure Whitsunday Resort is definitely worth doing with your family or group of friends.  For more info please check out their website here.
You can be either as busy or as relaxed as you wish. 
My favourite thing about it is the way the kids are so occupied either cruising around on their scooters and making new friends or tearing up the waterslides while I can actually catch up on reading a good book while totally chilling out by that stunning tropical pool.  
Have you been before?  What's your favourite thing?  Comment below!