Heading to Langkawi was exciting for us, and a little daunting as well. For such a famous island, we had no idea where to stay at Langkawi. When booking accommodation for the last leg of our Malaysia journey we knew it had to be perfect. With 4 kids and a budget, finding hotels in Asia has often been challenging. So here is the information I wish I had when planning our Langkawi holiday.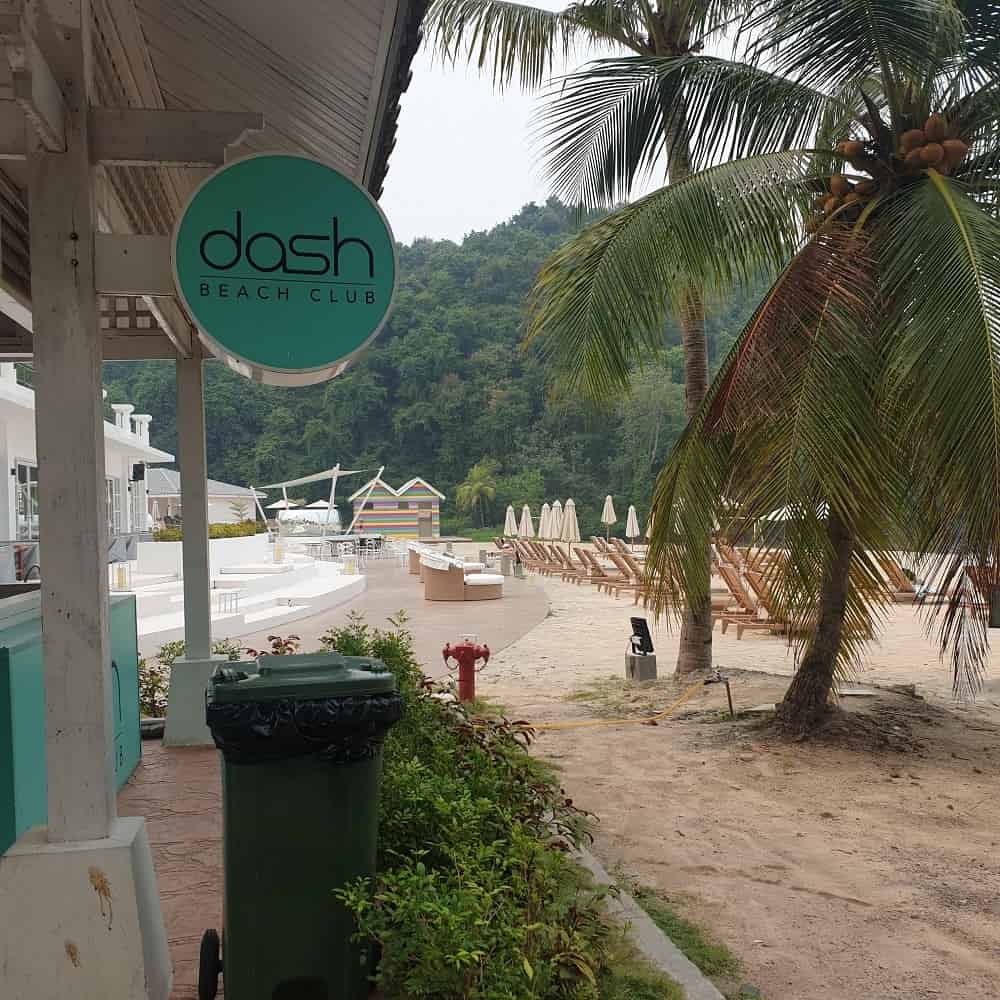 From Backpackers to Luxury Resorts
Langkawi Island accommodation caters to absolutely all levels. You can easily hang your hat for $10 a night if you are single and don't mind sharing a dorm. At the other end of the scale, you can find those special hotels who offer double rooms for closer to $1000 a night.
Best Beach on Langkawi
Pantai Cenang
This was our favourite place to stay on Langkawi. Pantai Cenang is a long flat white sandy beach which is lined with restaurants and water sports. At night time, the area really comes to life with bars and plenty of action. Along the street here you will find heaps of duty-free shopping opportunities, markets and a great selection of restaurants. Pantai Cenang is also the home of Langkawi's excellent Underwater World.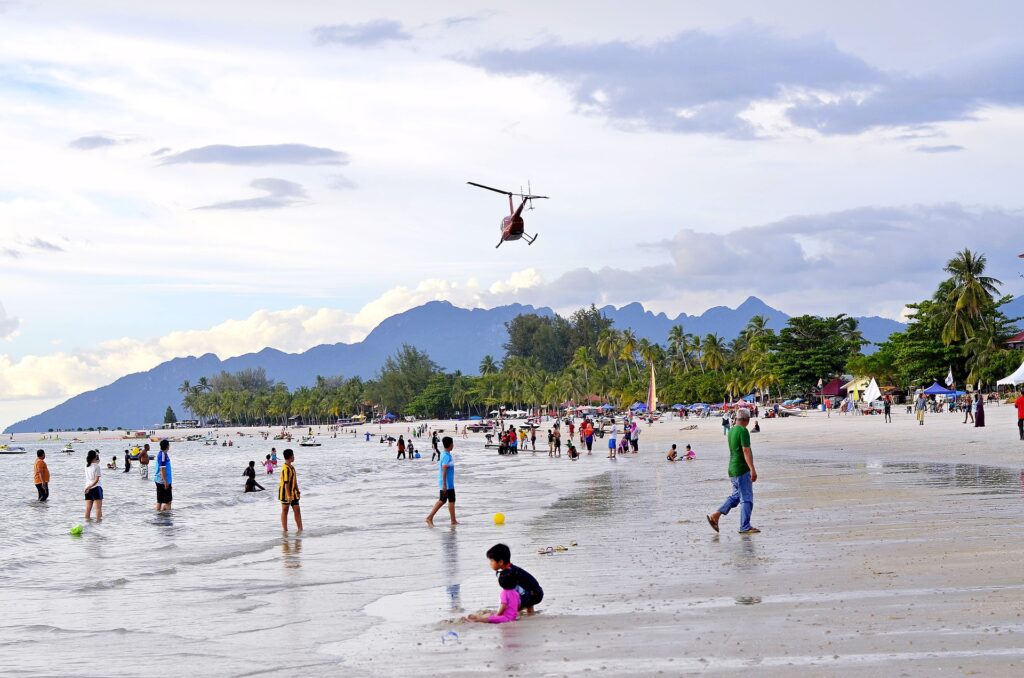 Pros of staying at Pantai Cenang:
Close to the airport (10 mins)
Beautiful clean white sand beach
Great dining and accommodation options
Perfect sunsets
Heaps of activities
Great shopping
Walk to everything
Cons of staying at Pantai Cenang:
Can be really busy
30 minutes from the ferry terminal at Kuah
Best Places to Stay on Pantai Cenang
If you choose to stay here, then you have to go beachfront:
Pantai Tengah
Just to the south of Pantai Cenang you find Pantai Tengah. The beautiful beach here is small and quiet but you can still go parasailing if you need to! The area around offers a nice selection of restaurants and convenience stores and some big resort hotels.
Pros of Staying at Pantai Tengah
Quiet and romantic
Close to the airport
2 minutes by taxi to Pantai Cenang
Beautiful cove with forested hills and monkeys
Cons of staying at Pantai Tengah
Maybe a little too quiet, unless that is exactly what you are looking for!
Need to catch taxis around unless you have your own transport
Best Places to Stay at Pantai Tengah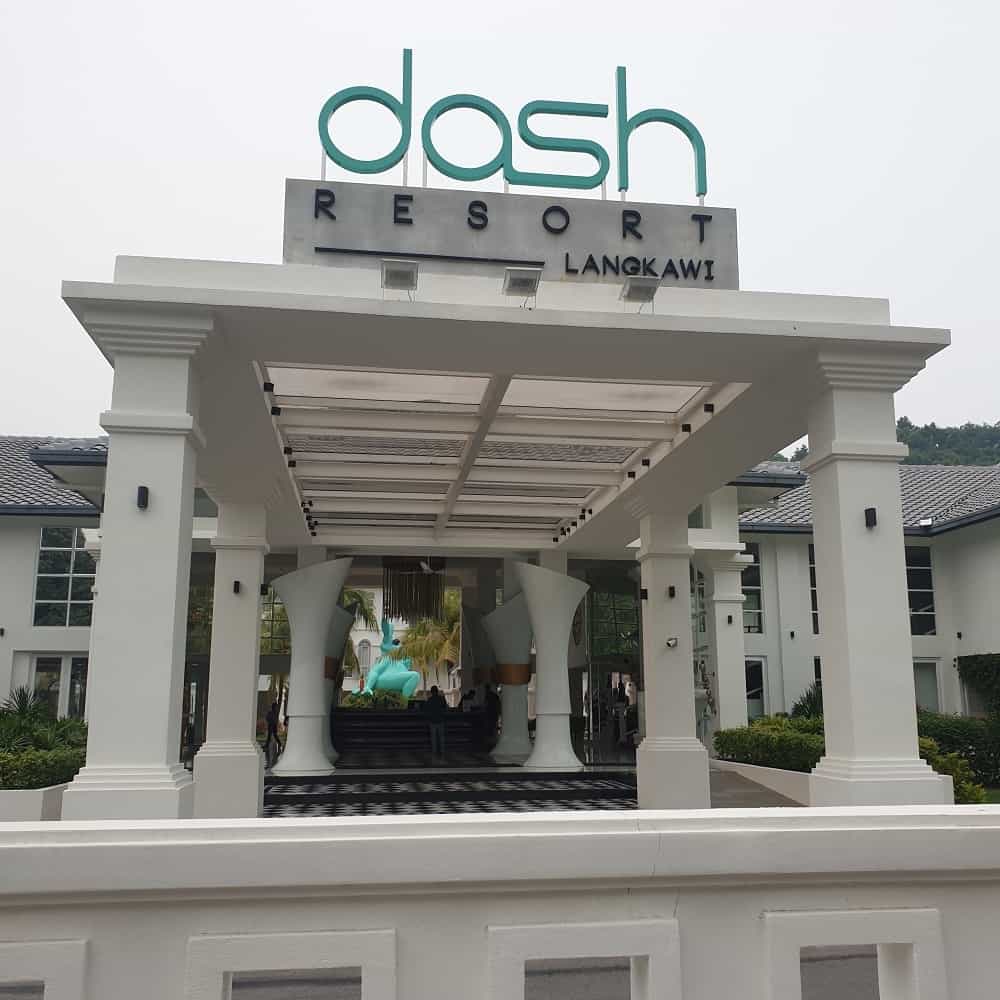 Pantai Kok
This quiet and relaxing beach is set between beautiful forested hills only 15 minutes northwest of the airport. There is a closeby marina where you can find shops and restaurants.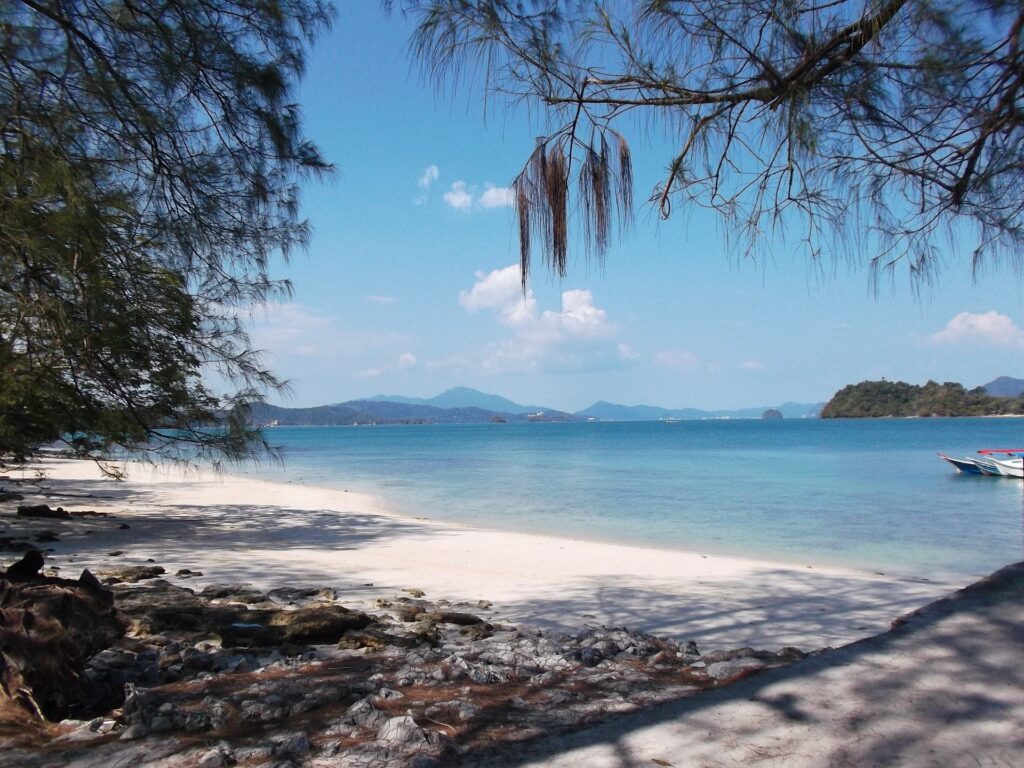 Pros of staying at Pantai Kok
Super quiet
Very scenic
Close to waterfalls, horseriding, Langkawi Cable Car, and Oriental Village
Very safe swimming beach
Cons of staying at Pantai Kok
Limited dining options
Far from the rest of Langkawi
5-Star resorts only
Best Places to Stay at Pantai Kok
Kuah
Kuah is a bustling town with the main ferry terminal. While you won't find any decent beaches here, the town is alive with great duty-free shopping and nightlife. As such, there is a wonderful variety of mid-range and budget accommodation options.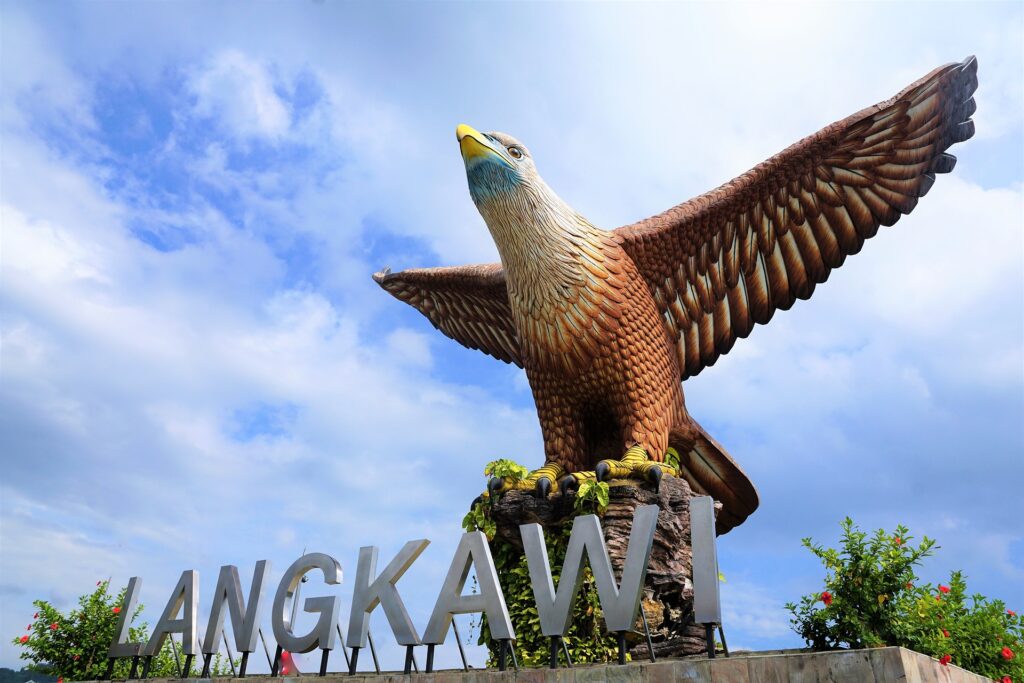 Pros of staying in Kuah
Ferry terminal with regular arrivals and departures to Penang, and Kuala Perlis
Great shopping and nightlife
Attractions such as Al-Hana Mosque and Dataran Lang (Eagle Square) 
Wide range of accommodation and dining options
Cons of staying in Kuah
A busy large town with plenty of traffic
40 minutes from the airport
At least 30 minutes from the rest of Langkawi attractions
Best Places to Stay at Kuah
Datai Bay
Pros of staying at Datai Bay
This stunning setting is home to Langkawi's swankiest resorts. Perfect for the rich and famous, or for splashing out on the ultimate honeymoon. Datai Bay is perfect for those who do not need to leave their hotel, and with accommodation like this, you will never want to leave!
5-Star opulent hotels in a spectacular setting
Perfect for a very relaxing all-inclusive holiday
Cons of staying at Datai Bay
At least 40 minutes from Langkawi's usual attractions
Best Places to Stay at Datai Bay
Best Place to Stay at Langkawi with Family
We loved staying at Pantai Cenang. Our hotel was super central and everything was within easy walking distance. The vibe here was lovely and friendly and fun. The drone from the parasailing and jetskis could get annoying, but that was much quieter on weekdays. Here everything was available at our fingertips. We could relax on the beach, enjoy watersports and duty-free shopping, choose from so many different cuisines, walk to Underwater World and even visit a classic amusement park.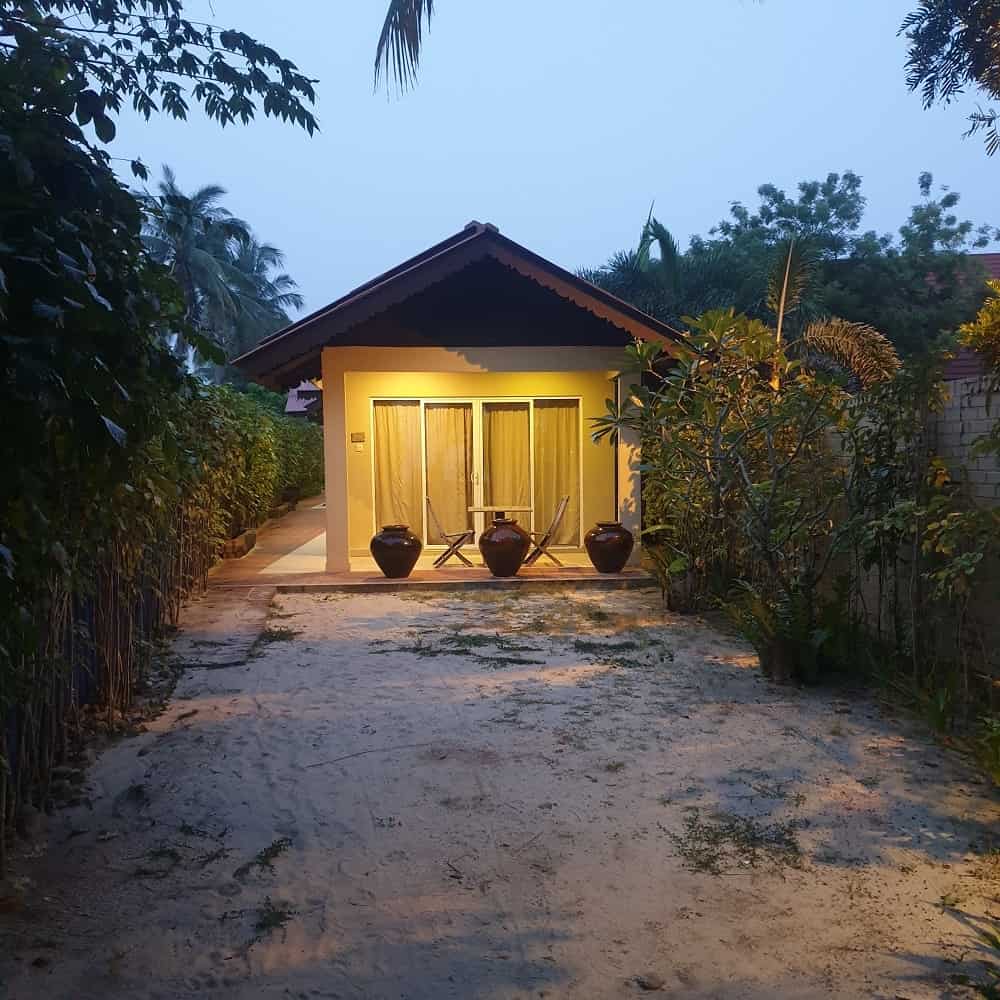 It was only 10 minutes to get here from the airport (Book your airport transfer online here) and all of the island attractions including the Langkawi Cable Car and Oriental Village was only a 20-minute taxi or scooter ride away.
We fully recommend Pantai Cenang as the best place to stay when considering where to stay at Langkawi for first-timers, families and for those who like a bit of action with their cocktails.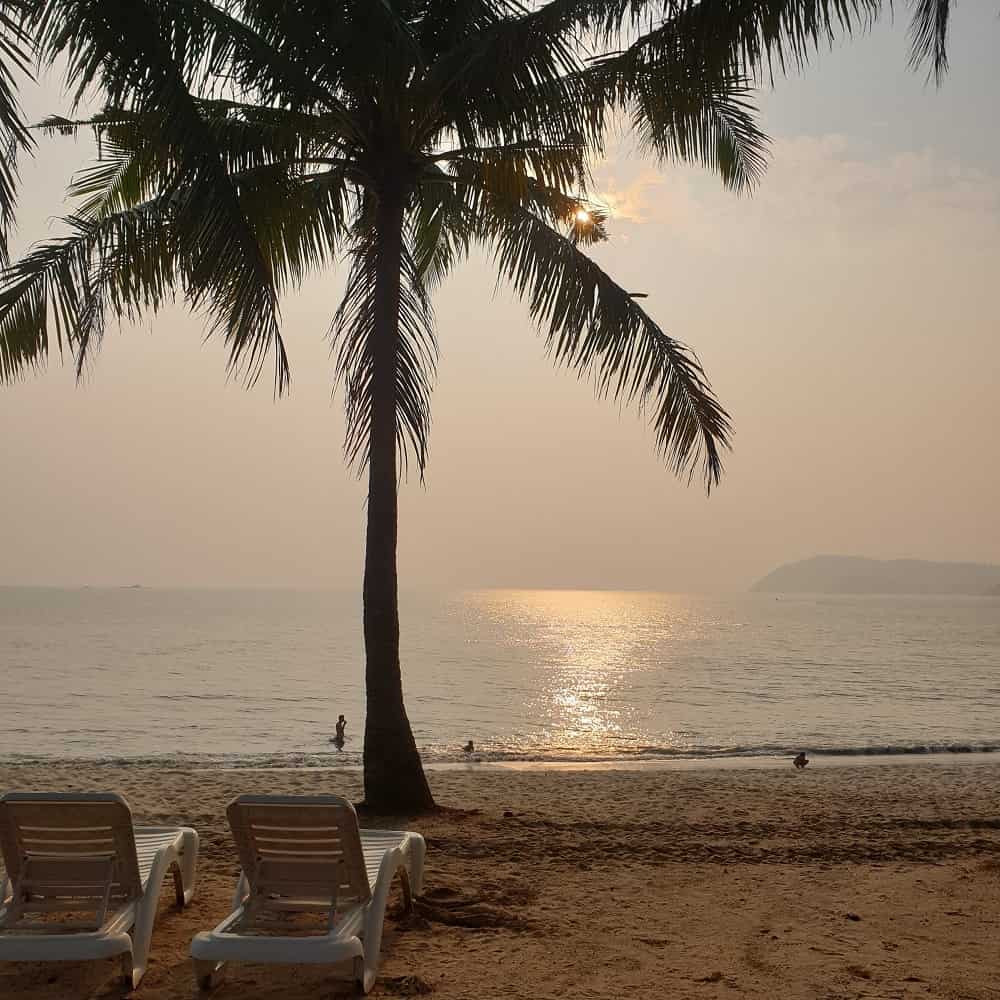 Getting to Langkawi
We chose to fly from George Town to Langkawi. The short flight only took around 40 minutes! See all the options including ferry details and find out how to book here.
Getting Around Langkawi
It is possible to rent your own car and drive around the island. The roads here are safe and quiet. Car rentals are available from the airport arrivals hall. You can bring your own car over from the mainland on the car ferry. You will need an International Driver's Permit to drive in Malaysia. Car seats for babies are not compulsory yet, but they are planning on bringing this rule in for 2020. Carseats are available for hire with the car.
Read more here on our awesome experience driving in Malaysia.
Rent a scooter for only a few dollars per day. Bear in mind that you need to have a motorbike licence in your home country to be fully covered under travel insurance when riding motorised scooters.
Taxis are cheap and super easy to flag down. Make sure they turn on the meter or negotiate a daily rate with the guys in the taxi booth.
Related Articles – Malaysia
Check out these related articles which will help you plan a tour of this beautiful country: