We have just returned home after being on the road for over 8 months throughout Southeast Asia. We brought our 4 kids along for the journey, the youngest turned 2 in Thailand. Travelling with a toddler was sure a challenge at times, but completely brilliant at the same time.
Check out some of our kid-friendly favourites in Southeast Asia:
I never expected life after travel to be a challenge as well. Transitioning our 2 year old from that life where everything is different on a daily basis, where routine does not exist, where you eat a lot of french fries and have 3 meals a day at different restaurants, where you don't have to use a car seat, where you get lots of treats just so you behave especially in airports and taxis, and where you sleep in between Mum and Dad is actually hard! Now she has had to re-learn 'normal'.
At this age she has rapidly had to move to her own bed, to stop breastfeeding, and toilet train all at once. There must be some part of our darling toddler that is just waiting for us to move on again any day!
Thankfully for us and our sanity, we have found a couple of exciting products from Skip Hop that have helped us immensely.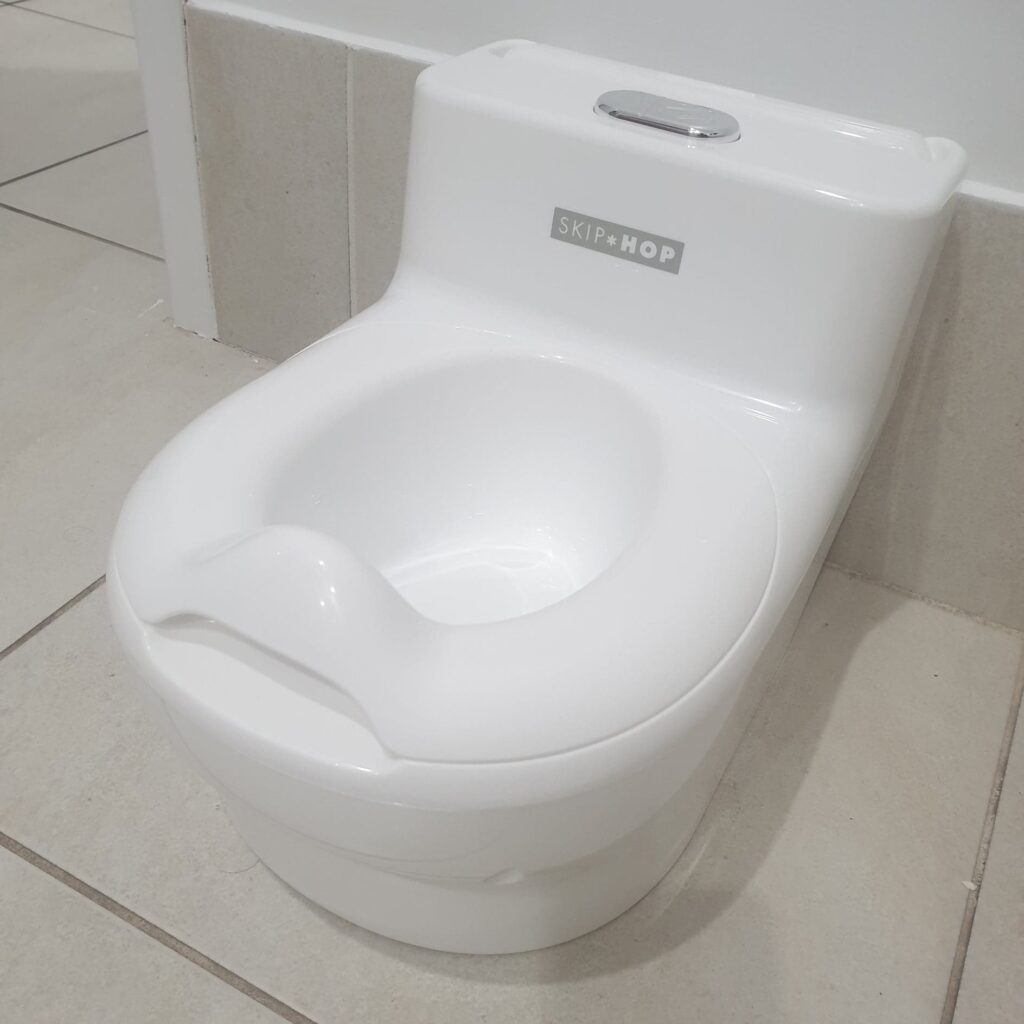 One of my priorities for getting home was getting our toddler toilet trained. It is almost impossible to do this on the road although we did have a couple of attempts. The trouble is finding nice and clean toilets when you are out and about anywhere in Asia. That is hard enough for us adults! So we were super ready to give this potty a try.
The Skip Hop Made For Me Potty is just perfect for our daughter. It is made in the shape of a little toilet with a removable bowl and has a chrome look button that makes a realistic flushing sound on the cistern. There is also a place to store your wet wipes or books.
Our toddler loves this potty and she calls it her "baby toilet". It is positioned opposite the proper toilet so she can coordinate her use with her older siblings too. This helps her to learn the skills she needs to confidently do it on her own. And that is her favourite phrase at the moment "you wait here, I'm going to do it on my own".
I love the way this potty looks and feels like a grown-up toilet and the sleek white design makes it look the part in any bathroom. It is easily cleanable with smooth wipeable surfaces with a built-in splash guard as well.
The Skip Hop Made For Me Potty is only $35 on Amazon. Find it here.
Perfect for ages 18-month + (Ours is 2 years and 5 months)
Shaped like a real toilet
Realistic flushing sound (2 x AAA batteries included)
Removable bowl
Splash guard
Easy to clean
Back storage compartment will hold wet wipes case (included) or books
This is my 4th round of toilet training so we have used our fair share of different training toilets. The Skip Hop Made For Me Potty is the best way to make toilet training a breeze. I love it, and so does our little one.
We have only been home for a couple of weeks, and thanks to the consistency we now have after travelling with a toddler, she is almost fully toilet trained already.
The other big problem we had with transitioning our travelling toddler back to home life was getting her to sleep in her own bed.
When we travelled with our 4 kids, we had our toddler co-sleeping with us almost every night for 8 months. I was also breastfeeding her which made it easy to pacify and comfort her on flights, and to put her to sleep.
When we got home, it was time to stop the breast and to get her into her own bed. We purchased a red racing car bed and furnished it with her favourite plush toys and comforter. With the removal of breastfeeding, it was really hard to get her to sleep at first. Until the addition of this cool nightlight.
The Skip Hop Moonlight & Melodies Sleep Trainer Nightlight has a beautiful soft glowing cloud that plays a gentle tune that coaxes my toddler off to sleep.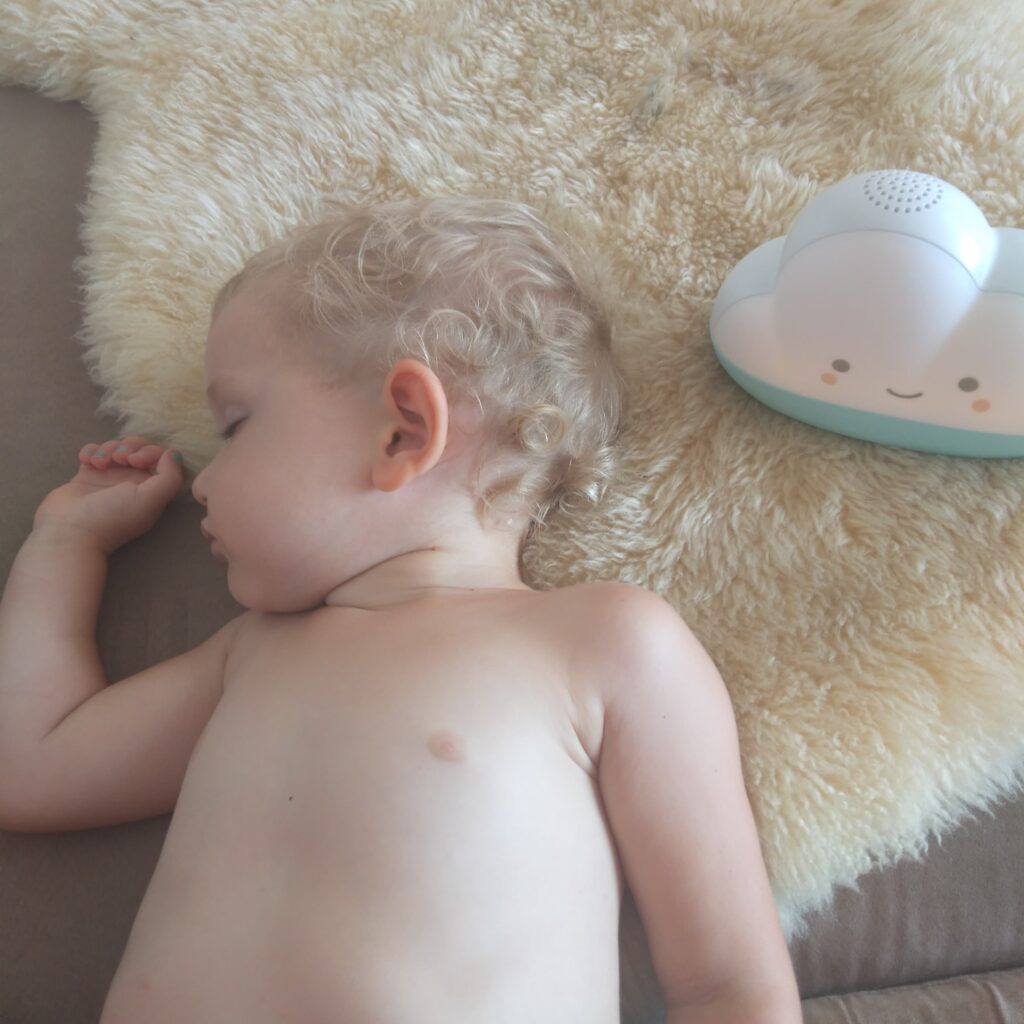 There is a function which allows you to set the light for early risers too. The light will glow red until it is time for her to get out of bed, then it turns yellow and green and the tune starts playing like an alarm clock. It runs on 4 x AA batteries (batteries not included).
Why Use a Nightlight?
Getting kids to go to sleep has always been something I have been terrible at. I hated sleep training them, and I relied heavily on breastfeeding. I feel like this nightlight is so helpful, and I wish I had have found it sooner.
We haven't used the wake-up functions yet, but we will as she get a little older. But this light and the sweet tune is helping her to relax and get to sleep IN HER OWN BED without a breast each night in our new house.
I definitely recommend this product if you have a toddler who goes to bed reluctantly or who gets up too early. I love the way it glows, and the tune is so sweet and simple. Our daughter really loves it too.
The Skip Hop Moonlight & Melodies Sleep Trainer Nightlight is available on Amazon (it's called the Dream & Shine) for only $29.99 Get yours here.
Travelling with a Toddler
Travelling with a toddler is possible, and it is fun. We backpacked all over the world before we had kids and now that we have 4, we will get out into the world as much as we possibly can. Here are 5 reasons to take your toddler travelling:
They love it! Toddlers crave the attention that they get from strangers overseas, especially Asia
They enjoy plane travel – short flights are a gimmick
They get to taste new foods – Nasi Goreng was a definite favourite, but she also adores spring rolls!
Travelling toddlers are more friendly and outgoing. She says "hi" to everyone!
You get to see things through a kids eyes. See the world with a fresh perspective and get excited about the little things again.
There is never a right time to take your kids travelling if you dissect it too much. We had to homeschool our 3 older kids for this trip, but they learnt so much from being abroad that they will not be behind their peers when they start back at conventional school.
And thanks to some help from Skip Hop – a trusted brand who makes the sublimely helpful products above, our transition from travelling toddler to toddler at home has been smooth.