We just spent almost a month in Hanoi with our 4 kids aged 2, 6, 7 and 9. So we can tell you a fair bit about what there is in Hanoi for kids! With our harshest critics on board, we got them to list their favourite activities in Hanoi for us and we share them with you here.
This is the best blog you will read on this subject. Please share with families you know travelling to Hanoi, so they can enjoy Hanoi for kids too!
Places to Visit in Hanoi for Kids
Hoan Kiem Lake
The Hoan Kiem Lake sits in the middle of the Old Quarter. During weekends from 7 pm Fridays and through to late Sunday, the streets surrounding the lake are actually all closed off to traffic creating a family-friendly festival area.
There are dancers, balloon twisters, live music, bands, food and drink sellers, bubble machines and more. The area on the eastern side along Dinh Thien Hoang seemed to have the most exciting entertainment.
Walking around the entire lake is quite easy, it is not as big as you think so give it a go with your kids. It is beautiful.
Electric Cars
This was the kids' favourite thing in Hanoi! When the streets are closed and concentrated around the southeastern corner of Hoan Kiem Lake, you can rent all sizes and versions of electric cars for the kids!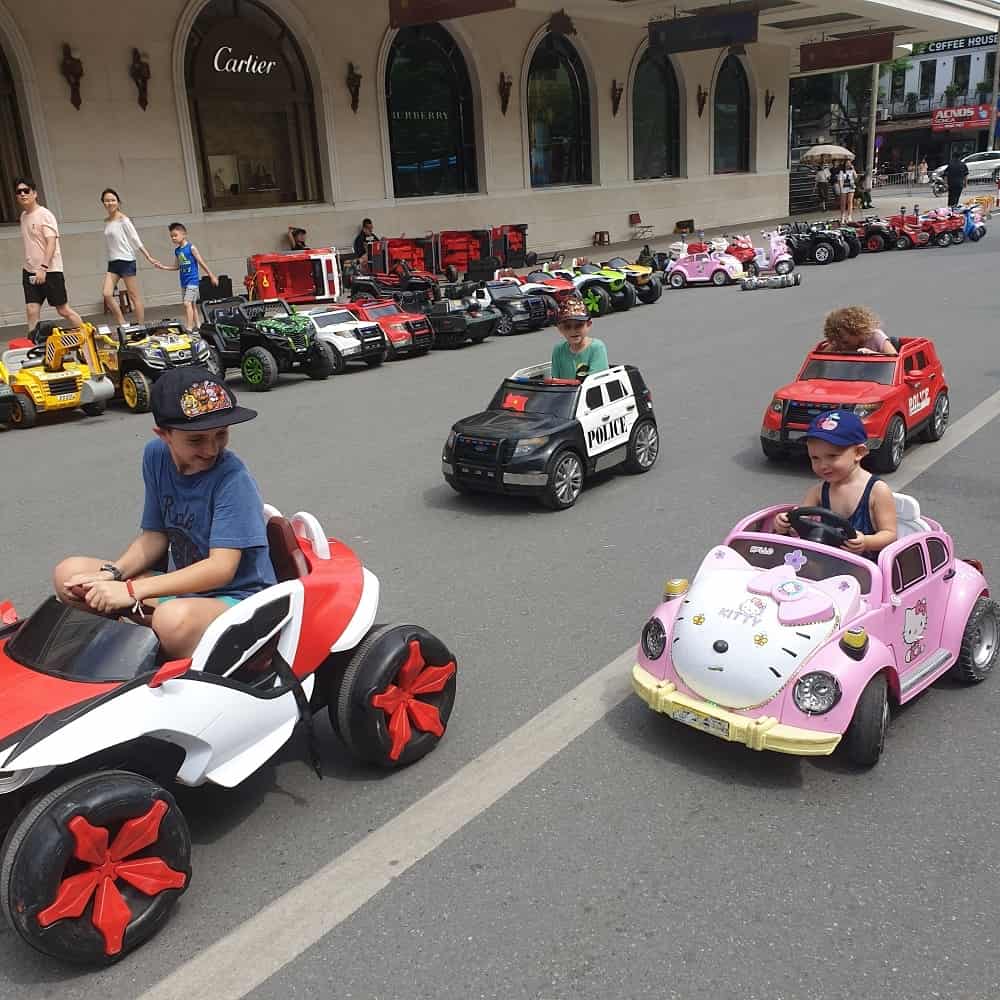 This is a suitable activity for all ages from 1.5 all the way up to 9 (our 9-year-old only just fit). For the smaller ones, you have the option of a remote-controlled vehicle.
50,000 VND gets you 20 minutes of fun and frivolity racing around here. And the kids were allowed to change cars as many times as they liked.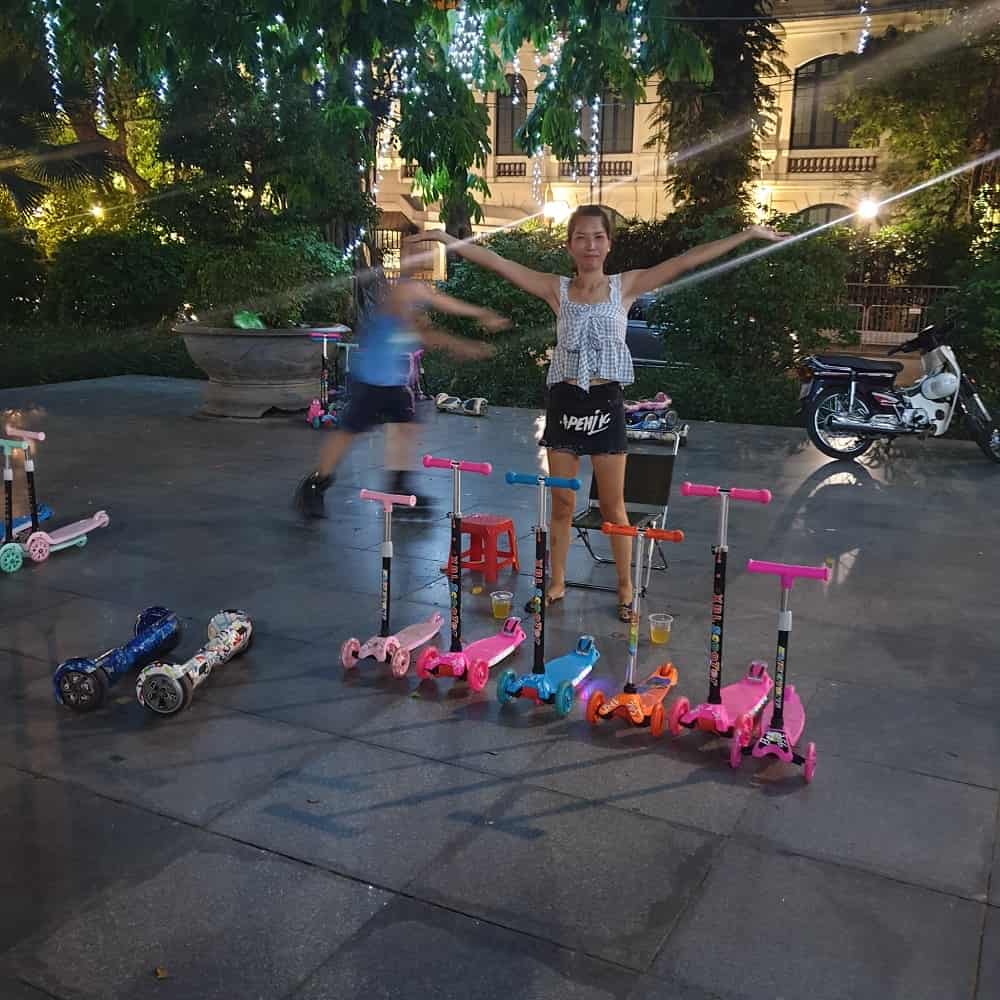 Rollerblading, Scooters and Hoverboards
Also to the east of the lake, in the park you will find the massive Lý Thái Tổ Statue. Here you can hire kids' scooters, rollerblades, and hoverboards. Scooters cost 20,000 VND while a hoverboard cost 50,000 VND. Please be careful. We nearly had a broken wrist thanks to a hoverboard newbie here.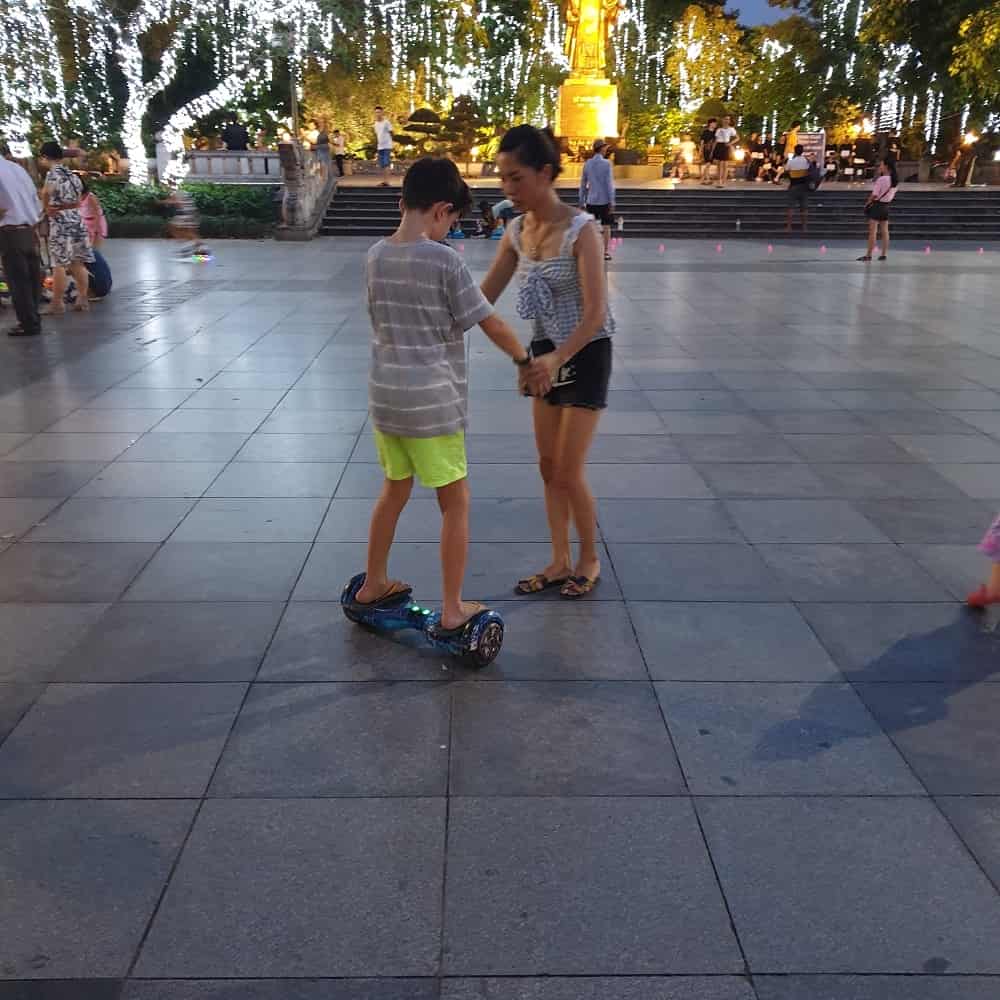 Vincom Mega Mall Royal City
This massive shopping mall is the perfect place to visit on the hottest days. A Grab taxi to here from the Old Quarter cost around 84,000 VND and took nearly 40 mins in traffic. See the location on Google here.
This huge mall is all underground a massive towering housing development. It has to be seen to be believed. Check out our highlights here:
Ice Skating
It cost around 500,000 VND for our whole family to go ice skating in Vincom's basement level. They have skates for hire in the smallest sizes to even fit our miss 2. We also grabbed a couple of seals and a penguin for our kids as they were absolute beginners. We had a fantastic couple of hours here, and it was hard to drag the kids away.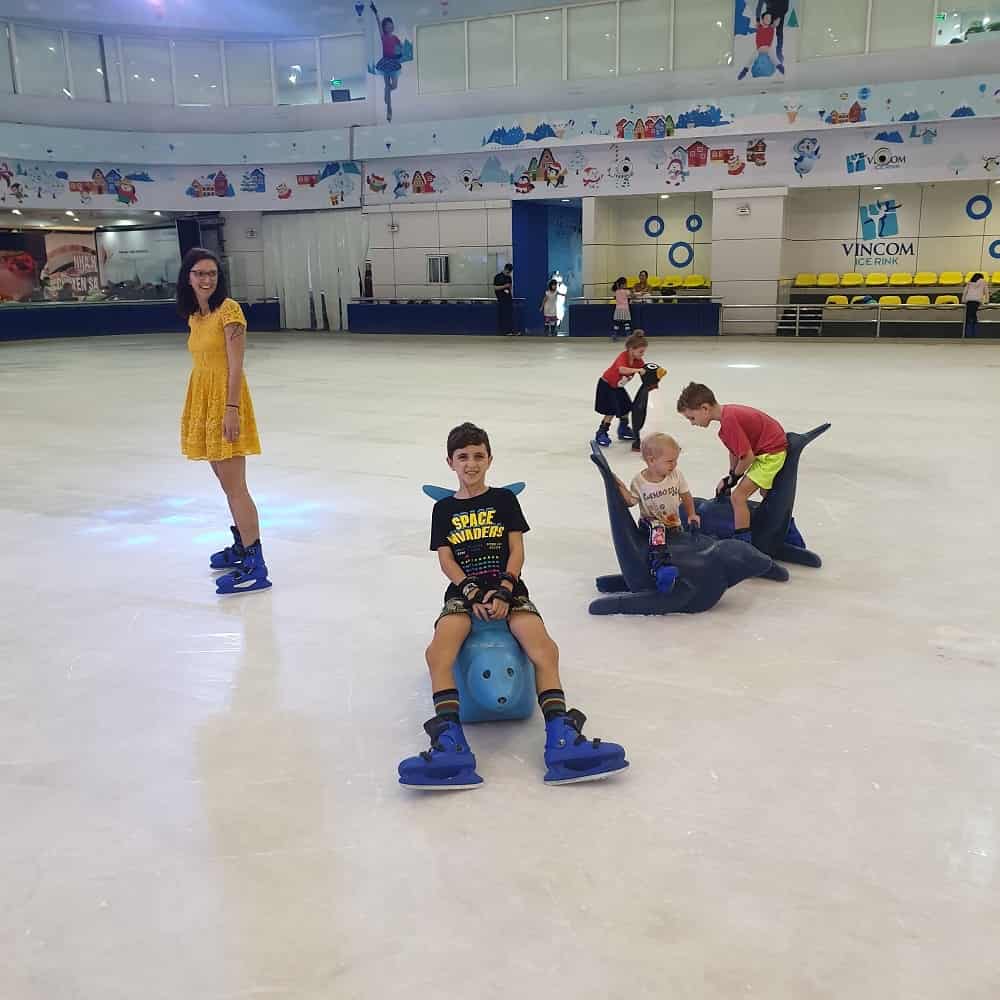 Luckily we could bribe them with soft serve at Dairy Queen, and some KFC popcorn chicken just around the corner. It was Miss 6's birthday after all.
There is also a massive VinMart on this bottom floor which is the biggest supermarket I have seen in Hanoi and a great place to stock up.
Decathalon
The top floor of this basement shopping centre houses this massive brand new sports store Decathalon where you can try out all the goods. There are areas for trialling skateboards and scooters, a soccer field, badminton court, archery, table tennis and more, all setup and ready to play with.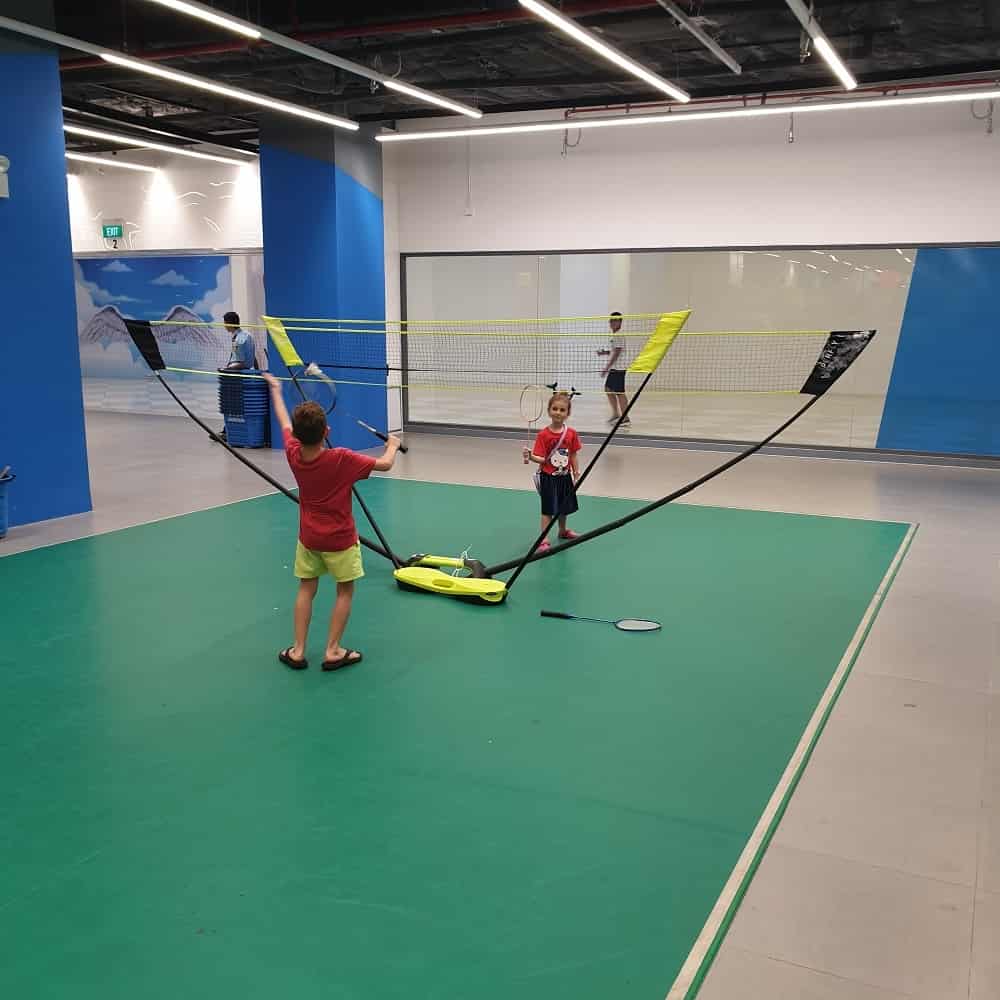 The kids loved it, and we did too. Prices were also excellent in this store, so if you need anything sports, travel or apparel related, this is the place to buy it!
Gaming on Top Floor
On the uppermost floor, you will find a gaming centre with awesome VR setup for bigger kids. Our kids were a bit too short and were very disappointed as they had the ultimate VR gear with a treadmill and everything. You need to be 1.5 m at least.
There is also other classic amusement arcade fun to be had here if you are too short for VR.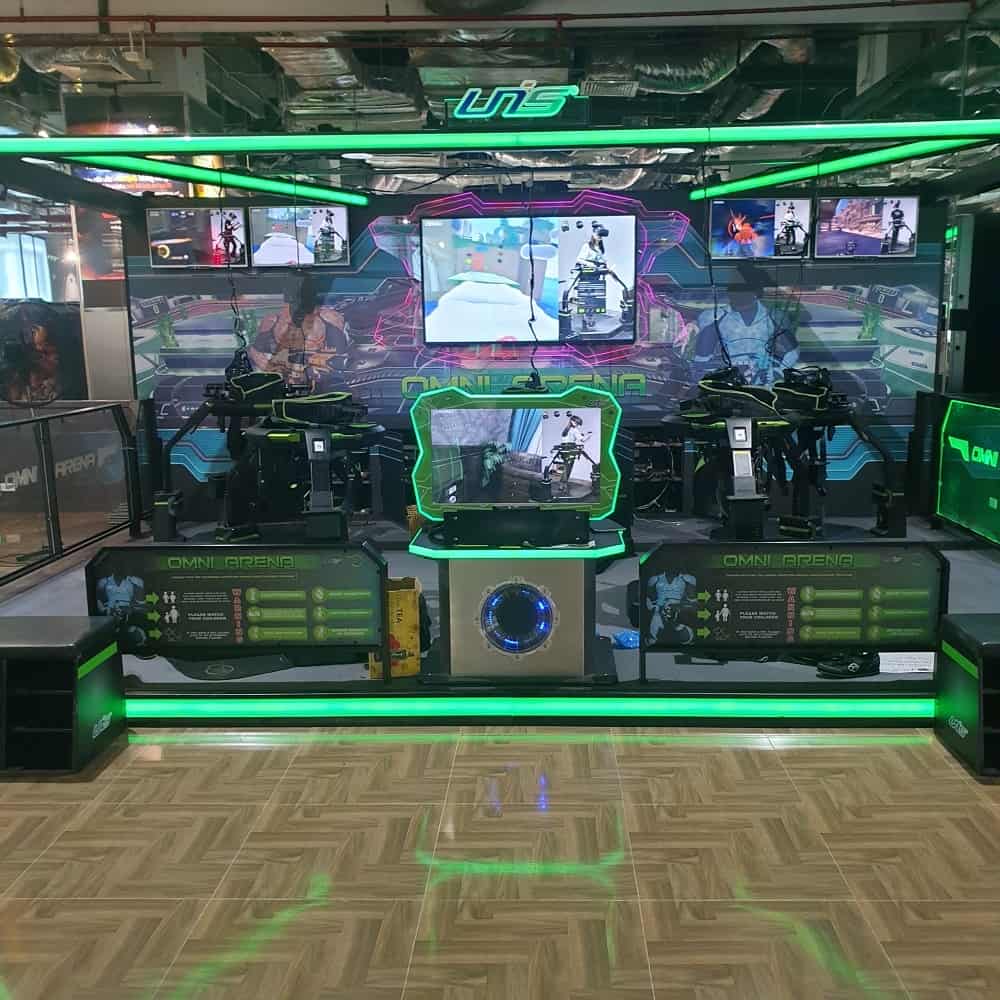 Cinema
Opposite the ice skating rink on the lowest floor, there is a BHD Star Cinema. I can't really decipher their website to check session times, but here it is. They appeared to have movies in English with subtitles.
Train Street
Train Street is more than just a street. It's quite an institution and apparently the most popular thing to do in Hanoi. Watching a train speed past with the kids was an interesting experience. If you want to see the cafes on the tracks with no train, visit during the week and it will be much quieter.
Monday to Friday trains only run at 6 am and 7 pm. So all day, you can enjoy a train-free experience with cafes lining the tracks.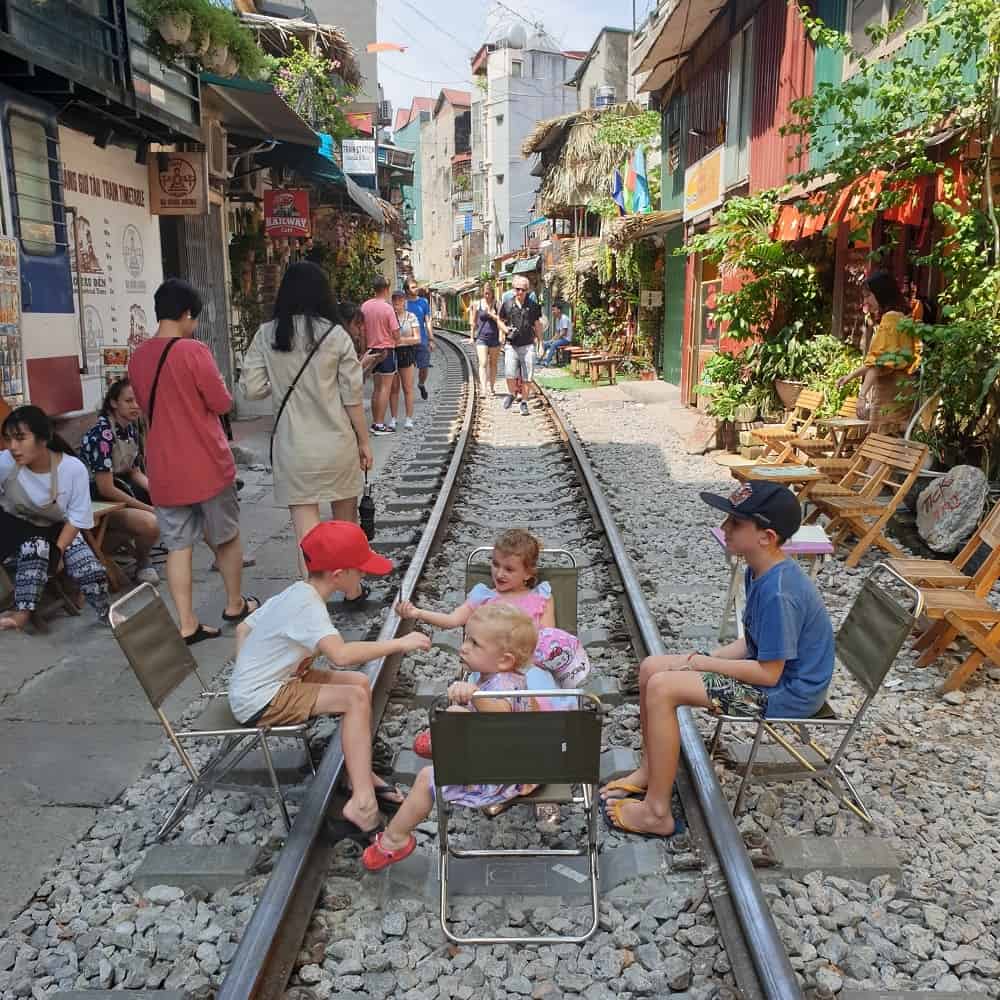 Weekends, the trains are more frequent, and it is quite exciting when the whistle blows and everybody scrambles to get the heck out of the way before the train squeals past. It is also very busy.
Search for Hanoi Train Street on Google maps for the location. Or ask any taxi driver.
Toy Street – Old Quarter
We found a really cool part of the Old Quarter that has a bunch of very interesting and super cheap toy shops. Our kids all bought something here with their pocket money including a massive transformer combiner-bot that in Australia would have cost hundreds of dollars, but here we only paid less than $50. Not great for our luggage, but great for the kids' sanity. Here is the location.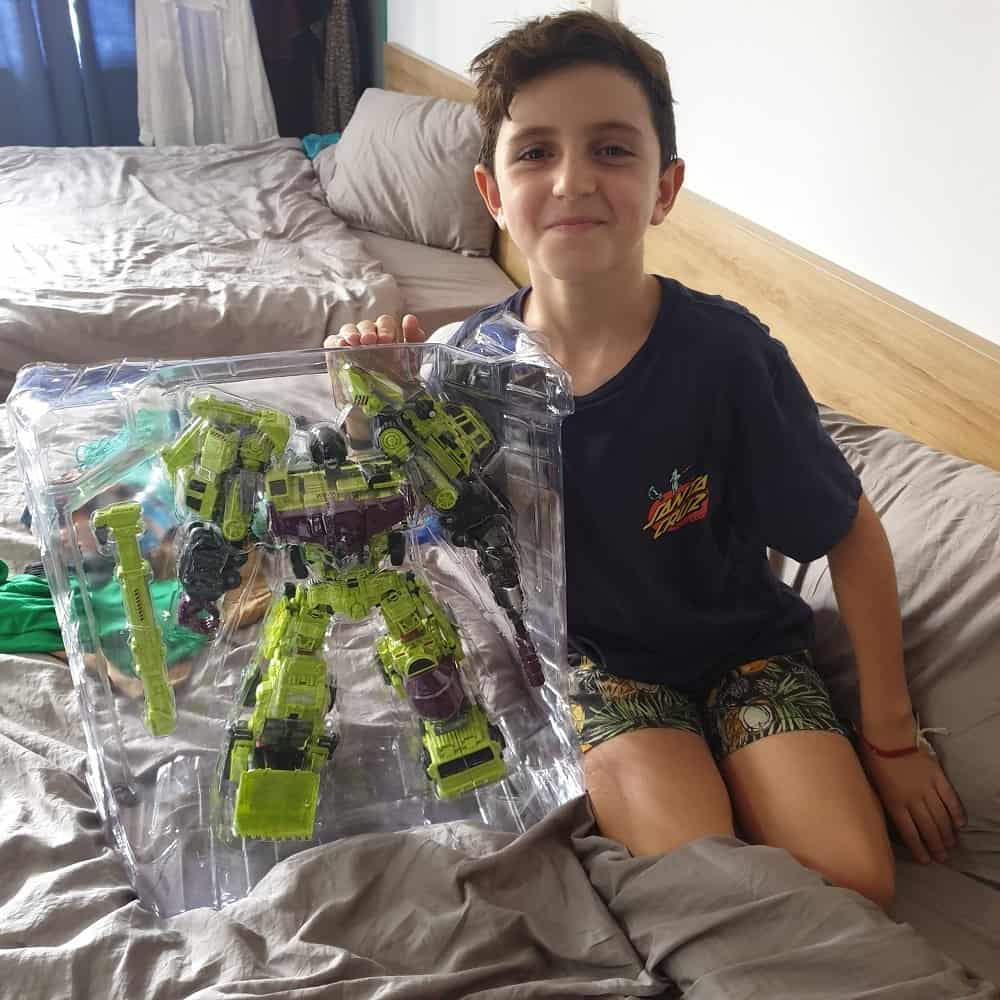 Hello Kitty World
This is set to open in 2020 and we were absolutely gutted that we missed it with a 6-year-old daughter who is a little bit obsessed with Hello Kitty. But it looks like it is going to be awesome! Next time!
Water Parks in Hanoi for Kids
Ho Tay Waterpark
Apparently, if you go to Ho Tay Water Park on a weekday you will have it all to yourselves. We went on a Monday, but, it happened to be the first day of Vietnam's school holidays! So needless to say it was heaving!
It's a pretty cool park. The rides include a Speed Racer, Black Hole, Lazy River and a wave pool. There was also a dedicated small kids section. It was in great condition, it was clean and well maintained. The slides felt safe! There were food and lockers available too.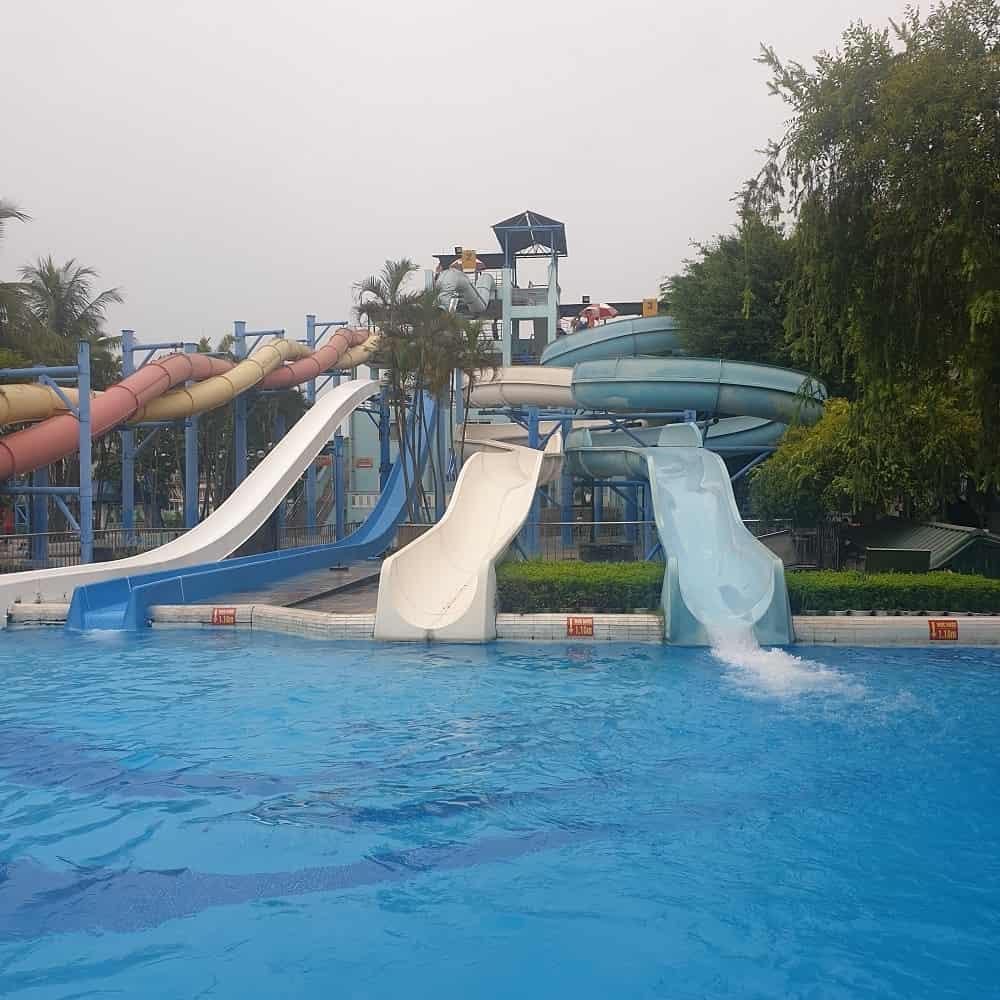 You had to walk through a weird dilapidated old theme park to get to it which made it all the more interesting!
Click here for Google Map Location
Entry fees went on height. Above 145 cm cost 160,000 VND and shorter kids were 110,000 VND. 2-year-olds were free.
Culture in Hanoi for Kids
Granted, some kids are more into culture than others. Depending on their age, and their interests of course. Our kids are being homeschooled while we are on an extended trip around the world. Follow us on Facebook and Instagram to see where we are right now. So we appreciate opportunities for cultural education, as below.
War Museum
The War Museum was very interesting. We happened to visit on the hottest day of the year which made it a little more difficult. Remember to note that the museum is closed between 11.30 am to 1 pm so avoid rocking up during these hours or you will have to wait at a hot cafe while being sold overpriced doughnuts.
There are 6 galleries within the museum documenting the fascinating and long history of Vietnam at war. The kids were super impressed by the displays of weaponry, tanks, warplanes and vehicles outside. There is a fantastic scale re-enactment using lights and models of how the Vietnamese army overthrew the French at Dien Bien Phu which was super interesting and taught the kids some awesome world schooling lessons.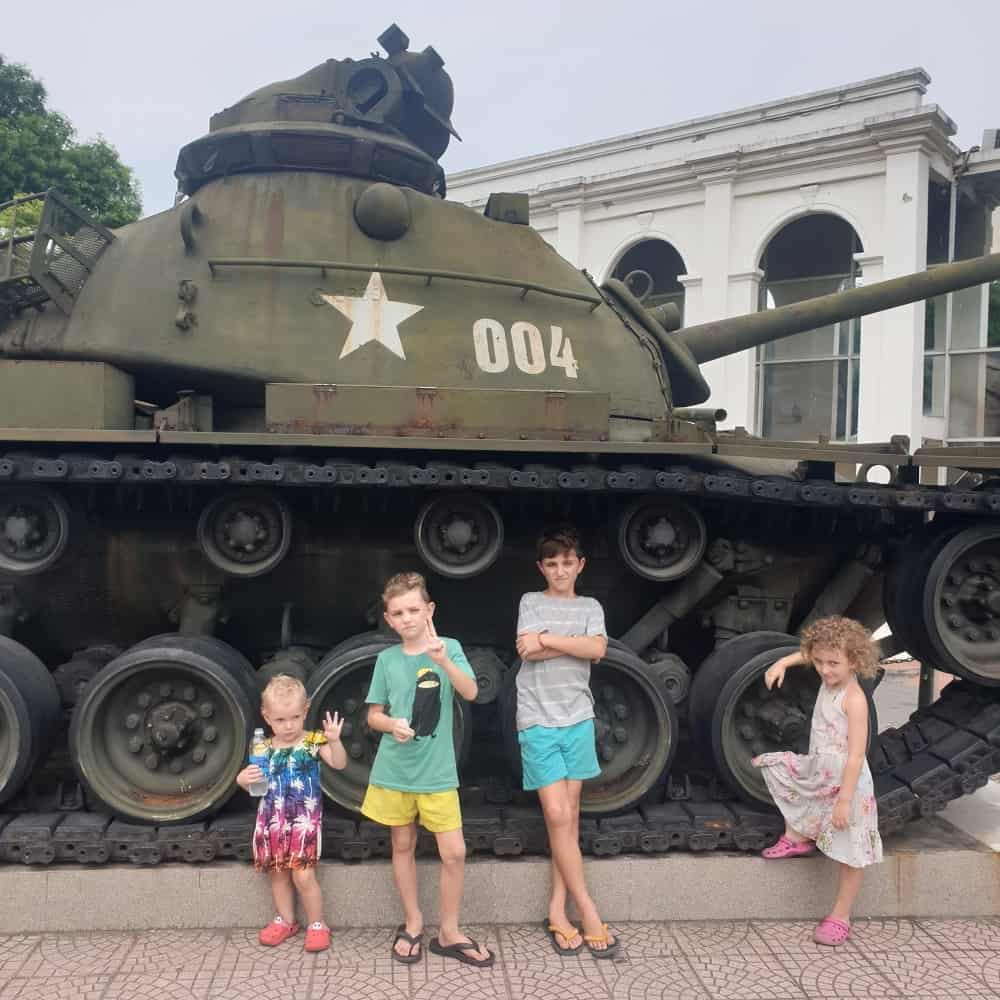 Don't visit on Monday or Friday, as these days are reserved for massive groups. Opening hours are from 8 am to 11.30 am and 1 pm to 4.30 pm.
Entry fees are only 20,000 VND per adult, kids under 16 cost 10,000 VND and under 6 are free.
Water Puppets
The show only goes for 45 minutes, and your kids will either love it or hate it. Ours were honestly not that impressed. It is a cool little piece of entertainment which is presented in all Vietnamese, with exotic music and puppeteers up to their waists in water.
Shows are on daily at 4.10 pm, 5.20 pm, 6.30 pm and 8 pm and ticket prices range from $9 USD up to $17 depending on which row you want to sit in.
Book your tickets here in advance and save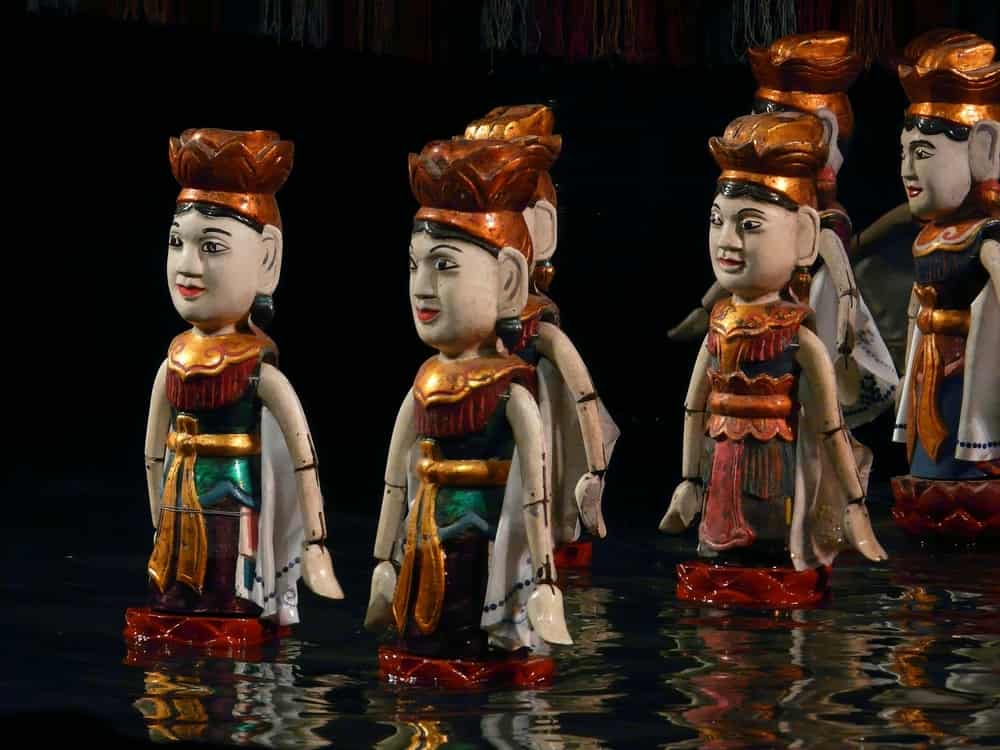 Rickshaw Ride
You can jump in a cyclo rickshaw and enjoy an Old Quarter tour for around 200,000 VND per hour. Alternatively, join a tour so you don' have to negotiate with the rickshaw drivers themselves.
The tour only costs $12 USD and allows you to ride around at the perfect pace to enjoy the special 36 historical streets of the Old Quarter. Each street sells its own wares such as leather, bamboo, tin, sugar and more. It is much easier than walking!
Book your fascinating 1-hour cyclo tour here
You can fit 2 smallish adults, or 1 adult and 2 small children in a cyclo rickshaw. Price is per rickshaw.
Open Top Bus Ride
If a bus tour is more your style, jump on the hop-on-hop-off open-top bus tour around the city. This is a fun way to see the main sights of Hanoi and the open top makes it an exciting way to get around.
The Thang-Long City Tour was the cheapest one I found and gives you 48 hours to see everything. The main sights visited are:
Frog Flower Garden
Military History Museum
Thang Long Imperial Citadel
Quan Thanh Temple
Tran Quoc Pagoda
Ho Chi Minh Mausoleum
Temple of Literature
Hoa Lo Prison
Hanoi Cathedral
Vietnam Women Museum
Hanoi Opera House
Book your tickets for the open-top bus here
Temple of Literature
This was a lovely and easy temple to walk around with the kids. They were fascinated by the beautiful koi ponds, dark wooden temple buildings, exquisite bonsai and statues of former emperors. It was nice and shady too.
Just watch out for the fan selling ladies out the front. They can be overly enthusiastic at times.
The temple is located here and is open daily from 7.30 am to 6 pm. Entry is only 30,000 VND per adult and kids are free!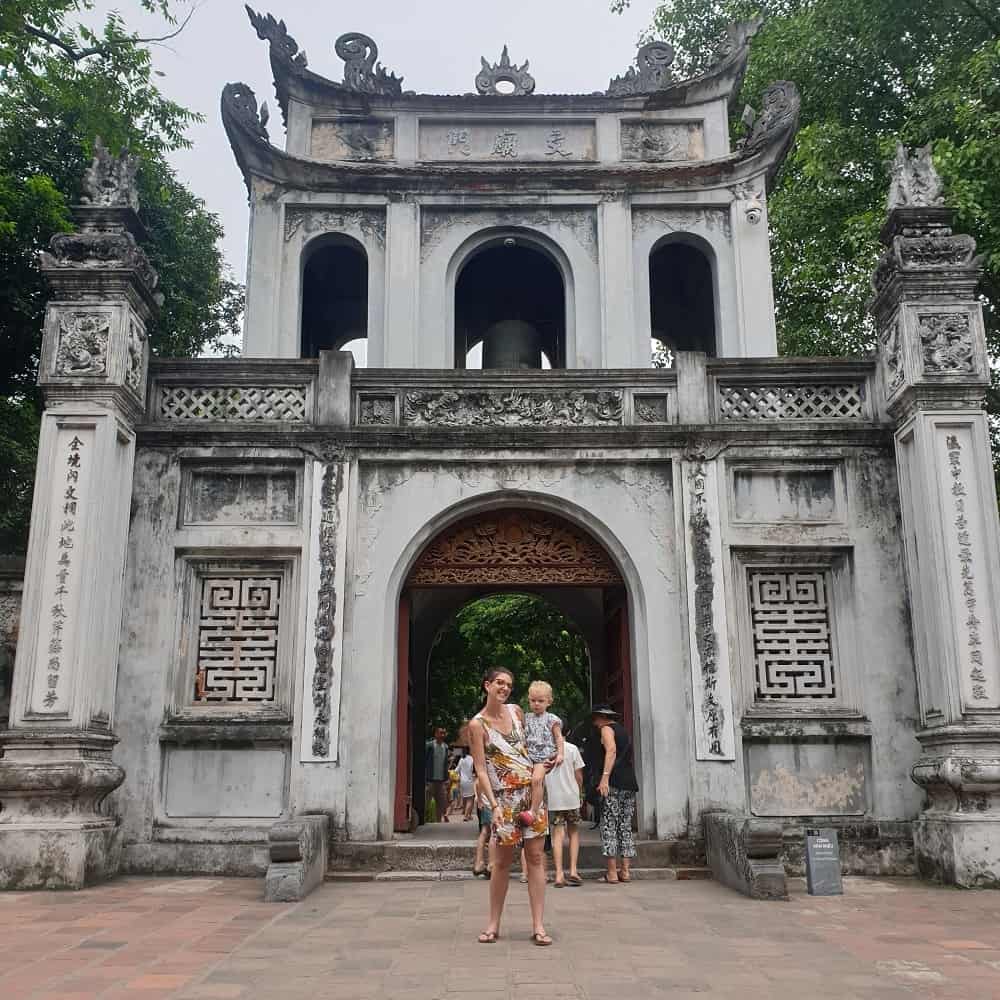 Where to Eat in Hanoi for Kids
French Bakeries
Freshly baked goodies await at some gorgeous bakeries around the Old Quarter. Chocolate doughnuts, crispy croissants filled with chocolate or ham and cheese, cakes and other delicacies were a wonderful treat for the kids (or an easy breakfast!).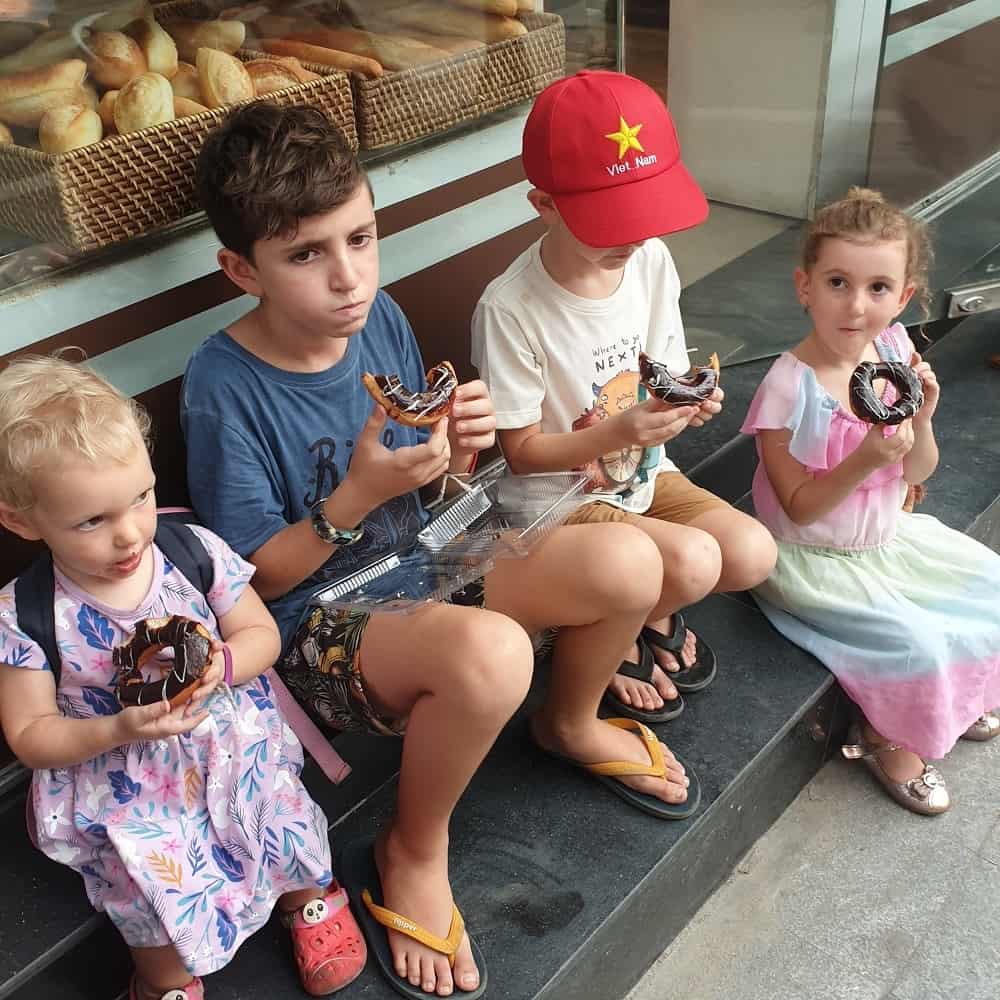 Anh Hoa Bakery was an especially good one. It makes a perfect stop, right next to Train Street See map.
The Note Coffee
This place is a super cool cafe with millions of post-it note messages from worldwide travellers. Get your kids to read out the messages and hunt for hidden inspiration on the walls, and even add their own. All while you sit and enjoy your egg coffee or fresh fruit smoothie. It's located here.
Circle K
The best place for quick supplies or treats, lollypops cost 2,000 VND which was always the best for our miss 2. They have milk, slushies, cold beer, and snacks. There's one on every corner.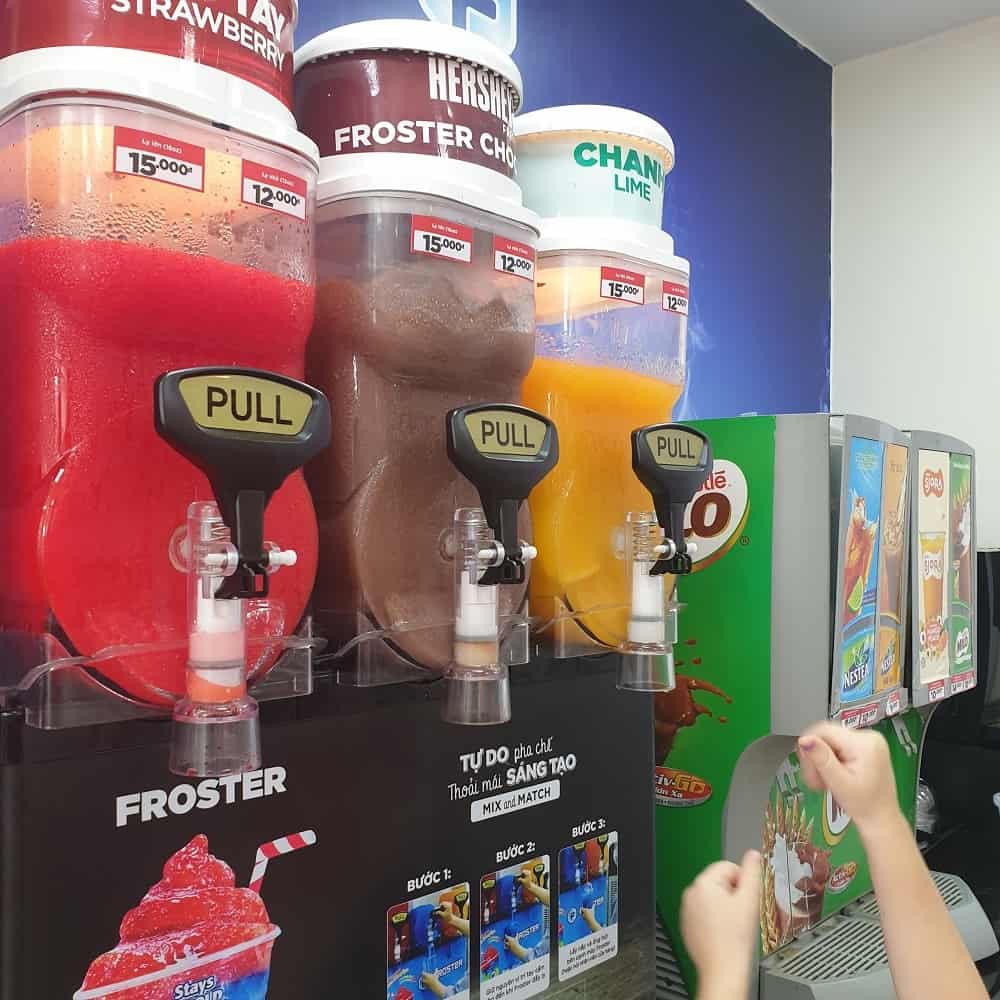 Aha Cafe
Mum and Dad have to visit Aha for a Ca Phe Nau – Vietnamese coffee with milk and ice. The kids love the single scoops of ice cream. You will find these everywhere.
Obama's – Best Pizza
Obama's was straight across the road from our Airbnb which is why we visited it frequently. They had the best pizza that the kids absolutely devoured. See map.
Dominos
Also great pizza, we usually avoid big Western chains while overseas, but this time Dominos filled the gap with delicious and well-priced pizza. It happened to be right next to the HSBC ATM at the right time. If you need a Dominos Pizza, find it here.
By the way, HSBC ATMs are the best place to get cash out, for foreign cardholders. They allow withdrawals of up to 7,000,000 VND where most other machines will only give you 2 million VND.
McDonalds
If it's Maccas you are craving, we did see one. It's on the southeastern corner of Hoan Kiem Lake. See location here.
Banh Mi – No Chilli
This is basically grilled meat and salad in a foot-long baguette. Sometimes they add pickled cabbage and onion, sometimes cucumber, red cabbage and lettuce. Our kids loved plain meat (pork, chicken, beef) or egg with tomato sauce. At around 20,000 VND to 50,000 VND this is an easy dinner. We even split them in half for our kids.
Just make sure you ask for ketchup and specify no chilli! Find them anywhere you see the sign 'Banh Mi'.
Grab Delivery
We also ate in a lot, getting food delivered by Grab. This was especially helpful after having a big day wandering around. Grab is like Asian Uber and they provide the cheapest taxis in Vietnam, and well as food delivery. In short, they really make your life easy while in SE Asia.
Download the App before you leave home. You will need a local SIM card to use the service without wifi.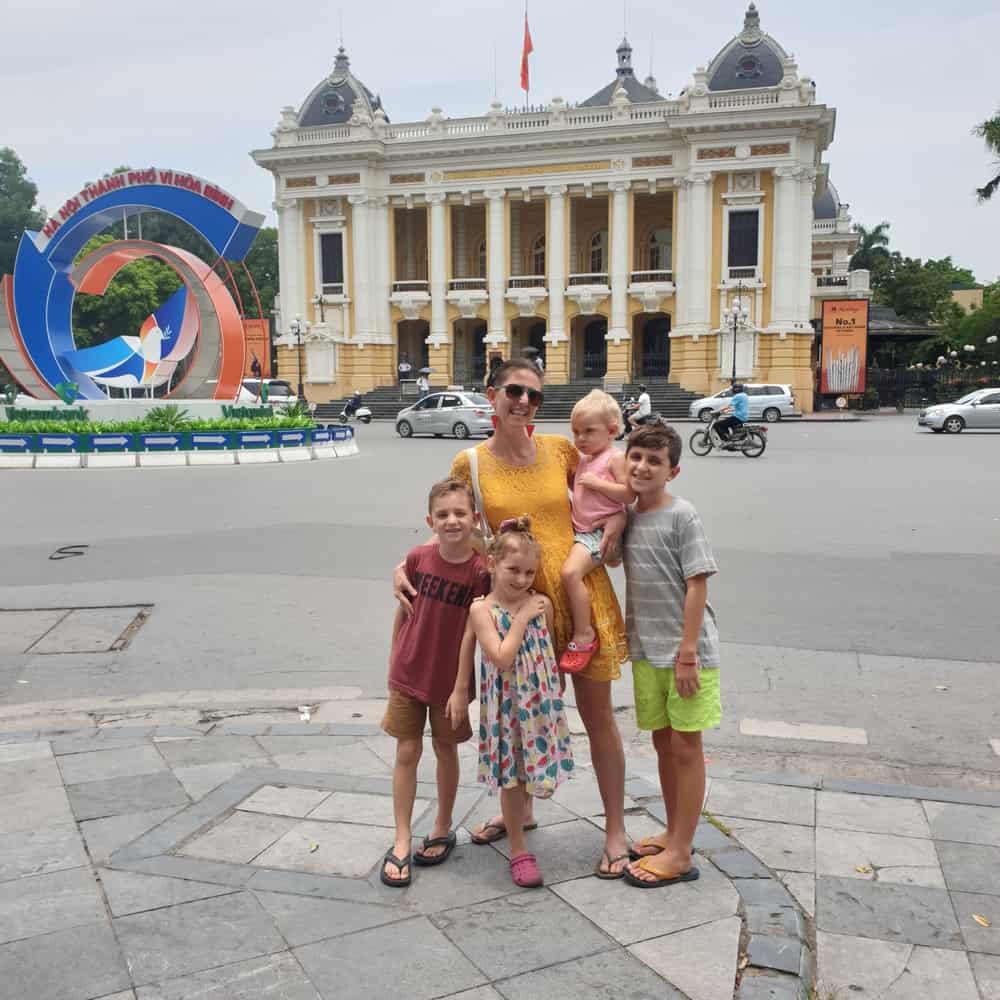 Stay in Your Room
Travelling with kids, you and they definitely need some downtime in between sightseeing. Spend some time in your room, enjoy the free wifi, watch Netflix and relax in the airconditioning. We were in Hanoi during the hottest part of the year and made sure we had plenty of rest in our comfortable room.
Where to Stay in Hanoi for Kids
We have 4 kids, and Nanna came to visit us in Hanoi too. So we needed to find a place that slept 7 of us! Airbnb worked out the best (as it often does) and we got an epic apartment in the best part of Old Quarter for around $100 per night. This gave us 6 king beds (!) 2 bathrooms, a living room, a kitchen, laundry and a terrace overlooking the intriguing streets below.
If you haven't already joined Airbnb, please use this link to join first of all. It's free to join and you will receive a bonus of $55 off your first stay. Then search for KemKay City View Apartment. Literally the best location in Hanoi!
Day Trips from Hanoi for Kids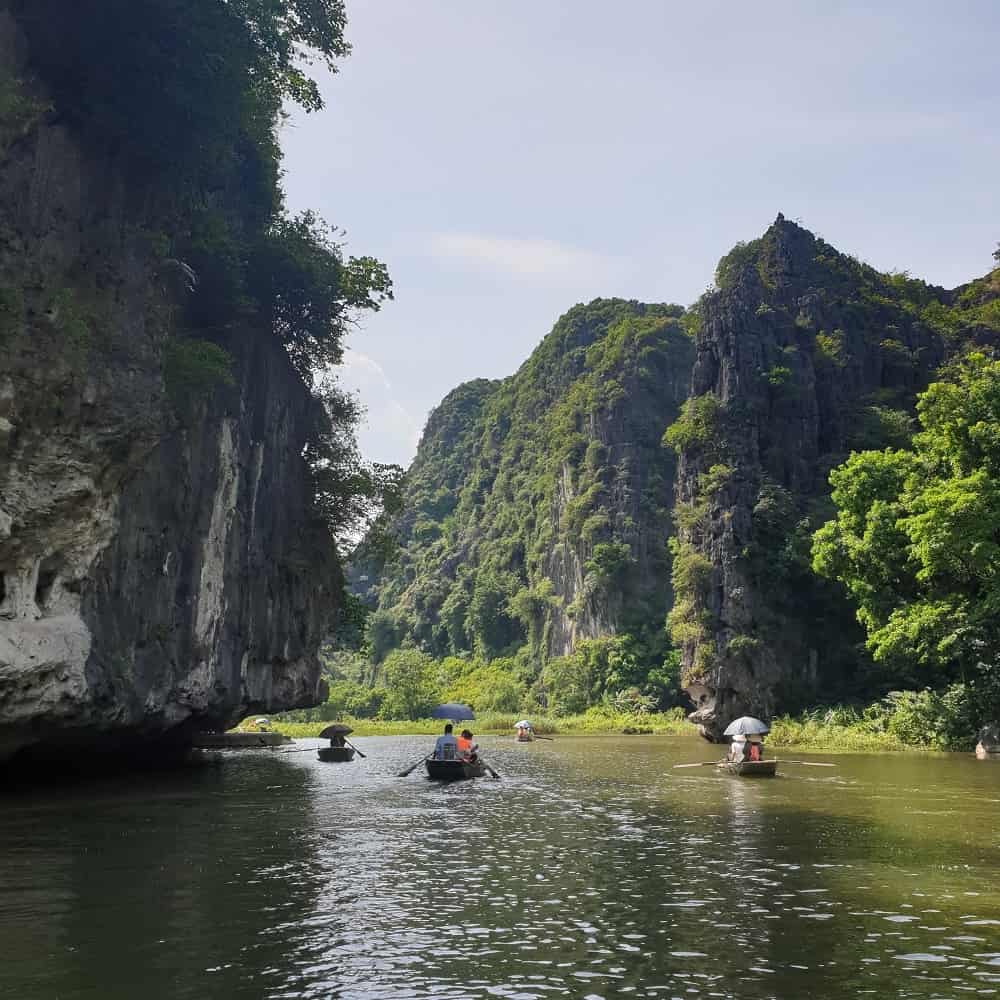 Read this Next: 9 Top Day Trips From Hanoi
We took our kids on these awesome trips from Hanoi while maintaining our Airbnb in the Old Quarter. Our family loved going overnight on the cruise through Halong Bay, they were very excited about the boat. Not so much about the UNESCO World Heritage area, but oh well. Click on the links below to read our full reviews of the tours we did:
For film-loving kids, there is also a tour to the film set of Kong: Skull Island at Trang An. See the details here.
Sapa
How to Get From Hanoi to Sapa with a Family
I know Sapa is not Hanoi, but we took our family there too!
See all the things to do in Sapa here.
Your kids will definitely enjoy:
Hill Tribe Trek – An easy half-day trek in Sapa valley, great for our 7 and 9-year-olds.
Fansipan Cable Car – A once in a lifetime trip on the world's longest cable car up the highest peak in Southeast Asia!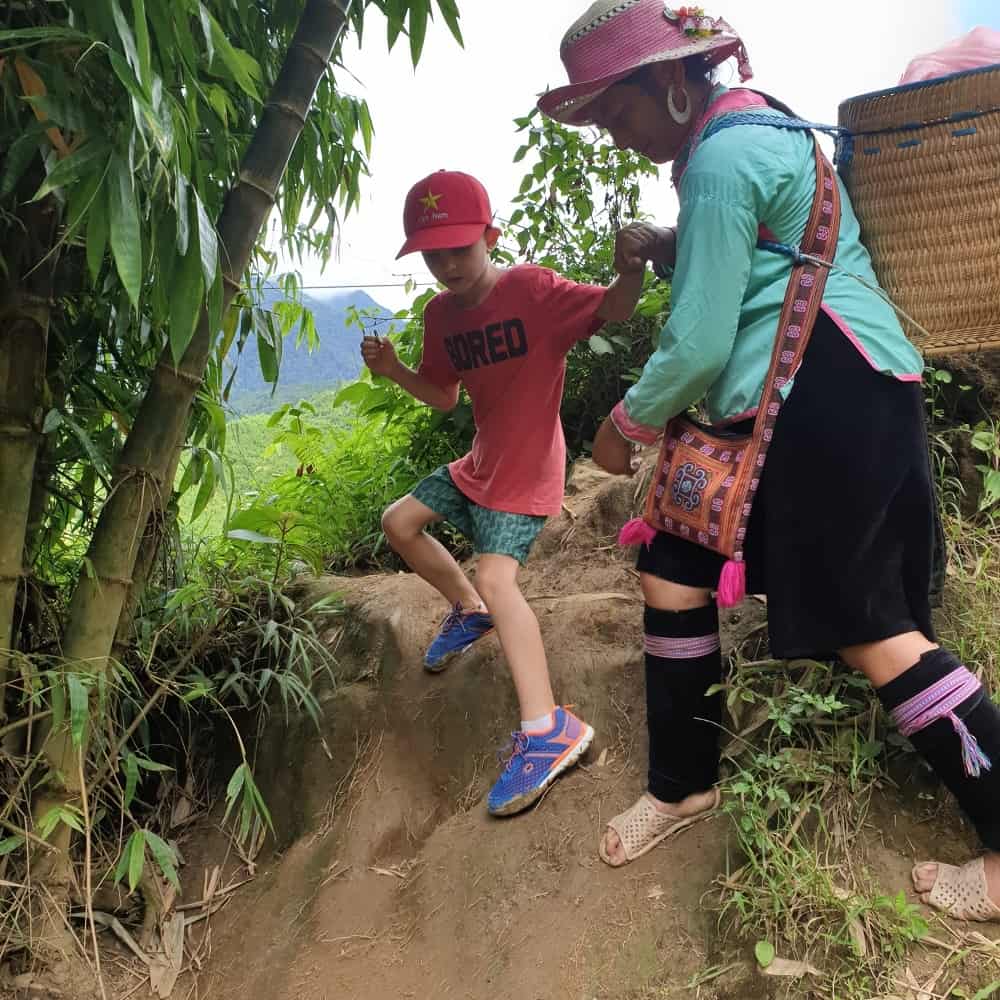 Is Vietnam Suitable for Families?
It is the best! Trust us, we have travelled all over this wonderful country with the 4 kids, and not once did we feel unsafe.
Vietnam has amazing landscapes, a mega ultra-rich culture, and super tasty food that is incomparable to other Asian countries.
This sensational country has something to offer for all ages.
Our family loved it and it was so affordable. Hanoi is the best for kids as you can see because there is so much on offer.
Get your family out there and have fun!
What is Famous in Hanoi?
Here is a list of the most famous attractions in Hanoi:
Hanoi Old Town Quarter
Water Puppet Theatre
Hoan Kiem Lake
Military History Museum
Temple of Literature
Vietnam Museum of Ethnology
Ho Chi Minh Mausoleum
Hoa Lo Prison Museum
These aren't necessarily the best things to do with your kids. Our little ones can be a little bored at times wandering around in the hot sun.
So check out our amazing list that is better than everyone else's and have fun with your kids on their next adventure holiday.
Hanoi for Kids – the Verdict
There are heaps of families visiting Hanoi, Vietnam. And Hanoi for kids is just wonderful. If this post resonates with you, please comment below and share it with your friends. Hanoi is a safe, fun and exciting with heaps of activities for young and old. We love it! See you there!