Hanoi is a fantastically vibrant, bustling exciting city. Vietnam's capital has many cool attractions to keep you busy during your stay here. But there are also some remarkable day trips from Hanoi that are highly recommended. These cool tours will give you more of an insight into Vietnam with visits to spectacular waterways, ancient citadels and World Heritage Listed wonders.
Leave the city for a day, and immerse yourself in the culture of Vietnam with these day trips from Hanoi:
Most Popular Day Trips From Hanoi
1 Tam Coc and Hoa Lu
For the full review of our tour to the absolutely beautiful Tam Coc, see below: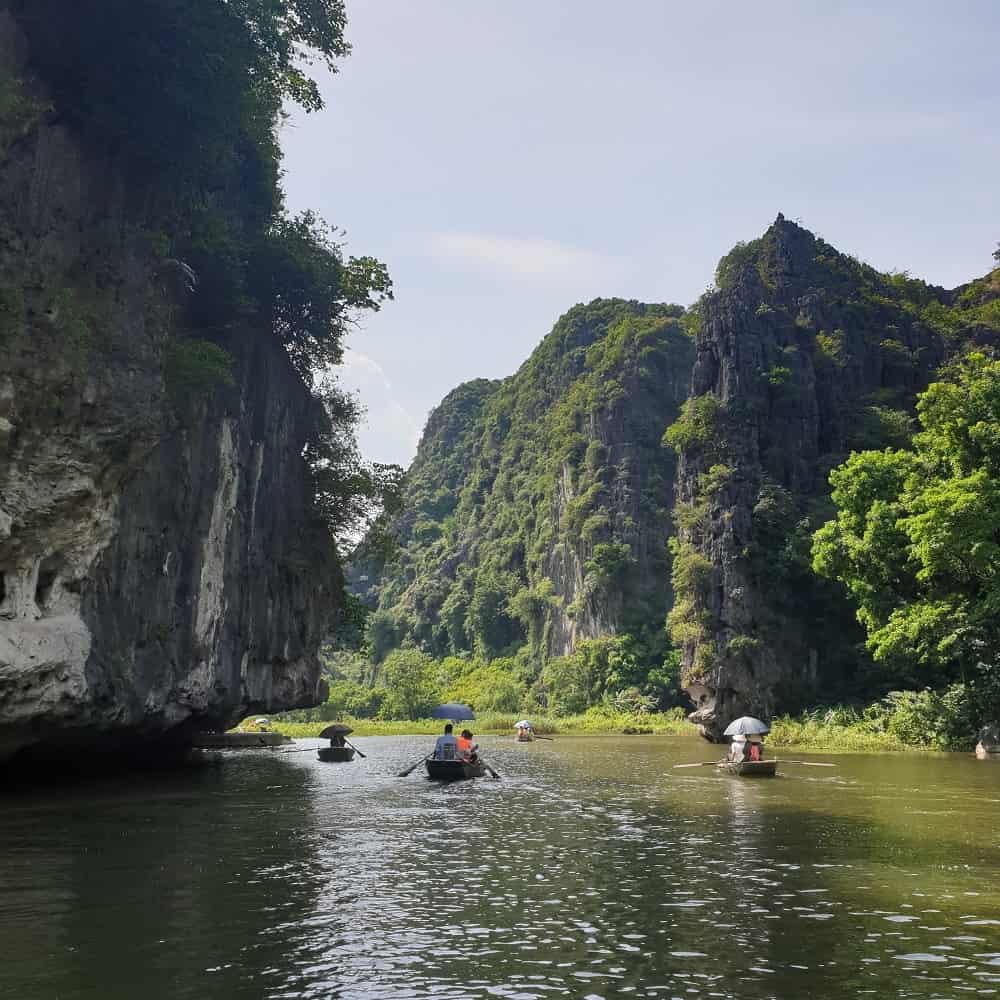 The day trip is only a 3-hour drive from Hanoi, and includes pick up directly from your Old Quarter hotel.
Visit the historic and atmospheric Hoa Lu, the ancient capital citadel of Vietnam during the first 3 dynasties. Enjoy a succulent buffet lunch at a local restaurant before paddling off down the tranquil waterway at Tam Coc. You sit back and relax in a traditional sampan boat while someone mans the paddles.
The river winds its way through the most beautiful towering limestone cliffs and verdant green river reeds, even going through 3 awesome caves. After 1.5 hours, return to shore and enjoy an easy bike ride through peaceful villages and rice farms.
This is a simple and popular day tour from Hanoi. It takes about 12 hours all together, and we thoroughly enjoyed our trip with our family.
Check Prices and Book Your Tam Coc Tour Here
We found the cheapest tour and ease of browsing and booking with GetYourGuide as above.
2 Halong Bay Day Trip
Halong Bay is easily enjoyed as a 1-day tour from Hanoi. The schedule is tight, but if you only have one day to spare, it is worth it. You spend around 4 hours each way on the air-conditioned bus after getting picked up from your Hanoi accommodation.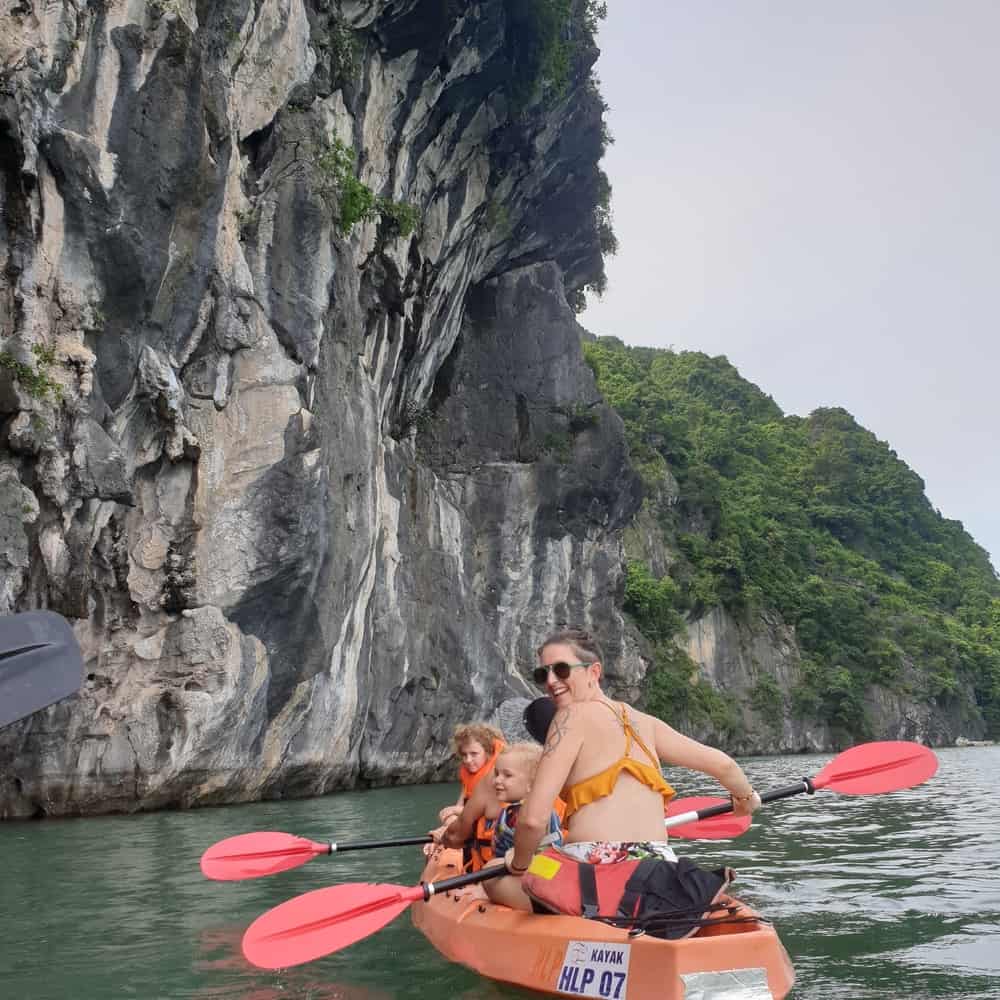 Enjoy 4-5 hours taking in the major sites of the awe-inspiring UNESCO World Heritage Listed Halong Bay including beautiful islands, and a spectacular grotto. A buffet seafood lunch is also included on the tour.
If you have longer, why not spend a night on a fabulous wooden junk in Halong Bay? It is such a fantastic place to wake up with the stunning view of the islands all around you.
Check out our review of our recent overnight tour of Halong Bay here including where to book the best boat.
3 Sapa from Hanoi
Sapa is a popular tour from Hanoi, and is best enjoyed as a 2-day 1-night trip. This tour includes an overnight bus or train journey up to Sapa and back to Hanoi, as well as an overnight hill-tribe trek and Fansipan summit trip too.
If you want to spend longer exploring the wondrous mountain scenery of Sapa, have a read of our articles here which provide all the information you need to do it yourself: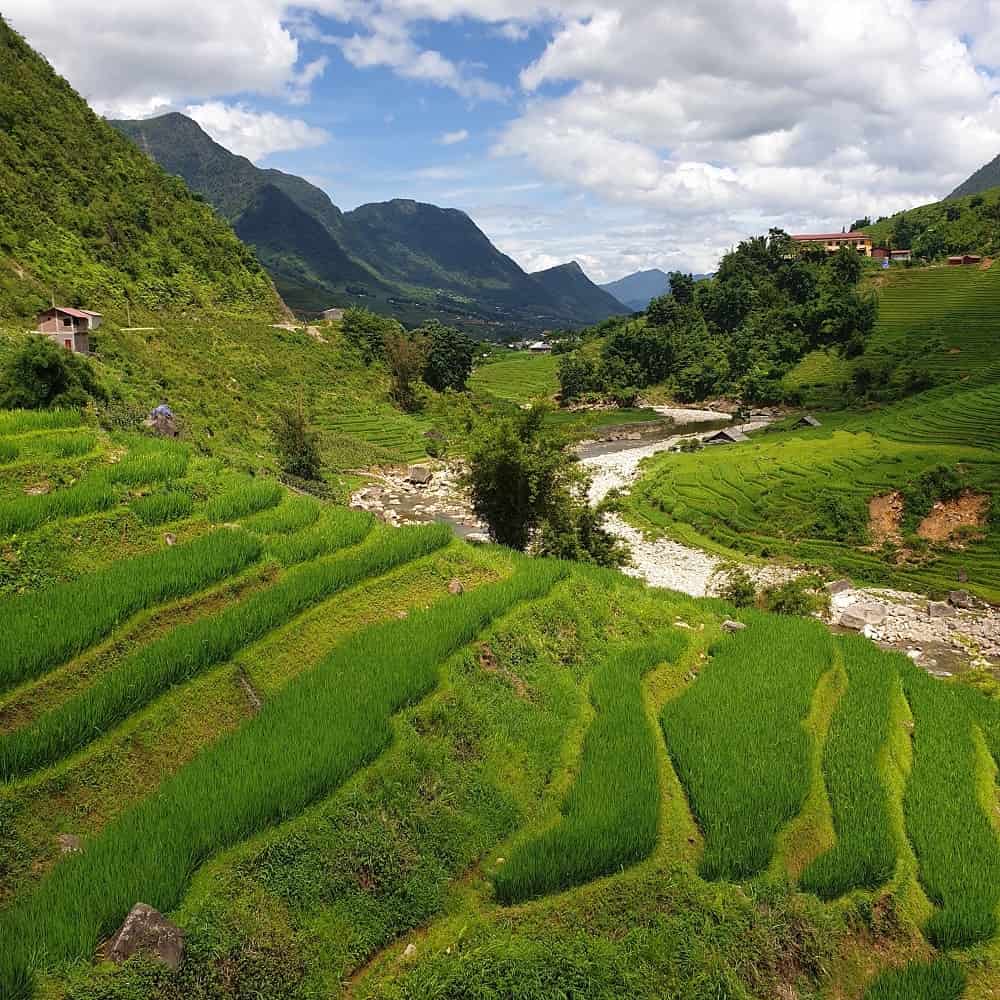 Other Amazing Day Trips from Hanoi for Vietnamese Culture, Sport, Architecture and Scenery
4 Perfume Pagoda
This beautiful day trip will take you to the most sacred place in northern Vietnam – the very special Perfume Pagoda. Only 2 hours drive after being picked up directly from your Old Quarter hotel, board a traditional rowboat trip and be escorted to Thien Tru which is a vast complex of Buddhist temples set in a mountain. Trek to the uppermost caves, and be awestruck at the spiritual atmosphere. Hike back down, or take the optional cable car to the bottom. Lunch is included.
As always when visiting temples, please have a sarong handy to cover your knees and shoulders and behave respectfully.
Check prices for Perfume Pagoda Small-Group Day Trip here
Compare price for Private Tour Here
5 Mai Chau Valley
Only 3 hours away from Hanoi enjoy exploring the exquisite green countryside of the Mai Chau Valley. Have lunch at a local home while gazing at the tranquil rural surrounds. Then go on a bicycle ride visiting local villages, see people working in the fields, and locals weaving and making handicrafts.
This place is just beautiful and such a relief to visit after the hectic fun that is Hanoi!
6 Trang An and Kong Skull Island Film Set
3 hours south of Hanoi in the phenomenal Ninh Binh province, you will find the film location of Kong: Skull Island. This film was a big favourite of my kids! And the opportunity to see film sets is always exciting. See below for Trang An featured in the major fight scene of Kong: Skull Island here:
Air-conditioned bus, sampan ride, film location visits and buffet lunch are all included in this scenic and interesting day trip from Hanoi.
Here's How to Book Your Visit to Skull Island
7 Nam Dinh Village
Visit this interesting seaside village and learn all about life on the Red River Delta only 2.5 hours northeast of Hanoi. Discover the most beautiful bonsai examples in Vietnam at Vi Khe bonsai village. Here you can learn the stories and traditions behind the mysterious art of Bonsai. You will also pay a visit to a pagoda, cathedral all while learning about the architecture and culture of this unique area.
Lunch and an English speaking guide are also included on this private tour.
8 Chi Linh Star Golf & Country Club Golfing Trip
Just 68 km out of Hanoi, enjoy 18-holes of golf at Hanoi's most premier location Chi Linh Star Golf and Country Club. In a spectacular setting beside a waterway and surrounded by a lush green valley, this will be a pleasing way to sightsee while playing your best round.
Green fees, caddy fee and round trip transfers to and from your Hanoi hotel are included. Club hire is extra.
Check out the stunning pics by clicking the link and get excited about playing on Vietnam's best course.
9 Bat Trang Ceramic Village and Van Phuc Silk Village
Visiting Bat Trang and Van Phuc gives you a unique opportunity to observe the ancient crafts of pottery and silk weaving first hand. Only 15 km outside of Hanoi, this is a wonderful educational and artistic experience. You can even try your hand and make your own pottery creation.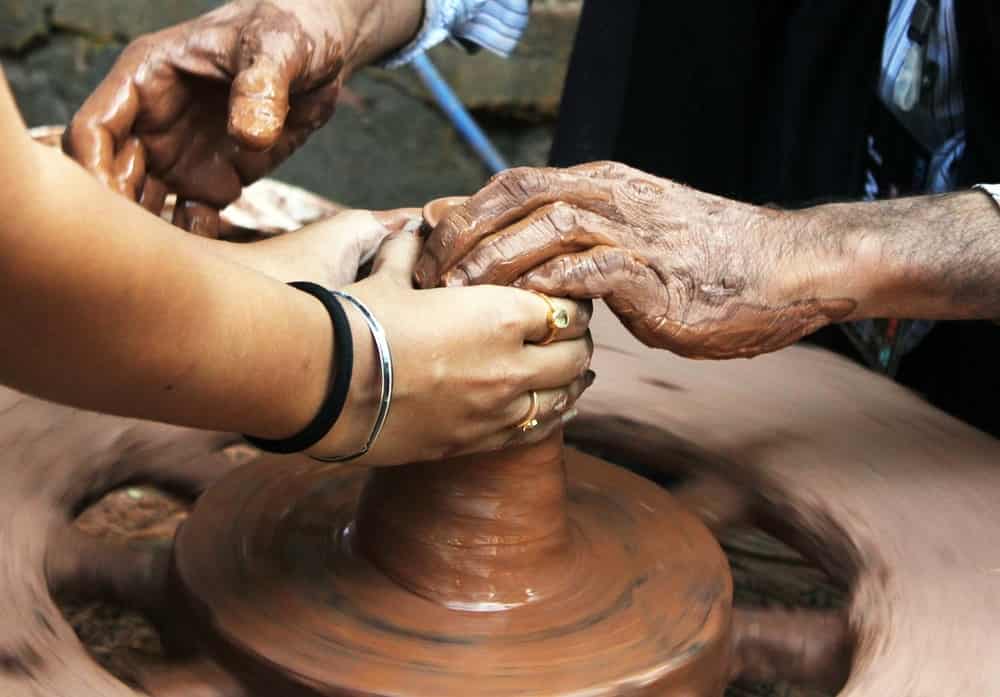 Transfers and lunch are included on this incredibly interesting and engaging full-day tour.
Check out all the details here.
Day Trips From Hanoi – The Verdict
If you have a few days or a few weeks to visit Hanoi, you really are spoilt for choice when it comes to easy day trips from Hanoi. Spend a day or 2 exploring the immediate area close to Vietnam's magnificent capital city. Trekking, pottery, architecture, temples and film sets are all within close reach, and in such splendidly fascinating scenery.
More on Vietnam?
Before you Travel
Before you travel to Vietnam, you will need a visa. Find out here exactly how to get yours.
Getting Around Vietnam
Any Questions?
We have been travelling through SE Asia with our 4 kids for over 5 months now. If you have any questions about how we handle things, please drop us a comment below, or send an email to kris@gadsventure.com We would love to hear from you!