Travelling from Hanoi to Sapa is necessary if you wish to experience the beauty and splendour of the beautiful northern rice terraces. There 3 main ways to travel the 319 km easily, here you can find the best option for you and your group.
While in Sapa, make sure you head up to Fansipan Peak! Such a cool experience scaling Southeast Asia's tallest point. For all the details on the cable car and more, READ THIS NEXT!
1 Private Limousine Transfer from Hanoi to Sapa
A private limousine transfer may be the best option especially if you have a larger group. A van consists of up to 9 seats which are luxuriously appointed. Recline in comfort, with mirrored ceilings, massage seats, wifi (sometimes sketchy coverage as you drive along), free drinking water and USB charging ports.
The advantage of this mode of travel from Hanoi to Sapa is that you have control over when you need to stop. The driver will pick you up directly from your hotel in Hanoi, delivering you to the door of your Sapa digs too. And you can leave whenever you are ready. We left Hanoi at 9 am and arrived safely into Sapa at around 2 pm.
The route travels along a toll highway past bright green farmland and follows the impressive river as it snakes its way along the valley to Lao Cai. Lao Cai is on the border with China, and is the arrival port of the overnight train, see below.
From Lao Cai, the road narrows and winds its way up the mountainside a further 32 km to Sapa past the most spectacular mountain scenery. Visiting this area in the rainy season ensures the hillsides and rice terraces are bright green. We went in July and it was absolutely beautiful.
The disadvantage of going by road is the sometimes scary overtaking that happens on the highway.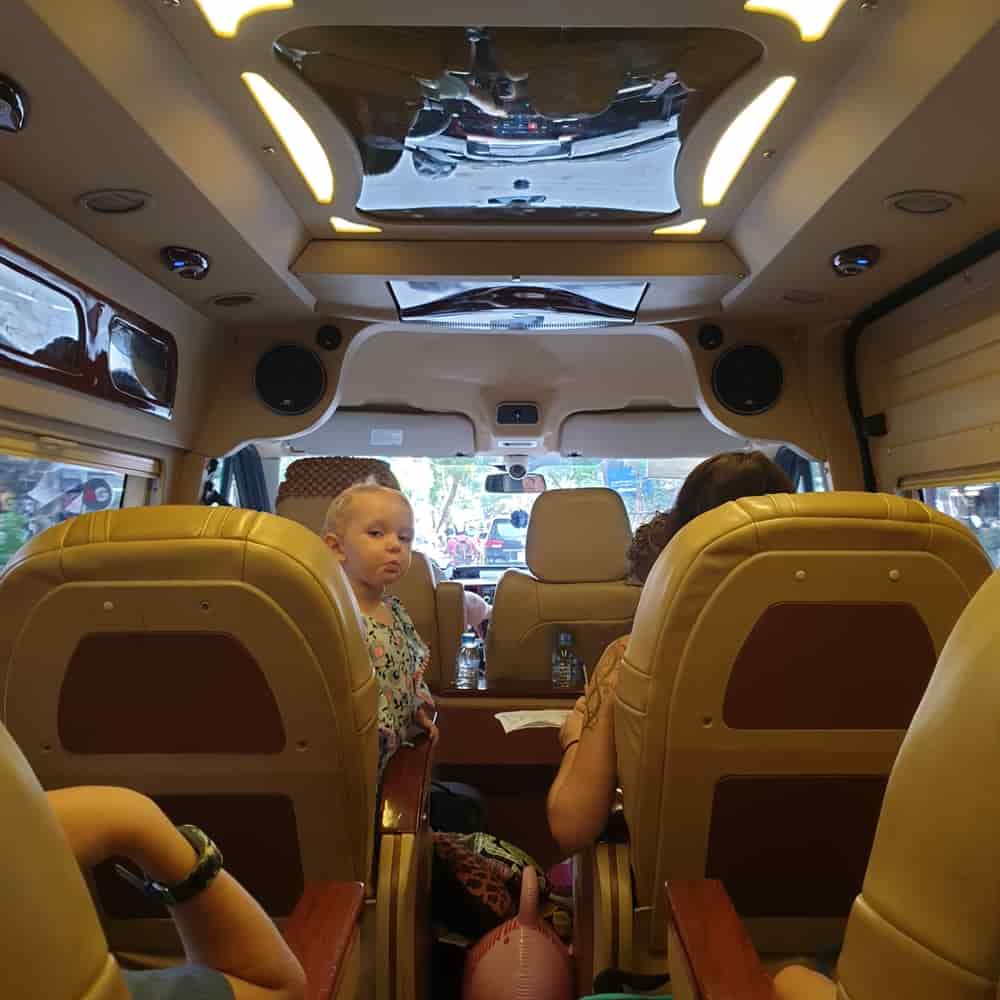 Cost of a Private Limousine from Hanoi to Sapa
3.7 million VND or $226 AUD for the whole 9-seater van which represents great value for money for a large group. This price was the cheapest we could find with Grouptour. We booked online through 12GoAsia to secure this great deal. I love the simplicity of paying by credit card online.
Check prices for a private 9-seater limousine transfer to Sapa here.
Prices for a 4-seater car from Hanoi city to Sapa start at 4.8 million VND.
Compare prices for a 4-seater car here.
These transfers are also available directly from Hanoi Noi Bai International Airport for the same price.
For Hanoi Airport to Sapa, see here.
2 Shared Minivan Transfer from Hanoi to Sapa
The next option is a Grouptour shared van transfer. A seat on a luxury 9-seater minivan is 420,000 VND.
The shared van departs from Hanoi SSB in the Old Quarter and drops you at your lodgings in Sapa.
This van trip takes only 5.5 hours with refreshment breaks and has multiple daily departures from Hanoi:
6.45 am
7.00 am
7.30 am
2.30 pm
and 3.00 pm
2 Semi-Sleeper Bus from Hanoi to Sapa
There are 3 major providers for a semi-sleeper bus from Hanoi to Sapa:
Grouptour
Sapa Dragon
Sapa Express
They provide a central Old Quarter meeting point for the commencement of the journey and departure times vary:
6.30 am
7.00 am
1.15 pm
2.00 pm
3.00 pm
9.00 pm
9.45 pm
10.00 pm
Click here to see the full timetable for Hanoi to Sapa Buses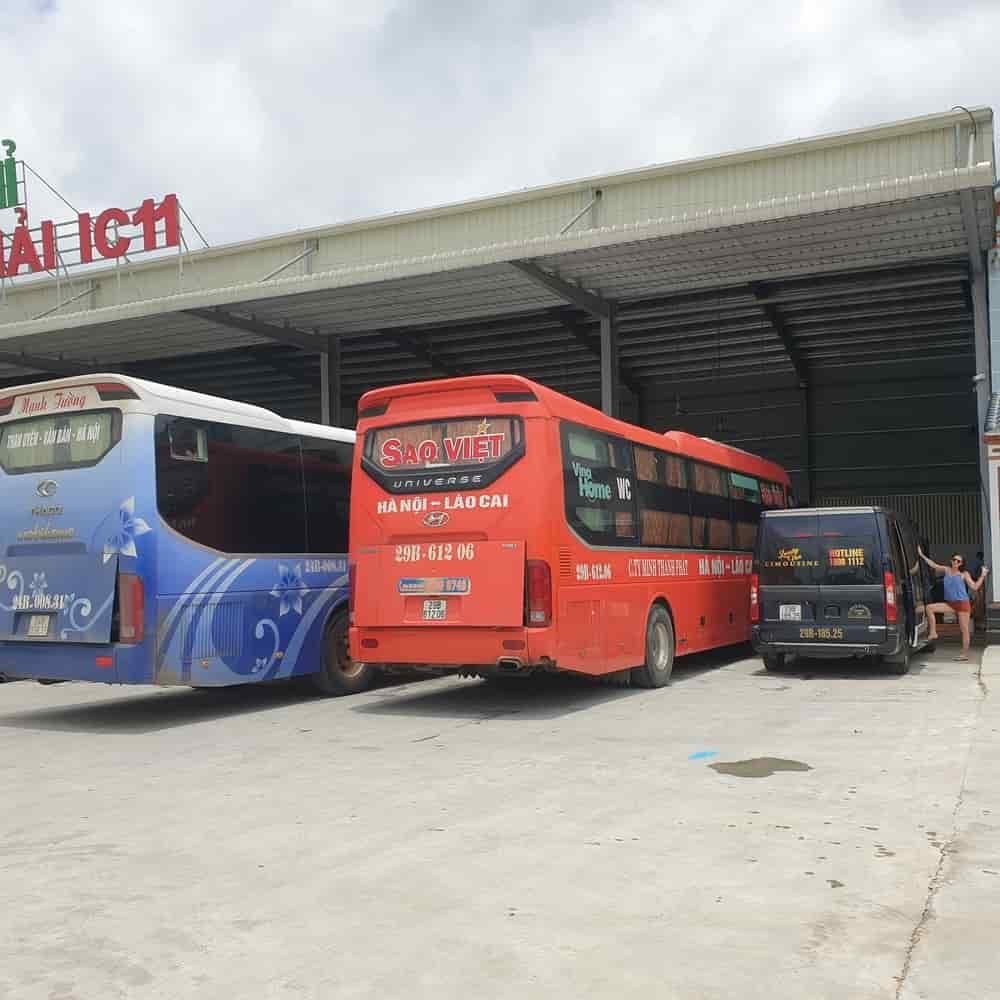 The bus ride takes 5.5 hours and the ticket prices start at just 250,000 VND for a seat.
Semi-sleeper buses have fewer seats, which are able to recline further than normal. Wifi is a feature, as are USB charging points. There is a WC on board, and the bus will have a decent 30-minute stopover along the way where there is food available.
Compare bus ticket prices and timetables here.
Depending on the bus company, your destination in Sapa will either be the Sapa Express Terminal, the Sapa Dragon Terminal at the H'Mong Sapa Hotel, or Sapa SSB with Grouptour.
Sapa is a fairly walkable town and is quite compact so reaching your hotel is easy. There are also taxis available to take you to your hotel.
3 Overnight Train from Hanoi to Lao Cai
Taking the overnight train from Hanoi to Sapa is a great choice for those who want to experience train travel in Vietnam while saving on a night's accommodation.
Trains leave Hanoi Railway Station at either 9.45 pm, 10.00 pm or 10.30 pm reaching Lao Cai some 8 hours later. The trains only run overnight.
See the full train timetable here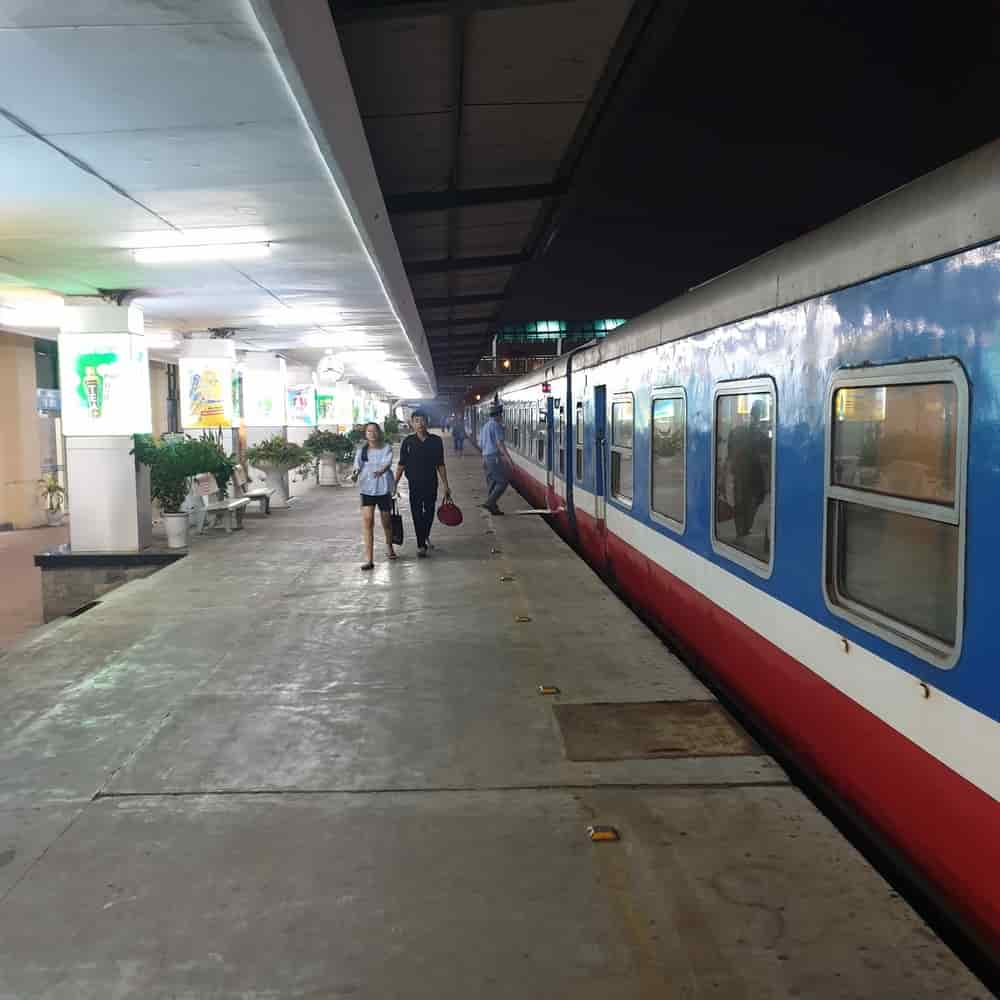 The disadvantage with this option is that the train station at Lao Cai is still 39 km away from Sapa so you will need to catch a taxi the remainder of the journey or jump on a shuttle bus for 50,000 VND per person.
Many travellers chose this option as they can save a night accommodation while travelling, then can get straight onto a valley village trek upon arrival. The return voyage is also overnight, making the train trip a great choice if you are short on time.
How Much is the Overnight Train from Hanoi to Sapa?
All cabins are air-conditioned and carriages have a WC. Prices range from 516,000 VND all the way up to 3.82 million VND depending on which class and carrier you choose:
1st Class Sleeper with 2 beds
1st Class Sleeper with 4 beds
VIP Sleeper with 4 beds
Compare prices between classes here
The advantage of catching the train is saving on accommodation costs. Disadvantages include missing out on the beautiful scenery, and arriving into Lao Cai rather than Sapa directly. You may feel tired after a long night of travel, rather than refreshed. I know I wouldn't get much sleep.
Travel From Hanoi to Sapa – The Verdict
The best way to get from Hanoi to Sapa is by private limousine van. With kids, this gave us the flexibility to leave whenever we wanted, getting picked up from our hotel and dropped off exactly where we wanted to go in Sapa. It was very comfortable, and cost effective. I would definitely recommend our limousine transfer from Grouptour which we booked on 12GoAsia.
Related Articles: How to get from Hanoi to Hoi An