Are you heading to Sapa for a couple of days during your visit to Vietnam and thinking of trekking Sapa?
---
Read This: How to Get From Hanoi to Sapa
Then you will want to go trekking in Sapa through the lush valleys and farmland that surround the hillside town.
Choosing the right trek can be a hard task. And we will tell you here what to expect while trekking Sapa.
Find out more: Things to do in Sapa
What is the Best Trekking in Sapa?
This will depend on your time frame, fitness level and which company you go with.
You can also book your entire experience as a tour from Hanoi which will include pick up from your Hanoi hotel, overnight bus or train to Sapa, 1 or 2-day trek, travel back to Hanoi. See below options:
We like to use GetYourGuide for most of our tours because they have guaranteed prices, good speaking English guides and are super convenient. Because everything is done online and is secure.
We also find reading and comparing reviews of different tours super important when booking ours.
Here are your popular options for trekking out of Sapa. Check prices, read reviews and compare itineraries by clicking on the links:
Read This Next: Best Guide to Fansipan Summit Cable Car Ride (The easy way to reach Indochina's highest peak)
We chose to do a 1-day trek from Sapa to Lao Chai Village because it was the best length with my two boys aged 7 and 9.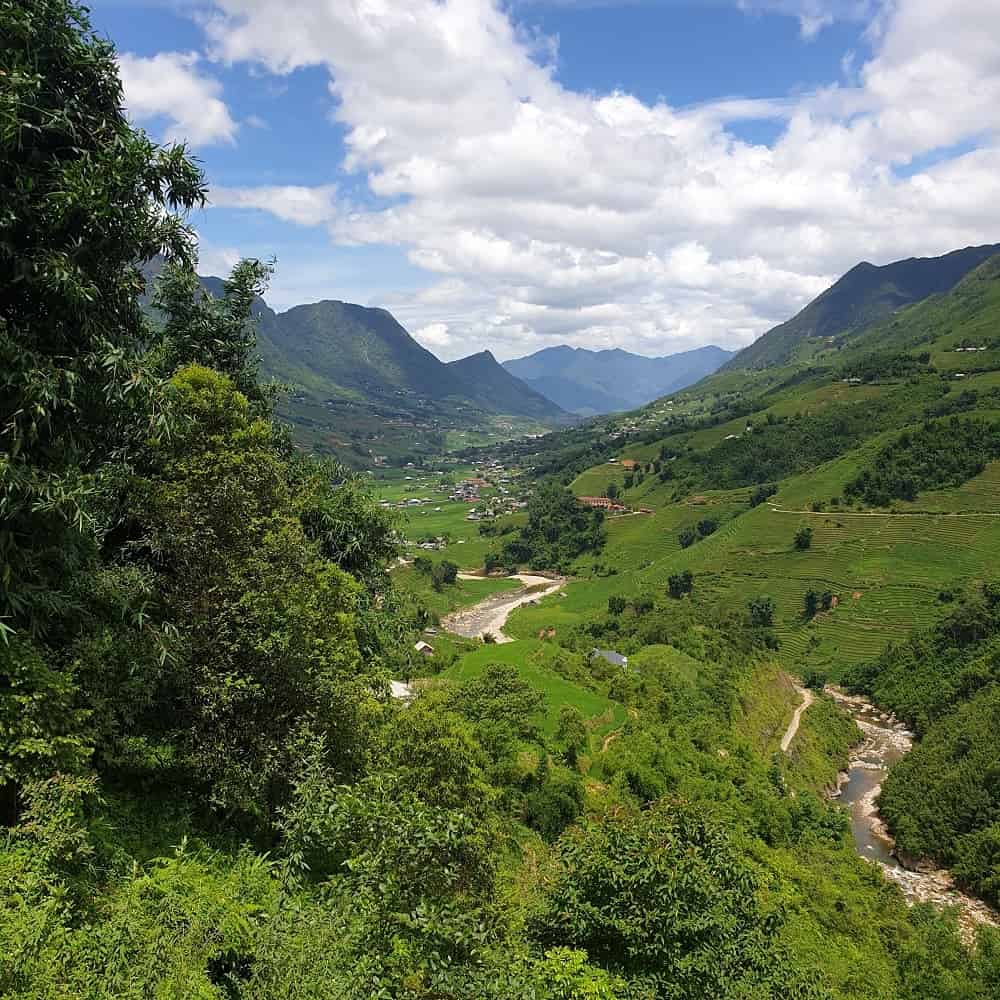 When to Visit Sapa
Sapa enjoys 2 distinct seasons.
Winter between October to February when you will enjoy cool (cold with temps hovering under 10 degrees C) weather, clear skies and beautiful views. However, the rice terraces will be recently harvested and the trash burning. So the terraces at this time are brown and bare. But this will mean you could get incredible clear views from the very top of Fansipan mountain.
Summer season is March to September, and at this time you can expect rain at times, lots of cloud and fog and temps will be less cold, but still much cooler than Hanoi at 19 degrees Celcius on average. This will mean incredible lush and green freshly planted rice which make the terraces all the more impressive. However, the view from the Fansipan Summit will probably be all cloud and mist.
Hmong Village People
Hmongs are the ethnic group in East and Southeast Asia. They originated from Southern China. Hmong groups in Vietnam and Laos are known as the Black Hmong and so-called because of their clothing and their colourful and bright embroidery.
When in Sapa you will see the Hmong selling wares and their kids hassling you trying to sell you bracelets.
Cost of Trekking Sapa Tour
We paid $20US per adult and $10US per child aged 7 and 9. Trek prices range from around 400,000 VND for a half-day tour, right up to 5 million VND depending on the length of trek and inclusions. This was one of the cheapest tours available.
The cost included lunch and transport back to town. Quite a well-priced adventure if you ask me. Compare prices and itineraries of popular treks online here:
The 1-day Trekking Sapa Tour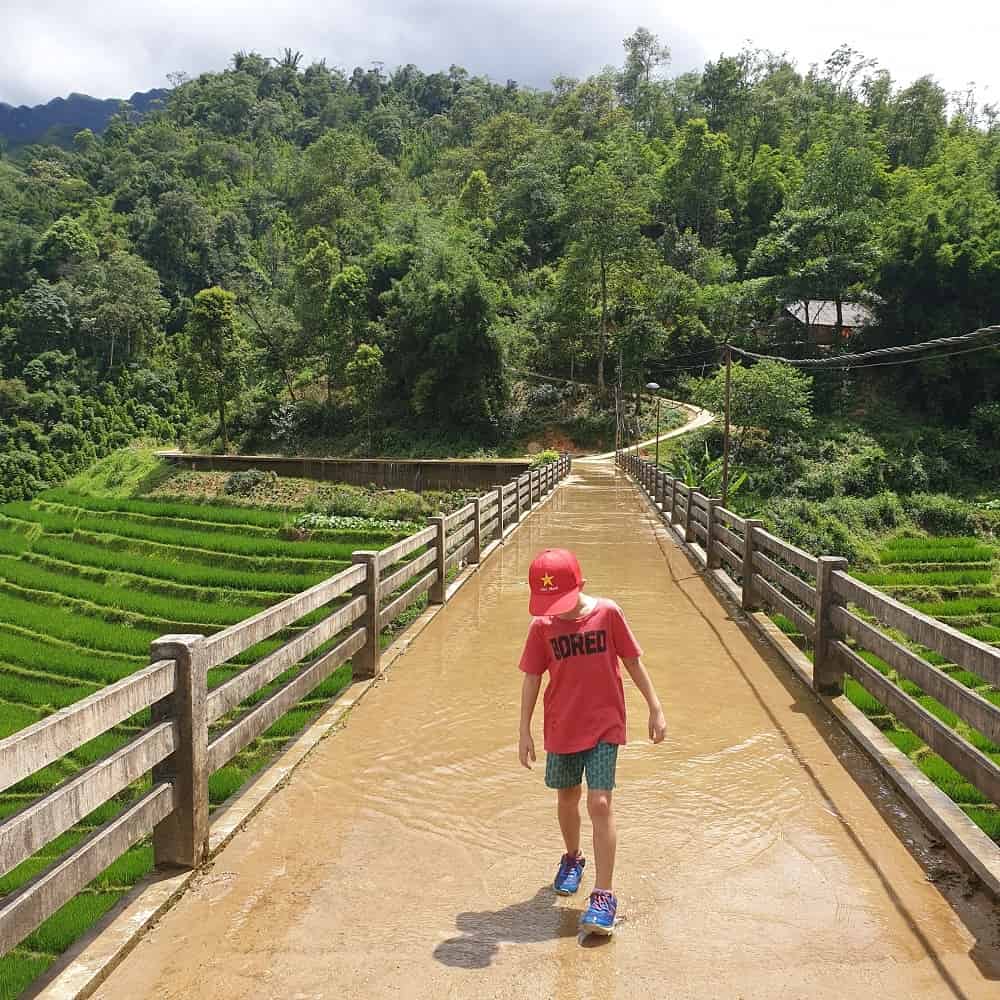 1. Meet with Guide
We met with our local Hmong guide at our hotel in Sapa town at 9.30 am.
From here Mrs Z (our guide) guided us down through the tiny local streets of Sapa past locals selling produce on the streets and into the green lush valley.
2. Trek Down into Valley
We left the main road and followed a narrow track which led us through farming land down into the valley below.
We passed crops such as Corn, rice, beans, legumes, buffalo and bamboo.
The track descended quite steeply into the villages with some steep sections, I would think twice about these treks if I had bad knees but it was fun.
3. Stroll Through the Rice Terraces
This section of the trek followed an undulating track winding through beautiful rice terraces, various crops, up and down dirt tracks.
There were sections of track that were a little slippery but your guide will help.
There were quite a few rest areas along the way where you could buy water or soft drink but don't expect it to be cold. Drinks cost about 10,000 VND for small water and 20,000 VND for a soft drink.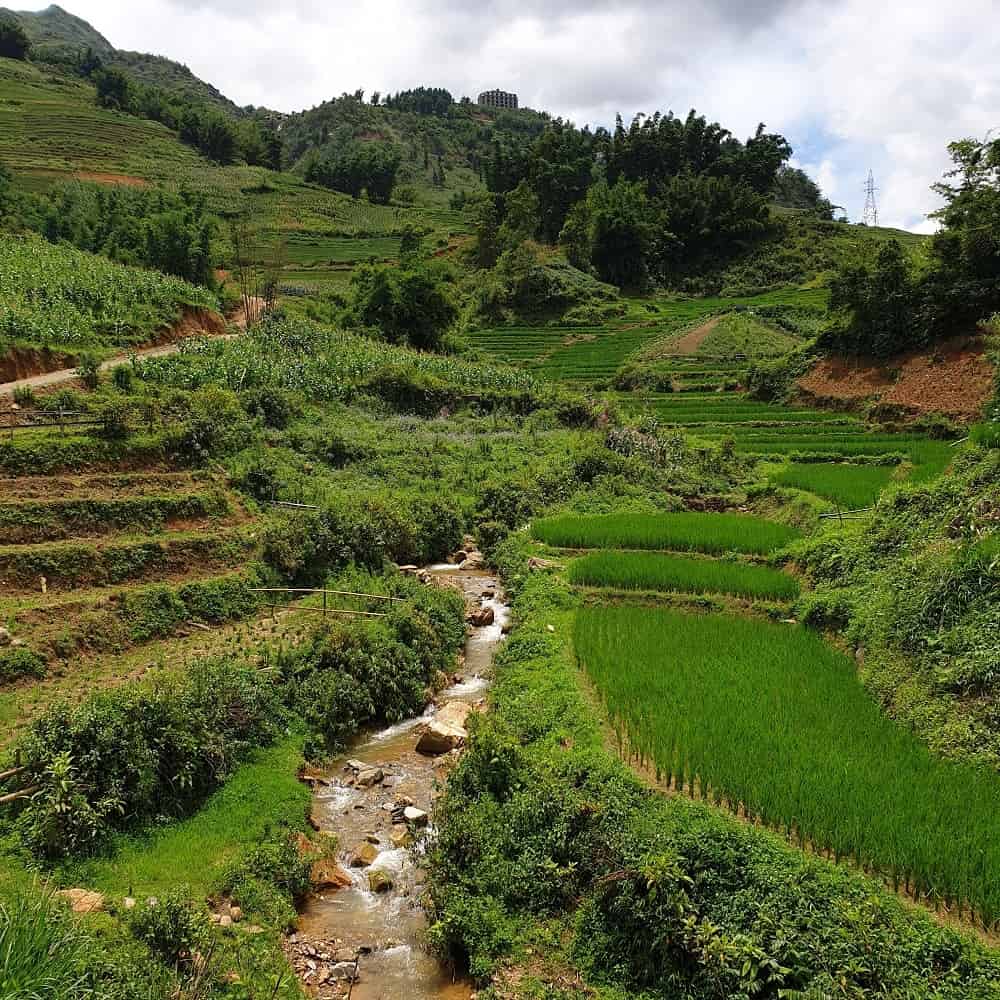 Watch out for the children bracelet sellers, they hassle you near every break spot and like to mumble near you trying to sell the same thing everyone sells in Sapa.
On our trek we ended up with a local Hmong lady follow us for 3 hours and then at the end she tried to sell us her wares, we ended up buying a clutch purse for about 25,000 VND which I probably don't need.
The first leg felt like ages and was a little bit hot, I used more water than I had anticipated but was able to keep us hydrated.
4. Rest Break at Local Restaurant
We arrived at a small restaurant on the hillside where you could buy juices, beer, soft drink and burgers. This little spot had nice views, cold beer and great beef burgers. Burgers cost 65,000 VND while beer was a standard 30,000 VND.
Lunch is included with the tour but my kids were starving after walking for 3 hours straight.
5. Trek to River
From here we followed a gravel road that wound down into the valley below for about another hour. The views were amazing, wild rapids and such green rice terraces in the month of July.
We made it to the bottom of the valley where we had to cross a concrete bridge. Here we all got our feet wet! Normally a bridge stops you from getting wet feet, not this bridge.
6. Enter Lao Cai Village
As our guide brought us into the town of Lao Cai we noticed it is a little bit of a tourist town full of local crafts and handmade clothing.
Crossing a suspension bridge we walked through town and stopped for lunch at a local restaurant.
7. Lunch at Local Restaurant
Lunch is free and so delicious. We ate chicken, tofu, green salad and rice until my buttons popped.
After about an hour we had the option of continuing on down the valley to Ta Van for 1 more hour or to return to Sapa from here that was about 6 km away by bike.
Our 2 boys were tired and had seen enough rice fields so we decided to head back to Sapa. It was good that the tour was private, so we had the flexibility to do this.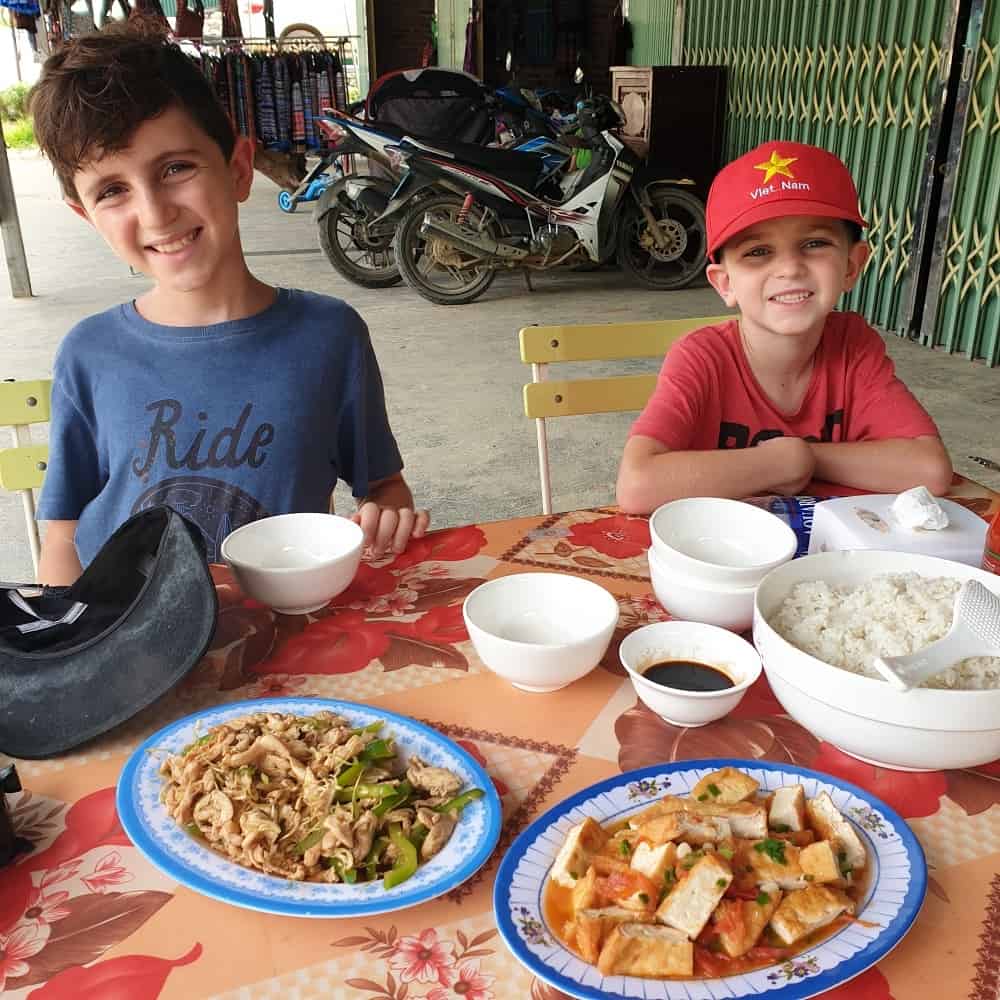 8. Motorbike Ride Back To Sapa
This was a mad ride home, we had to take 2 bikes because there was 3 of us and man was it a wild ride.
Sara area is undergoing a lot of construction which means the roads up the valley are a bit of a mess. It was slippery, muddy at first then became dusty and crowded.
It was quite a thrilling ride, even though I like being in control of the bike usually.
After about 30 minutes of holding on to the bike, we made it back to the city square in one piece.
This was where our journey came to an end and we could finally relax and rest our weary legs.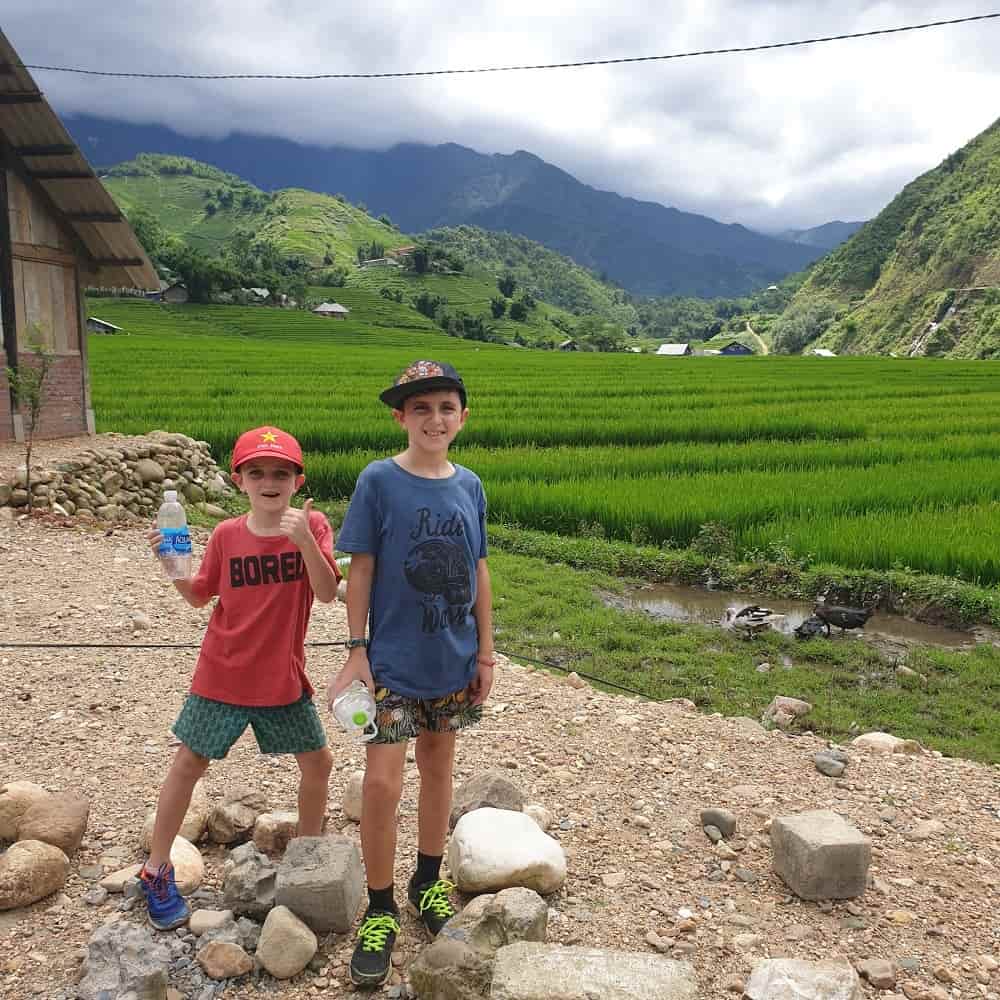 Would I Recommend This Tour?
I would recommend this trek but I wasn't totally happy with our guide, her English was only very basic. Her communication was a little hard to understand and we got a little confused at times.
I felt like this track has been done many times before hence all the child sellers.
It was a fun trek though, and fairly easy with a moderate level of fitness required. This trek was suitable for children aged 6 and older.
Related Posts
Check out some other great activities from Hanoi:
Before you go to Vietnam:
Did you Enjoy This Post?
Go and show your support by following Gadsventure on Facebook and Instagram to keep up to date with our travels.
Any questions about long term travel with kids?
We have been on the road now for almost 5 months with our 4 kids, and we would love to help! Drop us an email kris@gadsventure.com or comment below!