Visiting Tam Coc Vietnam is a once in a lifetime experience. This unreal landscape will have you feeling in complete awe with the infinite towering cliffs and serene waterways.
Tam Coc Vietnam is one of those magical places that you see on so many tourist brochures. Visiting this incredibly beautiful locale is easy as one of the great day trips from Hanoi.
How to Book Day Trips From Hanoi
There are many amazing day trips you can enjoy while making Vietnam's vibrant capital Hanoi your base.
With travel agents on every corner, browsing and comparing prices takes a lot of legwork. However, there is one place online where you can do it all from the safety of your airconditioned hotel room.
GetYourGuide is a central agency that recruits local tour guides for tour bookings. We have booked so many tours with them on our 6-month adventure around Southeast Asia so far, and there will be many more to come.
I love the hassle-free browsing online, and the flexibility of being able to book and pay securely by credit card too.
Also important is being able to read the reviews from previous customers. This particular Tam Coc Vietnam tour is rated at 4.4 out of 5 after 479 reviews.
Check out our other recent GetYourGuide experiences here:
Click Here to Book Tam Coc With GetYourGuide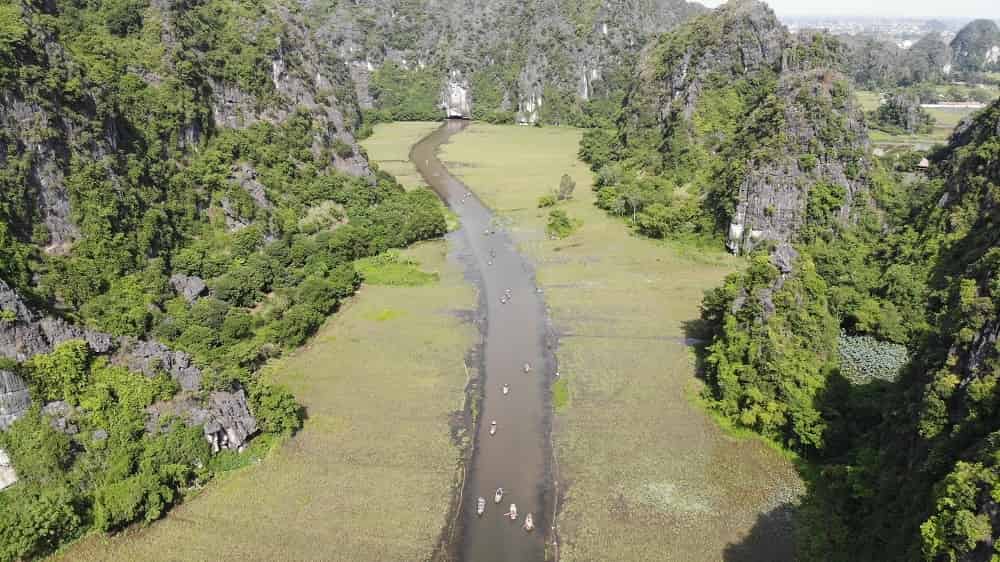 Book Your Tam Coc Vietnam Tour with GetYourGuide
We booked our tour by searching GetYourGuide and comparing the tours we liked with regard to price, and inclusions. The one we ended up booking was called 'Full Day Hoa Lu & Tam Coc: Small Group Tour & Buffet Lunch'.
The reviews were amazing, the pictures looked fabulous, and lunch was included, always a bonus!
Check Prices and Book Your Tour Here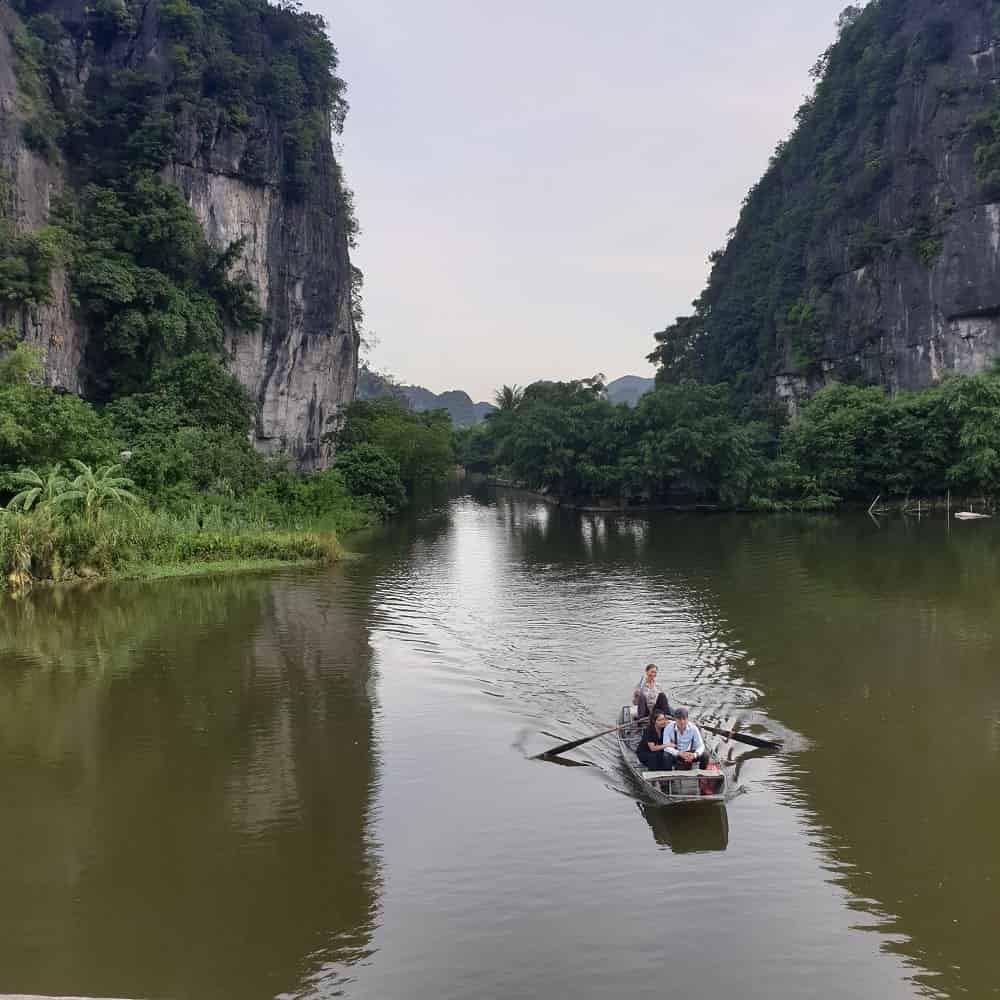 Tam Coc Day Trip Itinerary
The itinerary for this Full-Day Hoa Lu & Tam Coc: Small Group Tour & Buffet Lunch is as follows:
Pick up and drop off included from your Hanoi Old Quarter Hotel
3 hours drive to Hoa Lu including a stop at a souvenir shop on the way for refreshments
1 hour at Hoa Lu – the ancient capital of Vietnam
Buffet lunch at Tam Coc
1.5-hour paddle in traditional sampan boat with driver
45-minute cycle through rice fields
3-hour drive back to Hanoi with hotel drop off
The tour included an airconditioned bus ride, a knowledgeable guide with great English, buffet lunch, 3 bottles of water per person and all entry fees for the activities.
See all the Details and Book Here
Hoa Lu
This was the ancient capital city of Vietnam during the first 3 dynasties. Visit the temples of King Dinh and King Le which are in a beautiful setting surrounding by towering limestone karst and shaded by peaceful gardens. Enjoy soaking up the atmosphere in the historic courtyards while admiring the koi ponds and learning about the past from your experienced guide.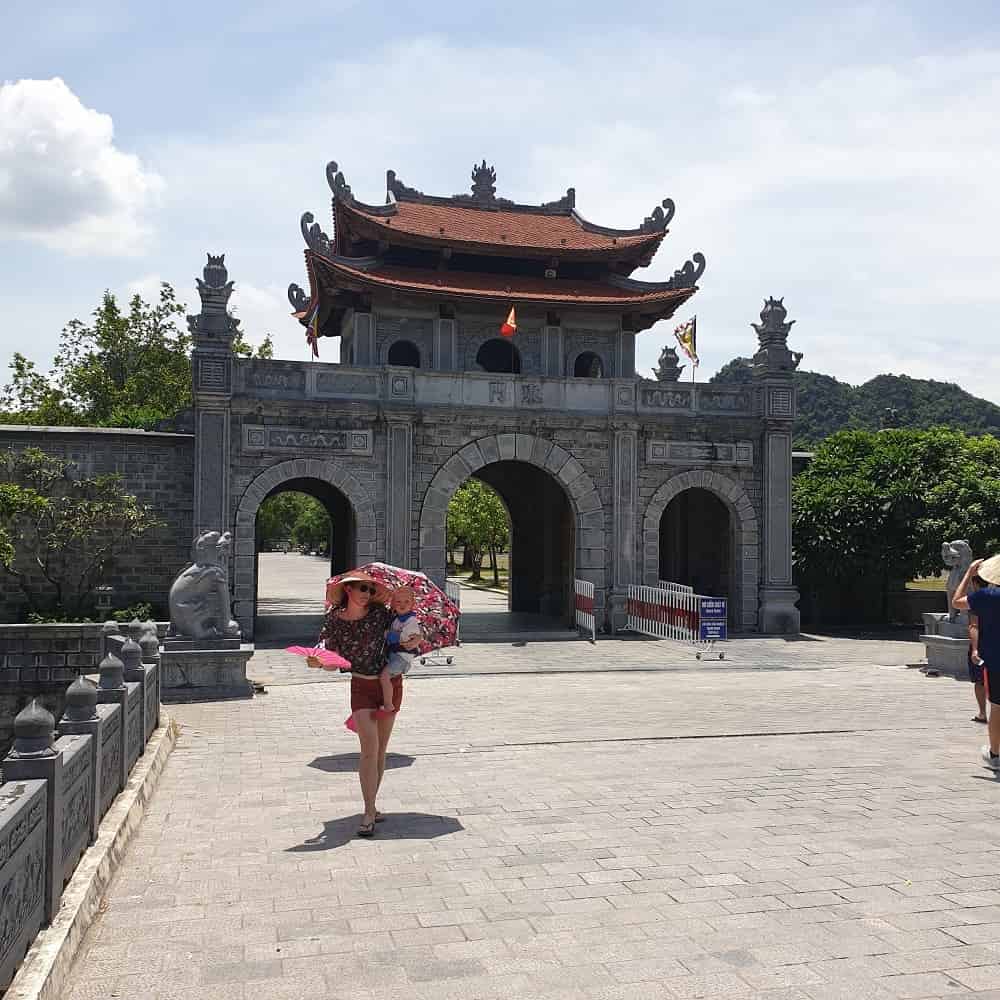 It was super hot on the day we visited here, so we all bought fans and hats from the sellers on the way in. Don't pay any more than 20,000 VND each for these!
Cold drinks and fresh fruit was also available from sellers here.
Buffet Lunch
After exploring Hoa Lu, we were taken by bus to our lunch stop. The buffet was enormous with so much to choose from. Everything was tasty, and there was everything from pho, to pizza, french fries, and salad to spring rolls and curry. There was literally something to please everyone. Drinks were not included here but were available for purchase.
Paddling up the River on a Traditional Sampan Boat
Tam Coc is old Vietnamese for '3 caves' and the river winds its way through some of the most dramatic scenery in Vietnam. They call it 'Halong on Land'.
You do indeed paddle through 3 cool caves, and the towering limestone cliffs on either side are imposing and absolutely extraordinary.
The Sampan was made out of aluminium and powered by a woman who was rowing with her feet!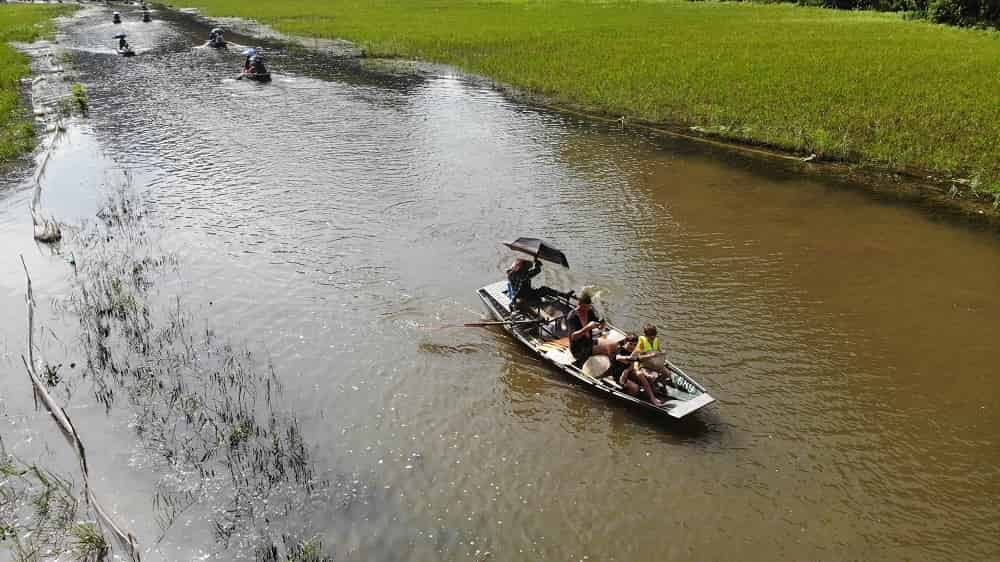 If you are travelling in the hot season, June to August, make sure you bring your own umbrella for shade. There are people selling drinks and snacks halfway along the paddling trip.
This part of the tour was incredible. The scenery that you pass was simply breathtaking! It was so relaxing and peaceful, despite the number of boats on the river with you.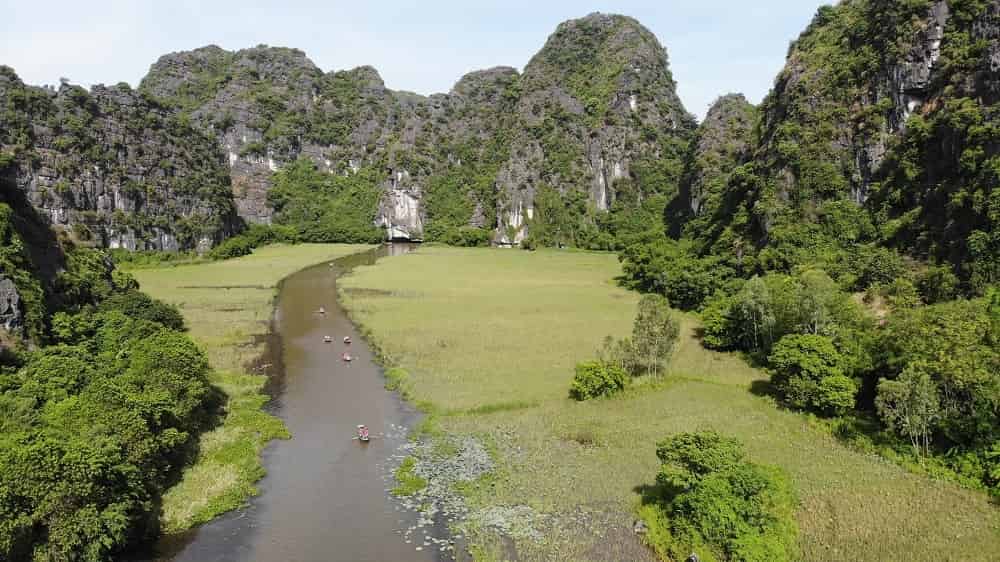 After 1.5 hours, we returned to base and were ushered onto the bicycles for the final leg of the tour.
Cycling Through the Ricefields
This part of the tour was optional, and half of our party ended up staying behind at the restaurant and eating ice-blocks instead.
They did have smaller kids' bikes available for use. No helmets were provided.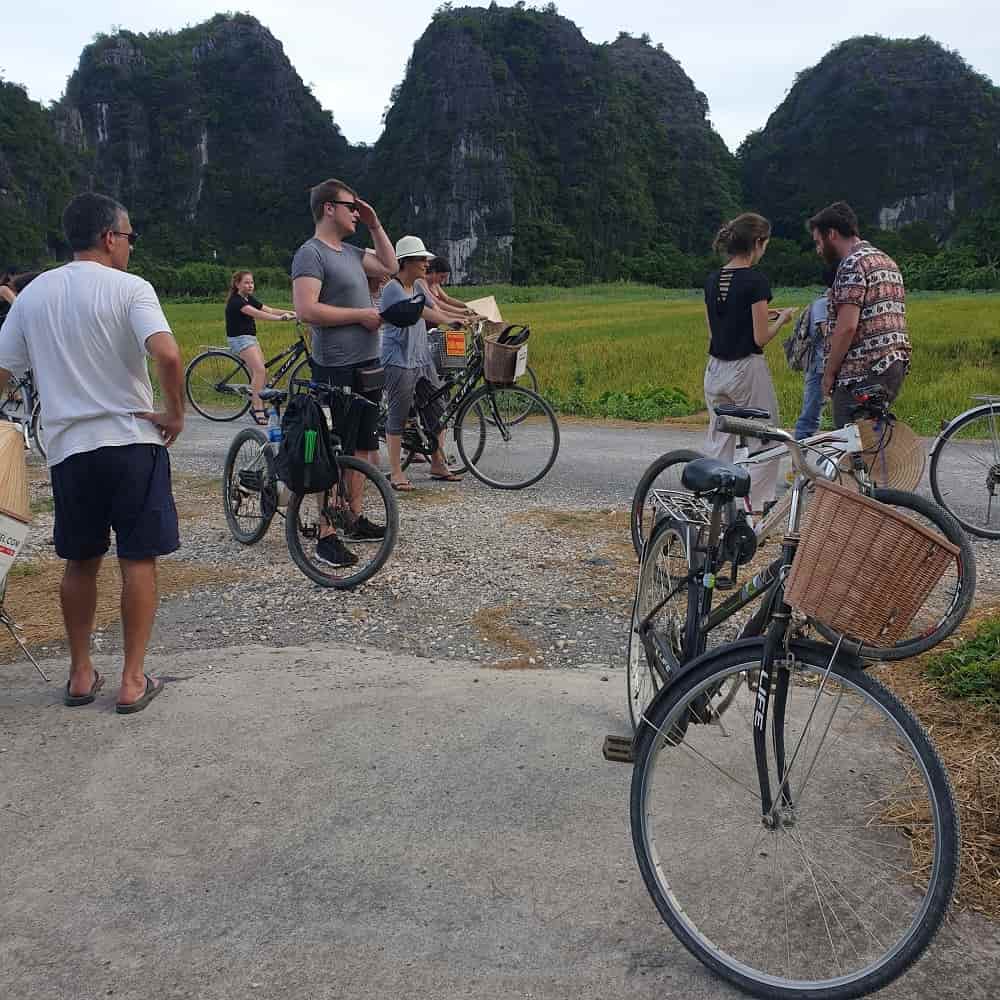 It was a gentle and flat pleasant 5 km bike ride past scenic rice fields and through tiny villages on a circuit back to Tam Coc town. If it weren't so hot, this would have been way more enjoyable. Even so, it was charming and fun too.
Bus Trip Back to Hanoi
It felt like a long drive back to the city, but it only took 3 hours with a short break on the way. It was a very busy peak hour with rain when we arrived back into Hanoi and we got dropped off right at our hotel door.
The whole days' tour was almost 12 hours in duration from 7.30 am to 7 pm.
Tam Coc Day Trip Price
This was one of the cheaper tours I found anywhere when I researched both online and with local agents.
Adult (over 8 years) – 830,000 VND
Child – 759,000 VND
Infant (under 3 years) – Free
Any Bad Bits?
It was so hot when we did this day trip in mid-July. I felt like the temple visit at Hoa Lu was a little too long as we were melting when we were there. But I can't really blame the weather, it is what it is. The Vietnamese fans we bought here were worth their weight in gold.
The bus trip was a necessary evil in order to do a day trip from the city. We spent a long time on the bus before even getting out of the city just driving around and picking everyone up for the tour, as we were the first ones on. It can be frustrating when people are not ready! And you have to stop for 30 minutes at a tourist trap souvenir shop on the way. Bring your own snacks as the food here was pretty expensive.
Tipping your sampan rower an advised 20,000 VND was purely optional, as is buying them a drink at the halfway point from the boat sellers. However, this has become accepted as the norm so you may get some intense attempts from the rowers at gaining these discretionary gratuities. You don't have to tip if you don't want to!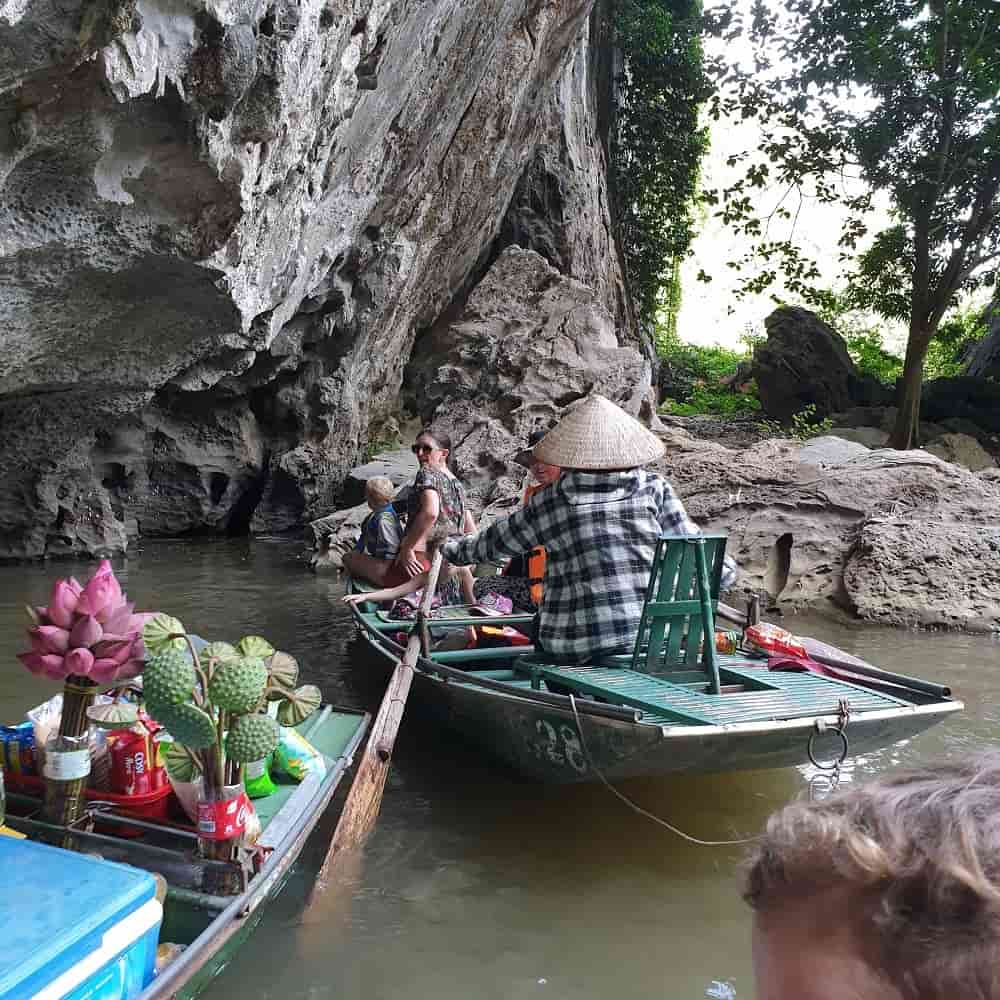 Tam Coc Vietnam Tour with Kids
Our sampan was the last to arrive back on the dock and found the rest of the group waiting for us to get on the bikes for the ride. The kids felt very pressured so didn't end up getting on a bike after a couple of unsuccessful attempts, with all eyes on them. Our kids are little though at 9, 7, 6 and 2.
The bikes had little back cargo racks which a small child could easily sit on, just bring a towel for a cushion. And they did have smaller bikes for kids aged 10+. The ride is suitable for confident and competent riders.
Our kids really enjoyed the boat trip, as you were taken through 3 caves. They wished we could have had a swim in the water, it was so hot. And they loved the lunch.
There is a mini-mart in Tam Coc to purchase snacks or bring your own.
Tam Coc Vietnam – The Verdict
For an easy day trip out of Hanoi, you definitely have to do the Tam Coc Vietnam Day tour. The company we went with was professional and experienced and I don't hesitate to recommend them. They were also cheap!
From Hanoi, trips up to Halong Bay, Sapa and Tam Coc are the 3 most popular tours people do. It is little wonder why.
Escaping the city and immersing yourself in the stunning countryside of Vietnam is what makes your trip to this amazing country so special. And if you only have a limited timeframe, day tours from Hanoi make it so easy to do everything even on just a short stay.
Check Prices for Tam Coc Daytrip Here
Related Posts
These recent articles will further help you to plan your Vietnam adventure:
Any questions about a trip to Southeast Asia with your family? We are happy to help. Drop us an email here: kris@gadsventure.com or leave a comment below!
Follow us on Facebook and Instagram to keep up to date with our family gap year with 4 young kids!