When on holiday in Vietnam, selecting the best Halong Bay Overnight Cruise for your family can be a daunting task. There is an endless minefield of travel agents and cruise companies all vying for your business. But it is so hard to know which one is going to be the winner.
We just spent a busy 24 hours on a gorgeous boat for a Halong Bay Overnight cruise so I would love to share with you just how happy we were with our choice of cruise, including how to book your very own.
Watch this video to see what it is really like aboard the Royal Palace Ship.
We only booked our cruise 1 week in advance, in July, but in peak season it is recommended to book well in advance as these cruises are likely to sell out.
Halong Bay Overnight Cruise Itinerary
Most of the cruises available for a 2-day 1-night itinerary of Halong Bay follow a similar structure.
Day 1
Pick up and drop off at your Hanoi hotel (make sure this is included in your price, some tours will charge an extra $25 per person)
Drive to Halong Bay in a minivan – Approx 4 hours with a stop on the way
Embark onto your cruise ship via tender
Have lunch while cruising out through the stunning islands
Stop at the pearl farm for kayaking
Visit Titop Island for a swim at the beach and to climb to the lookout
Dinner followed by squid fishing and/or karaoke
Day 2
Sunrise Tai Chi lesson on the top deck
Breakfast followed by a visit to Surprise Cave
Sail back into harbour and disembark by 12.30 pm after a buffet lunch
Bus back to your Hanoi hotel
Does this sound pretty familiar?
This standard cruise will be made all the more better with the right choice of boat.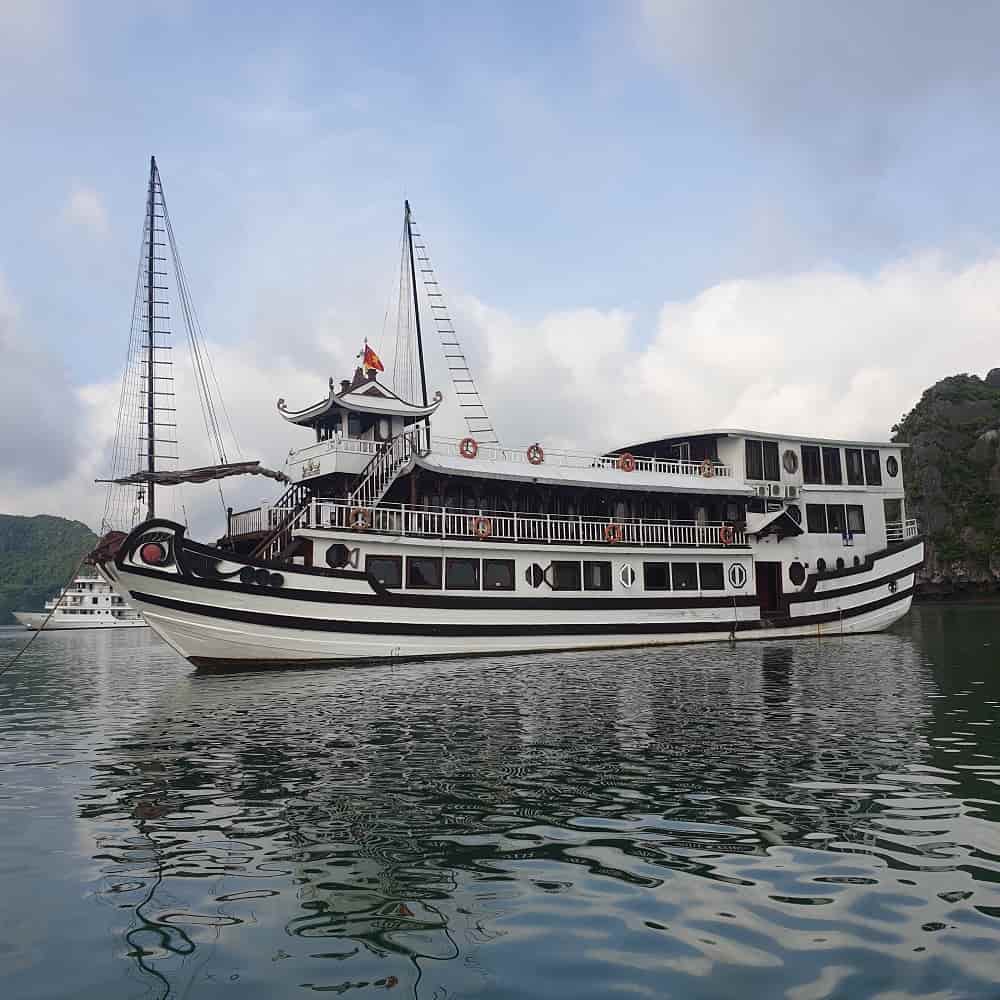 How to Use GetYourGuide to Book Your Halong Bay Vietnam Cruise
Browsing the different cruises on GetYourGuide is simple. Just type 'Halong Bay' into the search bar. A 2-day cruise is definitely the best way to go. Even with limited time in Vietnam, 24 hours on Halong Bay is 24 hours very well spent. A 1-day cruise is exhausting and will provide you with a snippet of the bay. The 2-night cruises are more expensive, and often will have the 2nd night either on a different boat or on Cat Ba Island.
With beautiful photos on GetYourGuide's booking site and heaps of reviews for each option, you get a good overview of which will be the one for you.
We went with the Royal Palace Halong Bay Overnight Cruise.
Check Price and Availability Here
What is so Good about Royal Palace Cruise Company?
There are 3 boat sizes that go on the overnight cruises on the beautiful Halong Bay. The Royal Palace ship is one of the medium-sized boats with 14 cabins in total. It is worth paying extra to get the superior ocean view rooms which are on the top floor of the boat. They have bigger windows.
Out of the 30 or so boats that we were anchored near in Halong Bay overnight, our boat – The Royal Palace was one of the prettiest. Finished in ornate wood, with 4 decks, the boat is very beautiful from the water. Inside, the dark wooden interior is romantic and atmospheric.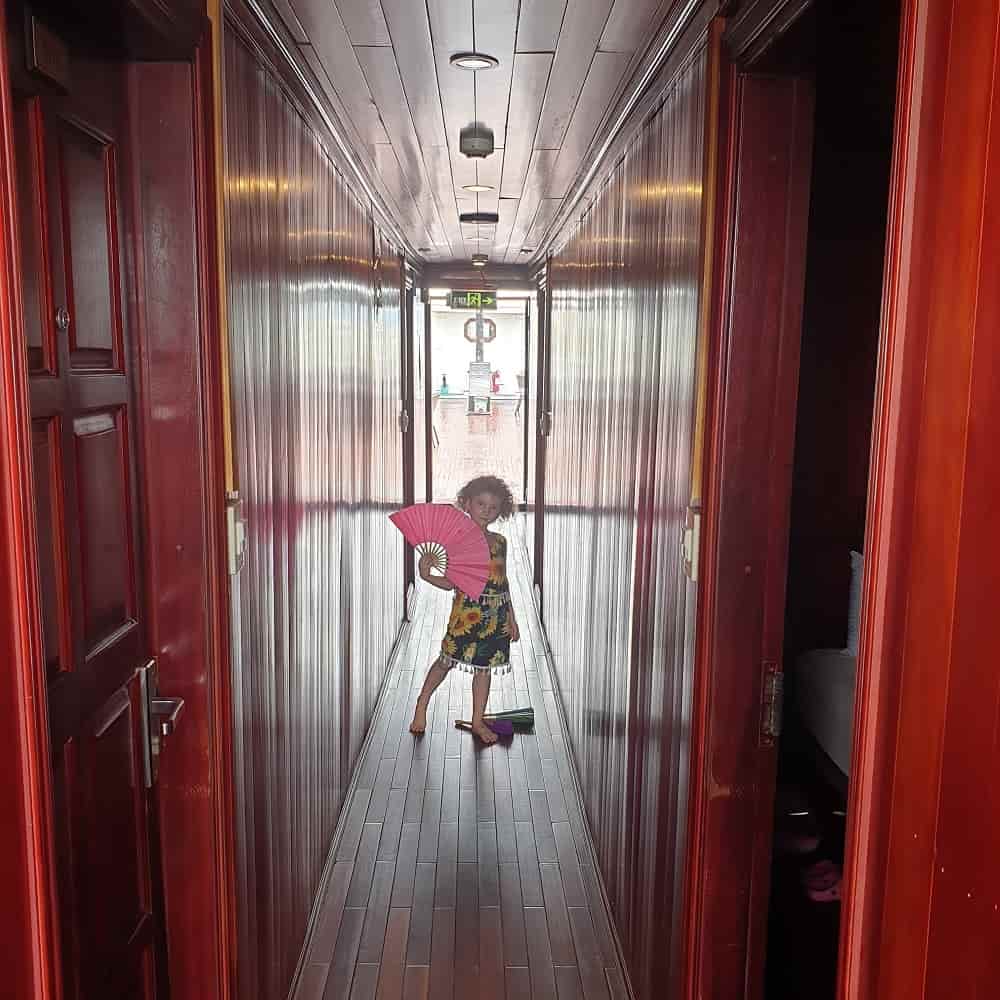 The double and twin rooms are equipped with super comfortable beds, astounding views over the calm waters, air-conditioning and hot showers with private ensuite bathrooms.
The meals onboard were absolutely amazing. Set menu for lunch and dinner, as well as buffet breakfast and lunch on day 2 were all included. There was also an opportunity to try your hand making your own fresh spring rolls. Fresh fruit and cool drinks were also made available for your return from the shore excursions.
Drinks on the Boat
Some water was included. We were each given one small bottle per:
Commencement on the bus journey
Inside the cabin
Shore excursion to Surprise Cave
Bus journey back to Hanoi
600 mL water bottles cost 35,000 VND onboard so it is recommended to bring as much water as you will need to save money here.
Basic beers cost 58,000 VND, soft drinks were 46,000 VND, mocktails 125,000 VND and cocktails 159,000 VND. Tea and coffee – 58,000 VND.
Happy hour of buy 2 get one free was only for wine and cocktails at first, but they extended the offer to include beers after dinner.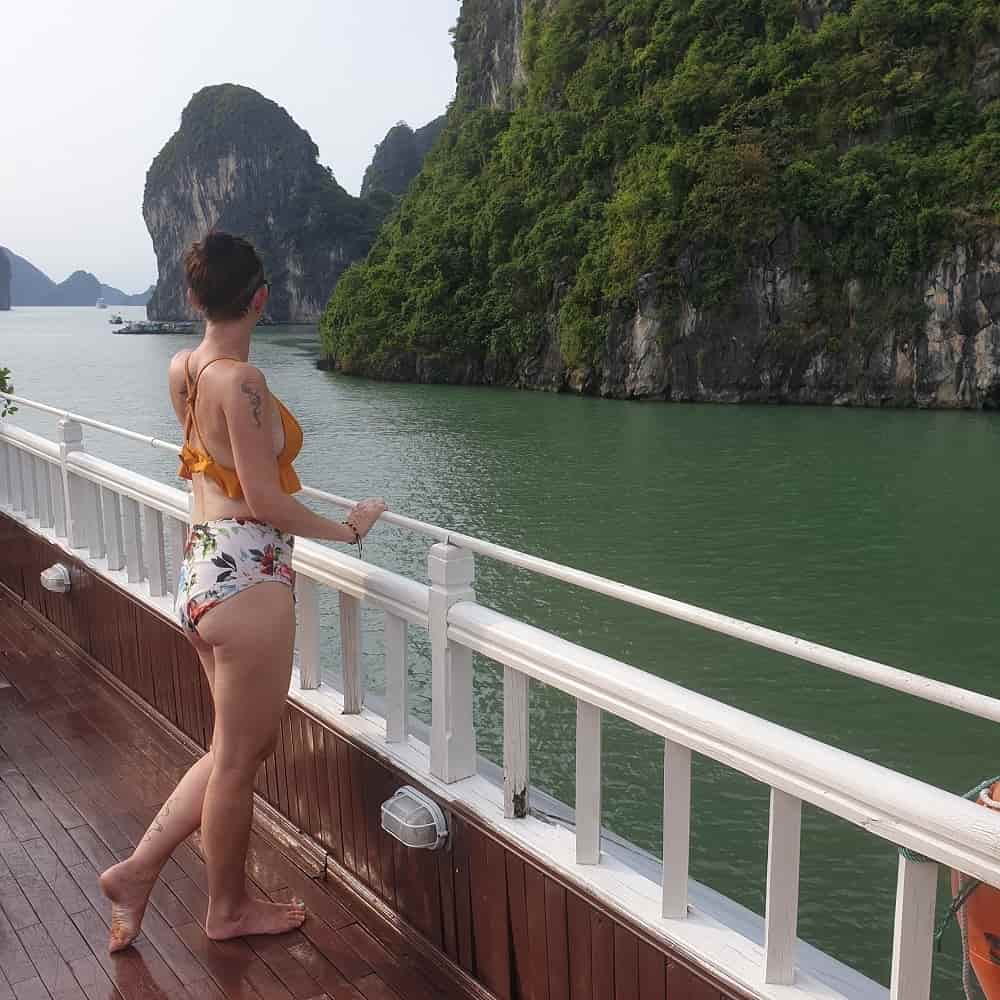 You can actually bring your own alcohol onto the boat. There are small fridges inside the cabins. You only have to pay a service charge of $10 per wine bottle and $1 per beer or soft drink.
Check Price and Availability Here
Food on the Boat
Every meal – 2x lunches, 1x dinner and 1x breakfast were all absolutely brilliant. Our first lunch on board totally blew us away with several different dishes over a 3 course set menu. Our kids who are quite fussy at the best of times even enjoyed some of the choices. If not they filled up on plain rice and fresh fruit.
Activities and Excursions on a Halong Bay Overnight Cruise
Apart from eating and relaxing on the boat, the shore excursions are heaps of fun too. Getting on and off the boat using the tender is made very easy for you, and there are plenty of people there to help you at every turn.
You don't have to participate in anything if you don't want. There were people in our group who never even left the boat. It's easy to spend your time here just relaxing on the deck with a cocktail enjoying the view.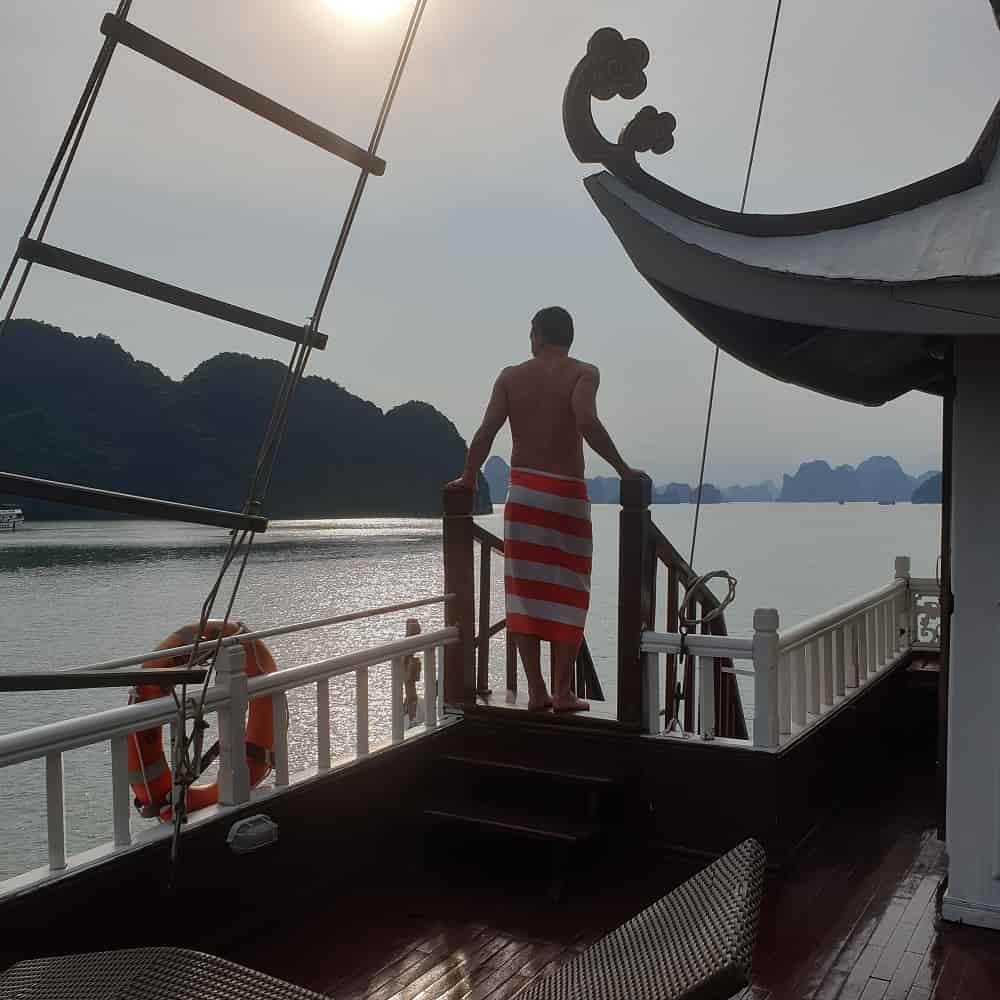 All of these activities and shore excursions are included in the total price of your tour.
Kayaking
We had a pleasant 40-minute paddle in a gorgeous bay getting up close to the breathtaking towering limestone cliffs.
Unfortunately, there was a lot of rubbish in the corner of this bay, which was a blemish on the beautiful scenery, not to mention terrible for the environment. Being a UNESCO World Heritage site and an area of Great Natural Beauty, I thought there would have been more of an effort by someone to clean this rubbish up.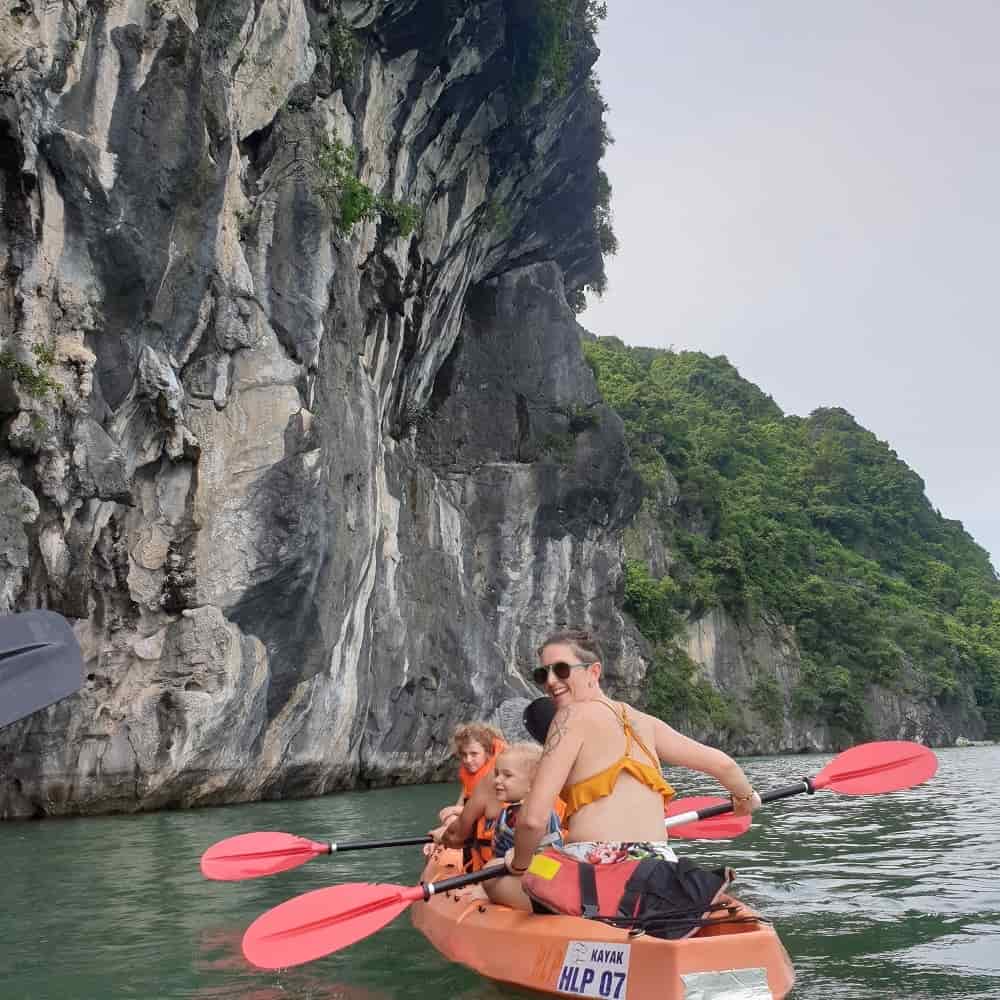 Titop Island
The last stop of the day was to Titop Island and its man-made beach for a refreshing swim. You can hire a beach chair for 30,000 VND and drinks and snacks are available for purchase.
Towels were provided by the boat.
It was nearly sunset and there were many people in the water when we first arrived, but after an hour they were mostly all dispersed onto the various boats, and the beach was virtually empty by 6 pm.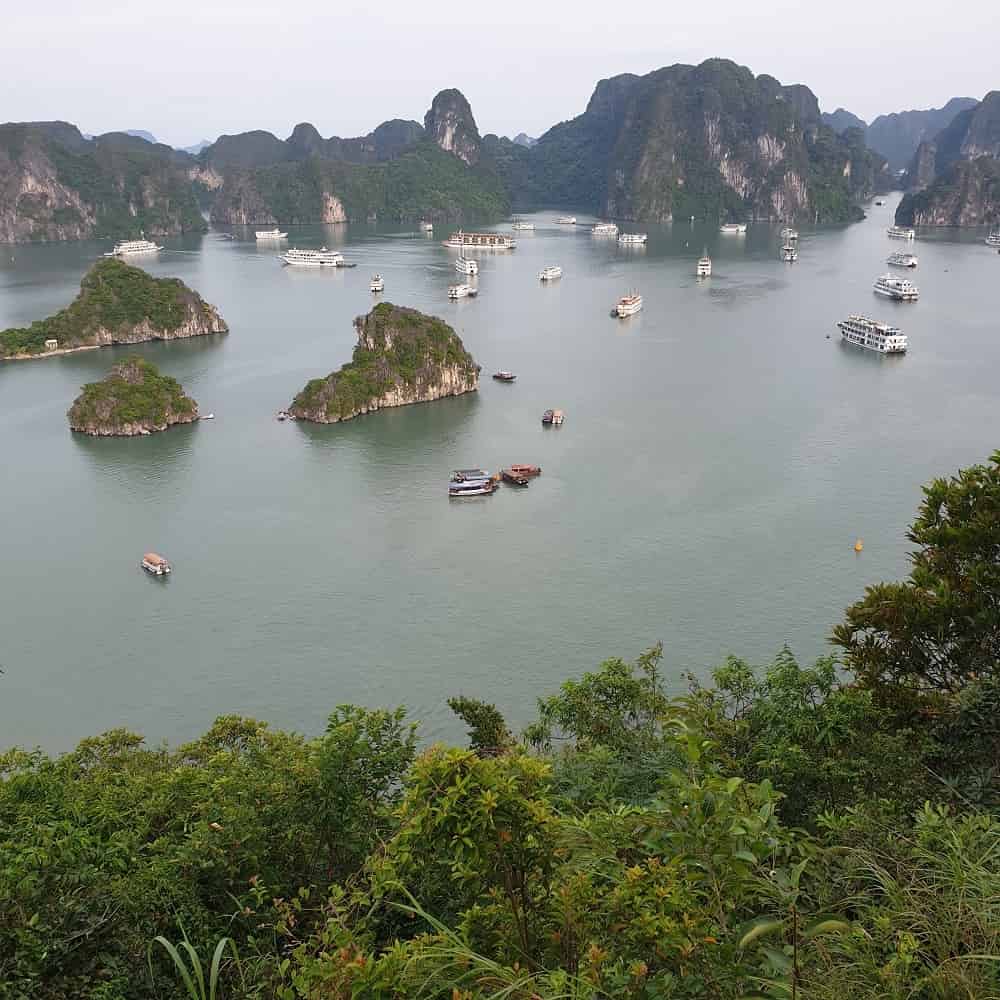 Here you can climb to the top of the island via 420 stairs. It takes around 15 minutes up and back with a moderate amount of fitness, and the views from the top are totally worth it.
We spent 1 hour at Titop Island.
Karaoke
Well, you either love karaoke or you don't. I am a lover so I had a fun time and enjoyed the after-dinner karaoke session for sure!
Squid Fishing
I don't know how many squid people usually catch here. We caught a piece of lettuce and a plastic bag. This activity has you jiggling squid hooks in the water where the light is shining. It was fun for a little while and something that the kids really enjoyed doing.
Tai Chi
This was the first time I had ever done Tai Chi and it was a wonderful way to wake up your body in the morning. The class started at 6.30 am and went for nearly an hour. It was really invigorating. You can see every boat nearby doing the same thing on the top deck.
Surprise Cave
We spent about an hour in this spectacular cave. It is huge and the temperature inside is cool and beautiful! And with 3 caverns, stairs and smooth pathways throughout. There are a couple of excellent lookouts, stalactites and stalagmites, and a freshwater pool. In the busy season, this cave can see up to 10,000 visitors per day.
Check Price and Availability Here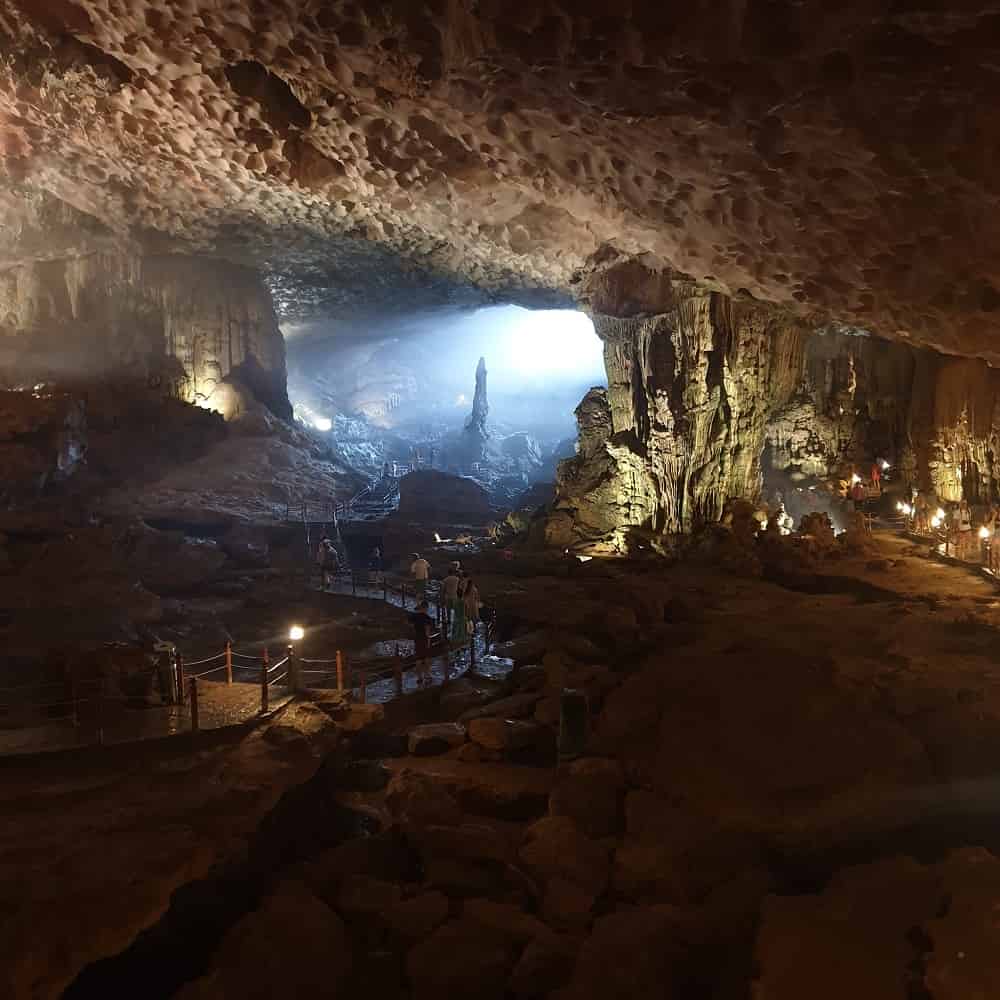 When is the Best Time to Visit Halong Bay Vietnam?
The weather in Vietnam has 2 seasons. Summer which is the wet and hot season, and Winter which is dry, clear and less hot.
Visiting in the wet season means the temperatures can soar up to as high as 37 degrees C. Halong Bay is a little bit cooler than Hanoi and you do get some nice breeze between the islands. The thick humidity makes it feel hotter and you will sweat rivers in June and July. June and July are the hottest months, and August usually receives the most rainfall.
September and October, and March to April are great months to visit thanks to milder temperatures, less rainfall and fewer visitors.
The peak season for Vietnamese and Chinese tourists tends to be June/July. More Westerners visit from November to January.
We visited in July and it was hot and very sweaty. We were very grateful for our air-conditioned cabins. The ocean temp was only a little cooler than the air temp.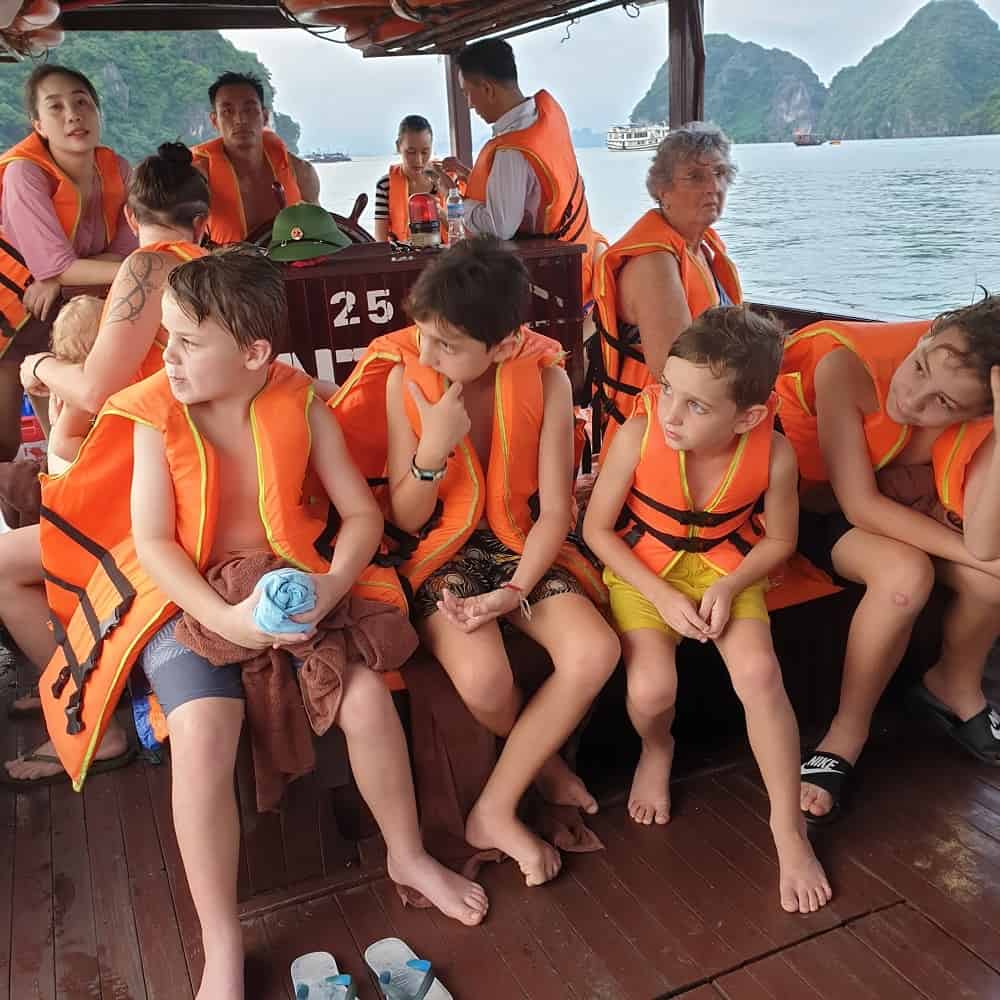 Any Bad Bits?
The rubbish in the ocean was a great disappointment. I really think that somebody should be doing more to fix this.
Providing water on board would be a suitable inclusion. Also, they were very good at conserving power by only having your room air-conditioners on from 7 pm until 7 am. They were on at check-in time also. This was fair enough, as the ship's power obviously will run out with overuse, but it was so hot when we were there. You can't just escape to your room and chill in the air con during the day. We had a lot of cold showers.
The airconditioners in the restaurant were not incredibly efficient. Sit at the front of the restaurant to be closer to the vents.
Every cruise does it, but checking out of your room at 9.30 am so they can clean it and get ready for the next group was a little tiring too.
There was no shade on the upper deck. It was a beautiful view from there though on the sun chairs.
The wifi is very limited.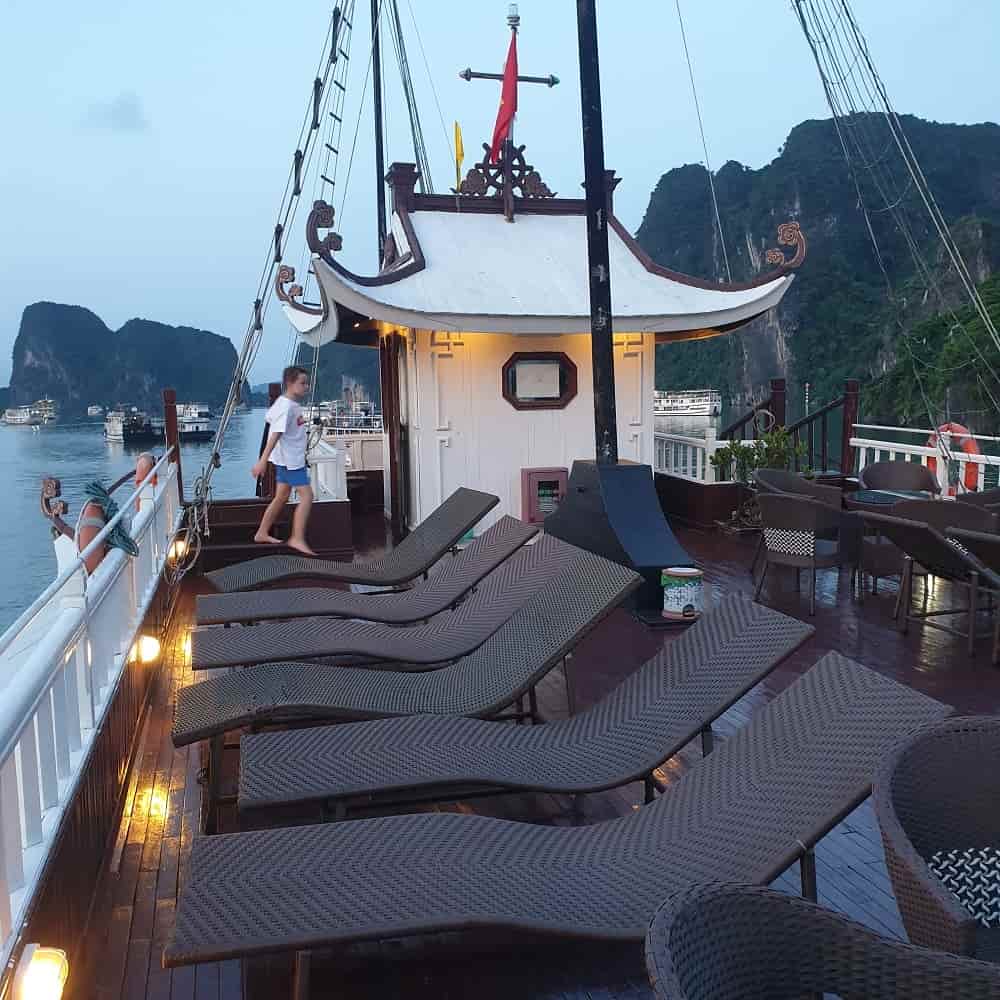 Halong Bay Overnight Cruise for Kids
We went with our 4 kids, and with Nanna too. This allowed us to book 3 double cabins, and we paid the extra $30 or so to get the upper deck. The kid's tickets were 25% less, and our 2-year-old was free.
There was a lot of space for the kids to explore over the 4 levels and some old gym equipment which kept them entertained. We were also happy to meet another family with boys the same age.
They didn't mind the food and were able to find something to eat at each mealtime that was heavy on Vietnamese food. But there was bacon and sausages for breakfast, plain rice and fruit, and dessert to fill up on.
The kids absolutely loved swimming at Titop, and the Surprise Cave was a big highlight for them too. Their least favourite part was the bus trip there and back. But they just plugged in, or slept most of the way home anyway.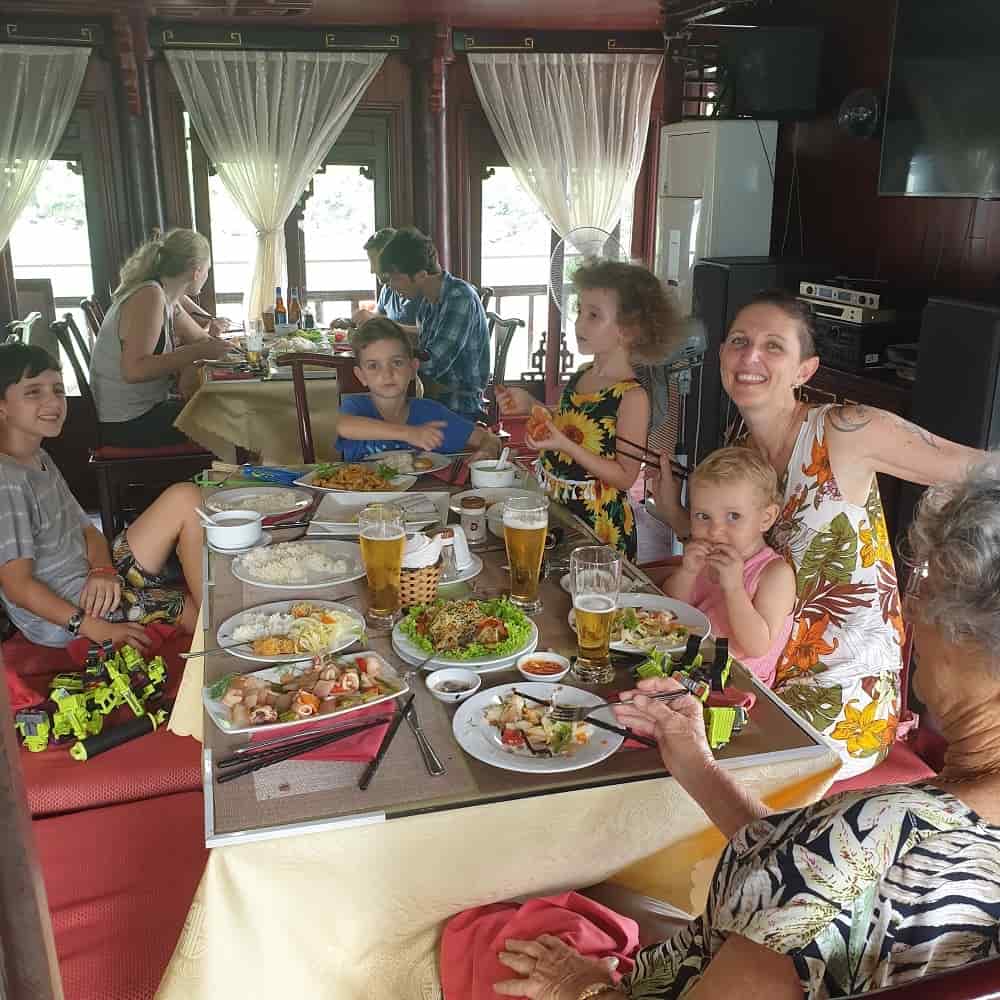 Take plenty of snacks for the kids.
The staff were so friendly and accommodating of the kids too. They adored them. These guys work for 25 days on and get 5 days off per month to see their own families, so they love interacting with your kids.
Check Price and Availability Here
Booking Halong Bay Overnight Cruise With GetYourGuide
I searched via travel agents on the streets, on other online booking agencies and even tried to book directly with the boats themselves. I ended up booking the Royal Palace Cruise with GetYourGuide.
Check Price and Availability Here
When you are in Vietnam for a limited time, you don't want to risk having a terrible couple of days cruising. I fully recommend this cruise for ticking my most important boxes:
Great price, mid-range
The photos matched the reality
Comfortable rooms
Amazing food
Friendly people
Fun and entertaining activities
Halong Bay is so beautiful
We use GetYourGuide to book as we find they have the cheapest prices. They are very transparent about what is included and what is excluded so there are no surprises.
I also love the convenience of paying securely online via credit card.
Reading reviews are a very important factor in booking any tour, and GetYourGuide has these listed below the description. The 2-Day Royal Palace Ha Long Bay & Ti Top Island Cruise had an overall rating of 4.5 from former travellers. I always am sure to leave a review too, to help out future customers.
Read the Reviews for this Cruise Here
Cost of a Halong Bay Overnight Cruise with Royal Palace Cruises
They have a special promo on at the moment and adults (over 7 years) cost 3,824,500 VND while kids sail for 2,134,600 VND. Under 4 cruise for free if they don't take up a bed.
592,900 VND per person extra gets you upgraded to the ocean view cabins on the 4th floor – totally worth it.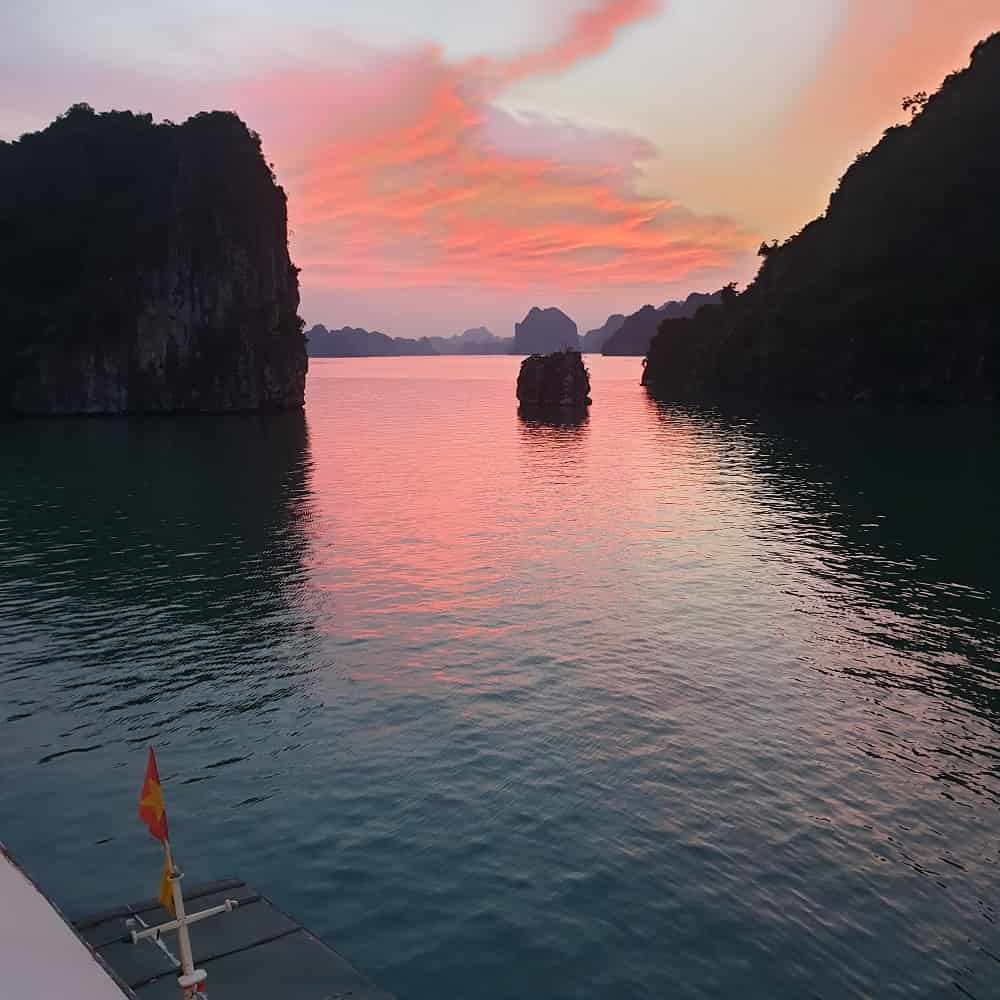 You have to bring your passport.
Check Price and Availability Here
Halong Bay Overnight Cruise – The Verdict
If you are visiting Vietnam, no trip will be complete without seeing the incredible and famous World Heritage Listed Halong Bay. And a Halong Bay Overnight Cruise is the best way to do it.
It was a busy 24 hours, but it was done so well. I definitely recommend Royal Palace for your choice of cruise company.
This post is not sponsored in any way and is only my honest opinion of Royal Palace Cruises.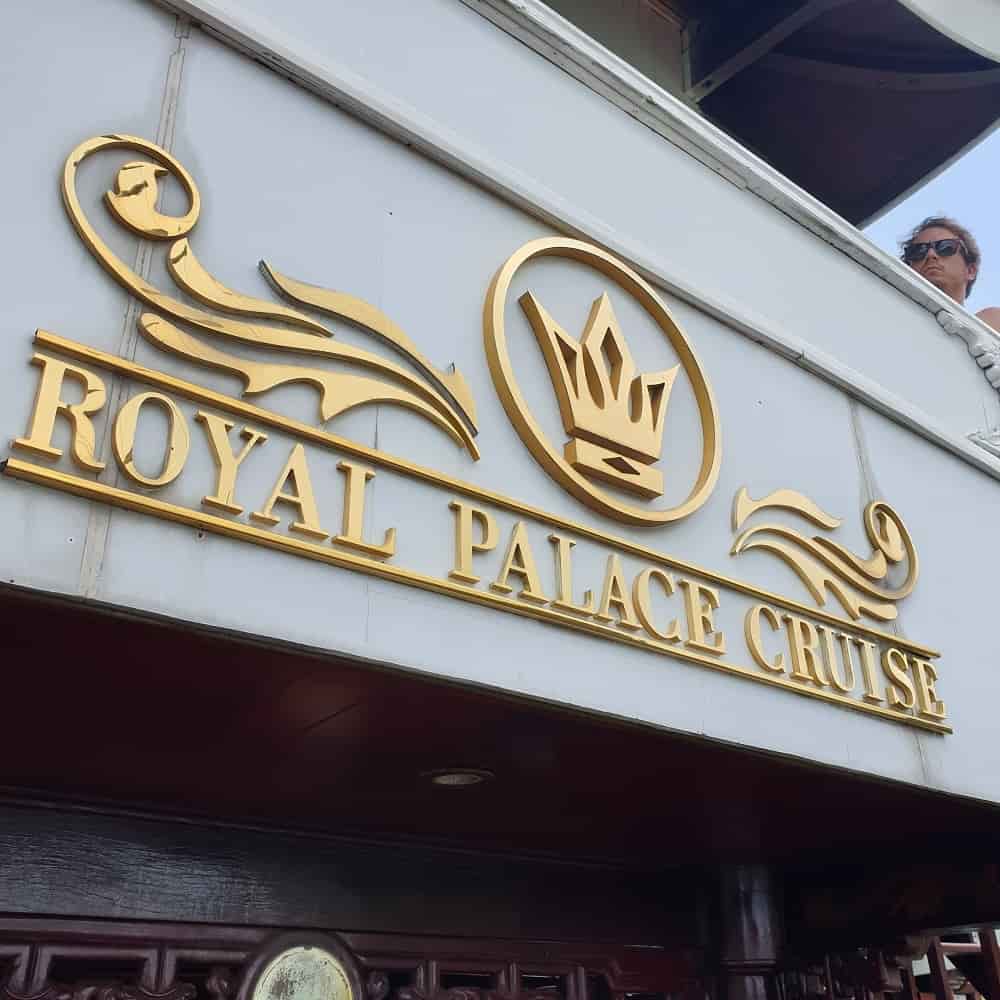 Related Posts
Check out some of our other recent articles here to help plan your trip to Vietnam:
Vietnam:
Things to do in Sapa (coming soon)
Hanoi for Kids (coming soon)
We love booking tours through GetYourGuide. They are great at giving us ideas for fun things to do on our trip around Southeast Asia.
Thailand:
Bali:
Cambodia: