I read some terrible reviews of overnight trains Vietnam, specifically the train trip from Hanoi to Da Nang/Hoi An. Unfortunately, I had already booked and confirmed my tickets when reading these reviews! They all gave 1-star or less and had terrible things to say about the conditions of the trains, and the quality of the journey.
So I wanted to share with you our experience of our 17-hour overnight journey with Vietnam Railways from Hanoi to Da Nang. It wasn't that bad at all, I would call it a cool experience!
Overnight Train from Hanoi to Da Nang
The class of cabin is obviously going to make a bit of difference when you book your overnight trains Vietnam. With a family of 6, we naturally wanted to all be in the same cabin so we went with a 2nd class sleeper berth with 6 beds. All the options are:
2-bed 1st Class Sleeper Cabin (only available on some trains)
4-Bed 1st Class Sleeper Cabin (not enough beds for us)
6-bed 2nd Class Sleeper Cabin (perfect!)
Seat only
All of these class tickets are air-conditioned carriages.
We booked the whole cabin of 6 beds which I think was our first great move! A lot of the reviews complained about sharing the cabin with impolite and inconsiderate guests.
I even paid extra to secure all 6 beds, as our 2-year-old was actually free to travel. There was no way I was going to risk a random person joining our family cabin!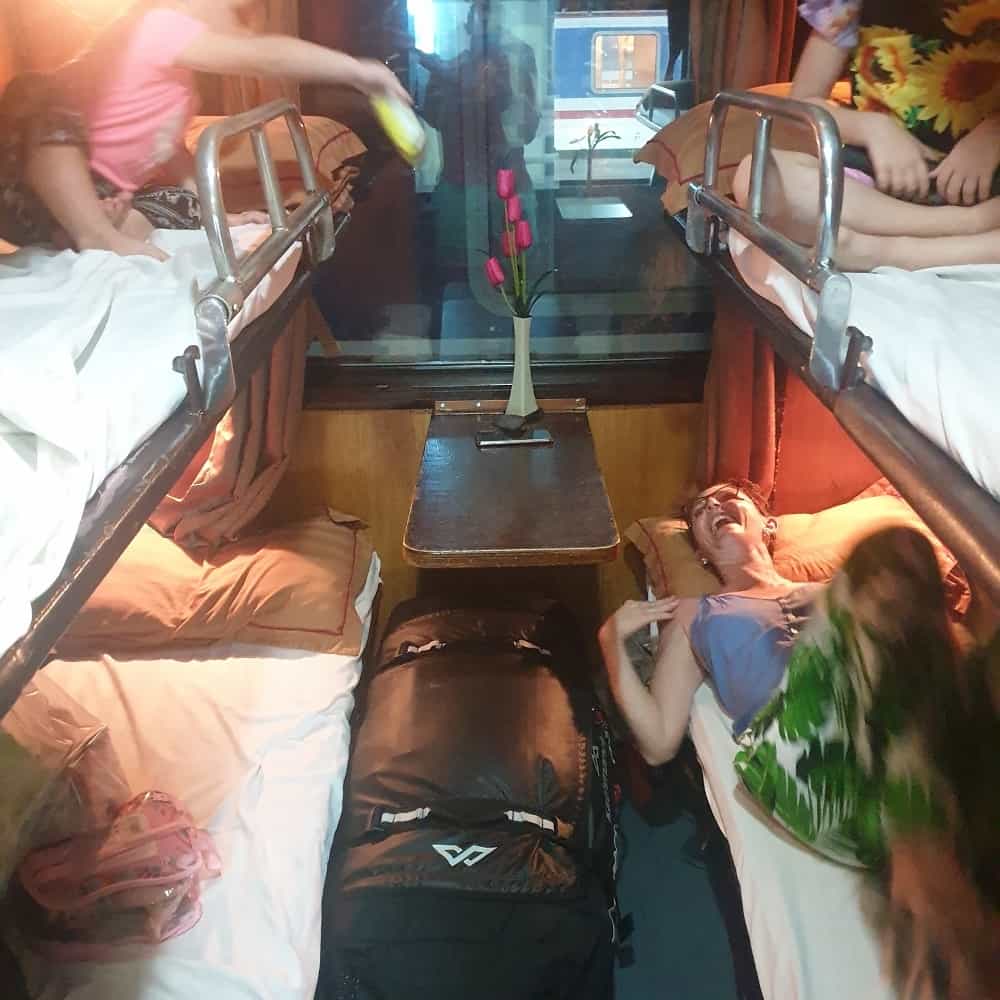 What is a 2nd Class Sleeper Cabin Like?
It seemed clean enough, with 6 bunks and hard mattresses. Sheets, pillows and thin blankets are provided. There is a big window with curtains and a small table. A rubbish bin, and a closing lockable door too.
The cabin was air-conditioned and during the night it was very efficient (freezing cold) and the thin blanket was inadequate. Please make sure you have a cardigan or even a towel to throw over you.
When booking, the bottom bunks are the most expensive. If you are only booking 2/6 or 2/4 berths, make sure you book the bottom bunks. The second bunks will fold up so you get a little extra headroom when sitting too.
I cannot imagine having to share a cabin with people I don't know though.
To check prices and book your train tickets, click here
The Views From The Train
The train trip from Hanoi to Danang has wonderful views on the east of the train. Some gorgeous countryside around 6 am, and then amazing clifftop coastal scenery just north of Danang.
Some bad reviews were pissed off because their cabin was not on the side of the view. At the time of booking, Vietnam Railways stated that they could not guarantee which side of the carriage the rooms were on due to operating procedures…….
We were not on the east side, but you know what? There are massive windows on the side with the view too. It's not like you can't see anything! You only have to open your cabin door.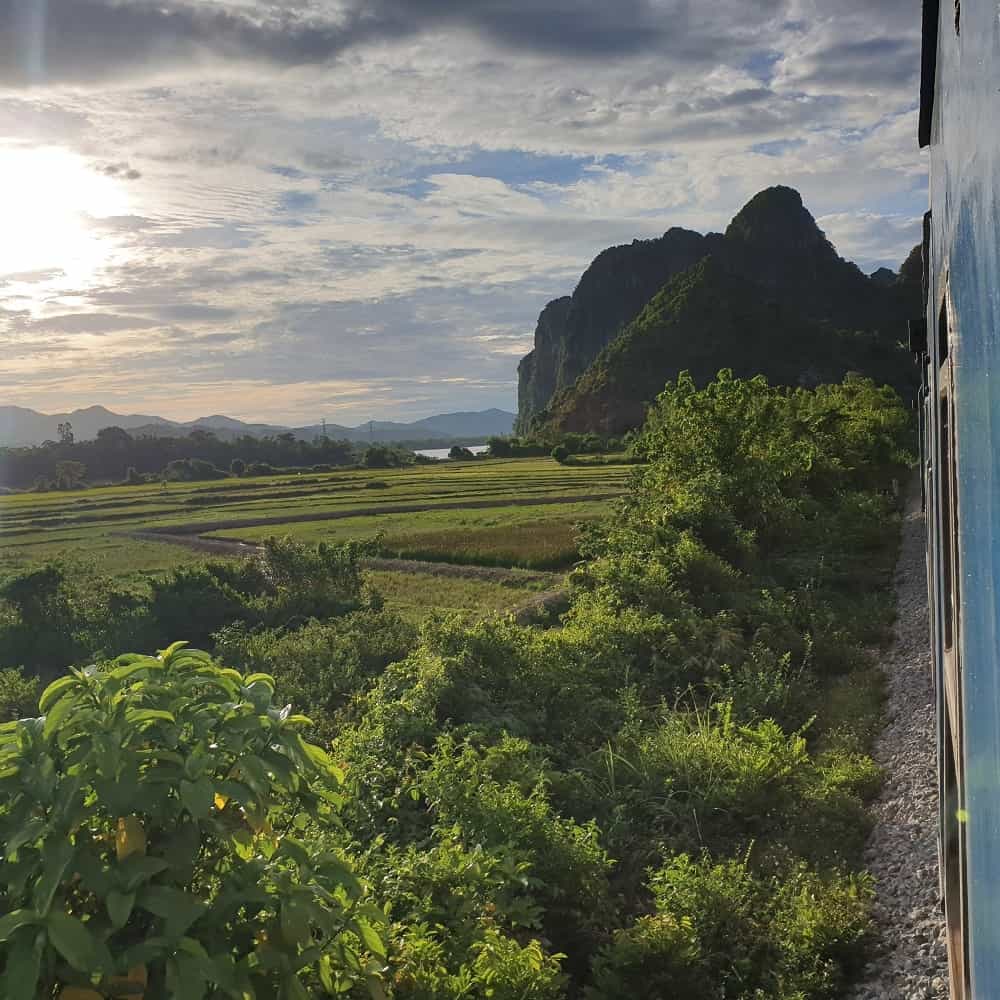 The Toilets
This is where the whole experience was a letdown. The toilets were fully feral gross. There was a little clipboard hanging up which indicated they were actually cleaned regularly, but they were just yucky. Pee everywhere, stinky, skanky don't touch anything! But when you got to go, you've got to go.
Each carriage has a toilet at the end, some are western and some are squat. Browse the toilets for fun, and you will find one that nobody is using which may be a fraction cleaner.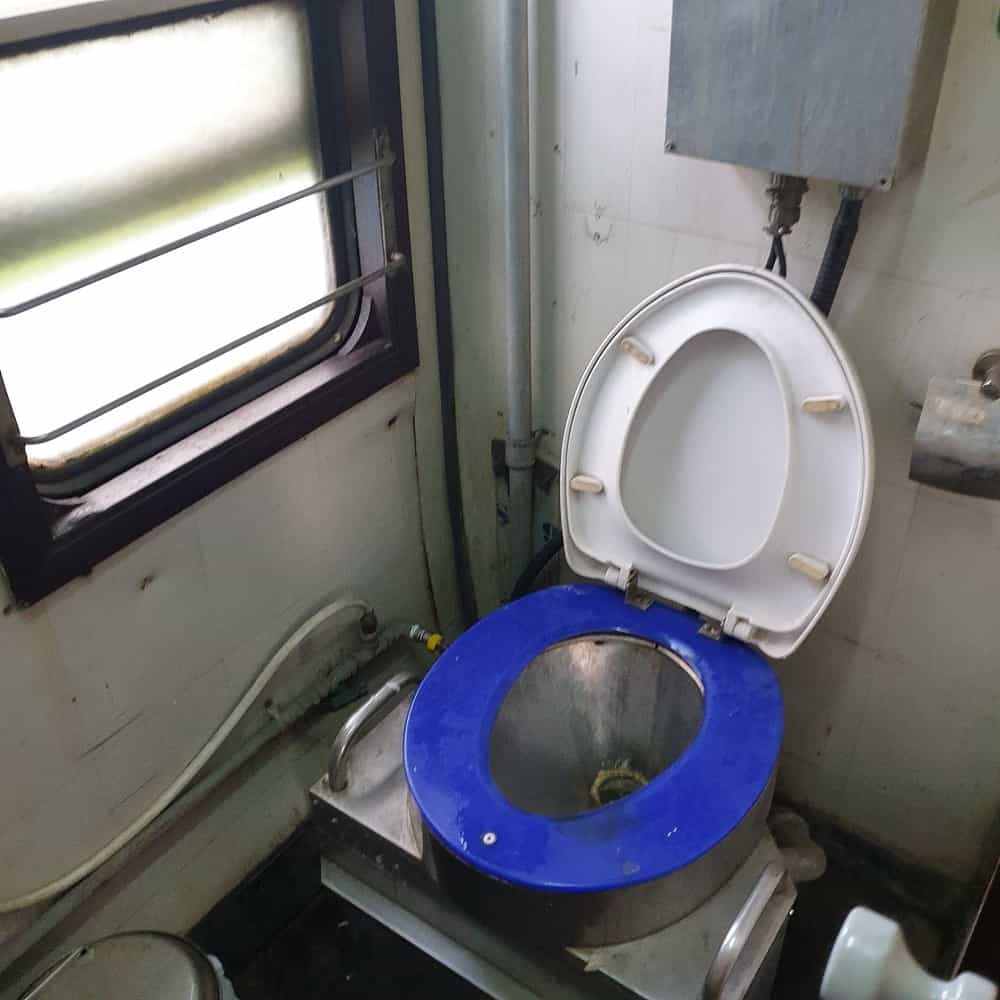 Getting on the Train
The Hanoi Train Station was clean and well organised. I showed an official-looking lady my digital boarding passes on my phone, and she showed me which gate to wait at. We had dinner while we waited, it was by this time 8 pm and we were on the 8.45 pm train.
There is a large Vinmart inside the train station too. This is a great place to get any last-minute supplies, and they have super cold beer too.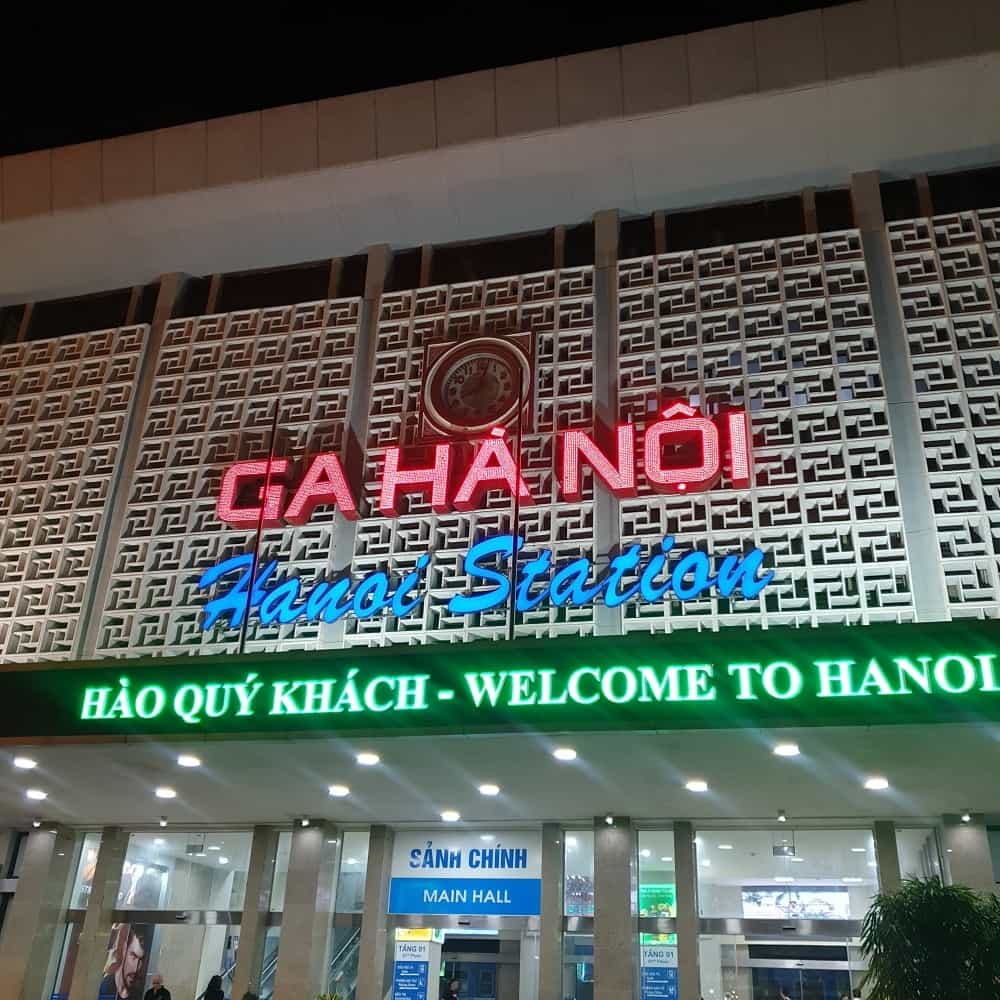 At 8.15 pm the gates opened and another lady vaguely looked at our e-tickets and waved us towards the train. It's not a huge station, though it is the biggest in Hanoi. It has nowhere near the size of train stations in Delhi or Tokyo or London where I have had to navigate hard to find the correct platform and train. This one was a walk in the park.
We quickly found our carriage, and our cabin and loaded in for the night.
When I say 'we', I want you to picture us. Dad manhandling a huge duffle bag on wheels, and a surfboard. Mum carrying all the snacks and little backpacks, guiding everyone onto what I hoped was the correct train. Then 4 little kids, of varying sizes, each wheeling their own mini suitcase and very excited to be travelling on this train!
All our luggage and all 6 of us fit snugly into our little cabin, and we settled in for the night (with a few of those cold beers).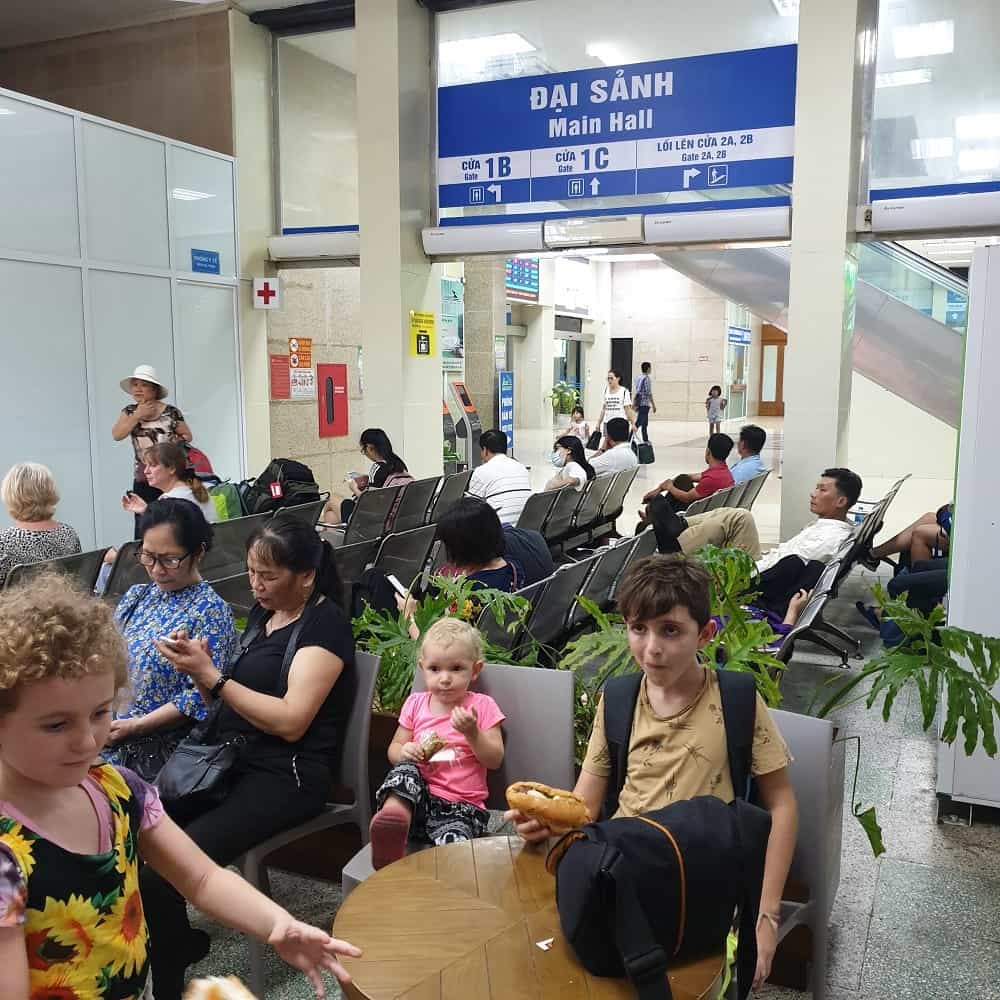 Food on Overnight Trains Vietnam
We bought heaps of snacks with us – bread with Nutella, cup noodles, and the like. There is hot water available near the toilets. Also, carts come by regularly offering coffee, meals, beer, water, popcorn etc. For breakfast, we purchased a yummy beef and noodles for only 35,000 VND and Vietnamese coffees were only 15,000 VND each.
We didn't go hungry.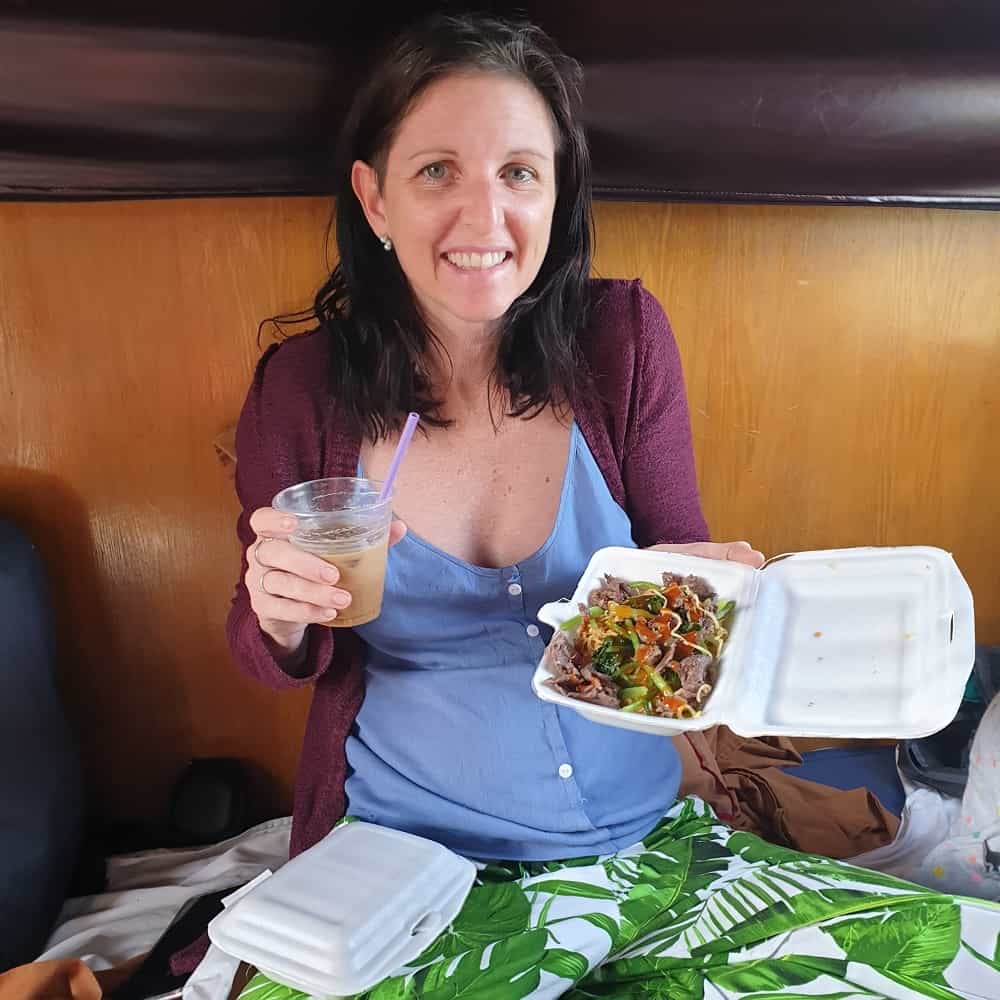 Vietnam Railways Review
Overall, the service, cleanliness and comfort of this train were fine. It wasn't amazing, but it wasn't terrible either. It was decent.
The train was rocky, rickety and noisy, but if you have been on other trains in southeast Asia, you should expect this anyway (Sri Lanka especially). Do not compare this train to Europe or Japan. It is not smooth. It is old and clunky.
However, we still managed to get a decent sleep, gently rocked by the movement of the train.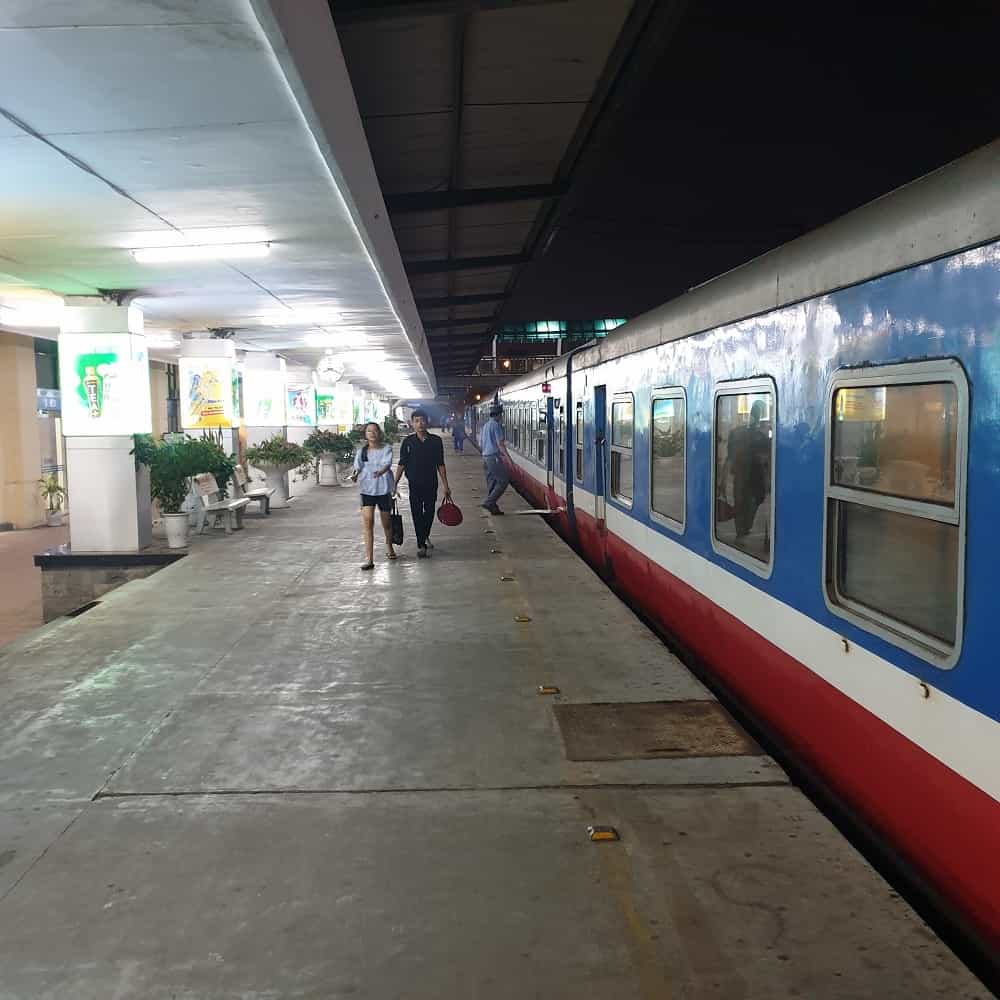 Arriving Into Da Nang
As I already mentioned, the scenery coming into Da Nang is just awesome. The train line meanders its way right on the coast offering gorgeous views of beautiful coastline. We were relieved to arrive into Da Nang after nearly 18 hours (only 1 hour late).
The train alighted not at a platform, and you had to literally climb down off the train onto the tracks. There was a porter waiting for us and we allowed him to load all our luggage onto his little cart and help us find our driver.
When I tried to tip him 15,000 VND for his trouble he demanded 50,000 VND instead! But I was too tired to care and was truly grateful for his help anyway so I paid.
We were an hour late into Da Nang, but we were happy to get there safely. If you have travelled on the highway in this country, you will appreciate the relative safety of overnight trains in Vietnam.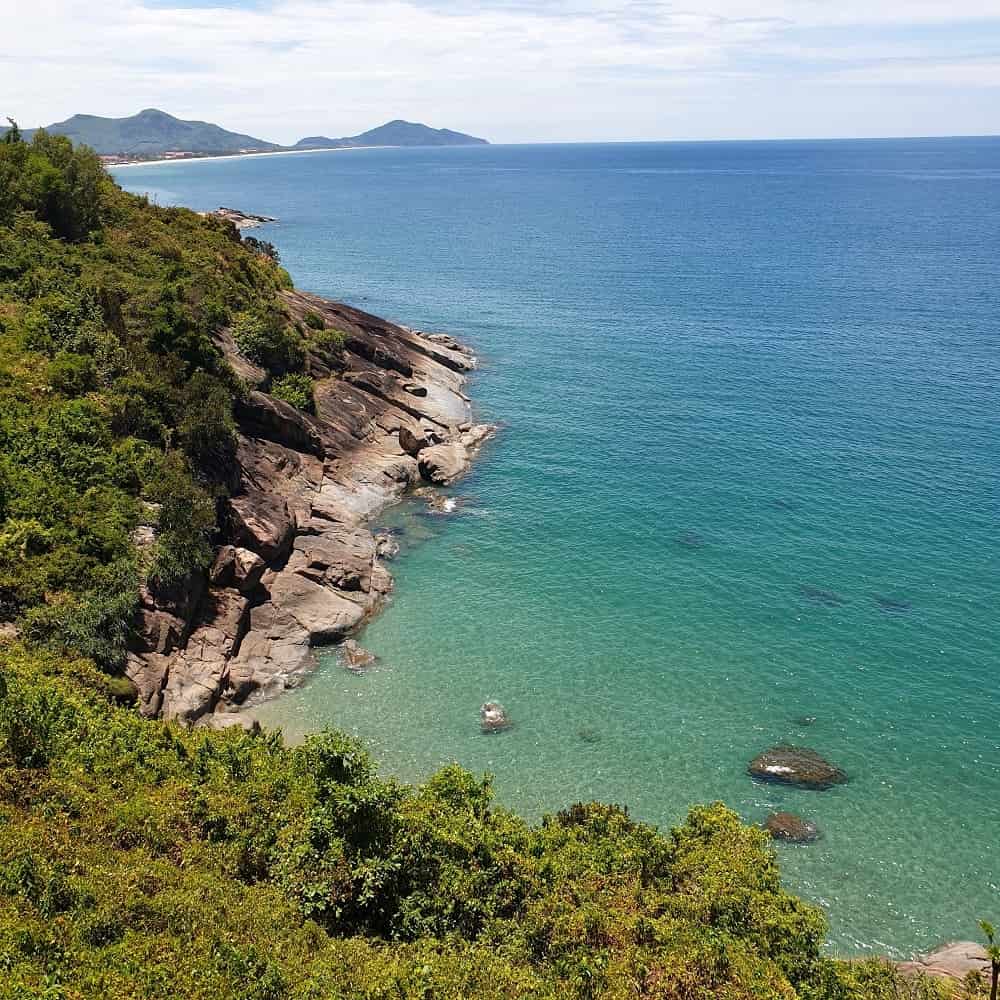 Getting From Da Nang to Hoi An
From Da Nang, we had pre-booked a hotel transfer through our hotel so there was a driver waiting for us at the train station. I always appreciate this after a long journey. The 7 seater car transfer to Hoi An cost us 400,000 VND. Worth it for easiness.
How to Buy Vietnam Train Tickets
We bought our tickets online at 12GoAsia. This is the best way to browse and book travel within Asia! All of your options are laid out for you, so you can see the best price, method of transport and class for your convenience.
Check all the ticket options and prices here
I tried to buy direct from the Vietnam Railways website but they seemed to only accept Vietnamese credit cards. And the price difference wasn't much anyway.
After booking online and paying securely by credit card, on 12GoAsia, the e-tickets for Vietnam Railways were emailed to me, it took about 24 hours after booking to receive this. The cancellation was free if it occurred at least 48 hours out of the travel date.
You can book your train tickets easily here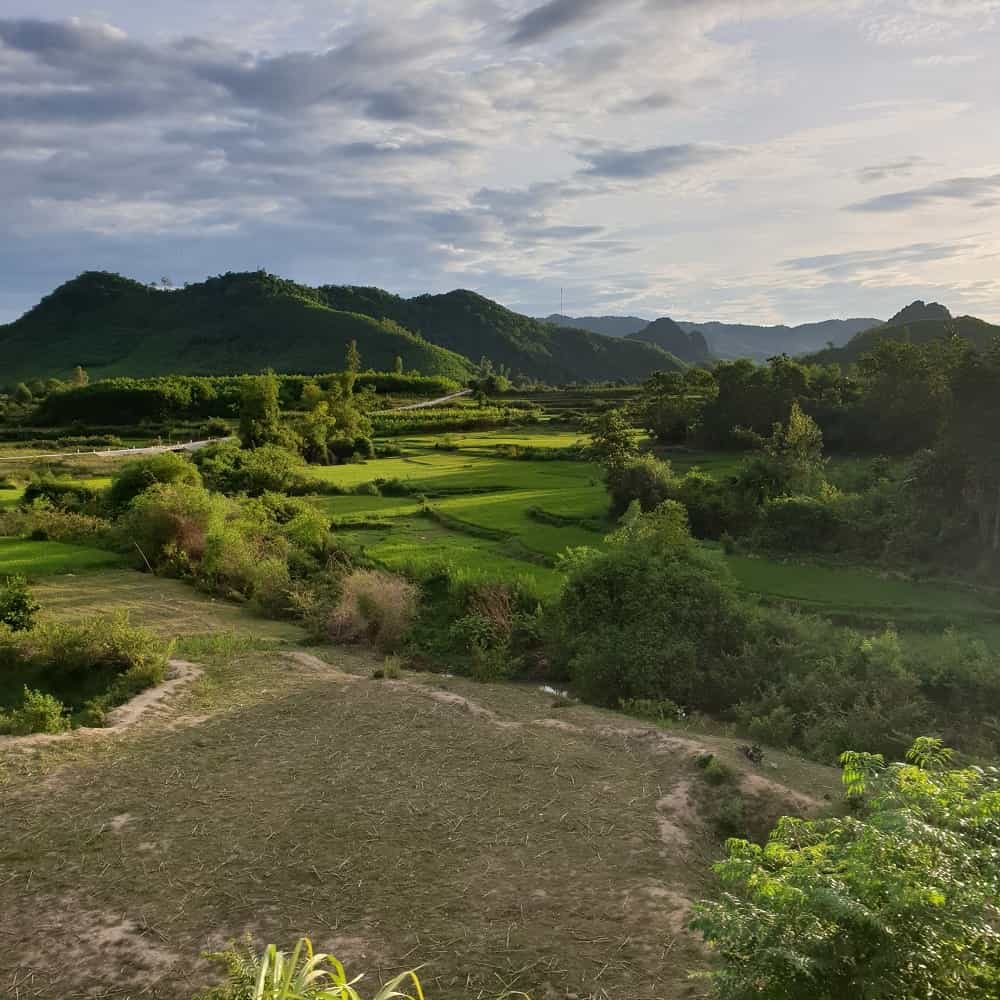 I recommend Vietnam Railways as they are well priced and the conditions were actually ok, despite the terrible reviews. Just manage your expectations.
You can also get from Hanoi to Hoi An by bus, or plane. Read our full post on all the options here.
Cost of Overnight Trains Vietnam
The cheapest seat on an overnight train between Hanoi and Hoi An is 701,000 VND which gets you a seat only, departing Hanoi at 8.10 pm.
1st class sleeper with 4 beds on the same train costs 1.27 million VND per berth.
You can find a 1st class sleeper with only 2 beds for 2.5 million VND.
2nd Class sleepers sleeping 6 people are 1.16 million VND.
The 1st class beds are supposedly softer than the 2nd class ones.
To compare prices between classes see here
Vietnam Train Timetable
Trains depart Hanoi Train Station HNO – see map and arrive into Da Nang DNA – see map 15-17 hours later.
Vietnam Railways timetable is as follows:
#SE7 Depart HNO 6 am arrive DNA 10.36 pm
#SE5 Depart HNO 9 am arrive DNA 1.21 am
#SE9 Depart HNO 2.30 pm arrive DNA 7.50 am
#SE3 Depart HNO 7.30 pm arrive DNA 11.23 am
#SE19 Depart HNO 8.10 pm arrive DNA 12.20 pm
#SE17 Depart HNO 8.45 pm arrive DNA 1 pm
#SE1 Depart HNO 10.20 pm arrive DNA 1.41 pm
Click here for the full timetable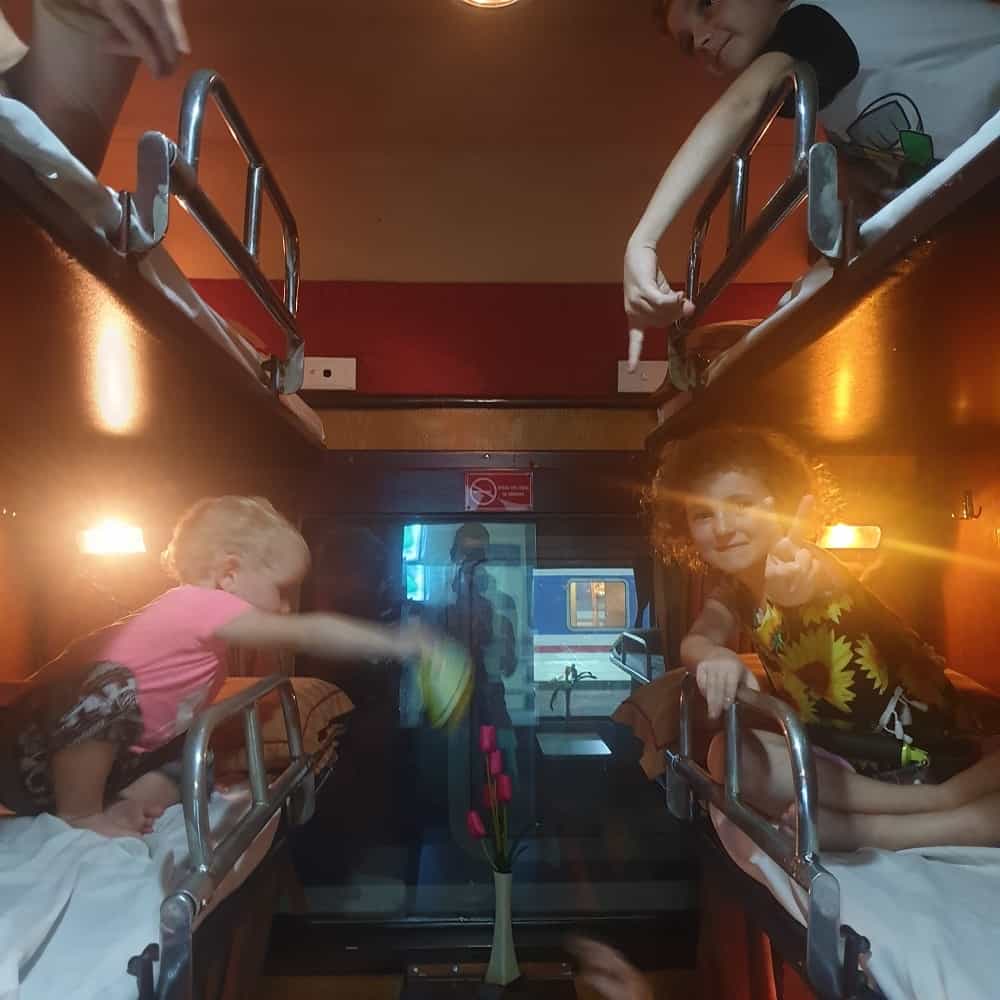 Overnight Trains Vietnam – The Verdict
Catching the overnight train from Hanoi to Da Nang was certainly an experience. My family and I thought that this was a great way to travel. It was bumpy and the toilets were gross, but we all got some sleep and were able to travel the 800 km in relative comfort and safety.
Related Posts
Find out more about family travel Vietnam travel from our excellent articles below: