Are you a tech head and love technology? Then the Pantip Plaza Bangkok is your type of place. If you are visiting Bangkok and need a great priced computer or tech gadget then get yourself to this famous tech shopping center.
Pantip Plaza Bangkok has two main sections.
IT City on the ground floor specializing in computer hardware, software and accessories. As you go up the floors gadget shops, secondhand computers and refurbished computer stores inhabit the plaza.
Pantip Plaza Bangkok used to be a major place to buy pirated software and movies but since Thailand cracked down on this good luck finding fake software here.
Everything seems to be legitimate nowadays in Thailand, we couldn't find any pirate DVD's or software.
Read on to find out where to go in Pantip Plaza Bangkok.
Pantip Plaza Bangkok VAT Refund
Make sure before you head to Pantip Plaza you bring your passport with you.
It is actually required by law in Thailand to carry your passport with you while touring Thailand.
If you plan on buying cameras or computers make sure you collect your VAT refund or discount when purchasing the item. This can save you some cash if you do it right but you need your passport to do this.
Pantip Plaza Bangkok History
The Pantip Plaza was opened in 2010 and consists of 5 floors of tech, gadgets and accessories.
Pantip is the largest IT mall in Bangkok and has great bargains for tech shoppers.
Location of Pantip Plaza Bangkok
The Pantip Plaza has various locations around Thailand. Store locations are;
Watergate – This is the one you will visit
Ngam Wong Wan
Chiang Mia
Bangkapi
Pantip is close by to MBK Mall Bangkok, Siam Center, Siam Square and the Siam Discovery center. It is also nearby Siam Paragon in Bangkok.
See Map for location and Directions to Pantip Plaza Bangkok from Khao San Road.
Transportation to the Pantip Plaza
Where you stay in Bangkok will dictate the type of preferable transportation you use.
Here are the many options for transportation around the city:
Tuk-Tuk, probably the most famous of transport options in Bangkok.
Taxi, try to get the meter turned on, but they are reluctant.
Grab taxi, a cheap option, just download the App here.
Local bus, the slowest but cheapest option
BTS Skytrain, (The Bangkok Mass Transit System) Not always available from your accommodation or area.
Places to Stay in Bangkok and Visit Pantip Plaza
Hotels in and around the city center are a little more upmarket compared with areas like Khao San Road, but these hotels are conveniently located.
Fine hotels include the Waldorf-Astoria, the Grand Hyatt and the Novotel. And none of these caters to larger families without having to get 2 rooms.
Benviar Tonson Residence, Marriott Executive Apartments, and Centre Point Chidlom all offer a 3-bedroom apartment for around $500 AUD per night, which would be fantastic for a short stay.
The Pantip Plaza Bangkok Layout
Pantip Plaza is hard to miss with the Hewett Packard and Acer signs out the front. Also, the center has a huge Hulk Statue at the entrance to the center.
The mall is 5 stories high and contains many Tech and gadget shops, it is fairly straight forward to find your way around.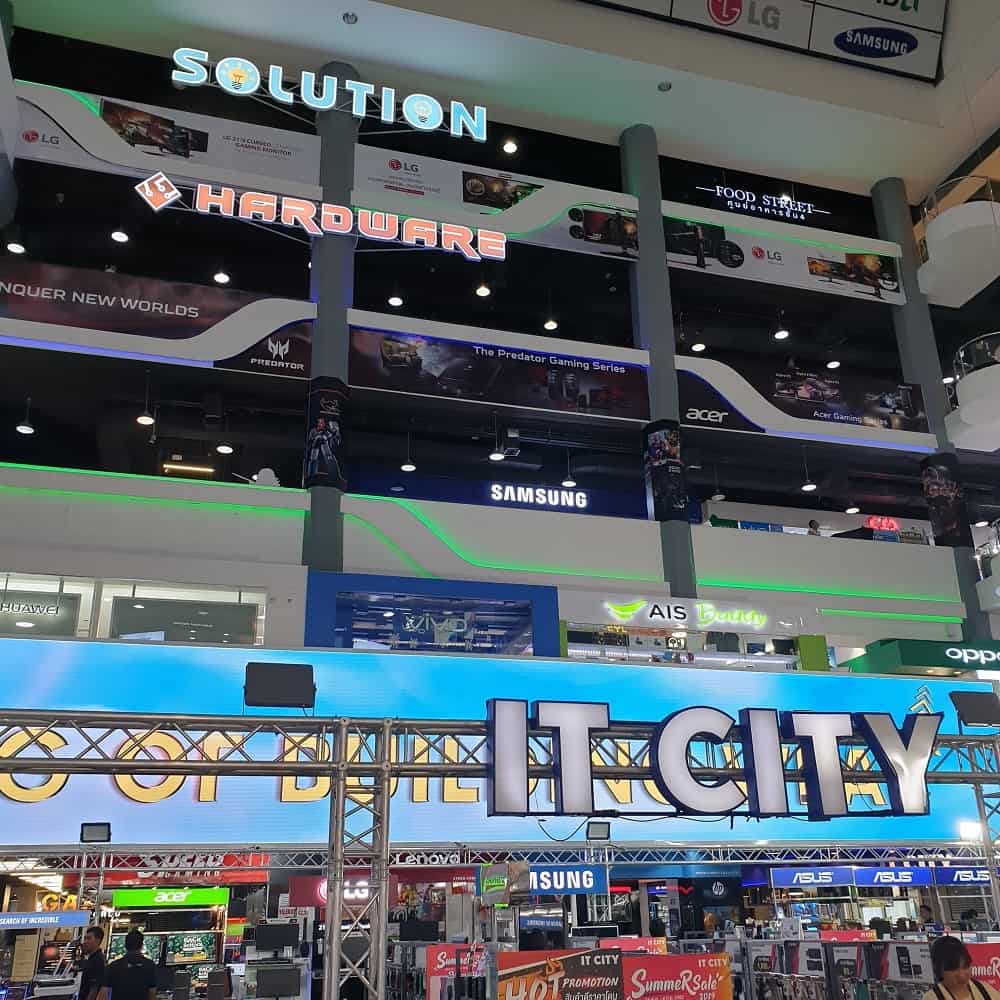 Most shoppers come here for tech bargains but the center has a few special businesses selling collectables and models of your favourite superheroes or villains. Visit this link for the full directory of the Pantip Plaza (Warning the website isn't very helpful)
Here is a guide to each floor of Pantip Plaza:
Floor 1
As you walk off the street you enter the Plaza, here you will see a few clothing stores, some small food places and the big sign for IT City.
Floor 1 has Computer displays, TV stores, gaming stores, a VR center and various other tech shops scattered around the center.
Floor 2
A few cafes and restaurants are on floor 2 offering Thai cuisines.
This floor sells most of your gadgets and has several shops selling products such as Selfie sticks, Microphones, speakers, cables, and cases etc. Also on this floor are more computer stores selling Acer, HP, Predator, Samsung, Apple and others.
Also on this floor are retro game stores, Costume stores, and collectable model stores that create your favourite Superheroes using superior resin. The models were amazing and looked exactly like the real thing.
If you love marvel and are into collecting comic book heroes then this is the floor for you.
Floor 3
Floor 3 consists of more Tech stores, Phone stores and loads of computer repair stores. These stores also sell reconditioned computers that come with a 1-month warranty. Not sure if you can trust them all but they stock Apple, Sony, Acer, IBM, HP, and others.
This floor was also meant to stock pirated DVD stores but we could not see evidence of this anywhere.
Floor 4
Again floor 4 has more of the same as floor 3 but I did notice a lot of vacant shops.
Floor 5
This is the floor you head to when you are making a purchase of something in the store such as a computer.
IT City send you here to make your payments, the floor also stocks Tech and Gadgets to suit or your daily needs.
Pantip Plaza Center Important Information
Open Times
Open Daily 10:00 am to 10:00 pm
Address
Asset World Retail Company Limited No. 604/3 Petchburi Road, Thanon Phetchaburi, Ratchathewi District, Bangkok 10400
Contact Pantip Plaza Center
Contact the Pantip Plaza Center on 0-2254-9797
Make sure you put this on your to-do list while visiting Thailand, buy some of the cheapest electronics in the world here.
This is on our list of best things to do in Bangkok Thailand with Kids