Visiting Bangkok Thailand with kids is a fun and rewarding experience. This city is a perfect initiation into the far east with wonderful food, culture and beautiful temples to delight your senses. There are also some sensationally fun activities to keep the kids as well as the parents amused and entertained too.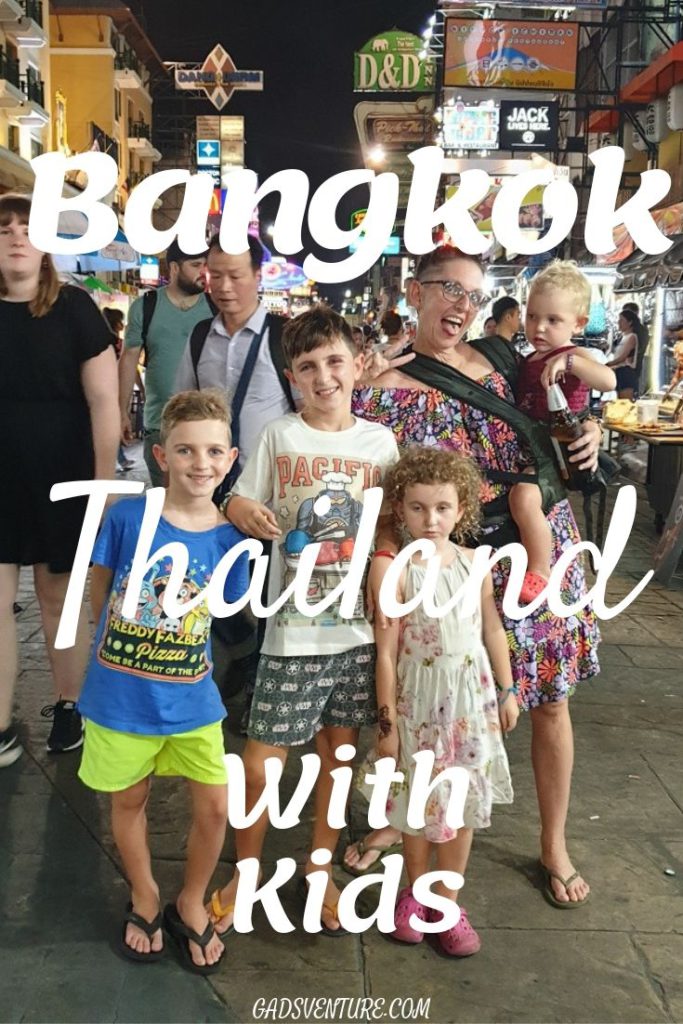 Here we will show you how to explore Bangkok Thailand with kids, we have 4 of them! We will include the best places to stay with a big family in Bangkok, how to eat and our favourite things to do in Bangkok with kids.
Before You Go To Thailand
Check these posts to find out if you need a Visa for Thailand, or Travel Vaccinations.
Find out here when is the best time to visit Thailand.
Getting to Bangkok
Visitors to Bangkok will arrive into one of 2 International Airports.
Suvarnabhumi International Airport (BKK) is Bangkok's biggest airport handling the bulk of International arrivals to Thailand
Don Mueang International Airport (DMK) handles more budget airlines and is a little bit closer to the city. We flew with Air Asia, so this is the one we landed at.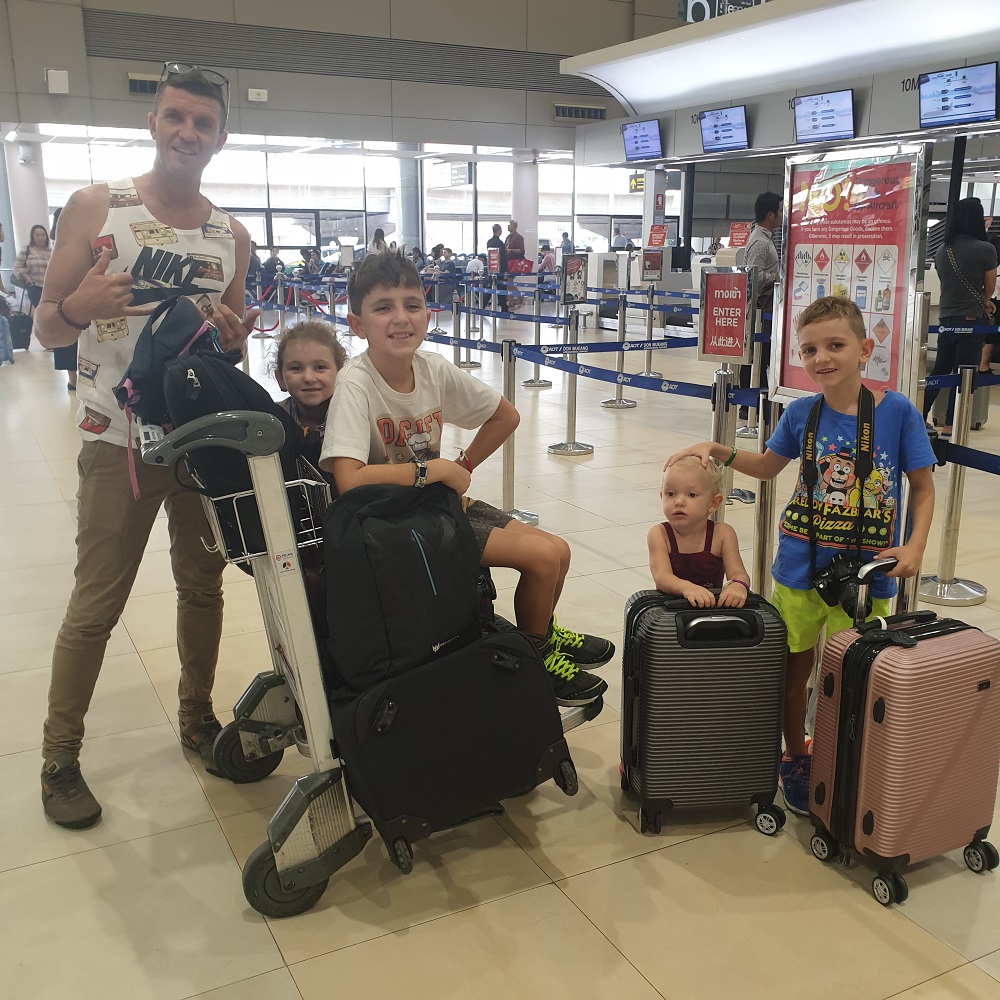 Find Cheap Flights to Bangkok on Skyscanner from wherever in the world you are:
It doesn't matter which Bangkok airport you fly into, as long as you know which one it is for the purpose of booking your airport transfer.
Airport Transfer
I always book an airport transfer when travelling with kids. Especially after a long flight, there is nothing worse than having to negotiate a taxi fare in a new country. You will almost always be taken advantage of.
In Bangkok, Klook or GetYourGuide offers cheap comfortable airport transfers directly from the arrivals hall of either airport right to the door of your accommodation. The advantage of booking with one of these companies is that you can browse and book online, paying securely by credit card. Read the reviews, look at pictures, and know that what you pay for is what you get.
Where to Stay in Bangkok Thailand With Kids – Khaosan Road
There are 4 favourite areas of Bangkok that are great to stay with kids and have easy access to the fun things to do in Bangkok:
Khaosan Rd
Banglamphu
Sukhumvit
Siam Square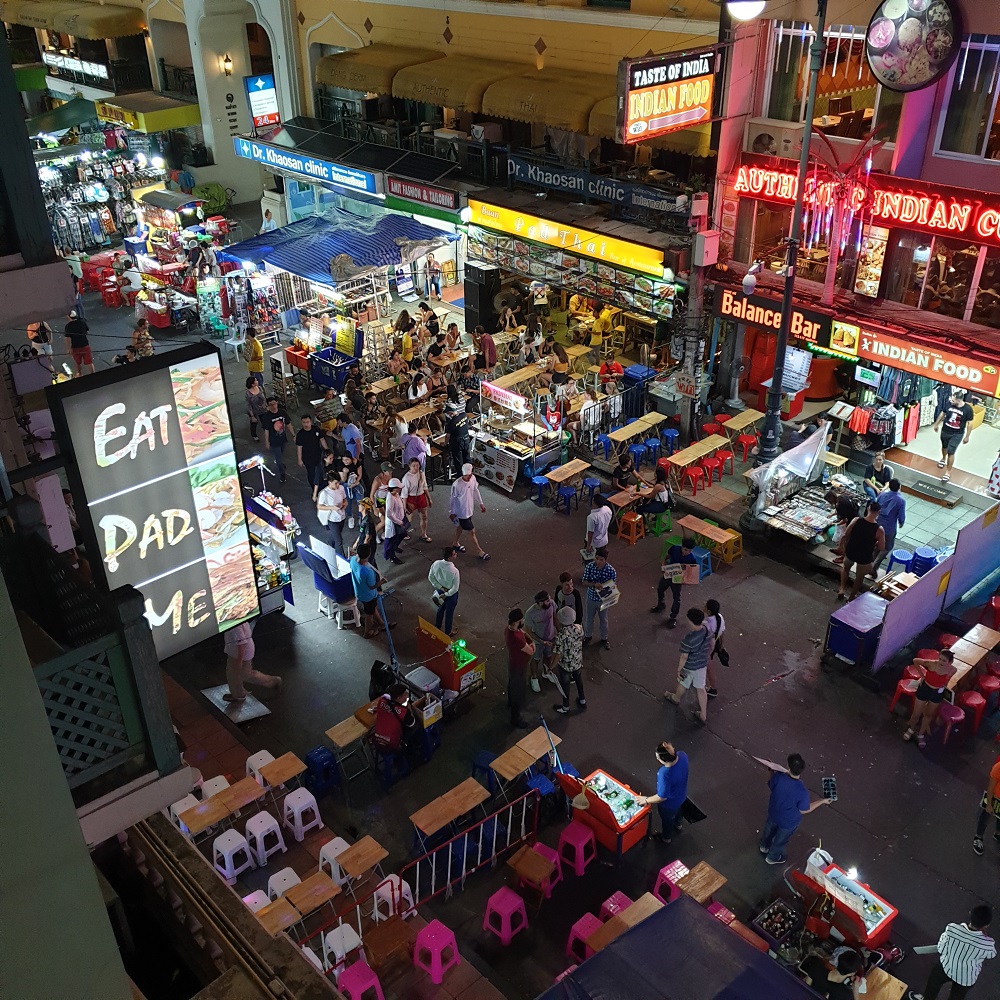 Our favourite place to say is close to Khaosan Road and the area around Soi Rambuttri, throughout Banglamphu and to the river.
The action around this part of town is so vibrant and exciting, you and your kids will be entertained simply walking around the streets.
Eating at Khaosan Rd with Kids
Eating here is wonderful with the best street food and cheap restaurants found along Khaosan, Chakrabongse Road and Rambuttri Alley. Our kids loved eating Pad Thai, Spring Rolls, Fried Rice and meat on a stick from the various food vendors. Don't miss the fantastic noodle soup cart right on the corner of Chakrabongse and Rambuttri. It is the best soup in Bangkok!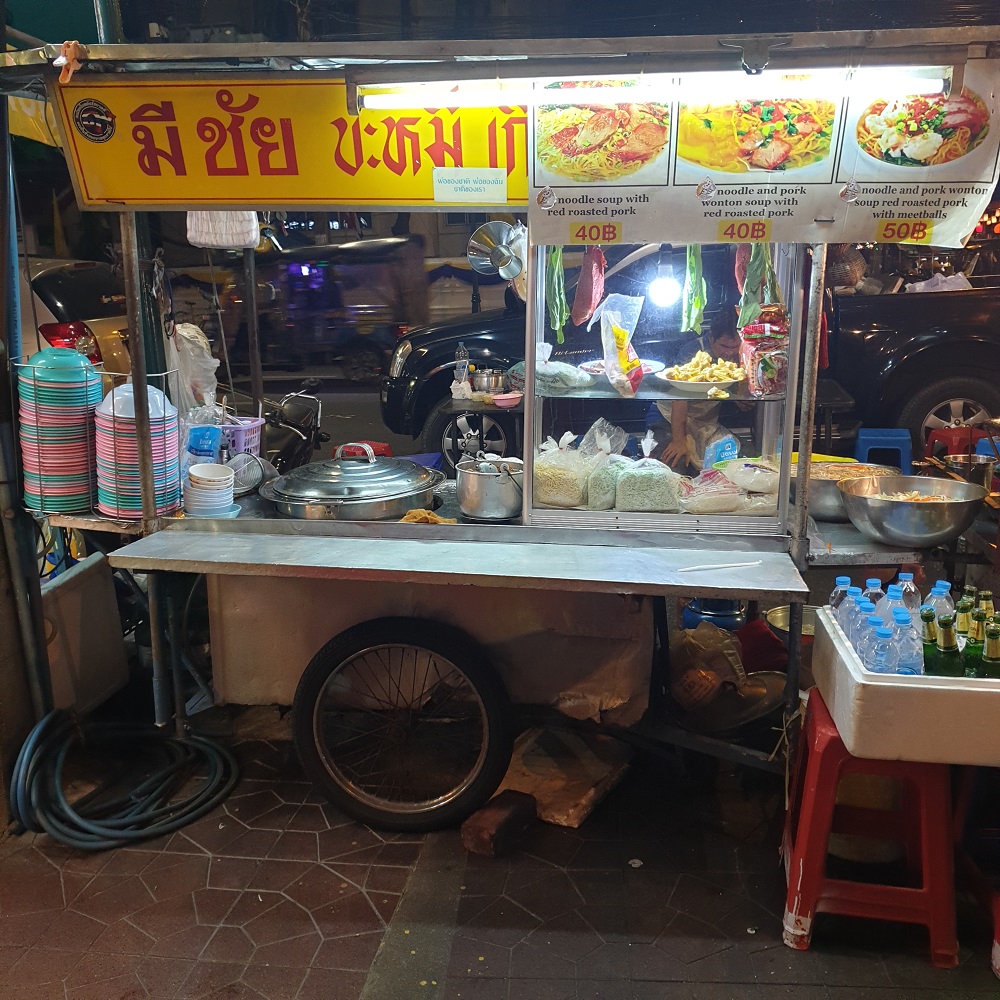 Getting Around Bangkok
The Royal Palace is within easy walking distance, and it is super simple to get a taxi or tuk-tuk from Khaosan Road area to any other major attractions within half an hour. A tuk-tuk will usually cost around 200 THB per ride. It may not be the cheapest way to get around, but it is the most fun, and must be done at least once.
Getting around Bangkok is easy if you get yourself a Thai Sim card and download the Grab App. This is like Asian Uber and will make calling a taxi a breeze, with the best prices possible. You can even enter your credit card details and make the transactions cashless too.
Where to Stay in Khaosan Rd for Families
The best thing about staying in this area, is that it is super cheap for families.
Khaosan can get a little bit hectic after around 8.30 pm when it becomes the haven for partying backpackers. We loved staying around here but we were happy to get back inside our hotel before it got too fun.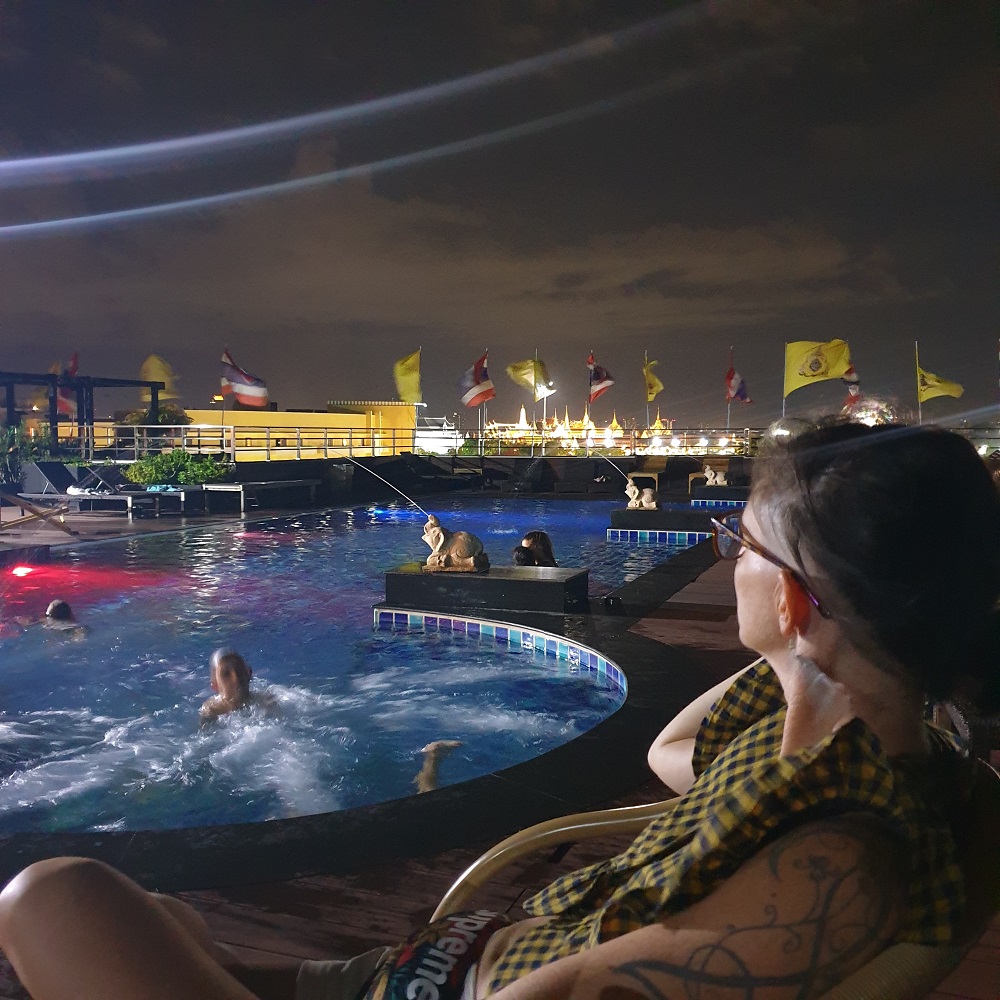 We stayed at the D&D Inn right on Khaosan Road in a family room. The rooms in the 'street wing' are way too noisy, so avoid these if you are staying here. The family rooms at the back of the hotel have 2 big double beds, and there is a fantastic rooftop pool on the 7th floor with incredible views towards the Royal Palace and the river.
Places on the Soi Rambuttri are a lot quieter and still within easy access to the excitement.
Budget Family Rooms Near Khaosan Road
The Little Room is located in an alleyway just at the southern end of Khaosan Road. This house has 3 double bedrooms and will sleep 6 people. Perhaps better for families with older kids, as each bedroom is quite separate. At only $130 AUD per night, this represents great value.
---
At Zed's Hostel, a cosy and funky family room will sleep 5 and is only $79 a night. This is nicely located just across the river in Banglamphu.
---
Hong Hostel has a 4 bedroom house just over the river which will sleep a family of 9 for $164AUD per night for the whole house! This is a great location, with easy access to Khaosan Rd, but far enough away just across the river in Banglamphu.
---
Mid-Range Family Rooms Near Khaosan Road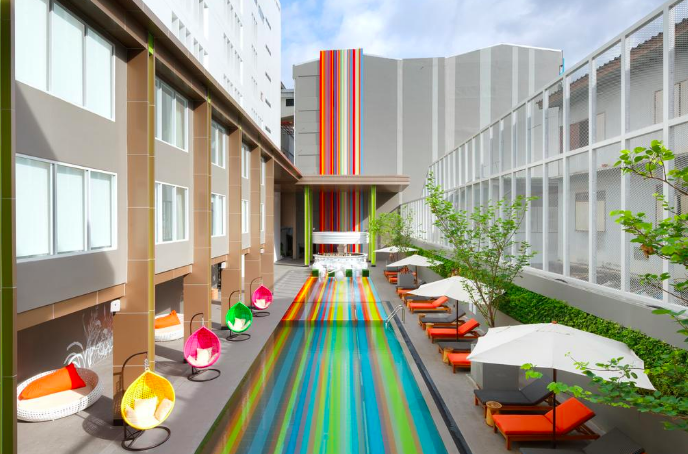 The Ibis Styles Bangkok Khaosan Viengtai consistently makes the list for the best family hotels in Bangkok. However, their family room only sleeps 4 with a queen and bunks at $200 per night.
---
Located in Bangkok's Old Town, the stylish Prince Palace Hotel is great value for a 6-bed apartment at $209 AUD per night. There are 2 swimming pools, 4 restaurants and the hotel is located directly above a wholesale clothing market. You are still within easy reach of all of Bangkok's main attractions and so close to Jim Thompson House, the Grand Palace and the Democracy Monument while only 1 km away from Khaosan.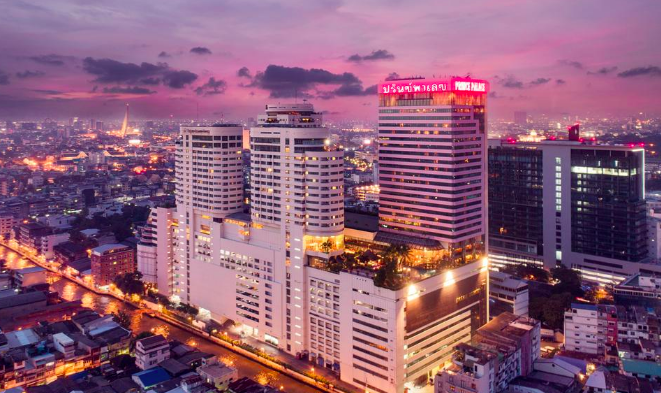 Airbnb's Near Khaosan Road for Families
If you haven't already used Airbnb and you have a bigger than normal family, why not? Here you can find a lot of unique apartments with enough beds to sleep everyone, with a kitchen and a laundry too. Often for only a fraction of the price of a hotel booking. If you join using this link you will get a $55 discount code to use for your first booking. It is free to join.
Go and have a browse, you may be surprised. Just make sure you read all the reviews, and ask any questions of the host before booking.
This awesome 3-bedroom house sleeps 7 people and offers perfect river views. It is in an enviable location and only costs $100 per night! I have this place earmarked for our next Bangkok visit.
Another great example that sleeps 6 is this cute townhouse. It is in a great location, close to restaurants and shops and everything you need.
Best Things to do In Bangkok Thailand for Kids – Khaosan Area
The Grand Palace is Bangkok's most famous temple complex and it is conveniently located right by Khaosan Road. Catching a water taxi from the Chao Praya Pier to the Palace is a wonderfully unique way to get there from Khaosan or it is within easy walking distance too. The complex is open from 8.30 am to 3.30 pm daily and entrance costs 500 THB. It is worth noting that both sexes must have shoulders and knees and ideally your ankles covered when visiting the temple. Bring a sarong or hire one there.
Temple of Dawn (Wat Arun Ratchawararam) is just across the river from the Grand Palace too which makes the boat trip even more scenic. Sunset on the river here is absolutely magic. Get off the riverboat at Pier 8. Entry to the temple is 100 THB.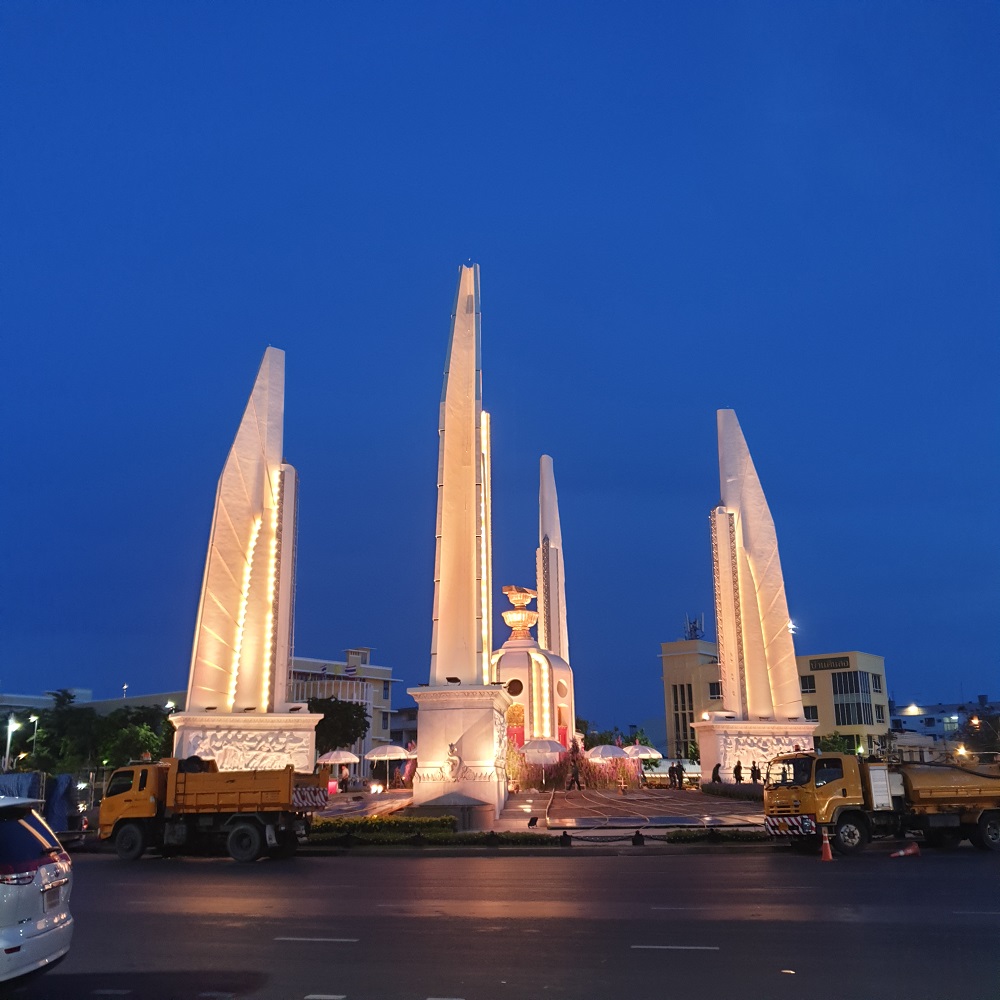 Around here you can also visit the Giant Swing, the Democracy Monument and Jim Thompson's House. Loha Prasart and Temple of the Golden Mountain are also notable places worth walking to if staying in this area.
Only 30 minutes to the north of Khaosan and so worth the visit is Chatuchak Weekend Markets. The kids loved the experience and so did their parents!! For all the details including how to get there, read this post:
Chatuchak Weekend Markets Bangkok
Where to Stay in Bangkok Thailand With Kids – Sukhumvit and Siam Square
Sukhumvit has many fun family-friendly attractions. It is the home to the big malls such as Pantip Plaza (THE place to go for purchasing electronics), the enormous MBK Mall, and Siam Square – Siam Paragon.
This area is also home to the enormous Lumphini Park which is Bangkok's nicest green space, and a lovely place to enjoy with the kids.
Getting Around Bangkok from Sukhumvit
Around Sukhumvit and Siam Square you have the advantage of being able to use the trains to get around and many accommodation options are located right on the Skyline, BTS or MRT Subway lines. Transit Bangkok has the best route-planner. This is only helpful if you are staying in this area though. To get to Khaosan Road, for example, you still need to catch a taxi.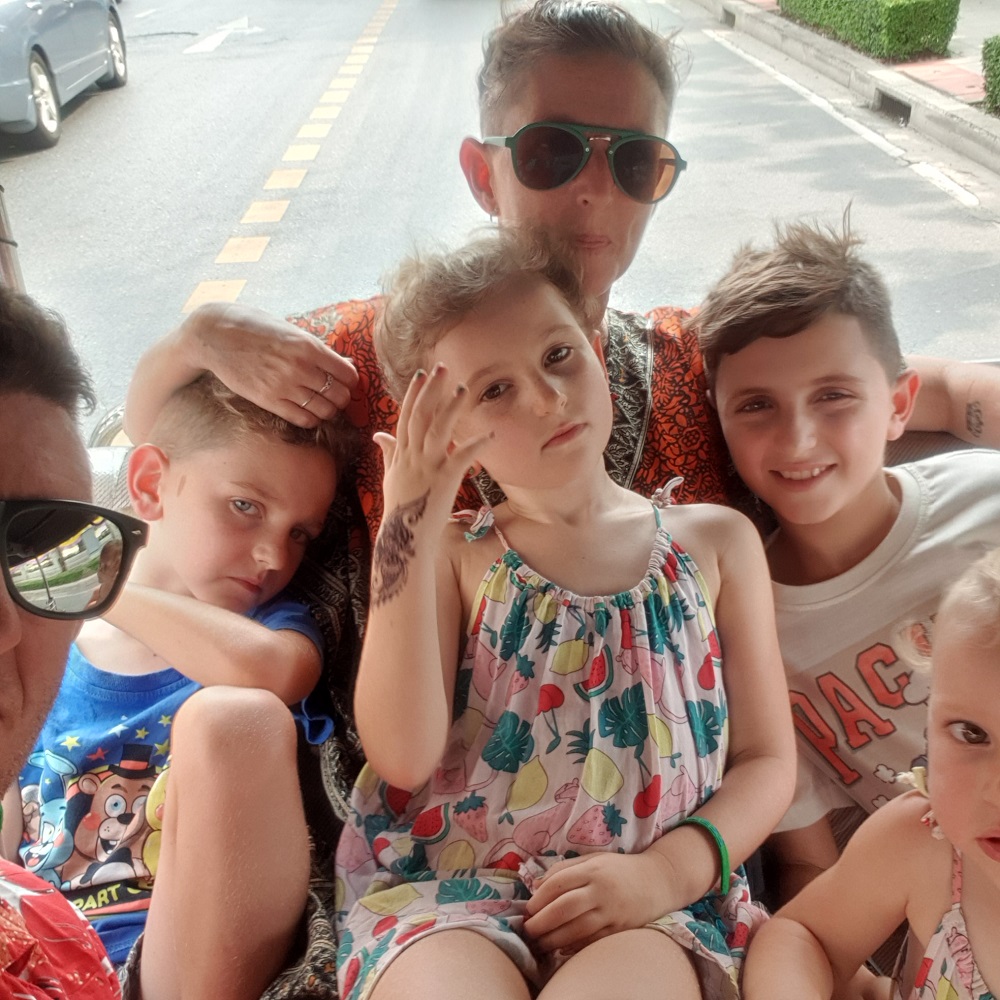 Taxis often will refuse to turn their meter on and a hard negotiation with a tuk-tuk can get you a ride for 200 THB to Khaosan Road. But we still recommend getting the Grab app for hassle-free travel around Bangkok.
Family-Friendly Hotels near Sukhumvit and Siam Square
Hotels here are more upmarket and carry a higher price tag too.
Here you will find hotels such as the Waldorf-Astoria, the Grand Hyatt and the Novotel. And none of these caters to larger families without having to get 2 rooms.
Benviar Tonson Residence, Marriott Executive Apartments, and Centre Point Chidlom all offer a 3-bedroom apartment for around $500 AUD per night, which would be awesome for a short stay.
Best Things to Do in Bangkok Thailand with Kids – Sukhumvit and Siam Square
In this area you will find some awesome attractions for kids of all ages to enjoy.
Kidzania is the best day out we have ever spent. We recommend kids aged 4-12 would enjoy it the most. It is a world where kids rule, and they actually work in jobs and earn money.
Read our full review of Kidzania and find out where to get the cheapest tickets online before you go.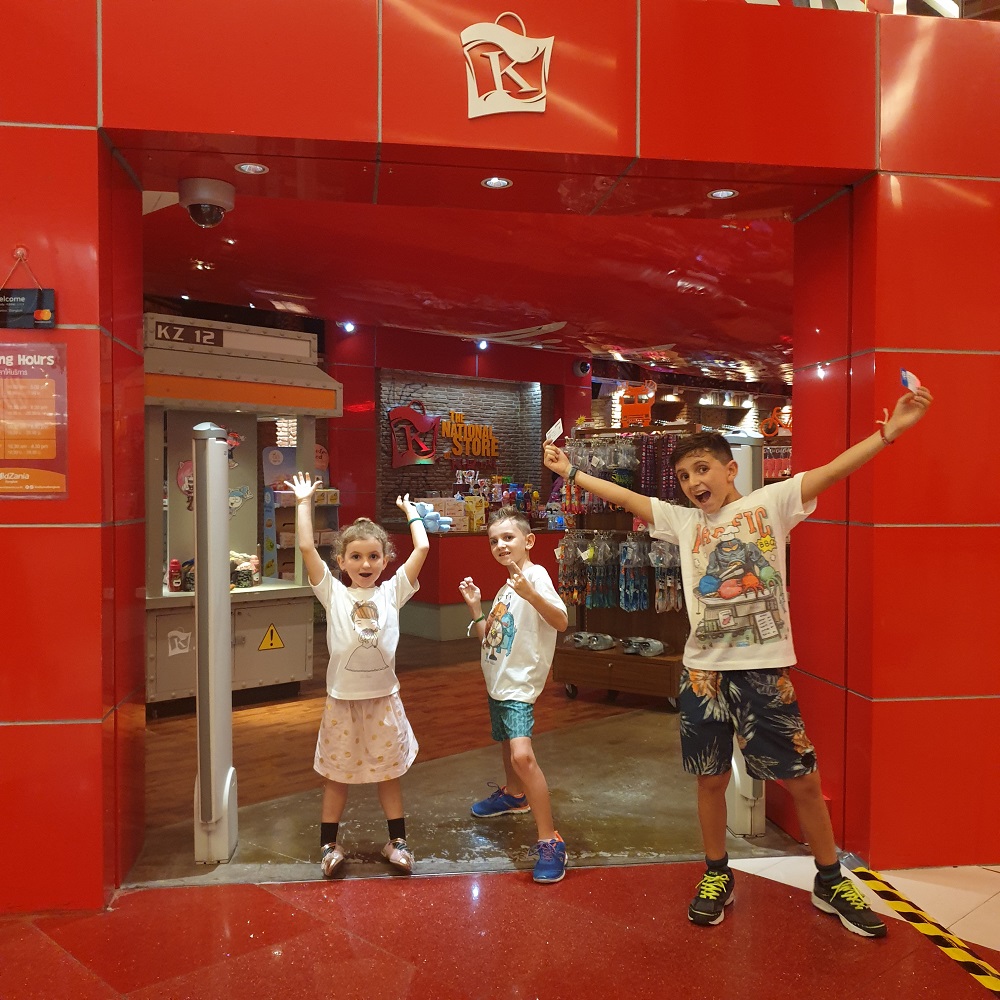 Kidzania is located in Siam Paragon Centre on Siam Square which has a great cinema and amusement arcade on the top floor too.
SeaLife Bangkok Ocean World is also located just adjacent to Siam Paragon and is a great place to entertain the kids in the city.
The Little Zoo Cafe is found just off Siam Square and lets the kids enjoy animals with a beverage.
Lumphini Park is a massive green space offering a welcome respite from the city. There are trees, playgrounds and an artificial lake where you can hire boats and paddle around.
Visiting Bangkok's biggest mall the MBK Centre is heaps of fun for young and old. They also have an amusement arcade and cinema on the top floor.
Bangkok Thailand With Kids – The Verdict
We spent a fun-filled week in Bangkok with our kids. They were aged 2, 5, 7 and 9 years old at the time of our visit. Just being in a big city excited and tired them out daily. It was great having a hotel pool, especially during the hot months of April-June. For more on the weather in Thailand month by month, read this post next.
I recommend doing your activities with the kids in the morning, and then returning to your hotel for air-conditioning, a rest and a swim for the afternoon. We then went out around our local area for dinner.
It is best not to expect too much from younger kids, don't try to do too much. A stroller would be a great idea so toddlers can sleep wherever they may be, but don't worry about car seats, they don't seem to exist here. Some hotels have cots to hire, or you can bring your own lightweight travel cot. We travel with a Koo-Di pop-up travel cot which is light, comfortable and compact.
If you are spending time in Thailand, why don't you visit some of our other favourite places in the country:
Go and follow Gadsventure on Facebook or Instagram to keep up to date with our latest travels on our family gap year. You may just be inspired!