Find out here with our detailed Mountain Buggy Bagrider review if this amazing travel product is suitable for you and your family.
Name: Mountain Buggy Bagrider
Website: www.mountainbuggy.com
Price: $192.36 US ($240 Aus) only $99 on Amazon!!!!
Owners: Tom & Tamar (Mountain Buggy)
Overall Rank: 7 out of 10
Mountain Buggy Bagrider, Product Overview
The Mountain Buggy Bagrider is a purposefully made carry on suitcase for families with a small child. The Bagrider offers a solution to parents for getting their child through the airport. Avoid the usual hassles by using a suitcase with wheels which converts into a travelling seat for toddlers.
Watch this video to see how it works!
This enables the child to ride on the carry on bag so that your child does not need to be carried on to the plane.
You can wheel the bag and baby right up to your seat on the plane with ease.
The Buggy Bagrider Specifications
Suitable for 9 months – 3 years old
Bag weight of 5 kg / 11 lbs when empty
Maximum child weight – 15 kg / 33 lb
Dimensions of Bag are 520 mm (H) 380 mm (W) 260 mm (D) / 20 lb (H) 15 lb (W) 10 lb (D)
Bagrider capacity – 35L of Volume inside
The Good & the Bad of the Buggy Bagrider
The Good:
Mountain Buggy Bagrider offers effortless travel around the airport
Offers you a carryon bag and a travelling seat for toddlers up to 15Kg
Simplicity for parents travelling with tired children, Bagrider takes out the hardships
Adaptable product that coverts super easily from carry-on suitcase to a stroller with a padded seat and restraints
Durable materials and accessories that can withstand airports and won't fall apart
Safety Tested and holds up to 15 kg. Includes a 5 point safety harness with adjustable straps so that your child is safe and secure
Storage capacity is ample for carry-on and it meets the regulated size requirement.
Manouvreablity is superb, Bagrider turns smoothly and is easy to navigate through crowds.
The Bad:
Storage capacity can't be used to its full possibility due to weight restrictions of 7 kg on most flights. The Bagrider already weighs 5 kg before the luggage is in. Mountain Buggy Bagrider is too heavy.
Not really suitable for over 2 years old. There is a great window of time where the Buggy Bagrider is perfect but once the child wants to walk they will refuse to use the Bagrider. The window was between 6 months of age, and just under 2 for us.
Price is high for a small carry on bag that is unable to carry many items due to weight restrictions on flights.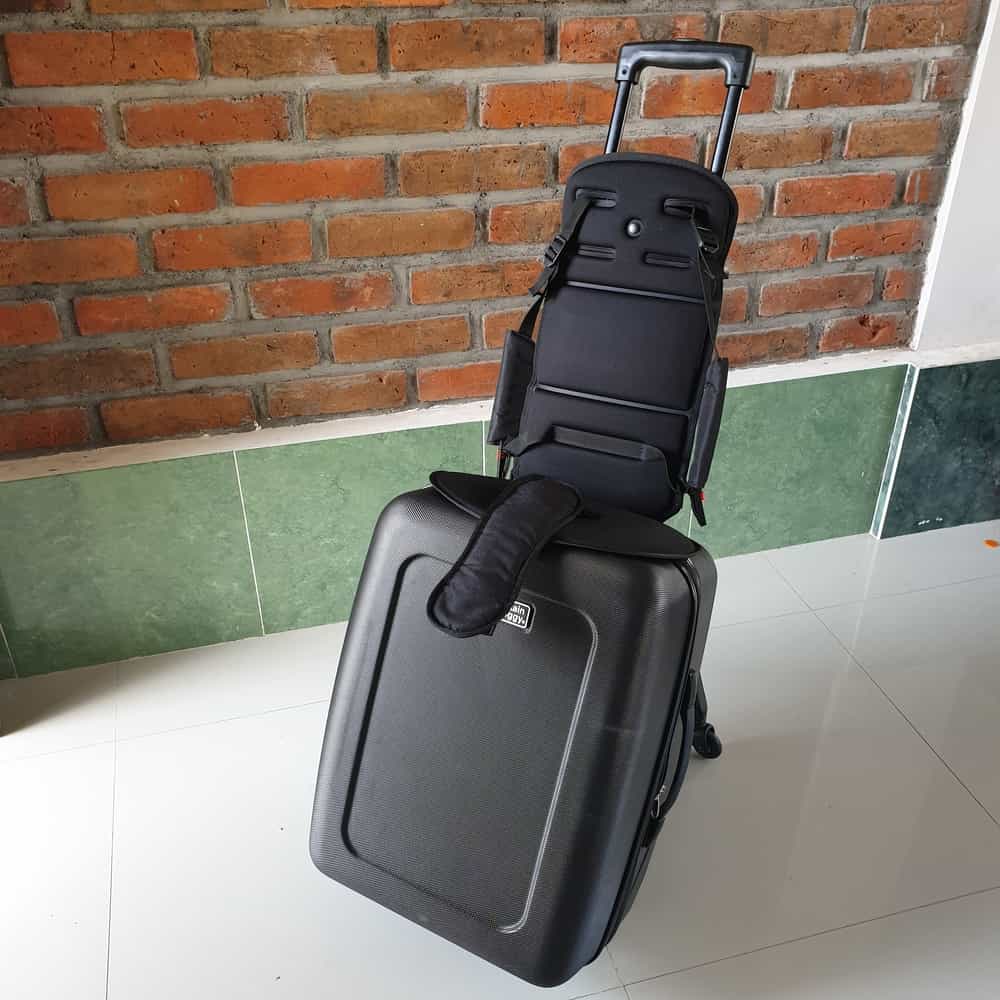 Who is Bagrider For?
The Mountain Buggy Bagrider is suitable for toddlers aged between 6 months and 2 years old, if they can sit unaided.
Bagrider is also fully suited to families travelling on small trips where clothing and accessories are minimal. Parents on long vacations will find the carryon bag too heavy and a waste of space.
A parent with these needs would definitely suit the Mountain Buggy Bagrider and get the most value out of this product.
We loved using this Mountain Buggy Bagrider for short trips with transits through domestic airports. It was also valuable on International trips when having to deal with queues at immigration and customs counters.
Mountain Buggy Bagrider Tools & Training
Mountain Buggy comes with a full instruction booklet. It demonstrates how to set up your Bagrider, how to convert from Carry-on suitcase to stroller and back again. Also provides care instructions and safety tips when using the Buggy Bagrider.
If you lose the instruction manual you can always just pop onto their website. Download the free PDF instructional manual or watch a video.
Mountain Buggy Bagrider Support
Mountain Buggy offers help and support for all their products on their website. They have a list of product instructions that should get you out of trouble if you need it.
If this doesn't help then they have a product how-to section, repairs and warranty page. Also a returns and refunds page and a contact us page. Here you can email or talk to a real person about your issues.
Mountain Buggy also has a thriving community on social media where they can connect with like-minded people and customers alike.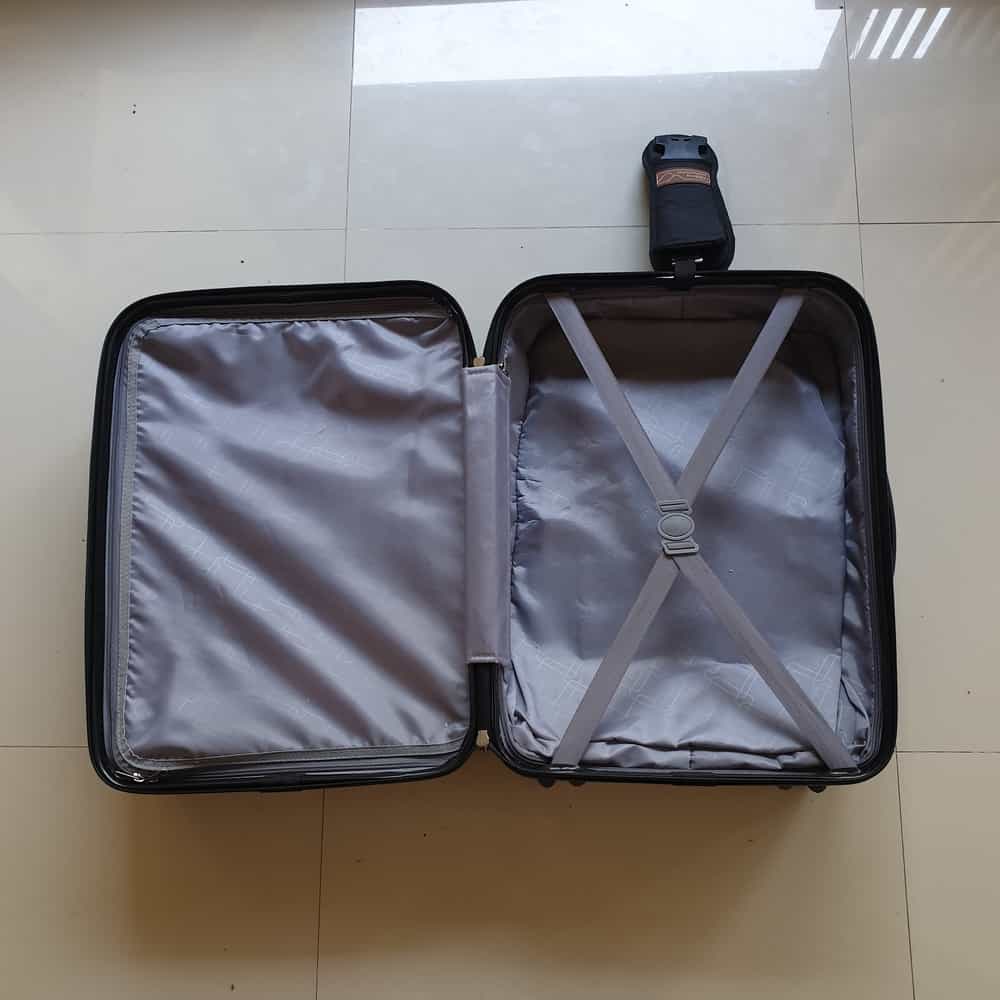 Mountain Buggy Bagrider Price
The Bagrider price is $192.36 US for the Bagrider on their website. FREE shipping if you spend over $50 to any country in the world.
There are no more hidden costs with the Bagrider such as extras or upsells.
We found it on Amazon for only $99!
My Final Opinion of the Buggy Bagrider
I found the product to be a genius solution to the problem of transporting your child around the airport. It's great not having to carry them on your hip everywhere.
Our 2 year old loved it at first. She couldn't get enough! But that soon changed when she saw how much fun it is to run around an airport! It would be much better suited to a smaller child who can sit unaided. They will enjoy the ride without wanting to run around.
We found it to be so simple, easy to use, attractive and a great carry-on bag. But you can't fit much into it due to the 7kg weight restrictions which is a real shame. This means you can really only carry 2kg of weight in the bag. This is often inadequate for our needs.
If Mountain Buggy Bagrider can come up with a solution to the weight of their product and reduce it somehow it would truly be the best carry on bag on the planet.
Buggy Bagrider at a Glance…
Name: Mountain Buggy Bagrider
Website: www.mountainbuggy.com
Owners: Tom & Tamar (Mountain Buggy)
Price: Best Price $99 on Amazon
Overall Rank: 7 out of 10
For other great Travel bag reviews checkout our Best Duffle bag with wheels review.