Are you trying to find a great duffel bag with wheels for your next great adventure? Look no further because we have found the Kathmandu Super Tanker 120L that will fit your needs.
Kathmandu Super Tanker 120L Review
Name: Kathmandu Super Tanker 120L
Website: www.kathmandu.com.au
Price: $200
Owners: Kathmandu
Overall Rank: 10 out of 10
Kathmandu Super Tanker 120L, Product Overview
The 120 Litre Super Tanker Trolley V3 is the best cargo carrier for all your adventure, sports, and travel gear. The mighty trolley bag is built tough. With topnotch durable fabric, advanced mega strong zipper, robust all-terrain dual wheels, super-strong alloy rails and compression straps to hold all your valuable belongings in place.
Super Tanker Specifications
The SuperTanker 120L comes in a variety of colours, Moonlight, Black and Russet/Midnight Navy.
Other Specs include;
Fabric – Main: 840D Polyester Lining: 200D Polyester
Weight – 3.98 kg
Dimension – L 98cm x H 39 cm x W 40 cm
The Good & the Bad Points on the Duffel Bag with Wheels
The Good:
The capacity of the SuperTanker is amazing, we are currently travelling around the world with 6 and all our items fit in easily
Strength of the duffel bag is superior with thick heavy-duty coated fabric that won't tear with normal use
Lightweight, at 3.98kg it won't push you over the maximum weight allowed for check-in
Extra-large flap lid that allows you easy access to your belongings without the hassle and opens all the way around.
Internal pockets and a large external end compartment
A heavy-duty zipper that can withstand over packing that won't bust
Durable wheels that will not break or seize up in some of the harshest environments
Strong, convenient carry straps in all the right places for easy carrying
Large compression straps that lock your luggage into place to avoid movement
Amazing price for the size of the bag, great value for money
When the bag is open in your hotel room it doesn't take up much space like a large suitcase
Attractive design and colours that will make you proud to own the ultimate Kathmandu Super Tanker 120L

The Bad:
The bag has so much space you need to be careful that you don't overfill it with items and make the tanker to heavy
Its large size is no good for aisles or tight spaces in the back of tiny taxi's
Who is the Kathmandu Super Tanker For?
The SuperTanker is specially tailored to anyone into adventure, sports and travel.
The duffel bag with wheels suits large families travelling or people with a lot of gear to carry in one neat bag. Because of its large capacity and strong durable construction, it is suited to adventure type people.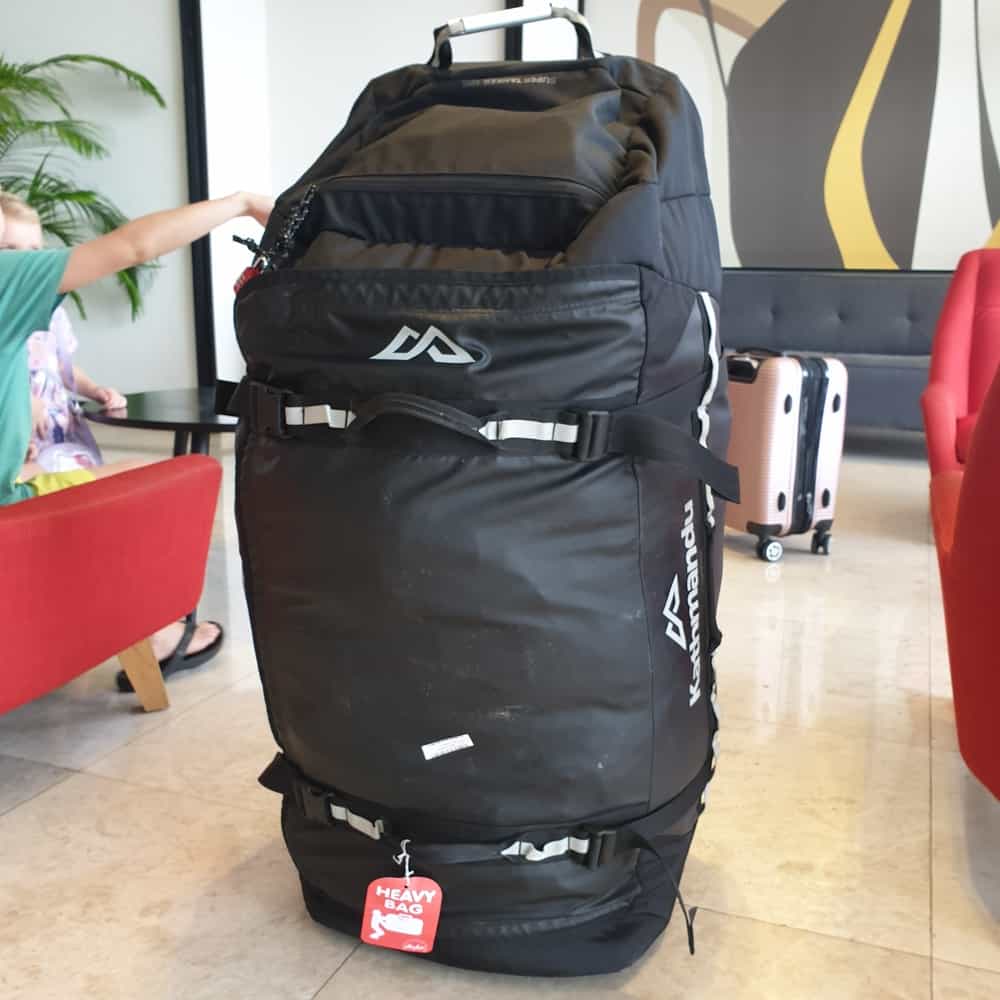 Kathmandu Super Tanker 120L Support
The company offer a ton of help on their website such as tips, how to's, and packing tips. Also, Kathmandu offers support through their summit club membership and have a return and refund policy.
If you can't find what you're looking for here contact them through their contact page to get the help you need.
They have a thriving social media network full of passionate followers.
The SuperTanker Trolley Price
Kathmandu Super Tanker 120L retails at $449.98 AUS but you can find it on sale right now for $200 AUS, that is over 50% discounted for the best bag in the world.
They offer Afterpay if you can't pay for it straight away but shipping is only available in New Zealand, Australia, United Kingdom and the United States.
My Final Opinion of Kathmandu Super Tanker 120L
This bag is quite simply the best piece of travel kit you will ever own. For a family, we can't go past the roomy interior and the tough exterior. It ticks all the boxes for price, strength and size. Every time I pack it on our year-long trip around the world, I feel so satisfied zipping up the oversized lid. I feel like it is never going to fail.
Because it is soft as well, it fits easily into most spaces whether in your hotel room, taxis, or trains and buses. The extra pockets make packing a breeze and with the addition of our favourite packing cubes, our Kathmandu SuperTanker is the bee's knees in organised packing.
Supertanker Trolley at a Glance…
Name: Kathmandu
Website: www.kathmandu.com.au
Owners: Kathmandu
Price: $200 AUD
Overall Rank: 10 out of 10
Check out another great bag review for the Mountain Buggy Bag Rider.