We took our 4 kids to this excellent theme park and the adjacent water park and here is our latest Legoland Malaysia Review. Our children are aged 2, 6, 7 and 9 so here you have the best overview for each age and what will suit your family.
Check out Legoland Malaysia in motion below.
Where is Legoland in Malaysia?
When we first heard about Legoland Malaysia we naturally thought we could just fly into Kuala Lumpur and it would be close by. However, it is actually much closer to Singapore, right down the bottom of Malaysia. This area is called Johor Bahru.
How to Get to the Legoland Malaysia
A day trip from Singapore is a fine idea, but with little ones, we found it best to spend a few days in the area and visit the Legoland theme park at our leisure.
Catching a Bus in Malaysia
From Kuala Lumpur, we caught a bus down to Malacca where we spent a couple of weeks, then the bus again another 3 hours to get to Johor Bahru. The TBS Bus Terminal in Kuala Lumpur is so easy to navigate and very well organised. This bus got us into the Larkin Terminal in central Johor Bahru. Then it was a 20 km taxi ride to our hotel in Nusajaya, which is opposite Legoland and within easy walking distance.
Booking buses on 12GoAsia is an easy way to find transport around Southeast Asia. It allows you to compare prices and timetables across the whole range of transport options. Then you can book and pay securely online, even selecting your seats.
The buses in Malaysia are absolutely awesome. They are so comfortable with full recliners and we caught a few with our kids with no problems. There are no toilets on the bus, make sure you go beforehand. On trips of 3 hours or more, they will stop for a break.
Check prices of Kuala Lumpur to Johor Bahru here.
Renting a Car in Malaysia
When we left Legoland, we rented a car and drove all the way up to George Town, visiting Ipoh and Cameron Highlands on the way. Find out all about renting a car in Malaysia here (coming soon). It is surprisingly easy to drive around this country, the roads are awesome and the drivers are civilised!
Legoland Malaysia Blog
Our day started at 10 am which is the opening time for Legoland Malaysia. (It closes at 6 pm). With our pre-purchased e-Tickets (see below for details) we could skip the ticket queues and go directly to the entry and scan our phone for access.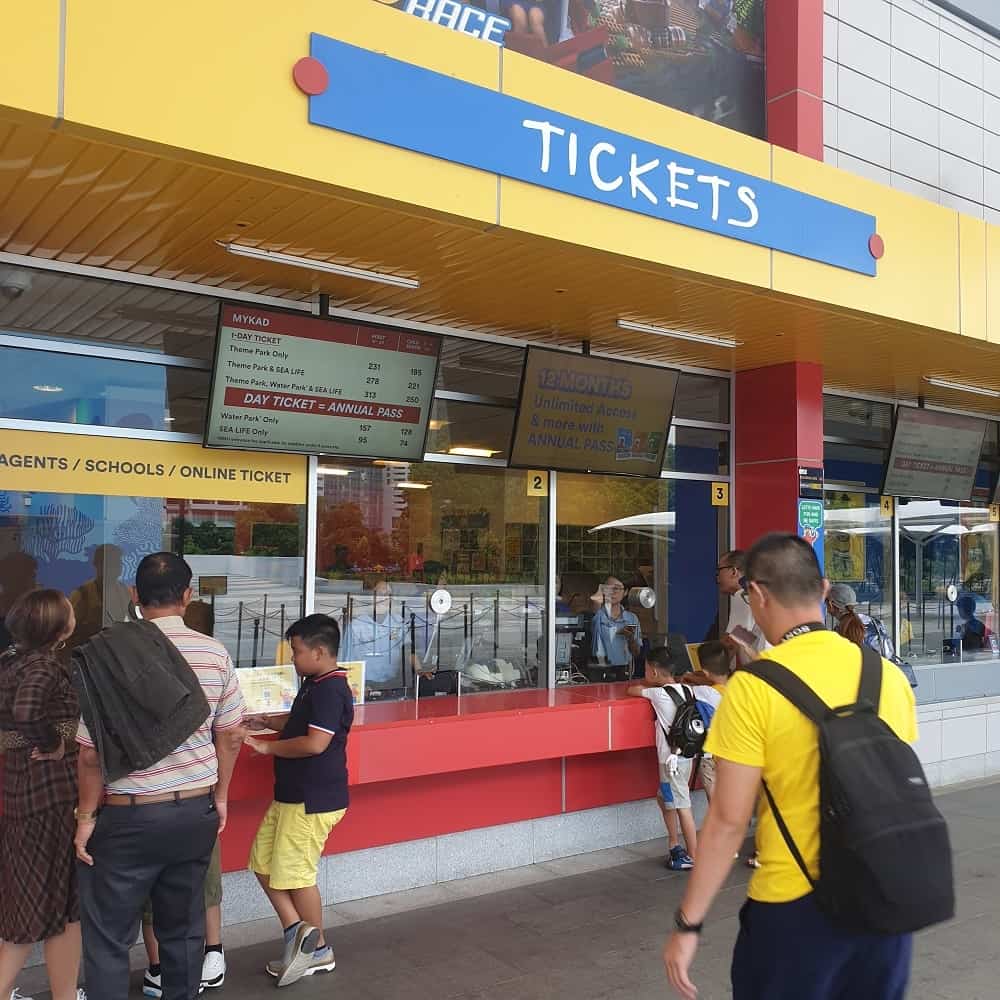 How Much do Legoland Malaysia Tickets Cost?
We pre-purchased our tickets online at Klook the day before. This was the cheapest way to do it! There are so many options for visiting Legoland Malaysia.
Our 1-day theme park entrance ticket cost 180 RM per adult and 145 RM for kids. Under 3 years old are free. By booking online, we saved 51 RM on the adult ticket and 20 RM on a child ticket. For our big family, that adds up to 162 RM in savings!

Do You Need to Book Legoland Malaysia Tickets in Advance?
Legoland can get very crowded so it is recommended to book online before arriving. Book here and save money and skip the queues.
When is Legoland Malaysia Open?
The park is open from Sunday to Friday from 10.00 am – 6.00 pm and Saturday times are from 10.00 am to 7.00 pm.
Booking with Klook online enables you to cancel up to 24 hours in advance, that's handy.
Getting Around Legoland Malaysia
The Legoland Malaysia theme park is arranged in a big circle surrounding the central Land of Miniatures. We decided to approach it in a clockwise direction which allowed us to visit the most exciting rides first.
Wear comfortable shoes.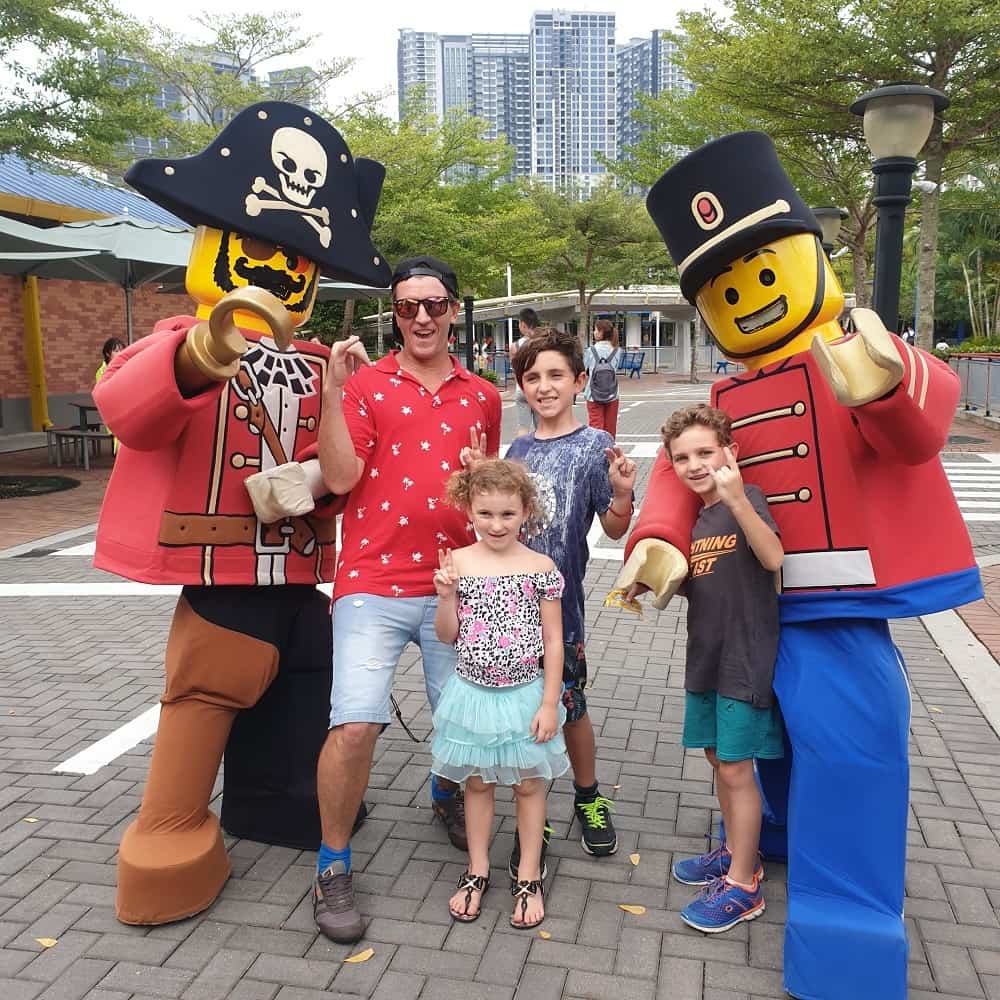 Stroller Hire
I am so glad we hired a stroller at the gate. This is on the right just as you enter. They have single and double strollers for rent and the prices start at 50 RM per day. Miss 2 spent her entire day in the stroller and meant I didn't have to carry her around! Winning!
Bring your own stroller if you have one.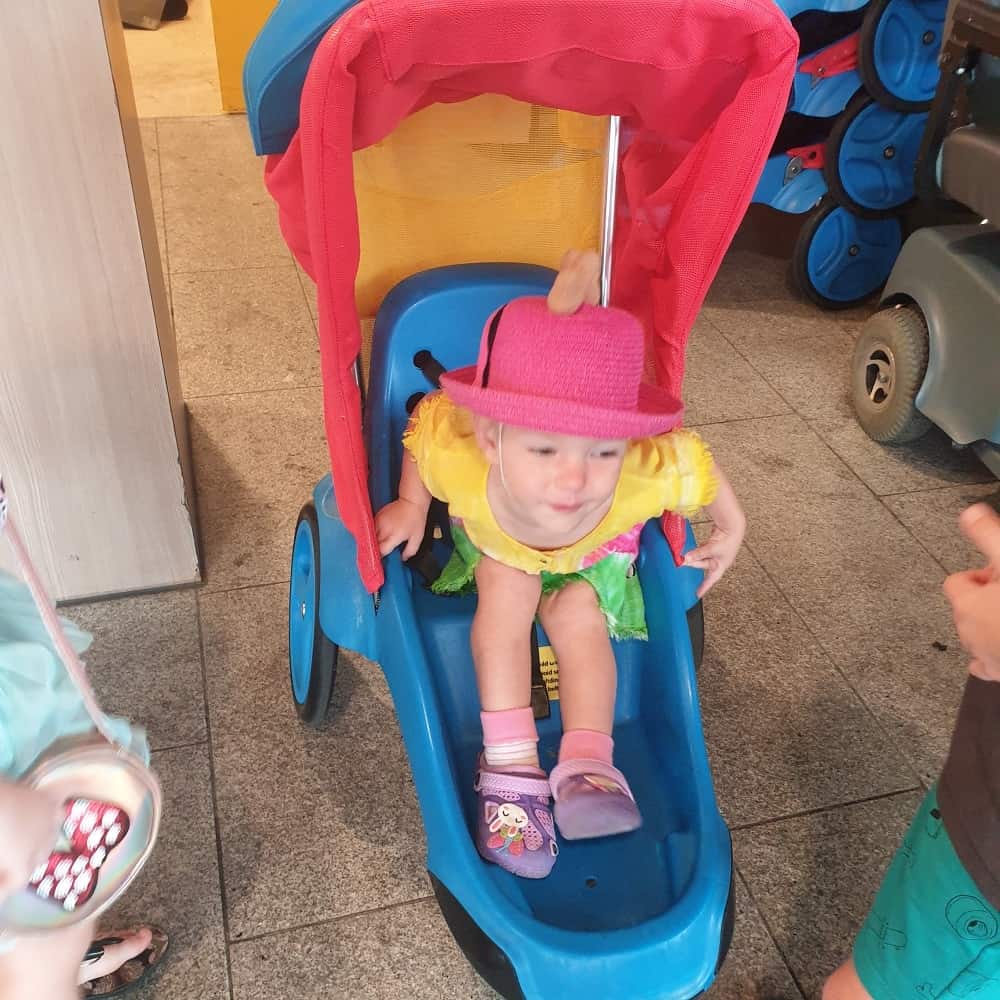 Locker Hire
There are lockers for hire at the entry to Legoland if you want somewhere to store your valuables.
The Rides and Attractions
The awesome VR Rollercoaster was one of our first rides and one of the most exciting things in the park, especially for the boys aged 7 and 9. You ride the rollercoaster with a VR headset so it seems like you are in a Lego game. It is so cool.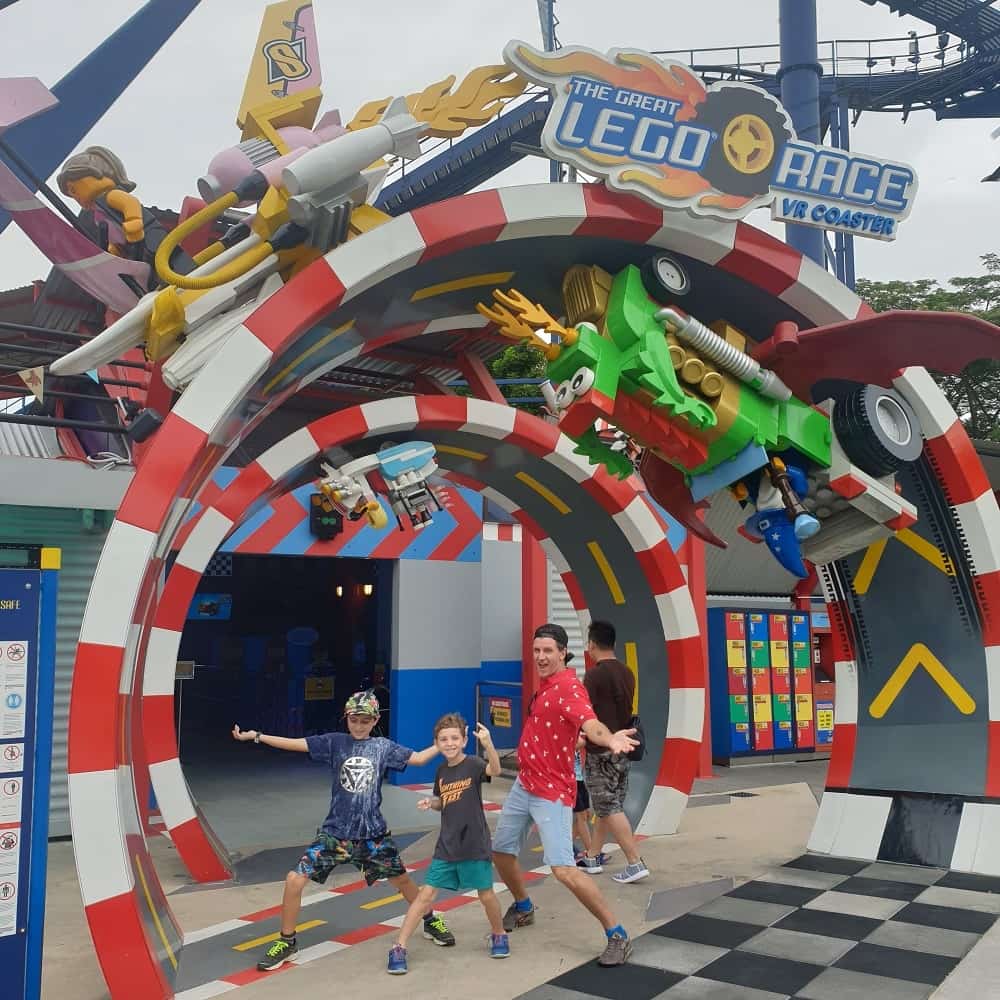 Our Miss 6 could ride but wasn't tall enough to enjoy the headset. Under 1.25 m were not allowed.
The theme park is arranged in Lego categories. You have Lego Technic, Star Wars, Lego Kingdoms, Ninjago World, Imagination featuring the observation tower, Ancient Egypt, Land of Adventure, and Lego City.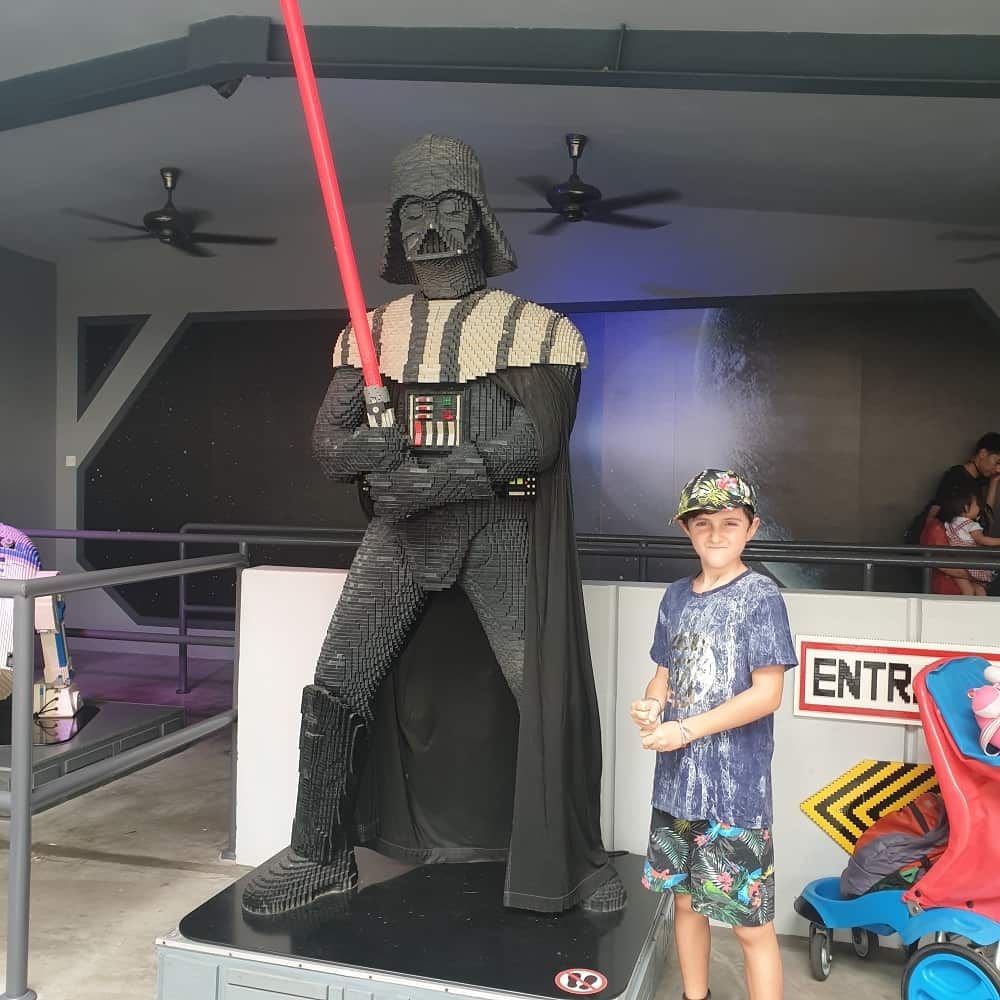 Interspersed you will find areas to build your own Lego creations at Lego Academy and playgrounds for the little kids at Imagination and Lego City.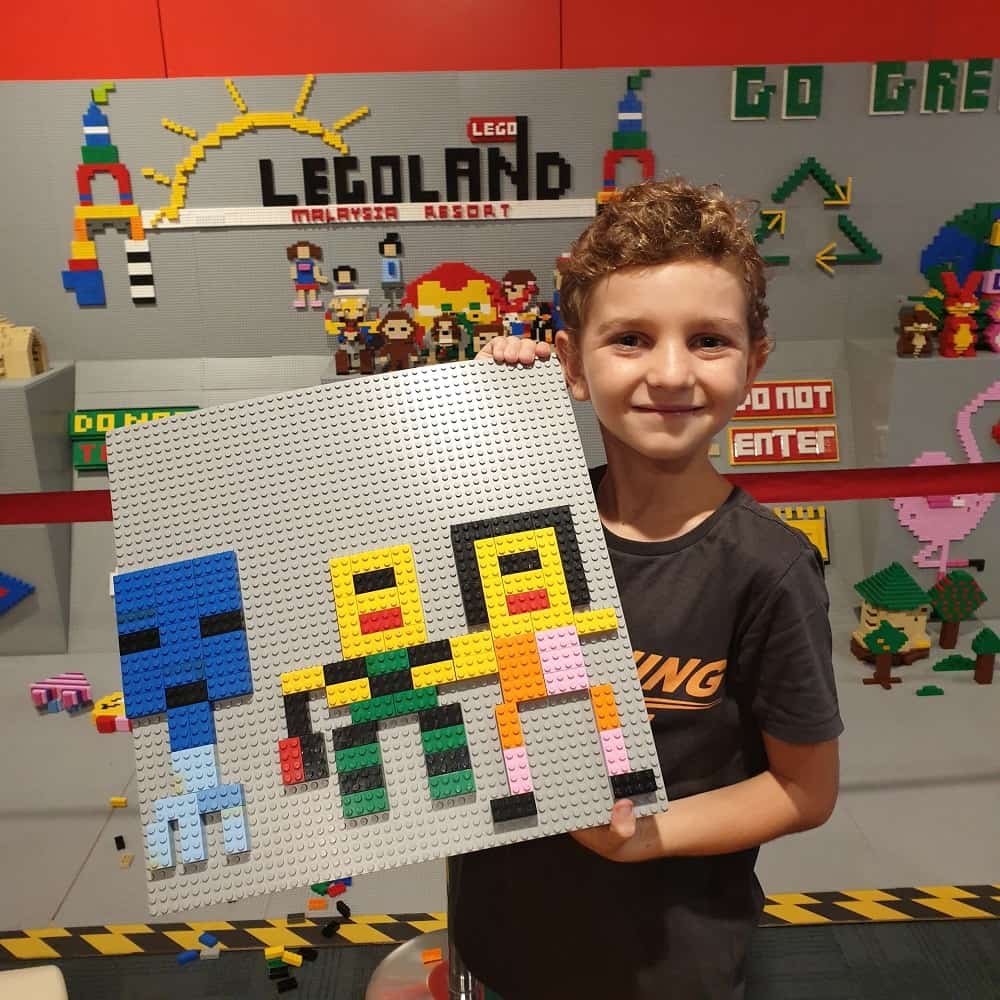 The big kids loved the VR Coaster, the Dragon Rollercoasters at Lego Kingdoms, and driving the cars in Lego City.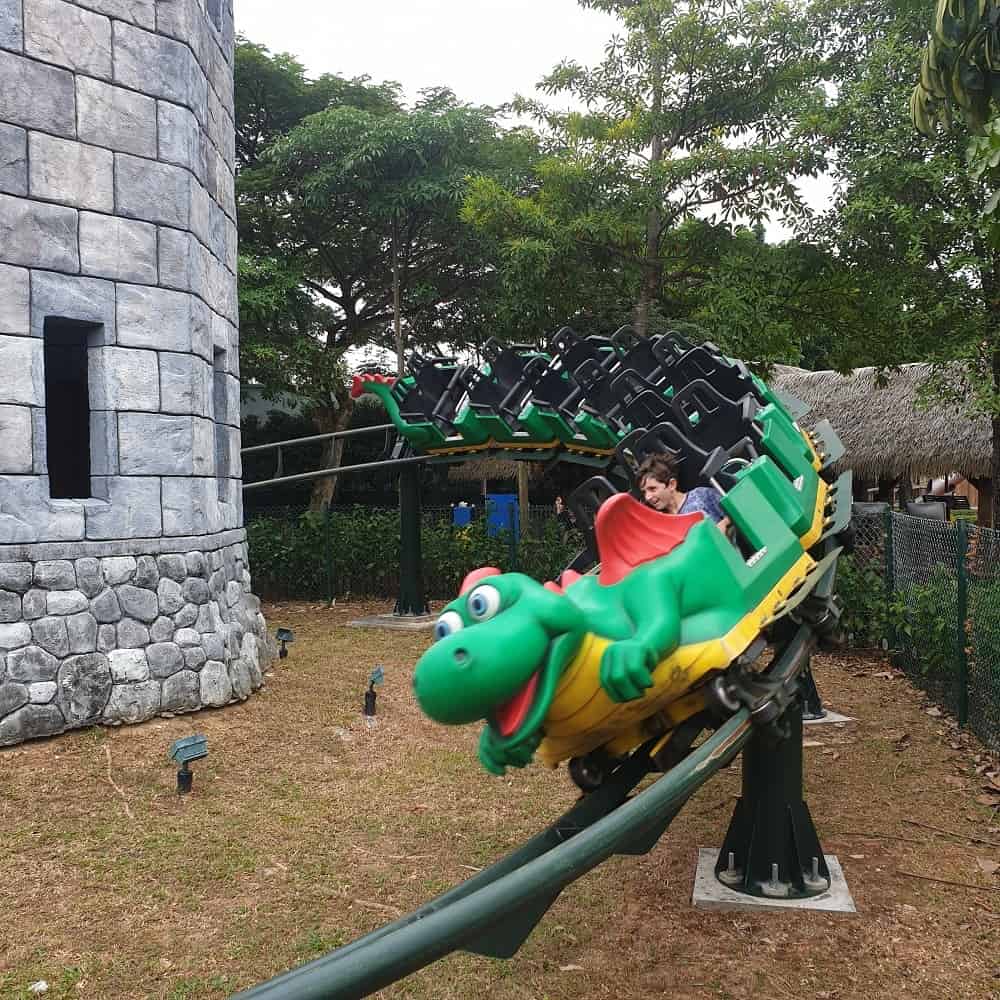 The central Miniland is a cool display of international iconic buildings made entirely out of Lego. After our big trip around Southeast Asia, our kids were able to identify many of these.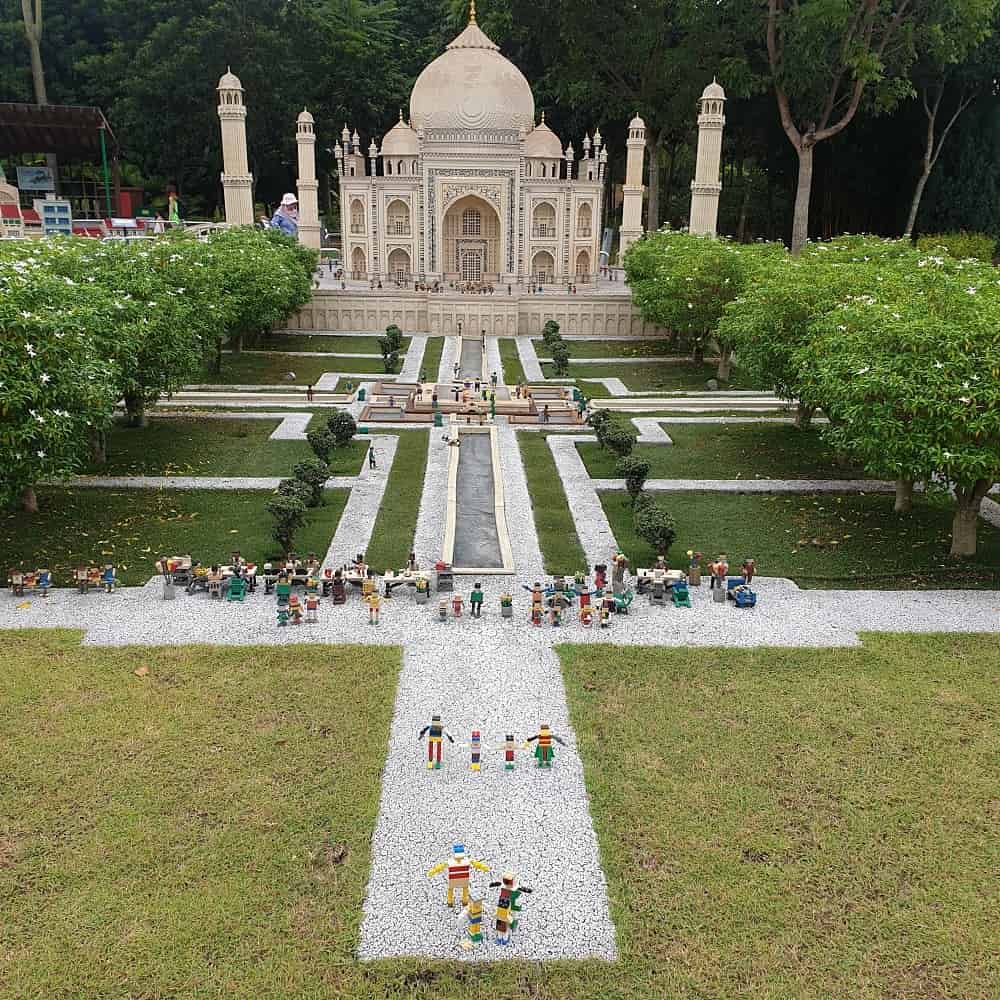 What to Eat at Legoland
You can bring in your own water, but food is not allowed.
Inside Legoland, there are little eateries everywhere. The prices are around 30 RM for a meal or 10 RM for snacks. You can get ice-creams, durian, sandwiches, even a steak if you want.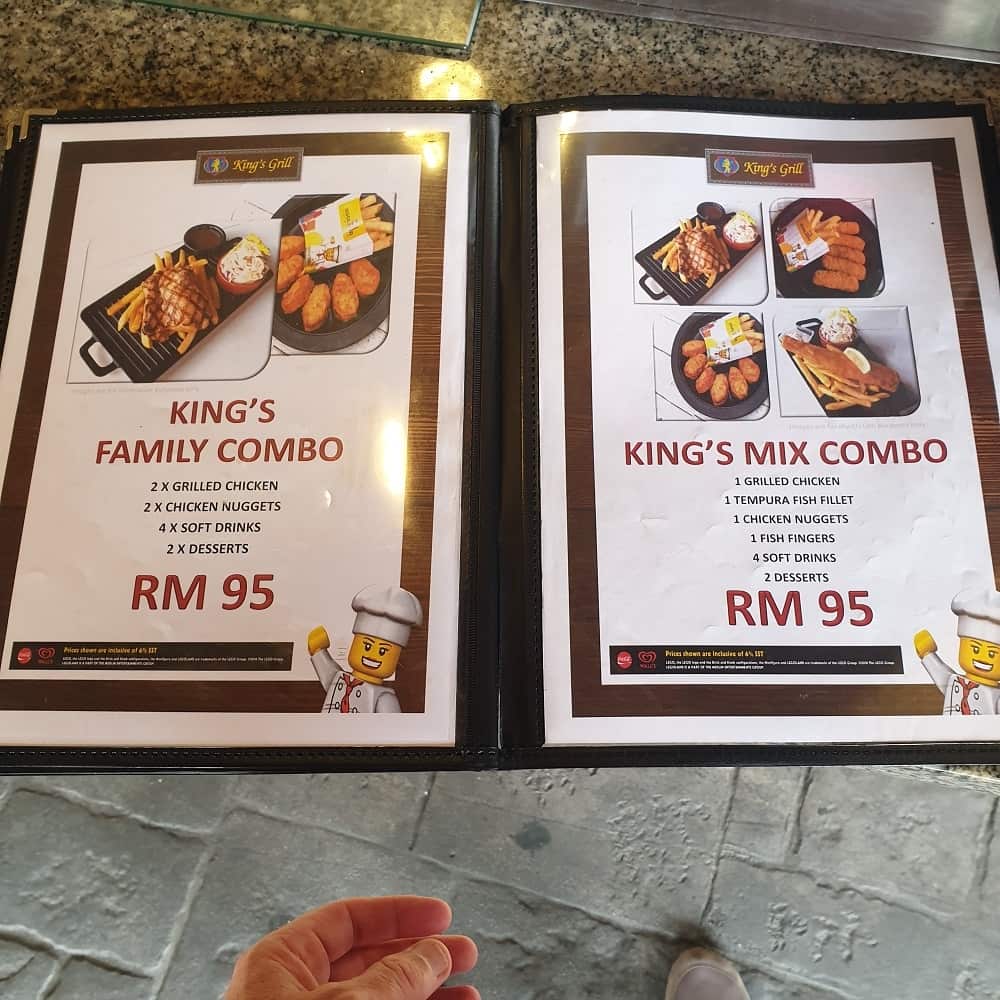 Legoland Malaysia Review – Things to Remember
Opening hours are 10 am to 6 pm every day of the year
Visit on a weekday to avoid crowds
Wear comfortable shoes
Hire a stroller
Shop for Lego at the exit with a great range of Lego products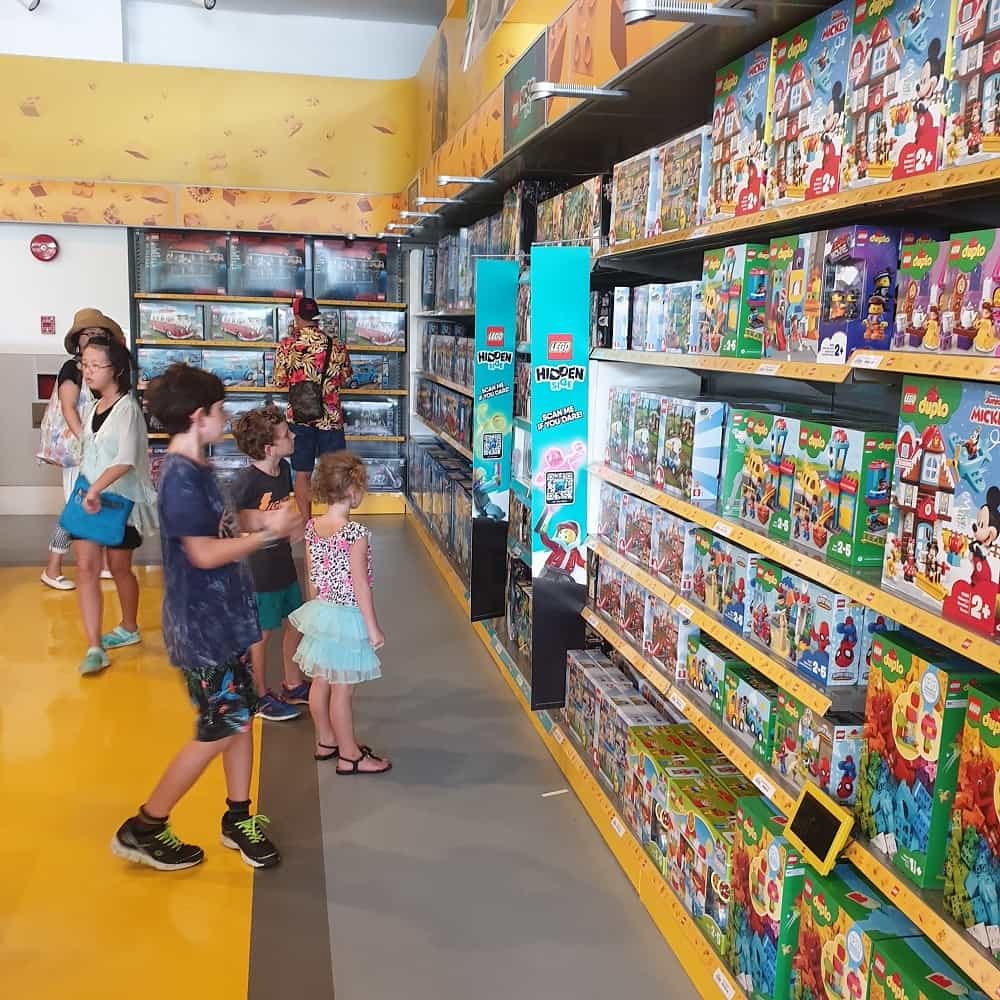 Hotels Near Legoland Malaysia
There is Legoland Malaysia Hotel which is located right at the entrance to Legoland. Room rates include breakfast.
Check prices for their cool themed rooms here.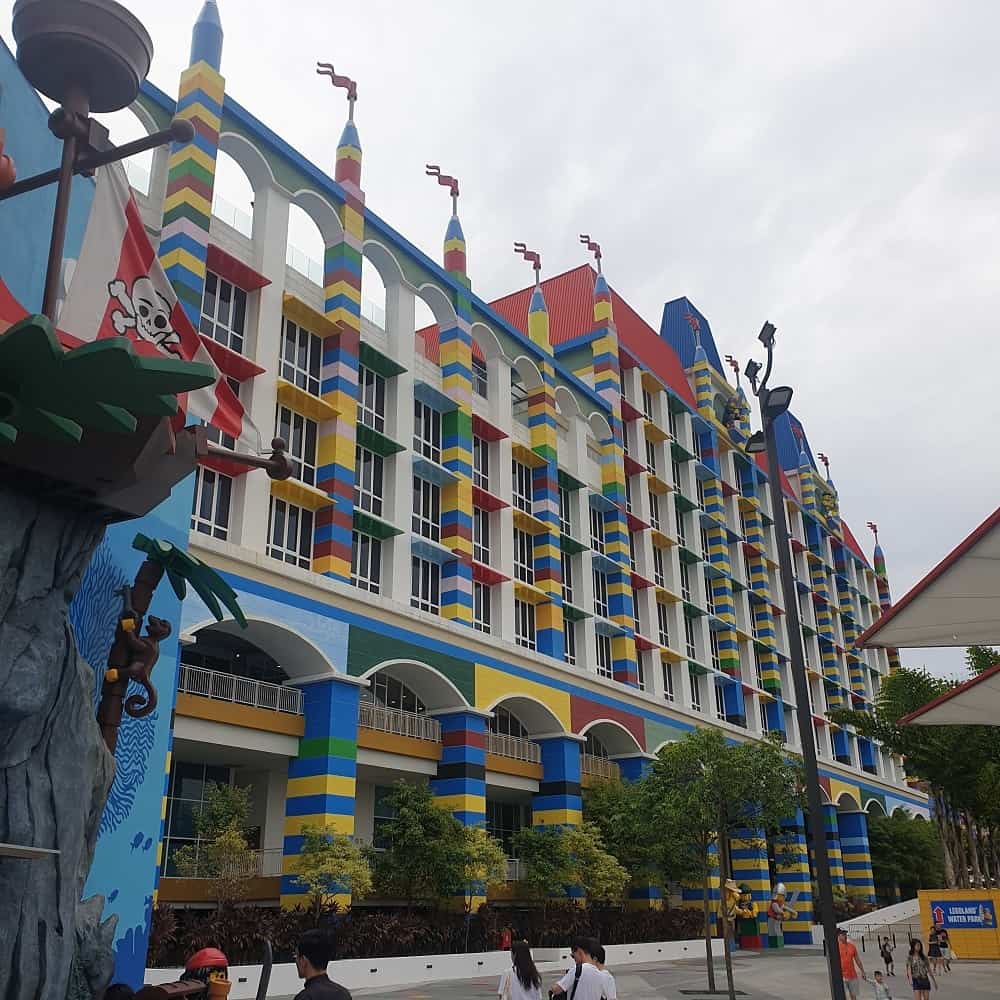 We opted to stay across the road in an apartment at D'Pristine Condos which we found for a fraction of the cost. Our infinity pool had a view of the theme park, and the condo was beautifully furnished and brand new. It literally took a few minutes to walk to reach Legoland.
Check prices on Booking.com for D'Pristine
Afiniti Residences is another perfectly located building only a couple of hundred metres from Legoland entrance with lovely apartments. They have cute themed suites perfect for families.
Check prices for Afiniti Residences Here
Medini Mall
At the entrance to Legoland is Medini Mall where you can find convenience stores and a number of dining options including coffee shops, Burger King, Taiwanese, Korean, Chinese, Thai and even Starbucks. There are more shops opening all the time as it is still brand new.
From Medini Mall you can also catch the Causeway Link Express Bus all the way to Singapore. We did this for a day trip to visit the spectacular Gardens by the Bay which was awesome fun (full report coming soon).
Legoland Malaysia Review – The Verdict
Our kids had an absolute ball at Legoland Malaysia. We went back the next day to have fun in the Legoland Water Park too. (See our review here, coming soon). SEA Life Aquarium is also next door and can be enjoyed with a combo ticket.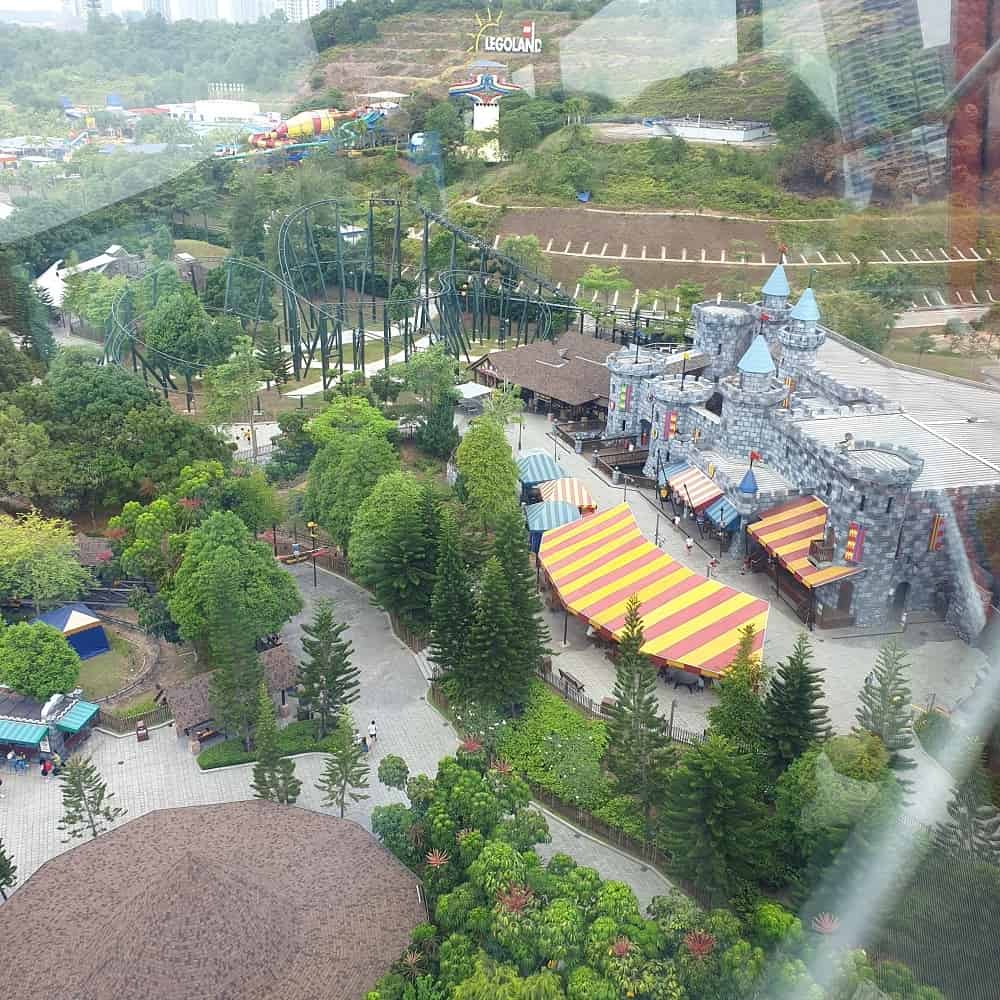 I recommend staying across the road from the theme park to save money, so you can enjoy more of what the Legoland Malaysia has to offer. There is a great shopping centre called AEON Mall only a 20-minute taxi ride away from where you can buy just about anything too.
Have fun and happy Legoland!!!!