Only 200 km to the north of Kuala Lumpur there lies another world. A mysterious windy road leads you through thick jungle-covered hills up to the hillside settlements of Brinchang and Tanah Rata. At 1500 m above sea level, these towns are testaments to the British colonials finding a cooler escape from the coastal tropics. There are some great things to do at Cameron Highlands. Or, you could do nothing at all. Just enjoy the serenity, worlds away from the hustle and bustle of the big cities and popular tourist areas.
When to Visit Cameron Highlands
This place is a paradise for weekend getaways. Local Malaysian tourists flock to the Highlands in droves on Friday night and head back to town on Sunday afternoon. If you want to avoid traffic congestion and huge numbers of tourists, it is best to visit Monday to Friday.
Malaysia also has a fair share of public holidays, long weekends and school holidays. At these times, the Highlands are absolutely heaving too. Accommodation is harder to find, and the traffic is heavy. Check out the Malaysian Holidays times here.
We visited mid-week, at the start of September. The traffic was light, and we got low-season prices. Many of the roads are one lane only especially getting up to some of the attractions. So you really want to visit at a time when there is less traffic.
September is a beautiful time of year. 19 degree days and clear sunshine in the morning followed by misty afternoons.
How Long to Stay at Cameron Highlands
We stayed for 2 nights and definitely think that this is the best way to go. We have 4 young kids so usually like to slow travel, but we managed to see the best of the sights listed below in our 48 hours here.
Getting to Cameron Highlands
We spent a few months exploring Malaysia. And we found a few different ways to travel around. Choose which one is best for you depending on your budget and time frame.
Rent a Car
We found this to be a very suitable option, especially when travelling with our 4 kids. It is not as cheap as renting a car in Thailand, which we recently did too. But still worth it when you compare the cost and drama of luggage + kids + taxi + bus etc.
For a 7-seater car we paid around $80AUD per day. This was through Europcar and we really loved their professionality and transparency. Read all about driving in Malaysia here.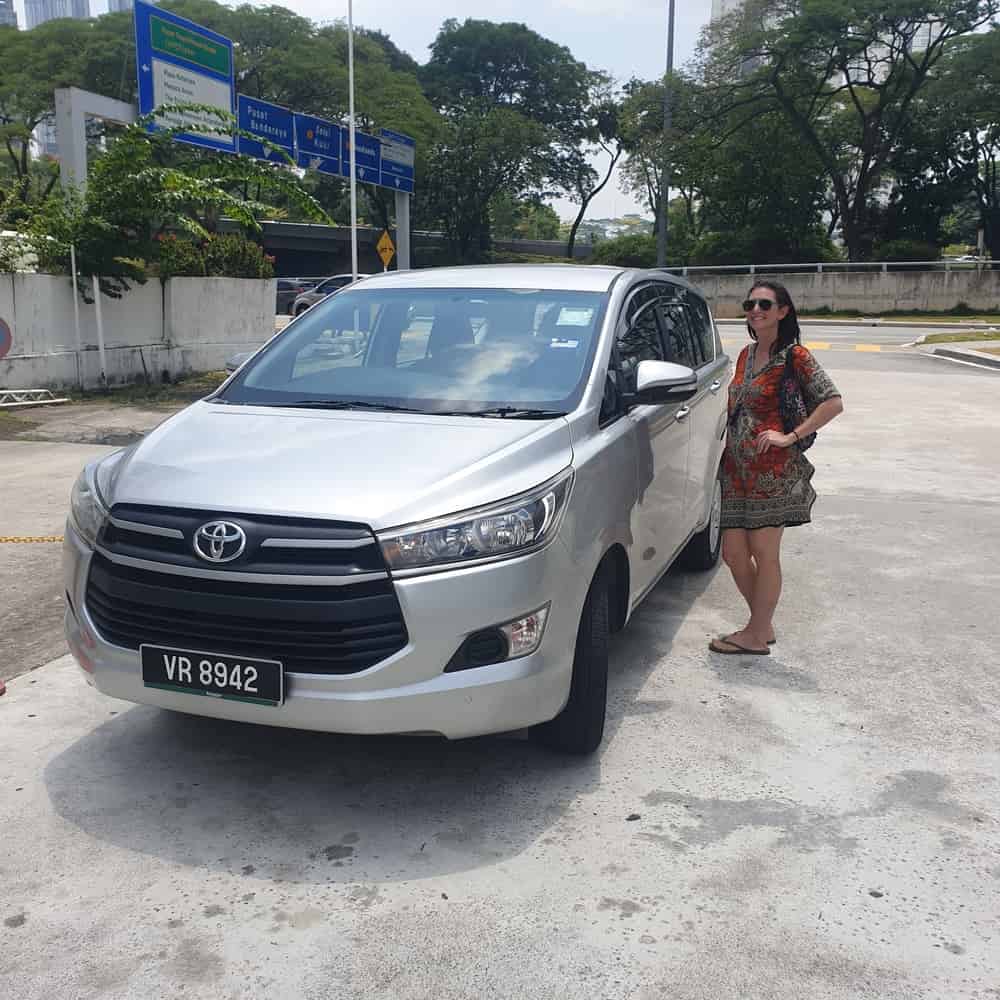 We spent a week down at Johor Bahru visiting Legoland Themepark (see our full review here), Legoland Waterpark and Singapore as well. And we needed a way to get up to the Highlands that wasn't an overnight bus (kids).
So we drove up to Ipoh and spent 3 nights before cruising along the windy road. That's how we got up to the Cameron Highlands. Having a car here has been absolutely invaluable. It has meant we have avoided using taxis or private tours, thereby actually reducing our costs.
From Ipoh, the drive is around 2 hours and from Kuala Lumpur, it takes 3 hours.
Tour From Kuala Lumpur
Staying in KL and doing a day trip up the Cameron Highlands is a viable option. There are either private or shared tours available.
You can save money by booking online with a company such as GetYourGuide. We use them all the time to book tours. They are very honest and reliable, whilst having the convenience of online payments.
See below for some cool ways to spend your day in the verdant hills. Escape the steamy heat of the city.
Public Bus
Check out 12GoAsia to compare prices and routes of the bus companies. The buses in Malaysia have been super comfortable, clean and efficient. Not to mention cheap! A 2.5-hour bus trip from Ipoh is only $8 AUD per seat.
From Kuala Lumpur, the trip takes closer to 4 hours and will set you back around $15 AUD.
Check out the bus prices and book online now.
I definitely recommend stopping in Ipoh on the way to break up your trip. Ipoh is one of those hidden gem cities with so much to see and do!
Things to Do in Cameron Highlands
1 BOH Tea Centre Sungei Palas
See Location on Google Maps Here
This is what you come to the Cameron Highlands for. The incredible tea plantation is about a 30-minute drive from Tanah Rata. It is just quintessentially what the area is known for. Driving is your best option. You take the windy and sometimes narrow road past some spectacular scenery. Enjoy the drive on the way to the verdant green valley of tea.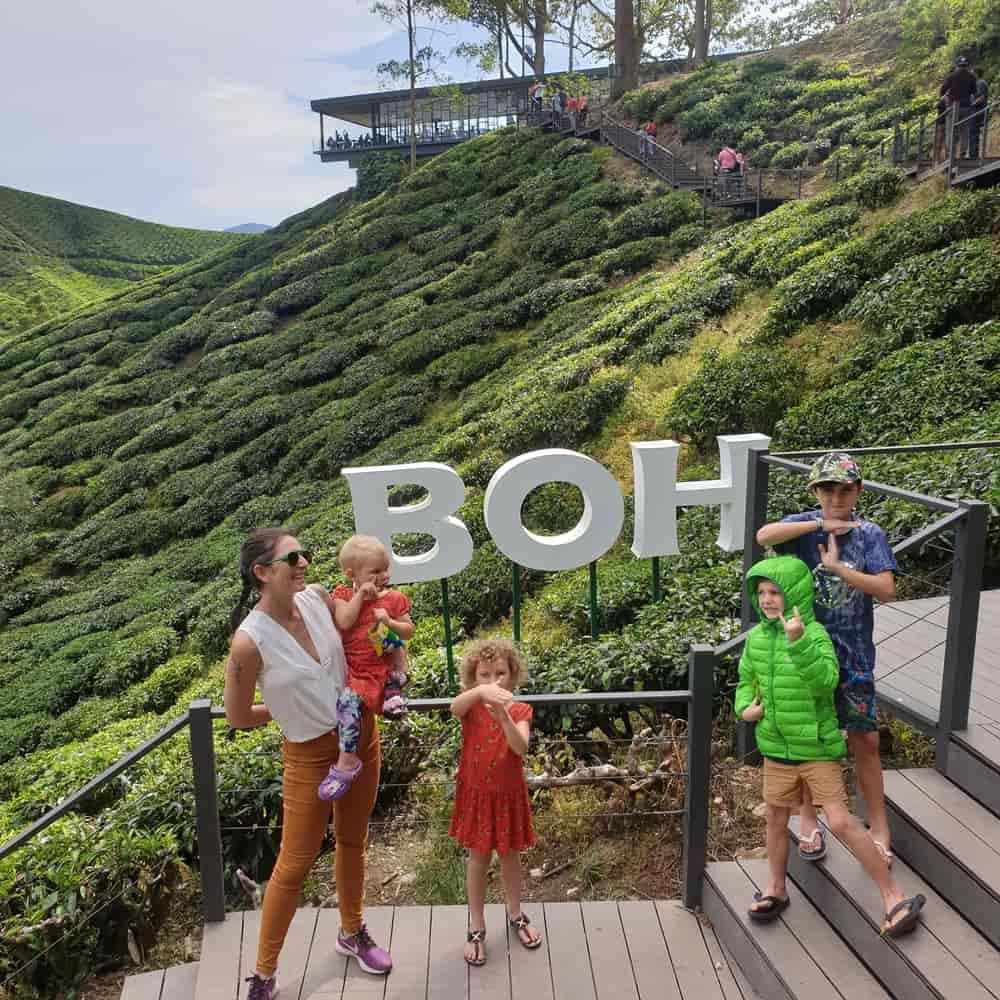 Tea plantations are always beautiful. These stunning bright green crops are so neatly manicured and they hug the hillside with cartoonish grace.
Entry to the plantation is free. There is a lovely cafe at the top where you can sample some different teas and some delicious cakes. There is also a gift shop and a free factory tour included in your visit. The BOH plantation is the top of our list for the best things to do in Cameron Highlands. And for good reason too. It is open from 8 am to 4.30 pm and closed Mondays.
2 Mossy Forest
See Location on Google Maps Here
Only 5 km past the BOH farm you come to Mossy Forest. Having a rental car meant we could navigate the very narrow and windy road up the mountainside to a superior 2000 m above sea level.
You can hike the trail up to the highest peaks of Brinchang, followed by Anak Irau and finally the main Gunung Irau Peak (which takes 7 hours). Or just meander along the short boardwalk for spectacular views and an easy 30-minute stroll.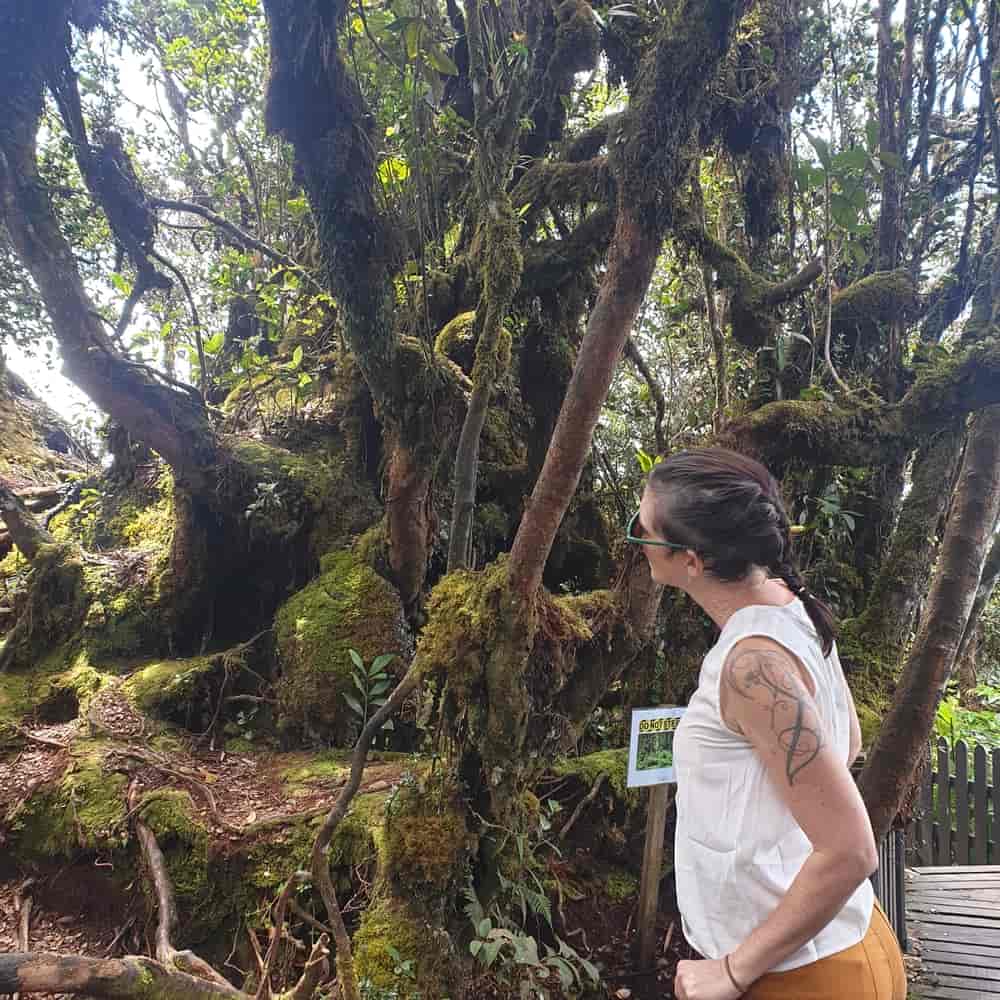 The jungle is covered with a thick moss thanks to the super high humidity of the place and retains a mysterious and spooky atmosphere. It really is beautiful and magical.
Entry to Mossy Forest is 30 MYR per adult and 15 MYR per child. We initially baulked a bit at these prices but we were soon impressed by the boardwalk. It is understood that the price paid is to help preserve this part of the forest that was over-visited and damaged a few years ago.
If you don't have your own car, you will have to join a tour to get to Mossy Forest. We found these ones on Klook.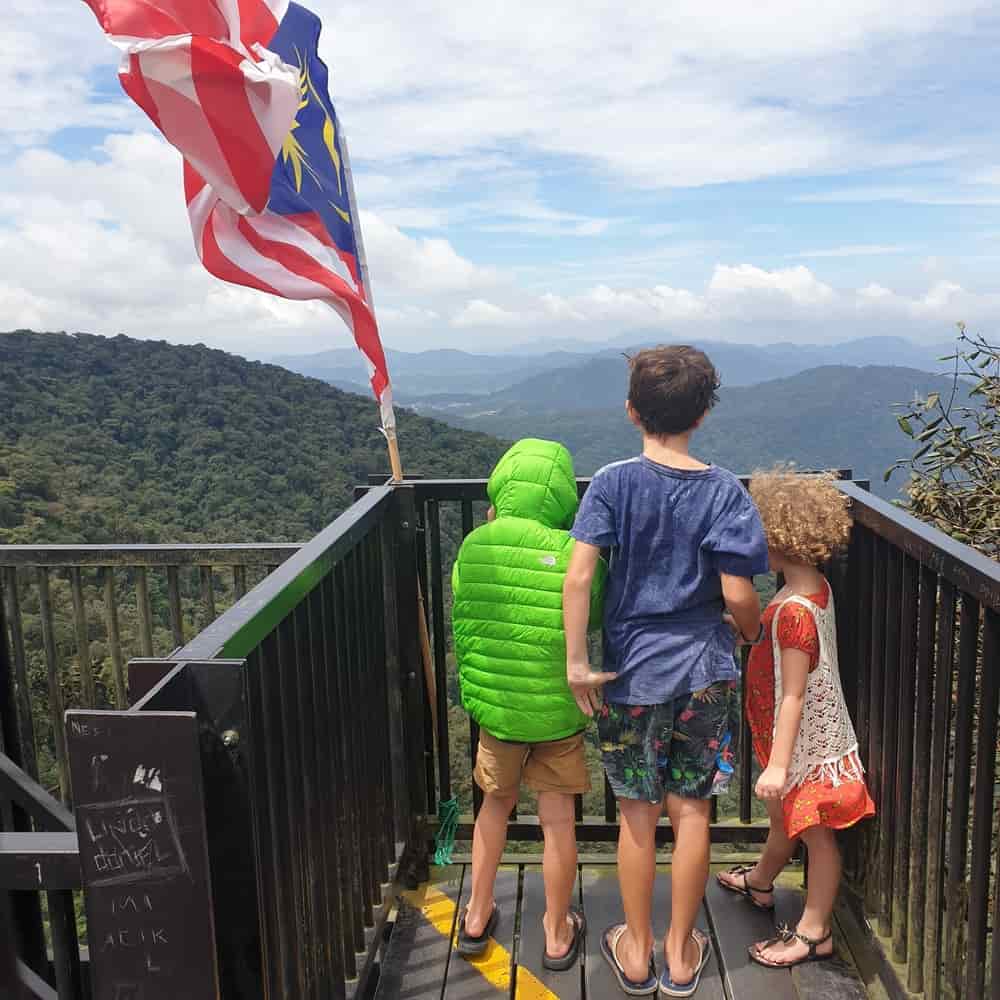 3 Butterfly Farm
Find the butterfly farm here on Google Maps.
From a weird nondescript parking lot and ticket booth on the main road into Brinchang, you descend a staircase and enter a very unusual exhibition.
Yes, there are butterflies, hundreds of them and you get to see them up close and personal including the very special Rajah Brooke's Birdwing. There are many different varieties and they are absolutely beautiful.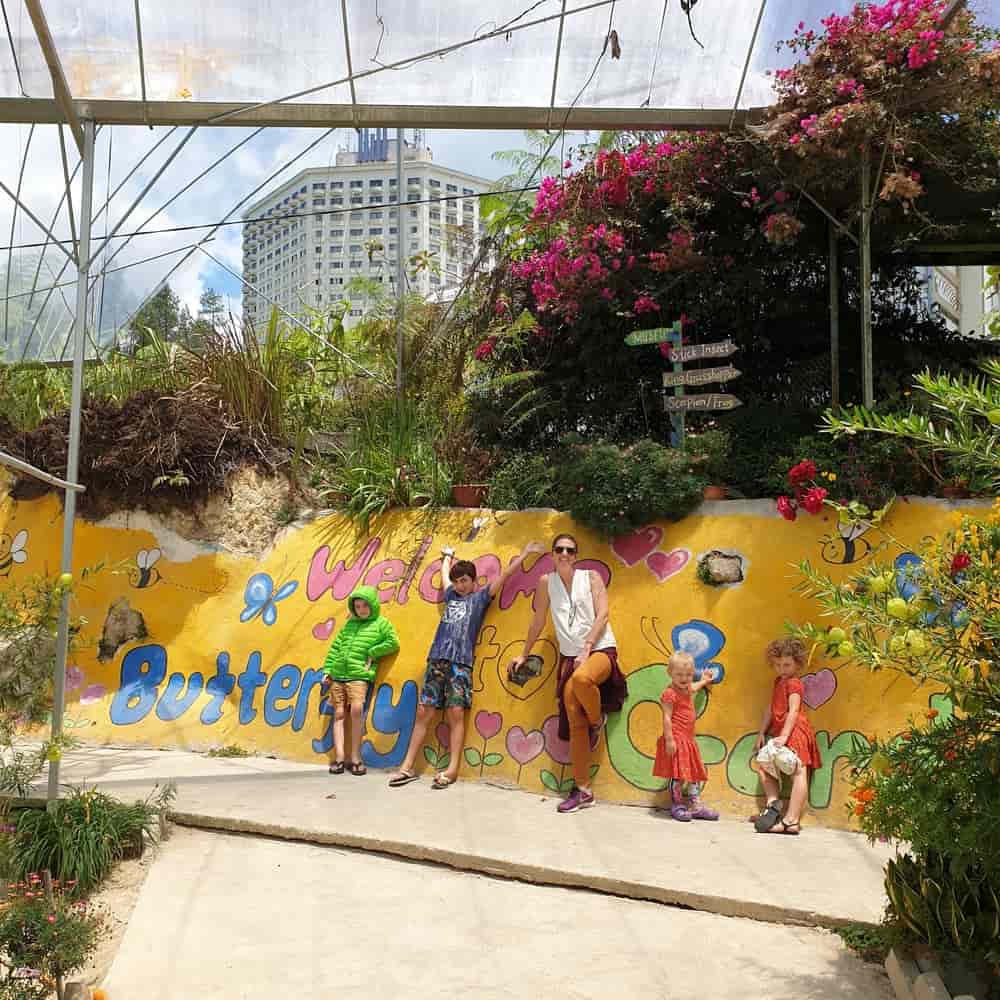 Then there are these little cages with various beetles, insects, scorpions, spiders, snakes, giant grasshoppers, enormous stick insects, oversized frogs and more. Our kids were completely delighted with this attraction in Cameron Highlands, and couldn't get enough. The whole thing is set in beautiful flowering gardens too which adds to the interesting atmosphere.
Tickets were only 7 MYR adult and 4 for a child (under 3 were free) and it is often included on tours.
4 Strawberry Picking
Cameron Highlands is one of the few places which grows strawberries year-round. During May to August, you get the opportunity to pick your own. There are heaps of strawberry farms and market stalls along the main road. If you visit outside the picking times, you can enjoy fresh and frozen strawberry fruit, juices and other cute strawberry paraphernalia.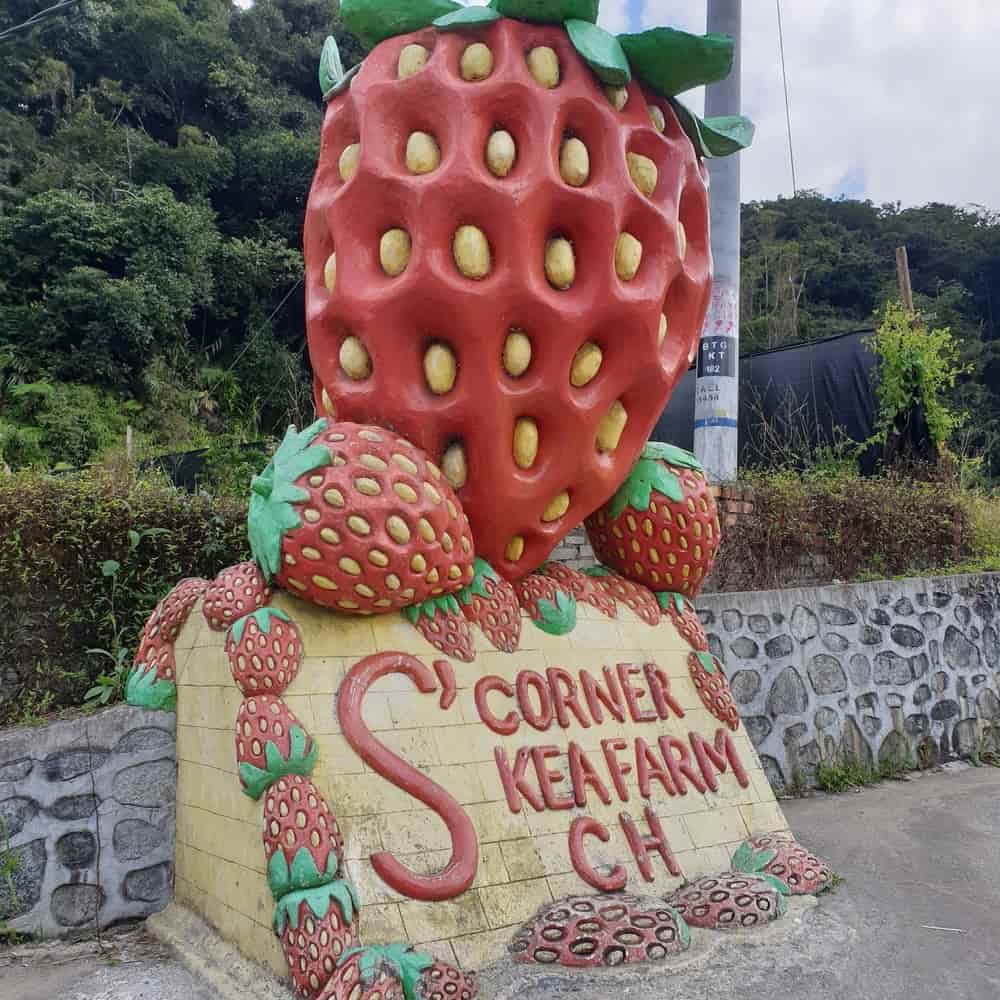 5 Lavender Farm
The Lavender Garden is out past the BOH tea plantation and is a beautiful place to go for a breathtaking view. There are snacks available at the cafe including locally made lavender ice-cream. I did not enjoy the ice-cream, it kind of tasted like perfume!
6 Bee Farm
This is another cool example of a beautiful flowering garden which is set up to make the bees (and kids) happy. Entry to the farm is free. You can also get a great informative tour from the bee-keepers in this sweet environment. There is a cafe, maze, a small playground and a souvenir shop on site. There are a few bee farms at the Highlands but the best one is Ee Feng Gu Honey Bee Farm.
7 Time Tunnel
Brinchang's Time Tunnel is an interesting and eclectic collection of vintage Malaysian memorabilia. If you have a spare hour, it is worth checking out. Entry is only 5 RM for adults and 3 RM per child.
8 Markets
There are farmers markets and night bazaars to keep you entertained and your shelves stocked while on holiday in Cameron Highlands.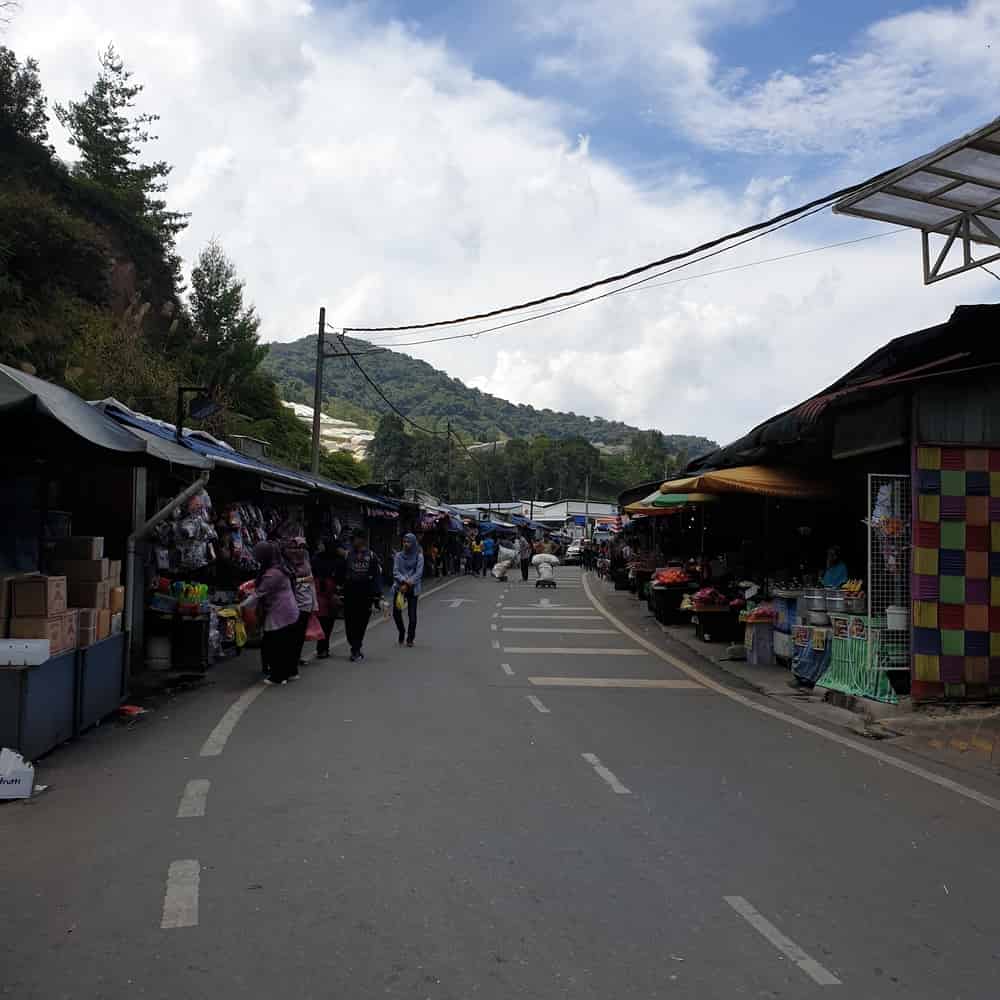 The Weekend Night Bazaar is on Friday and Saturday nights from the early evening until late. Here you can find an abundance of fresh local produce as well as amazing food from street hawkers. Souvenirs, plants, fruit and vegetables, tea and more.
Similarily there are farmer's markets along the road to Kea farm worth checking out for more local produce every day. Don't miss out on the strawberries which are grown all year round. And you can get a cup of marshmallows with strawberries and Hershey's chocolate sauce for only 5 RM. Delicious!
9 Golf
Kelab Golf Sultan Ahmad Shah is the only golf course up in the Cameron Highlands. It provides golfers with a perfectly manicured 18-holes in a beautiful mountainside atmosphere. Green fees were only 60 MYR to play on a weekday, or 70 MYR on the weekend. Clubs, buggies and caddies are available to hire.
For golfers, you should stay at the Cameron Highlands Resort which overlooks the beautiful green fairways and lush jungle background. Rates include breakfast.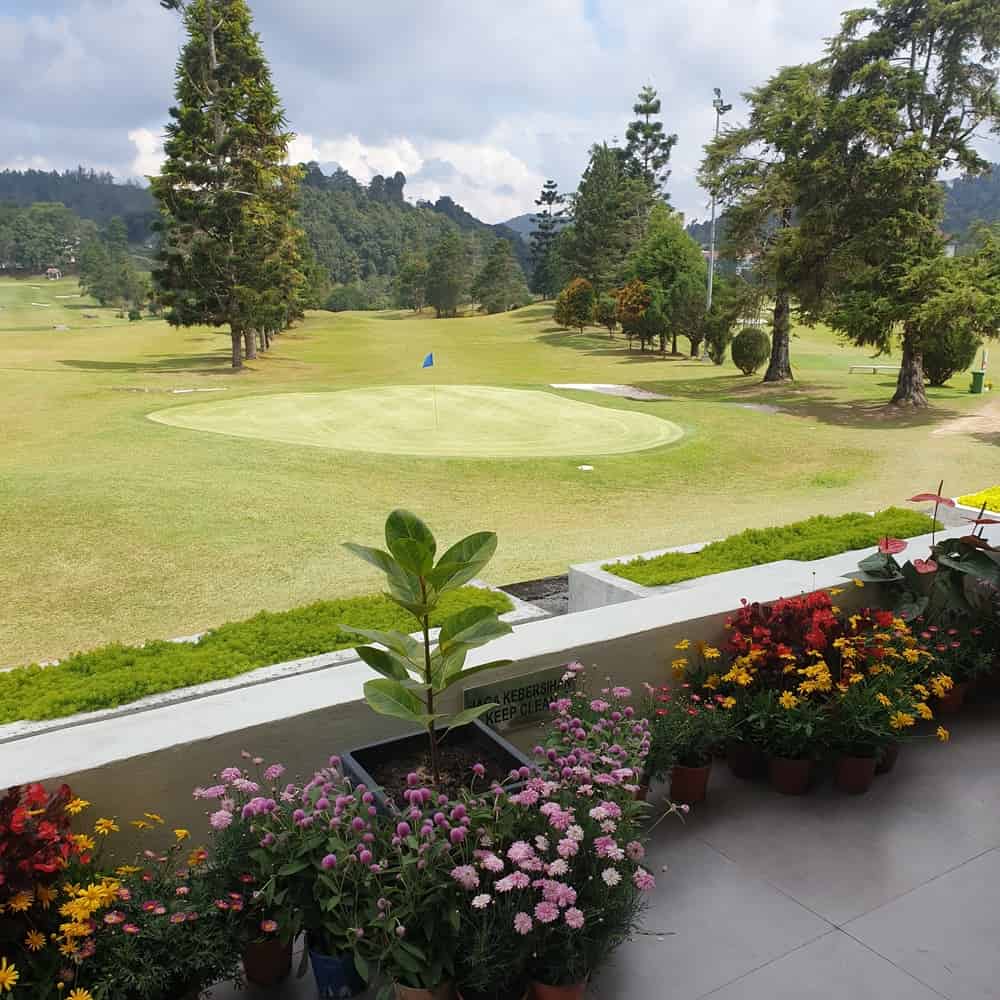 10 Steamboat
Cameron Organic Steamboat Location on Google Maps
C-Buddy's Steamboat Location on Google Maps
Steamboat is the perfect thing to have for dinner on those cool clear nights at 1500 metres above sea level. You are given a bowl of simmering broth over charcoal with a central grill. There are piles of raw ingredients for you to steam, broil and cook yourself. These morsels are then served with delicious sauces and noodles. It is a great dish to share with friends or family.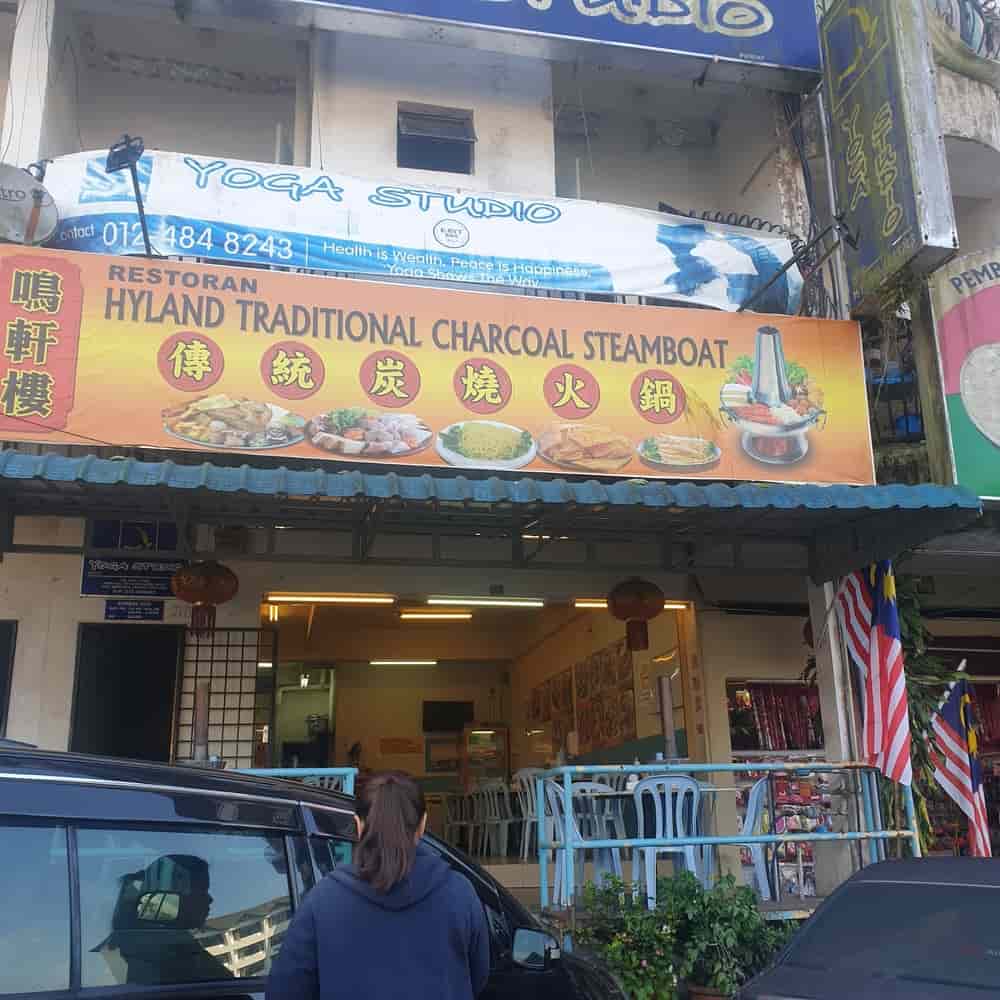 The different flavour combinations are endless. Pork is not usually available, but there is plenty of lamb seafood, and chicken to tempt your senses.
The best ones we found are Cameron Organic Steamboat in Brinchang and C-Buddy's which is conveniently located at Cameron Square. C-Buddy's even serves pork!
11 Satay
Find Number 1 Satay Restaurant Here on Google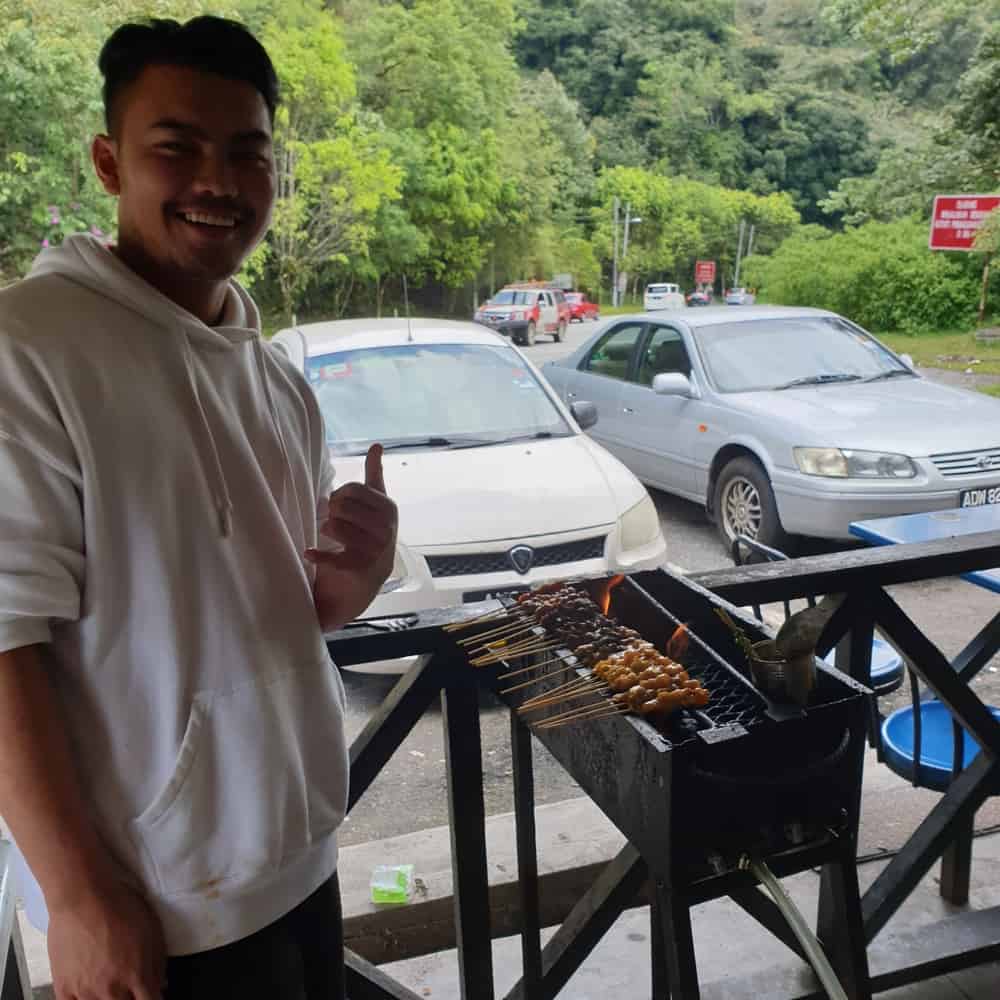 In addition to steamboat, we also found the best satay restaurant up at the Cameron Highlands. It is called Number 1 Satay and sticks cost 1 – 1.5 MYR each. They are expertly grilled over a charcoal fire and served with the most perfectly succulent satay sauce. The place itself is unassuming. Rusted chairs overlooking the main road under a shelter shed of sorts. But the food here is magnificent. Trust me.
Where to Stay in Cameron Highlands
There are 3 distinct areas in the Highlands where accommodation congregates. Brinchang, Tanah Rata and Taman Tringkap.
Tanah Rata was our favourite place and if you arrive by bus, this is where you will end up. We found these great cheap apartments, all with parking spots and nearby restaurants.
Check out Quintet Serviced Apartments for your stay in Tanah Rata.
---
ICOLOR Home and Stay are another solid, secure and attractive option for your stay at Tanah Rata. Find them on Booking.com.
---
Brinchang is a gritty city centre with a busy main street. Here the vibe is all about industry and agriculture. Farmers compete for space with tourists to sell their fresh produce and load it onto trucks.
Taman Tringkap is very peaceful and tranquil, further away from everything but with fewer sleeping and dining options.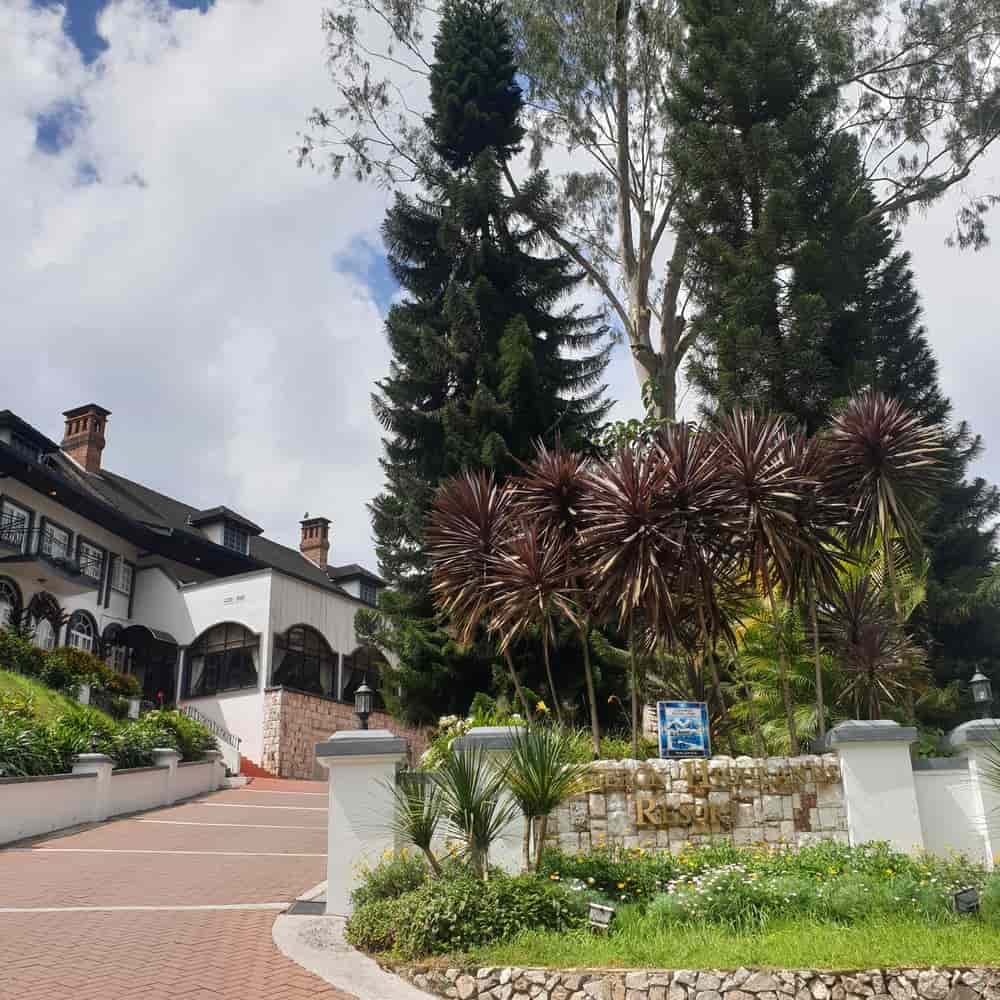 Best Place to Stay in Cameron Highlands with a Family
When travelling with our 4 kids through Southeast Asia, we often prefer to book an Airbnb. This gives us the convenience of a bigger space with a washing machine and kitchen too. The Airbnbs in Malaysia are so great. We often find ourselves in fabulous condos with million-dollar views for as little as $50 AUD per night.
Read More: 6 Months with 4 Kids in Southeast Asia!
If you haven't joined Airbnb yet, use my invite link and you get a genuine $76 AUD to spend on your next stay. It's free to join and free to browse. Make sure you read the reviews and descriptions carefully and ask the host any questions before booking.
Anything at Golden Hill, Barrington Square, Cameron Square, and Quintet are all great places to stay. These are relatively new condo developments.
Here is the link to the fantastic penthouse apartment that we stayed at Golden Hill. The Swing Penthouse was only $77 AUD per night and sleeps 10! It was quiet, comfortable and had restaurants and convenience stores attached. No washing machine in this one, but there is secure parking. The host is so lovely and there are even some toys for the kids.
Things to Do in Cameron Highlands – The Verdict
There are so many things to do at Cameron Highlands. A visit up to this beautiful place is a wonderful option to see the other side of Malaysia. Getting away from the hot and steamy cities and dusting off your cardigans adds a nice experience. The scenery is spectacular and you will definitely enjoy a few days up here.
Related Articles
Do you love Malaysia as much as we do?
Here are some more great articles to help plan your next visit:
Visiting the Blue Mansion in Penang
Intriguing Ipoh
Everything to do in George Town
Fun things to do in Malaysia
Malacca with Kids
If you are planning on an extended trip to this beautiful part of the world, read all about our 6 months in SE Asia with 4 kids. How we can afford it, where we stayed, where we rate as the best places to visit.