Driving in Malaysia is the best. We have caught buses, taxis and planes. And the best is to grab a rent a Car Malaysia and drive your way around this beautiful country. Let us show you how.
Renting a Car in Malaysia
Searching online for a rental car is easy. Check out a comparison site such as Flexicar first.
But we found Europcar had the best terms and conditions, reasonable prices, and more office locations which allow for flexible pick up and drop off locations. We needed a 7-seater, with room for luggage (and a surfboard) and also had to drop the car off in a different location to our pickup. In our case, Europcar had the best deal in Malaysia.
There are various other rental companies online in Malaysia that offer car rentals, but I prefer the security of going with an international company like Europcar.
We also used Europcar when recently renting a car in Thailand too!
Cost of Renting a Car in Malaysia
The best thing about being an international traveller, is that you have terrific travel insurance (hopefully).
Check your policy, because there should be a car rental excess cover in there somewhere. This means that as long as your car rental package comes with basic insurance, you don't have to pay extra to cover your excess.
If anything goes wrong, your travel insurance will pay this excess for you.
If you haven't got international travel insurance, why the heck not?!
Car rental Price
With that in mind, we rented a large station wagon for 2,460 RM for 6 days.
This means it cost our family of 6,300 RM per day to rent a large 7 seater car in Malaysia!
Now, we know it is cheaper to travel by bus, at face value. But we love the freedom of driving our own car and you get to experience a country to its full potential. Go places no tourist will go, see things and places that are off the beaten track. And with kids, having your own personal vehicle is great.
It is truly the best way to travel, we will never forget our 6 days of driving in Malaysia.
Other Ways to Get around Malaysia

A quick search on 12GoAsia yielded a few other options of getting around the country:
Local Buses
Train
Taxi
Hire a car
We had an issue when we were staying in Johor Baru of how to get to Ipoh. The buses didn't quite connect or were overnight which meant more taxis and overnight stays. And with the young ages of our kids, I was not keen on attempting an overnight bus journey.
By the time you added in buses, trains, taxi transfers and a night or two accommodation for connections it added up to almost the same price.
Having a car was going to be our most convenient and most enjoyable option.
What you Need to Rent a Car Malaysia
When you head off to collect your rental car, you need the following documents:
An International Driving Permit is required to hire a vehicle in Malaysia
Driver's licence from your home country
A credit card in the driver's name
Passport
You are advised to have all of this on you at all times in case you get stopped by police.
Europcar also took a deposit of 1000 MR on credit card, which is supposed to cover the excess (this is reimbursed 2 weeks later). This is the part that your travel insurance should reimburse in case they decide to keep it!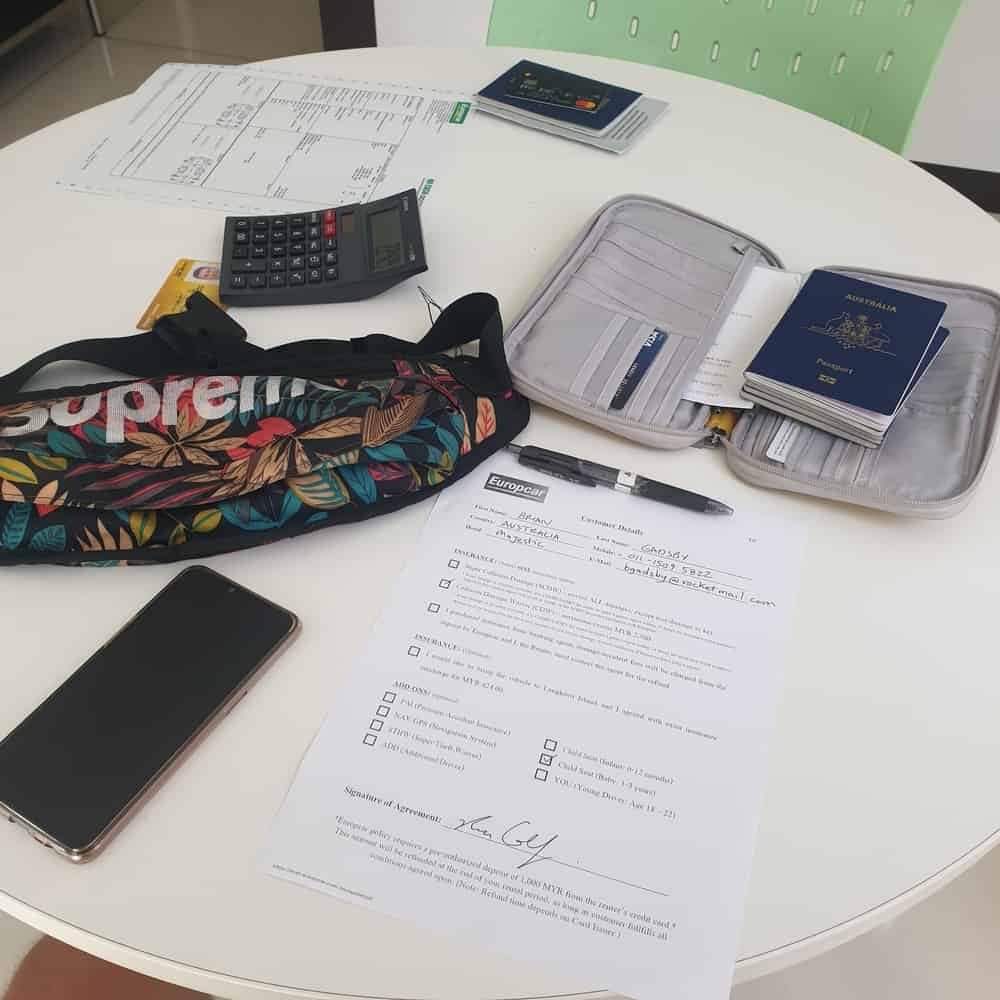 Rent a Car Malaysia – Driving Rules
Malaysians drive on the left side of the road, and cars are right-hand drive. So for travellers from the UK and Australia, it's super simple adapting to Malaysian driving.
If you are from the United States or Europe on the other hand, it could take a little getting used to because everything is different. The indicators are on the right, and the windscreen wipers and gear stick are on the left.
Grab an Automatic Car
If you are not used to driving on the left, make sure you get an automatic car.
The rules are similar to home, and Malays drive a lot like we do but seem to have a thousand times more patience.
Not once did I see disputes or impatient drivers. I was probably more impatient with them.
There are motorbikes which make driving a little difficult because they can come from anywhere. Really keep an eye on your mirrors and blind spots.
The Best Highways
The highways are such a pleasure to drive on and run from the bottom of the country to the top passing by all the popular destinations such as Malacca, Kuala Lumpur, Ipoh, Cameron Highlands, and Penang.
Toll Roads
The major highway is a toll road so a special toll card is required to tap before and after using the road. Costs are low but to drive the entire country is about 100 MYR in tolls, this is a good starting point. Cards are purchased from service stations or from the rental car agency for 10 MYR. At the toll gates, ensure you go through the "Tap'n'Go" lanes.
Calm Drivers
Drivers are calm, and there is no road rage. You will enjoy driving a car in Malaysia, it is a special experience.
The roads are great, no potholes and well maintained. In the cities, you will notice Malaysia loves its oneway streets. Thanks to Google Maps getting around is relatively easy.
Make sure you get your Malaysian Sim card on arrival.
Fuel
Rental cars are economic, especially if you get a small engine and don't push the car too hard. There are fuel stations all around the country, and fuel costs on average around 2.05 MYR per litre (almost the cheapest in Southeast Asia). Our car's tank cost close to 100 MYR to fill.
Know in advance which side your rental car's fuel tank is located. And before you leave the rental agency parking lot, make sure you find out how to open the tank door. (This is from an experience we had while renting a car in Japan. It took us an hour to locate the lever so we could refuel!)
Pay for Fuel First
In Malaysia, you must pay for your fuel first or know how much you want to put in. Go to the cashier, pay some money and start filling your vehicle.
We found in the end you could pay by credit card at certain bowsers which makes life so much easier. The big highway stations also have locals stores, toilets, prayer rooms, restaurants and rest areas. So you might want to get out of the car and stretch!
Parking
Finding a park at times can be hard in larger Malaysian towns but we found a lot of popular parking areas have parking attendants that instruct you what to do. They charge only 3 – 5 MYR to park for a couple of hours.
Yellow lines or parking numbers normally mean you need a permit to park at certain times of the day. ( You will see a parking sign.)
Parking permits can be purchased from 711 stores so just ask, everyone, speaks really good English!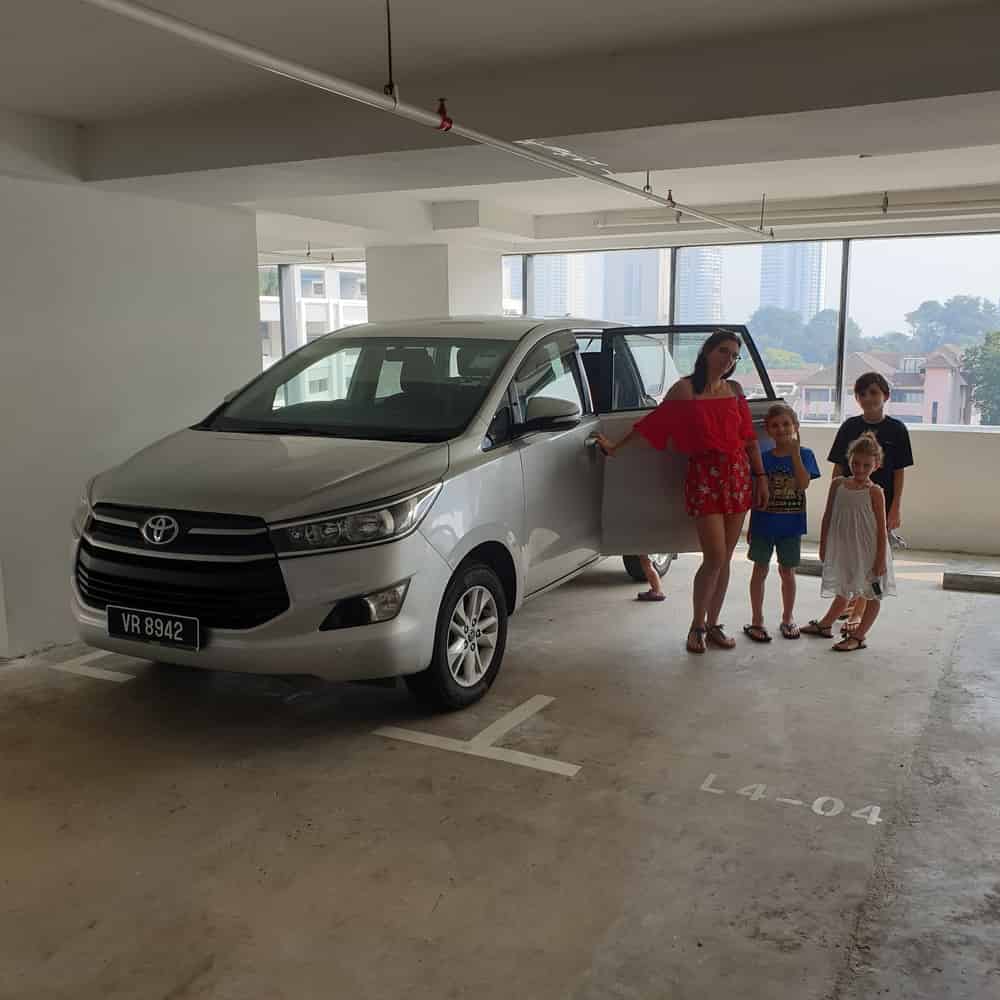 Directions for Driving in Malaysia
Malaysian roads are very well signposted for all major centres and attractions.
If you download the Google Maps app and save your route before leaving your hotel's free wifi, then you can continue using the navigator while offline.
Get the Google Maps App here for Android
Get the Google Maps App here for Apple
It is also worth having a local sim card for emergencies. We pre-purchased ours on Klook and collected it at Kuala Lumpur airport for $6 AUD. It is easy to top up every month for around 50 MYR (8 G data) at any 7-Eleven. You need an unlocked phone for this to work.
I like the security of having a phone with me. We also have an Australian number which we can turn on for emergencies at a daily roaming rate of $10. This is called the Telstra 'Day Pass'. If you are in Australia, look into activating it before leaving home.
Driving from Johor Bahru, Kuala Lumpur, Ipoh, Cameron Highlands and Penang
The main highway that connects all of the major towns in the country is amazing. There seems to be a general rule of slower vehicles keep left. You can drive at speeds of 110 km/h and take breaks along the way at highway service stations.
Driving through all these major centres was relatively easy and safe. Keep your eye out for mounted speed cameras and red light cameras.
Allow 100 MYR for tolls if you take this route. Also, we spent roughly 200 MYR on fuel for this journey, which was pretty cheap for the amount of driving we did.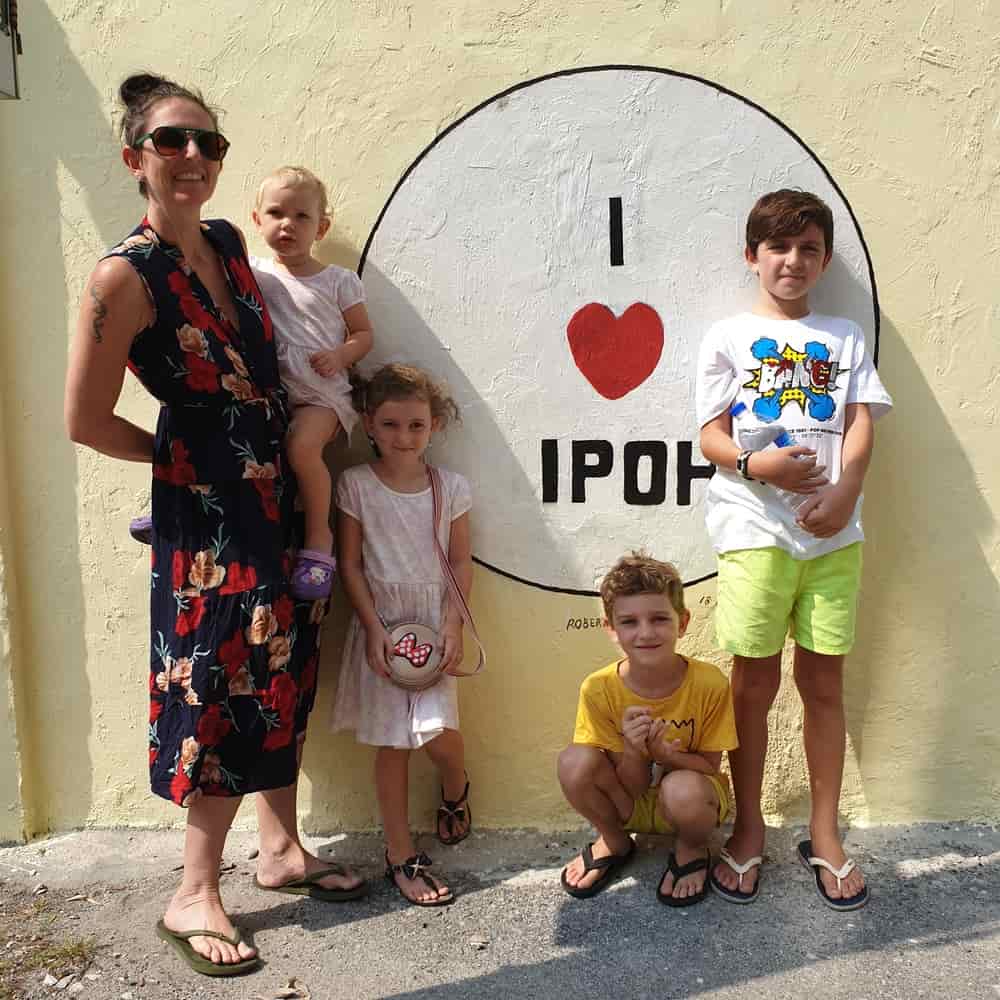 Ipoh
Our highlights of the journey would have to be visiting the old town of Ipoh, this place had culture, authenticity and some of the best food.
Cameron Highlands
At Cameron Highlands drive up through the windy roads and visiting the tea plantations of Boh Tea. Also visiting the Mossy Forest which is a bit of a crappy road. Be extra careful.
For more on our visit to Cameron Highlands read this: Things to do At Cameron Highlands
Penang
Definitely put Penang on your list but be careful because it is a busy town especially George Town area. All one-way streets mainly and crowded. Crossing on the giant bridge was a massive highlight, this bridge takes you out to sea for miles until you hit the famous Penang Island.
We used our car to sightsee and man we were quick. Armed with Google maps and skill we navigated all the streets, found all the best bits without working up a sweat.
Rent a Car Malaysia – The Verdict
We loved driving in Malaysia. It was simple, not the cheapest option but gave us so much freedom and choice. The people of Malaysia are so kind, friendly and understanding which made renting a car in Malaysia such an amazing experience.
I hope that our experience and journey will inspire you to rent a car Malaysia and make your own everlasting memories with your loved ones.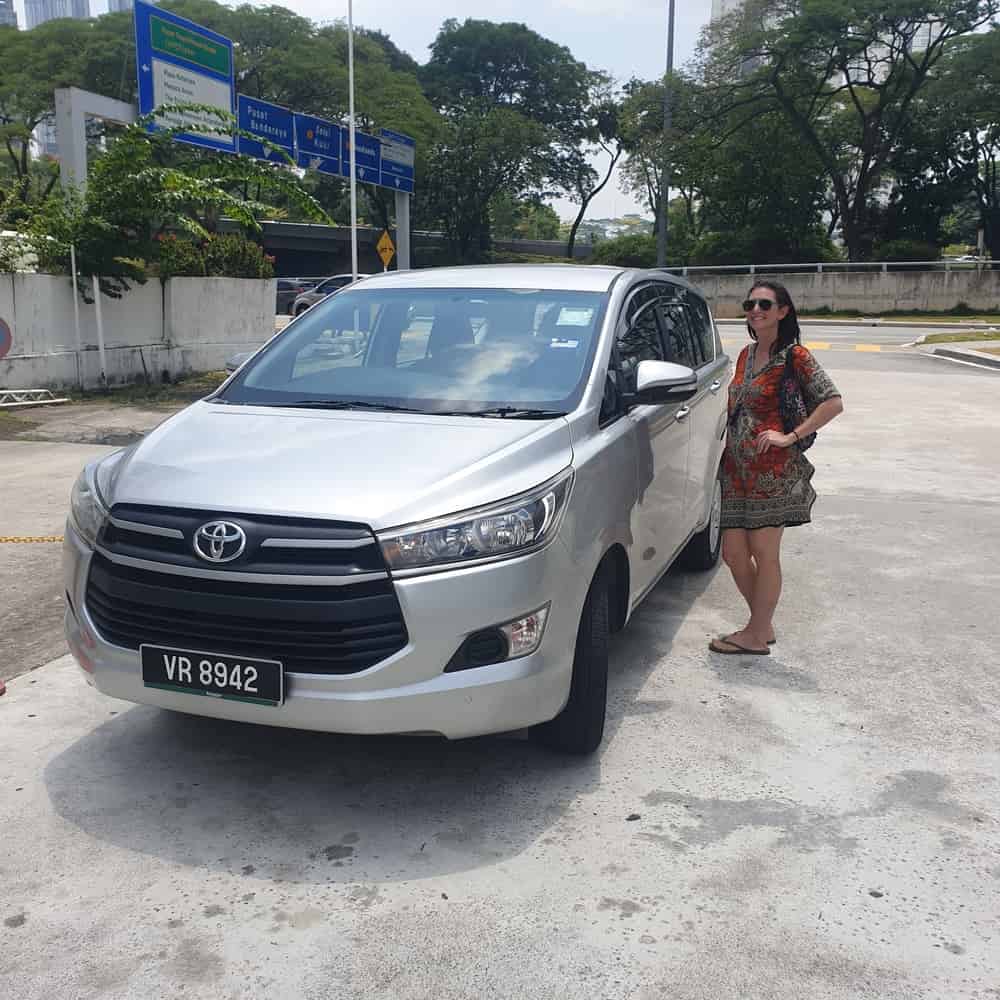 Related Articles
Check out some of our other stories for more information on visiting Malaysia with kids: