This is your how-to guide with all the information you need for visiting the famous Blue Mansion in Penang. This beautiful and historic home is otherwise known as the Cheong Fatt Tze House and is a wonderful testament to the wealth and opulence of old.
Where is the Blue Mansion in Penang?
The Blue Mansion is located centrally if you are staying in George Town's historic old quarter. Leith Street runs perpendicular to the coast and through the heart of Chinatown. It is a stroll away from some great authentic and vintage accommodation too. See below.
Find the Blue Mansion on Google Maps.
How Much Does the Cheong Fatt Tze House Cost?
Entry to the Blue Mansion is 17 RM per adult and 8.50 RM per child under 12. This includes a guided tour. However, the tours only run at specific times. See below for information regarding different tours.
Tour Times
The mansion must be visited at the following times so you can be a part of a 45-minute guided tour:
Monday – Friday
11 am – English
2 pm – English
3 pm – English
Saturday – Sunday
11 am – English
12 pm – Mandarin
2 pm – English
3.30 pm – Mandarin
What if you Miss the Tour?
This is what happened to us. We actually didn't realise you had to visit as part of a tour. At the time we arrived, it was a 2-hour wait until the next tour.
So, we read what the TripAdvisor reviews said, and discovered there was another way. There is a bar/restaurant on-site, as well as a boutique hotel. The bar had a happy hour special for a 6-beer bucket for only 69 RM, and you get to sit inside the famous courtyard to enjoy it. For our family, this worked out to be almost the same cost of entry and a tour.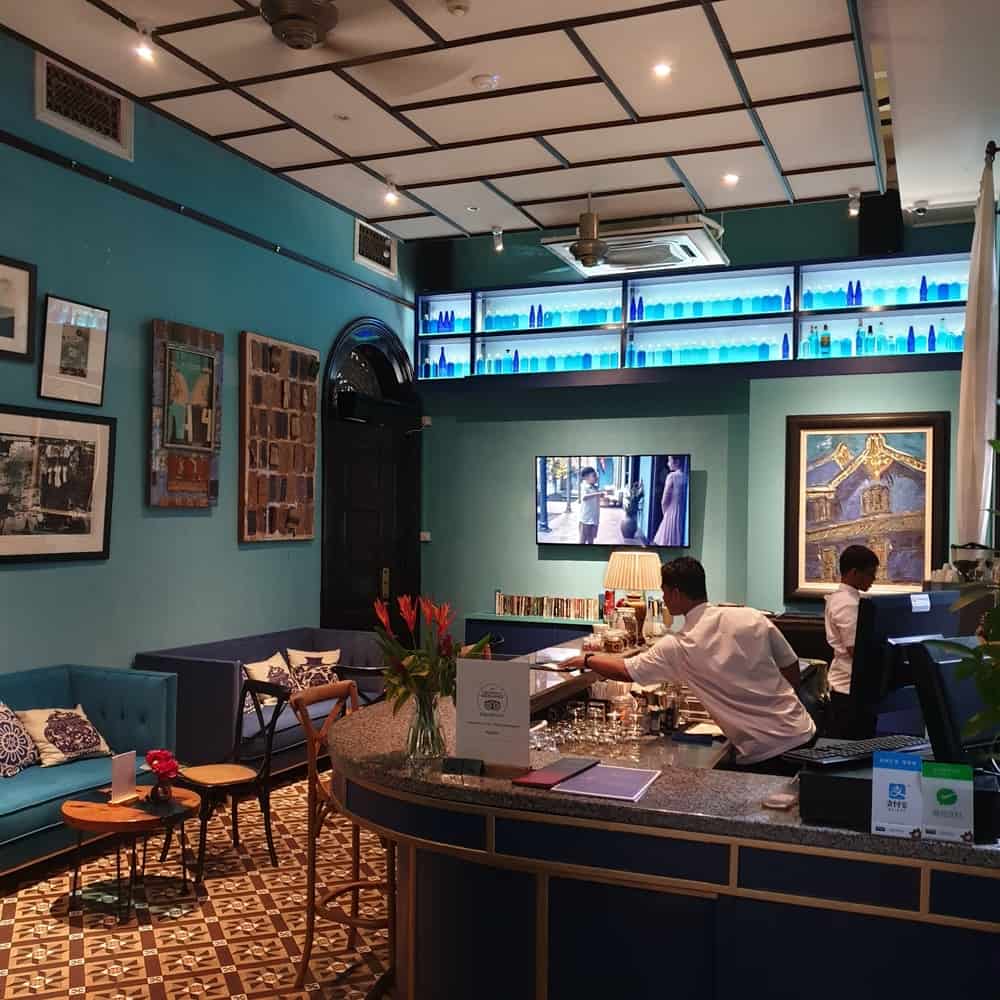 The courtyard where the bar is located is the same one as that made famous by the movie 'Crazy Rich Asians'. The renowned MahJong scene was filmed right here!
We were fortunate that it was pouring rain during our visit and the rain falling inside the courtyard made it all the more atmospheric.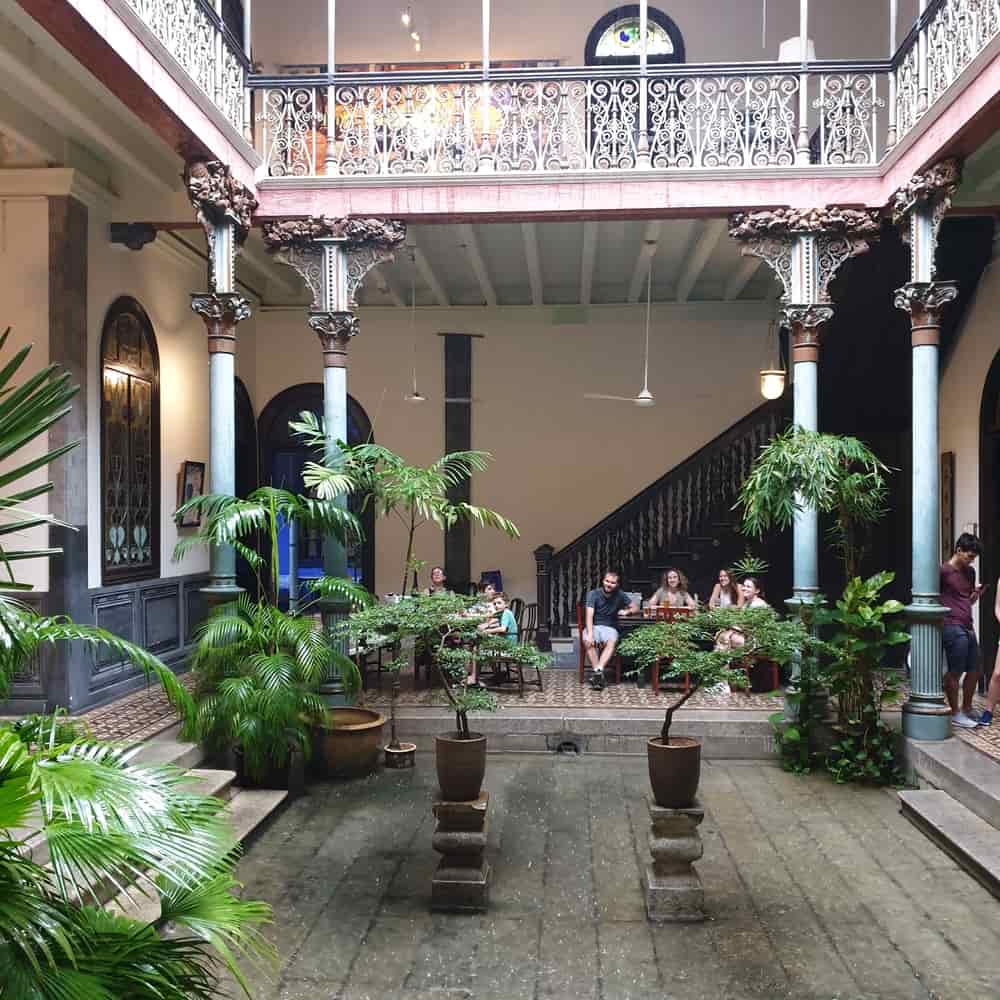 Stay at the Blue Mansion
Another way to avoid the tour, of course, is to get your very own room inside the famous Blue Mansion.
They offer amazing rooms, tastefully furnished with opulent antiques and special touches such as a clawfoot bathtub. The included breakfast is nothing short of superb. There is also a swimming pool on site which is perfect for those steamy George Town days.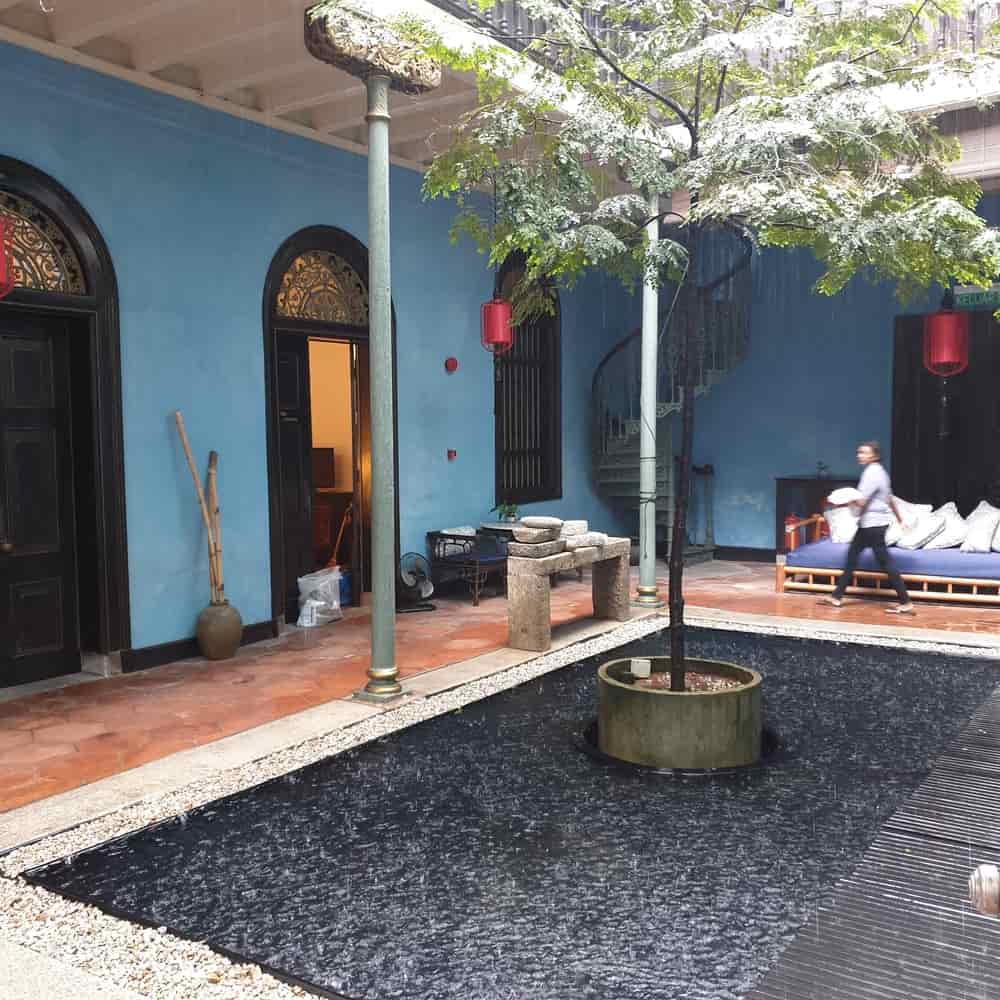 Staying at the Blue Mansion really gives you a feel for what it was like for the wealthy people of old Penang. And the distinguished atmosphere of the Cheong Fatt Tze House makes for a very special stay indeed.
The prices are quite reasonable too.
See here for the latest price and to book.
Blue Mansion in Penang Pop History
Cheong Fatt Tze's Mansion has been a favourite film location for many films. You should remember it as the setting in the pivotal 'Mahjong Scene' in the incredible movie 'Crazy Rich Asians'. It was so cool having a beer in this very same courtyard today. Check out the scene below:
The Oscar-Winning French film Indochine was also shot here, as were The Red Kebaya, Road to Dawn, 3rd Generation and The Blue Mansion.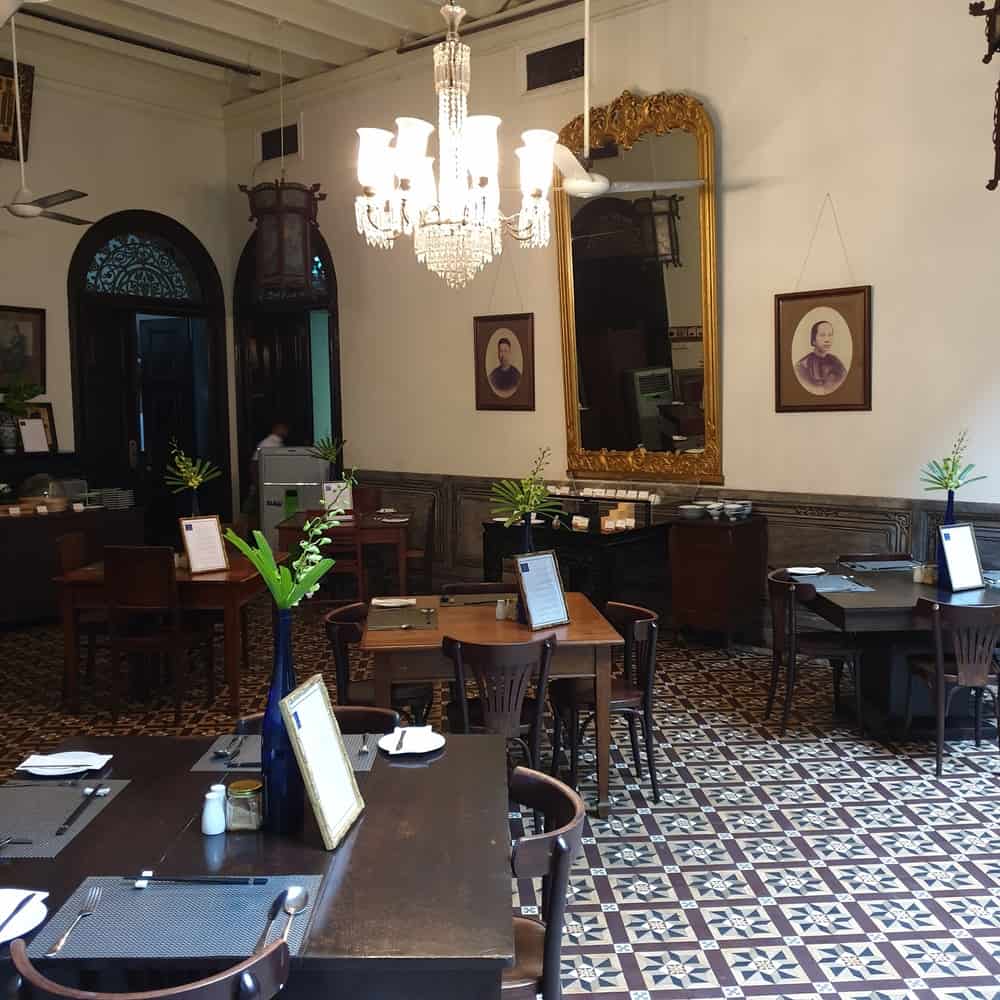 History of Cheong Fatt Tze House/The Blue Mansion in Penang
Cheong Fatt Tze was one of a group of immigrants to Penang called 'Hakkas'. They ended up being the most wealthy and abundant controlling much of Penang's trade and property in the late 19th Century. The Blue Mansion was one of many such mansions along Leith Street George Town which became a very opulent neighbourhood.
The construction of the Blue Mansion began in 1897 and it was built with much Chinese influence. The principles of Feng Shui were heavily used in order to harness the Qi and maintain wealth and prosperity. The central courtyard is the most powerful part of the mansion.
Cheong Fatt Tze was once one of the most rich and powerful men in all of Asia. And although he had such influence, after his death his mansion nearly fell to developers. The will set aside funds for the mansion's upkeep after his death, and prevented its sale until after the last of his many sons had died. However, the funds did not last and by the time his last son died in 1989, the mansion was in ruins and every available space had been rented out.
When it finally went for sale, thankfully a group of local conservationists were able to buy the Blue Mansion in Penang. They then underwent a 4 your restoration project which brought it back to its former glory. It would have surely been demolished in the way of a highrise hotel otherwise.
This restoration project earnt an esteemed Certificate of Excellence from UNESCO for cultural heritage restoration.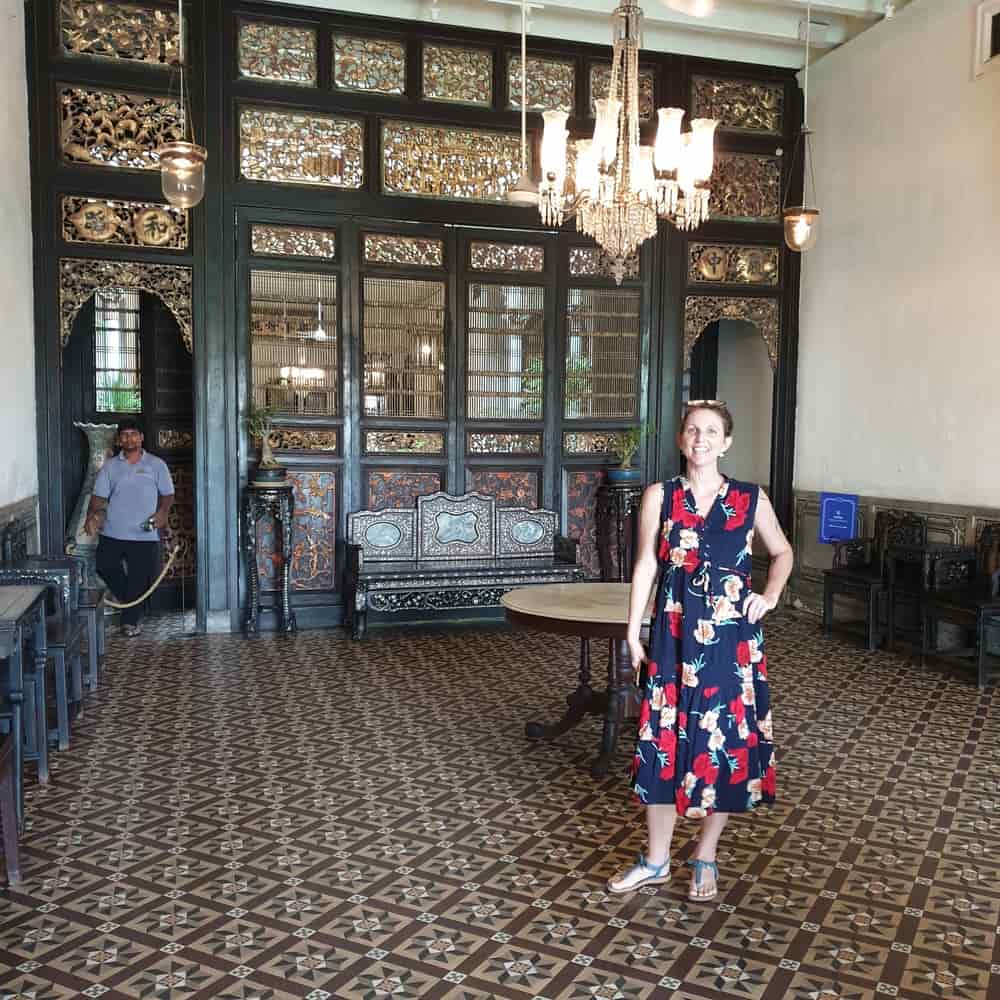 Near The Blue Mansion in Penang
Here are some other fascinating attractions to check out while you are in George Town:
The Top and Rainbow Skywalk, Komtar
Fort Cornwallis
Kek Lok Si Temple
Penang Hill
Goddess of Mercy Temple
Penang Street Art
Clan Jetties
3D Trick Art Museum
Upside Down World
Ghost Museum
Blue Mansion in Penang – The Verdict
It is such a beautiful place to visit. Staying here is even better. I am so happy that someone was able to restore this amazing house and now you can even stay here! Gain your glimpse of Hakka history by spending a few days in your very own luxurious room in the Blue Mansion.
Nearby, the wonderful city of George Town is alive and waiting to delight your every sense. From the beautifully restored shopfronts and boutique hotels to the scintillating hawker night food markets. From Little India to Chinatown and the crumbling Clan Jetties. This place endears you with its charms. The people are amazing, and there is literally nowhere else on earth that you can see a Mosque beside a Hindu temple, beside a Christian church beside a Buddhist temple. It is an amazing place. For families, singles and romantic couples. You will love it.
Visit Penang today.
Related Articles
Love Malaysia? Check out more related content for all your Malaysia travel!
Legoland Water Park
Intriguing Ipoh
Langkawi Dreaming