Have you ever heard of a Durian? And wondered what is this weird product exactly? Fruit or food?
Well in this article we will cover all of these questions and more. You will discover why the Durian is so popular and why Asia is obsessed with this famous fruit. That's right it is a fruit!
Let's begin with the history of the King of fruit, the Durian.
What is a Durian?
A Durian is an unusual tropical fruit that is very popular in Southeast Asia. It is known as the "King of Fruits!" and is characterized by its large bristly appearance, strong smell and fanatic following.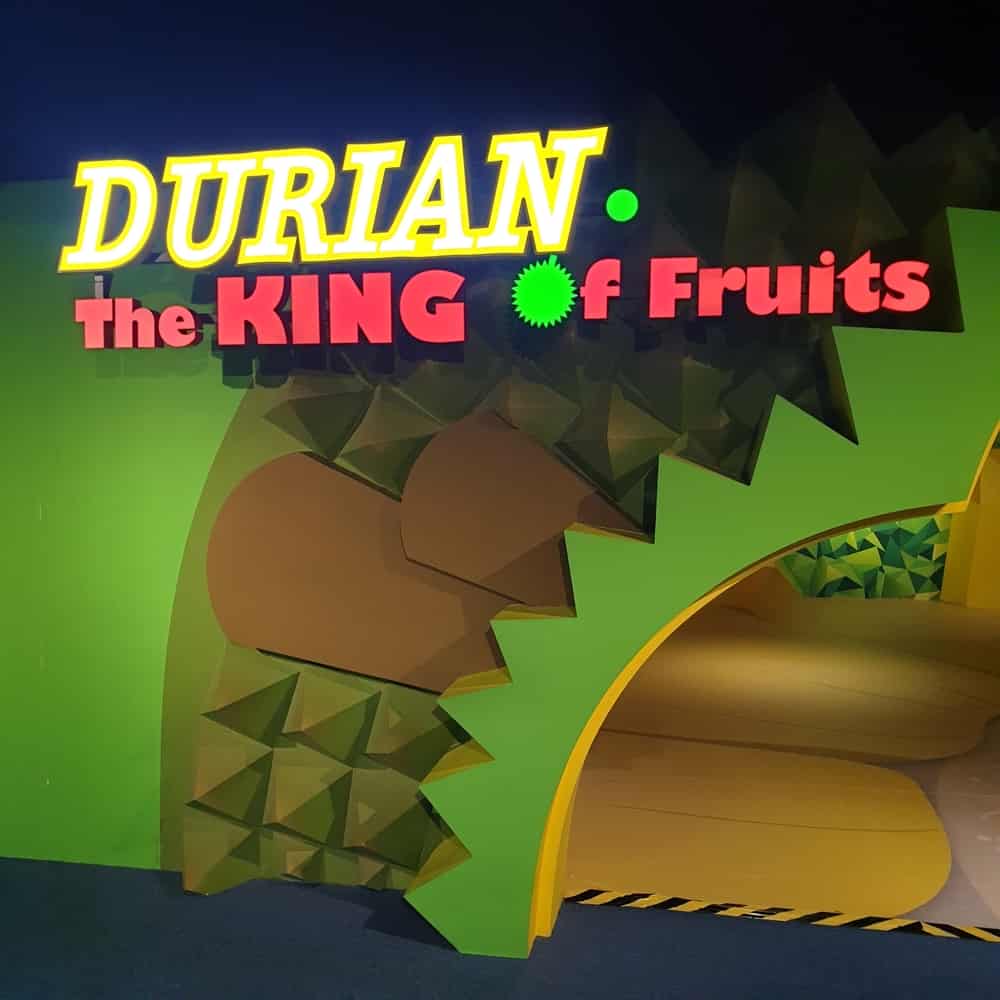 They are extremely smelly, expensive and contain a yellow custard-like flesh inside with large seeds.
There are a variety of different species with different tastes and textures.
The fruit typically grows from any branch and matures approximately 3 months after pollination. The fruit can grow up to 30 centimetres (12in) long and have a circumference of 15 centimetres (7in). They typically weigh 1 to 3 Kilograms (2-7Lb).
What is the Taste of Durian?
This tropical fruit is a strange combination of savoury, sweet, and creamy all at once.
A Durian is meant to have subtle hints of chives mixed with powdered sugar. And supposedly taste of diced garlic and caramel poured into whip cream.
This all does sound nice but the Durian is not for everyone. Most westerners will gag at the smell of this fruit and not go near it. You have to wear gloves to eat certain types of Durian – that says a lot about the fruit.
Watch our video below of Brian eating the Durian >>
Below are some quotes describing the taste:
Eating Durian is like eating custard that has been mixed with smelly socks, old onions and fermenting pineapples. But eat enough and it grows on you!

Brian Gadsby – World Traveller
I found it was very hard to get away from the smell after consuming the fruit. This is why wearing gloves is important and for the rest of your night or day, you will taste it.
Hot Tip! Do not eat this fruit before a date or it will not be successful. And it is probably useful to be with a partner who also loves Durian.
Why Does this Fruit Smell So Bad?
Described as smelling like turpentine and onions, garnished with old smelly socks the Durian is loved by Asia.
Everyone can agree that the fruit's odour is uncommonly potent. Tests conclude that it is a mixture of different chemicals causing the powerful smell, over 50 chemicals in fact.
Did you know that Durians are banned from most hotels, transport and anywhere inside where the smell can flush out an entire building!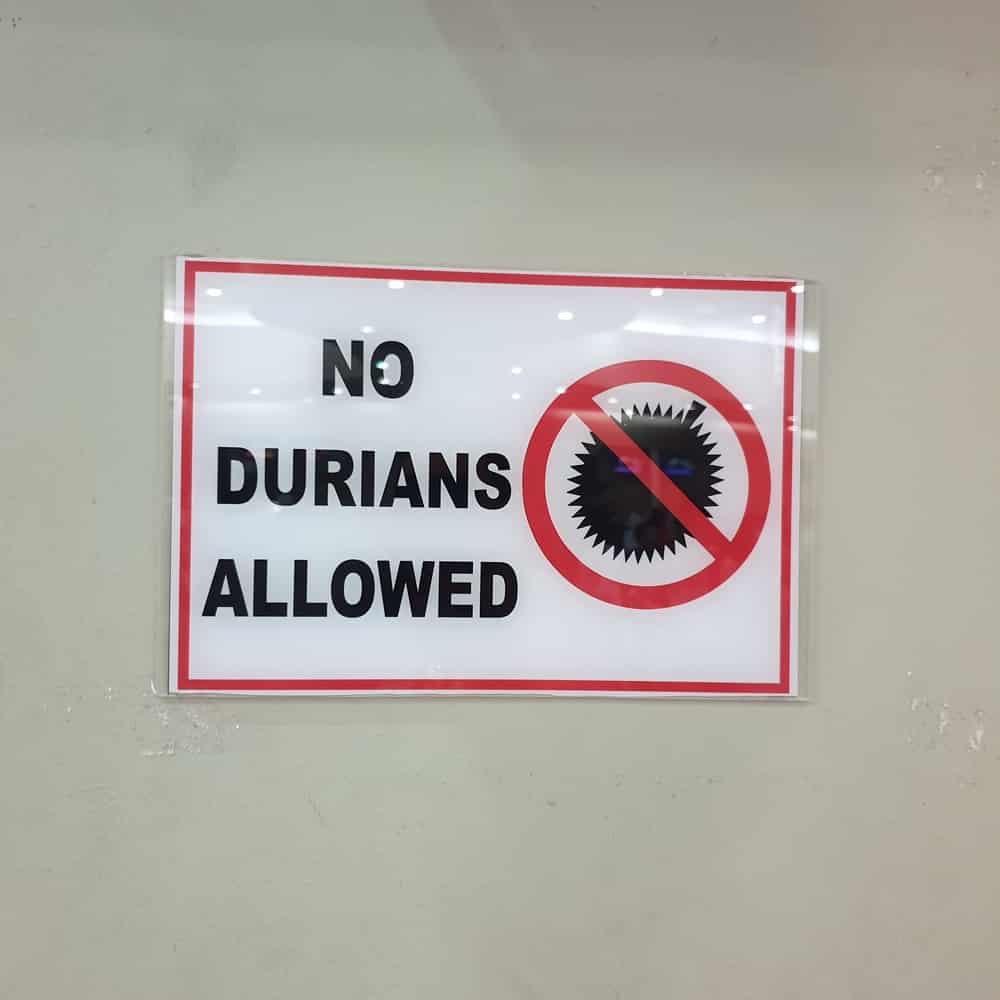 Tips to Getting Rid of the Fruit Smell
Grab the shell of the fruit and fill in with water then you need to wash your hands in the husk. This acts as a deodorizer which can neutralise the smell.
Another useful tip is to use Pandan leaves, which can be left in a room that has a strong Durian smell.
The strong smell of the Pandan leaves can mask the bad smell also.
What is in this Tropical Fruit?
It contains many vitamins such as Vitamin C, folic acid, thiamin, riboflavin, niacin, B6 and vitamin A.
The fruit holds important minerals such as potassium, iron, calcium, magnesium, sodium, zinc and phosphorus. It also contains nutrients such as phytonutrients, water, protein and dietary fats.
Benefits of Durian
The King of fruit in Asia is not only Asia's favourite treat, but it also has many health benefits such as:
Helps to reduce constipation, bloating and indigestion
Strengthens cardiovascular health
Provides relief from insomnia
Helps to reduce cholesterol
Helps to prevent cancer and anemia
Reduces the risk of infertility in men and women
Boosts bone health and prevent osteoporosis
Anti-aging
As you can see there are quite a few benefits, so maybe you should be eating the king of fruits.
One small Durian (600 grams) = 885 KCAL! That's a lot of calories in one fruit. So make sure you enjoy in moderation.
How Much Does a Durian Cost?
The prices for the famous fruit vary from country to country and depend heavily on variety and season.
Bearing this in mind here is a rough guide to costs for Durians.
$24 (USD) dollars or $30 (AUD) can buy you the following Durians:
2 x Musang King
3 x Udang Merah
4 x Hor Lor, Durian XO, Teka, Golden Phoenix
5 x D1, D18, D24
25 x Durian Kampung
But I found travelling throughout Southeast Asia prices didn't fluctuate too much. I did find it was a very expensive fruit and considering I only wanted a small portion I found prices were high.
We paid 30 RM ($7.20 USD) for a small container of the Durian which I found very expensive. Thailand Durians were very expensive also ranging from 250 THB – 500 THB ($8-16 USD) for a small portion of fruit.
Where Do Durians Come From?
The famous fruit grows in tropical climates around the world but mainly found in regions such as Thailand, Malaysia, Vietnam, Myanmar, Cambodia, The Philippines and Indonesia.
History of the Durian
The Durian is believed to originate from Borneo and Sumatra. They grew wild along the Malay Peninsula and were cultivated from India to Papa New Guinea.
It was cultivated in Thailand and South Vietnam around 400 years ago. They would trade the fruit across Myanmar into other countries.
Demand for the Durian has flourished since the 1990's mainly in the Southeast Asian nations due to rising affluence of Asia.
Different Types of Durians
Although there are hundreds of species here are some of the main types cultivated in Southeast Asia are:
Musang King
Golden Phoenix
XO
D24
D13
D101
Red Prawn
Green Bamboo
Black Thorn
Hor Lor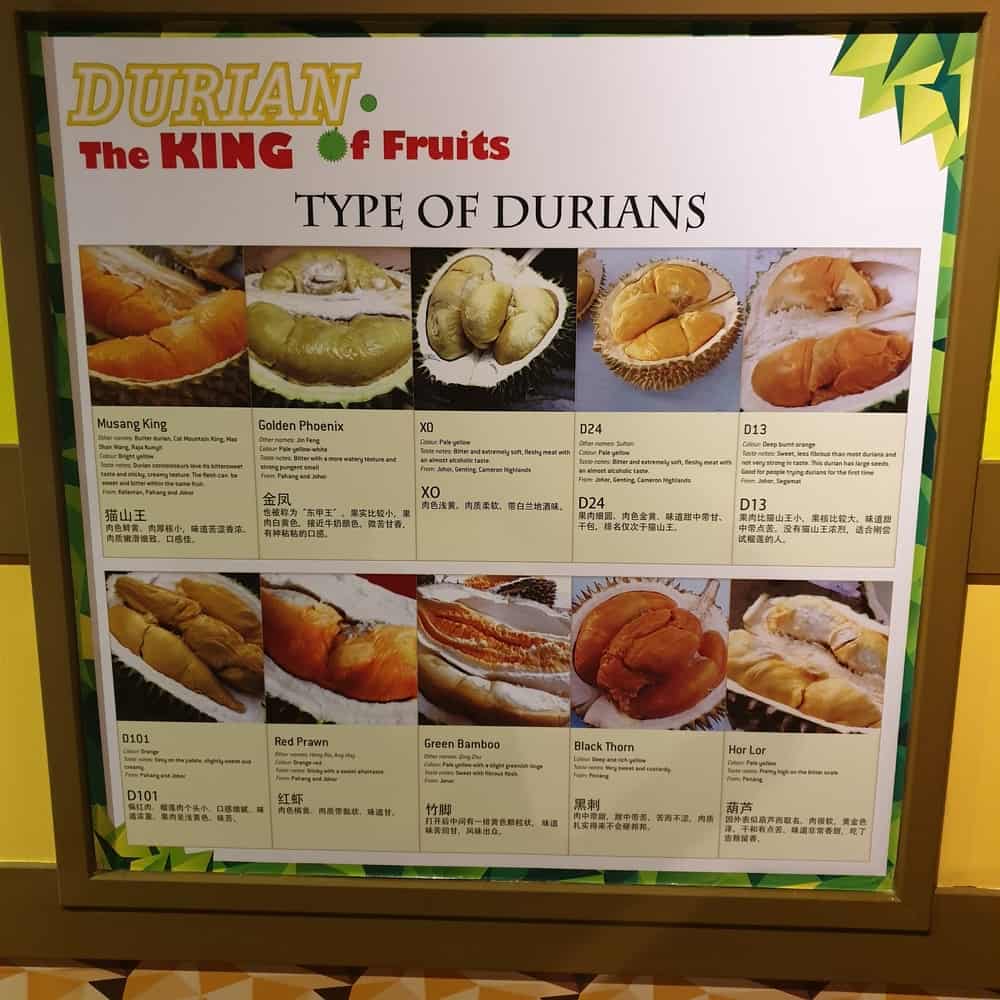 Durian Varieties in Certain Southeast Asia Countries
The 3 main varieties in Southeast Asia are:
Monthong – Golden Pillow is the most widespread variety in Thailand and the most exported. This variety is very meaty and regarded as the least pungent in aroma and flavour, It's rich and sweet making it one of the favourites.
Chanee – Gibbon is more pungent, softer, more buttery and stronger than Monthong.
Kanyao – Long Stem is the most expensive variety and normally quite round. The flesh is very sweet, creamy, and even better overripe.
How to Identify a Durian
You can identify the type of variety by the colour of its flesh, here is a quick guide to the vibrant colours of the flesh or pulp.
Musang King – Very yellow in colour
Datuk Nina, D18, D101 – More orange in colour flesh
Udang Merah, D13 – Becomes very orange to red in colour
Teka, Hor Lor, D24, D1 – More of a light yellow colour
Tawa, D96, Golden Phoenix – A very white to lightish yellow colour
Products Made with the King of fruits
Demand for Durian products is on the rise in Asia. The fruit is considered a delicacy throughout Asia and they just can't get enough.
New products are being developed all the time and all the major global companies like McDonald's, Pizza Hut, Nestle, Cadbury, F&N and Lays have released products to capture the growing market.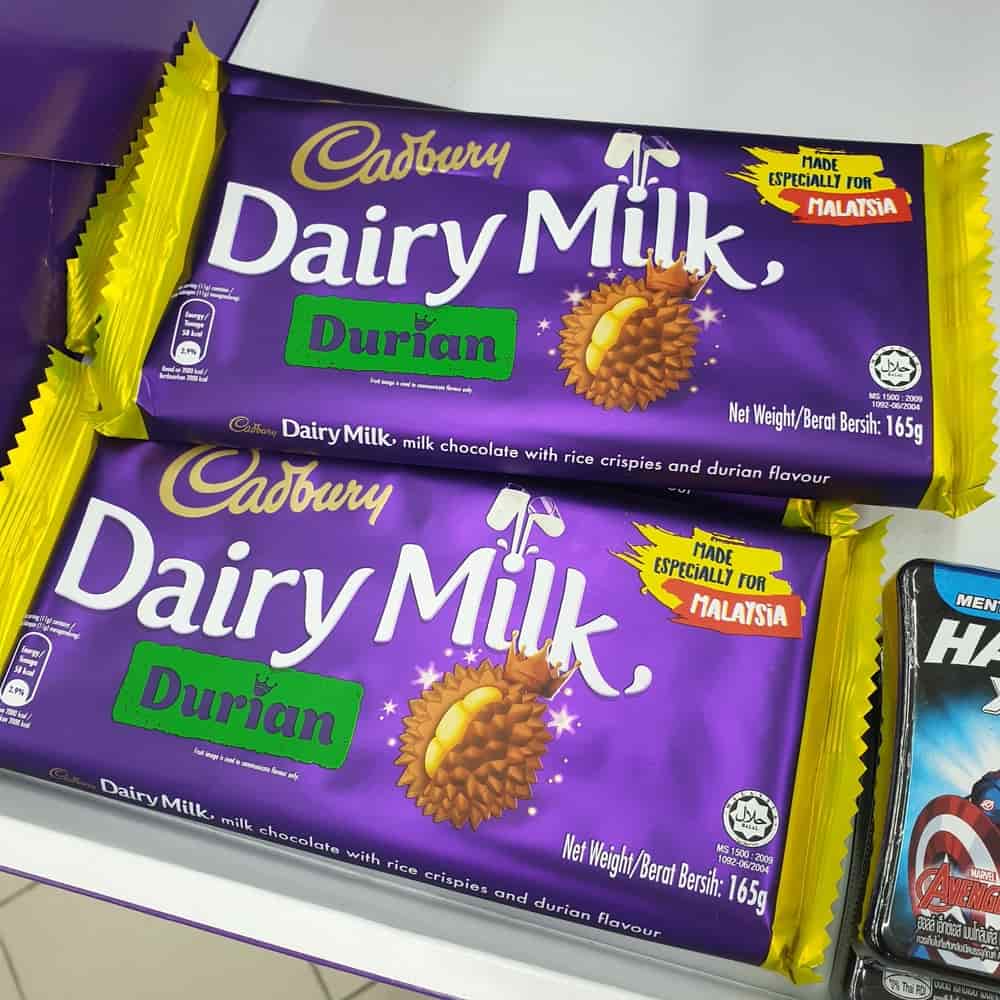 Products being made out of Durian include:
Raw Durian Fruit – Frozen, Fresh and dry Durian
Dessert Products – Cakes, Jams, Icecream and Pastries
Snacks – Biscuits, Buns, Chocolates, Confectionary (Candy), Crackers and Chips
Beverages – Milk, Tea, Coffee and Juice
New Durian based products are being developed all the time so don't be surprised what they will create next.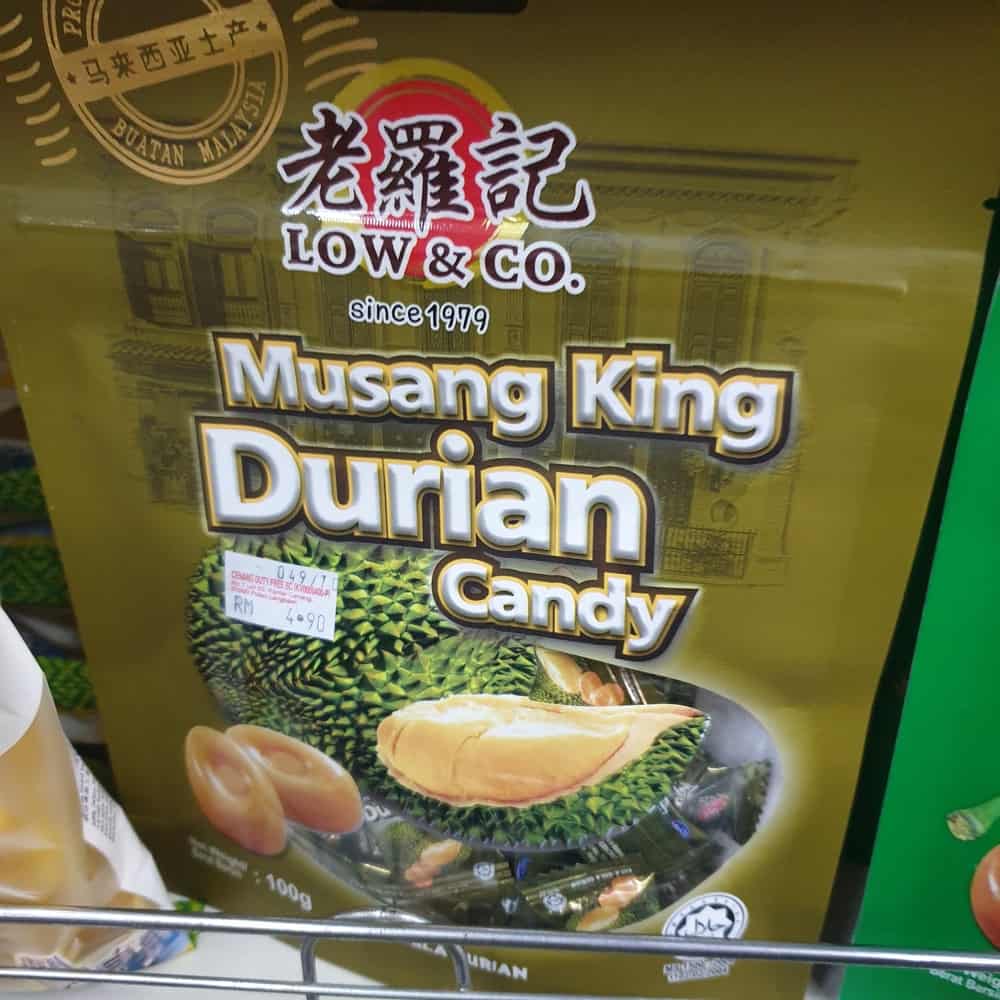 When Not To Eat this Tropical fruit
If you don't want to run into any health complications while chowing down on the tropical fruit, then you should take note of these contraindications.
Alcohol – Durian
Avoid eating the fruit and drinking alcohol at the same time. This combination can cause severe indigestion, heartburn and even death. This may overload the liver because your liver will have to cope with the extra high metabolizing load.
Just don't risk the two if you value your health.
Milk – Durian
If you want to drink milk and eat Durian together, don't! Having milk at the same time as this fruit can cause an increase in blood pressure and have fatal circumstances. Especially if you have high blood pressure.
Caffeinated Drinks – Durian
Caffeine drinks can cause cardiac arrest when consumed with the fruit. Instead of combining the two just have a sleep, then eat.
Egg Plant – Durian
Eating eggplant and Durian together is also not advised due to the heating properties of both products. This can cause you to fall sick.
Crab and Seafood – Durian
Consuming both these products at the same time will confuse the bodies digestive system. This can cause stomach upset and digestive issues.
Beef and Mutton – Durian
Red meats are considered hearty foods and add heat to the body which can cause you to fall sick easily due to inflammation of the digestive system.
Is Durian Good for Pregnancy?
A pregnant woman must limit their intake especially if they have gestational diabetes. This is because Durians are high in fat, sugars and carbohydrates.
Eat-in moderation and to stay on the safe side don't eat if pregnant.
Is Durian Good for High Blood Pressure?
Your Cholesterol levels will not spike after eating the fruit. In fact, Durian has good monounsaturated fats that can lower your harmful cholesterol levels.
Are Durian's Harmful to Diabetics?
Eating the fruit can raise blood sugar levels more than other fruits, so avoid to stay on the safe side.
Conclusion on the King of Fruits
If you really want to, I recommend trying the delicacy of Asia, but it will take some serious courage.
I tried and could see why Asia likes it but it is definitely not for me. The smell is just too off-putting.
Good luck with your gastro adventures.
For more in-depth information on the actual fruit itself visit here.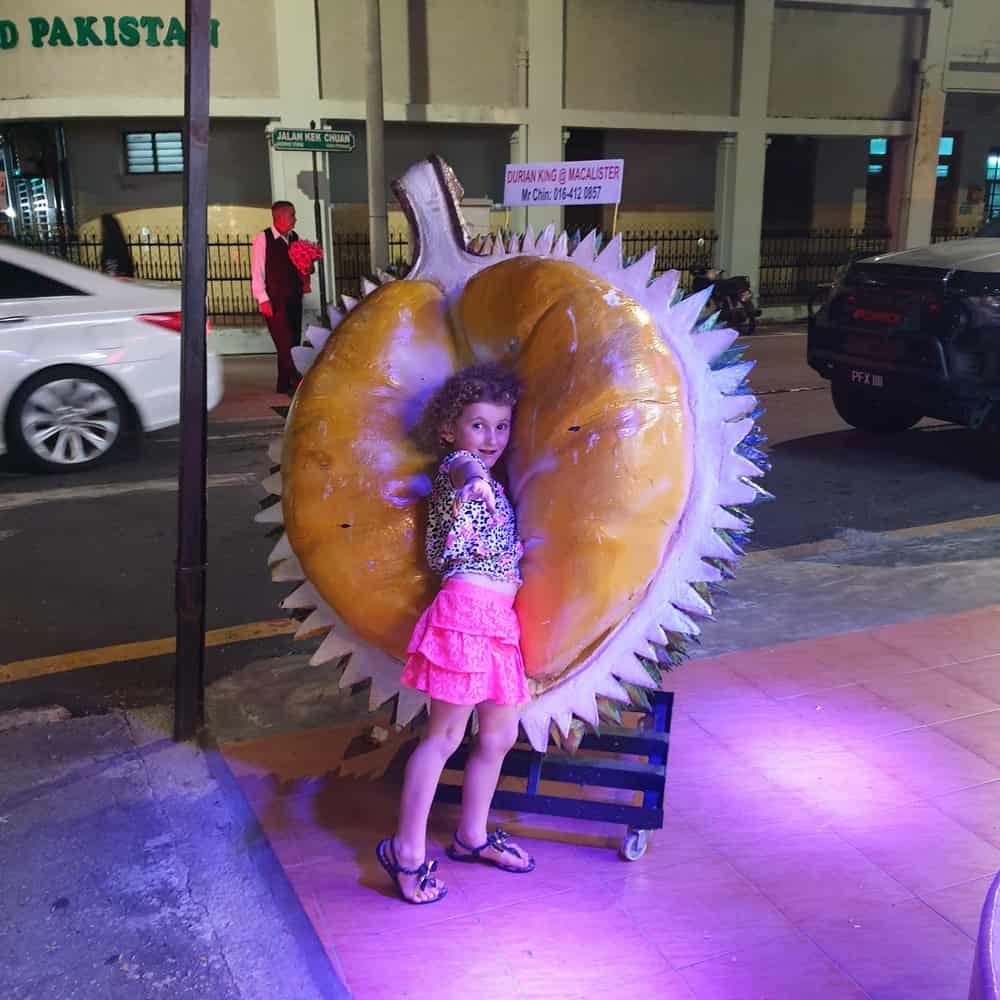 Traveling in Southeast Asia? Then you will need to read here for our helpful advice that will help you plan your holiday and save money!