You arrive in Hanoi, do a heap of awesome tours, see all the amazing sights and then somebody says to you did you know you can go ice skating in Vietnam?
That's right you heard me! Vietnam has a couple of world-class ice skating rinks in some of their major cities. Cities include Hanoi, Danang and Ho Chi Min City.
We visited the Hanoi Vinpearl rink with our whole family in the hot season and had so much fun. We want to share this experience with you all.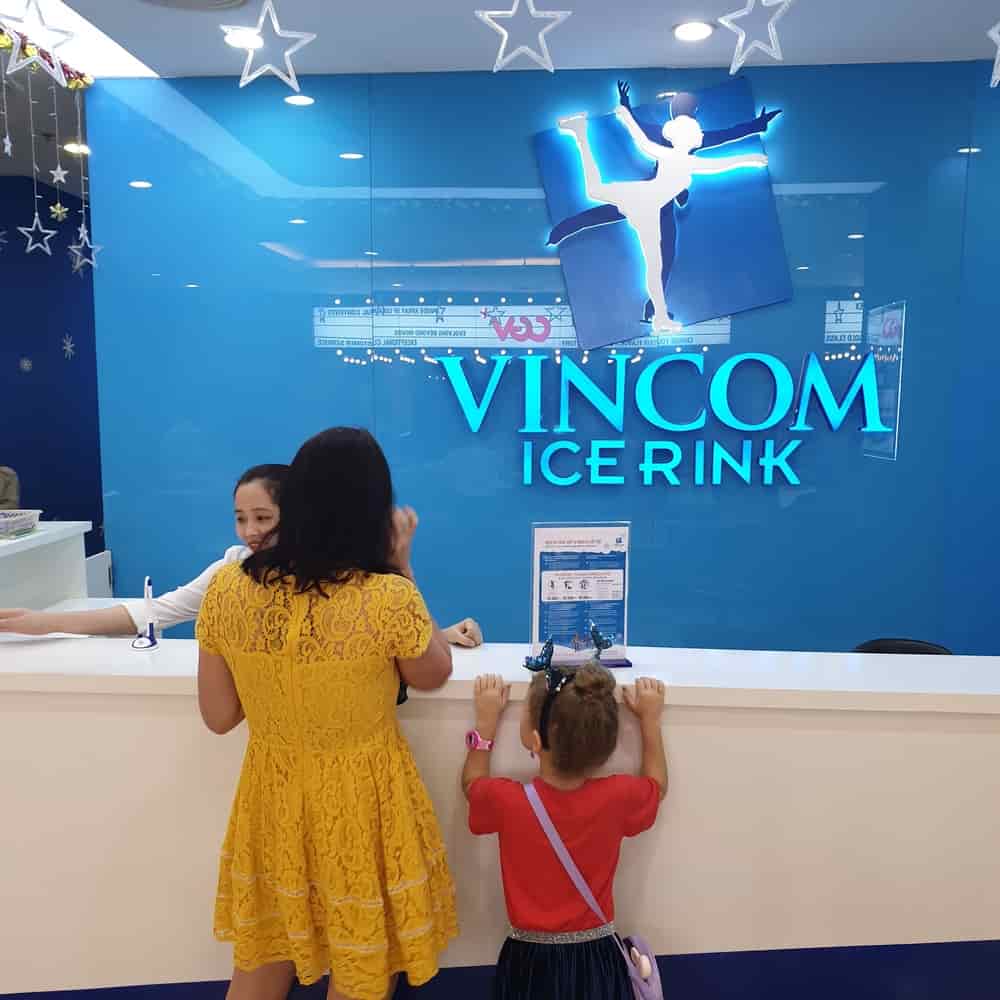 Where to do the Ice Skating in Vietnam
We visited the Hanoi ice skating rink and the Danang Ice Skating rink but not the centre in Ho Chi Min City.
The biggest ice rinks are situated in Hanoi at the Vincom Mega Mall and in Ho Chi Minh at the Vincom Mega Ice rink mall. See the map for details.
How to Get to The Ice Skating Rinks
We have visited the Hanoi centre and the Danang centre but not the Ho Chin Minh ice rink. So here is how to get to each rink below;
Catch a Grab download App here! to the ice rinks from your hotel
Hail a metered cab (Hanoi will be expensive while Danang is about the same price)
All ice skating rinks in Vietnam are owned by the Vincom group. The Vincom group owns most of the Mega Malls in the country, this is why they are all usually called a Vincom Mall.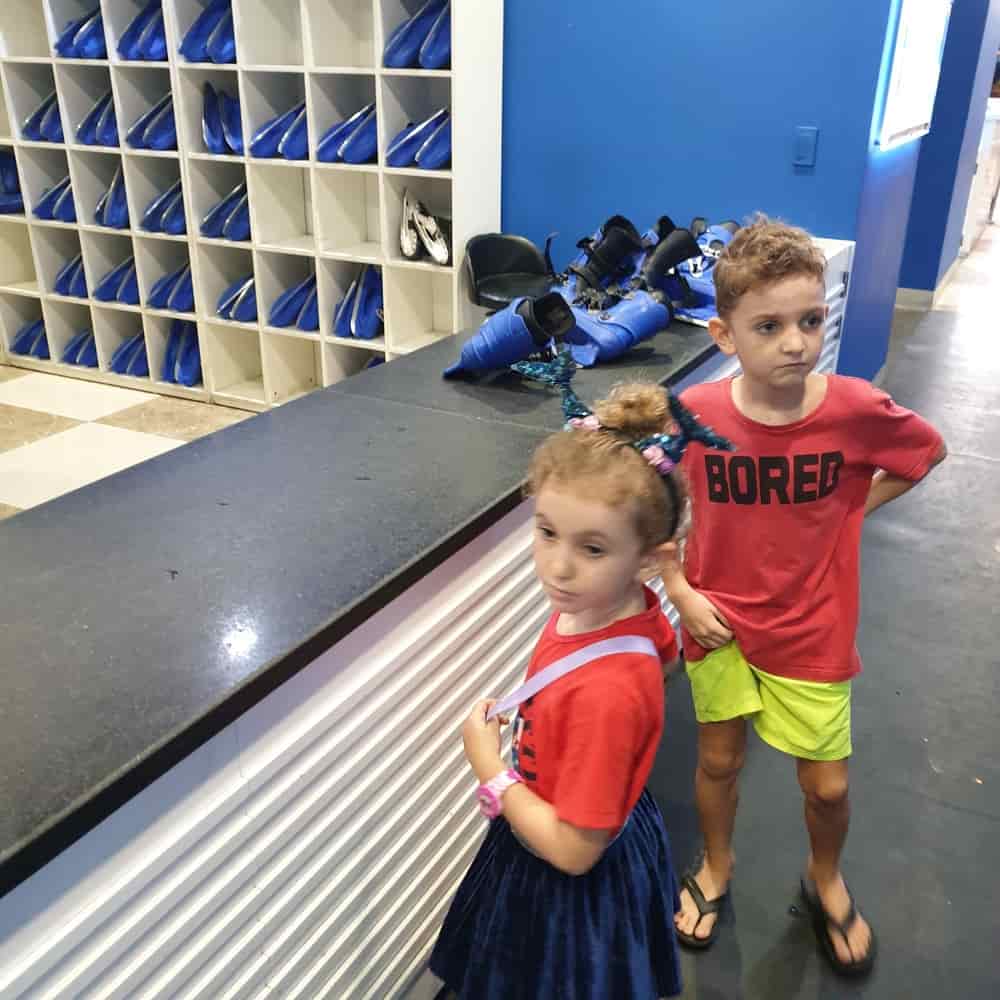 How Much Does it Cost to Skate on Ice in Vietnam
Ice skating in Vietnam is very cheap compared with other countries. The value you get in Vietnam is amazing.
Here are the costs of skating in Vietnam below;
Weekdays for Adults and children over 3 costs 120,000 VND
Weekends for Adults and children over 3 costs 170,000 VND
Skate rental is 30,000 VND but bring your own socks (They do provide free socks if you forget)
Training seals & Penguins for kids are an extra cost at around 30,000 VND
You can use all the protective equipment for FREE such as knee pads, handguards, elbow pads
FREE lockers are on-site if you have any valuables you care about
Other packages you can purchase at the Vincom Ice Rink are monthly memberships for anyone staying in Vietnam for a while. Here are the rates below;
1 month membership – 1,500,000 VND
3 month membership – 3,500,000 VND
6 month membership – 5,500,000 VND
12 month membership – 9,000,000 VND
You also receive a 30% discount if you arrive with a group of 6 or more.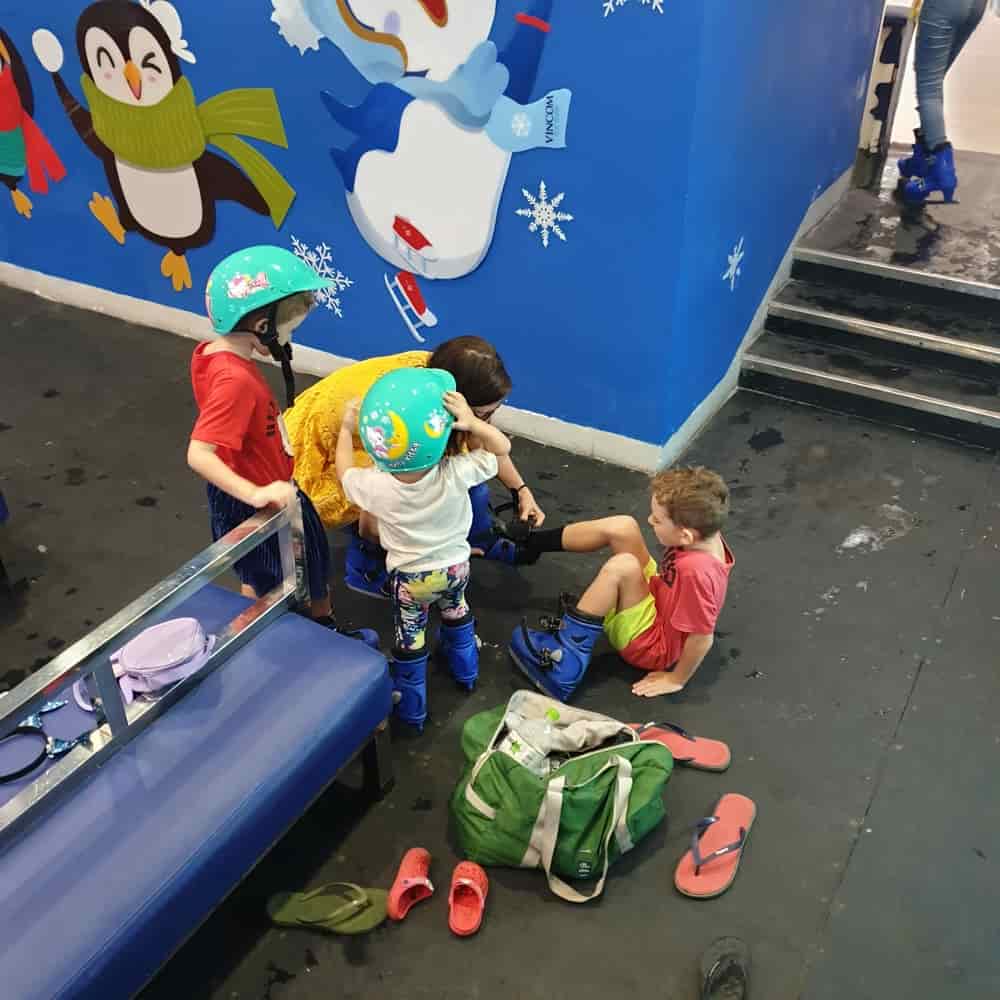 Amenities at the Vincom Ice Rink
The rink area is well equipped for patrons and professionally run. Amenities include;
Men and Women Toilets and change rooms
Skate fitting room
Seating area for putting on your skates
Observation seating areas for those who don't want to skate
Rubber matting for walking around on skates so that you don't fall
Major restaurants and Cafes surrounding the rink areas
They have everything you need and more for the ultimate experience.
Session Times for Skating on the Ice Rink
Your skating session lasts for 1 hour and seams to be on the hour every hour. In between skating sessions, the operators at Vincom give the Ice a maintenance shave because skaters can cause gouges and bumps.
1 hour on the Ice is enough, especially if you are new to skating trust me.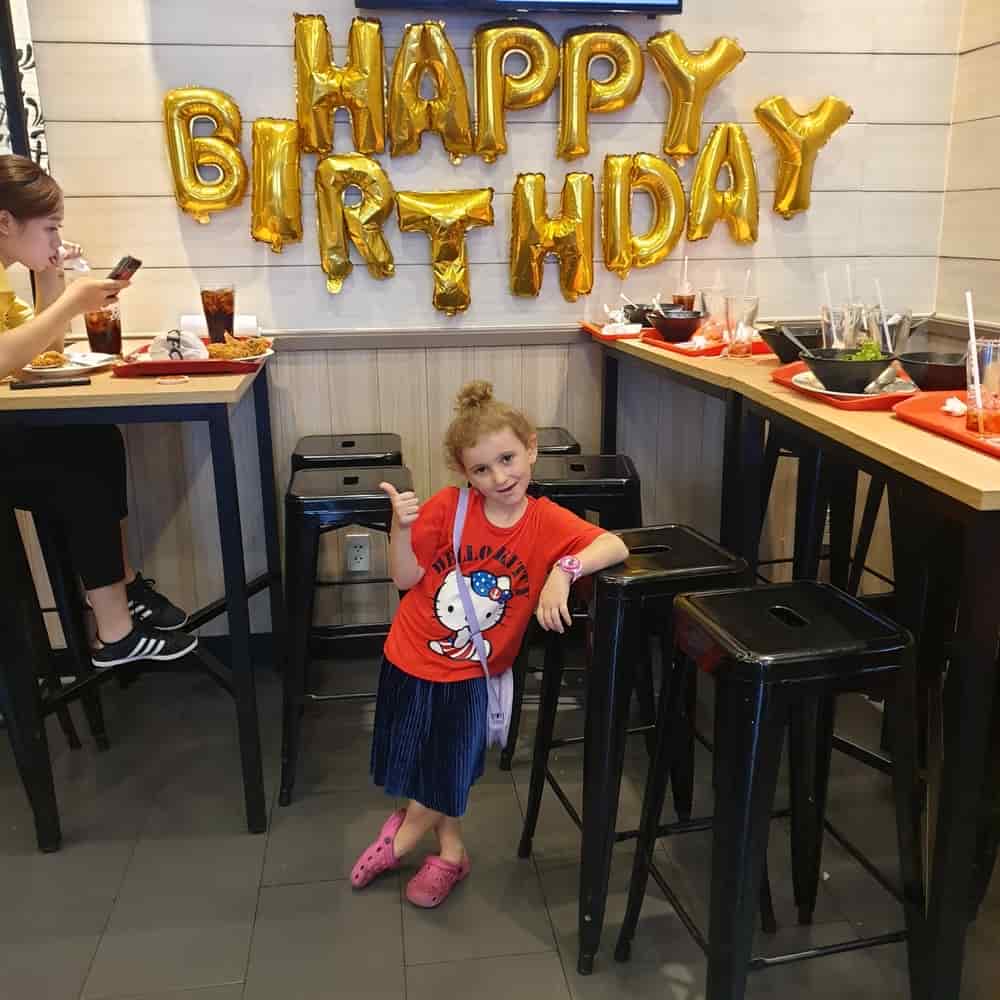 Our Ice Skating Experience in Vietnam
Our little daughter was having her 6th birthday and she really wanted to go ice skating. So I searched online and found the Vincom Ice skating rink.
We caught a Grab taxi from the Old Quarter to the Vincom Mega Mall which is underground. After searching around for a while we found the Iceskating rink 2 floors down from the ground floor.
If you find Decathalon you are right near the rink. (This place is awesome if you love sport!)
Once at the Rink just pay at the counter, head through the gates and grab your correct size skates.
Head to the changing area, fit your skates to your feet and grab some protection if you need it. (Pads, Guards)
Now you are ready for the ice, we found that the ice skating rink was huge and in excellent condition. It was so smooth with no bumps or gouges.
The kids loved it so much, they all had the training seals and penguins for stability. We skated for the whole hour and couldn't get the kids off the ice.
They all went from really bad beginners to slight confidence on the ice, we were so proud of them.
It was the best activity to experience with the kids, once done you hand back the skates and head into the mall for a meal, it's that easy!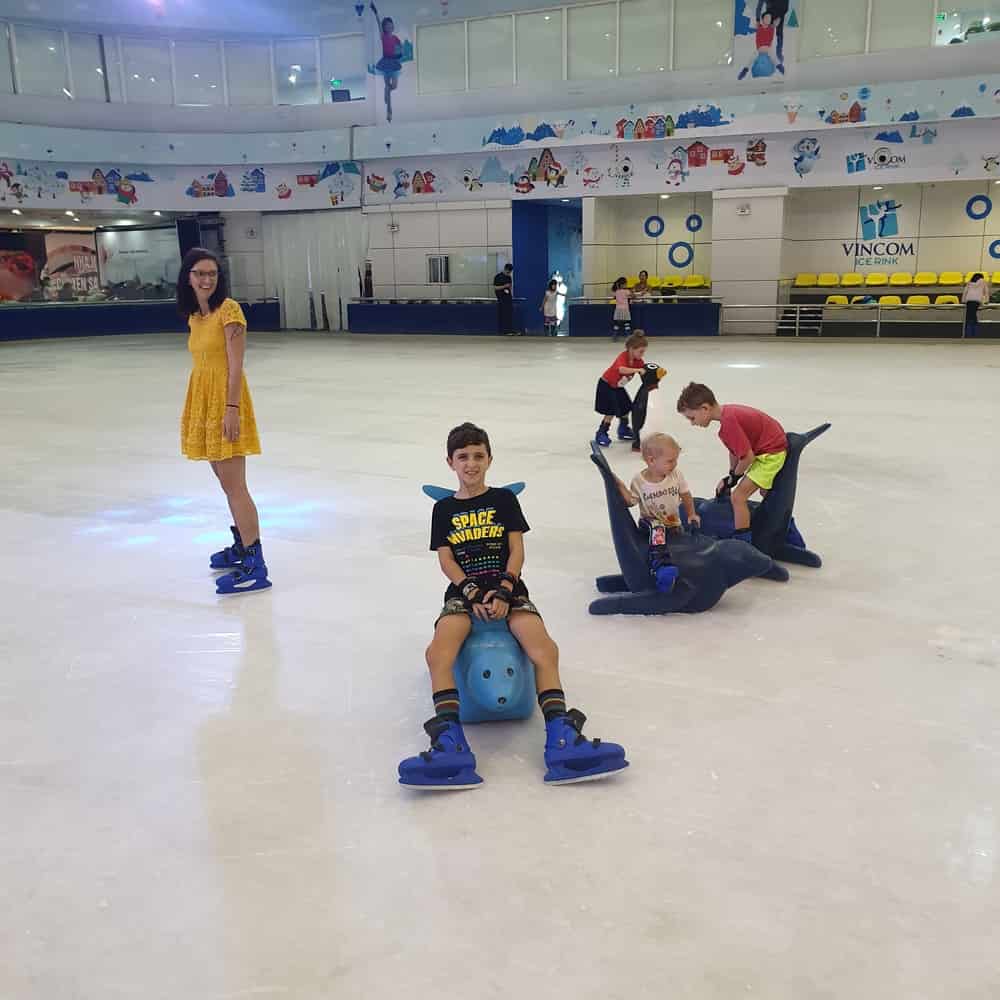 Conditions of the Rink
Ice Conditions: Excellent (Smooth, Professional)
Safety: Excellent very safe
Location: Well Positioned
Overall Ranking: 10 out of 10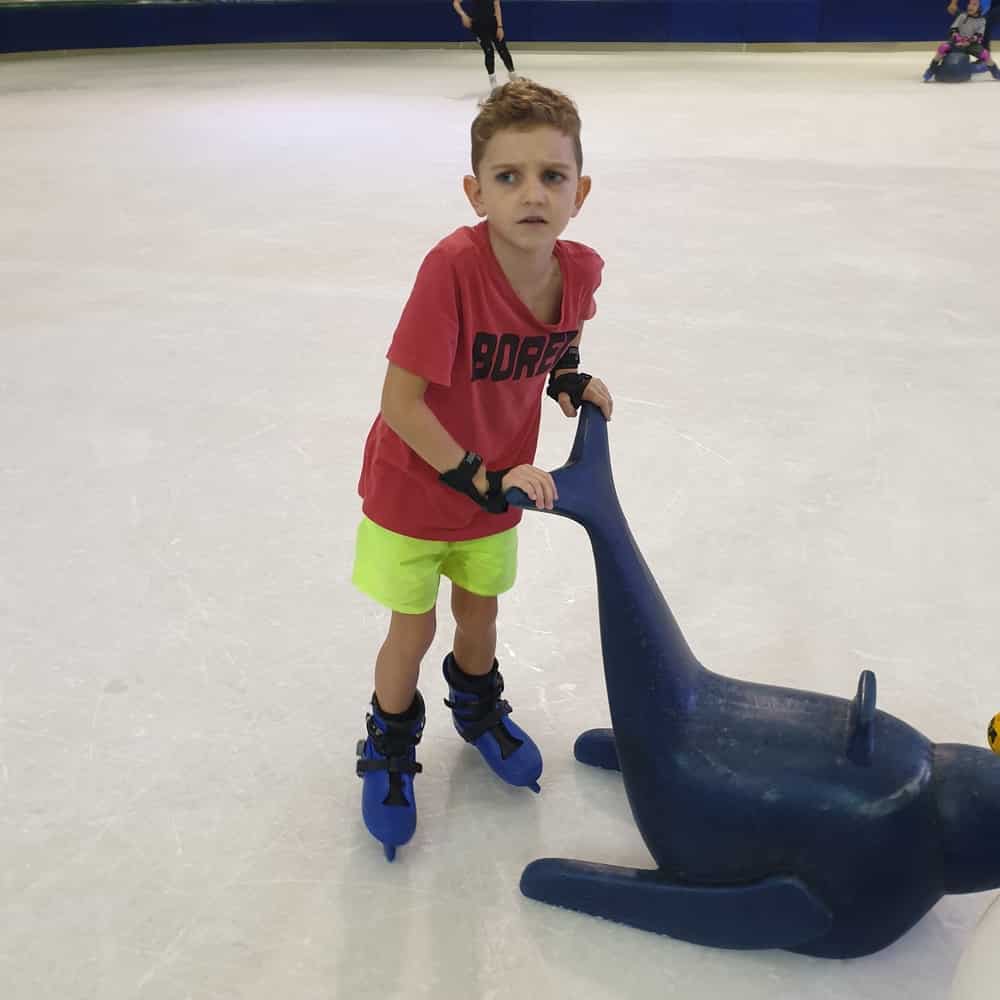 Places to Eat Around the Ice Rink
There are plenty of Cafes and restaurants around the rink that will satisfy your hunger. Places include;
Korean BBQ
KFC
Highlands Coffee
Dairy Queen
Thai
Vinmart
Conclusion
When you are all templed out and sick of the hot weather head to the amazing Vincom Mega Mall and try ice Skating. This was almost the best activity we did in Vietnam.
So make sure you put this on your things to do in Vietnam along with these other must-do activities below;