A visit to Hanoi would not be complete without heading to the Ho Tay Water Park. Do yourself (and your kids) a favour and visit the waterparks in Vietnam for the ultimate thrill.
This was a major highlight for our family on our visit to Hanoi. Who would have thought that there is a waterpark in Hanoi? For more info, we have an entire post about your kids in Vietnam including finding family-friendly accommodation, and activities. More about Hanoi for kids here.
Ho Tay isn't the best looking waterpark in the world because it is surrounded by an eerie-looking abandoned theme park. The entrance to the park is a little tired but don't let this deter you from the fun.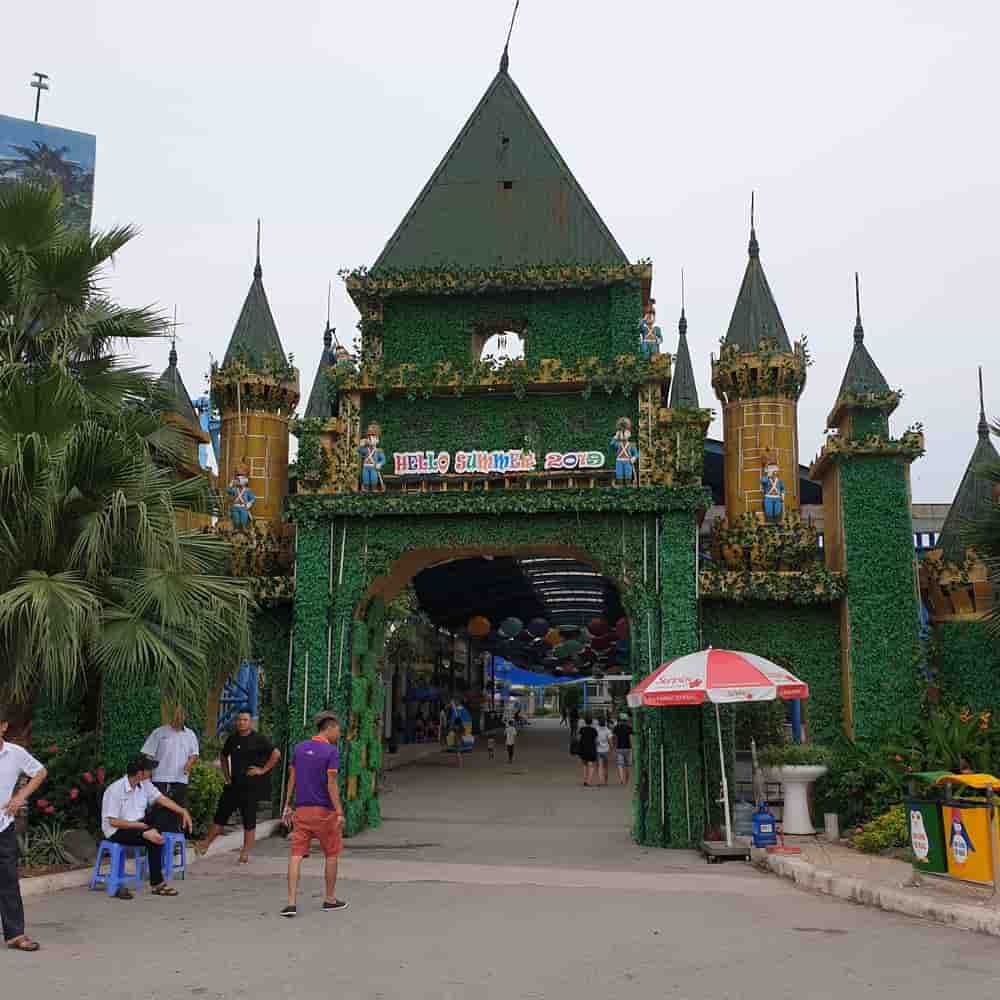 Where is the Ho Tay Water Park?
Ho Tay is situated 5 kilometres North West of the Hanoi Old Quarter. It takes about 30 minutes to get to by taxi.
The park is built on the edge of Ho Tay Lake. And it is part of an old-looking amusement park called West Lake Park. See location here:
How to Get to Ho Tay Water Park
Getting to Ho Tay is easy, your main options for transport are:
Take a Grab taxi, download the App here! The cost from the old quarter to Ho Tay Cost about 70,000 VND
Use a regular metered taxi. These are like 4 times the price of Grab Taxis in Hanoi because they add tourist taxes. Expect to pay around 200,000 VND
Opening Hours
The amusement park and water park are open from 9 am to 9 pm Wednesday to Monday.
It is only operational from April to the end of September.
Cost of Admission to Ho Tay Water Park
Hoy Tay admission costs vary according to height:
Adults and children over 1.3 m 135,000 VND
Children under 1.3 meters 110,000 VND
Toddlers are FREE
You can pay extra to go on the other rides. These include a roller coaster, pirate ship, dodgem cars, Ferris wheel, and many other theme park rides. (They look a little scary!)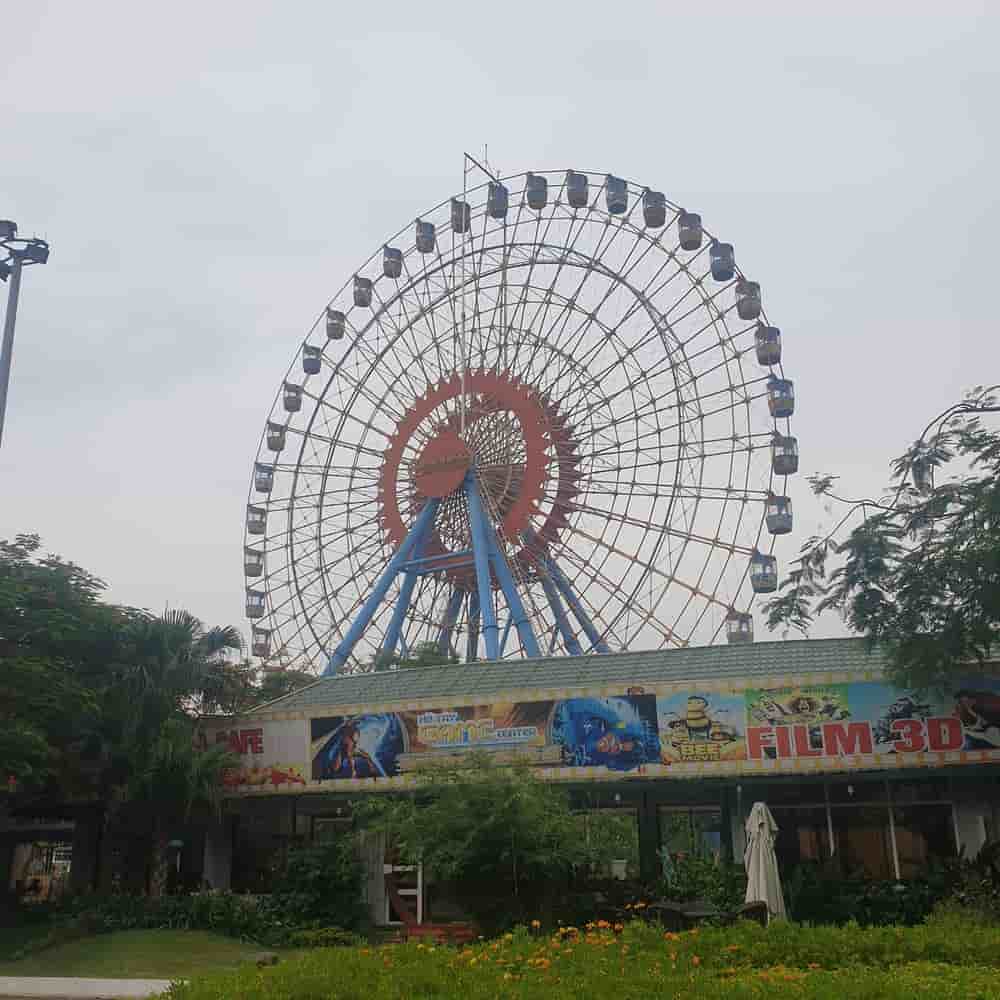 Eating and Drinking
The park has a few food options available. You can get a famous Banh Mi bread roll, icecreams, chips and a variety of drinks. The drinks and icecreams were a little pricey compared with 7-Eleven.
A Banh Mi bun cost 25,000 VND and was a terrific option for food.
The park attendants search your bags upon entering the park grounds. Don't bring your own food. Water bottles were fine.
What is the Water Park Like?
When you arrive at the entrance of the park you will feel a little concerned at first. It feels slightly empty and abandoned. Once you pay at the counter and go through the gates though, everything gets better.
Try to make sure you manage your expectations for Ho Tay and you will hopefully be pleasantly surprised, as we were.
Safety
Ho Tay has lifeguards on duty at all slides, wave pool, children's area and an obstacle area. They are quite strict with the rules. Rash shirts are not really welcome on the speed slides due to sticking and they do enforce height restrictions.
Still, always accompany your children under 10.
The park is quite easy to navigate, you have four main areas which include:
The Big slide area
Wave Pool
Kids Slides and play area
The obstacle area
Big Slide Area
This area is more suited to the people over the height of 1 m. It includes:
2 steep speed slides
1 slide to be used with a mat
4 speed racer slides
The black hole tube slide
An open tube rider slide
A peaceful and slow-paced river ride that surrounds the rides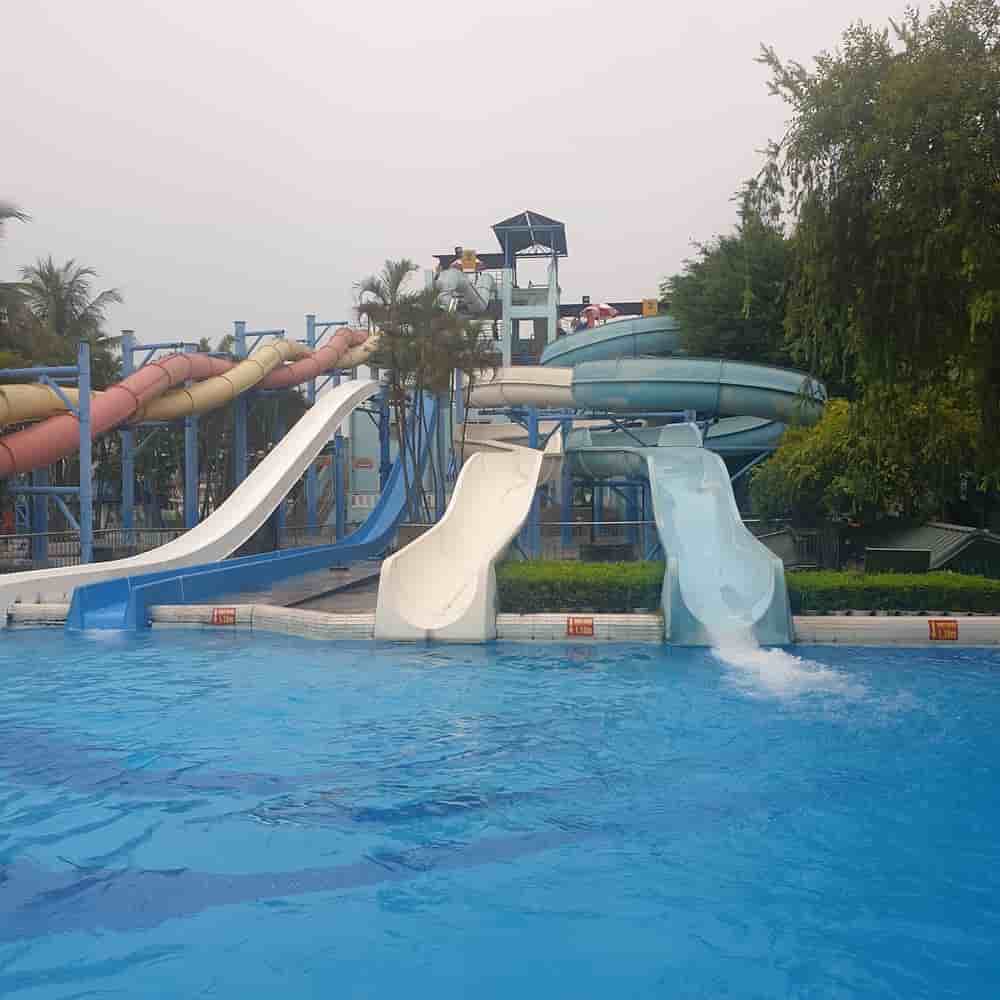 Wave Pool
If you have ever been to a man-made wave pool before you will know that it is more like a washing machine style wave. But it was still fun all the same.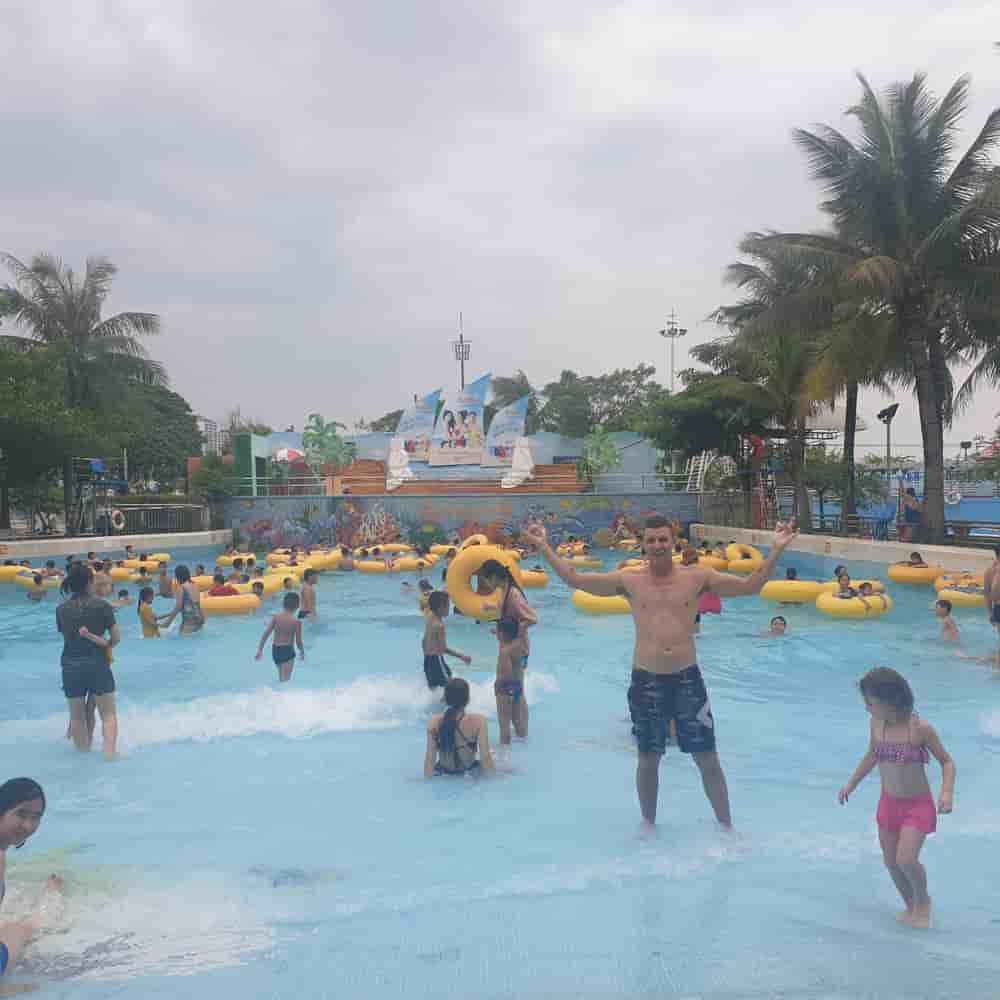 Kids Slides and Play Area
The children area is only for kids under 1.3 meters tall. It consists of 4 safe slides, water fountains, a huge elephant and shallow pool. Make sure you supervise your young children.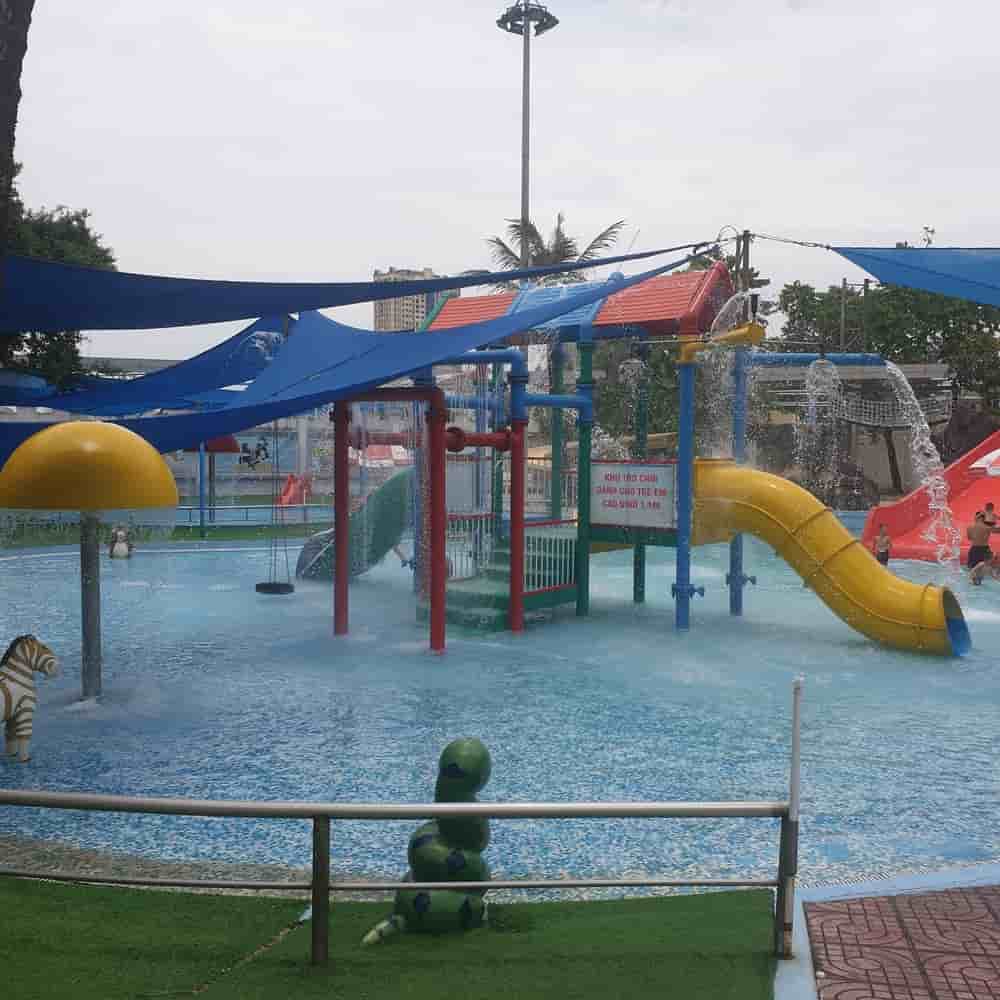 The Obstacle Area
Another fun area at Ho Tay Water Park is the Obstacle Challenge. This part of the park has 2 flying fox rides that fall into the water, a rings course, rope bridges and a 4-meter high diving platform. You will have sore muscles after this course, and it is better suited to the big kids.
Amenities at Ho Tay Water Park
Here is a list of the amenities at Ho Tay for your convenience:
Change rooms
Lockers
Shady seating areas
Several Toilets around the park
Bathing suit rental
Swimming accessories such as swim nappies, goggles, swimwear etc
Make sure you bring a towel, sunscreen, swimmers and some drinking water for your fun day out.
When to Go to Ho Tay
Try to visit the water park from Monday to Friday and you may even have the whole park to yourself! Weekends get a little busier
Don't visit the park on the school holidays as we did. Plenty of people in the wave pool!
School holidays in Vietnam occur:
25th April – 1st May
Summer Break June 16th – August 7th
National Day September 2nd – 3rd.
It is advisable to also avoid these times in general when visiting Hanoi thanks to an increase in tourist numbers and accommodation prices.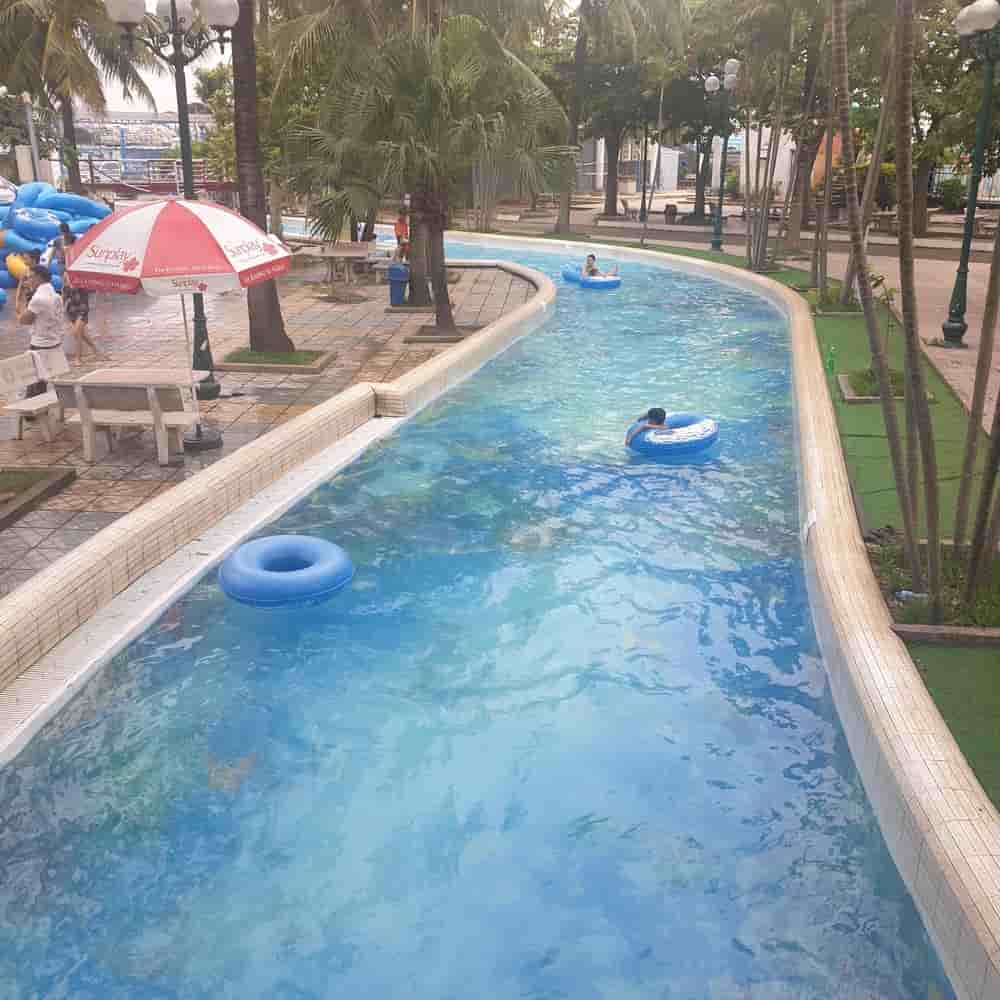 Our Day Out at Ho Tay
We had an amazing day at Ho Tay with our 4 children. Our kids are 9, 7, 6 and 2. They thought it was awesome.
We spent about 4 hours here and that was plenty of time to have fun and ride all the slides.
The older 3 were allowed to ride almost everything because they are all over 1.1 meters tall. Our 2-year-old had fun at the wave pool and children's play area.
Even the adults have a ball here. There are enough adrenaline thrilling rides to keep all ages happy.
The kids' favourite ride was the black hole tube ride and the open tube slide beside it.
My favourite ride was the steep speed slides. I also thought the obstacle course area was heaps of fun.
Ho Tay Water Park – the Verdict
The overall verdict for the Ho Tay Water Park voted by the kids was 8 out of 10.
The park loses points for being busy on school holidays. Rides were a little old looking and the entrance to the park is a bit off-putting. Some of the rides were not operational at all.
The price was great for a family and you never really had to line up for any rides. This is a huge plus for us.
We fully recommend spending a day or several hours here with yourself or family when visiting Hanoi. It was one of the highlights of our trip to Vietnam. Just visiting temples and taking tours can be tiring for you and your kids.
See our other recommendations for great day trips out of Hanoi
Make sure you visit Ho Tay the next time you visit the amazing country of Vietnam.
How to get out of Hanoi
Where Else to go In Vietnam
Vietnam is such a cool country to visit with your family. We especially recommend visiting:
Before you Get to Vietnam: