Have you experienced the art of pottery making before?  If not, while visiting Hoi An you must take yourself and your family to Thanh Han pottery village.
The village consists of little local terracotta shops selling wares and offering some hands-on pottery experience.
Where is Thanh Ha Pottery village?
Thanh Han Pottery village is situated 2 kilometres west of the Old Quarter in Hoi An or 20 Kilometres from Danang.
See Map Below for Details.
The village lies on the banks of the Thu Bon River and is made up of narrow streets that only motorbikes and pedestrians can access.
How To Get To Thanh Ha Village?
You have a couple of options to get to the village, they include:
Catch a Grab Taxi (search 'Pottery Village Thanh Ha'. Cost from Old town is about 35,000 VND)
Ride in a local green taxi (cost from Hoi An using meter should be the same as Grab Approx 35,000 VND
Catch a local boat from Hoi An Ancient Town to Thanh Ha – This is a great option. If you catch a taxi there, there are many boats offering to take you back to Hoi An.
Ride your bike or motorcycle (Motorbike rentals cost about 100 – 150,000 VND per day.) Parking costs around 5000 VND.
Join a tour with GetYourGuide, Klook or organise from your hotel locally
Half-day and full-day tours depart Hoi An and will include a boat ride, a visit to Thanh Ha Pottery Village, all entry fees, as well as a visit to the skilled craftsmen at the Cam Kin Carpentry Village.
We prefer to use GetYourGuide to compare prices and to book tours, finding them to be cheaper than booking locally. The convenience of browsing and booking online, and paying securely by credit card is great too!
Check Prices for Thanh Ha Village Tours Here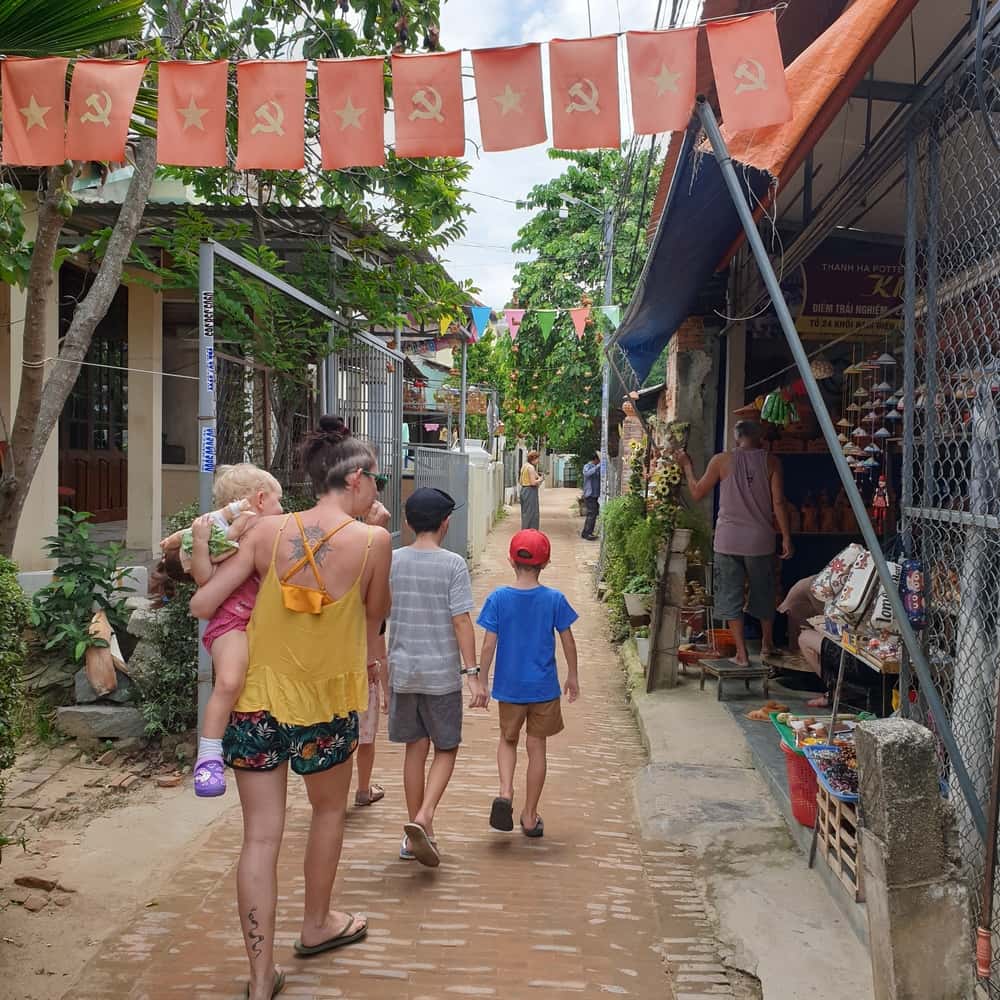 How Much does Thanh Ha Village Cost?
When arriving at the village you have to purchase a local pass/ticket for access. If you do a tour, the ticket price is included.
The Cost for Adults is 35,000 VND and children are FREE! Purchase tickets from the booths or a local ticket officer wearing an official lanyard will sell you a ticket.
Buying your ticket includes a free gift that can be redeemed from the shop that mentions this on the sign.
If you want to try your hand at pottery then visit any of the shops that have a pottery wheel. The artisans will invite you in to try your hand at the wheel. It's all FREE and great fun for all.
Apart from this, the only money you need to spend is on any drinks, food or tourist gifts you buy.
Experiencing Pottery making at the Village
This is the fun part!  We have 4 kids and none of us has ever made a pottery product before. We naturally thought it looked super easy to do but we were wrong.
The locals make it look so easy. They place a lump of clay onto the pottery wheel. Here they begin the spinning and get your creativity going. Using your hands and dipping them into the water you begin to mould your creation.
Being newbies you will probably try to make a dish, a cup, a vase or a weird shape.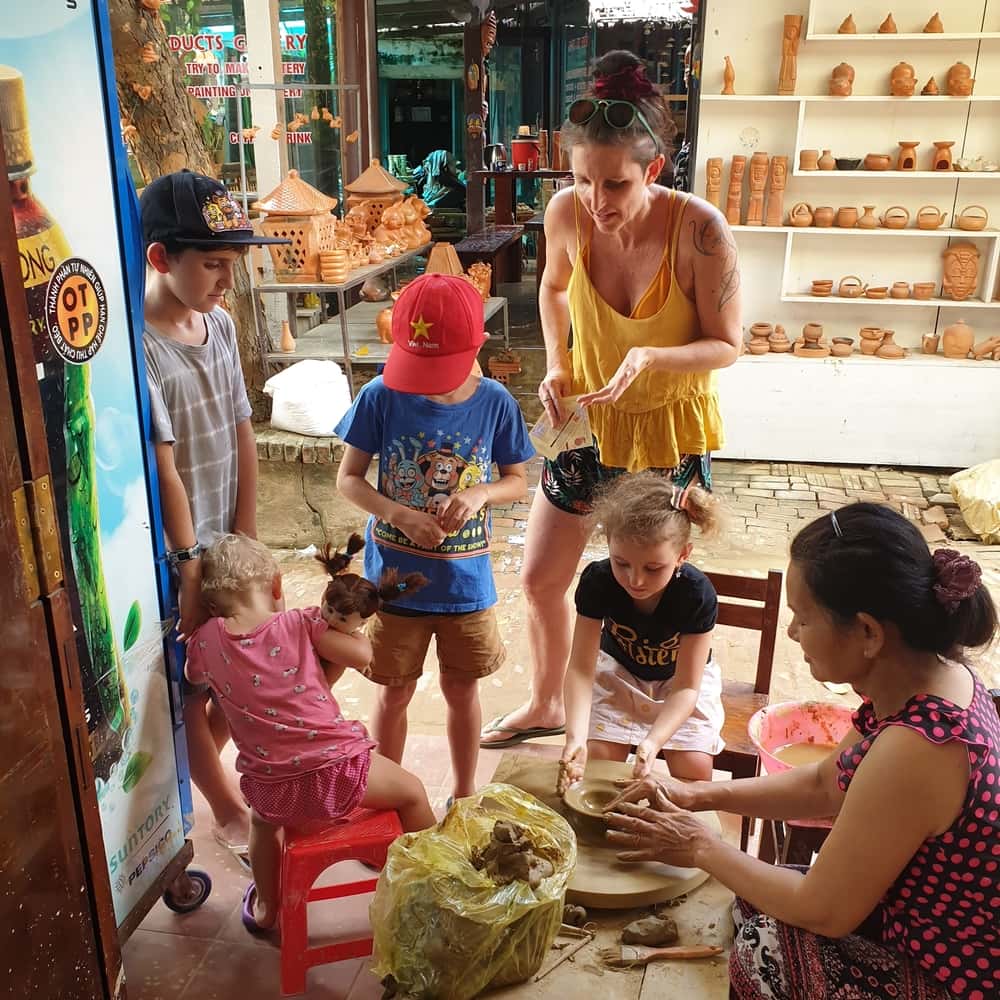 Sounds So Easy Right? Wrong!
Each of us started off fine but your perfect creation will probably turn out wonky unless you have the technique down pat. It takes a lot of patience.
Don't worry because the local artisan will quickly repair your creation and make it turn out ok.
It was so fun, we loved, the kids loved it and it was a great experience while travelling in Vietnam.
Once all done the local artist will put your creation in the sun to dry so you can take it home after you stroll around the village.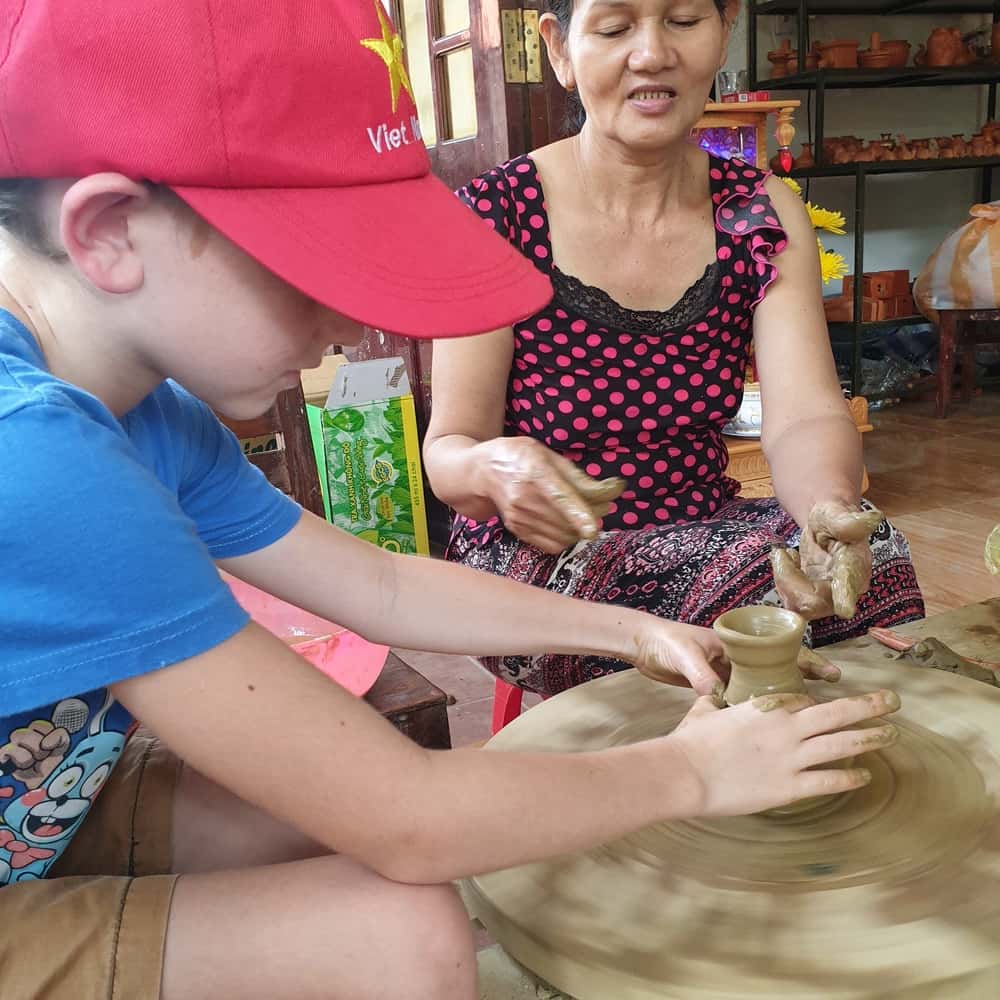 What else is there to do in Thanh Ha Village?
Apart from pottery building you can visit a couple of riverside cafes, view the pottery kilns and do some souvenir shopping. Or just wander around the village for a couple of hours and see how the locals live.
We spent around 2 hours in the village.  It isn't really that big and once you have experienced the pottery class you have sort of done it.
Visit the Terracotta Museum
There is also a Terracotta Museum at the entrance to the Pottery Village which costs extra.
The cost for admission here is 40,000VND per Adult and 20,000 VND for a child over 3.
The museum houses many old terracotta artefacts dating back many years and some great art. It is all housed in a beautiful art deco style 3-storey building.
Here you can also paint your own terracotta pieces which cost from 50,000VND.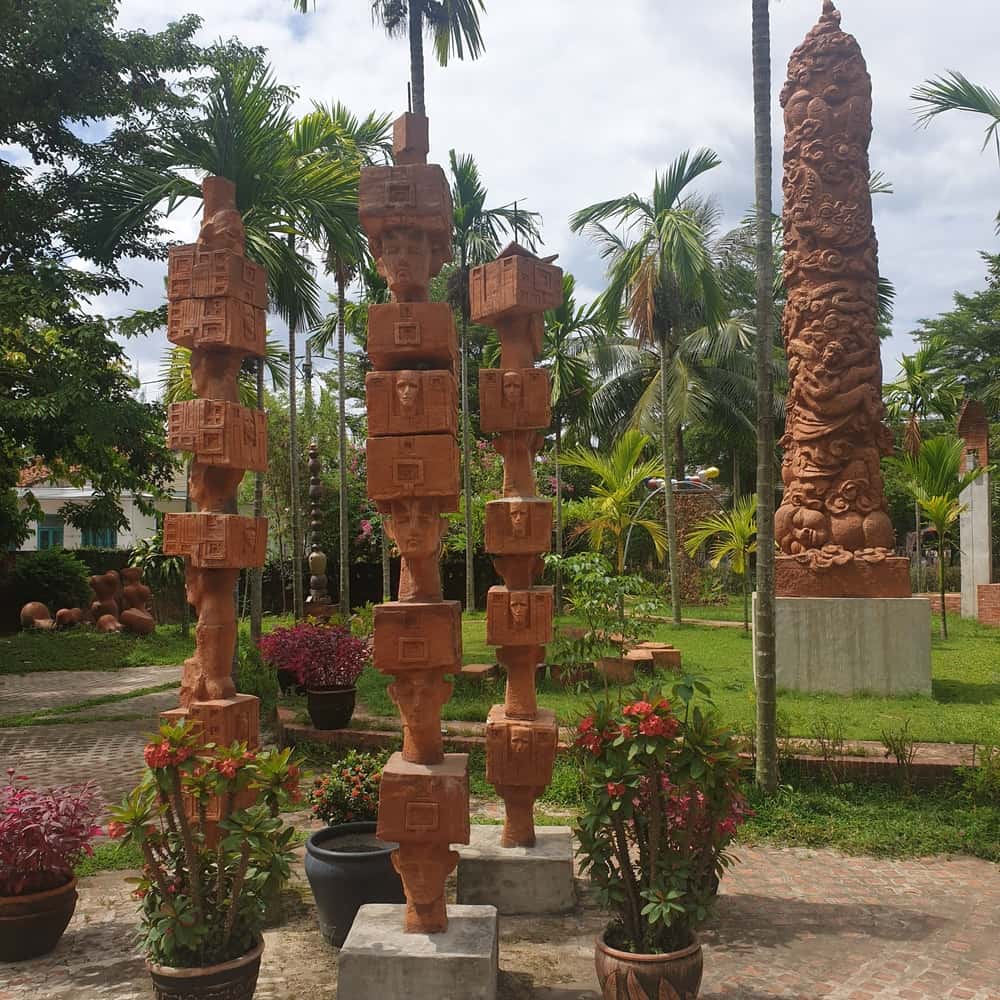 The museum also has a cafe inside for drinks and snacks.
We found the Museum to be a bit boring but if you love pottery you will find it amazing.
Probably the best part of the museum the Garden of Miniatures. There is a cool display of terracotta models of all the famous wondrous buildings of the world. See the Taj Mahal, Sydney Opera House, Big Ben, The Forbidden City, Leaning Tower of Pisa and more.
Rating of the Thanh Ha Pottery Village
Thanh Ha Pottery Village is well worth a visit for a few hours and I would definitely put this on your list of things to do in Hoi An or Danang.
But the museum was overpriced and we found it boring so unless you love pottery just take a picture of the front area.
We rate this experience 7 out of 10.  You would learn a lot more from taking a tour with a qualified guide, also they will pick you up directly from your hotel in Hoi An. But it is also possible to do on your own too.
Book Your Terracotta Pottery Village Tour Here
Conclusion
Definitely put this on your list of Vietnam experiences for you and your kids to do while on holidays.
Related Articles
If you would like further ideas of what to do while in Vietnam check out these other great experiences below:
Before you head to Vietnam, you will need to know: