Looking for the best things to do in Hoi An, Vietnam while on holidays in Ancient Town?
Look no further here is the ultimate list from our recent visit to the beautiful and atmospheric Hoi An Ancient Town.
1 Take a Ride in a Lantern Rowboat
Experience Hoi An Old town aboard a wooden rowboat covered in Lanterns.
There are many operators on the shores of Old town on both sides of the river that will be trying to get you onto their boats.  A boat ride that lasts for 20 minutes will cost you 150,000 to 200,000 VND.  We loved it and you can take your own beers and snacks.
Daytime rides are also available, but nothing quite compares to the sight of all those lanterns on the water at night. Life jackets are usually provided. If you have little ones, it is recommended to bring your own kids jackets.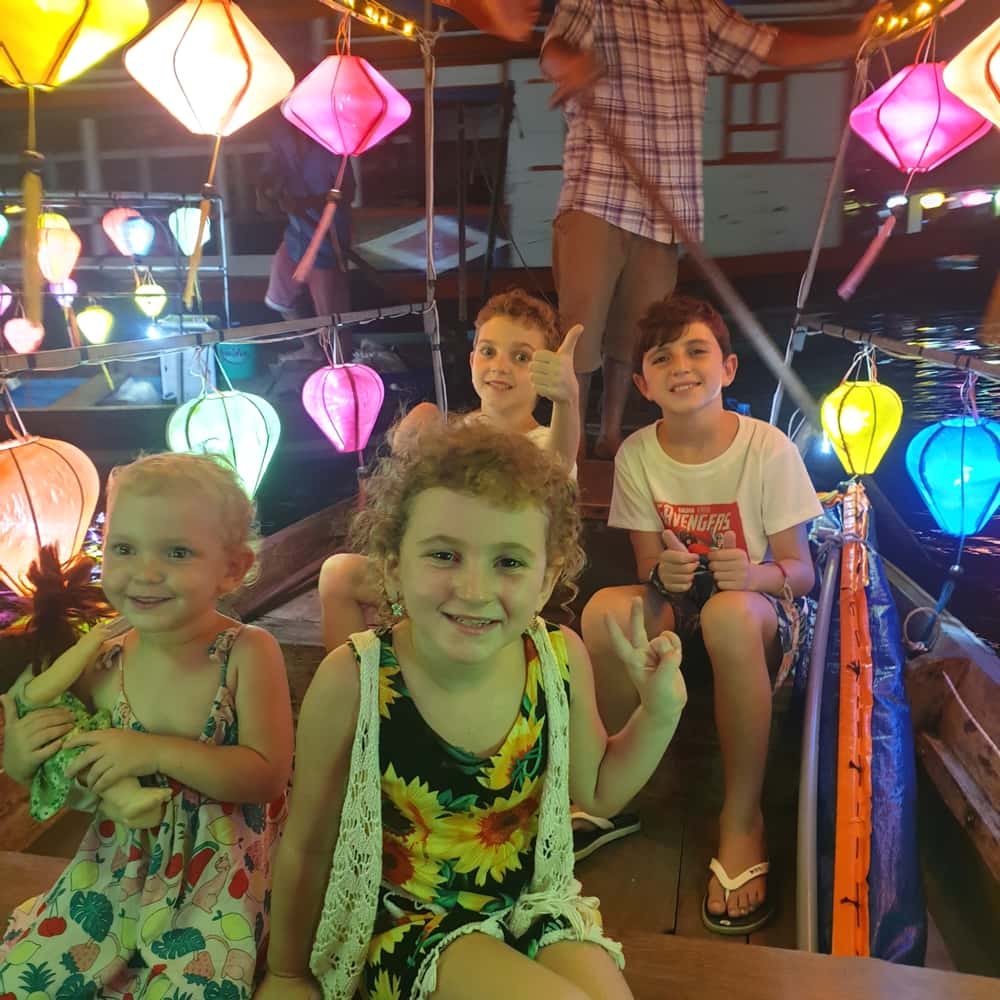 2 Take a Rickshaw Ride Around Hoi An Old Town
Hire a rickshaw for an hour and experience the city. There are rickshaw drivers waiting to take you around town and prices are very negotiable.
Or, combine this in a fun tour which has you dressing up in traditional Ao Dai Vietnamese clothing visiting the best sights in the city.
Check prices and book with GetYourGuide here.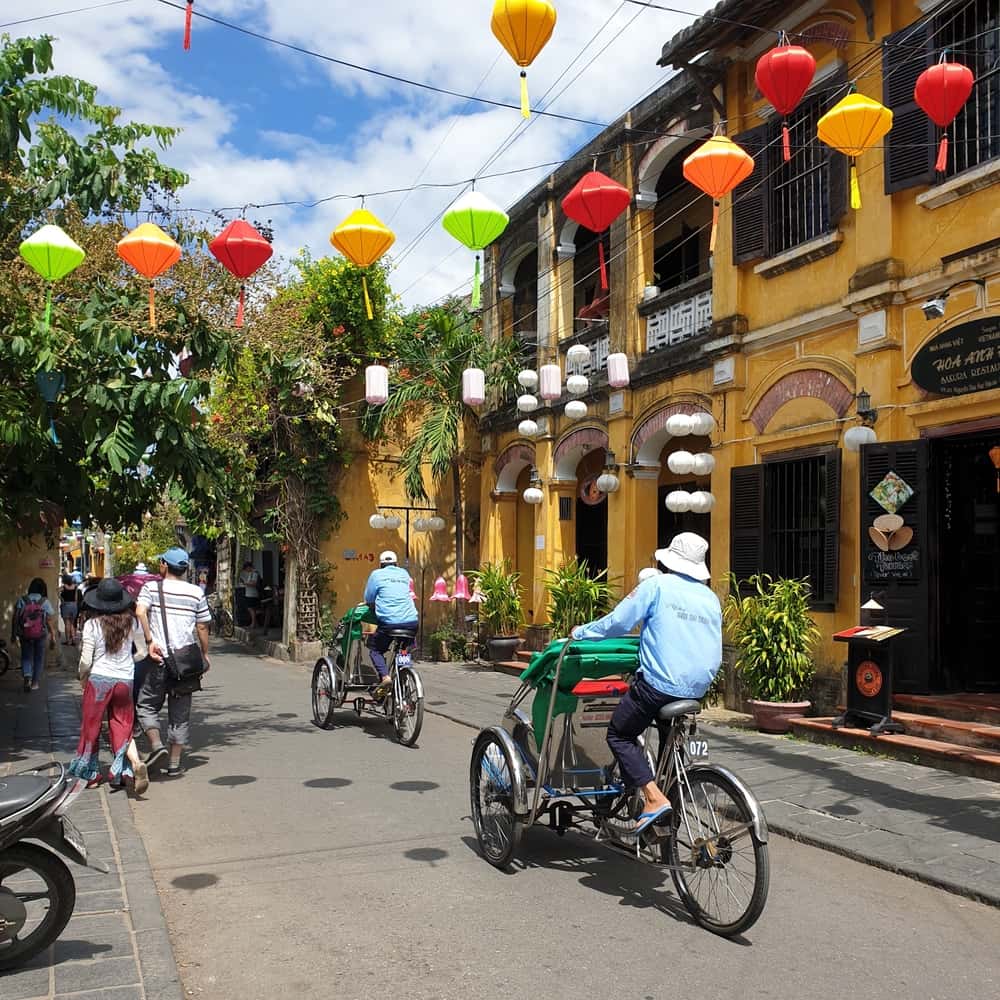 3 Join a Food Tour 
Tour through the city with a guide and experience the delicious foods of Hoi AN so that you know what to eat while in Vietnam. We found the cheapest tours to start at $20 USD. See below to compare prices and inclusions.
Try Mi Quang (noodles, pork, and curry sauce with lettuce and herbs), Lao Cai (thick yellow noodles with pork and crispy crouton with lettuce) and Bahn Mi (baguette with meat and salad) which are some of Hoi An's most famous dishes.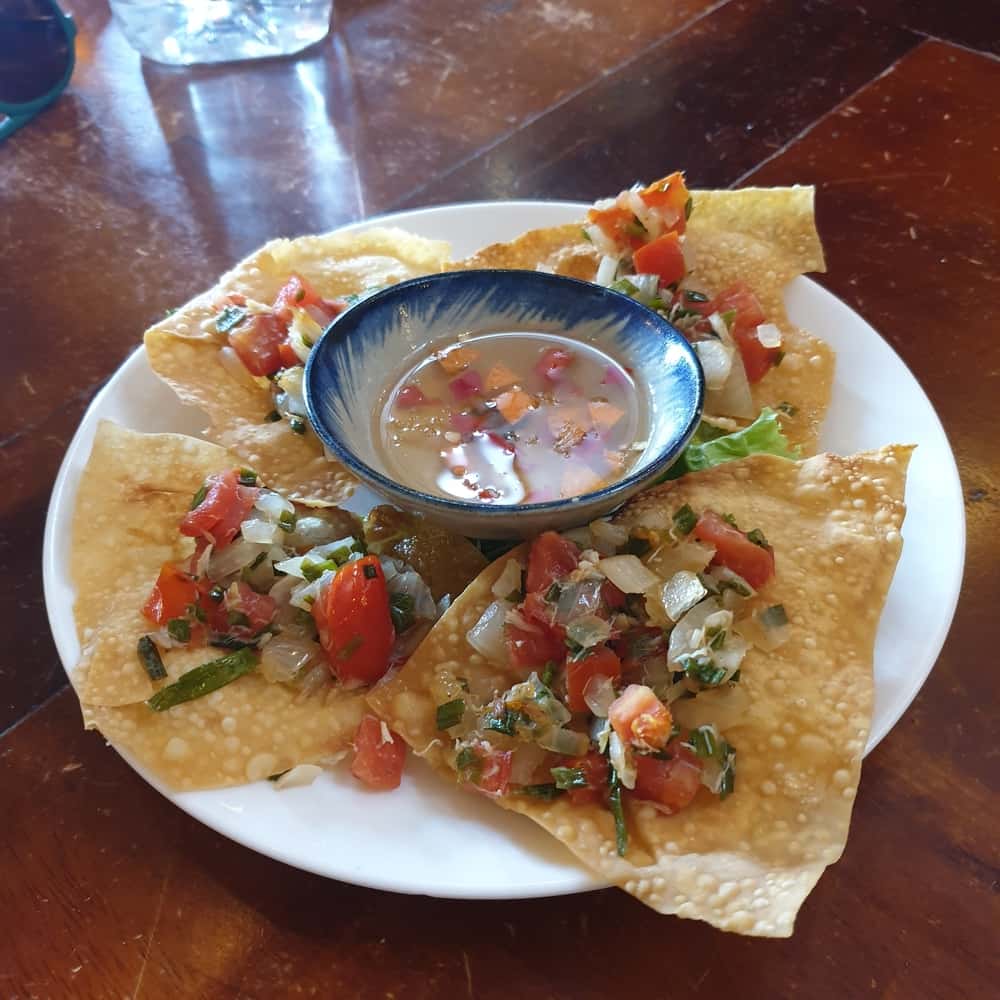 4 Ride Through the Waterways on a Bamboo Basket
Organise a tour in a Bamboo basket for an hour or so.  Also, you can combine a cooking class with the boats on the same day. See below for the different tours, and easily compare prices and book with GetYourGuide
5 Ride a Bike through the Rice Fields
Join a bike riding tour and see how the farmers work the fields with this local tour among the paddies.  See below for details.
6 Bike Tour Through Hoi An Old Town
Go on a tour of the streets of the Hoi An old town with a guide on a bicycle or even better, on your own.  This is the best way to experience Ancient Town while being eco-friendly.  Most hotels and guest houses provide free bicycles for you to cruise around the lovely, flat and pretty streets of Ancient Town.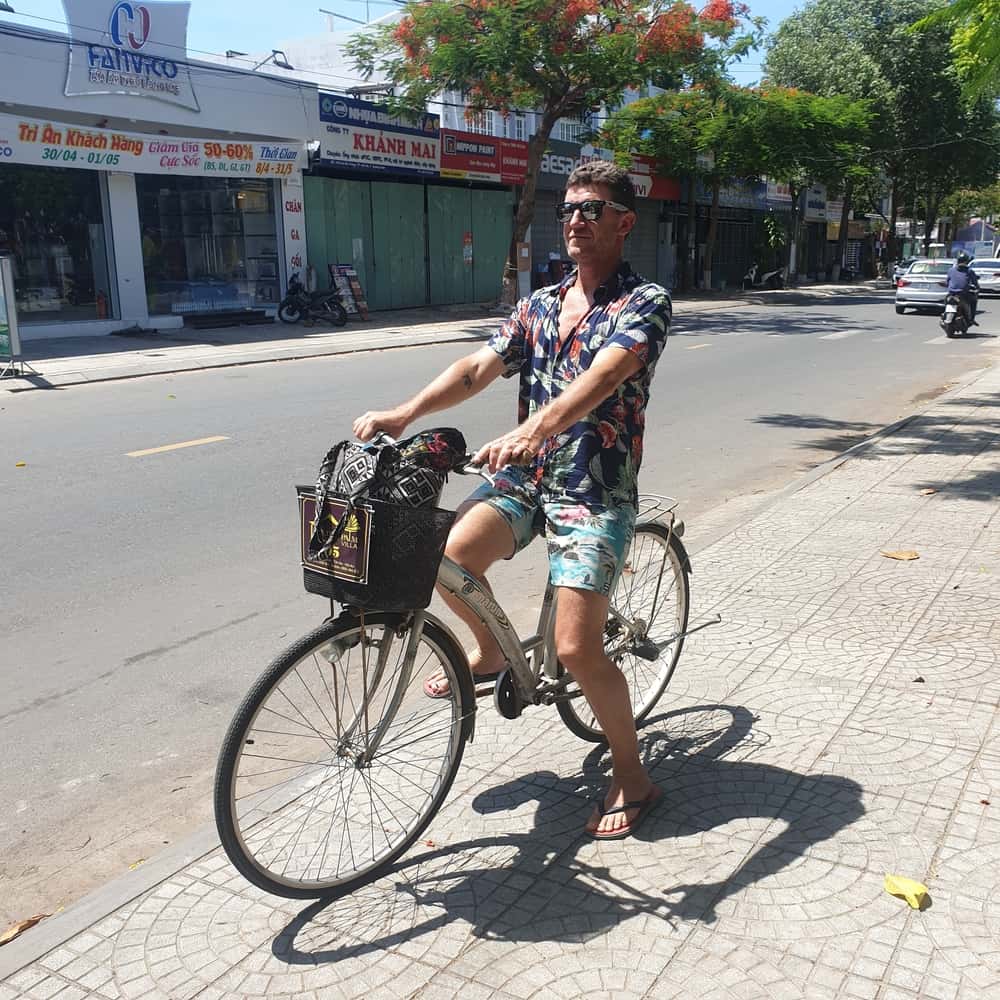 7 Photography Tour of Hoi An
Polish up your photography skills and capture some amazing footage with a professional guide,  your guide will be dressed in local clothing so that you can capture a unique look into Vietnamese culture. 
8 Find a Local Cafe and enjoy the Vietnamese Coffee
Vietnam has undeniably the best coffee in the world and every cafe you go to does it differently. We loved the Ca Phe Nau or Ca Phe Sua which is a thick strong black coffee poured over an inch of condensed milk. Add ice.
Just enjoy people watching and sip slowly on that magic cup of iced Vietnamese coffee.  Most restaurants sell coffee and our favourites were Pineapple, Before and Now, and Hoi An Roastery. These are all found within Ancient Town.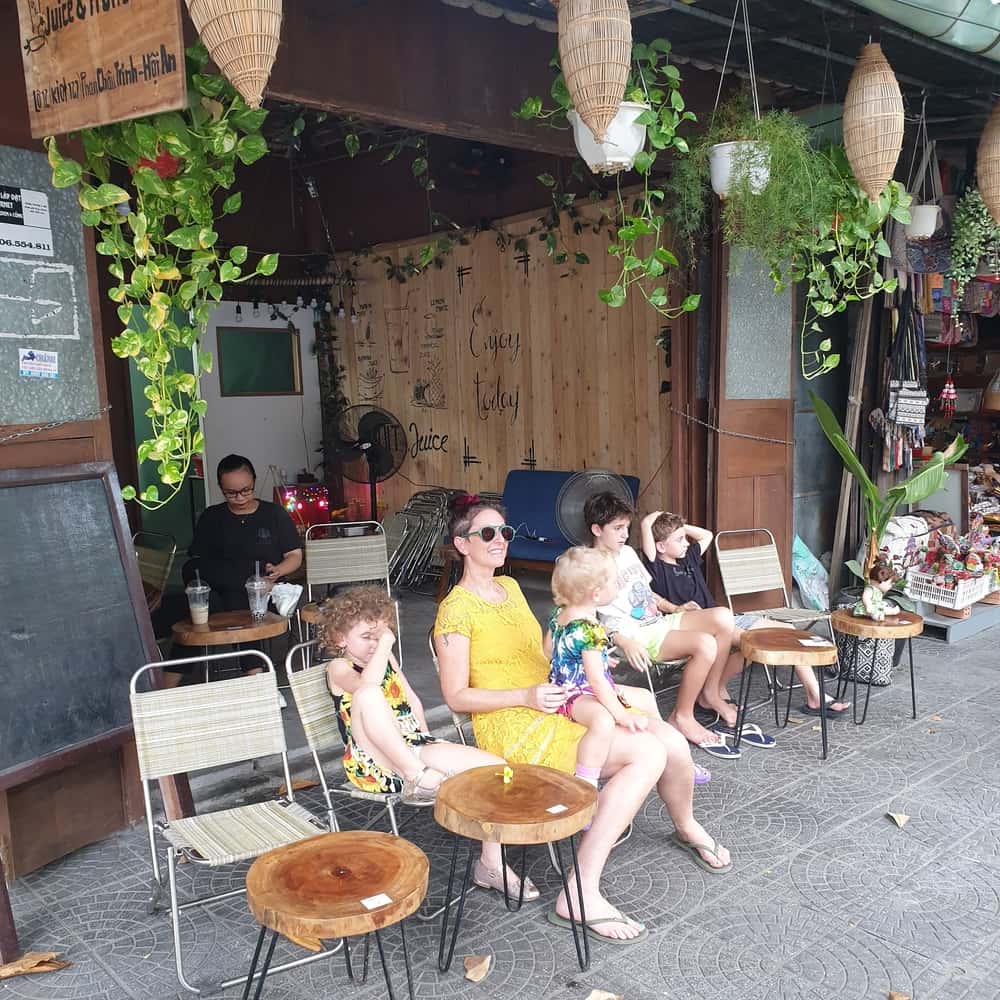 9 Slurp on some Pho (Noodle Soup)
The staple of all Vietnamese people is Pho.  You can taste this dish everywhere, at local street vendors, at local restaurants for breakfast, lunch and dinner.  It is the cheapest meal in Vietnam so do yourself a favour and ask for Pho Bo (Beef Noodle Soup) or Pho Ga (Chicken Noodle Soup).
10 Dine at a Fancy Restaurant in Old Town
Want to experience done dining in Old Town?  Then visit any of the well-decorated restaurants in town and try a dish.  Prices are very good compared with your home country so explore.
Our favourite was Morning Glory in Old Town with great food and great prices.
Find the location of Morning Glory on Google here.
Try the 5 spice pork belly, or my absolute favourite – Duck Curry! Get there early in the evening as this place fills up fast. Or try a lunch date instead.
11 Visit the Japanese Bridge
An Old bridge dating back to 13th century a visit here will take you back in time.
Like the other historic attraction in Old Town, you are supposed to buy a ticket to see this. Tickets are available from the ticket booths at entry points into the car-free zone at Hoi An's Ancient Town for 8,000 VND. This covers all the sites. However, if you are not visiting the points of interest, you don't need the ticket.
12 Shopping for Crafts
Need I say more!  Shop till you drop, you can basically get anything in the old town, clothing, souvenirs, gifts, bags, jewellery and lanterns.
Hoi An is famous for its handpainted silk lanterns. And you will find some authentic stores selling these beautiful souvenirs around Hoi An everywhere. Small ones start at 30,000 VND. With any negotiating, the more you buy, the more bargaining power you have.
13 Tailor Clothing
Want to get a tailored dress or suit to take home?  Then visit the many tailors in town where they will customise anything you want.
They can copy any design or pattern you desire.  A good place to start is Be Be Tailors. Barter prices to avoid paying too much.
14 Watch a Traditional Show at The Lune Performing Centre
Visit the spectacular Lune Theatre on Cam Bo Island where they have performances every day inside a huge bamboo building.
The current show is a fantastic artistic and acrobatic display by local performers showcasing the history of Vietnam. It is called Palao. Part of the fun is simply being inside this stunning theatre!
Compare prices and buy tickets here
15 Night Markets
There are a few areas that have market stalls.  Check out Cam Bo over the bridge for a long street full of exciting wares and at the eastern end of the old town for local products. These especially come alive after dark in the atmospheric Ancient Town along the river.
16 Local Food Market
Explore the local market on the eastern end of Old Town down by the river.  The markets are full of local produce and old ladies selling anything you can eat.  This is a great spot to see true locals in action and some weird food.
Find the market on Google Maps here.
17 Hoi An Ancient Town at Night
Probably the most popular thing to do is just stroll around Old Town at night.  The colours of the lanterns make for epic photographs it is like a dream from a movie.  Just walk up and down the streets without worrying about cars because vehicles are not allowed in the old town.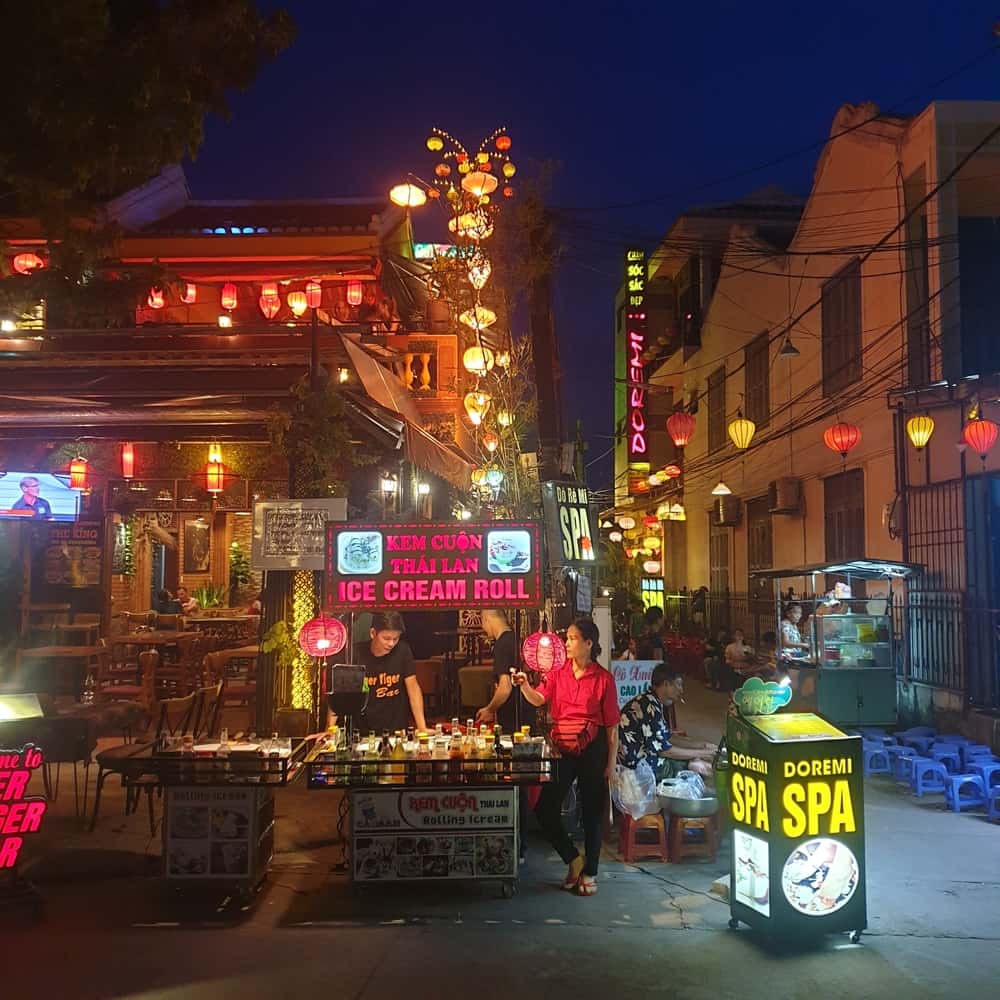 18 Visit Some Temples
Visit some of the colourful temples in the Old Town.  You will need to purchase a ticket to visit points of interest in Hoi An old town costing 8000 VND per adult.
Don't miss:
Chuc Thanh Pagoda
Phap Bao Temple
Quan Cong Temple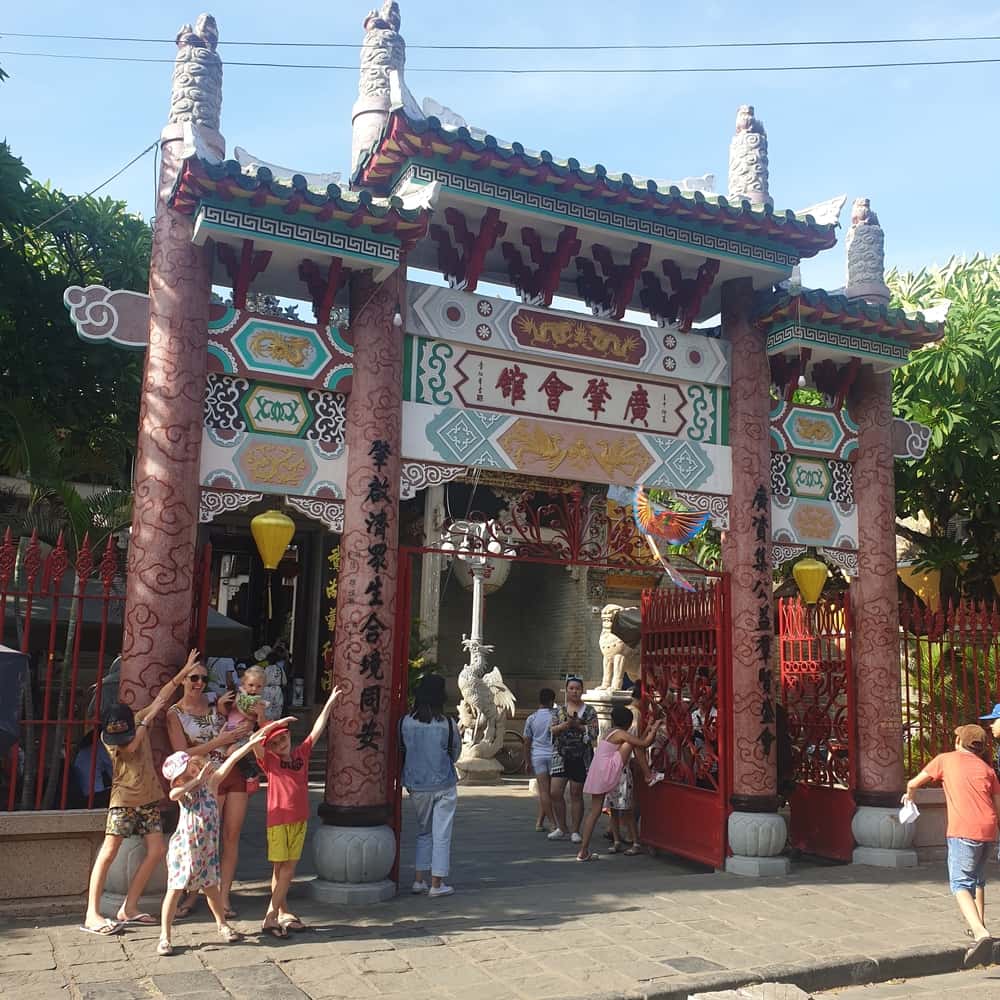 19 Spend a Day at Ba Na Hills
This was one of the best things to do in Hoi An with the kids while staying in Hoi An.
Read our entire review, and see the video for yourself.
Ba Na Hills is roughly 60 km west of Hoi An and you can get there via a tour, or hire your own taxi. Then spend the day ascending the mountain via exhilarating cable cars, getting your happy snaps on the famous Golden Bridge and visiting the surreal sights of the French Village.
Tours can be compared below:
Entry fees, transfers and lunch are included in the above tours. Or you can visit yourself. Entry is 750,000 VND per adult and 600,000 VND for kids. See here for details.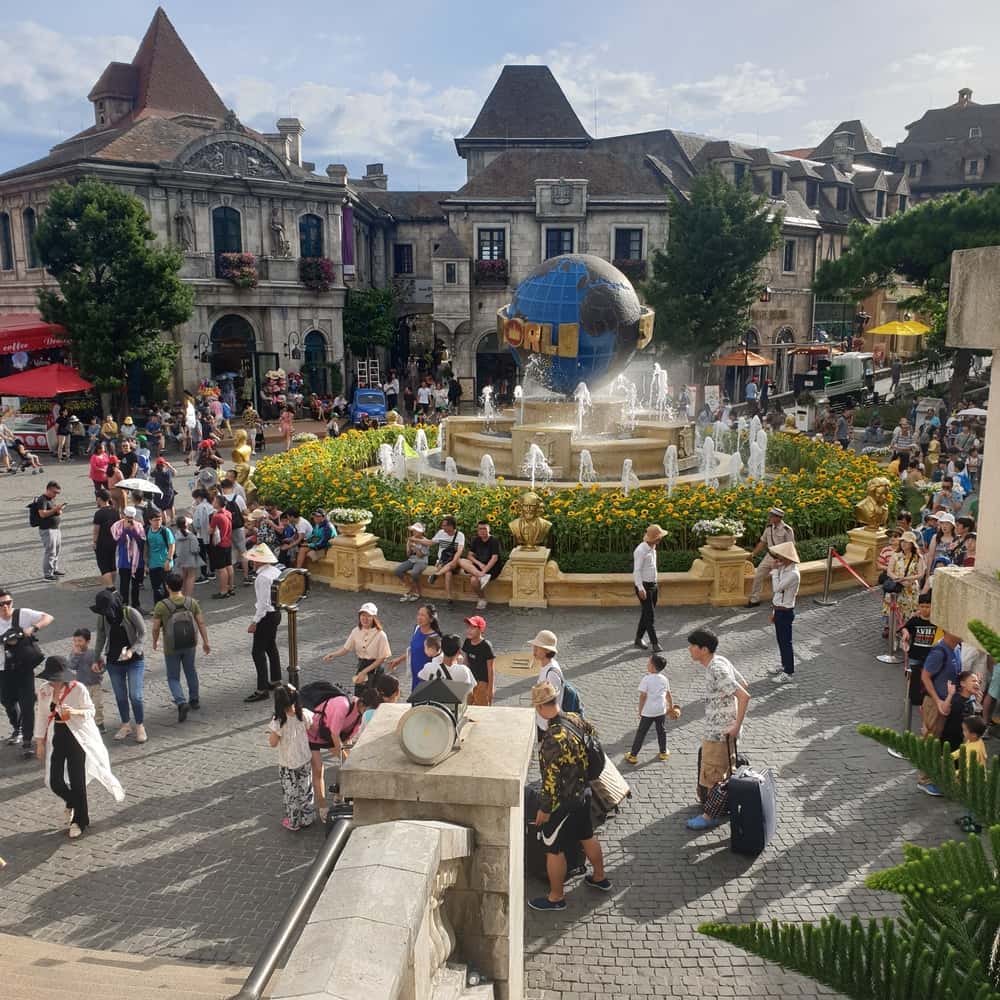 20 Visit Thanh Ha Pottery Village
We spent a couple of hours throwing pottery on a wheel in the pottery village. It's only 3 km from Hoi An Ancient Town.
See all the details of our fun visit here.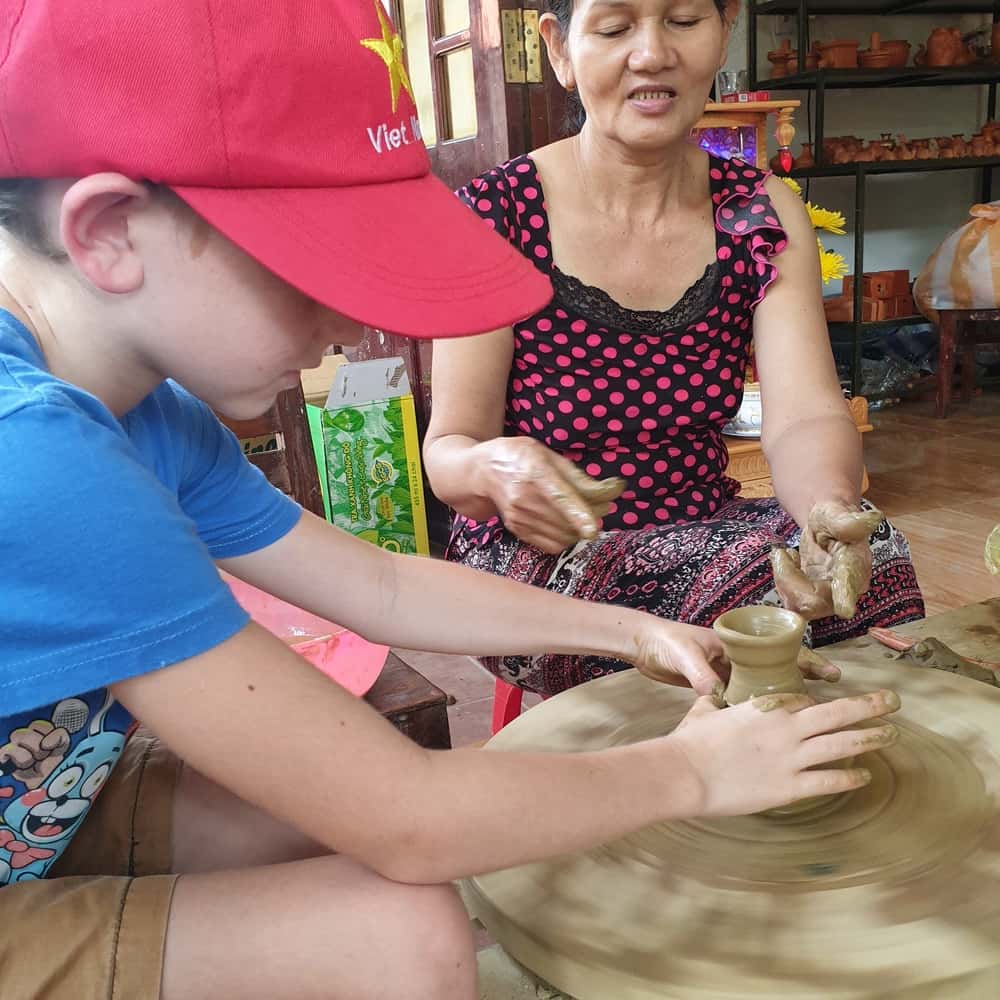 Getting to Hoi An
Hoi An is located 30 km south of Da Nang which has its own international airport (DAD), train and bus stations.
There are regular flights to most major Asian destinations, and the domestic terminal handles flights from all over Vietnam. Danang is a great transport hub.
We like to use Skyscanner to search and compare cheap flights. Check below for flights into Da Nang from wherever you are.
From Da Nang it is easy to arrange a taxi, Grab or private transfer the rest of the way to Hoi An. See the links below to book your transfer in advance.
We asked our hotel in Hoi An to organise this on arrival as we have a large group and a surfboard so don't fit into a 'normal' taxi. A private transfer in a 7 seater car cost 400,000 VND.
We came to DaNang by overnight train from Hanoi.
Read our full review of our lifechanging Vietnam Railways' Overnight Train Service here.
---
See other ways to get to Hoi An in this article.
Where to Stay in Hoi An
Staying as close as possible to the Ancient Town is advisable. We stayed at Golden Palm Villa which is in an area north of the old town and great for budget stays. This boutique hotel had a beautiful pool and fantastic breakfast with a lovely family room. Free bikes made it easy to get around and a Grab to the Ancient Town only cost 22,000 VND during the day (prices rise at night.)
Check prices for Golden Palm Villa here
---
The Vinh Hung Heritage Hotel is right in the heart of Hoi An's beautiful Ancient Town. It offers perfect old-world ambience and so romantic!
Check prices for Vinh Hung Heritage Hotel here
---
Green Heaven Hoi An Resort and Spa has an awesome pool and is also located within walking distance. Room rates include breakfast and wifi and they have beautiful family rooms too.
Check prices for Green Heaven here
Best Things to do in Hoi An – The Verdict
Hoi An and the Old Town district is such a beautiful area.  Just strolling through the Ancient Town at day and night will please your senses. But there are also many activities to entertain and delight you while you are there.
The colours, the history and the atmosphere will leave everlasting memories for you and your family of your time in Vietnam.
I hope this list helps you with the planning of your Vietnam Trip.
Related Articles
See below for our helpful articles which will help you plan more of your holiday in this wonderful and vibrant country.