Vietnam is such an amazing country to visit. We came here when we were just fresh-faced young backpackers, and again with our children. I am happy to report that Vietnam for kids is even more fun than I remembered! And better than you may realise.
Exploring this exciting country from North to South or back to front is easy and I will show you the best places to visit in Vietnam for kids that all ages will enjoy. Make the most of your family holiday to Vietnam.
This is the fun stuff. Not just a list of the popular tourist destinations, but the things your kids will actually have fun doing.
You can use the contents table to navigate, or just scroll right down for all the info.
Getting to Vietnam
Getting to Vietnam for kids is easy with International airports located across the country. Many visitors to Vietnam will want to go from Hanoi to Ho Chi Minh or vice versa so landing in one of these major airports and leaving from the other one will make the most sense.
Hanoi – Noi Bai Airport in Northern Vietnam
Ho Chi Minh – Tan Son Nhat in the South
With a shorter itinerary in Vietnam, it is also possible to concentrate on either the North or the South half of the country. Exit at Da Nang International Airport (Tho Xuan) which is about halfway down near Hoi An.
More about family-friendly Vietnam Itineraries later in the post.
Arriving into Vietnam
Visa for Vietnam
Prior to your arrival into Vietnam, you will need to arrange an e-visa online.
You can get a 1-month or 3-month single or multiple entry visa for stays in Vietnam but you need to have the letter and application form with photos already arranged at least 1 week before your trip.
Click here to arrange your visa easily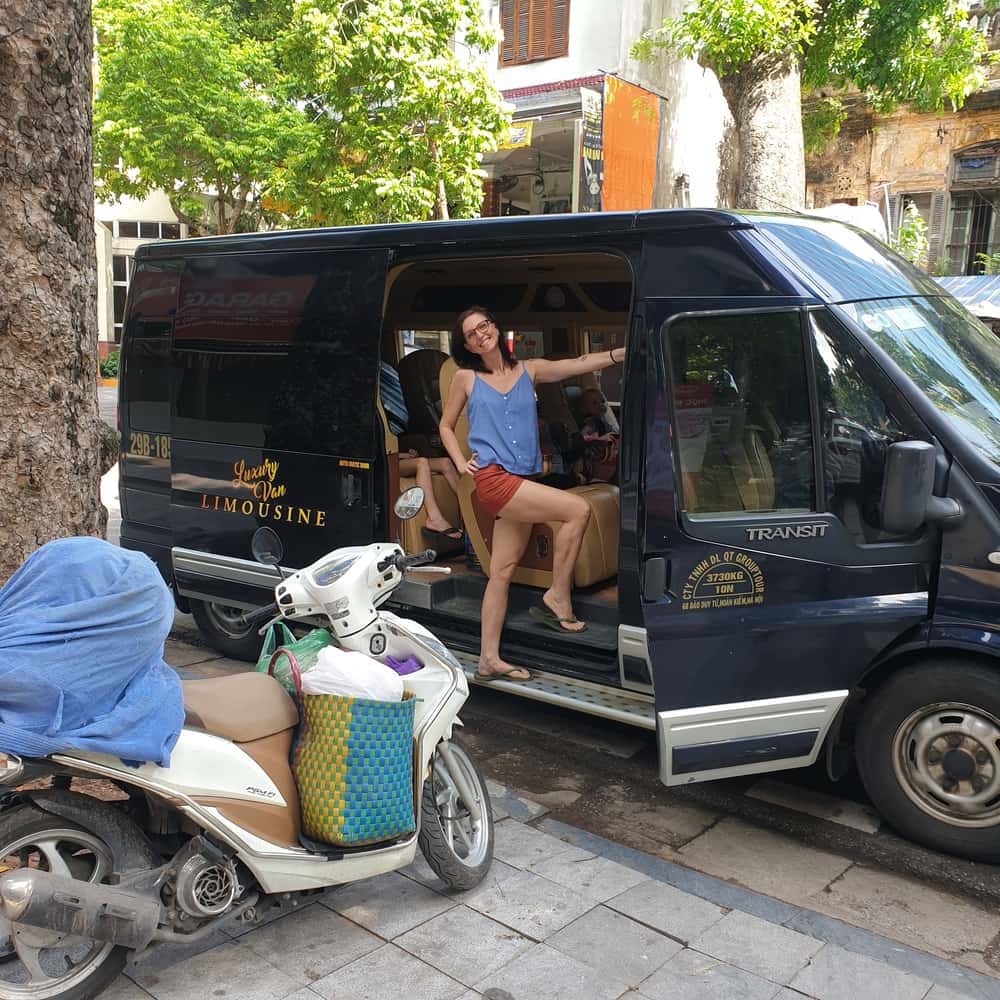 Airport Transfers
When travelling with a family the biggest and best tip I can give you is to always arrange an airport transfer. These can be booked online prior to your arrival or often arranged with your accommodation.
Klook usually gives us the best prices and I book our transfers with them for the majority of our flights into Asia. Klook also gives us the convenience and security of browsing, booking and paying online. You can compare prices here:
When to Visit Vietnam
Vietnam enjoys a dry season and a wet season. But the seasons will differ from north to south. Read our post all about the weather in Vietnam here. We visited Hanoi during July which is Hanoi's hottest month, and went to Hoi An during wet season. But it was fine.
The Best Places in Vietnam for Kids
Hanoi
Hanoi is such a vibrant and exciting city. On the weekends they block off the streets around Hoan Kiem Lake to traffic so families can stroll around and make the most of the festival atmosphere. Electric toy cars, scooters and hoverboards are everywhere for hire and prices start from 50,000 VND.
There is an ice-skating rink, a water park and a soon-to-come Hello Kitty World too. Our kids also enjoyed the War Museum in Hanoi, but didn't rate the temples so much.
See our post here for all the details on the best things to do in Hanoi with Kids. Your kids will thank you for it!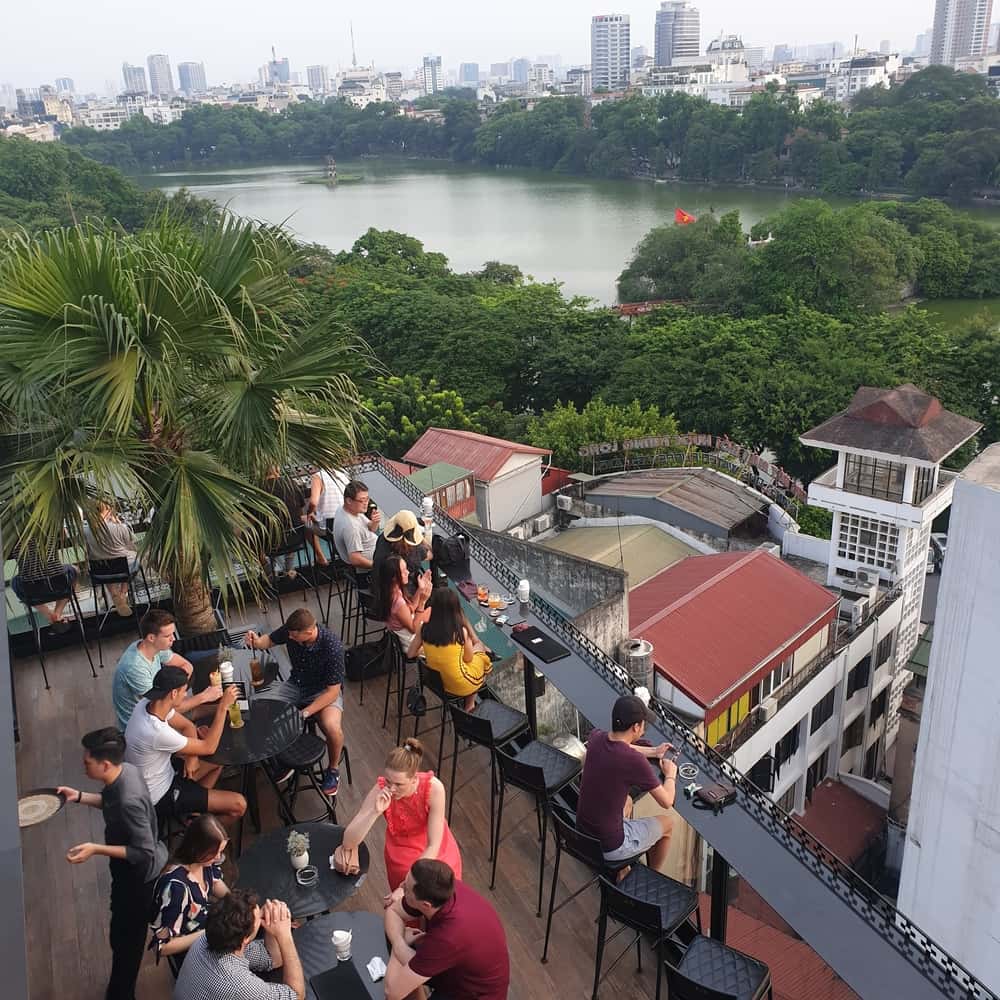 Where to Stay in Hanoi With Kids
Staying in the Old Quarter of Hanoi is where you want to be. We had a fantastic Airbnb in the best location which was super comfortable with 6 king-sized beds!
---
Hanoi Malo Boutique Hotel has a great budget family room with 5 beds, is perfectly located in the Old Quarter and offers a free breakfast too.
---
Hanoi Royal Palace Hotel 2 has a range of mid-priced family rooms and a buffet breakfast.
---
For a more luxury stay with a pool, the perfectly located Hanoi Nostalgia Hotel and Spa will make families happy indeed. Hanoi can get very hot between April and August.
Sapa
In Sapa we took our older kids on a half-day village trek and your kids might also enjoy the cable car ride up to Fansipan Mountain. Younger children will be happier spending hours in the Be Be Kid's Club indoor playground. Click the links below for all the details.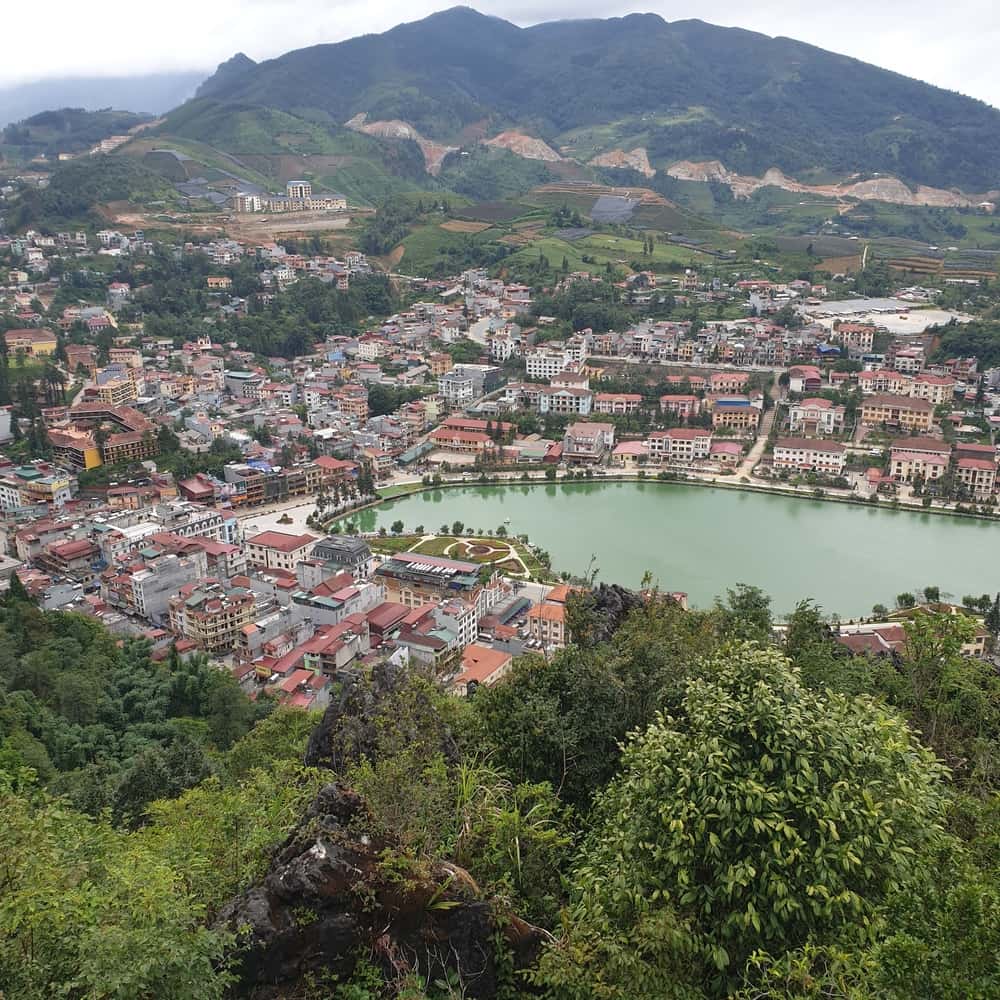 Where to Stay in Sapa with Kids
In Sapa you really want somewhere with a valley view. We were caught out because the pictures of our hotel showed beautiful views, but when we got there, we found a massive new hotel had been built right in front of us!
The Cat Cat View Hotel has beautiful views, family rooms and breakfast as does the cheaper Sapa Meriton Boutique Hotel.
Halong Bay
Our Halong Bay cruise was mainly for the parents, but our kids absolutely loved it too. The gimmick of sleeping onboard an awesome boat, kayaking the bay, and visiting epic caves and gorgeous beaches was very exciting for them.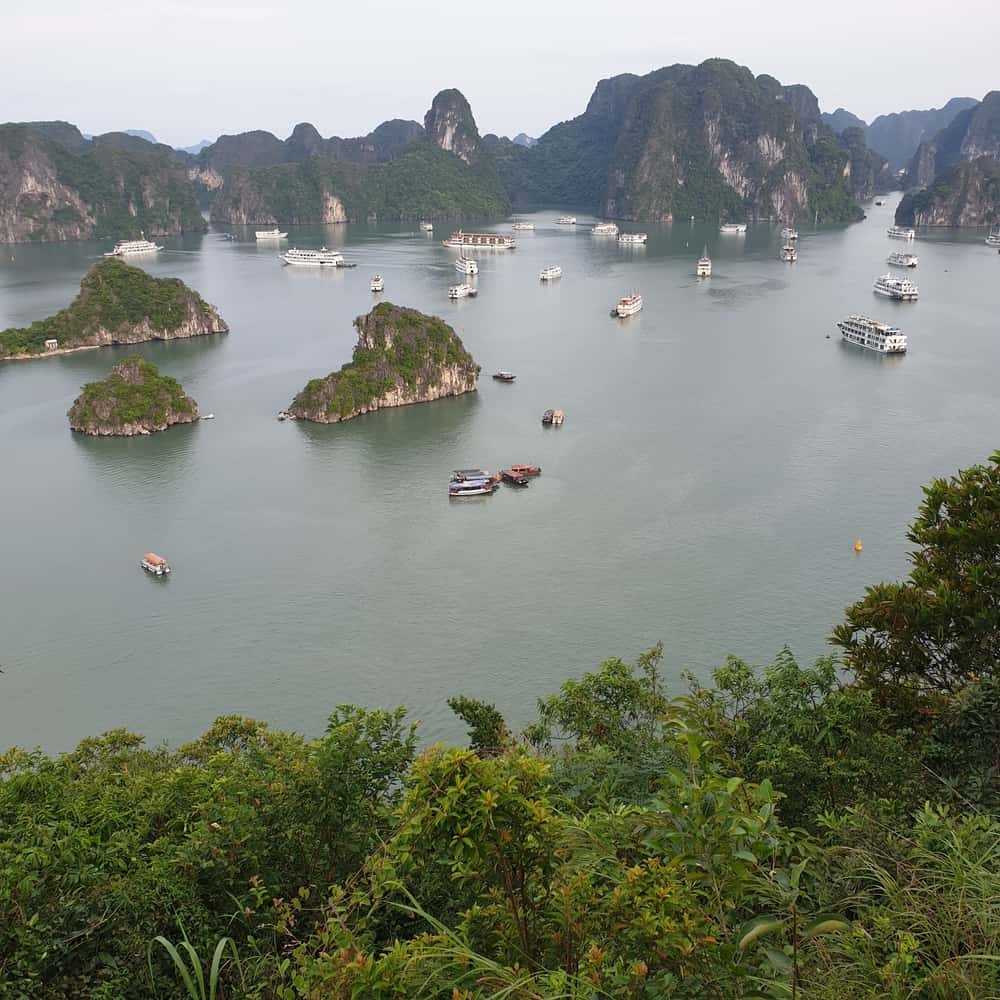 Ninh Binh
We did a day trip from Hanoi and visited Tam Coc, but it was a hot and long day for the kids. They would have preferred a visit to the set of Kong Skull Island at the spectacular Trang An instead!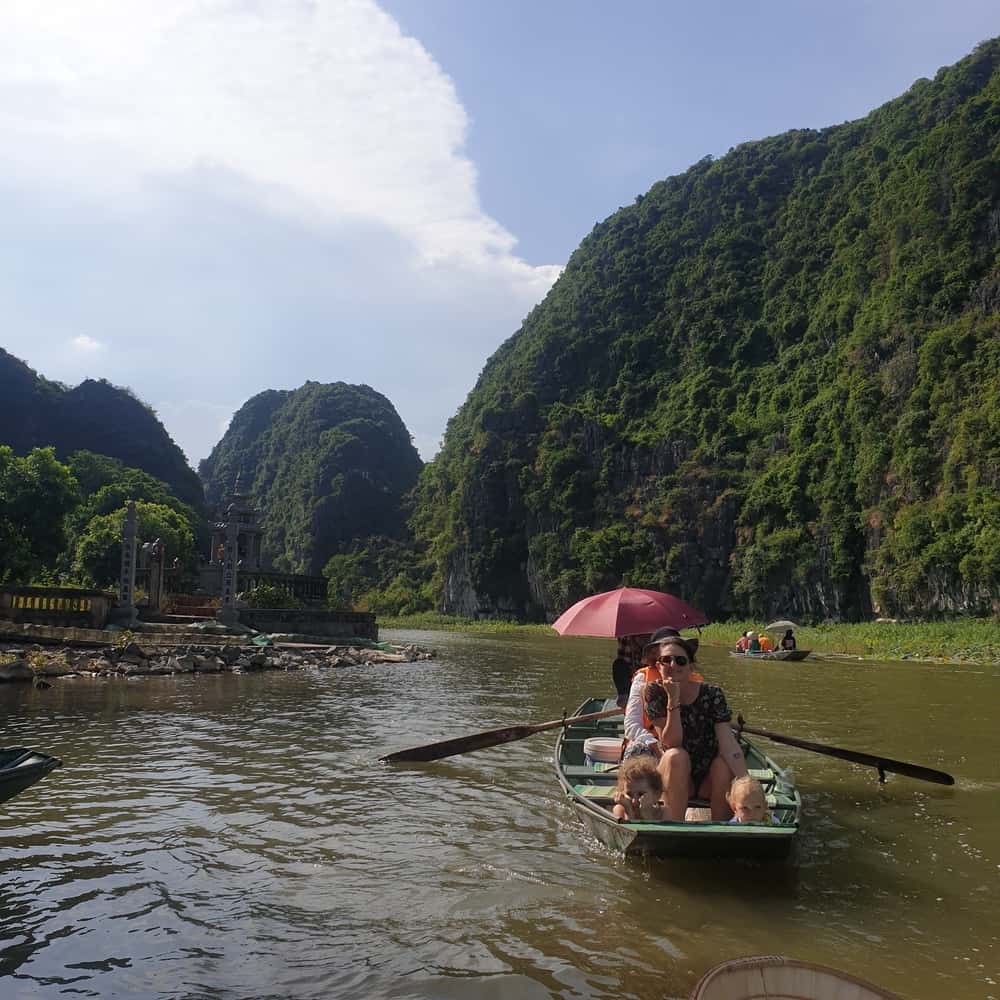 Da Nang
This place is awesome for surf and beautiful beaches. Da Nang has a super nice relaxing and low key beach resort vibe with high-rises gracing the white sand beach.
Find out the best things to do in Da Nang Here.
It is also a popular transit hub with an International airport and direct flights to all over Asia.
Also popular for kids in Da Nang is the Vincom Plaza with a massive cinema on the top floor.
The spectacular Dragon Bridge spans the river and changes colour at night. It even breathes fire and spits water on weekends and holidays from 9 pm.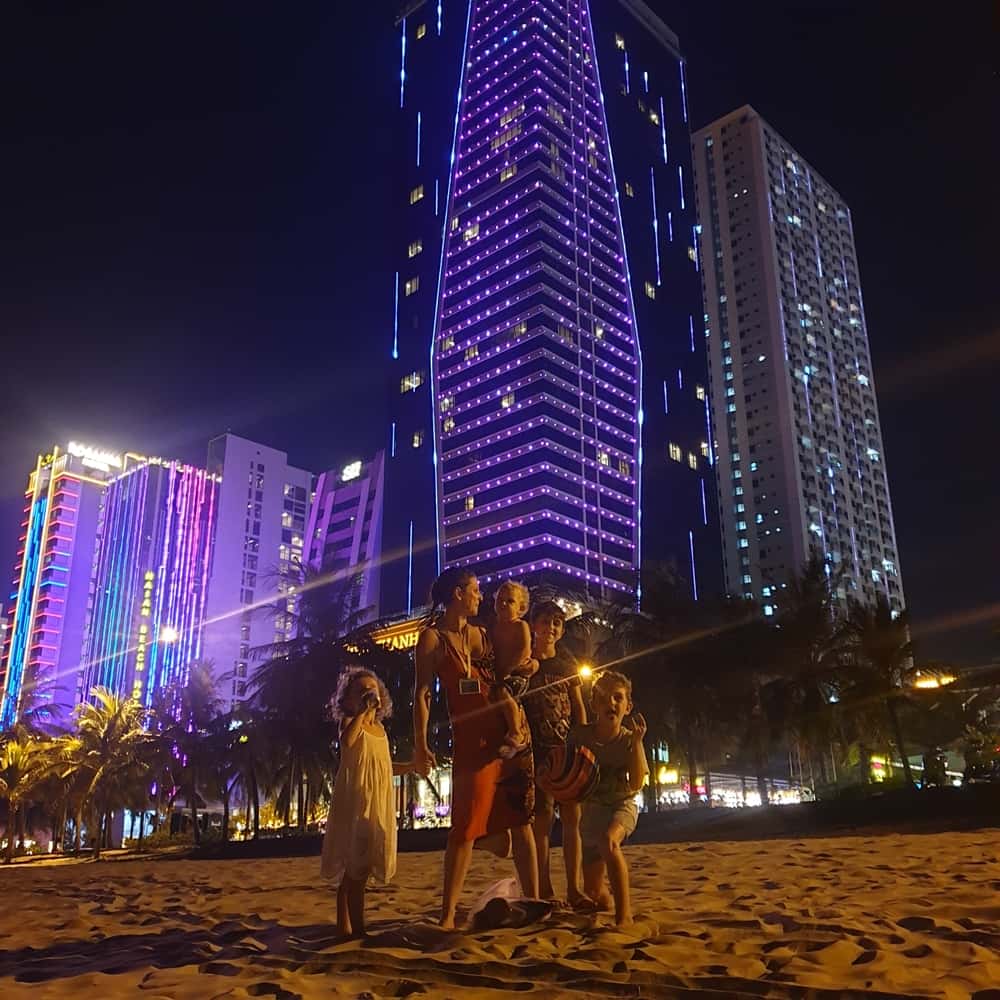 Where to Stay in Da Nang with Kids
My Khe Beach is beautiful. We stayed at a super cool Airbnb apartment on the 29th floor overlooking the entire town and foreshore. It was awesome.
---
The Muong Thanh Seaview Apartments are beachfront in the best part of town with beautiful high rise rooms.
Check prices on Booking.com here
---
If you have a bigger budget, have a look at Chicland Hotel. It is the coolest hotel on the beach at My Khe. The 2-bed apartments have balconies, sea views and breakfast is included.
Check prices on Booking.com here
Ba Na Hills
This epic hill station is reached by taxi, tour or bus and is 30 km from Da Nang or 60 km from Hoi An. Catch cable cars to the top and visit the famous Golden Bridge.
You will also find an awesome arcade on top of the mountain with free games, rides and amusements for all ages. We spent a whole day at Ba Na Hills and the kids absolutely loved it!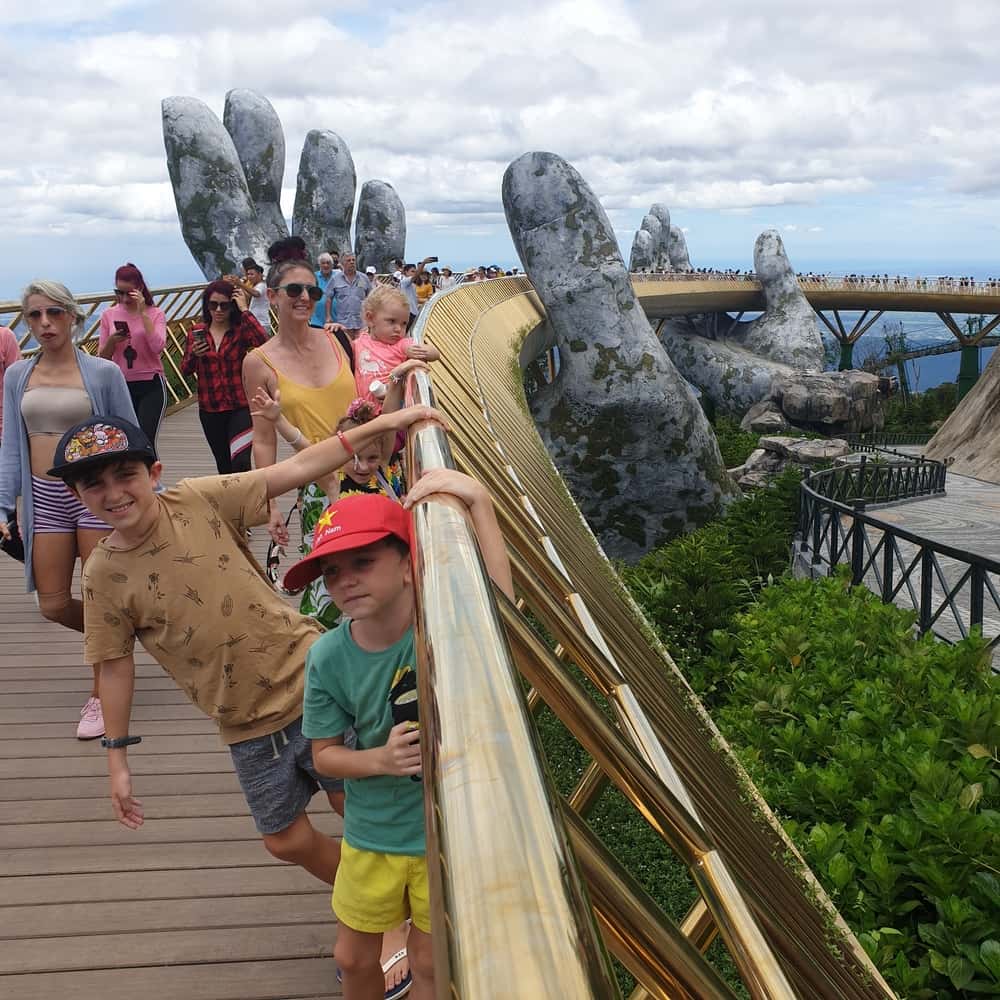 Hoi An
Wandering through Hoi An's Ancient Town is great for Mum and Dad, but our favourite thing for our kids here was eating pizza at Pineapple Restaurant and cake at Before and Now cafe (excellent iced coffee here too).
They also liked:
Night-time lantern boat trip along the river – 150,000 VND for 20 minutes
Throwing pottery at Thanh Ha pottery village
Swimming in our hotel pool (make sure your hotel has a pool)
Visiting An Bang Beach
For more things to do in Hoi An with or without kids, read this.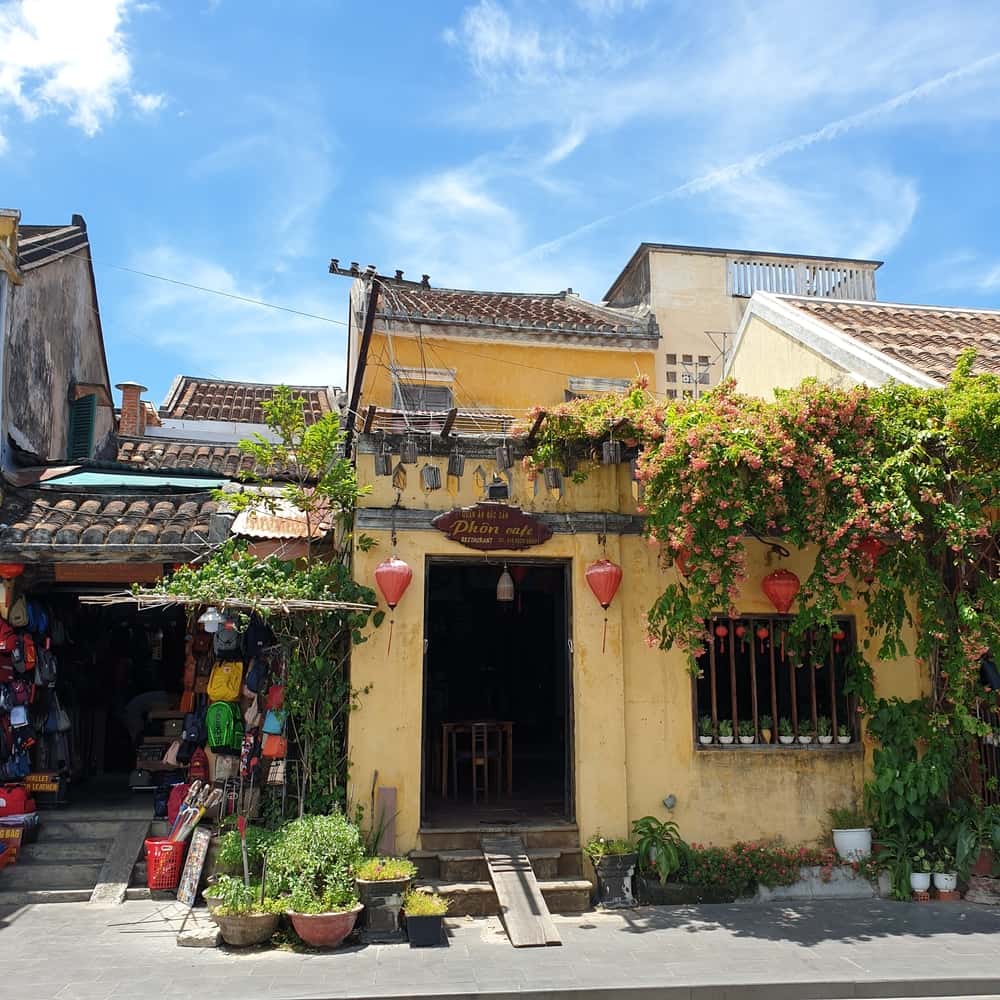 Where to Stay in Hoi An with Kids
Golden Palm Villa is about 1 km away from Hoi An's Ancient Town and is a beautiful boutique hotel at a budget price. Free bikes are included and the breakfast is amazing. The family rooms here have 2 double beds and there is a beautiful pool with many decent restaurants nearby. A Grab taxi from here to Old Town costs around 22,000 VND. Prices increase after dark.
Check prices on Booking.com here
---
Staying as close as possible to the Ancient Town is great if you have a slightly bigger budget. For a hotel with a pool and breakfast included that is walking distance to Hoi An's major attractions try these hotels. They all have great family rooms sleeping 4-6 people.
Ho Chi Minh City
The best thing to do in HCM is, of course, the Cu Chi Tunnels. These exciting tunnels are best done as part of a tour from the city. The kids loved tunnelling underground and learning about the gruesome and fascinating history of how the war was fought using guerilla methods.
Book your Cu Chi Tunnel Experience here
There is also a super cool trampoline park in Ho Chi Minh City which kids of all ages will enjoy. Find out more here.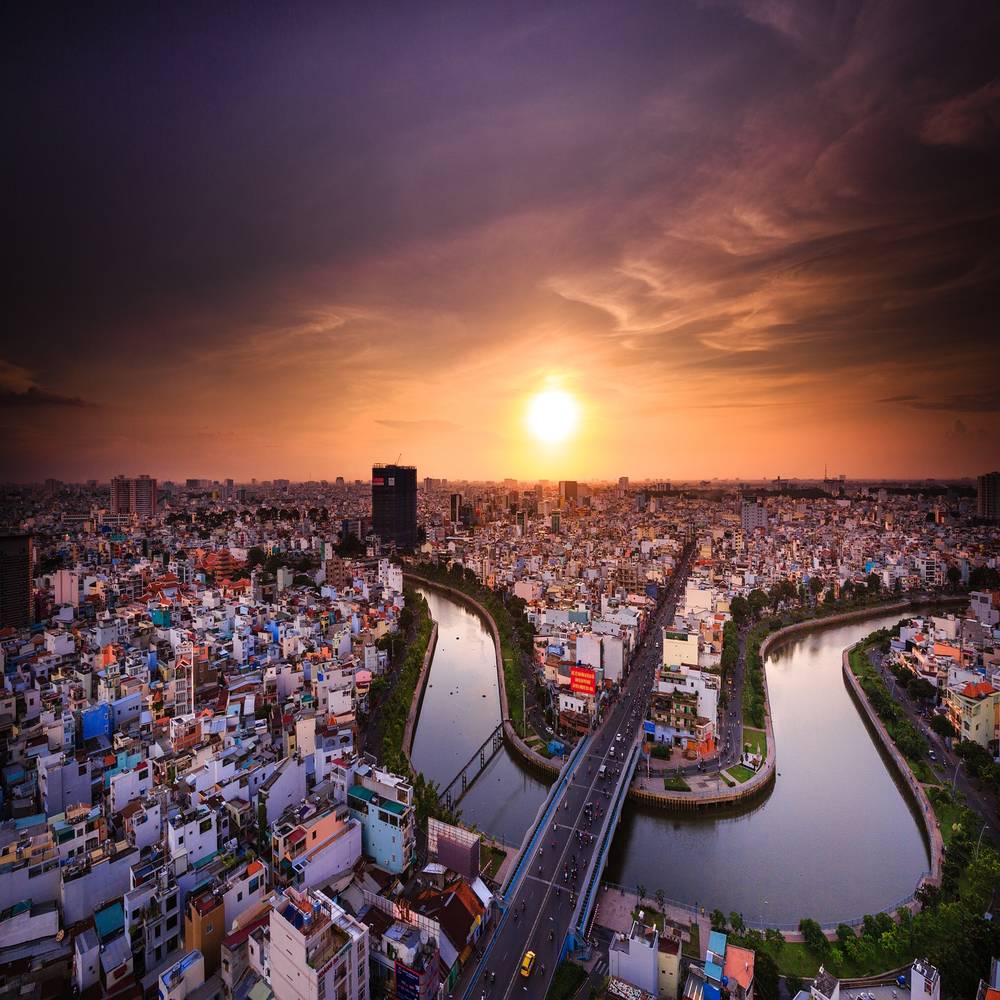 Where to Stay in Ho Chi Minh City with Kids
Staying in District 1, Central HCMC is the best place to stay with many 3 and 4-star hotels and apartments found in the area around Ben Thanh. We especially love the Wooden Apartments with their stylish interiors, great location and family-friendly 2 bedroom apartments that can sleep up to 12 guests!
Check prices on Booking.com here
Getting Around Vietnam
It is super easy to travel around Vietnam with your kids. We opted for private limousine buses, planes, and overnight trains to get from north to south.
We like to compare and book overland travel using 12GoAsia. It is super easy to view all your options in one place. We have used them many times while in Asia with great results every time.
SIM and Grab
Locally, getting a SIM card and using the Grab app is invaluable when it comes to getting cheap taxis. Taxis do not mind squeezing as many people as you need into a 5 seater car either.
Get the Grab App before you leave home. Enter your credit card details for cashless transactions. You can even use Grab to get food delivered to your hotel room, like the ultimate room service. This is great when you have had a big day of sightseeing and want to have a low-key evening.
The app is free. Download it here for Apple, or here for Android. Hotels and restaurants all have free wifi but you will need a SIM card to be able to order cabs outside of this.
You can cheaply and easily purchase a SIM card in the airport arrivals hall, and the staff will set it all up for you. Just bring your own unlocked phone. Mine cost around $8 and lasted a month.
Food in Vietnam for Kids
See our full post – Food in Vietnam
Our kids loved Pho Ga (chicken noodle soup), Banh Mi (meat or egg in a baguette), and spring rolls. You can buy fresh tropical fruits on street corners and delicious fruit smoothies in cafes. We also enjoyed self-catering at times.
Western food is readily available and sure our kids ate a lot of pizza, and french fries while we were there too.
Convenience stores abound and are full of delicious and unhealthy snacks.
Vinmart is a larger supermarket type store where you can often find meat and vegetables to cook yourself.
I loved staying in Airbnbs so that we had a kitchen. It was often easy just to cook the kids some rice and eggs rather than going out for 3 meals per day.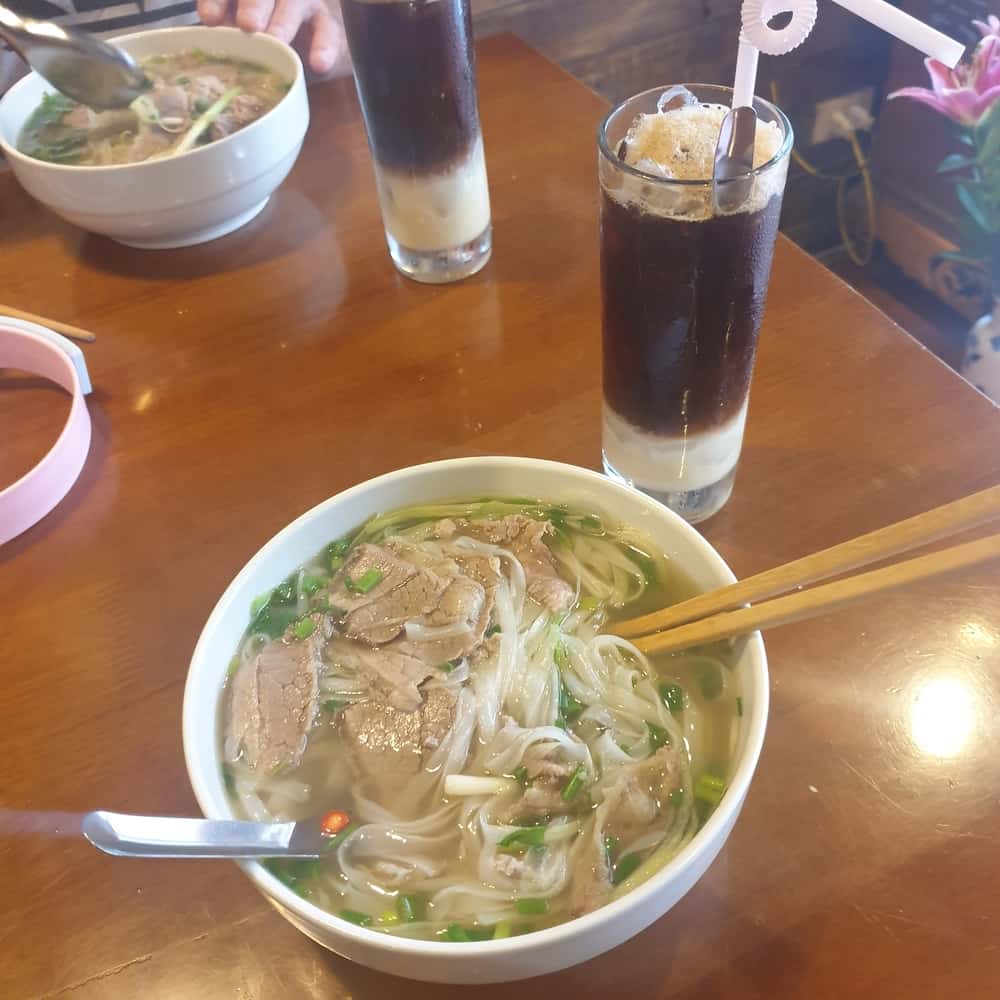 Accommodation in Vietnam for Families
Airbnbs
Family rooms in hotels will usually include 2 double beds. This may be enough for some families, but for us, we only just squeezed into these 2 beds with our 4 small children. So finding a hotel room could sometimes be a challenge for bigger families.
With that in mind, we checked out Airbnb and got some excellent accommodation with enough beds for all of us. The advantage with Airbnb is that you also get a kitchen which is great for self-catering, and a laundry too.
If you haven't yet signed up to Airbnb, it is free to join and browse. If you join using my link here, you will get a discount off your first stay.
Just enter your destination, number of guests and dates into the search and check out what's available. Get inspired! Remember to read the reviews, and ask any questions of your host before booking. Eg: Is there a supermarket nearby? How far to the beach?
Most listings will offer discounts for longer stays of 1-week or 1-month too.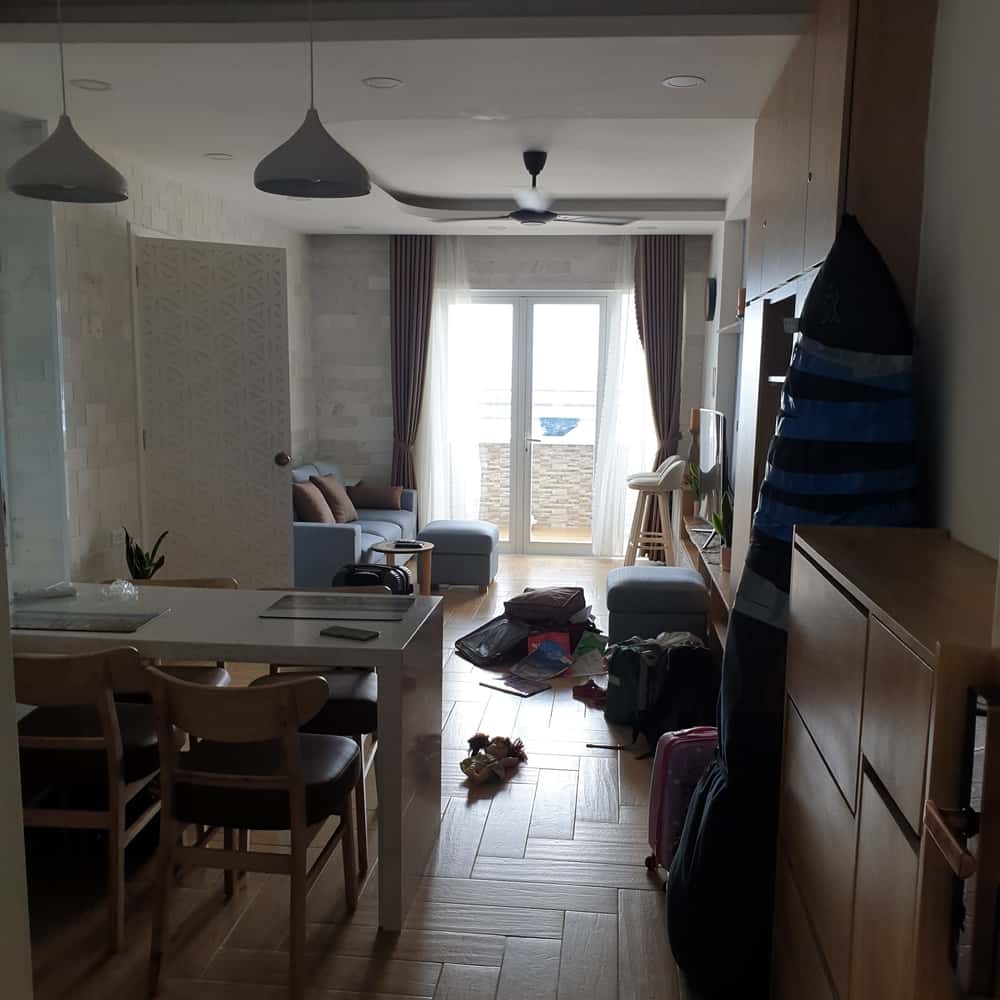 Hotels
The advantage of a hotel is having a reception or concierge, and often a pool at your disposal. Find somewhere that provides breakfast too which is a great way to save money, and makes your mornings so much easier with kids.
Some hotels will provide extra beds or a mattress on the floor for a child at extra cost.
Vietnam Itinerary with Kids
If you only have 2 weeks, I would recommend week 1 – flying into Hanoi and go straight up to spending a couple of nights in Sapa. Then back to Hanoi and an overnight cruise on Halong Bay. Include a day trip to Kong Skull Island while in Hanoi for a few days. Then catch the overnight train to Da Nang and Hoi An for week 2, splitting your time evenly between the 2 cities before flying out of Da Nang.
To do the whole country in 2 weeks, catch internal flights with either VietJet Air, Air Asia or Vietnam Airways and fly from Hanoi – Da Nang – Ho Chi Minh to save time.
Ideally, with 3 weeks you would spend week 1 in Hanoi/Sapa/Halong Bay, week 2 in Da Nang and Hoi An with week 3 in Ho Chi Minh and the south.
Safety in Vietnam for Kids
The People
Vietnamese love our children. They are so sweet and helpful, and give us big smiles wherever we go. We have 4 kids so we are quite an oddity when it comes to family size. Everybody looks at us as if we have 2 heads instead of 4 kids. Vietnamese commonly have 1 to 2 kids only so we are pretty amazing to them.
The people in Vietnam are so warm and friendly and there is very little violent crime.
Photos
They also like to take photos of the kids. Sometimes they ask permission, but sometimes they don't. It is ok to say no.
Road Safety
You will need to travel by car at some stage during your holiday in Vietnam. The highways are notoriously crazy and there are no such things as car seats.
Crossing the road is another interesting experience. Remember that cars drive on the right when crossing. Try to cross at traffic lights, and if in doubt, ask a local to help you – they will. Find a gap, link hands and walk across at a steady pace and the motorbikes will go around.
Health for Kids in Vietnam
Keeping your kids healthy and safe is every parent's greatest wish when travelling. I recommend visiting your GP or travel health practitioner at least 3 months prior to travel to assess your family's travel vaccination requirements.
Using anti-bacterial hand gel regularly will help to prevent your kids from getting sick. Also, using a probiotic for a month before leaving home and while you are travelling can help to maintain and preserve gut health.
Ensure you pack your trusted brands of medicine from home. And carry a good first aid kit. There are pharmacies everywhere, but I know my kids only like a certain flavour of liquid Nurofen and you definitely can't get that one here.
The Best Doctor in Hoi An
If ever you are in doubt about your child's symptoms, don't delay, see a doctor straight away. In tourist areas, there is always a good English speaking doctor or an International Clinic. And in many cases, the doctor will even make house calls.
Your hotel will usually be able to advise on the best International Doctor in your area. Read the reviews on Trip Advisor first.
In Hoi An I can specifically recommend Dr Cuong. He speaks excellent English and helped immensely with my daughter's infected wound. His service, medications and dressings altogether cost only $30. Find him here.
Travel Vaccinations
At the very least, being up to date with the kids' usual vaccination schedule is imperative. Diseases such as polio and tetanus, while virtually eradicated from the western world, are still prevalent in places such as SE Asia.
For Vietnam, Typhoid and Hepatitis A vaccines are not required, but strongly recommended. These diseases are found in faeces contaminated food and water and are unfortunately very easy to catch. Typhoid vaccinations are not given to children under 2 years of age. We got our 2-year old caught up with her vax in Thailand at an International Clinic once she turned 2 on our trip. Be aware that vaccinations are not effective until at least 10 days post-injection.
We also like to get the flu shot prior to any international travel.
Food Safety
Vietnam has some of the freshest food you can find in all the world. However, they also may spray their vegetables with effluent water. Eat only at popular and busy restaurants. Avoid raw salads and undercooked meat. Peel all your fruit.
Traveller's Vomiting and Diarrhoea
Prevention of traveller's vomiting and diarrhoea in kids may not always be possible. But you can lessen the effects by keeping your child well-hydrated. I always travel with Gastro-Lyte or Hydro-Lyte effervescent tablets or iceblocks in the case of vomiting or diarrhoea bugs. In most cases, these will pass within 24-48 hours. If not, seek medical attention.
Mosquitoes
Talk to your GP or travel health provider about malaria in Vietnam. If you are heading into the jungle, malaria prophylaxis may be recommended. Dengue fever is prevalent, especially in built-up areas.
Avoid getting bitten by mosquitoes by covering up at dawn and dusk and using a repellant containing DEET.
Vietnam for Kids – The Verdict
Vietnam for kids is great. Young kids will enjoy the attention from locals, nice beach fun and kid-friendly activities in the cities. Your older kids will be intrigued by Vietnam's war history and will love the cable car rides. This beautiful country is cheap to travel in and super easy to get around.
Have you been yet?
Email us your questions on travel in Vietnam with kids to kris@gadsventure.com We love to help!
Follow us on Facebook or Instagram to keep up to date with our latest trip around SE Asia with 4 children.