Searching for the best baby carrier for your little angel? Then look no further, the Tula Baby Carrier is 2019's best choice for parents worldwide.
Here we will show you why and review what makes the Tula Baby carrier so special.
Comfort, Safety and simplicity are the most important requirements for a family.
Tula Baby Carrier 2019 Review
Name: Baby Tula
Website: www.babytula.com
Price: $169 USD
Owners: Ula & Mike
Overall Rank: 9 out of 10
Tula Baby Carrier, Product Overview
There are a variety of baby carriers you can choose from depending on the size and weight of your precious child.
Here are the options below;
Explore (6 in 1) – suitable for 7 to 45 Pounds (3.18 to 20.4 Kilograms)
Free to Grow – suitable for 7 to 45 Pounds (3.18 to 20.4 Kilograms)
Standard – suitable for 15 to 45 Pounds (6.8 to 20.4 Kilograms)
Toddler – suitable for 25 to 60 Pounds (11.3 to 27.2 Kilograms)
Half Buckle (Hybrid) – suitable for 7 to 45 Pounds (3.18 to 20.4 Kilograms)
Ring Sling – suitable for 8 to 35 Pounds (3.6 to 15.8 Kilograms)
Woven Wraps
Our Baby Tula Carrier review focuses on the Toddler carrier. This is our baby carrier of choice for our 2-year-old girl weighing 15 kilograms (33 Pounds).
The ergonomic toddler carriers are designed to be snug and supportive while being intuitive and ultra-comfortable.
This Toddler carrier has the tallest and widest panels of all the carriers which offers the perfect snuggle time for your child. Your child will love you more in a Baby Tula Carrier, trust me.
Tula Carrier Specifications
The Ergonomic Baby Tula carrier comes in a variety of attractive designs and colours. The Toddler range comes in;
Coast Cobra
Coast Balancing Act
That 70's Tula
Homecoming
French Marigold
Clever
Fletcher
All you have to do is choose a funky, hip, cool design above and wait for it to arrive on your doorstep.
What's in a Tula? Material Specs include;
Fabric – Soft and Breathable 100% cotton certified to STANDARD 100 by OEKO-TEX
Padding Material – Polyurethane Foam Pad 70% & Olefin Foam Pad 30%
Weight – 0.56 kg (0.12 Pounds)
The Good & the Bad of a Baby Tula Toddler Carrier
The Good:
Tula can be used on your front and on your back depending on comfort
Soft and comfortable for you and your child, happy child, happy parent
Padded shoulder straps and hip belt
Lightweight, at 0.56 kg (0.12 Pounds) and compact
Handy little carry pocket for loose change etc
Heavy-duty straps and easy to use buckles that you can trust offering supreme safety and security
Durable material and quality
Available in a range of gorgeous prints to suit your little one's style
So versatile for use from 18 months to 6 years of age with adjustable straps
A cute and coordinated protective hood which adds sun protection, and privacy when nursing or sleeping.
The Bad:
No side-carry option
Fabric is heavy duty making it hot for baby in tropical climates
A little bit bulkier than my old Travel Ergo Baby Carrier
Who is This Baby Carrier For?
The Tula carrier has been created for parents who want to carry their precious child in style. For anyone carrying a child who wants complete comfort and safety.
This particular model is for toddlers aged 18 months to 6 years and weights from 25 to 60 Pounds (11.3 to 27.2 kg)
Also the more active person you are, the more you will use the Baby Tula carrier.
We have loved the convenience of using the Tula Toddler Carrier while travelling with our children through Southeast Asia. A lot of places, prams and strollers are just not practical, not to mention the extra bulky weight of these items. So it is great to find a product that allows me to keep my toddler safe and comfortable while travelling. This means I can have my hands free for my other kids and luggage too.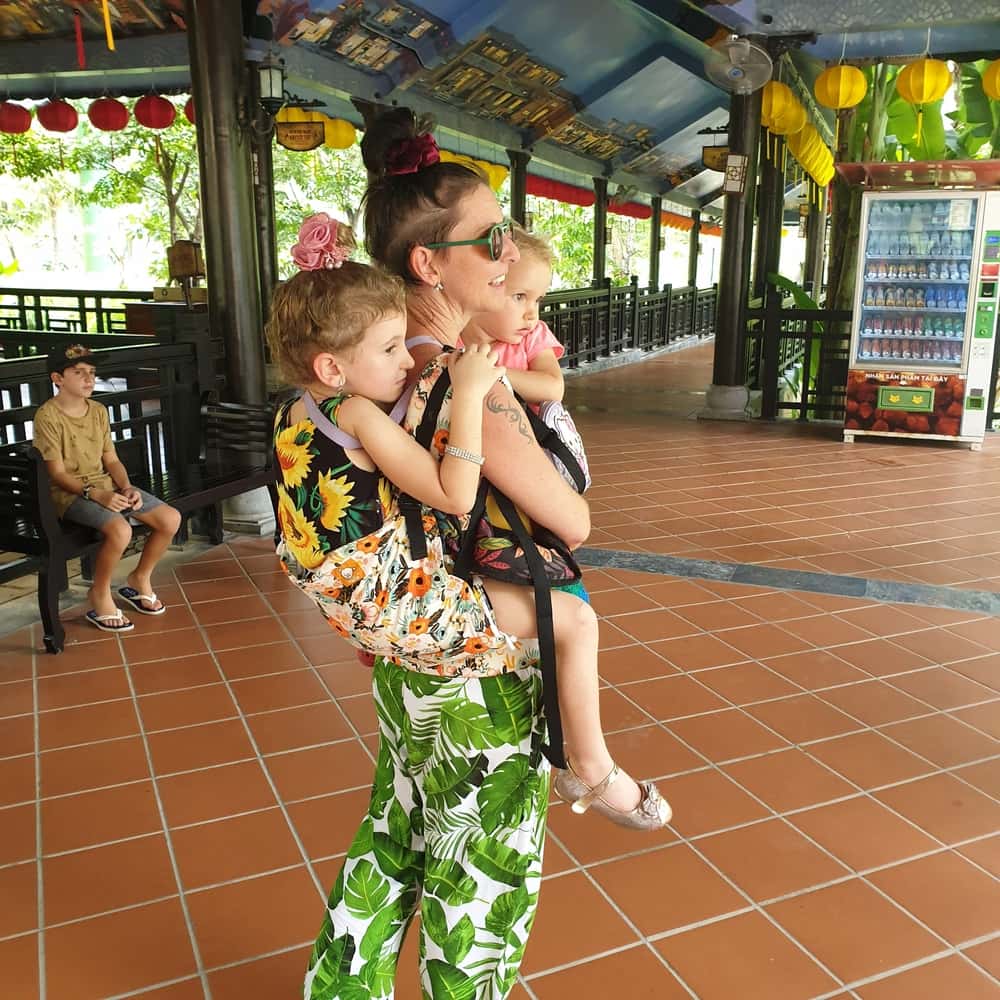 Tula Baby Carrier Support
Baby Tula are proud of their products and strive for total customer satisfaction. If you are experiencing any difficulty using their product you can email customer support before returning at help@babytula.com.
Warranty
Baby Tula offers a limited 1-year warranty on certain products and 30 days warranty on others.
1 Year Warranty Covers
The following products are covered against manufacturing flaws:
Explore Carriers
Toddler Carriers
Woven Wraps
Ring Slings
Free to Grow Carriers
Standard Carriers
Kids Backpacks & Wrap Conversion Carriers
30 Day Warranty Covers
The Following products are covered against manufacturing flaws:
Tula Blankets
Torbas
Infant Inserts
Seat Extenders
Tula Mini Toy Carriers
Hooded Towels
Cover-Ups
Hip Pouches
Lunch Bags
Shoes & Replacement Parts
Baby Tula has made "How To" helpful Instruction videos on YouTube that will walk you through any difficulties using a Tula product.
Tula Carrier Shipping, Returns and Exchanges
Shipping
The company offers FREE shipping on orders $39 USD and above to USA domestic customers. Shipping takes 6 to 10 business days when sending to domestic customers.
They also offer International shipping to most countries (Cost Varies) takes about 10 to 30 business days delivery.
Returns and Exchanges
Any items that have been altered, used or washed will not be accepted for a return or exchange. No returns on promotional items or on sale items. Allow 3 to 6 business days for your returns to be processed.
The Tula Carrier Price
Baby Tula Carrier retails at $169 USD online at the store or you can find it here.
My Final Opinion of The Baby Tula Carrier
The Tula carrier is the best carrier on the market do yourself a favour and your child buy a Baby Tula today.
They are so light, durable and soft my toddler loves hopping in for the ride.
Even the price is reasonable at $169 USD for the Toddler Carriers making it affordable for most parents anywhere in the world.
We had the Ergo Baby Carrier before the Tula and let me tell you the Tula models is so much better.
Baby Tula Carrier at a Glance…
Name: Baby Tula Toddler Carrier
Website: www.babytula.com
Owners: Ula & Mike
Price: From $120 USD
Overall Rank: 9 out of 10