Wow! What a great day out for you and your family! The ethical and friendly Bali Zoo Breakfast with orangutans will stimulate your love for these amazing creatures. Dine on a sumptuous buffet-style breakfast while you sit beside some fascinating orangutans who play and eat their way into your heart.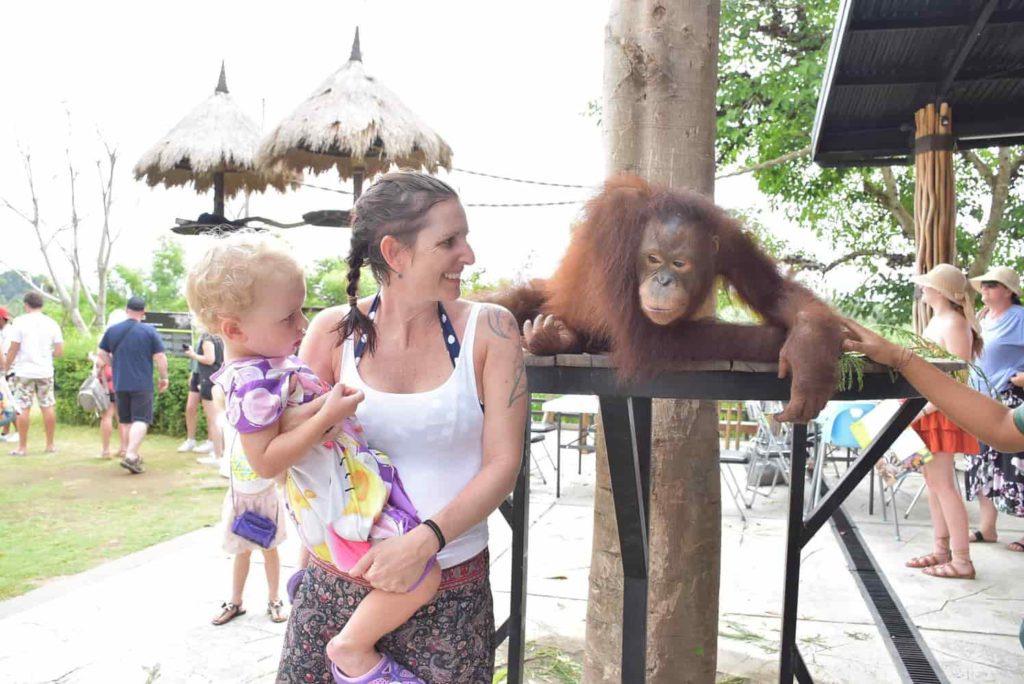 ---
Watch our Bali Zoo video below to see exactly what it is like!
---
Here are some other great things to do in Ubud
Where is Bali Zoo?
The Bali Zoo Breakfast with the orangutans' experience is located at Jalan Raya Singapadu Banjar Seseh Sukawati Batuan Sukawati. in Bali's east.
Check out the location on Google Maps here.
Bali Zoo Opening Hours
The zoo general opening times are 9 am to 5 pm every day of the year except for Nyepi Day holiday.
Breakfast with the Orangutans runs from 8 am until 10 am daily.
Getting to Bali Zoo
Getting to the Bali Zoo will be quicker than coming home, as the traffic takes a while to get busy in the morning. If you are aiming to be at the zoo for the 8 am Orangutan Breakfast start time, you will need to time your departure accordingly.
Seminyak to Bali Zoo
From Legian and Seminyak, it takes around an hour drive to Bali Zoo, and closer to 1.5 hours back thanks to the traffic. We took a private driver that was associated with our villa in Seminyak, and the price was 500,000 IDR. We departed our villa at 7 am and got to the zoo at 8 am.
This price was for a door to door return trip, and our driver waited for us at the zoo. Ask your villa or hotel to arrange a driver for you. Most drivers prefer to use WhatsApp to communicate, so it is a good idea to download this before you leave home.
You can also catch a Grab or Gojek taxi to Bali Zoo for around 350,000 IDR return.
See tickets below as you can get a hotel pick up included in the price of your ticket, which may save you money!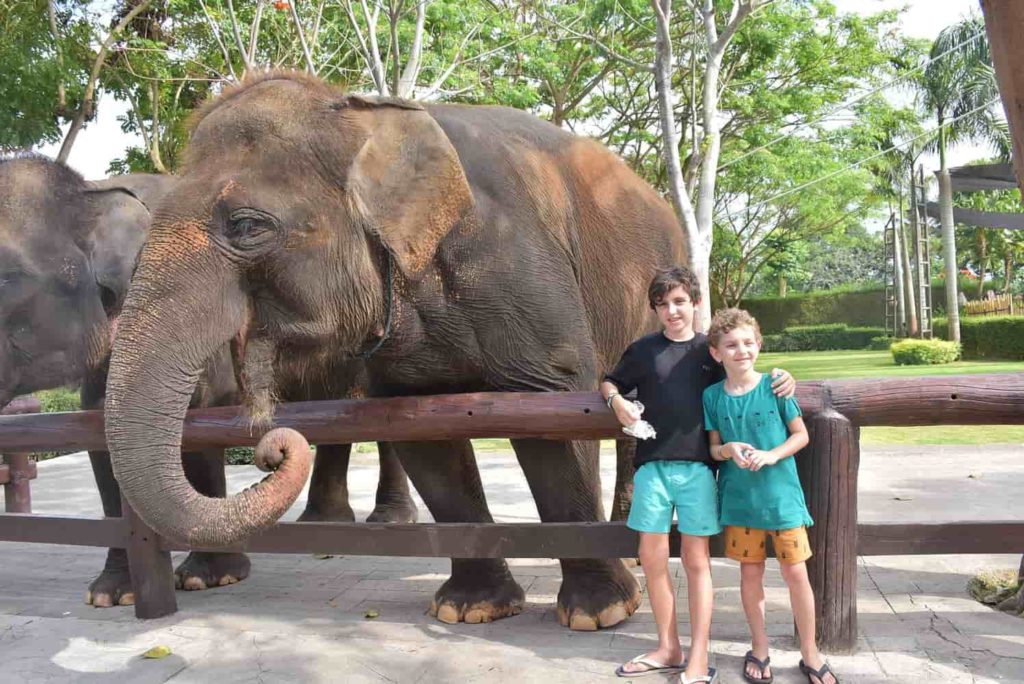 Ubud to Bali Zoo
If you are staying in Ubud, a trip to the zoo is only around 12 km or 30 minutes by taxi.
Nusa Dua and Sanur to Bali Zoo
Your trip to Bali Zoo from Nusa Dua or Sanur areas will take around an hour.
Bali Zoo Tickets
How Much Does Bali Zoo Cost?
You have a few options for purchasing your tickets for Bali Zoo. The prices vary if you add any of the special activities which need to booked (well) in advance. Kids tickets are for ages 2 – 12. Under 2 is FREE.
Bali Zoo General Entry – 355,500 IDR Adult / 252,000 IDR Child at the gate.
Breakfast with the Orangutans including Hotel Pick up – 720,000 IDR Adult / 504,000 IDR Child pre-purchased here.
Elephant Mud Fun – from 1.2 million IDR per adult pre-purchased online.
Bali Zoo Night Safari – 900,000 IDR per adult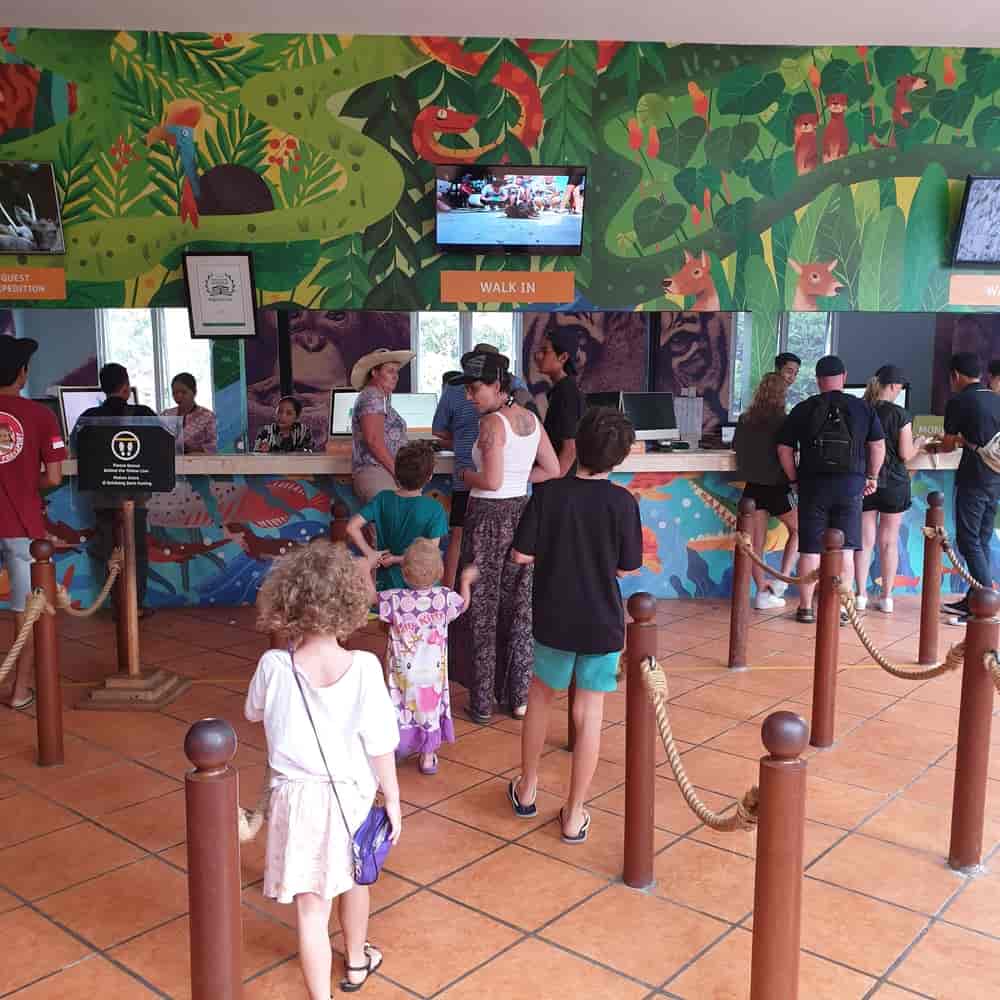 All passes for the Bali Zoo include general entry to the zoo as well as insurance and the Jungle Splash Waterpark access too. Hotel transfers are available as an optional extra.
Visit the Bali Zoo Website to purchase tickets online
Discounted Bali Zoo Tickets with Klook
I did manage to find some discounted Bali Zoo tickets on Klook. Klook is an international online booking agent who can give you cheaper tickets on anything from airport transfers to in house massage. We have used them heaps on our big trip around Southeast Asia for 2019.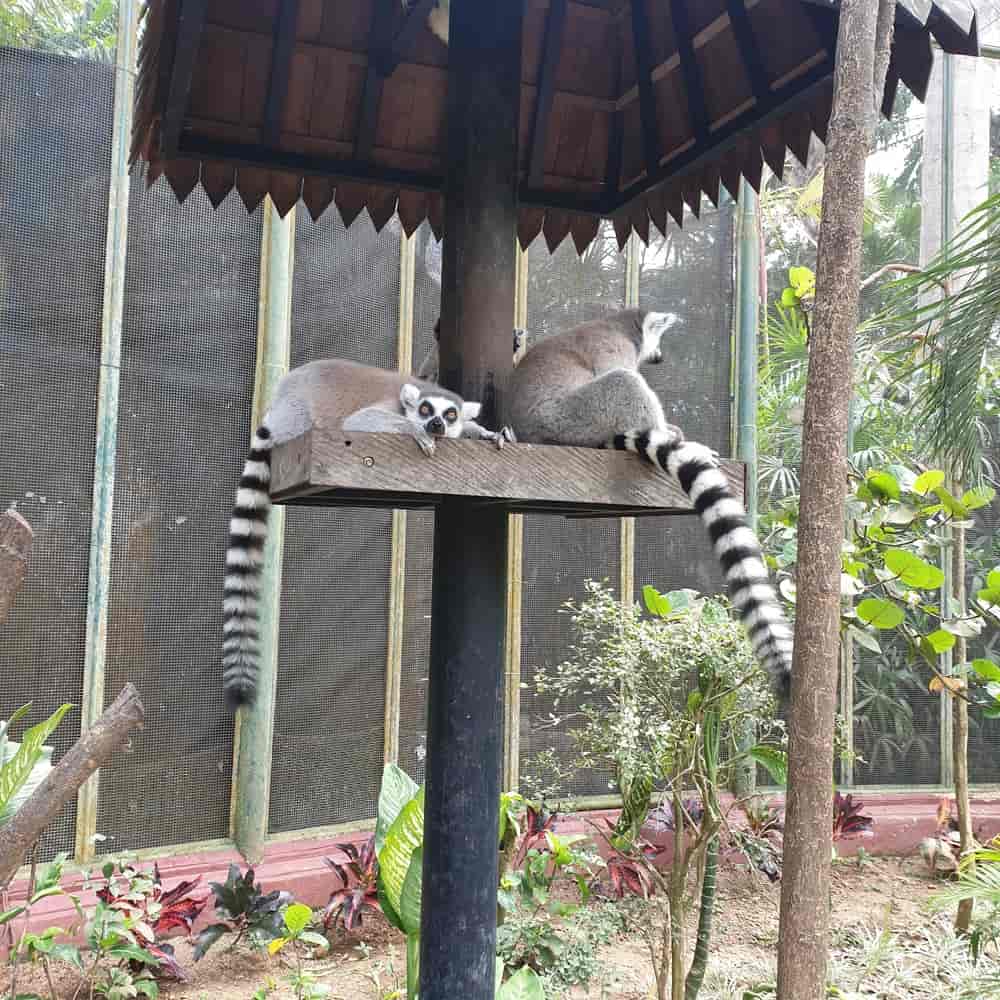 Bali Zoo Breakfast with the Orangutans Experience
The Bali Zoo Breakfast with the Orangutans was a great value for money and super special experience for our family. You need to book online well in advance especially during peak season so you don't miss out! Find out more about the best time to visit Bali here. Places sell out fast and are limited to 150 pax per session.
We arrived at the zoo at 8 am, but then had to navigate our way to collect our tickets and find the route to the orangutan breakfast. That took a lot longer than expected so we didn't really get to sit down until 8.30 am.
Follow the map and the signs and negotiate your way past some deer and wallabies and catch the shuttle bus the rest of the way.
During our visit, there was some construction going on as they are adding a cool African Savannah section to the zoo. This new exhibit will open in April 2020.
On arrival at the orangutan breakfast, we were swiftly taken to our table, baby high chairs were also available for use.
How was the Food?
The food was amazing, you could have anything from fresh fruit and waffles, pastries and doughnuts, bacon, sausages, eggs and omelettes, noodles, soup and more! This was buffet style at a variety of different stations and you never had to wait long for some delicious freshly cooked fare. Your food was complemented by freshly made fruit juices, and rich Balinese coffee.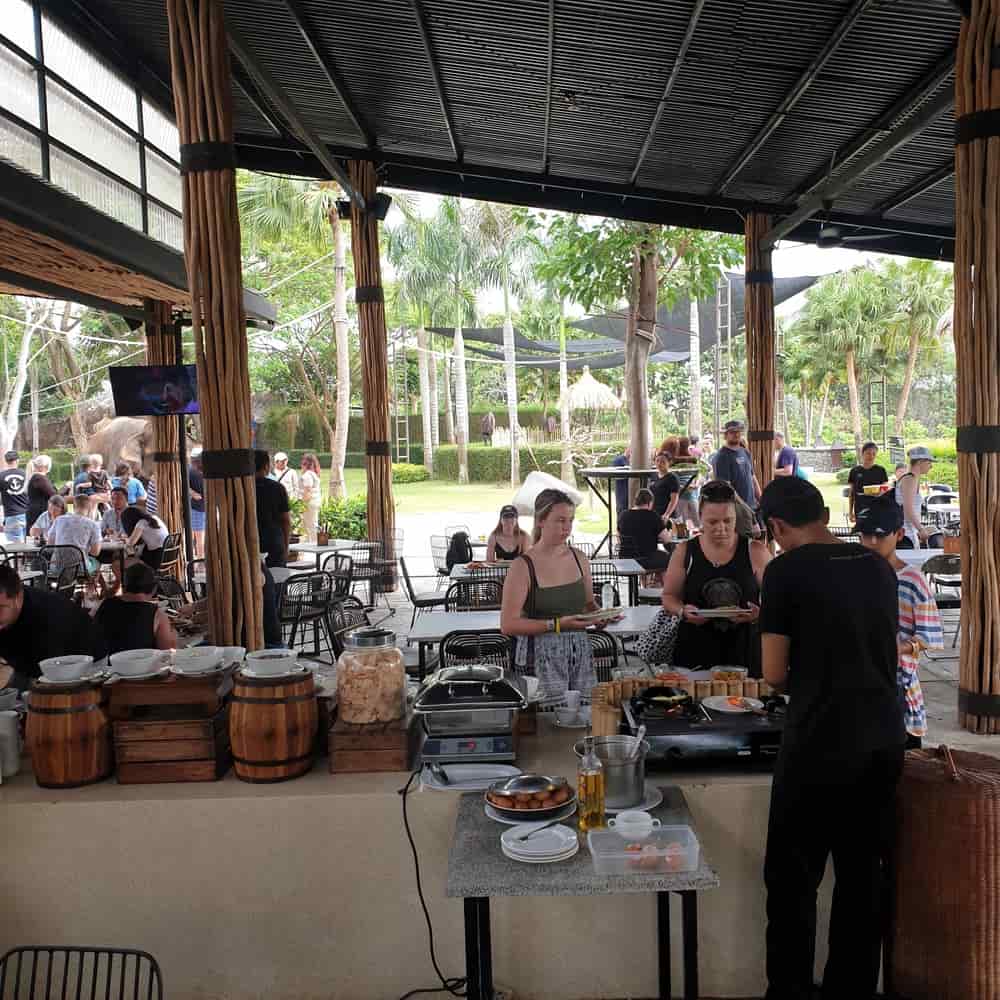 What about the Orangutans?
There are 2 platforms with a cute fuzzy and intriguing orangutan on each. These are right beside the dining tables. The orangutans lounge around, being hand-fed by a keeper or sometimes have a play on their ropes above. You can get up close and have a photo taken with the animals, just remove your hats and sunglasses first!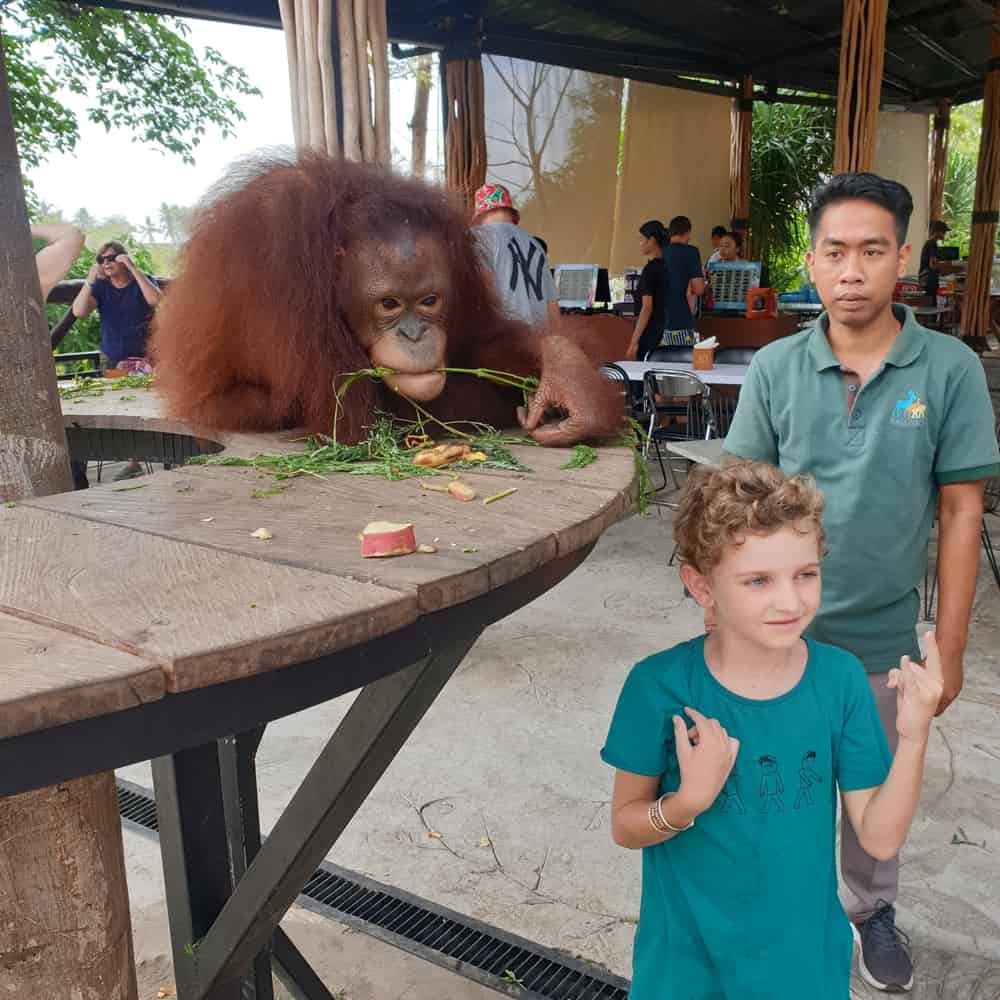 There are photographers ready to take your pic for you, and these are available to print and purchase later on. This is definitely a recommended service. We found it quite tricky to navigate our kids, eat breakfast, and line up for photos all at the same time so it was super convenient to have someone take pics for us!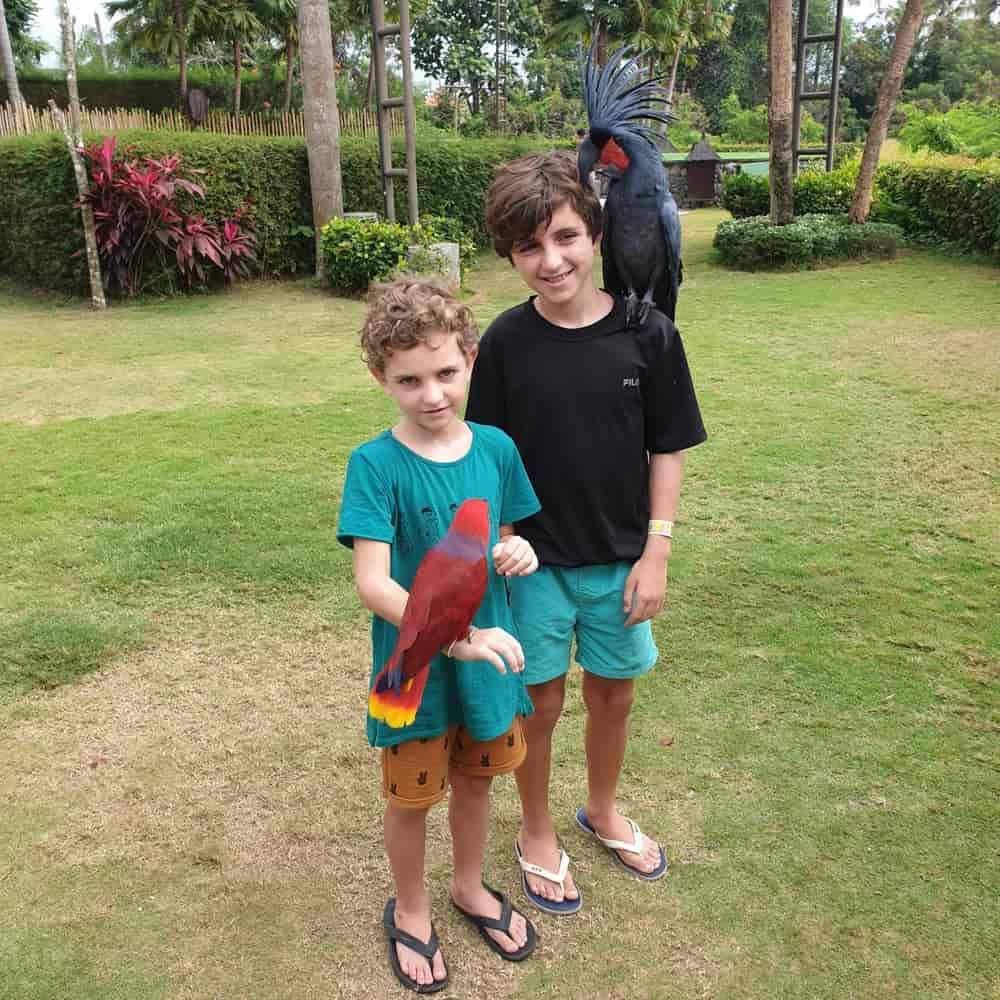 At the same time, you can grab a basket of fruit to feed the elephants, pat an incredibly endangered pangolin, hold some beautiful tropical parrots and get up close and personal with a porcupine. This was a wonderful opportunity to see these happy and healthy animals so close and to interact with them.
After 2 hours, the animals went back to their enclosures and it was time to check out the rest of the zoo! The Bali Zoo Breakfast with the Orangutans was a wonderful highlight of our time in Bali.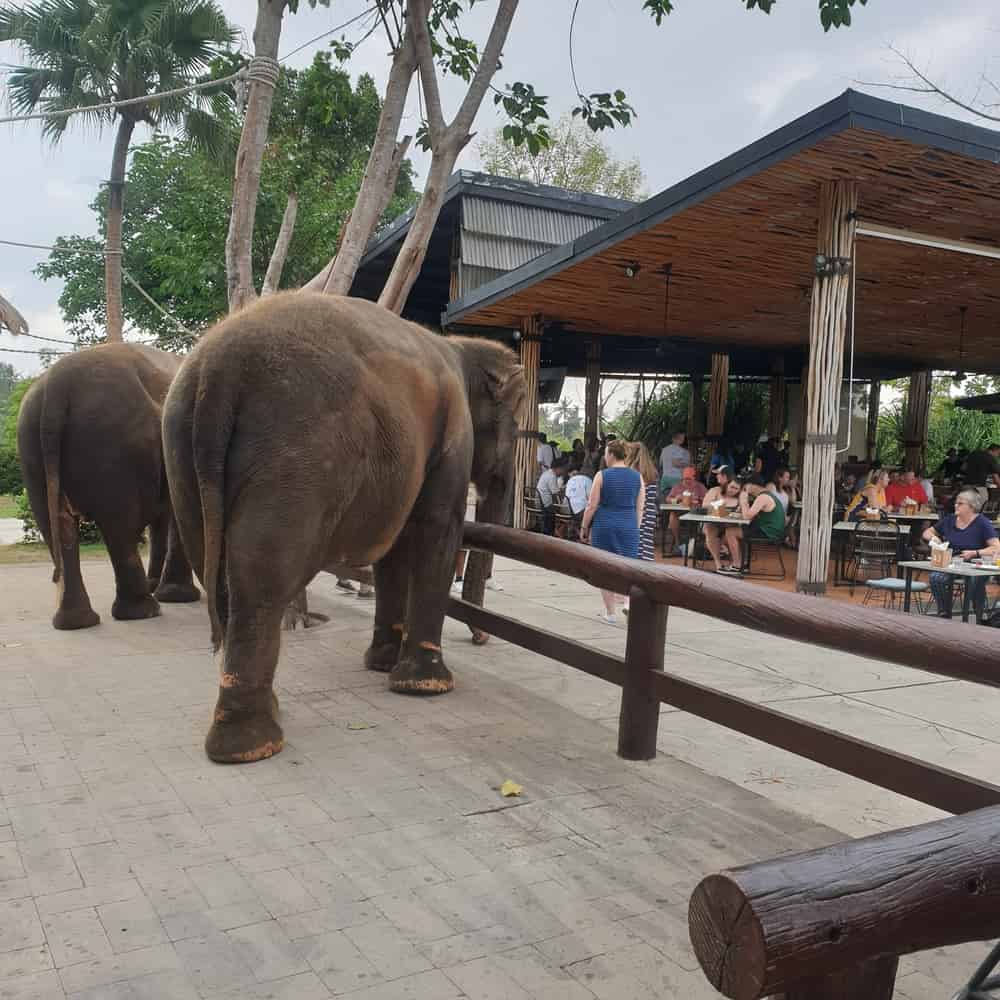 Bali Zoo Elephant Mud Fun
Another favourite activity you can do at Bali Zoo is joining the Elephants in a mud bath. You can choose from either a morning or afternoon experience, and a meal is included at the conclusion.
Get close and dirty with these majestic creatures as you plaster them with mud, and then clean them off. It is a magical opportunity to interact with elephants. The Elephant Mud Fun is only for those over 120 cm.
We visited a fantastic elephant sanctuary in Chiang Mai Thailand recently for a similar experience. See our review here.
Night at the Zoo
Spending an evening at the Bali Zoo gives you a unique chance to view nocturnal animals and enjoy an a la carte dinner under the stars. You will be able to feed some cute deer, majestic Asian elephants as well as watch a spectacular fire dance.
We found discounted Bali Zoo tickets for the Night at the Zoo experience with Klook. Book Here and Save 75,000 IDR per adult.
Bali Zoo Review
The Bali Zoo is a fantastic place to take your family during your trip to this perfect island paradise. The walkways are mostly shaded with lush greenery, and you get multiple opportunities to feed some very special animals and see them up close.
Feed the lions for 60,000 IDR
Ride a pony for 50,000 IDR
Feed the baby goats for 25,000 IDR
Feed the deer for 25,000 IDR
Ride the elephants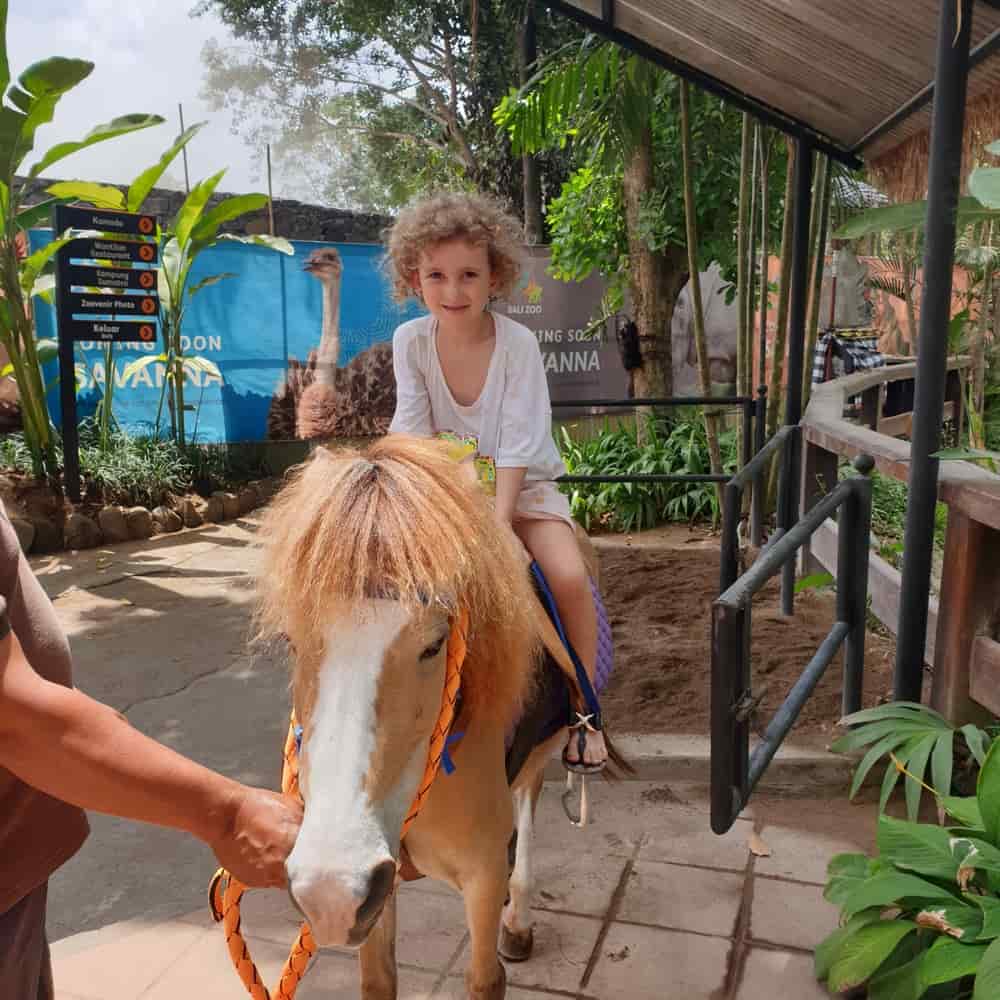 There is also a free shuttle bus to take you around and a kid's playground.
The animals are extremely well kept in clean enclosures. The Sumatran tigers and Bengal white tiger were some big highlights for us. They have a 5-month-old tiger cub as well! Although he was not on display when we visited.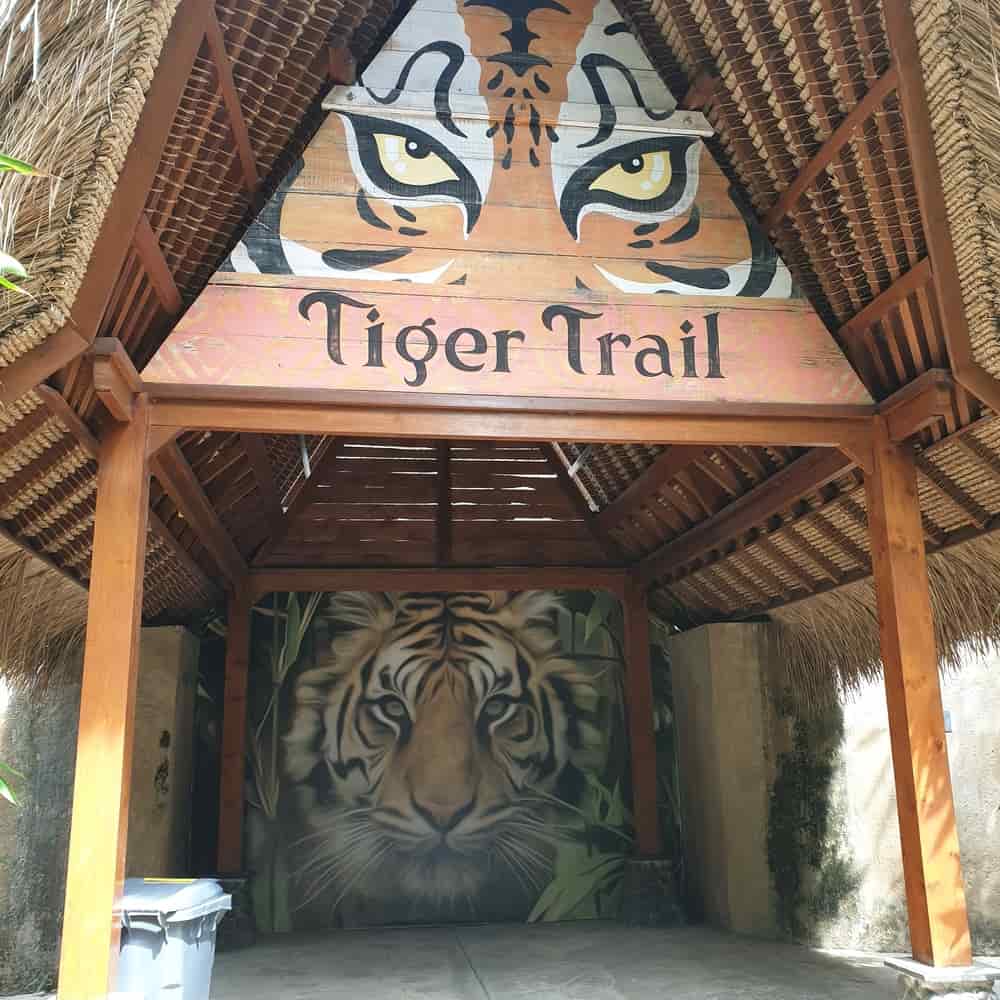 There are beautiful birds including the awe-inspiring and massive hornbills.
Walking through the bird enclosure is fun. In here you literally have to step over massive land iguanas, in between brightly coloured tropical birds and can even hand feed a lemur if you are lucky! (Literally a highlight of my life!)
The friendly staff are on hand to help you with anything.
Jungle Splash Waterpark
Jungle Splash Waterpark is a great way to break up your day. Entry to this is included in your ticket. It is a knee-deep pool with a bucket and a few fun waterslides.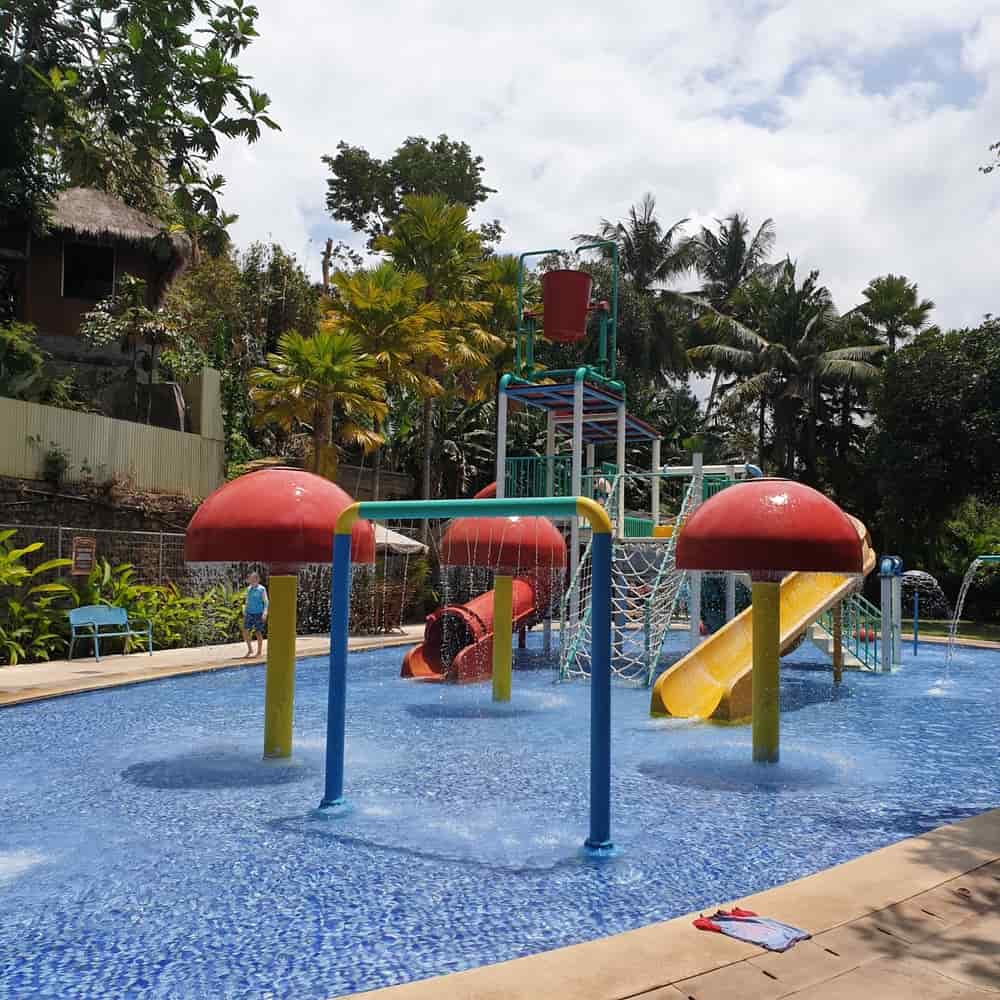 You can rent a shady cabana for 50,000 IDR. Food and drinks are available on-site and you can even rent towels and lockers. Swimwear and floaties for the kids can be purchased if you forget yours!
There are toilets and change rooms here too.
Food and Amenities at Bali Zoo
The food prices at Bali Zoo are incredibly reasonable. You can grab a quick bite or an elegant lunch overlooking the lion enclosure as you wish. We lunched with the lions and had a pizza for 100,000 IDR and a delicious Nasi Campung. For some descriptions of some of our favourite Balinese dishes read this.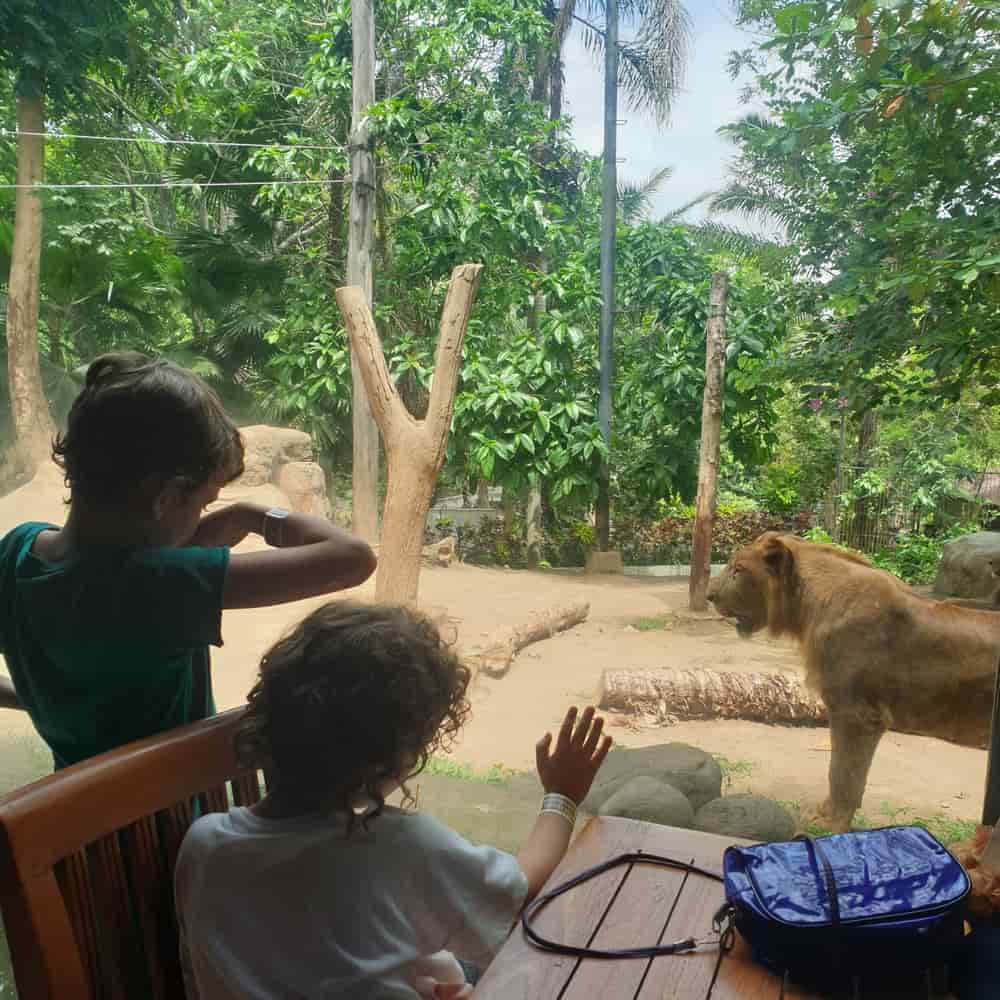 There are toilets, souvenir stalls and drink shops located at strategic locations throughout the park.
The zoo is wheelchair and stroller friendly.
Read our ultimate family guide to the best of Bali here
Is Riding Elephants at Bali Zoo Cruel?
Yes, you can still ride elephants at the Bali Zoo. It is a hotly debated topic as to whether riding elephants is ethical or not.
Is Bali Zoo Ethical?
The main tourists from China still want to ride the elephants and Bali Zoo is trying to phase it out, but the demand and money they generate off the service are high. In time management told us it will be winding down eventually. Let's hope so.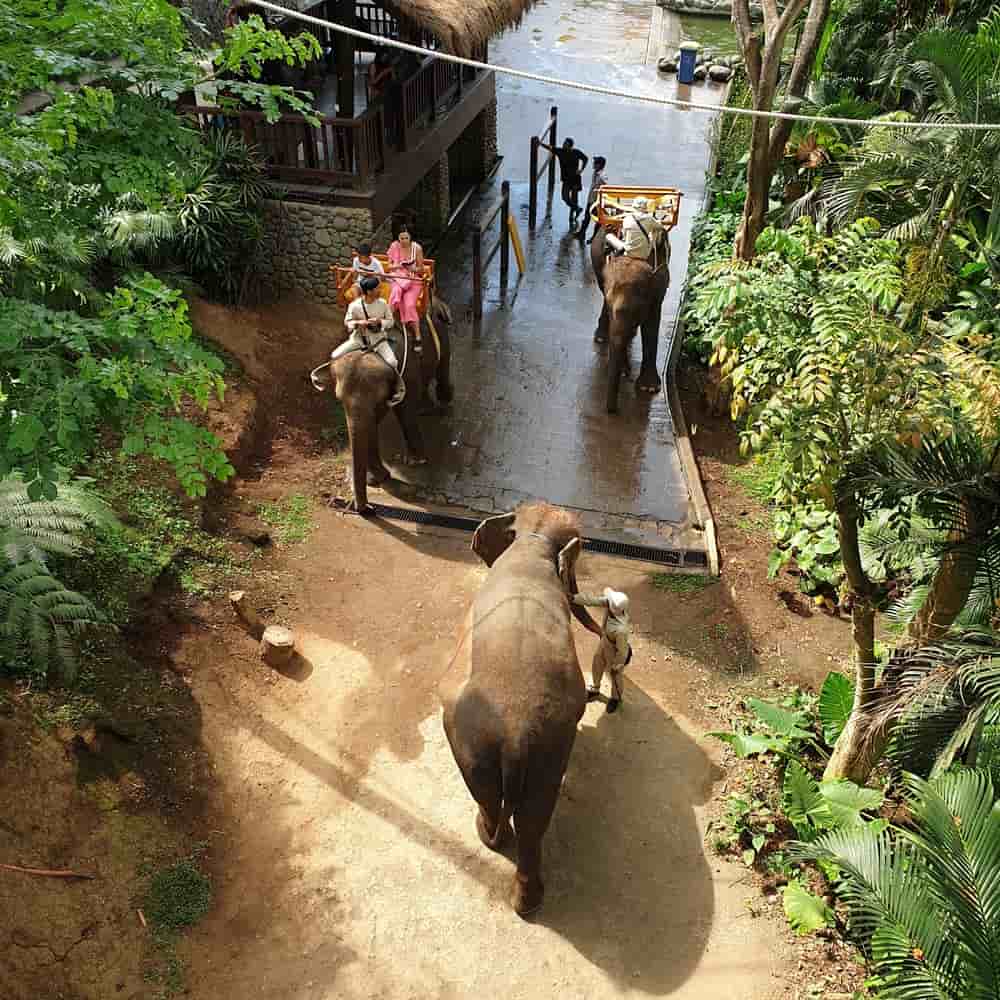 We overheard a father saying to his tween daughters "Hey do you girls want to ride the elephants? It's a once in a lifetime opportunity!". To which the girls replied: "Dad, that's animal cruelty!".
So perhaps in the future, this practice will get phased out. For now, I guess supply equals demand. FYI, we opted not to ride the elephants.
Stay at the Bali Zoo
Imagine spending the night in a zoo, and waking up to the sounds of the gibbons and the lions! Well, there are some comfortable villas right smack bang in the middle of Bali Zoo, with more to be added during the current renovation. Staying here will get discounted Bali Zoo tickets too.
The Sanctoo Villas and Spa provide luxury accommodation within the Bali Zoo. This superb dwelling is rated 9.1 on my favourite booking website. There is a restaurant, huge pool, spa and sauna with lovely valley and rice field views.
Check the best prices for The Sanctoo Villas and Spa here and get your slice of Bali Zoo paradise!
Bali Zoo Breakfast with Orangutans – The Verdict
I absolutely highly recommend the Bali Zoo Breakfast with Orangutans and the entire Bali Zoo visit! It is such a great day out and accessible as an easy day trip from wherever you are staying in Bali. The Zoo is great for kids and grown-ups of all ages.
We had awesome food, got to see our favourite animals up close and were treated so well by the staff of this beautiful place that we just want to come back again and again.
I am not usually a zoo lover. But the Bali Zoo is simply beautiful. It is easy to get around, the animals seem to be in great condition, and the enclosures are clean. Everything is well-kept and very professional.
Things to Remember When Visiting Bali Zoo
Wear comfortable shoes
Weekends and peak times are busy
Remove hats and sunglasses when interacting with orangutans
Arriving at 7.45 am for the orangutan breakfast will give you time to reach the location so you have maximum time with the orangutans
Stroller friendly but you do need to hop on a shuttle bus a couple of times
Bring swimmers for the waterpark!
Pre-purchase your tickets online at the Zoo website or compare prices and save money on general admission with Klook
Book in advance for the Orangutan Breakfast, Elephant Mud Fun and Night at the Zoo as these will sell out
Current renovations do not impede on your visit at all. Visit again after April 2020 when the new African Savannah will be open!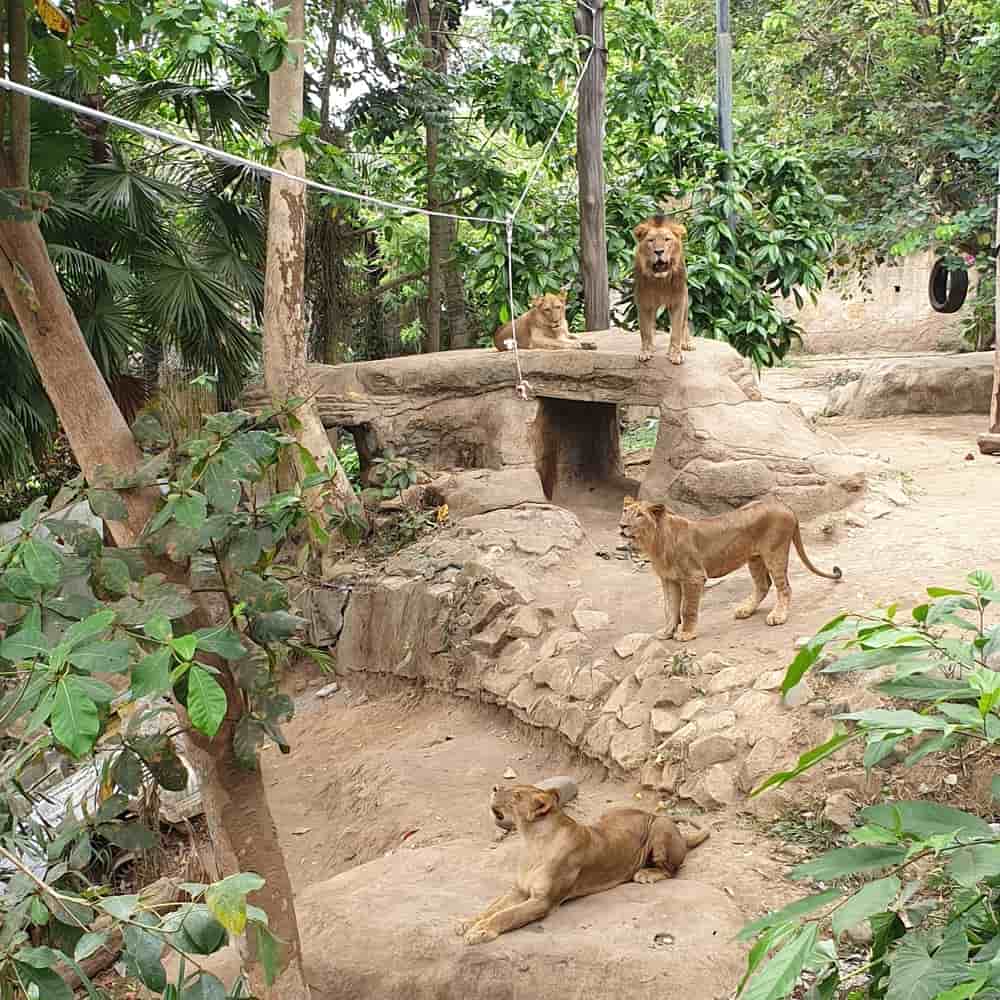 Other Amazing Places to Visit in Bali
We love coming to Bali with our family. Here are some of our favourite spots to visit: