Do you want to hear about a secret place in Bali? Here it is, Medewi Beach in the West of Bali.
You may have heard about it. Are you ready to see more of Bali and experience something new? If so visit Medewi on your next holiday.
---
---
Where is Medewi Beach?
Medewi Beach is about 80 kilometres west of Kuta and feels like it is a world away from places like Kuta, Legian, Seminyak, and Canggu.
The journey can take around 2 and a half hours because the traffic is pretty bad at certain times. So prepare for a long journey.
For transfers book with Klook >>
See the Bali Map below:
The Orientation of Medewi Beach
Medewi's main tourist area is on Jl. Pantai Medewi road which is just off the main highway that connects the West of Bali to the East. This road is crazy and dangerous, especially if you are riding a scooter.
Large trucks use this road as long as cars and scooters all day and night.
The main street runs to a beach carpark overlooking Medewi Left surf break. Jl. Pantai Medewi road has several accommodation options, local snack shops, eateries and a few small surf shops renting boards and repairs.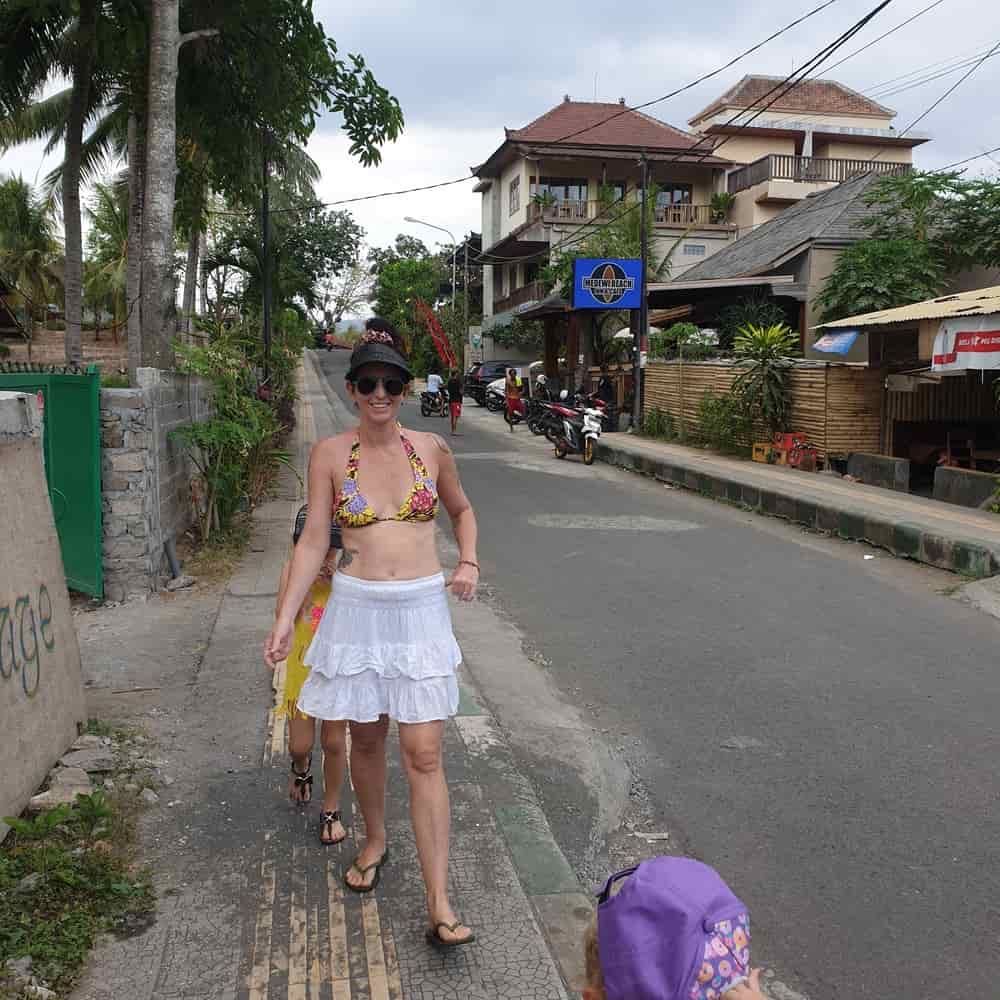 Beach area has sand up the top of the beach and medium-sized boulders and rocks around the main point. Two rivers, one to the East and one to the East contain the beaches with long black sand beaches away from the point break.
In the middle of the beaches lays a Muslum fishing village, here the old wooden boats sit on the beach ready for the nights fishing. Fishermen can be found here during the day repairing nets and relaxing.
Accommodation Medewi
Good accommodation is hard to come by in the Medewi area that's why we are going to list only the best looking places in the best areas.
If you love to surf and want to be walking distance to excellent surfing check out these beauties.
Bombora Medewi Wave Resort
This is the closest resort to the famous Bali Left break and overlooks the ocean. Guests can relax by the infinity pool, eat at the onsite restaurant and use the free WiFi.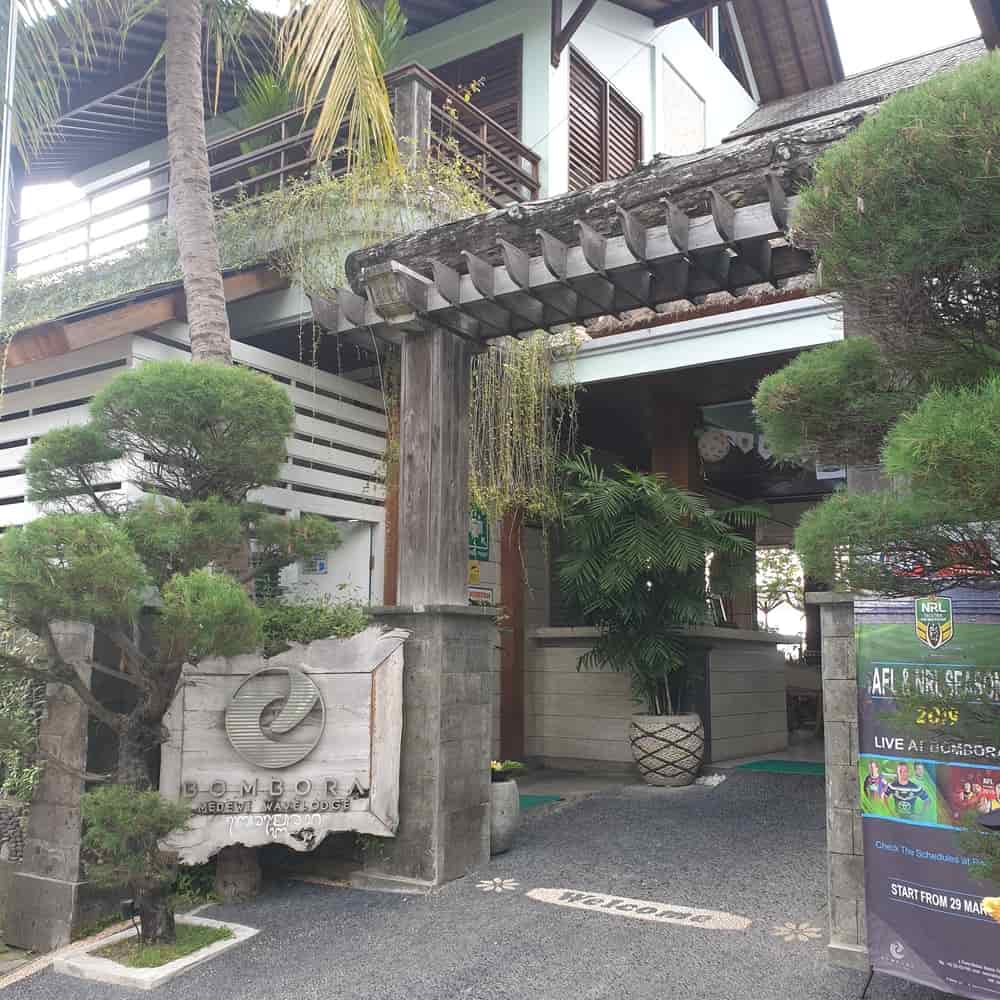 Bombora Resort right on the beach
Umadewi Surf and Suites
Situated directly across the road from Bombora and directly on the beach in front of Medewi Left is Umadewi.

The suites are set among nicely landscaped gardens, with onsite bar and restaurant. Offering free WiFi, free parking and an outdoor pool this place will not disappoint.

Book Umadewi Surf and Suites Here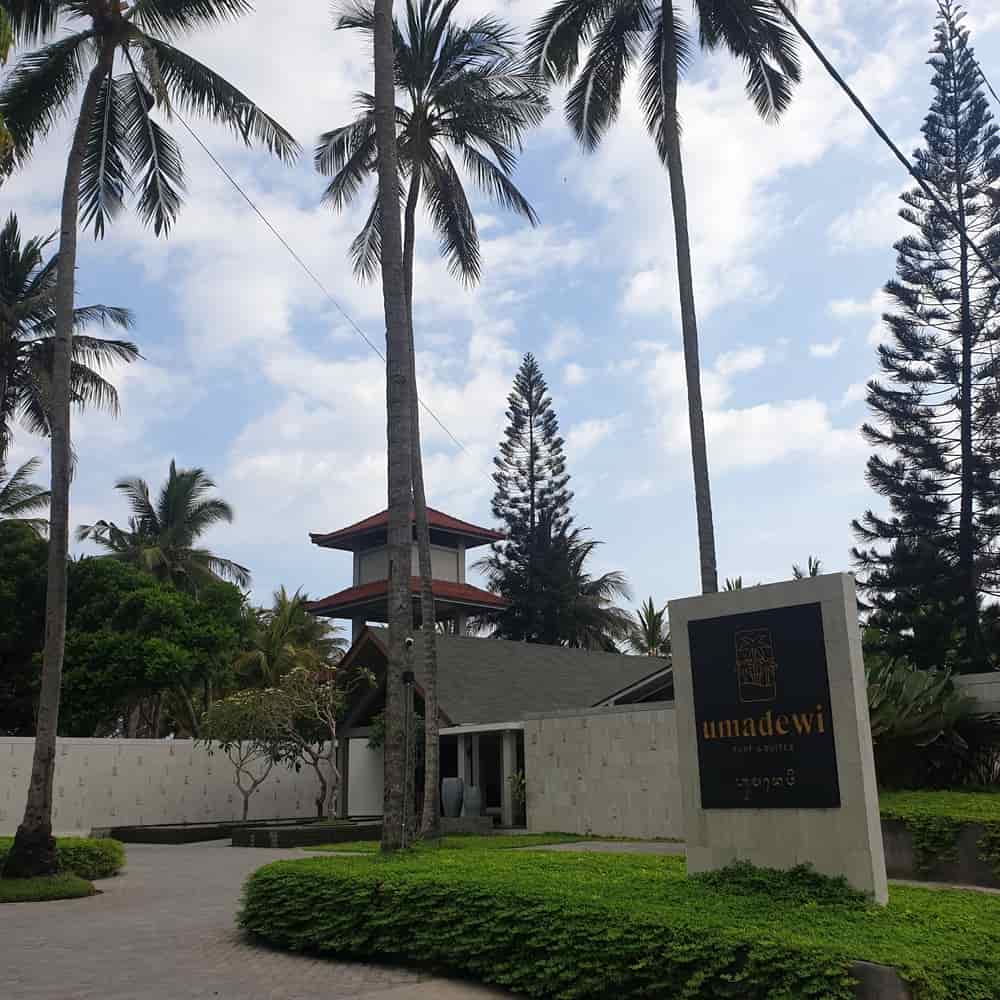 Medewi Beach Inn
A cheaper option for the more budget savvy is Medewi Beach Inn situated up the main road about 150 meters from the beach.

Enjoy views from the top floors of the rice paddies and lower floors are set among beautiful gardens. The Inn includes an outdoor pool, onsite bar and restaurant with a 24-hour front desk.

This is a great choice for surfers, couples and families because the food and drinks are cheap and delicious.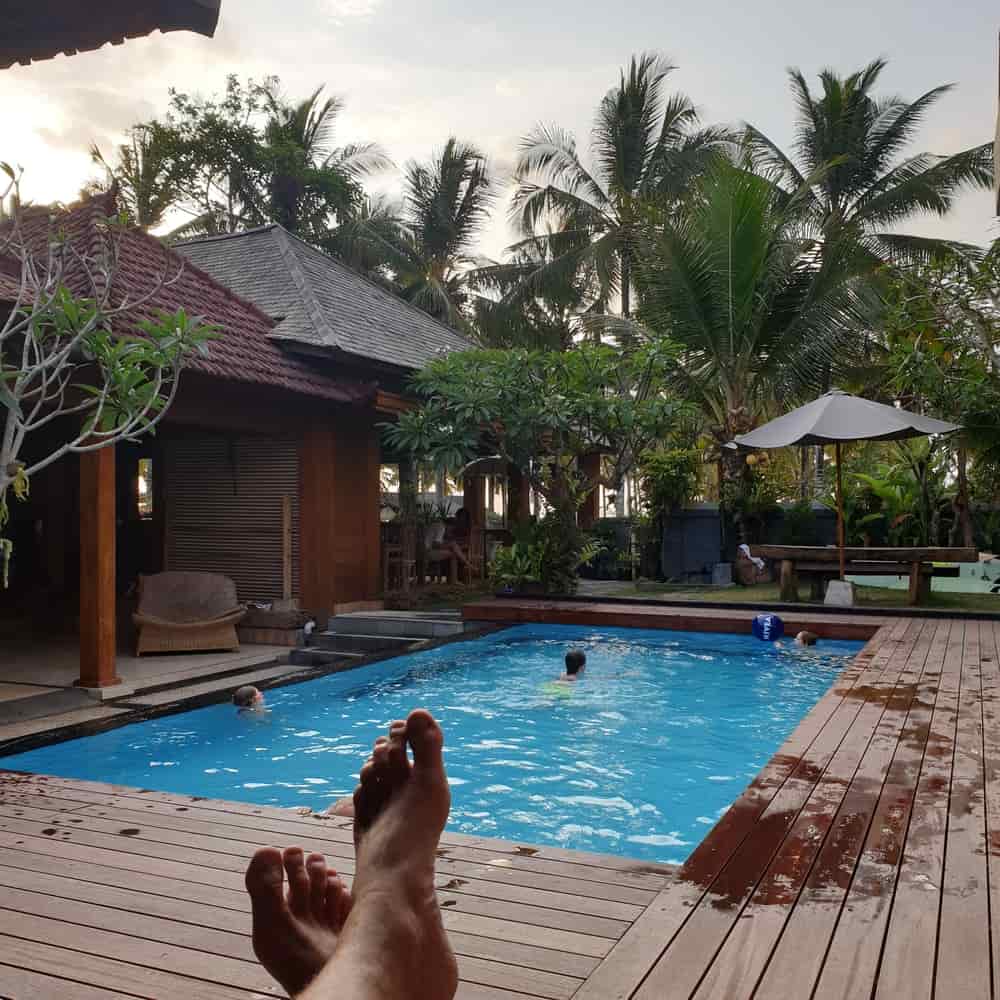 West Beach Accommodation Options
Maybe you would like to stay close to the beach break area, away from the main Medewi Break area. If so here are some great little places to suit your needs.
West Break Bali
An affordable beachfront resort with beach views and outdoor pools. This hotel is located close to a nice cafe and gets great reviews from guests. Opposite the beach break.

Book West Break Bali Resort Here
Snaffl Villa
Close to the beach, this villa is the perfect place to escape it all. Villa is relaxing and super friendly with an outdoor pool. Try this place if sticking to a tighter budget.

There are many more other accommodation options on the Airbnb website and Booking.com that may also suit your group. If you haven't signed up to Airbnb yet, use this link and you will unlock a legitimate big discount off your first night's stay!
Surf Medewi Beach
We have wanted to explore and visit Medewi beach Bali for many years and just didn't get the chance.

On this particular trip, we did and trust me it did not disappoint.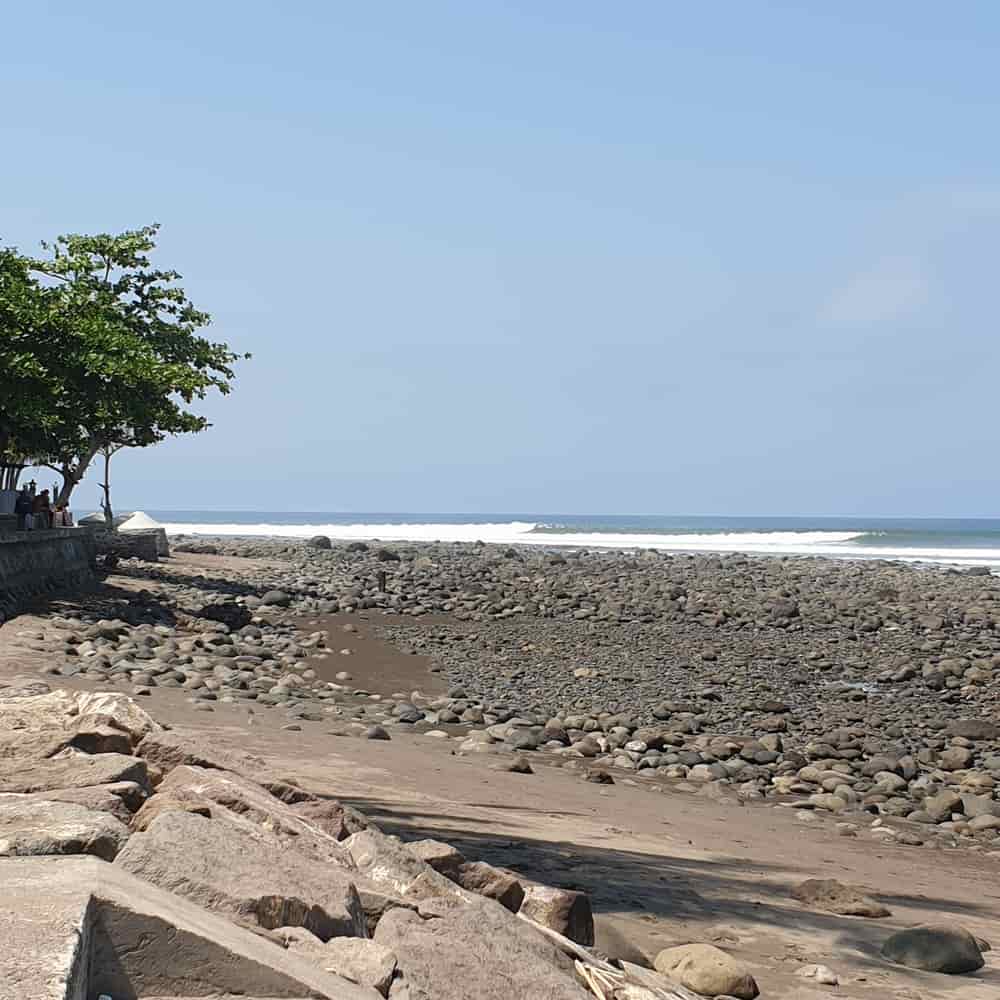 Surf Type at Medewi
The surf at Medewi is so much fun and relatively safe compared with other parts of Bali. This is because the wave breaks slowly and crumbles with a long wall to carve up.

Medewi wave is a left-hander breaking over rock and tends to be mellow compared with breaks like Uluwatu.

But here has palm-lined beaches and half black sand giving you the real Indo feeling.
Wave Size?
Wave heights need to be in the range of 4 – 12 foot to really enjoy the wave but the location also offers a right-hand wave to the East and to the West.

The beach break works really well and breaks over-sand. Wind can affect Medewi and make it very lumpy, best wind directions are from the North-East direction.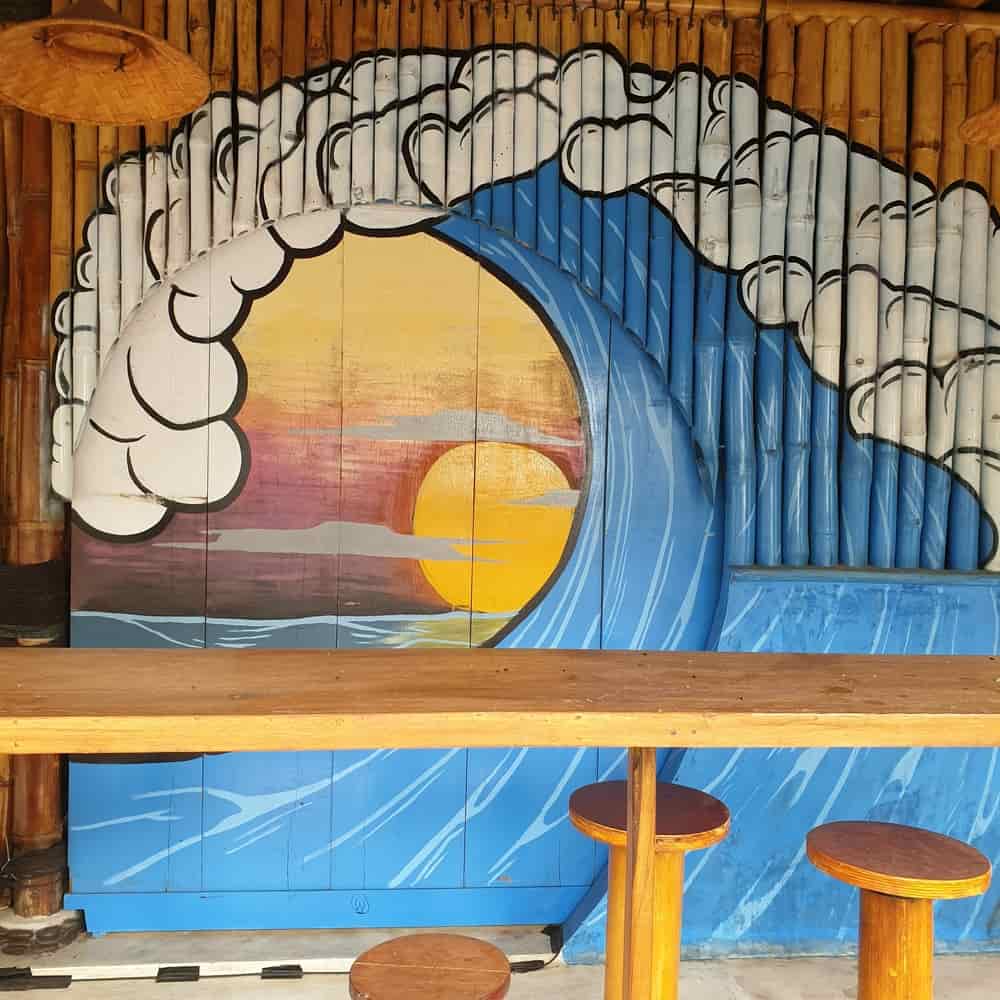 Are There Crowds?
The wave tends to be uncrowded but can get busy when the surf schools from Canggu head up, so surf early or around lunch for the least crowds.
How to Access the Wave at Medewi
Accessing the wave is through the rocks where a channel has formed to the left of the main road. Watch out for rocks and the odd sea urchin (Booties recommended)
Exiting Wave?
To get back to land just ride the wave into the boat area and exit here to avoid any nasty surprises.
Surf Instructors at Medewi Beach
You can hire a surf instructor at Medewi by the hour for around 200,000 IDR but totally depends, remember to barter for they may try to take more.
Surf Photographers
There are plenty of local surf photographers on the beach capturing the action. If you want to purchase these they charge about 250,000 IDR for a disk of surf pics. (Make sure you look first and get them to transfer straight to USB)
The Overall Vibe of Medewi Beach Bali
Medewi has a very laid back vibe with friendly people and is said to be a little like what the main tourist areas of Bali were like 30 years ago.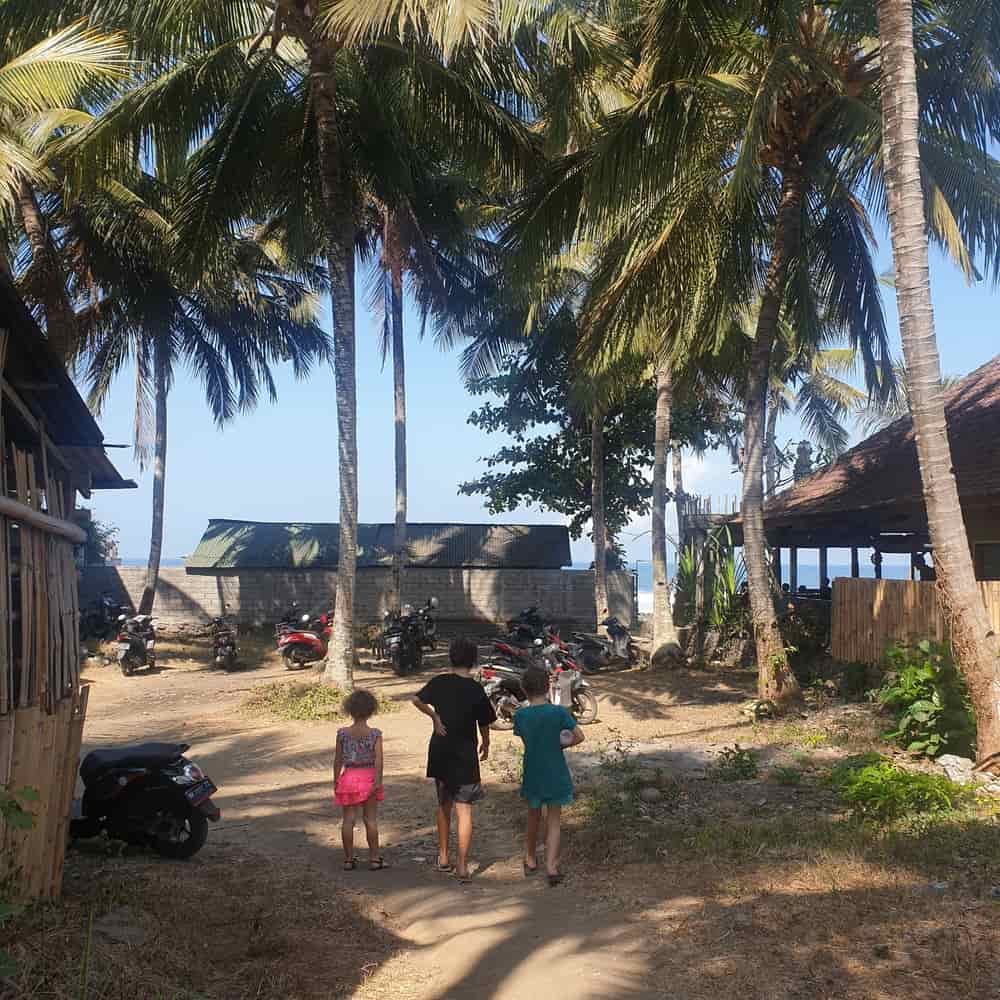 The sounds of the Muslim mosques during the call to prayer create an amazing atmosphere especially when surfing giving you a sense of culture and history.

But it is changing rapidly, so in 2 years my information could be outdated due to growth in the area.

There is not many street sellers or clothing stores so don't come here if you like shopping.

You will like Medewi if you love to relax and watch the world go by. Also, keen surfers will enjoy this spot but only if you are friendly and not aggressive.
Any Dangers at Medewi?
The main danger at Medewi is the traffic on the main road when on land. While on the water watch out beginner surfers, rocks, oysters and sea urchins.

Because this is a Muslim area you won't find too many dogs around, mainly local cats.
Other Activities to Do at Medewi Beach
Surfing isn't the only thing happening in Medewi, try one of these other interesting local activities:
Get a soothing massage for 100,000 IRP
Hire scooters and explore the area for around 70,000 IRP
Visit the beautiful local mosques
Walk or run along the beaches and explore among the rocks
Explore of the coast and visit some waterfalls
Relax and read a book
Eat out at the many local Warungs for great food at local prices
Grab a coffee or smoothie at The Holy Tree
Conclusion on Medewi Beach
This place is magical, it really has something that is totally different from the rest of Bali.

Beautiful sunrises and sunsets that make you feel really special and privileged to visit such an amazing area.

Don't wait to visit Medewi Beach Bali, make sure you put this spot onto your itinerary for your next Bali holiday.

For other secret Bali spots check out these amazing destinations:

Enjoy Bali.