Want 23 amazing things to do on Gili Islands? Read on to discover our most favourite experiences and let's travel Bali/Lombok's best islands in style.
Not knowing what's out there makes it hard to plan your holiday. That's where we come in and give you all the information you need to have the perfect Indonesian island getaway.
Where are the Gili Islands?
I always wondered this before I went. Let me show you with this interactive Bali map below:
How Many Islands make up the Gili Group?
The Gili Islands consist of 3 main Islands just off the coast of Bali Lombok Island.
Gili Trawangan (Gili T)
Party Island! Well, that is what everyone thinks, but it's isn't entirely the case.
Sure this is a great island if you love late nights and to party. But there is so much more to this island than you think and it offers the best sunsets I have ever seen. For families stay over on the north-west coast, and singles head close to the ferry port. If you are thinking romance, the north or southern coasts or Gili T are more your scene.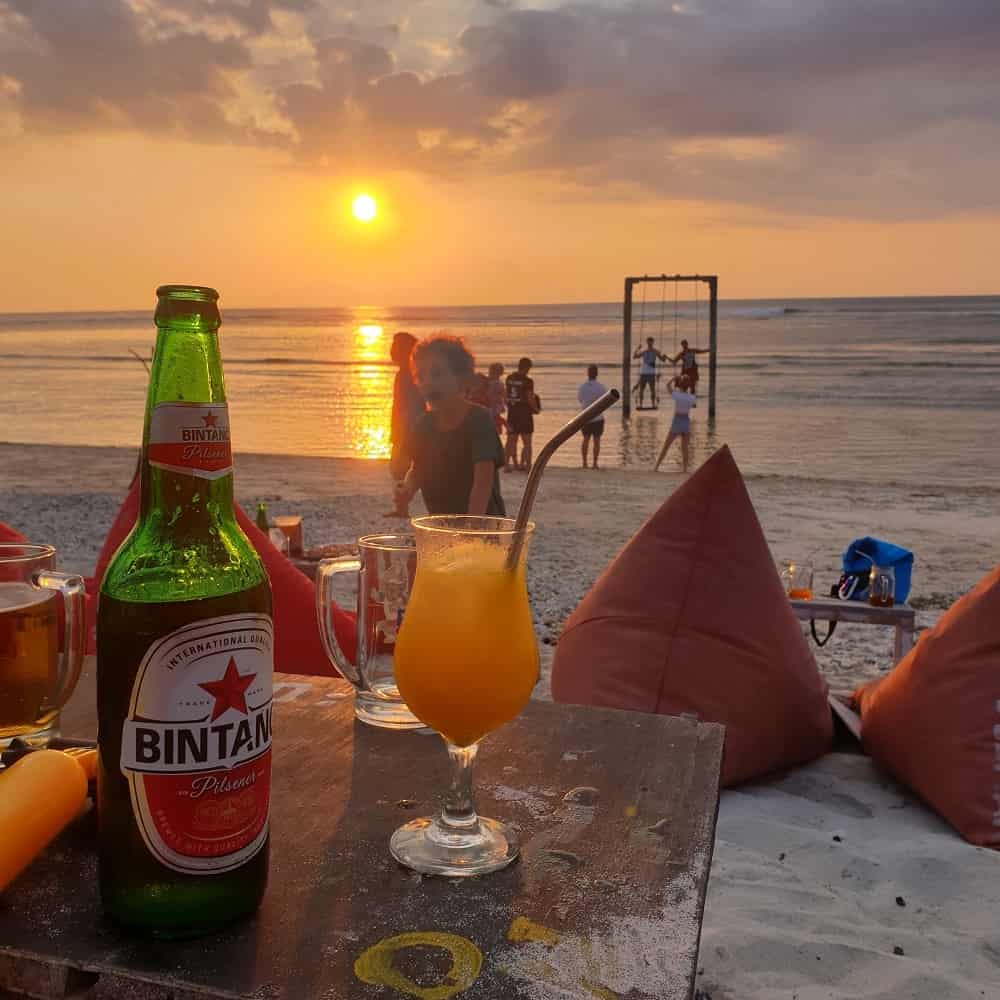 Gili Meno
The middle island between Gili T and Gili Air. This is the quietest of all the islands and less developed. Gili Meno is perfect for those looking for a relaxing and chilled romantic type of getaway.
This island paradise is only a short boat ride from Gili T and has most of the awesome underwater attractions nearby including Turtle Point and the circle of statues.
Gili Air (pronounced AY-er)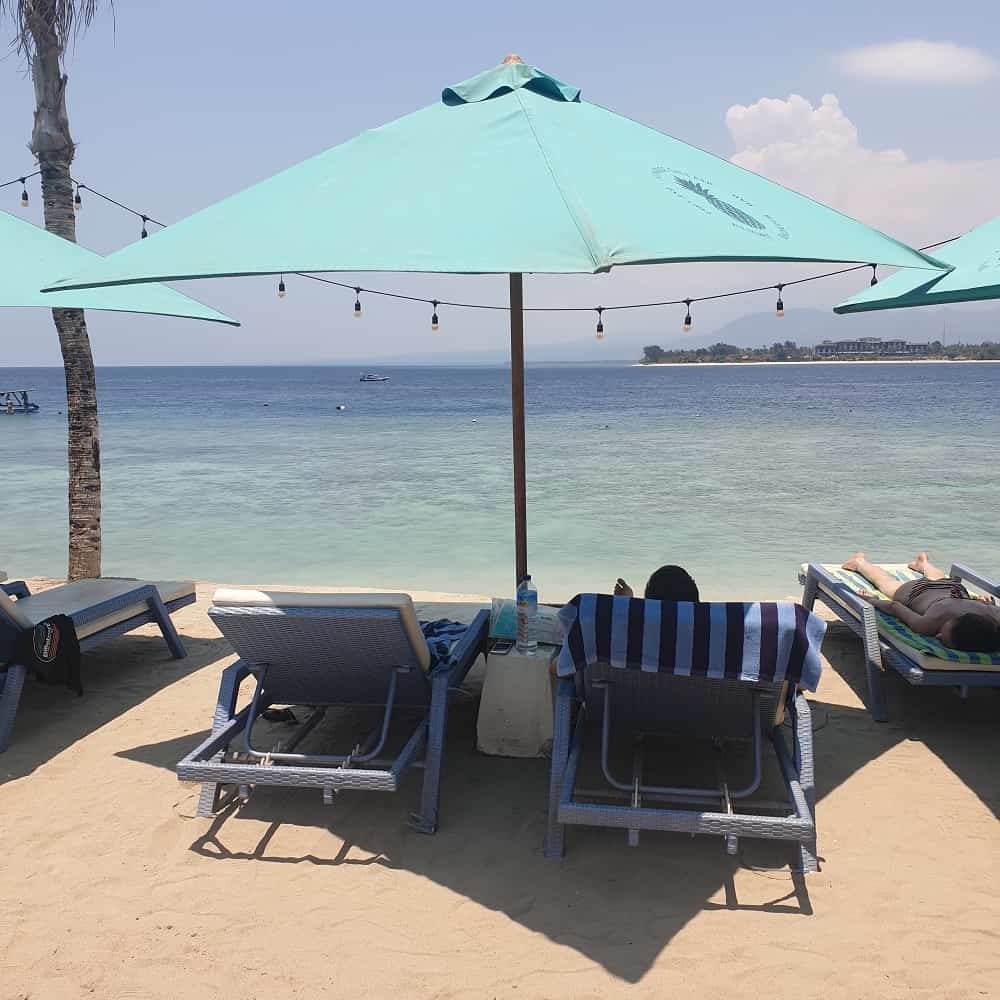 Last but definitely not least we have Gili Air which is located closest to Bali Lombok.
This island is considered to be more for chilled couples and families who want to relax and not party too hard.
It still has a very awesome party places but not just as hectic as Gili T.
Which Island you stay at is up to you and personal preference. We spent most of our family holiday time on Gili Trawangan.
23 Top Things to Do on Gili Islands
1 Ride a Bike Around the Island
There is no motorised transport on the Gili Islands at all. Luggage and people are either ferried around the place via horse and cart and by bicycle. Bikes are the cheapest, and fastest way to get around the islands, and it's super healthy and fun too.
Many accommodation places have free bikes for you to use but if this isn't the case you can hire bikes everywhere for around 30,000 IDR per day. There are kids bikes and baby seats available too.
This is the absolute best way to explore the stunning islands. Stop in at a bar, your favourite beach or just marvel at the scenery.
Warning! Sandy sections can slow you down and watch out for the horses and carts.
2 Hire a Horse and Cart to Explore the Islands
Your hotel or guest house can arrange a pickup or just grab a horse and driver from down at the beach. They cost about 150,000 IDR for a trip on the island and can carry up to 3 passengers.
This is such a unique experience in Bali and has to be done. The horse and cart with a driver can take you anywhere you want, so explore the island today.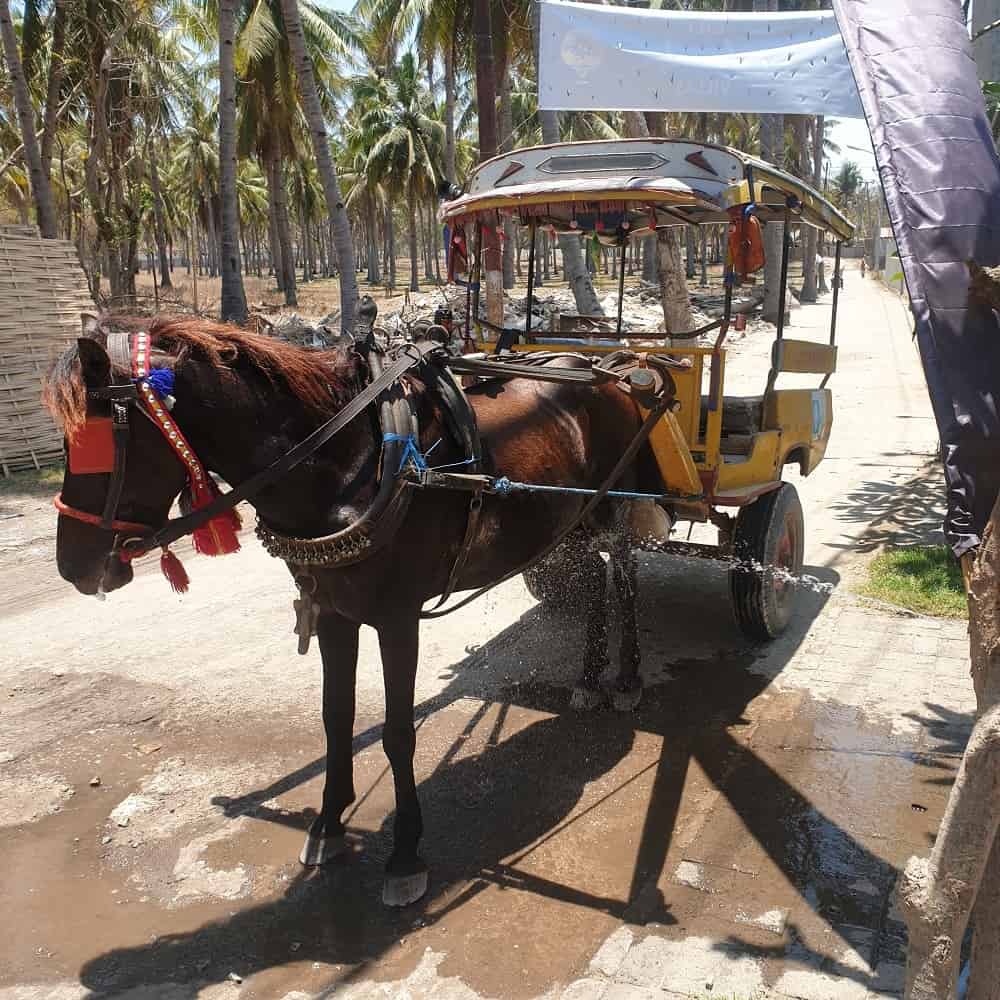 2 Snorkelling the Reef
There is so much to see under the water around the Gili Islands. Each coral reef fringed island has an underwater ecosystem consisting of a variety of fish, heaps of sea turtles and soft and hard corals.
You can either buy or hire snorkelling gear from along the beach on all the islands or BYO. Costs generally start around 50,000 IDR per day and include mask, snorkel and flippers. See map for the best spots.
3 Diving and Dive Schools
If you love to dive or would love to learn, there are some great dive sights around the Gili Islands.
Dive sites such as:
Shark Point – on the Westside on Gili Trawangan consisting of amazing reef sharks, sea turtles, moray eels and so much more.
Sunset – on the Southside of Gili T and home to hard corals, manta rays, reef sharks and many species of reef fish.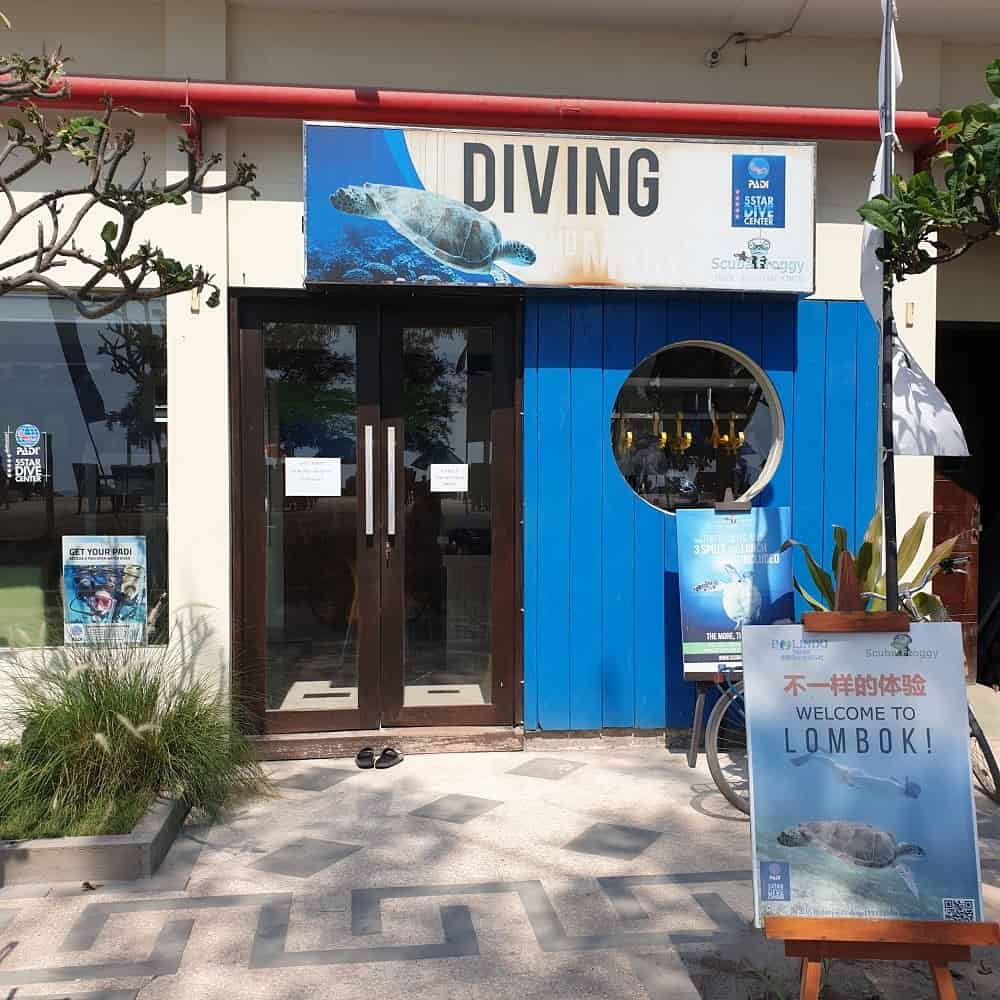 Deep Turbo – to the north and in between Gili T and Gili Meno is a local favourite with gorgeous soft coral gardens and deep gorges to explore.
Turtle Heaven – This spot is epic, if you want to see turtles this is the place. They lay on the bottom and come up for a breath every now and then which is majestic to watch.
Here you will find all kinds of fish like lionfish, clownfish and many more species.
Simon's Reef – a series of seamounts north of Gili Meno. Here you will find hard and soft corals which are home to pygmy sea horses and many species of sea life.
There are many dive centres on Gili Trawangan so we recommend using a Padi dive centre which all have terrific ratings and high regard for safety.
If you are really keen, book a dive course and get your Open water certification. Prices are very reasonable.
4 Surfing
Most people don't realise there is surf on the islands. There are actually a couple of gnarly reef breaks which get very good between December and February.
On Gili Trawangan, you can rent shortboards, longboards or get lessons on the south of the island.
Boards cost 10,000 IDR for a surf and all the waves break right with a rocky coral bottom. Wearing booties is advised.
Board hire is also available on Gili Air to the right of the jetty as you arrive. Here on the south of the island, a wave breaks right also, but it is a bit further out than Gili T.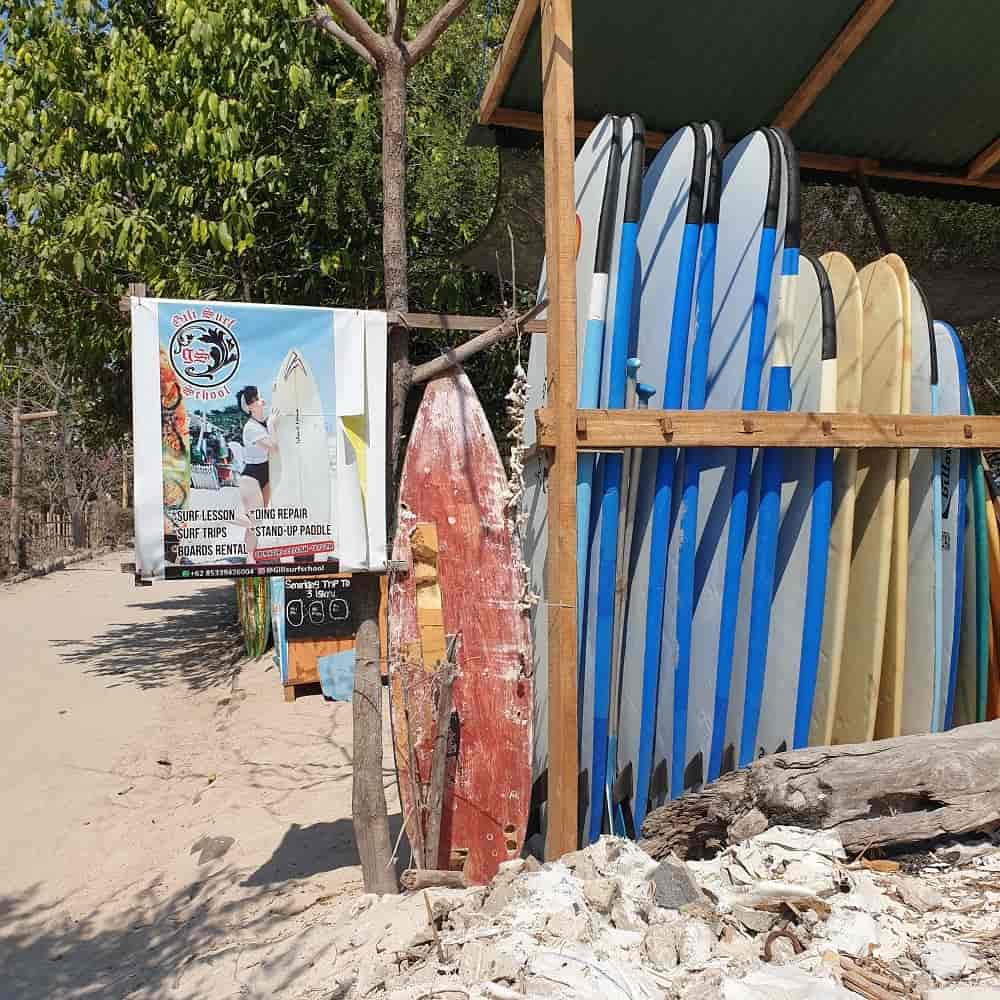 5 Standup Paddleboarding
Do you fancy exploring the island standing up? Did you know you can see so much more standup paddling than kayaking?
Hire boards are available on the Eastern side of Gili T and in many other places like Gili Air and Meno from beach stands and resorts.
6 Walk Around the Island
Walking the island on foot is another great way to experience the island as long as it isn't too hot. But you can easily jump in the clear ocean for a swim along the way.
Circumnavigating Gili T on foot takes around 2.5 hours if you don't stop and drink too much Bintang on the way.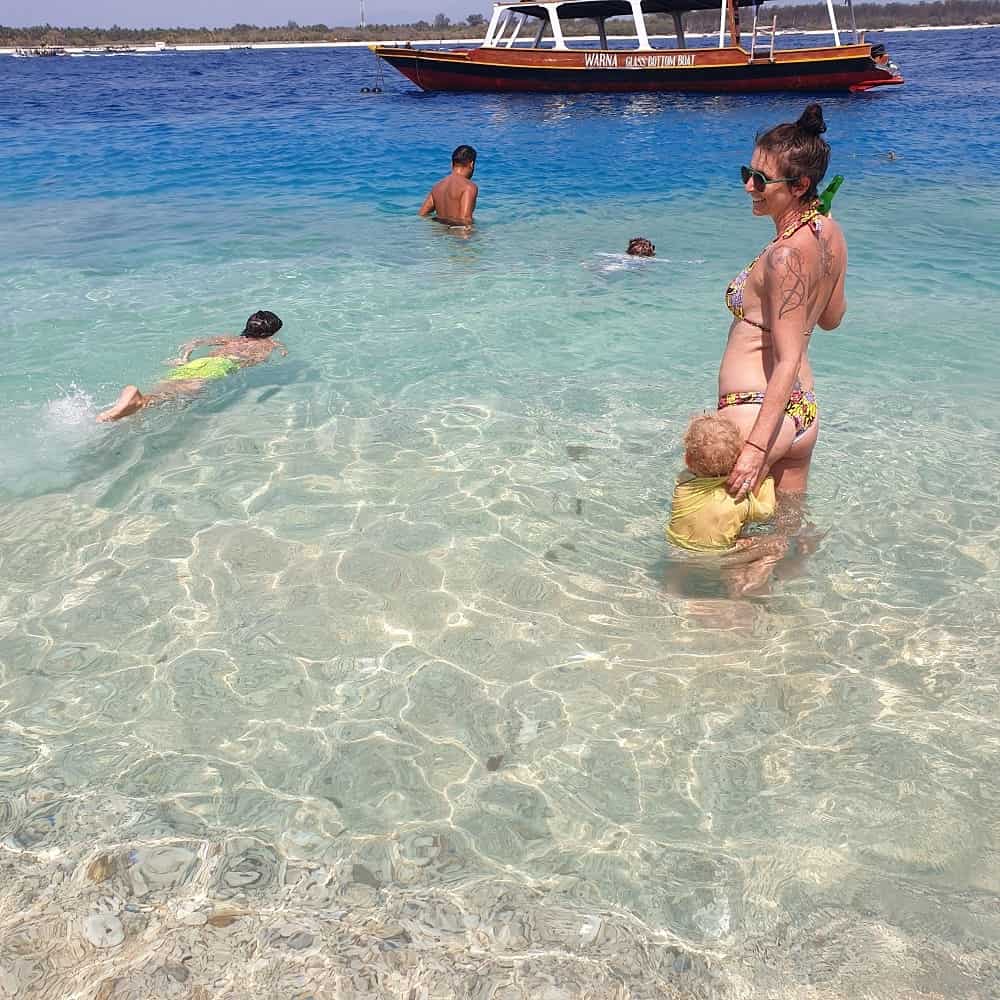 7 Yoga
Bali is a popular destination for Yoga practice, so why not keep up your body conditioning by attending one of the reputable places below. Click to be taken to Google map.
8 Bali Swings Over the Ocean
The western sides of Gili Air and Gili T have purposely built swings in the ocean for your Instagram shots.
Head over to the western side of the island to watch the sunset and get some glorious pictures of you and your partner on a free Bali swing.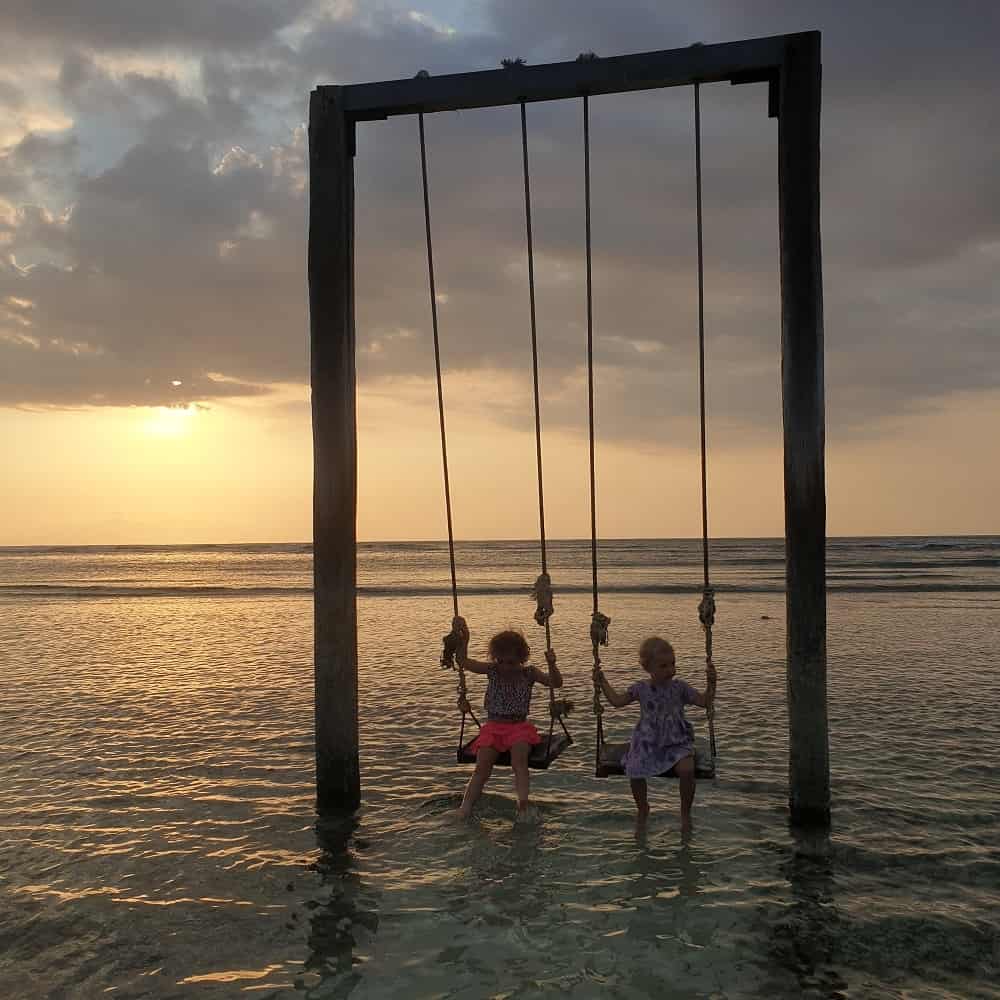 9 Watch the Sunset Beachside
From 4 pm make sure you visit a beach bar on the white sandy beaches of Gili Islands to catch the beautiful sunsets.
Pull up a bean bag in the sand and grab a beer and watch the world pass by for yet another perfect day. There are bonfires and entertainment and heaps of food and drink choices.
Our pick spot for the best sunset is on Gili T where you watch the sunset between Baili's 2 famous volcanoes – Mt Agung and Mt Batur. Magic!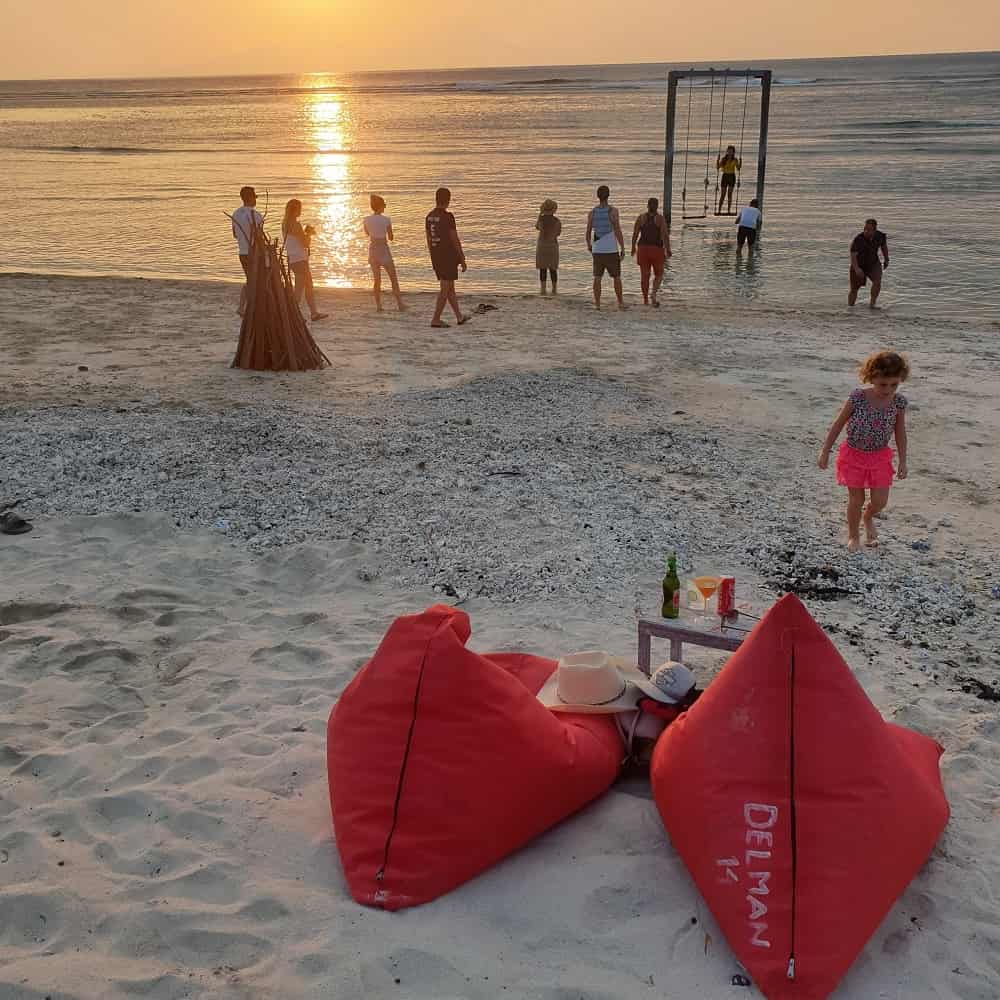 10 Horseriding
Enjoy a sunset beach jaunt on a beautiful pony on the Western sands of Gili Trawangan. This is a very surreal and magical experience that the kids absolutely adored. Prices started at around 150,000 IDR for 20 minutes.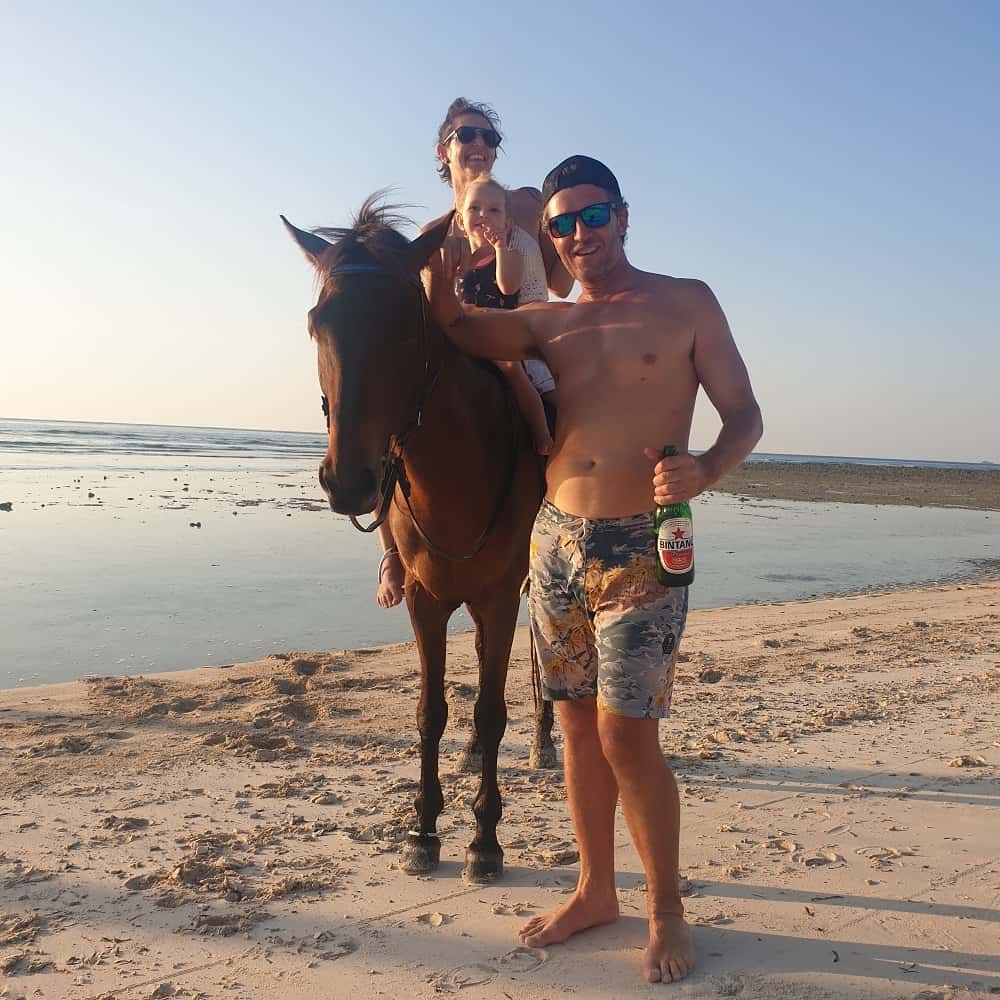 11 Nightlife and Bars
If you want to party there is plenty of that around the island. Try the bars closest to the ferry terminal on Gili T for the best nightlife.
Get on your bike and ride around until you find a place that suits your vibe.
The best places to explore for bars is on the East side of Gili T, and west side of Gili Air but you can find great nightlife pretty much all around any of the islands. (Just drink responsibly and don't take illegal drugs).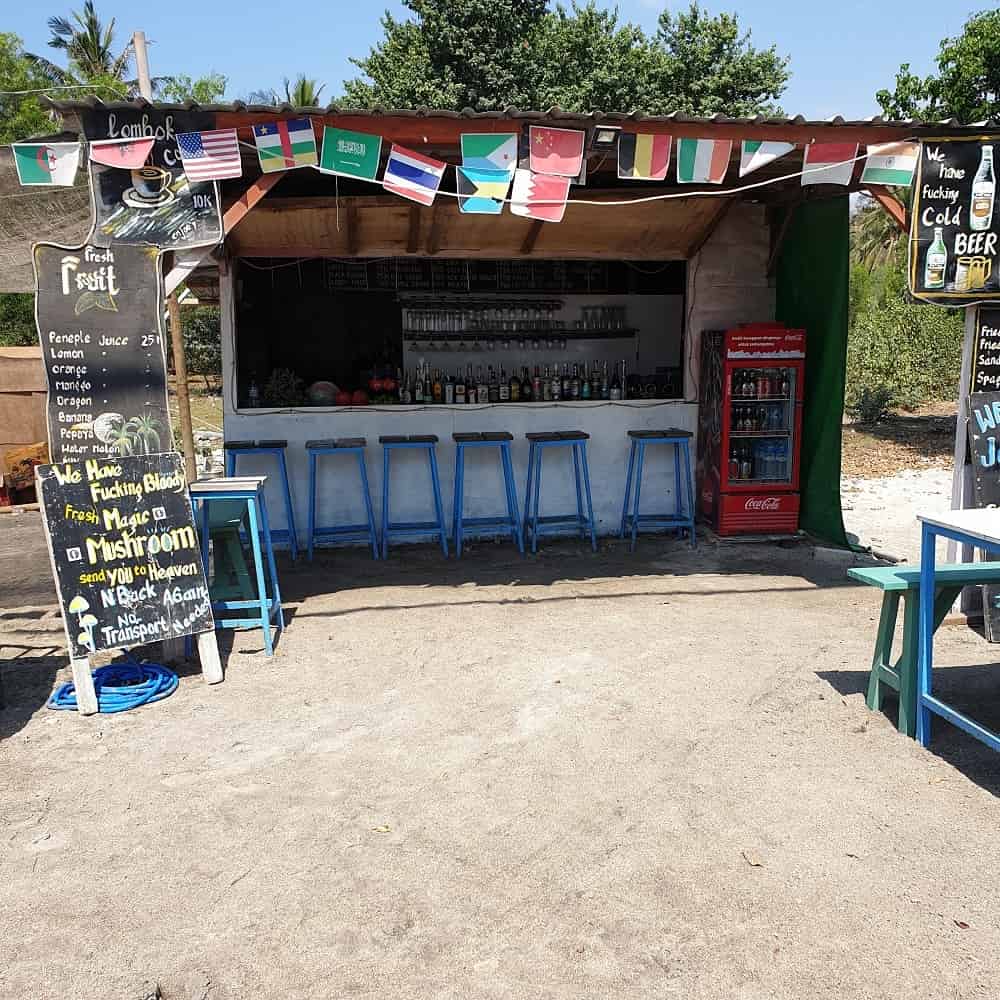 12 Visit the Many Island Restaurants
You can literally eat everywhere and which is best is up to you. Most establishments have ocean views and if you like local food for cheap try to find a local warung in the centre areas of the island.
We are not vegans by any means but our absolute favourite restaurant on the Gili Islands was the fabulous vegan Pituq Waroeng. Find it here.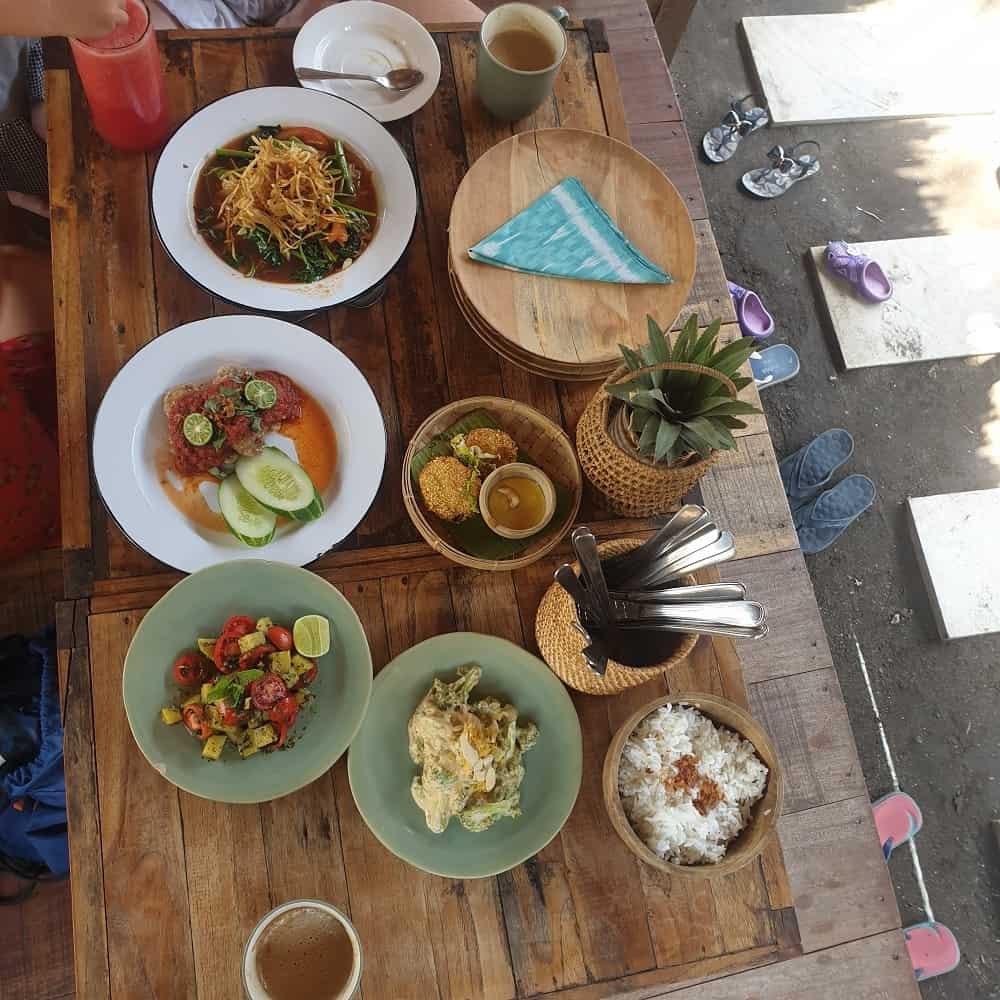 13 Night Market Gili T
Once night hits head on down to the southeastern side on Gili T for some fresh seafood. Fresh-grilled fish and seafood satay are on offer here, so eat like a local on the cheap at the markets. See location on Google Maps.
14 Visit a Cafe and Enjoy a Coffee and Cake
Do the Gili islands have good coffee? Oh yes, they do and there are quite a few fantastic cafes serving up the perfect brew.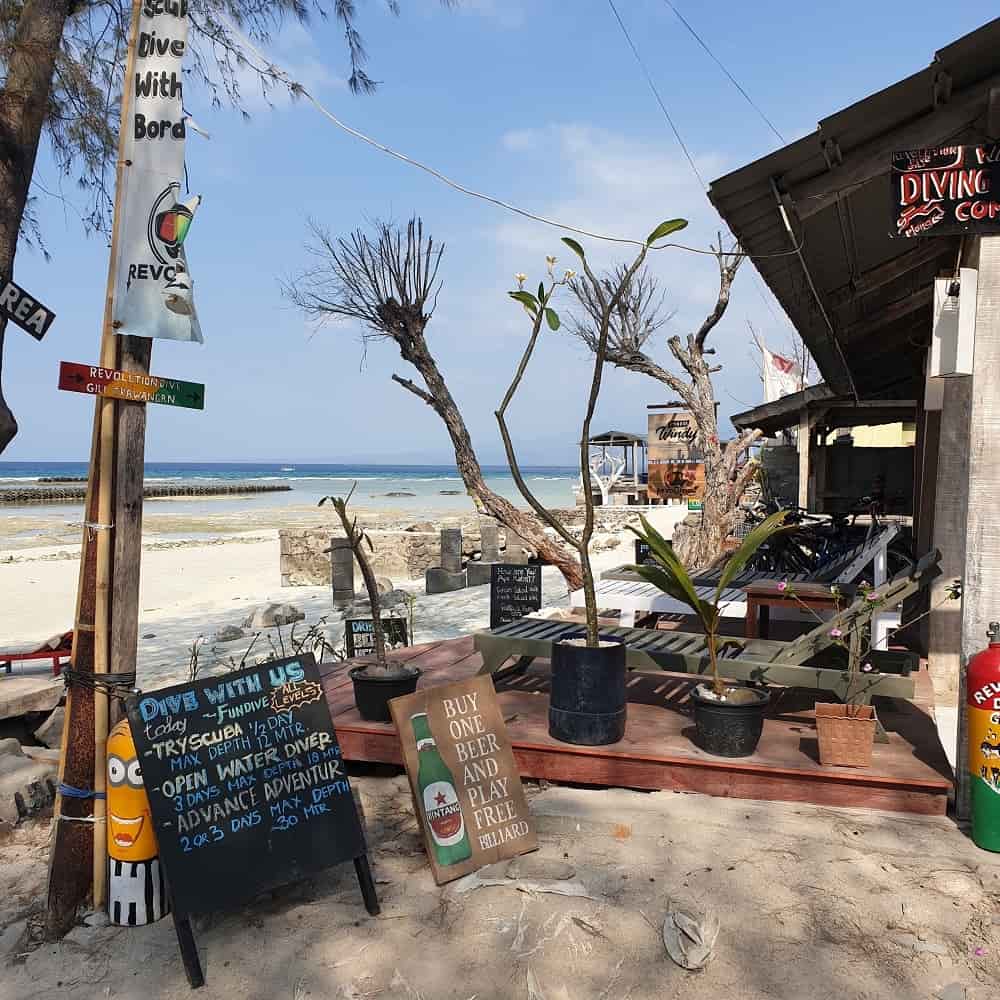 If you love your coffee try these amazing places:
Gili Trawangan Cafes
Gili Air Cafes
15 Shopping on Gili Island
Prices can be a little higher than on the mainland of Bali but some stylish shopping therapy can be good for your soul when holidaying on the Gili Islands.
Most retail shopping is on Gili Trawangan but Gili Air has a thriving little shopping district also. Buy some gifts or souvenirs to take back home you know you want to. The best stores are found around the ferry terminals.
16 Hike View Point Hill
Feeling energetic? If so hike up View Point Hill to capture the area from above.
This isn't the highest hill you will ever climb but it does offer incredible views of the sparkling ocean and you can admire the mosques that are in town.
This is the highest point on the islands and is situated in the south of Gili T. Find it here.
17 Organise a Boat Day Tour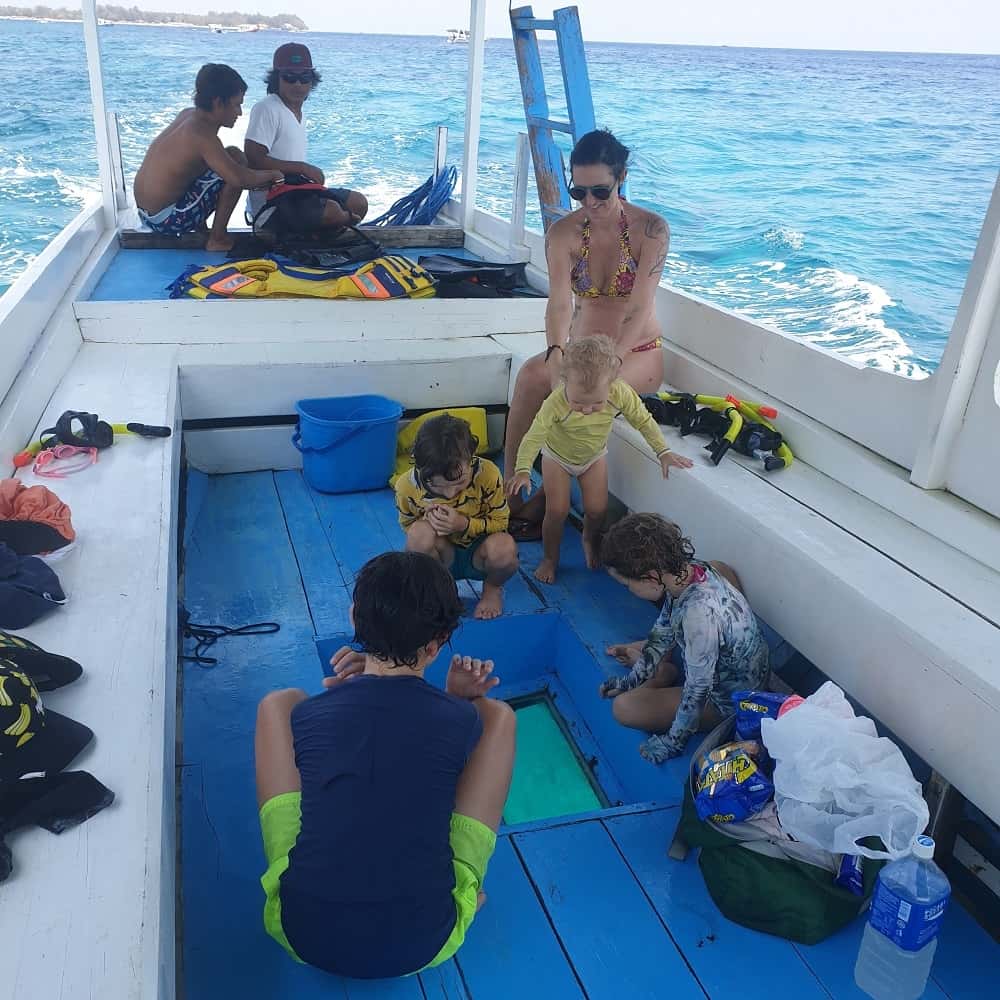 We hired a boat and guides for around 4 – 5 hours to tour all the islands and visit the popular dive and snorkelling spots.
This is was such an epic day of fun and it was awesome having local knowledge to navigate around the tourists and capture everything at it's best.
We visited the underwater statues, watched the sea turtles come up from the seafloor and float in the blue ocean. We loved swimming around with local reef fish species and saw colourful coral.
Free beer and soft drink on the boat as well all your snorkelling equipment and lifejackets were provided.
Our boat had a glass bottom, so we didn't even need to get out of the boat to see the amazing underwater world. This was great for the kids and adults alike.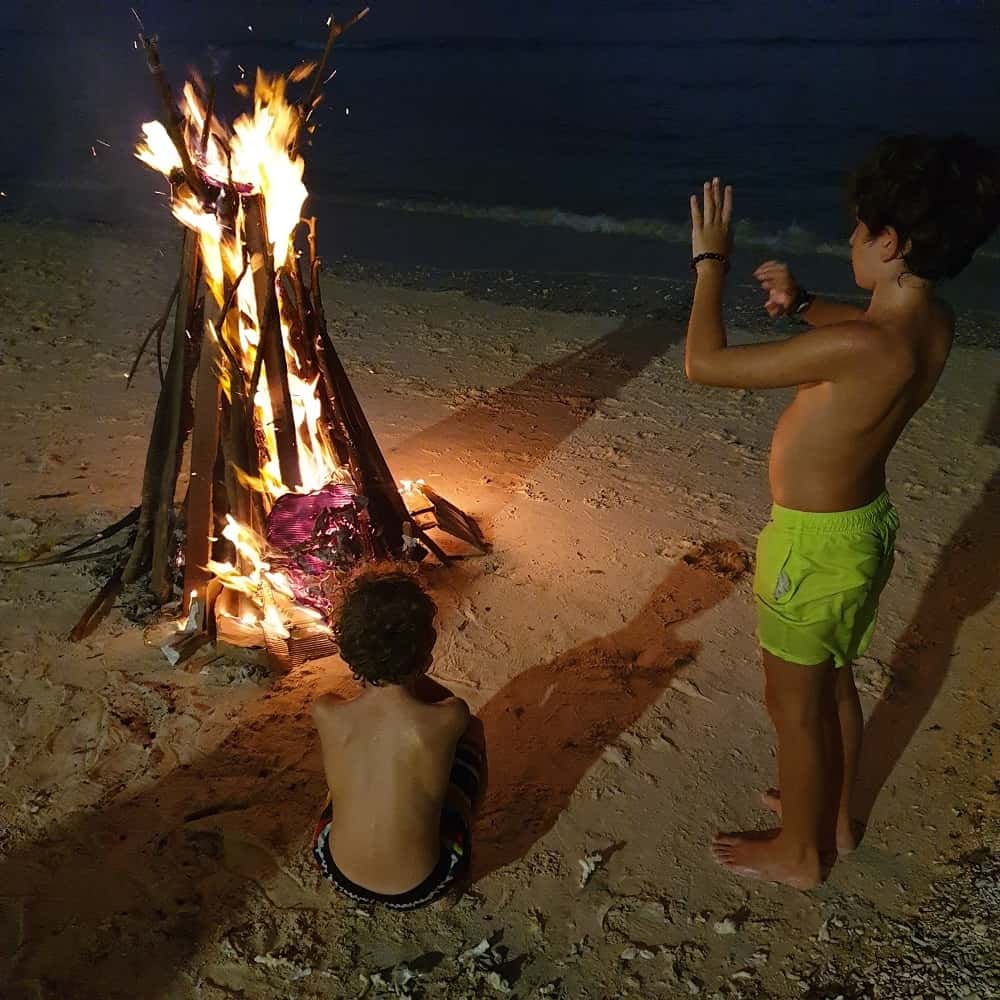 18 Party Boats on Gili
Want to party with like-minded people? Then book a party boat that cruises around the 3 Gili islands. Chill out in a hammock or bean bag and order cocktails and some cold beers.
Escape the mainland and enjoy cool music, great views and the deep blue. Some reputable party boats are:
Jiggy Boat Party
Gili Mansion
Gili T Booze Cruise
The boats generally leave around noon and get back just before sundown. Buy your tickets near the ferry terminal on Gili T.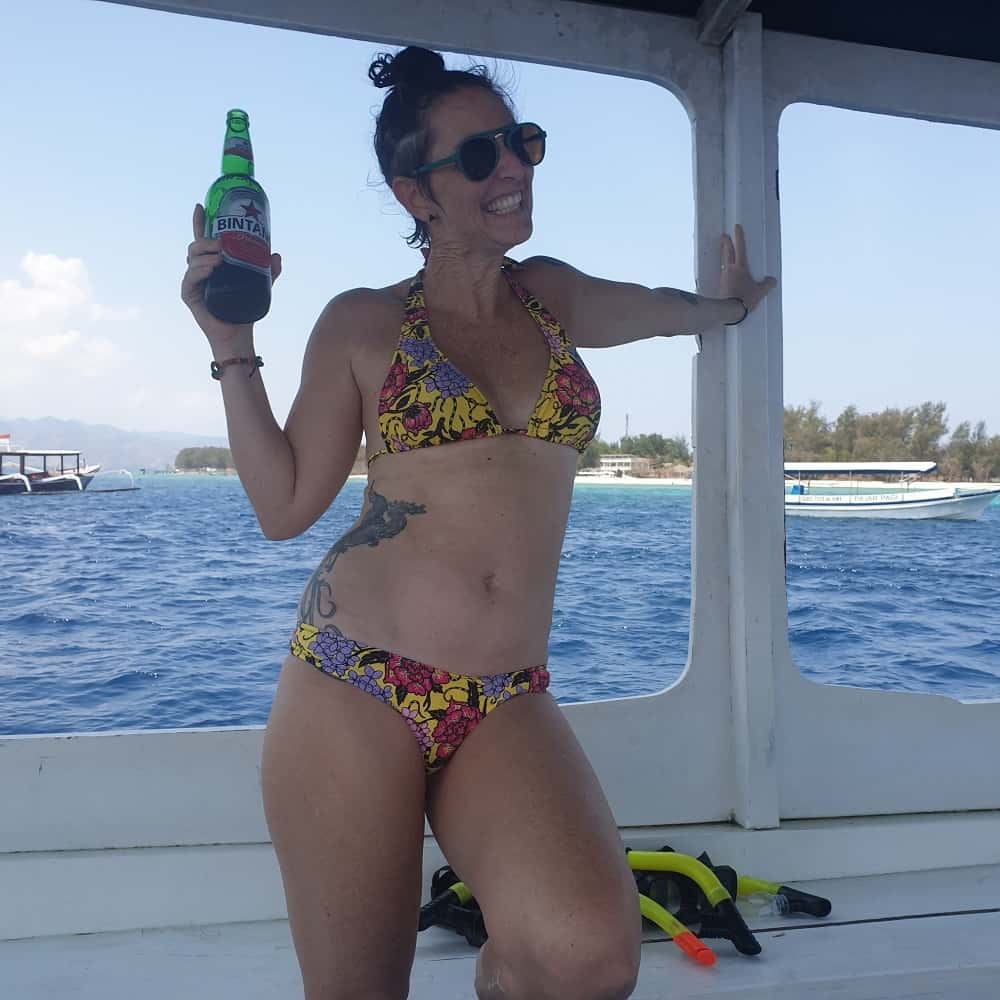 19 Water Skiing, Kayaks and Banana Boats
Head down to the beach or visit an agent to organise some waterskiing, kayak rental, Banana boat rides, sub wings, parasailing and much much more. You can book through these establishments:
Hotel Villa Ombak
Blue Marlin Watersports
20 Island Hopping
Book a boat for a few hours or the day and explore the islands on your own terms. There is so much to see around these 3 beautiful islands.
Get dropped off at Meno and explore its quiet shores, or go snorkelling around Gili Air. Exploring the islands this way is so much fun so get out there.
21 Gili Meno Turtles
Visit the Gili Meno Turtle Sanctuary on Gili Meno to see baby turtles at this non-profit organisation. Here they collect baby turtle eggs and raise them until 8 months old before releasing them safely back to the ocean.
22 Rest and Relax by the Beach
This is probably the best things to do on Gili islands. It's what the islands are really all about – escaping the world and unwinding.
There are so many quiet beaches on all 3 of the Gili islands with everything you need. (You are never too far from a bar or restaurant).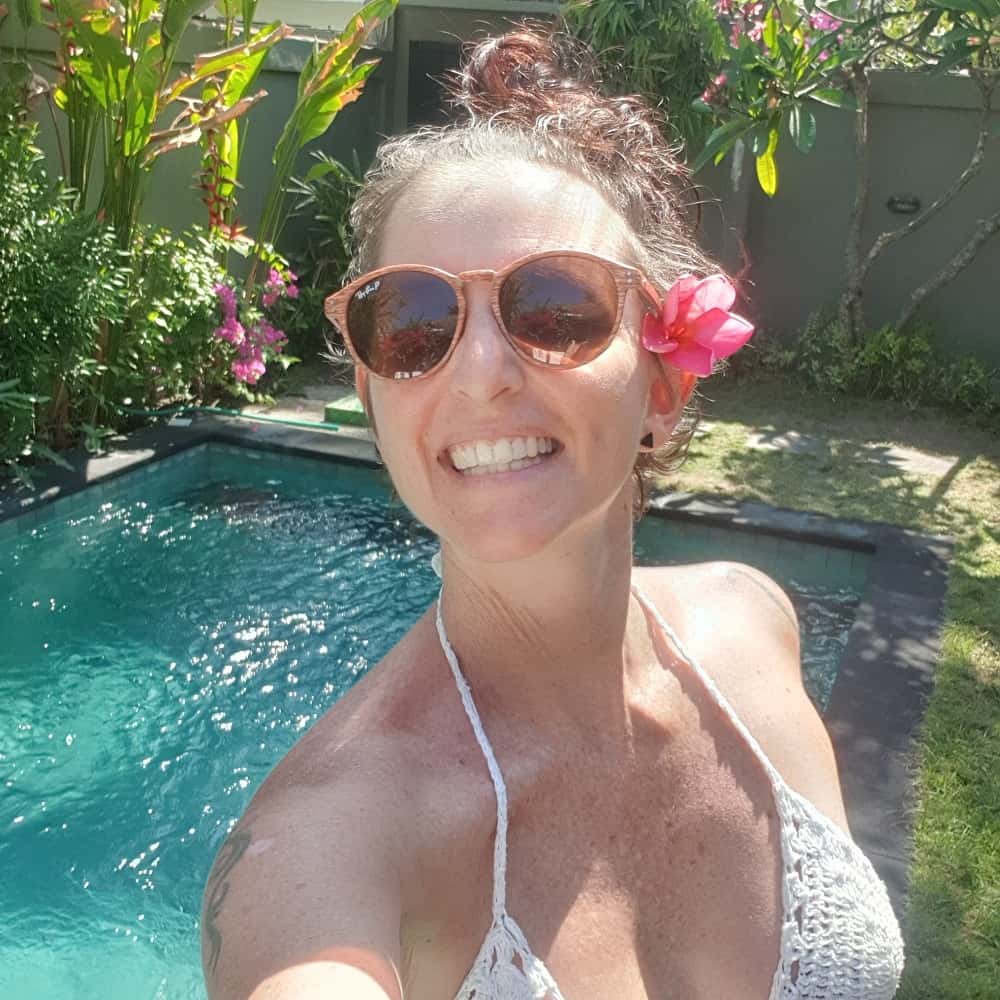 23 Open Air Cinema
Finally, our last amazing thing to do on the islands is going to an open-air outdoor cinema.
You can find cinema's around the island just look for a huge white screen and colourful beanbags on the top of the beach.
They show all the latest movies at varying times at around 6-7 pm.
You can find a cinema on the west coast of Gili T at Aston Sunset Beach Resort and near Ergon Pandawa.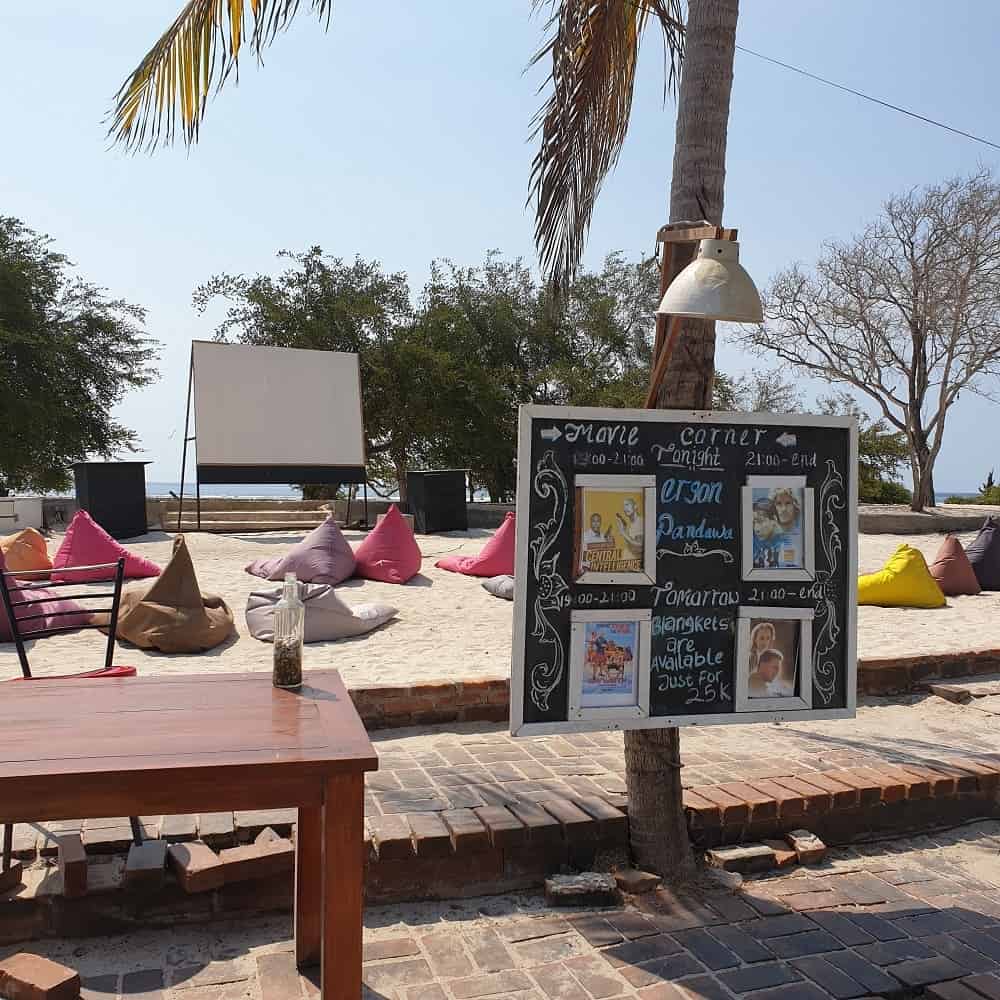 Your Visit to Gili Islands
This is an extensive list of amazing things to do while visiting the Gili's but remember there is so much more.
If you can let us know of anything else that should be on this list comment in the box down below.
Where to Stay on the Gili Islands
Here are some terrific options for accommodation on the islands that should help you decide where to stay.
Gili Trawangan Accommodation
Have a look at these amazing accommodation options. We have been there and personally checked these out so we know where is good and bad.
West Coast Gili Trawangan
This area is the best sunset spot in all of Bali/Lombok. Staying here gives you access to beautiful sandy beaches lined with bars and beanbags perfect for watching the sun sink over Bali's awesome volcanoes. The tide goes out a long way. At high tide, enjoy perfect snorkelling along the coral reefs, and at low tide, horse rides and swings abound.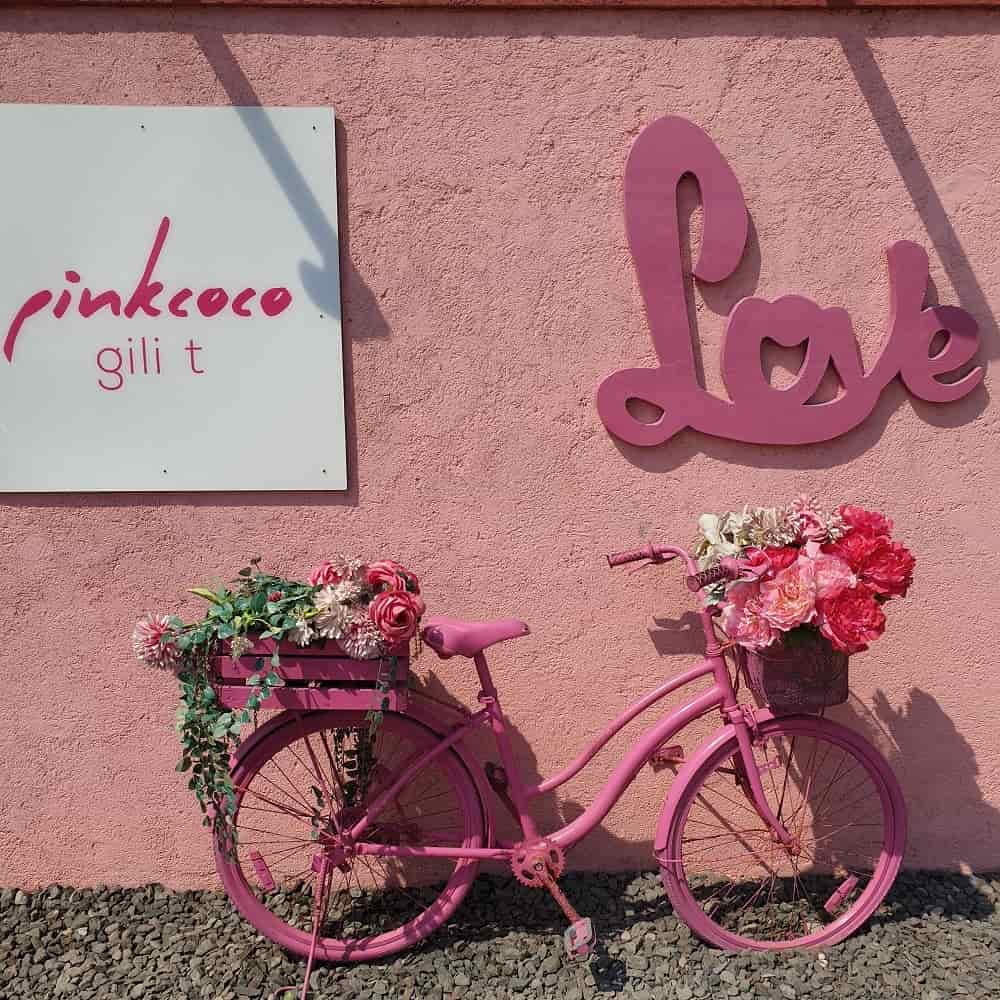 Our Top Picks:
Villa Gili Bali Beach – Beachfront property with a range of room types, a private beach and free bicycle rental. Located right at the prime sunset spot.
Ombak Sunset – Beautiful spot with outdoor movies and Balinese bungalows on the beach.
Just off the beach:
South Coast Gili Trawangan
Here is the best spot if you want a quiet luxury Gili holiday, with easy access to the bustling part of Gili T. The surf is great down here on the right tide.
Our Top Picks:
PinkCoco – Absolutely gorgeous place, beachfront with a pool. Everything is pink!
Pondok Santi – The ultimate beach resort escape with tropical bungalows nestled amongst the palm trees on lush lawns. This is the sort of place you never want to leave.
Pearl of Trawangan – A glimpse of island life with a hint of luxury.
East Coast Gili Trawangan
For a super fun island stay with party-loving people, you have to stay on east side Gili T. It's where the ferries dock, it's where the day trips leave from, and where people talk about on the party isle Gili T. The further north you go, the quieter it gets as the bars give way to clear white sand and plenty of opportunity for relaxing and turtle spotting.
With a family, I would prefer to stay on the west, north or south coasts for sure.
Our Top Picks in the Party Zone:
North Coast Gili Trawangan
This is the quieter end of Gili T but it is still within easily reachable distance of the rest of the island.
Our Top Picks:
Desa Dunia Beda Resort – Stunning beachfront oasis on the northwest side with swimming pool.
The Gili Beach Resort – Beachfront villas with private pool on the quietest part of the island with amazing snorkelling straight offshore.
Coral Flora Villa – Luxuriously appointed beachfront villa that sleeps 8 of your best friends.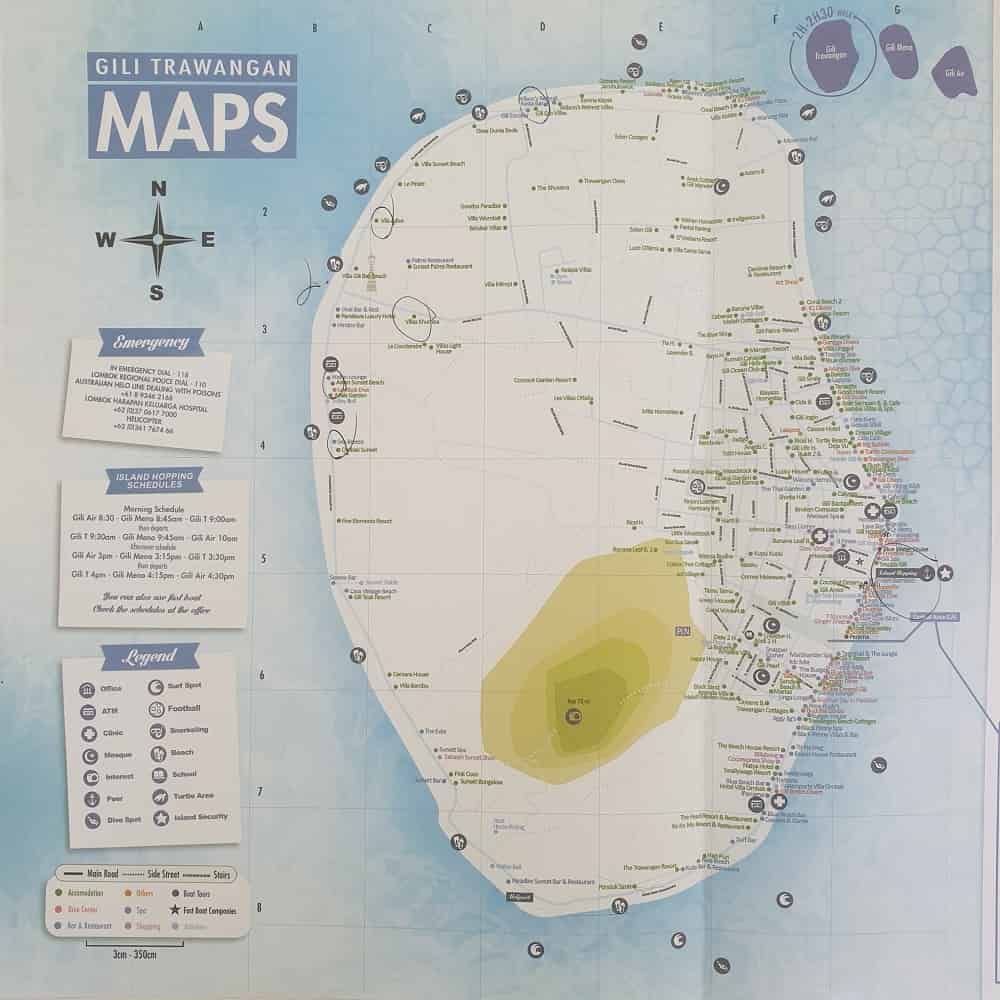 Middle of Gili Trawangan
If you want to be in a quiet spot but within a few minutes of everything Gili Trawangan has to offer, then staying right in the centre of the island could be for you. It is cheaper than the coast, but it makes sense especially for longer stays.
Our Top Picks:
Click the links to see the property details.
Gili Meno Accommodation
Villa Pulau Cinta – for amazing 5-star beachfront opulence. The 5 suites can all be booked separately, or combined to sleep up to 16 of your favourite people. Love this one.
Meno House – True comfort and style with rooms overlooking an oceanfront swimming pool. Incredible snorkelling at Turtle Point just offshore.
The Island Houses – 2 amazing houses each sleeping 8 guests on a private beach in absolute paradise. So dreamy!
Gili Air Accommodation
PinkCoco Gili Air – just like its counterpart on Gili T, this one is all pink, and exceptionally classy!
Villa Casa Koko – boutique private pool villa close to the ferry terminal, sleeps 2.
Sunrise Resort – absolute perfection on Gili Air. The pool is just gorgeous and the location will make you happy indeed.
How to Get to Gili Islands
Getting to Gili from Bali is easy but it can be a little bit of a hairy trip if you luck out on the conditions.
Read our full post on Fast Boat to the Gili Islands.
A great option for getting to Gili Islands is to fly directly into Lombok International Airport (Bandara Internasional Lombok – LOP), then catch a waiting taxi the 60 minutes north to the harbour terminal. Grab a public ferry or a private boat which takes around 40 minutes from here over to your island haven. Your accommodation choice will be able to arrange transfers for you.
We use Skyscanner to compare flight prices across every airline. It gives you great flexibility to choose flights over the cheapest day of the cheapest month to save money.
Check prices to Lombok (LOP) or Bali (Denpasar's Ngurah Rai Airport- DPS) here:
Once you arrive onto your Gili Island, a horse and cart will be ready to take you to your hotel. It is advisable to minimise your luggage for your stay on the Gilis as both the ferries and the horse-and-carts are not particularly fond of stacks of heavy cases.
More Reading Bali…
Bali is a tourist mecca for sure. We love going there and discovering new and different spots away from the main hordes and finding our own little slices of Bali paradise. Try these other off the beaten track spots if you are searching for a perfect island holiday:
Before you go to Bali…
Check out these articles for important info on travelling overseas: