Bali is getting busier every time we go. This paradise is no secret anymore. All the best surf spots are getting taken over by beginners. Places that used to be on the fringes like Echo Beach and Uluwatu are now getting massive attention thanks to their proximity to the main tourist areas of Seminyak and Kuta. I am going to let you in on 5 lesser-known Bali surf resorts that will reward your intrepid-ness with clean uncrowded waves. Just don't tell anyone. Line up for the best surf spots Bali.
1 Medewi
The greatest thing about Medewi is it is 2.5 hours away from the tourist hordes of Seminyak. So it is uncrowded for the most part. There are groups that bring surf schools up from Canggu and then push these longboards onto the waves, so it gets kind of dangerous mid-morning.
Medewi boasts the longest left-hander in all of Bali, so surfers will have heard of it. You can stay right at the point break in one of the best Bali surf resorts or opt for a quieter setting along Yeh Sumbul Beach.
See the full story all about our stay in Medewi here
The wave is long, slow and mellow breaking over rocks. A few hundred metres west along the coast, there is an open beach break and there is also a sandy river mouth just to the east of the main point break.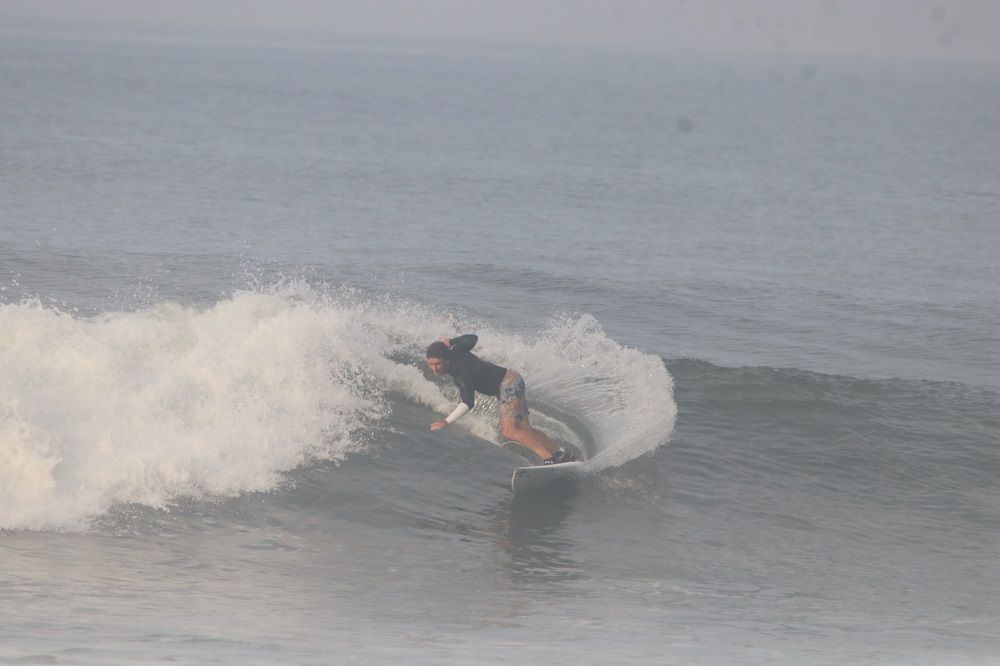 For non-surfers, there is not much else going on, but it is such a beautiful place and the sunsets are completely magical. We stayed at Medewi Beach Villas about 100 metres from the beach with our tribe of mostly non-surfers and spent a lot of time exploring the beach or swimming in the pool.
You can find everything you need in Medewi for a surfing holiday. Buy wax, deck pads, leg ropes, and rent surfboards. Grab a smoothie bowl or a cappuccino, buy a Medewi t-shirt, get your photo taken in the surf and have a massage.
Surfing Medewi Bali
Medewi is a long left hander with rides from 100m to 300m. Booties recommend because of rocks. Large rocky bottom, can be shallow on low tide. Wave is suitable for learning if with a guide, but better if you have a little experience. Long paddles, easy take offs. Medium to low crowds depending on surf schools from Canggu. Friendly atmosphere and needs a bit of swell to break well. Wind can make wave bumpy. Watchout for sea urchines in front of Bombora.

Brian, surfer
Where to Stay in Medewi
Closest to the famous Medewi Point
You've got Umadewi on the left and Bombora on the right. These 2 stylish places occupy pride of place beachfront, right on Medewi Point overlooking the wave.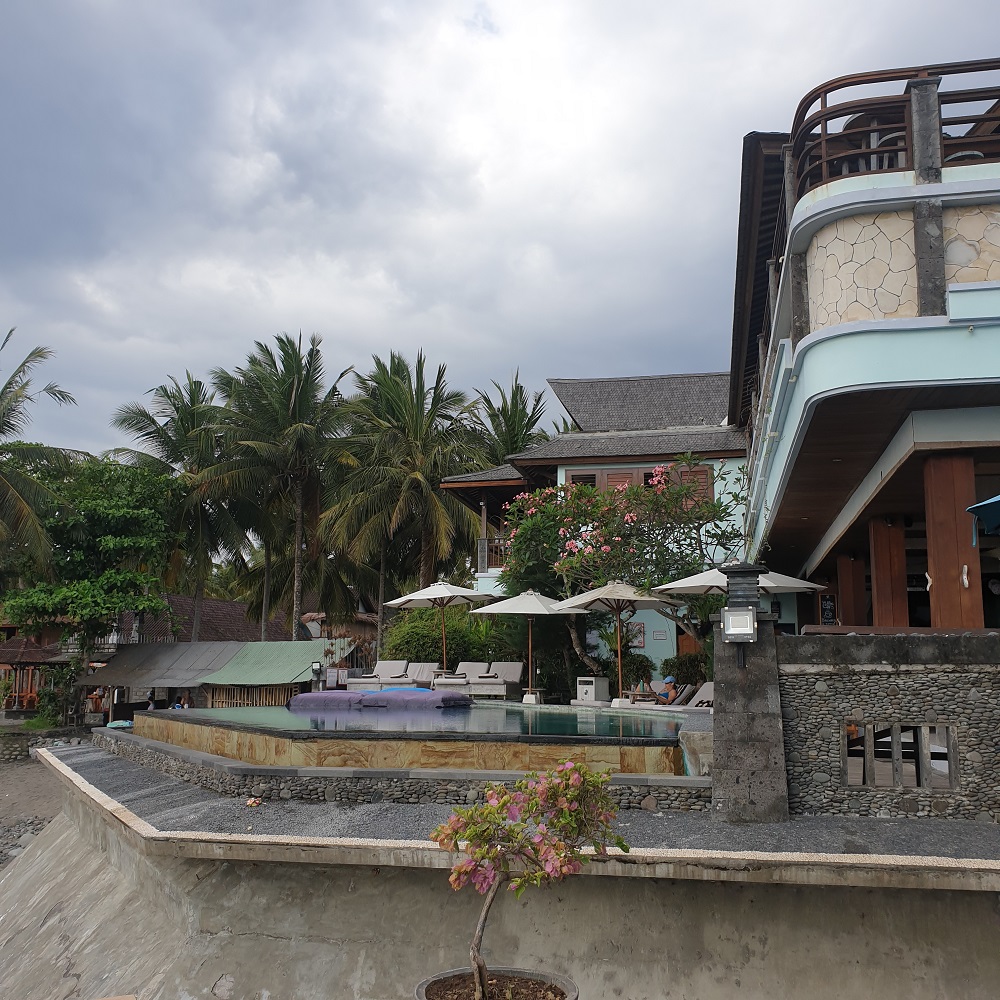 At Bombora Medewi Surf Lodge rates start at $80 per night per double room. They offer a stunning guests-only infinity pool and a fantastic bar/restaurant. The decor is kind of a chilled and laid back surfer vibe and all rooms have a terrace.
Bombora also has a family room that will sleep 5.
Check out the latest prices and book your stay at Bombora here.
Right next door to Bombora you will find Warung Gede which serves cheap and perfect Indonesian food in a very relaxed atmosphere with your toes reaching the sand. The Cap Cai here is amazing! Find it here.
---
Umadewi Surf and Suites offers rooms that are a bit classier and a bit pricier too with double rooms starting around $110. The sea views and the perfect location are to die for and the restaurant gets really good reviews.
Get the best rates for Umadewi here.
---
We chose the Medewi Beach Inn for our stay as it has a family room that will sleep 6 of us, and the best food for a cheaper price at only 100m to the point. Try the massages from the lady in the paddock across the road. She is magic!
Find out how much the Medewi Beach Inn will cost for your family here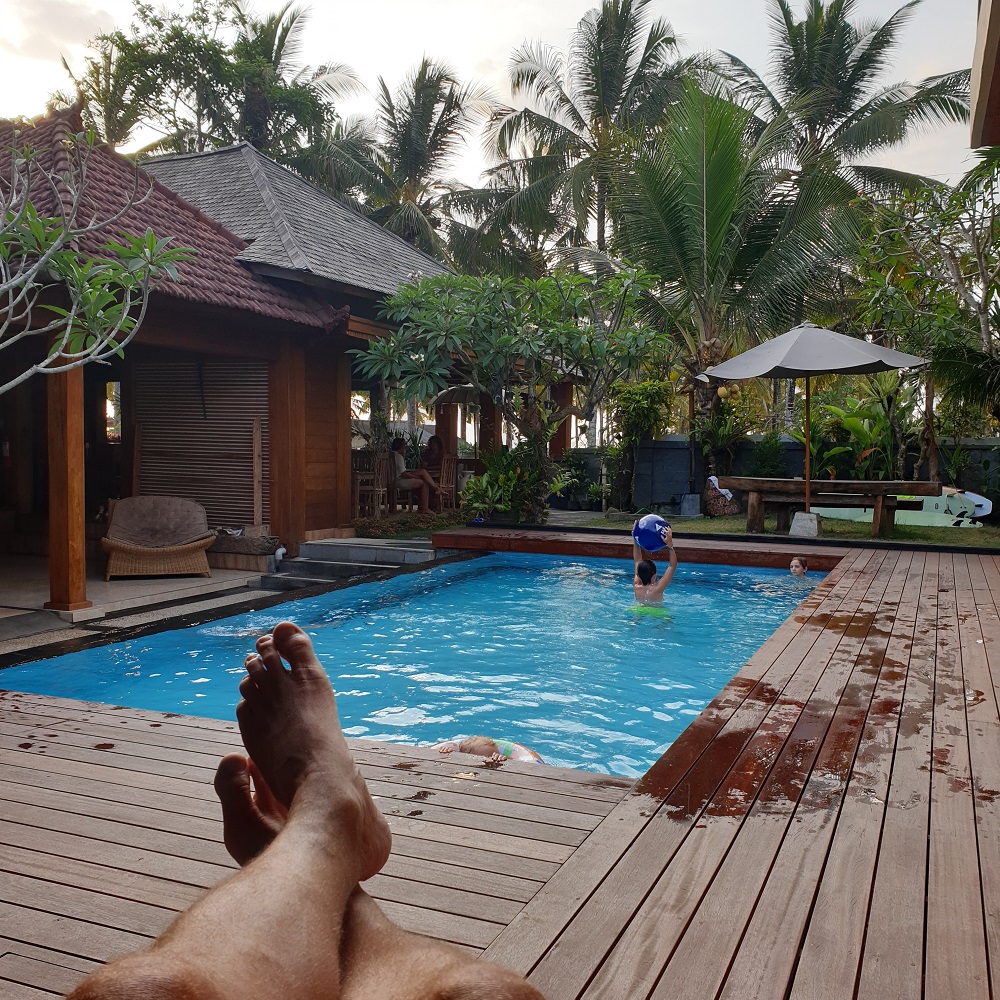 At the beach break
Yeh Sumbul Beach is around 1.8 km from the Medewi Point and it offers some more affordable and laid back options for Bali surf resorts. Here you will be lulled into a state of complete relaxation in between surfs and beach hangs.
Check out the very special Holy Tree Kitchen for your morning coffee and brunch. Google maps location here.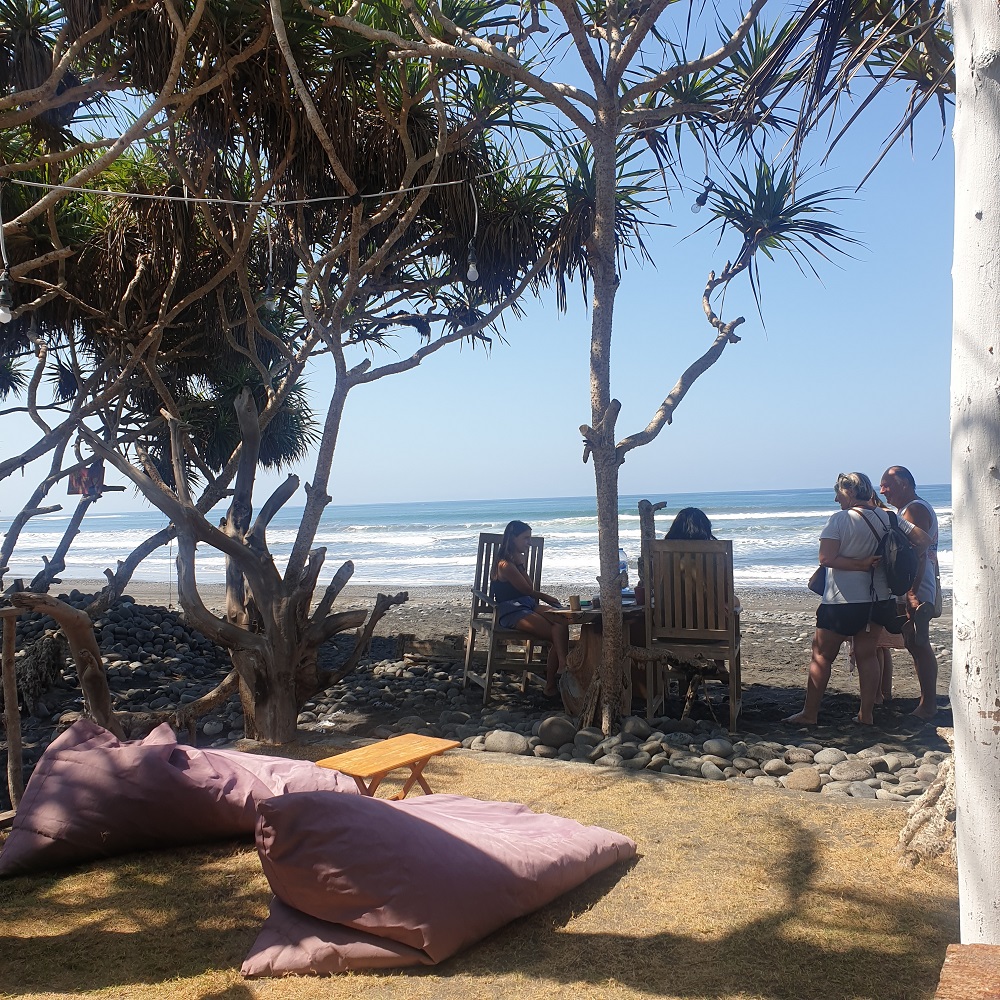 Check prices for:
You can find alternative accommodation located off the beach and across the other side of the highway too. But we prefer the area closer to the surf, rather than having to drive everywhere.
Compare prices on Airbnb if you have a large group. If you sign up using my invite link, you will get a big discount on your first night.
How to get to Medewi
Getting a private driver to Medewi for around 600,000 IDR from Seminyak was the best option for us. We met heaps of people who drove themselves on scooters too. The road was super busy though, as it is the main highway that brings in the supplies off the Java ferry in the west of Bali. Hence there are a lot of trucks.
2 Balian Beach Bali
This beautiful surf break is just 30 minutes drive east of Medewi. Here you will find a collection of huts and Bali surf resorts.
Surfing Balian Bali
It is a left-hand river-mouth break which catches a lot of swell. The wave has a large shoulder and a shifting peak.

Brian, surfer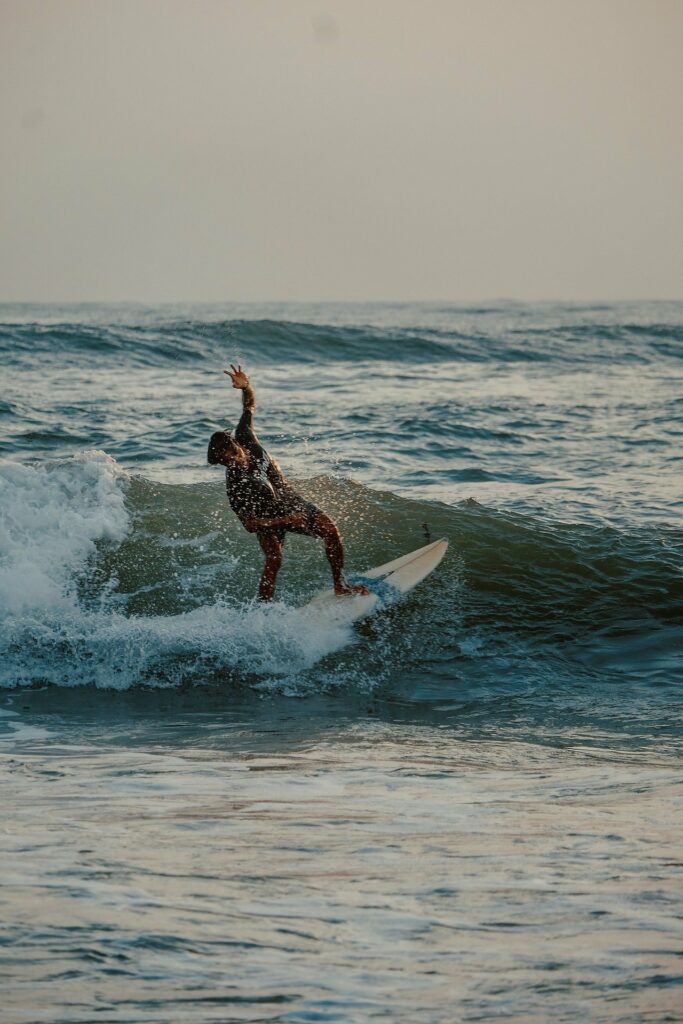 Where to Stay Balian Beach
Beach Villa Balian is riverside with sweeping views of the waves. Have this one all to yourself with a group of friends and surf your days away. Sleeps 6.
Check prices and get excited about Beach Villa Balian here
---
The nearby Balian Surf Villas are the closest you can get to the surf break. They contain all you need for a very pleasing stay and have 6 different villas sleeping from 2 to 6 adults.
Find out more about Balian Surf Villas
---
The absolutely stunning 5-star Mayana Beach House overlooks verdant rice paddies all the way to the deserted beach. You would need your own transport to reach the surf break from here though.
Mayana Beach House is worth considering here
---
If you have a big group of friends or family to share your space, and your costs, check out this excellent beachfront option:
How to get to Balian
Get your driver to take you there. It will cost around 500,000 IDR one way from Seminyak. Once you arrive, your accommodation hosts will be able to arrange a car to take you back. Balinese don't seem to mind if you have heaps of kids, luggage or surfboards. They take it all in their cruisy stride, and will just make things happen with a smile.
3 Balangan Beach
We have all the details on the beautiful Balangan Beach in our post here. The reason you have to go here is simple. Pure white sand! This beach is postcard-perfect with a massive peninsula framing the southeastern end, and waves peeling off along the beach. It is a reef break which goes left and right.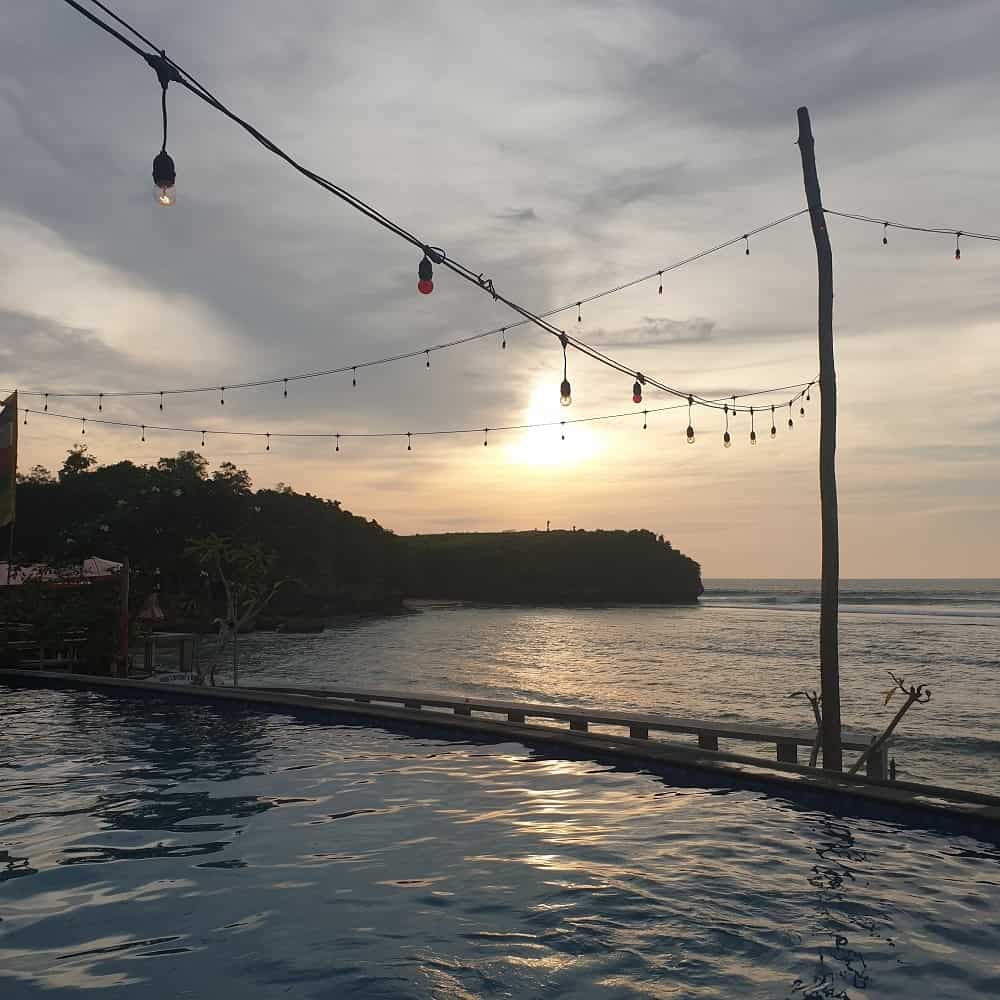 At the top of the beach, you have a bunch of wooden classic warungs, as well as a couple of more upper-class establishments where you can settle in and watch the waves.
Balangan Beach is nice and close to Uluwatu and Padang Padang being down on the Bukit Peninsula. It is also an easy day trip if you are staying in Seminyak area.
Surfing at Balangan Beach Bali
Balangan is a fast left hander breaking over dead reef. Suitable for all levels but can get crowded. Easy paddle out but wave moves quickly and can close out. Rides are roughly 50-100 meter rides with bigger rides on good days. Very protected bay with beautiful white sand and great Warungs.

Brian, surfer
Balangan Beach Accommodation
The accommodation here ranges from beachfront to hilltop. These are the options that will get you closest to the surf: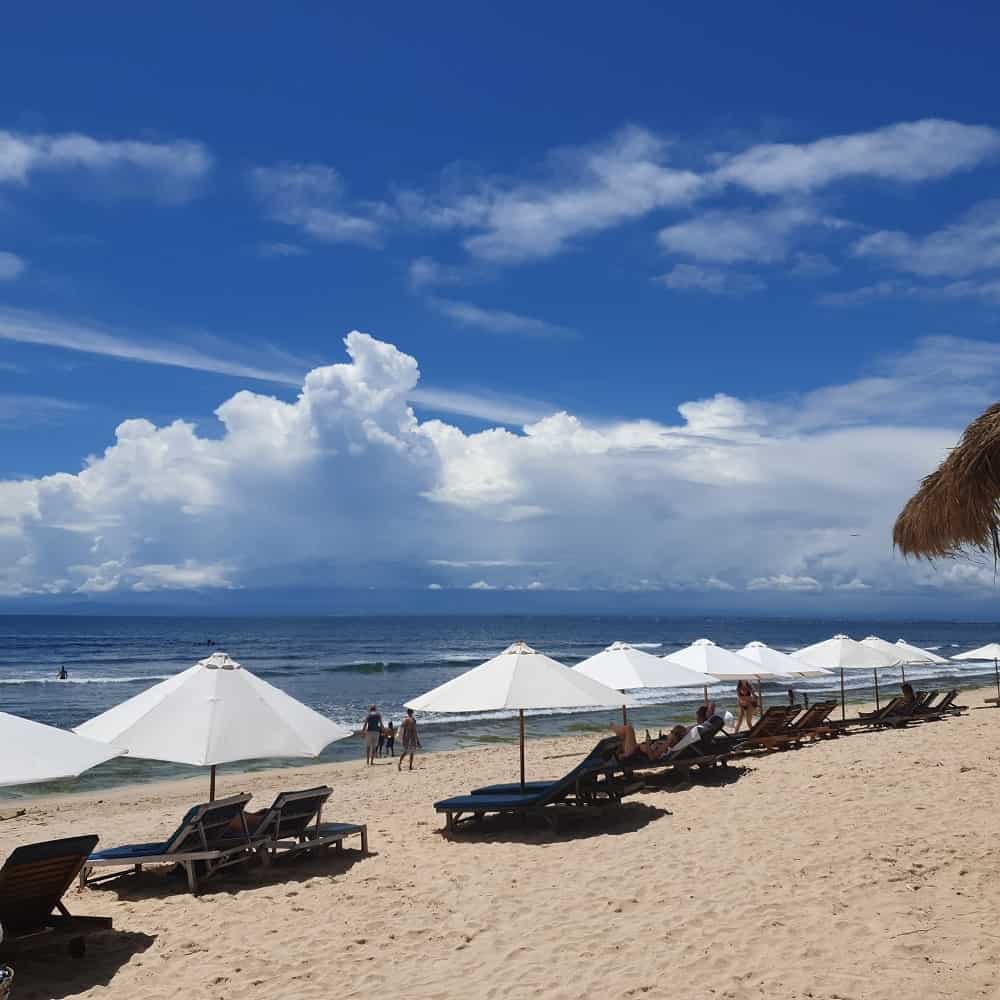 Getting There
We stayed at the beautiful Padang Padang Beach and hired scooters to self-drive to Balangan. It was a bit of a mission to find actually. Hiring a driver is a better option, just make sure they will wait for you. A taxi from the airport will only take an hour.
Stay awhile and simply walk to the surf.
4 Keramas
This place hosts pro surfing events regularly and the sparkling black sand beach makes it a great place to hang for even non-surfers. Komune Resort frames the wave and is one of the best ever Bali surf resorts.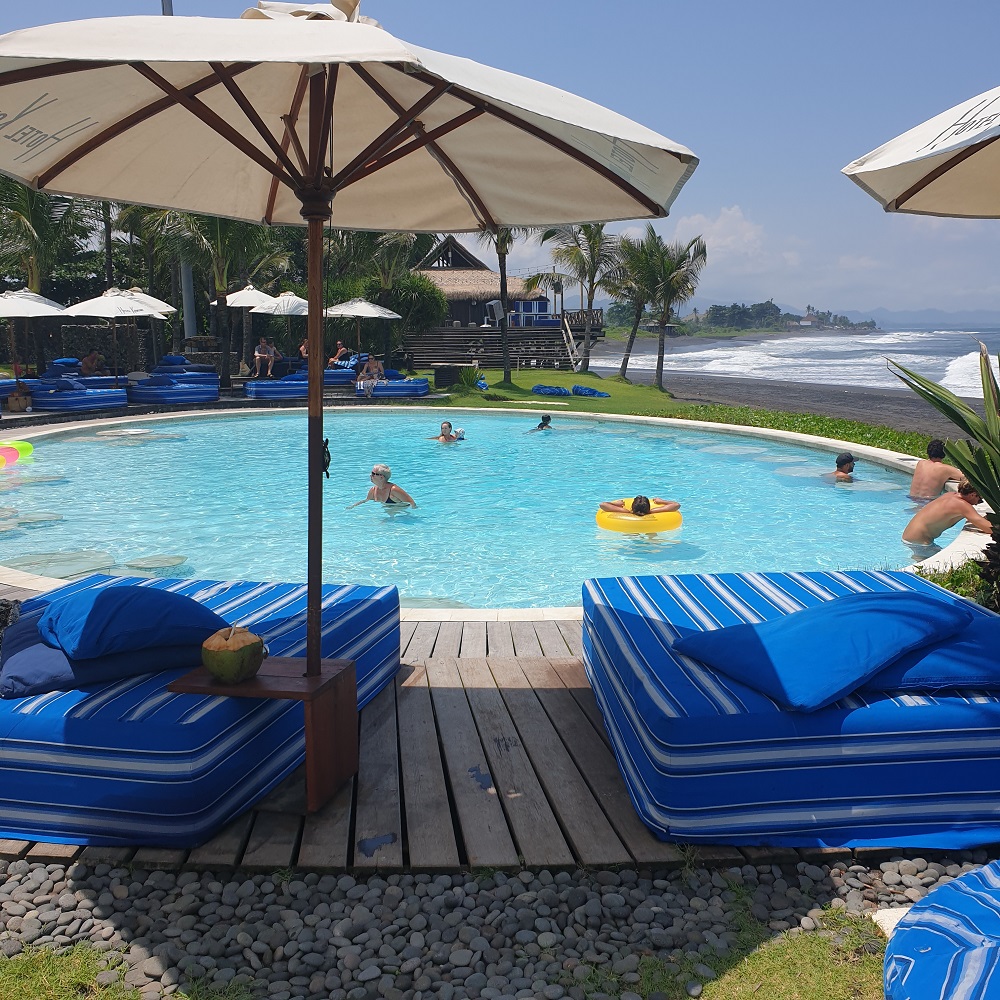 Keramas Surf Report
Keramas is powerful and only suitable for intermediate to advanced. Steep take offs, fast rides that are 50-100m long. Wave closes out at end. Black sand beach with sandy and flat rock bottom. Crowd are experienced surfers with confidence, can get crowded. Holds large waves but not for the faint hearted. Watch action from the bar overlooking the break. Best during summer months.

Brian, surfer
Komune takes pride of place right on the Keramas Beach. This is really our favourite place to stay here. The beautiful infinity pool allows your other half to relax and unwind with a perfect view over the waves. The resort allows day visitors too as long as you have a drink in the pool bar.
How much? Click here to find out and to book
---
There are a couple of other places to hang your hat with easy walking distance to the surf. Remember you can still visit the pool/restaurant at Komune too. These great options are only footsteps away:
Be sure to check out the nearby Keramas Aero Park where you can have a delicious meal inside an old aeroplane. The weirdest and most wonderful experience. Find it here.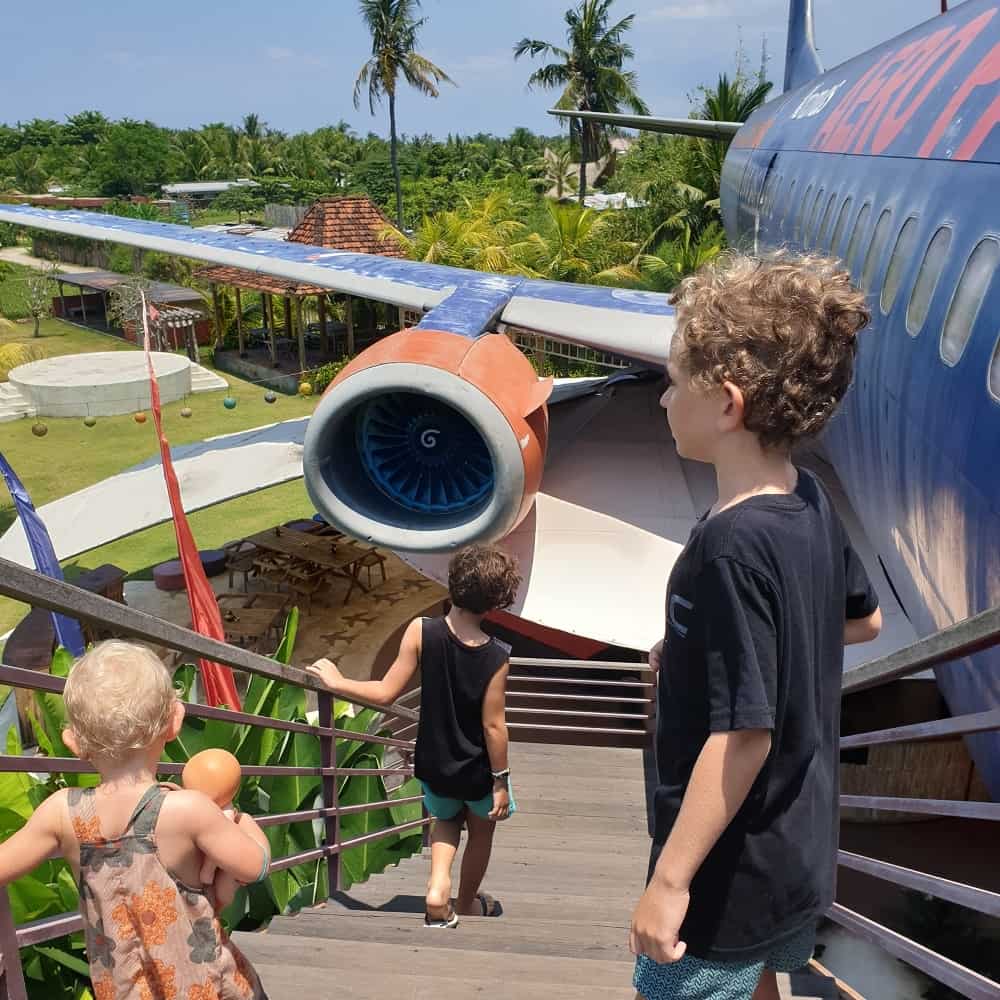 Get Yourself to Keramas
It's only an hour from Denpasar airport straight to Keramas. Book your airport transfer right here to save pain and money at the airport on arrival. Just look for the guy with your name on a sign.
5 Jasri Beach
This is the last but not least entry onto this epic list of top-secret best Bali surf resorts. Here you can definitely have the waves all to yourself. Jasri is a quiet beach framed with towering coconut palms. The epic left-hand point break is pretty consistent, totally empty and very decent indeed.
Staying here feels like nowhere else on Bali. Apart from the sunglasses seller. It is so peaceful and you really feel as if you have stumbled onto something special.
Surfing at Jasri Beach
Suitable for learners, intermediate and pro's. Not a great absolute beginning wave. Smooth rocky bottom, right-handed, rides of 100 meters, medium power, can barrel with nice walls for carving. Uncrowded on most days. View of Mt Agung, set in a beautiful palm tree-lined small bay.

Brian, surfer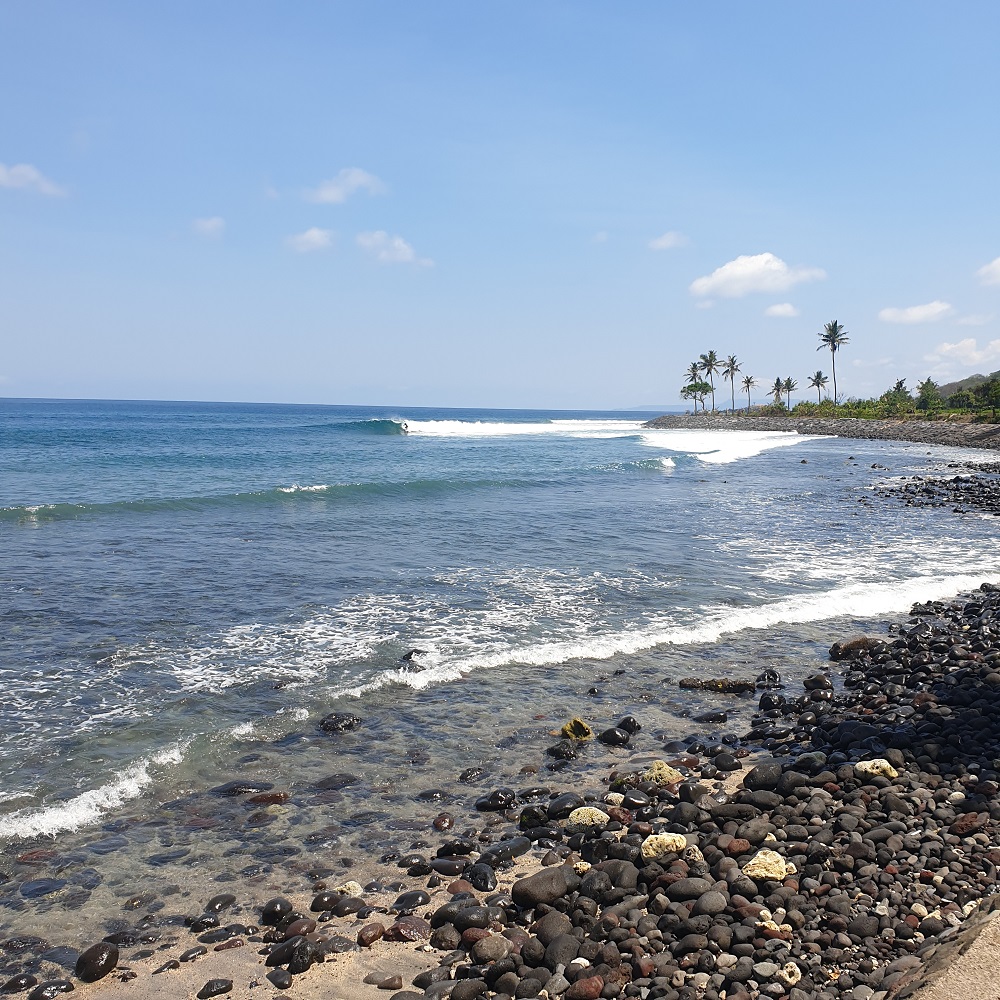 This place was absolute heaven. Matanai boasts the friendliest staff, the best food and 3 swimming pools and is situated right on top of the gorgeous rocky beach. You can find a chocolate factory just up the road and there are opportunities here for excursions to Candidasa if you need. The owner Vince is so great and happy to help with anything you need.
Check out the super reasonable prices for Villa Matanai to find your piece of Jasri Beach serenity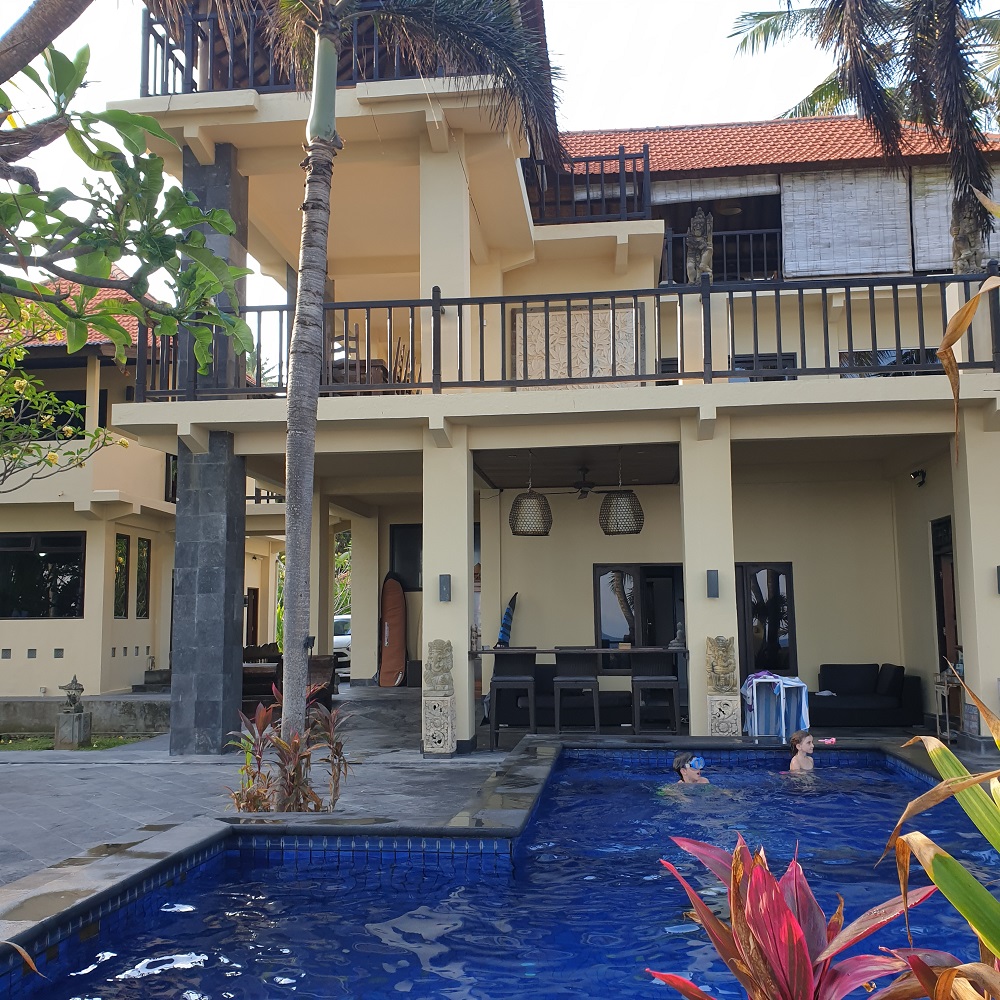 Getting to Jasri Beach
We stayed at Jasri on the way back south after spending some time in the lovely Amed, and the Gili Islands. It was a surprising stop after we had heard it mentioned by some surfers we met at Medewi, but we are so super glad we made it. Jasri has become our new favourite of all the Bali surf resorts.
Arrange a taxi from Amed for around 300,000 – 500,000 IDR or book your airport transfer directly with your hotel from Denpasar for around 650,000 IDR.
Bali Surf Resorts Round-Up
In terms of proximity to major tourist areas of Bali, the best place for you is Balangan. If you want peace and quiet with only a handful of surfers, then Jasri Beach is the place for you. For a luxury stay with a world-class wave on the side, head to Keramas. And for a wild and scenic coastline, go west to Balian and Medewi before they get popular.
If you have any questions about these epic Bali surf resorts, please comment below and we will love to help!
I hope you have enjoyed this article and have found somewhere new. If you know someone who likes to surf and is heading to Bali soon, share away. Cheers!