Bali is getting busier every time we go. This paradise is no secret anymore. All the best surf spots are getting taken over by beginners. Places that used to be on the fringes like Echo Beach and Uluwatu are now getting massive attention thanks to their proximity to the main tourist areas of Seminyak and Kuta. I am going to let you in on 5 lesser-known Bali surf resorts that will reward your intrepid-ness with clean uncrowded waves. Just don't tell anyone. Line up for the best surf spots Bali.
1 Medewi
The greatest thing about Medewi is it is 2.5 hours away from the tourist hordes of Seminyak. So it is uncrowded for the most part. There are groups that bring surf schools up from Canggu and then push these longboards onto the waves, so it gets kind of dangerous mid-morning.
Medewi boasts the longest left-hander in all of Bali, so surfers will have heard of it. You can stay right at the point break in one of the best Bali surf resorts or opt for a quieter setting along Yeh Sumbul Beach.
See the full story all about our stay in Medewi here
The wave is long, slow and mellow breaking over rocks. A few hundred metres west along the coast, there is an open beach break and there is also a sandy river mouth just to the east of the main point break.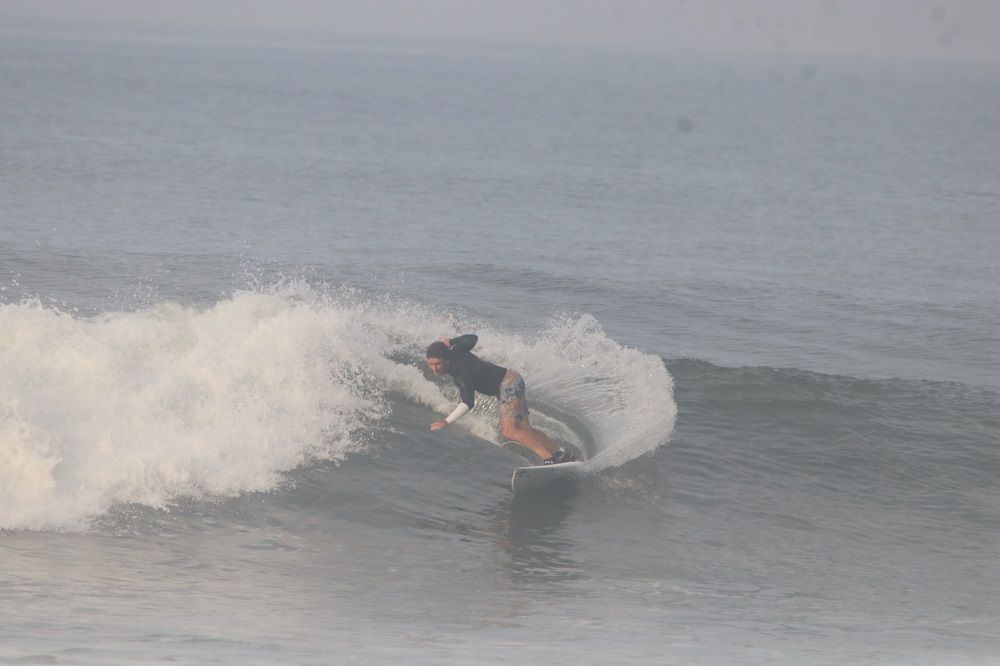 For non-surfers, there is not much else going on, but it is such a beautiful place and the sunsets are completely magical. We stayed at Medewi Beach Villas about 100 metres from the beach with our tribe of mostly non-surfers and spent a lot of time exploring the beach or swimming in the pool.
You can find everything you need in Medewi for a surfing holiday. Buy wax, deck pads, leg ropes, and rent surfboards. Grab a smoothie bowl or a cappuccino, buy a Medewi t-shirt, get your photo taken in the surf and have a massage.
Surfing Medewi Bali
Medewi is a long left hander with rides from 100m to 300m. Booties recommend because of rocks. Large rocky bottom, can be shallow on low tide. Wave is suitable for learning if with a guide, but better if you have a little experience. Long paddles, easy take offs. Medium to low crowds depending on surf schools from Canggu. Friendly atmosphere and needs a bit of swell to break well. Wind can make wave bumpy. Watchout for sea urchines in front of Bombora.

Brian, surfer
Where to Stay in Medewi
Closest to the famous Medewi Point
You've got Umadewi on the left and Bombora on the right. These 2 stylish places occupy pride of place beachfront, right on Medewi Point overlooking the wave.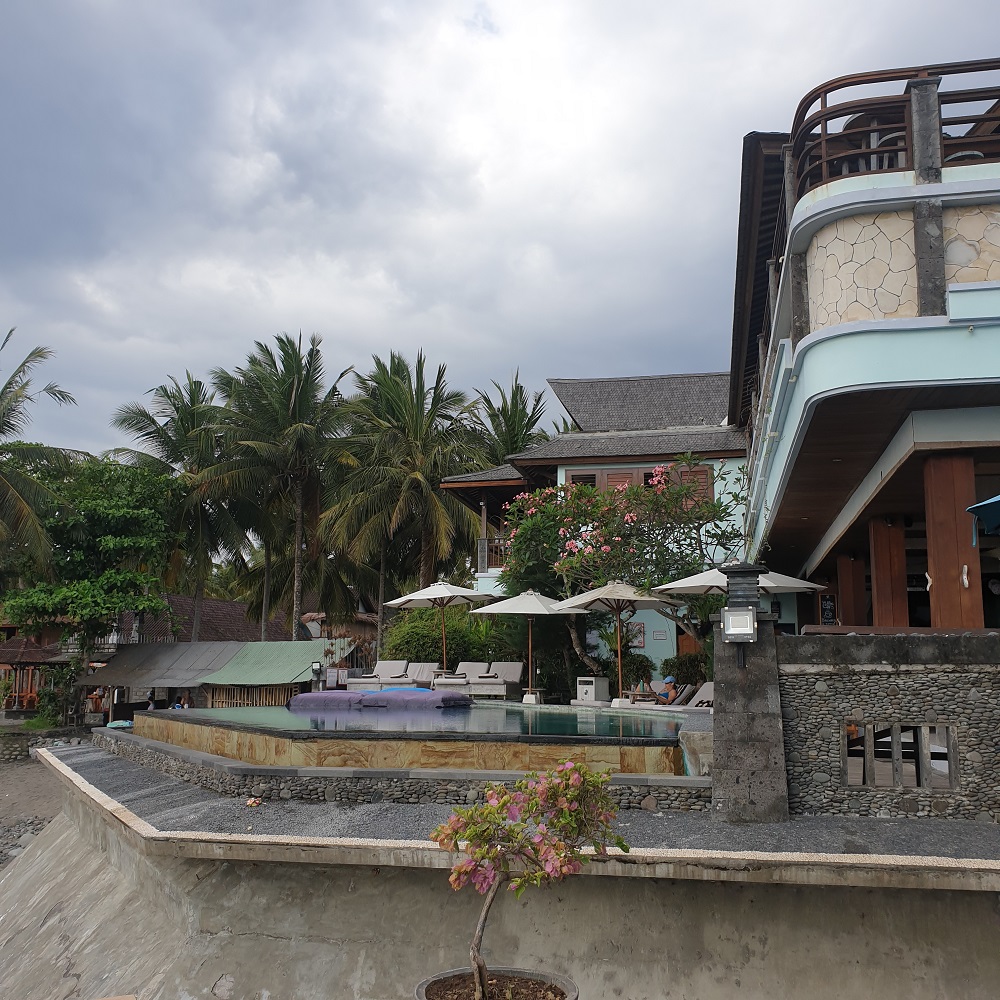 At Bombora Medewi Surf Lodge rates start at $80 per night per double room. They offer a stunning guests-only infinity pool and a fantastic bar/restaurant. The decor is kind of a chilled and laid back surfer vibe and all rooms have a terrace.
Bombora also has a family room that will sleep 5.
Check out the latest prices and book your stay at Bombora here.
Right next door to Bombora you will find Warung Gede which serves cheap and perfect Indonesian food in a very relaxed atmosphere with your toes reaching the sand. The Cap Cai here is amazing! Find it here.
---
Umadewi Surf and Suites offers rooms that are a bit classier and a bit pricier too with double rooms starting around $110. The sea views and the perfect location are to die for and the restaurant gets really good reviews.
Get the best rates for Umadewi here.
---
We chose the Medewi Beach Inn for our stay as it has a family room that will sleep 6 of us, and the best food for a cheaper price at only 100m to the point. Try the massages from the lady in the paddock across the road. She is magic!
Find out how much the Medewi Beach Inn will cost for your family here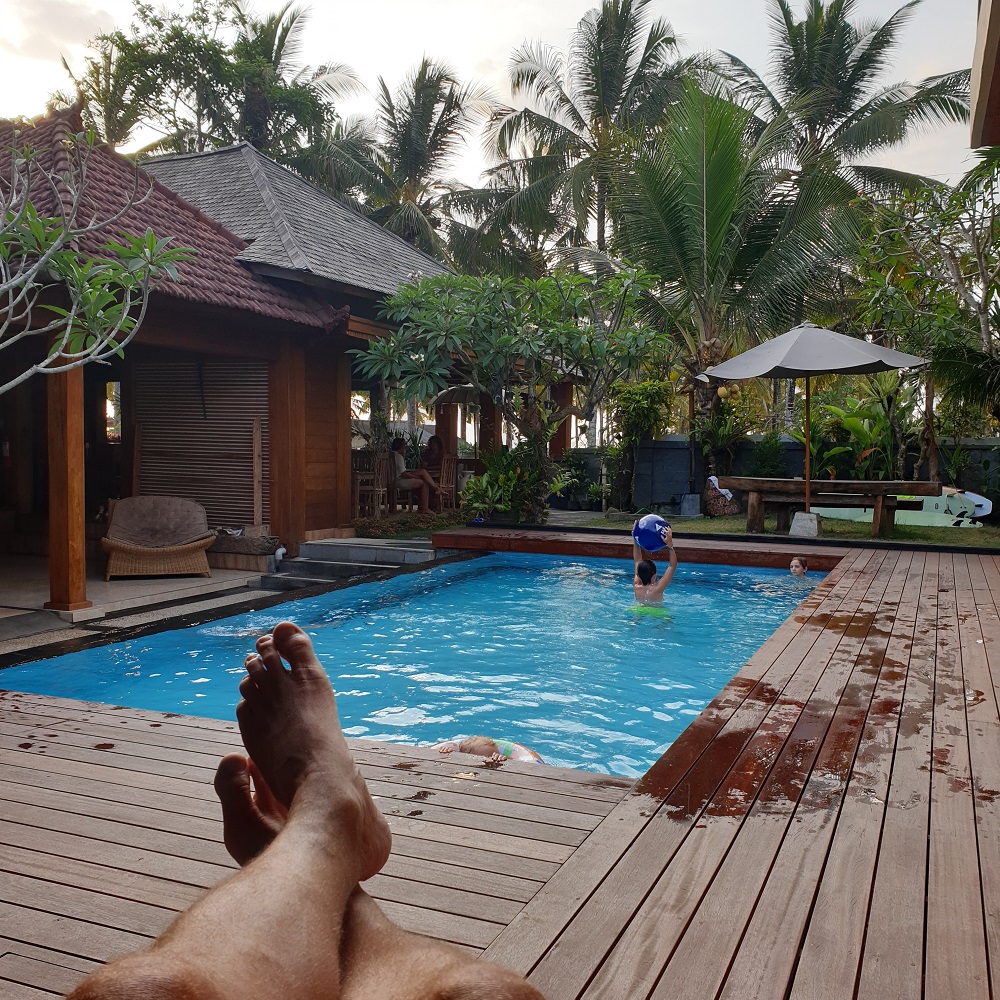 At the beach break
Yeh Sumbul Beach is around 1.8 km from the Medewi Point and it offers some more affordable and laid back options for Bali surf resorts. Here you will be lulled into a state of complete relaxation in between surfs and beach hangs.
Check out the very special Holy Tree Kitchen for your morning coffee and brunch. Google maps location here.