Are you visiting Beautiful Perth anytime soon? If so I have the perfect place for you to stay – The Ibis Styles East Perth.
The brand new Ibis Styles East Hotel is so new, even when you walk up to reception you can smell the fresh paint.
Everything is so fresh and shiny which is a great change from some of the older rundown hotels.
We just spent 3 luxurious nights in this hotel and it did not disappoint.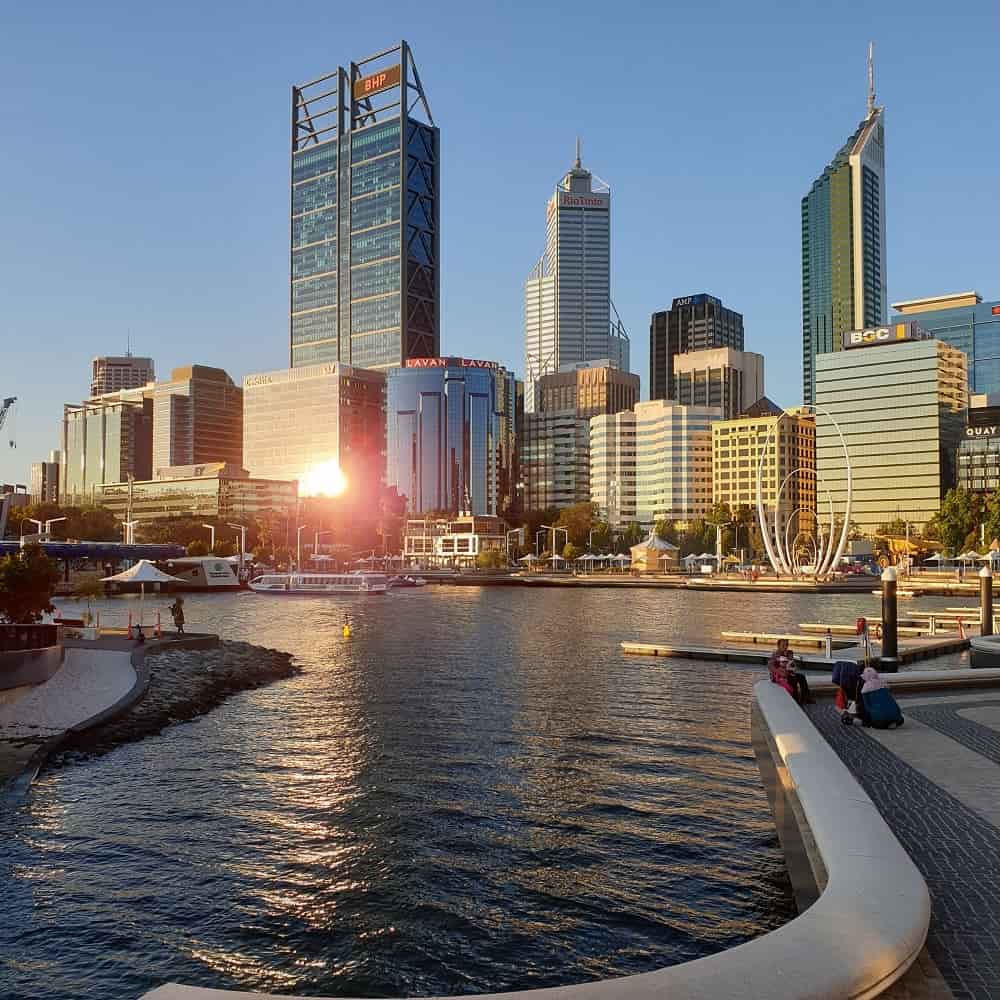 Where is Ibis Styles East Perth Hotel?
The hotel is situated 1 block from the Swan River and approximately 20 minutes walk to the Elizabeth Quay.
Ibis Styles Address: 69 Adelaide Terrace, East Perth, 6004, Australia.
Phone – +61(8) 7099 3400 or
Email – h9318@accor.com
See the Perth Map for location:
How to Get to Ibis Styles East Perth From Nearest Airport
Simple! Getting to the Ibis from the Perth International Airport is very easy and straight forward.
We choose Uber, Didi or Ola for our transport options because it makes life so easy. In this case, we rode Uber.
Once you leave the terminal look for the taxi ranks and rideshare area which is signposted.
Cost of Taxi Using Uber
Prices vary depending on ride times, but off-peak is around $30 AUD and peak times can reach $50-60 dollars for a one-way fare from the airport to Perth.
Once you have input the Ibis address the driver will know where to go.
Allow approximately 15 to 20 minutes by taxi to get to your hotel because it is a 9.1-kilometre route.
Catching the Airport Bus
Bus route 380 will take you between the T1/T2 at the airport and the city. The Adelaide Terrace/Plain Street stop is the closest. If you are catching the bus allow 33 minutes to get to the hotel. The fare for the public bus is $4.90 and there are luggage racks.
If you are flying Jetstar or Qantas, domestic and international you will probably need to go to T3/T4. Check your ticket to confirm. Bus number 40 is the one to catch from here to the city.
Private Transfer from Perth Airport
For the ultimate in style and luxury, you can conveniently book a private transfer here. Pay once for the whole group up to 11 passengers. This is the best way to transfer directly to your Ibis Styles Hotel.
How Much Does it Cost to Stay at Ibis Styles Perth
Prices at the hotel may vary depending on the time of year, duration and hotel policies that are in place.
A guide on room prices and the type of room you can have at the Ibis Styles are as follows:
Standard Room with 1 King Sized Bed
Click here for the latest price
---
Standard Room with 2 Single Beds
Click here for the latest price
---
Superior Room with 1 King Sized Bed (City Views)
Click here for the latest price
---
Superior Room with 2 Single Sized Beds (City Views)
Click here for the latest price
---
Deluxe Room with 1 King Sized Bed (River Views)
Click here for the latest price
---
Deluxe Room with 2 Single Sized Beds (River Views)
Click here for the latest price
---
Family Room with 1 Queen Size Bed & 1 Bunk Bed
Click here for the latest price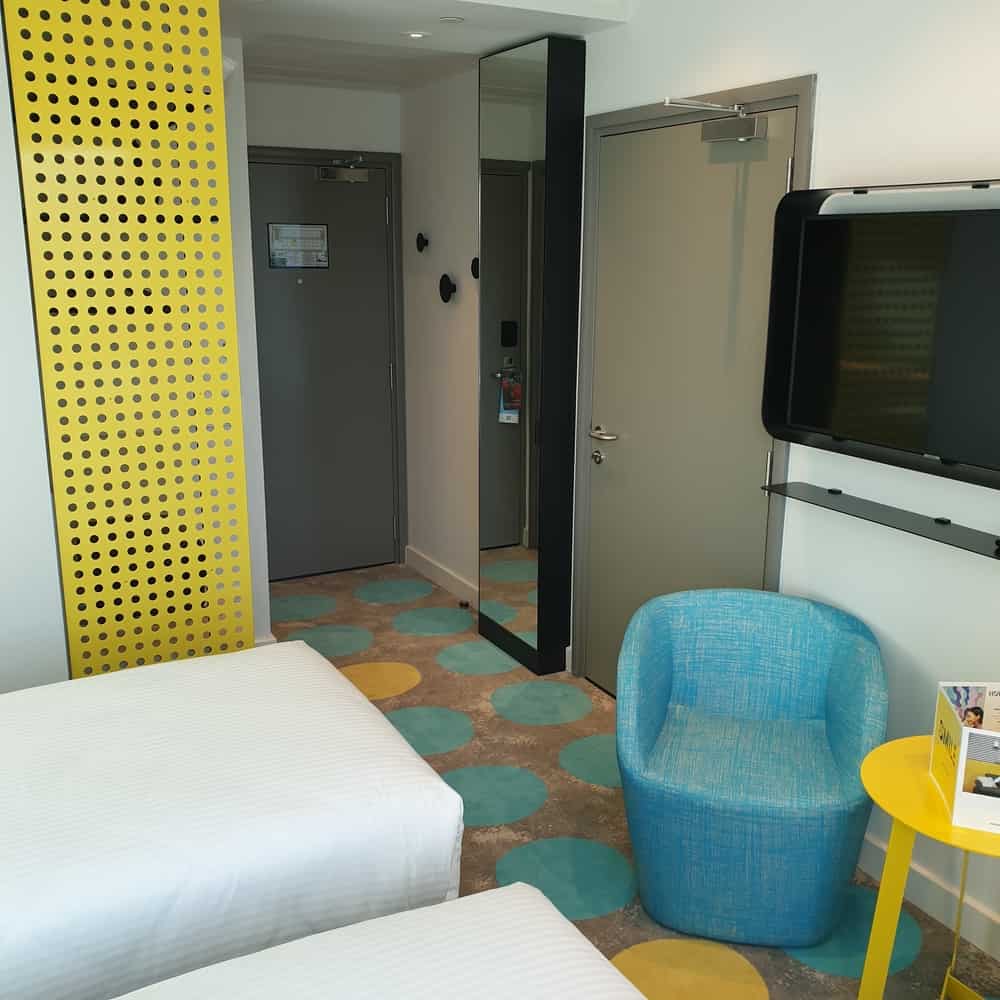 What Are The Check-in & Check-out Times at the Ibis Styles East Perth?
Check-in times at the Ibis are 2 pm and check-out times are 11 am. This allows you that little bit extra time to get ready.
Nobody likes checkout times at 10 o'clock!
Can I Park a Car at Ibis Styles in Perth?
Yes, you can. Parking is a short stroll away from the main building and costs from $4 AUD per day.
They have different parking options see below:
Secure parking
Street parking
Private parking
Accessible parking
Does Ibis Styles Have a Restaurant?
The restaurant and bar are all on floor 1. Here you should be able to find something tasty and satisfying.
The hotel provides breakfast and has happy hour drink specials from 12 pm – 1 pm and again at 5 pm – 6 pm.
Prices were reasonable and not overpriced. See menu below.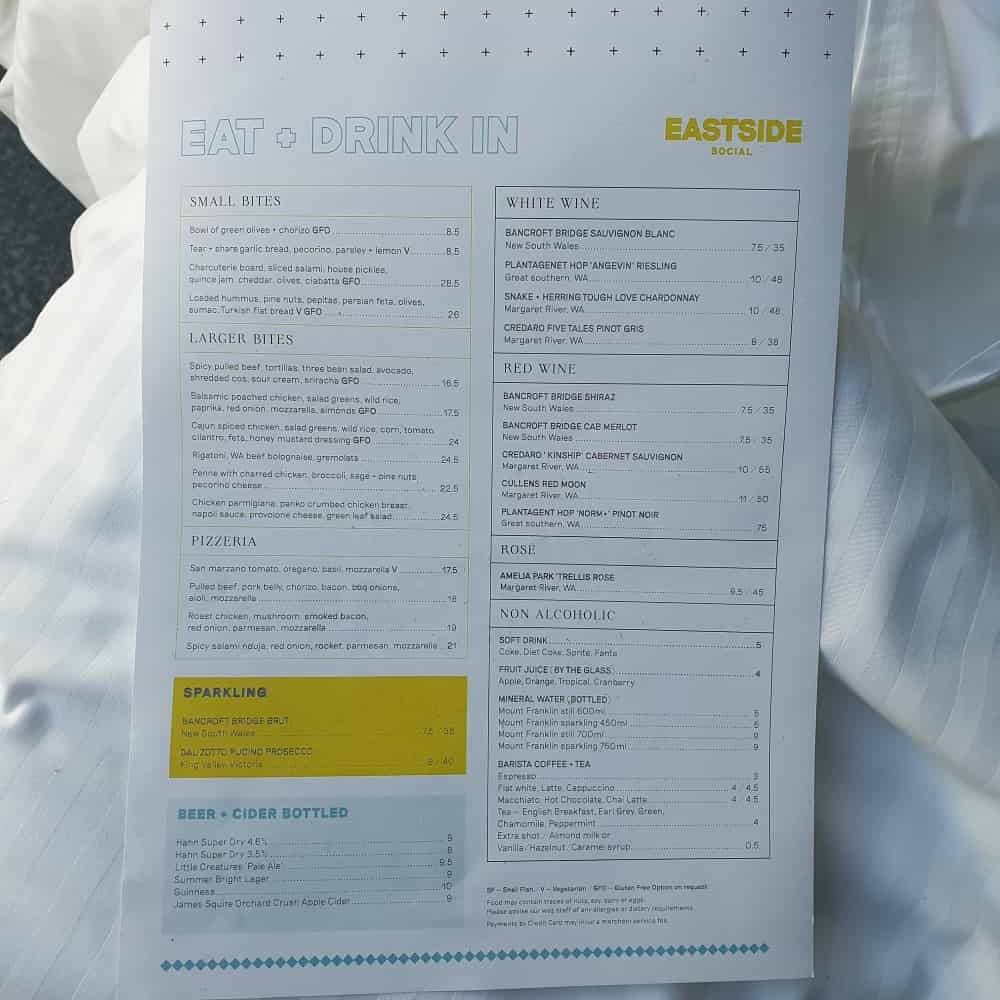 Hotel Facilities at the Ibis
Like to work out? Well, the Ibis has a fully equipped gym on the 18th floor and it is brand new.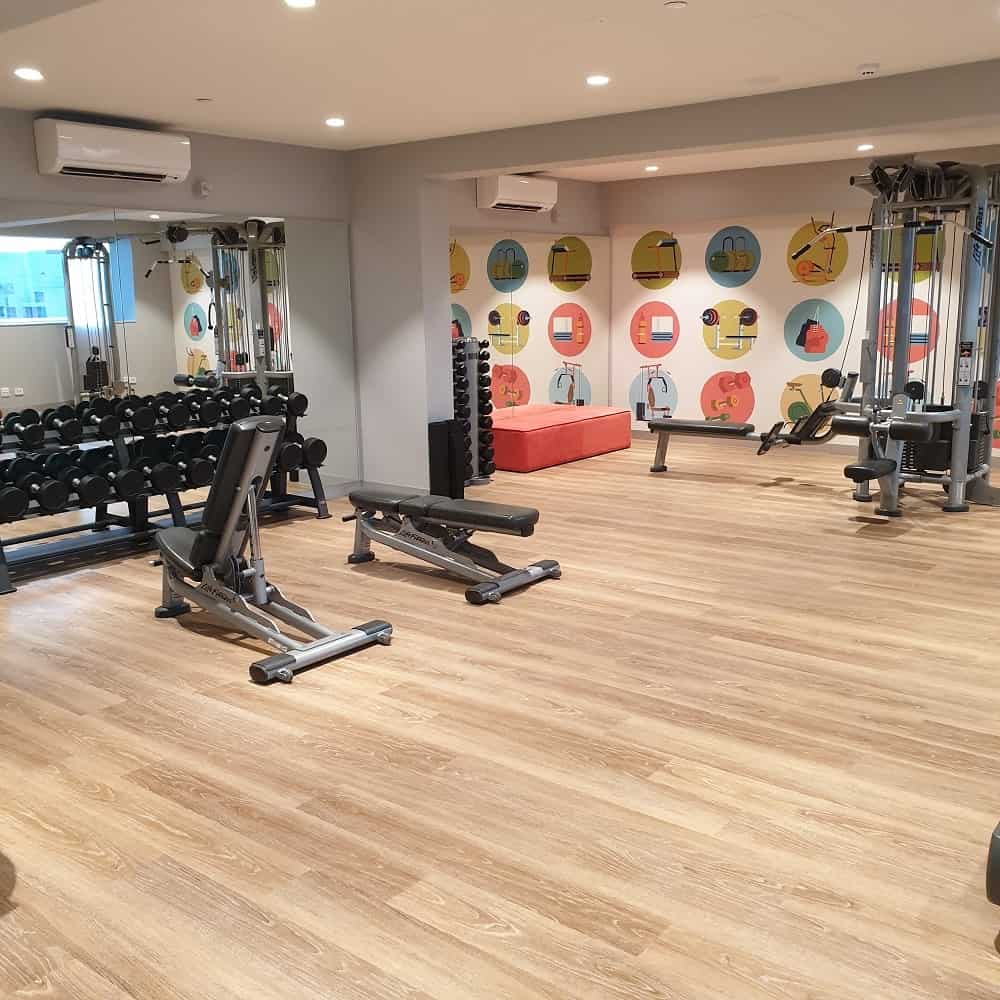 Everything is brand new at the Ibis, new lifts, new rooms, new everything.
Free weights, treadmills, machines, yoga mats, bikes and much more. If you can't find your ultimate workout tool in here you may have to checkout.
All rooms come with free WiFi which lasts for around 24 hours of internet time and is fast.
Each room comes equipped with a safe for belongings and a bag for laundry if you would like it done.
A small bar fridge hides in the cupboard with tea and coffee and includes a kettle.
Room service is available for guests, so you don't have to leave.
Smart flatscreen TV units are in all rooms with local channels.
In the foyer, Ibis has made this area really funky with seating areas and places to chill out.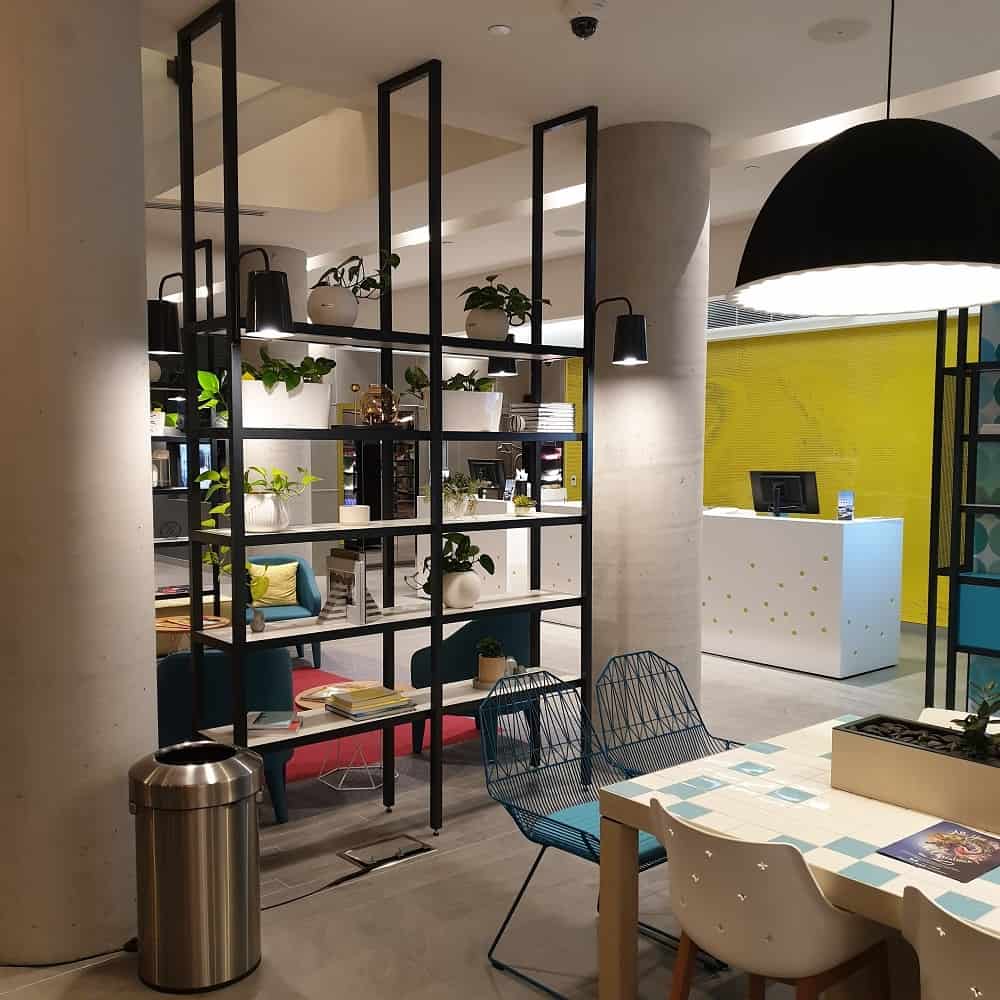 Our Ibis Styles East Perth Experience
We have stayed in a lot of awesome hotels over the years. The Ibis is excellent because of its location, cleanliness and facilities.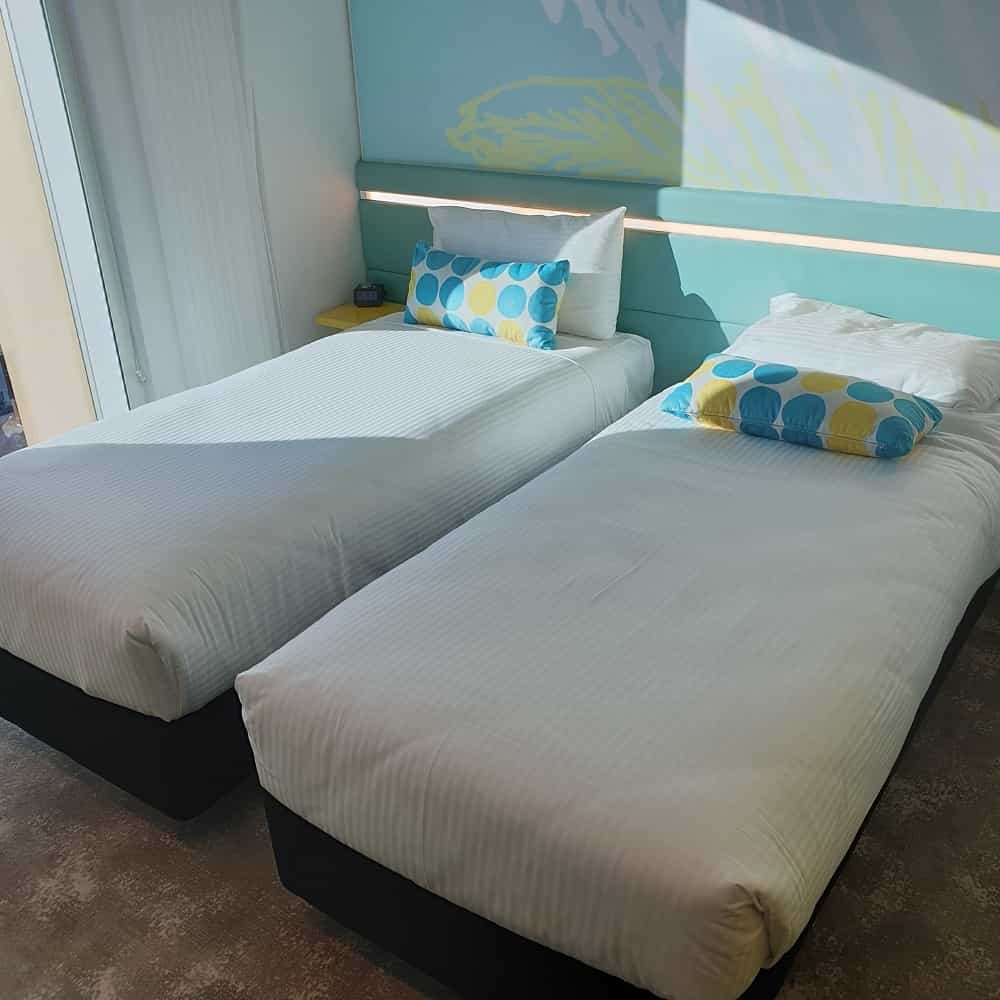 Here are the Pros of staying at the Ibis East:
The beds are really comfortable, like clouds and the pillows are just right for your head. The sheets were soft and super clean.
The bright and very bold colours and design that make you feel at home and very cool.
The views from the upper floors. (We stayed on the upper floors, 17th to be exact) Amazing views over the swan river and cityscape.
Location, Location, Location. The hotel is only 10-15 minutes walk to all the major tourist attractions in the CBD.
Gym is very well equipped with a great variety of machines to use.
Staff were extremely friendly, helpful and professional.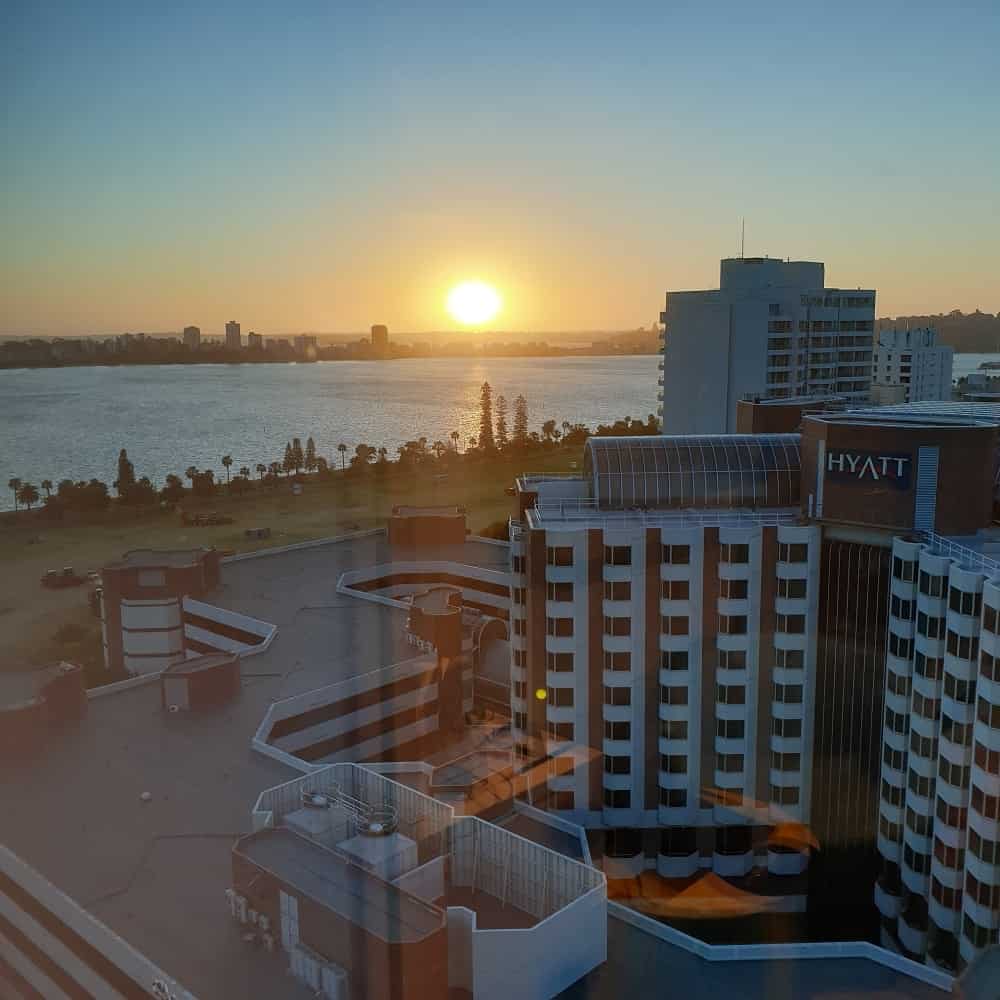 Here are the Cons of staying at the Ibis East:
Breakfast was not included.
No Pay TV, just normal digital channels
Parking is paid and a short walk away
Catching Taxis from the corner can be a little difficult because there are no pickup and dropoff parking bays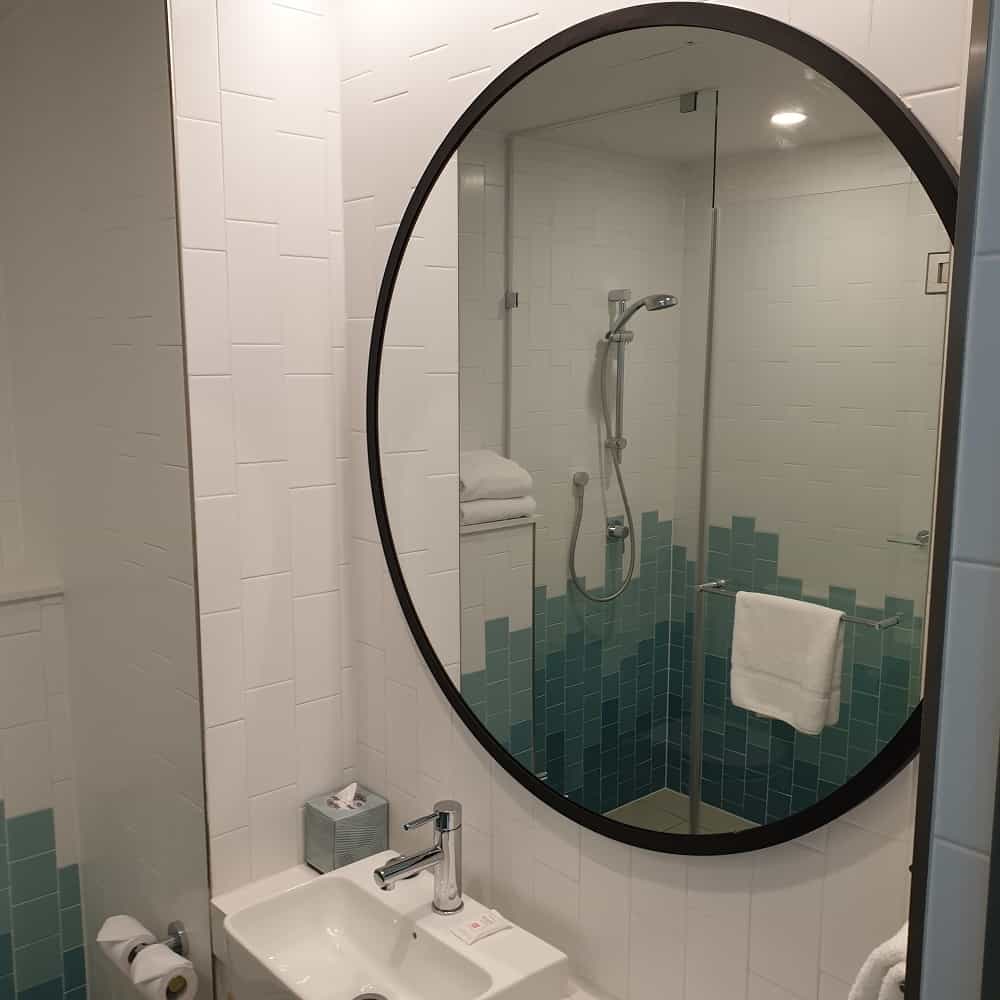 Verdict on the New Ibis Style East Hotel
I would fully recommend staying at the new Ibis Styles East Hotel. All the other hotels look a little old and don't seem to have the cool ambience that Ibis has created.
Loved the decor, the bright feel and relaxing environment.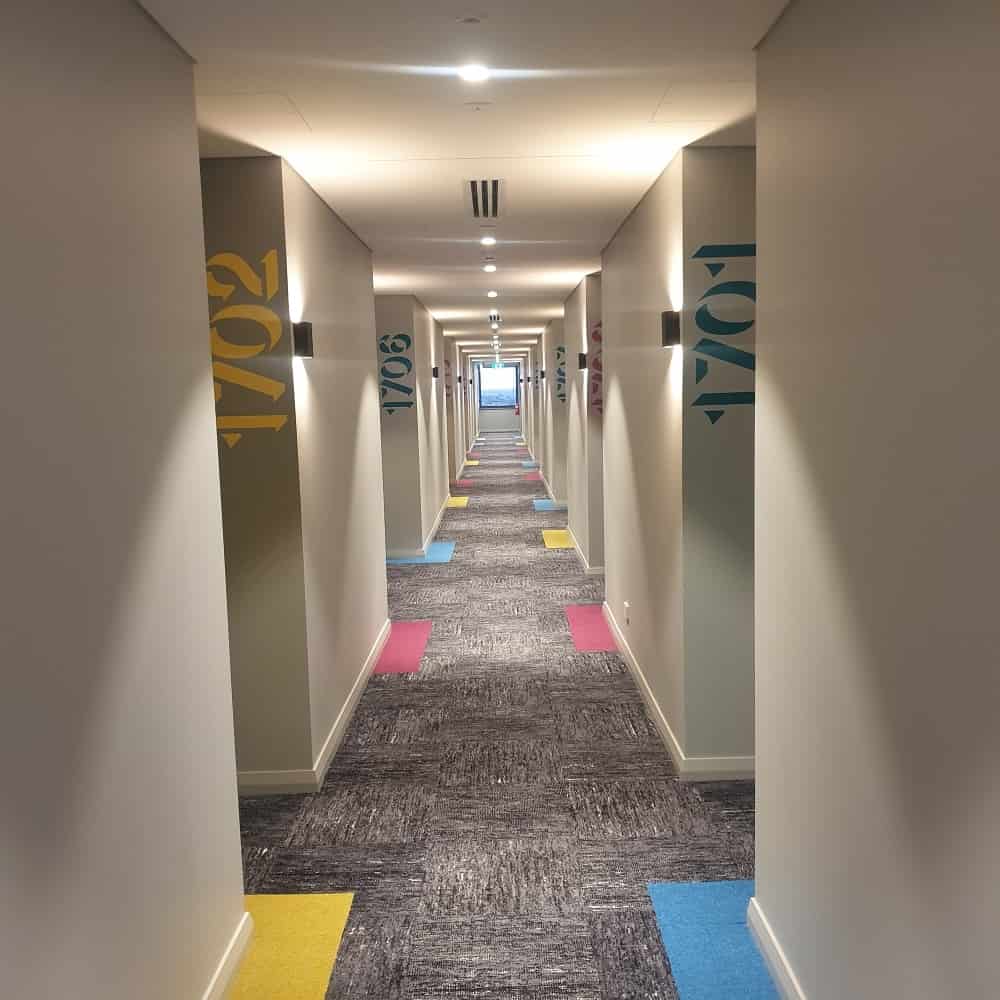 The Gym was the best gym I have been to in a hotel. I was very sad to leave it behind.
Rooms were cosy, beds extremely comfortable with blackout blinds for absolute darkness. (Set your alarm!)
We would walk into the city which only took 20 minutes to Elizabeth Quays and the city centre.
Our Perth stay was just perfect and was made all the better thanks to the Ibis Styles East Perth Hotel.
Want to Go Camping Instead?
Read About some of Our Other Adventures around Australia: