If you are planning a trip to Thailand, there is no doubt you will have to consider the best way to get from Bangkok to Chiang Mai at some point. Bangkok is the jewel of Thailand's crown, the bustling gritty and vibrant metropolis. While laid back Chiang Mai is the old capital, and a very different city to escape to.
Read this for the best things to do in Chiang Mai
Chiang Mai, 682 km north of Bangkok is also near the launching point for border crossings which take you down the Mekong River and into Laos which means the Bangkok – Chiang Mai leg is a popular route on a southeast Asian odyssey.
The Number 1 Best Way to Get from Bangkok to Chiang Mai
Fly Bangkok – Chiang Mai
Flying means you will need to grab an airport transfer to either Suvarnabhumi Airport (BKK) or Don Mueang Airport (DMK). Make sure you know which one your flight is departing from! It can take up to 2 hours to travel between the airports if the traffic is bad.
From Khaosan Road area, a car to the Suvarnabhumi Airport will take around 40 minutes. It will take closer to 45 minutes to get to Don Mueang.
Kids in Bangkok? Take them to Kidzania!
Cheap flights from Bangkok to Chiang Mai
Booking flights in advance using a price comparison website such as Skyscanner can really save you money on travel. If you can book your Bangkok to Chiang Mai flights 6 months in advance, you will only pay $23 AUD per ticket. When I tried to book it for next week, it quoted me $94 each.
Enter your dates below:
One major advantage of booking through a comparison site such as Skyscanner, is you can search for the cheapest day, or the cheapest month to travel on. To find the cheapest day to travel select the 'Whole Month' option instead of 'Specific Date' and for the most budget-friendly time of year to fly select 'Cheapest Month'.
Read this: Choosing the Best Elephant Sanctuary in Chiang Mai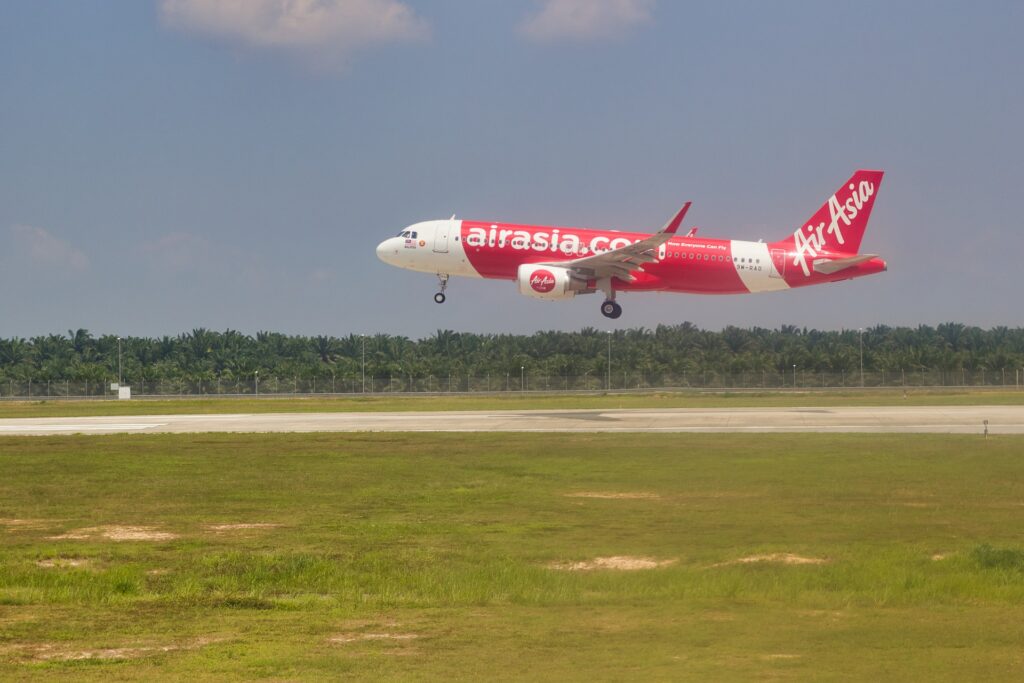 There are quite a few airlines that ply this route regularly.
From Don Mueang DMK:
Air Asia
Nok Airways
Thai Lion Air
From Suvarnabhumi (BKK):
Thai Vietjet Airways
Bangkok Air
Thai Smile
Thai Airways
Flights are departing regularly from 5 am up until 9.50 pm daily.
Compare prices, view timetables and book your flight here
Why Fly Bangkok to Chiang Mai?
Even with 4 kids, I found the flight to be a cheap option and the 1 hour and 20-minute duration, plus the simplicity of a door-to-door transfer service made this our number 1 choice. You will need another taxi or transfer once you reach Chiang Mai, but this is super easy to organise by clicking here. Booking a car in advance saves you hassle when you arrive by simply looking for the driver with your name on a sign. So good!
In Chiang Mai make sure you visit Doi Sutthep Temple
The Chiang Mai Airport is super easy to navigate and is nice and small compared to Bangkok. It is also only a 20-minute drive to the Old Quarter.
Duration: 40 + 60 (airport wait time) + 80 (flight) + 20 = 3 hours 20 min
Cost: $23 flight + $20 transfer in Bangkok + $7 transfer = $50 pp
Convenience: transfer from hotel – airport and flight – transfer to hotel
Rating: 4/5
Cons: Planes are often delayed, and this isn't a great option if you don't like flying.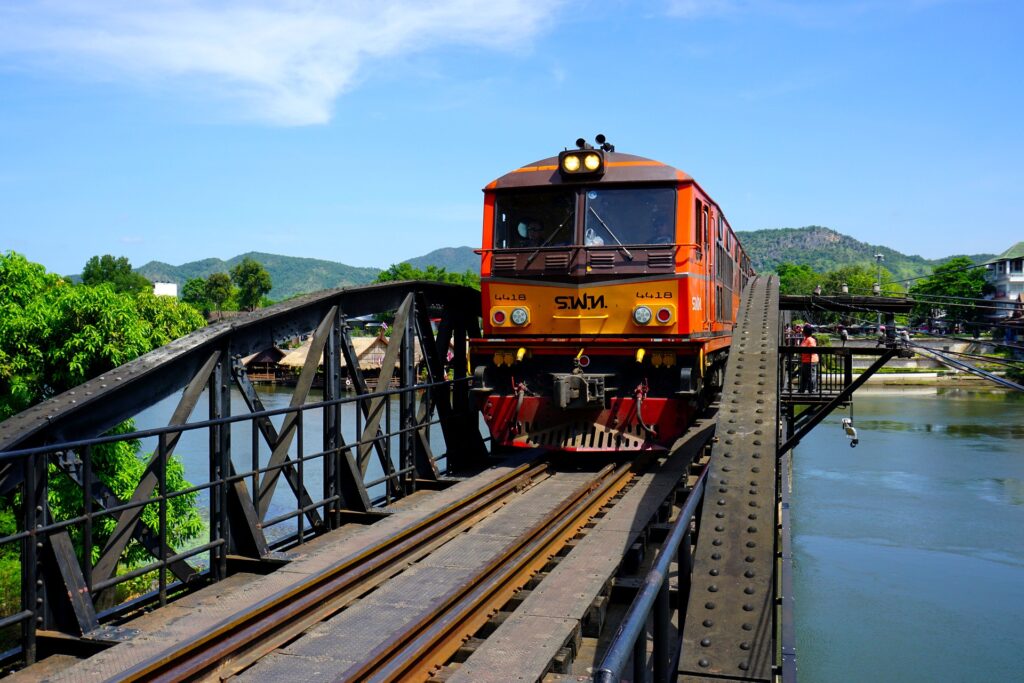 Option 2 – Daytime or Overnight Train from Bangkok to Chiang Mai
When we took the overnight train from Bangkok to Chiang Mai on our last trip to Thailand, we did it because it was the cheapest option. These days however, it is not.
Overnight trains in Vietnam: A Review
Trains depart from Bangkok's Hua Lamphong Train Station. This place is huge and heaving, but very well organised and user-friendly.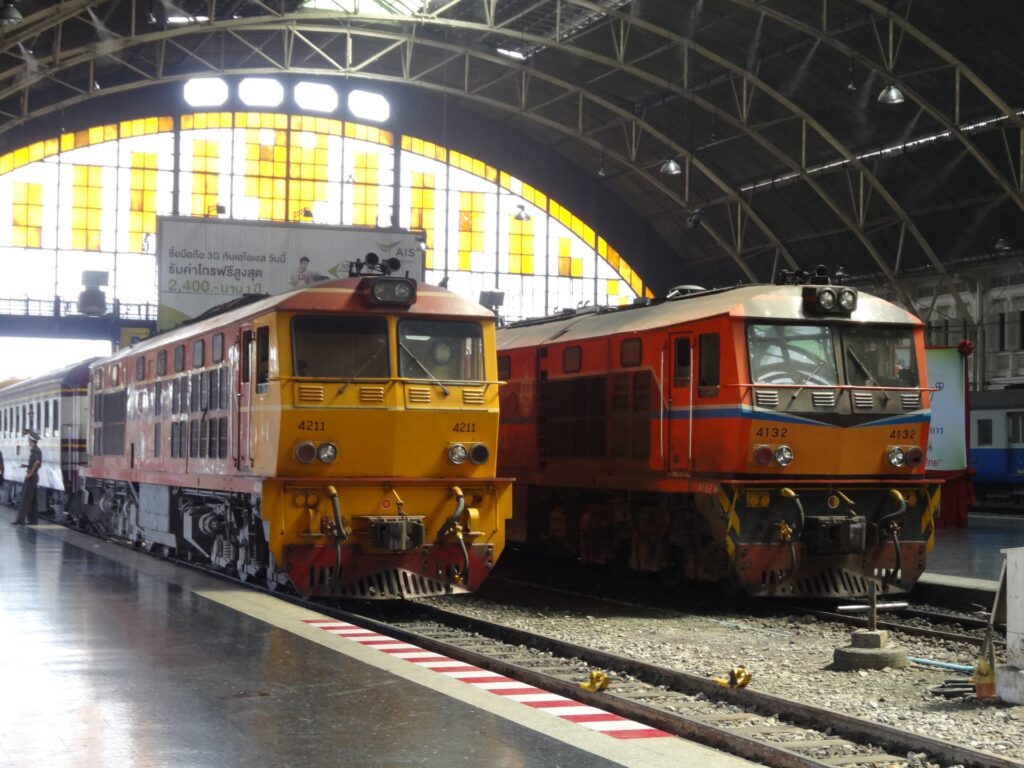 The 2nd-class seat in an airconditioned carriage starts at $44 AUD per ticket. This would be fine if you are travelling by day and wish to see the scenery.
---
Airconditioned 2nd-class sleepers included a seat that folds into a bed. These beds line the carriage in 2 levels, and there are privacy curtains. Prices start at $49 or you can get a 'ladies and children' only carriage for $63.
Book Your 2nd-class Sleeper Tickets Here
---
First-class sleepers have 2 berths and a small sink in a lockable cabin. You can get interconnecting rooms which are great for a family. From $86 AUD.
1st Class Sleeper Tickets can be Purchased Here
---
The toilets on these trains are always rank. There is just no avoiding it. They smell, they are filthy and you try to avoid going at all costs.
Duration: 14 hours
Cost: from $44 AUD plus taxi to and from train station
Convenience: taxi – train – taxi
Rating: 4/5
Cons: Trains are often delayed. The aircon can be too cold, the windows dirty, toilets are gross, the seats uncomfortable and you will probably get an interrupted night's sleep.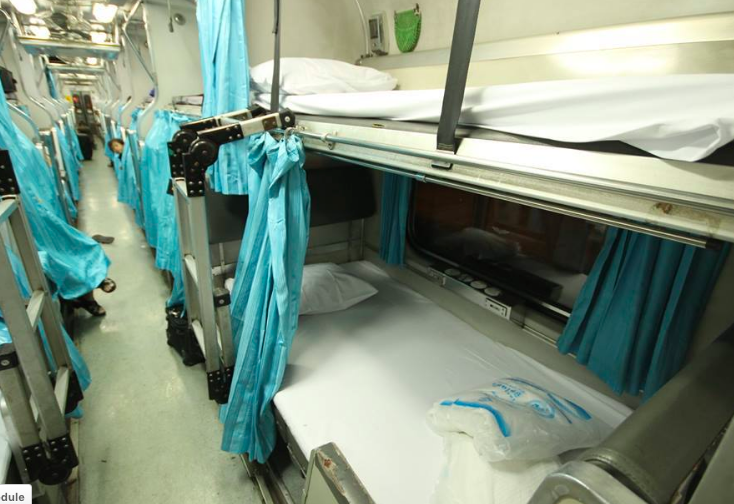 For the best shopping while in Bangkok:
Option 3 – Bus from Bangkok to Chiang Mai
The cheapest price I could find for a bus ticket from Bangkok to Chiang Mai is $34 AUD. It leaves from just near Khaosan Road at 7 pm and gets into Chiang Mai at 6.50 am the next morning. This express bus will have semi-reclining seats with leg rests, and curtains.
Compare All Bus Timetables and Prices Here
---
Step up your ticket price to around $48 one way and you will have a VIP bus with individual entertainment screens. These Sombat Tour buses depart from here which is closer to Chatuchak Markets and a $12 taxi ride from Khaosan.
Book your Sombat Tour Bus here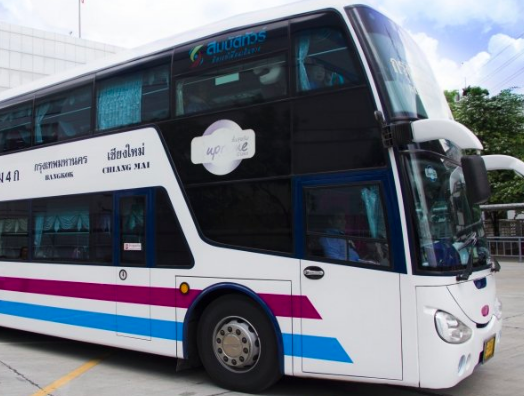 These tourist buses all generally include airconditioning, food, wifi and a WC on board.
Duration: 12 hours +
Cost: $34 – $48
Convenience: Great if you stay at Khaosan area
Cons: So long sitting on a bus
Rating: 3/5
Option 4 – Private Driver Bangkok to Chiang Mai
If you have a larger group, hiring a private minivan might be appropriate for you. This has a great range of benefits including being able to stop whenever you want, and having the transfer all to yourself. This is great if you have kids and want to take a leisurely trip.
The other big benefit here is the car will pick you up from the door of your Bangkok hotel, and drop you off at the door of your digs in Chiang Mai. Bonus.
Book a Private Intercity Transfer Here
Duration: 12 hours +
Cost: $422 4pax to $579 9pax
Convenience: door to door service! Great for families
Cons: A long trip, costly
Rating: 3.5/5
Option 5 – Rent a Car and Self-Drive
We hired a car from Chiang Mai and drove north to Chiang Rai.
Read all about our experience here.
It was super easy to navigate and a cheap way to see the country. The benefit here, especially travelling with a family, is that you can take your time, and stop wherever you like.
We also rented a car in Malaysia too. It is such a great way to travel at your own pace and really take in the scenery. Make sure you have an International Driver's Permit, you will need it to hire a vehicle in most Southeast Asian countries.
Duration: at your own pace
Cost: $20 a day
Convenience: ultimate independence and convenience
Cons: Crazy traffic getting out of Bangkok, try renting from the airport
Rating: 4/5
Read this: 2 weeks in Thailand Itinerary
How to Get from Bangkok to Chiang Mai – The Roundup
I hope this article has helped answer the questions you had about getting from Bangkok to Chiang Mai. We have done it a few times, both as younger backpackers and with a family of 6.
With the price and convenience of budget airlines these days, we reckon that flying is the best way to do it, especially if you are only on a short holiday. You get up to 30 days free in Thailand (most western passport holders).
Find out more here before you head to Thailand: