We found a new exciting contender in our quest to find the Sunshine Coast's best breweries. Bonsai Brewhouse has been around for a while. They previously traded in Pomona, before relocating 3 years ago to an astounding heritage-listed building in Cooran. Their unique premises combines with stunning craft beers to make them a must-visit brewery on Queensland's Sunshine Coast.
We have already reviewed:
Soon we will be able to give you the absolute best brewery on the Sunshine Coast. We compare affordability, atmosphere, family friendliness and most importantly, beers.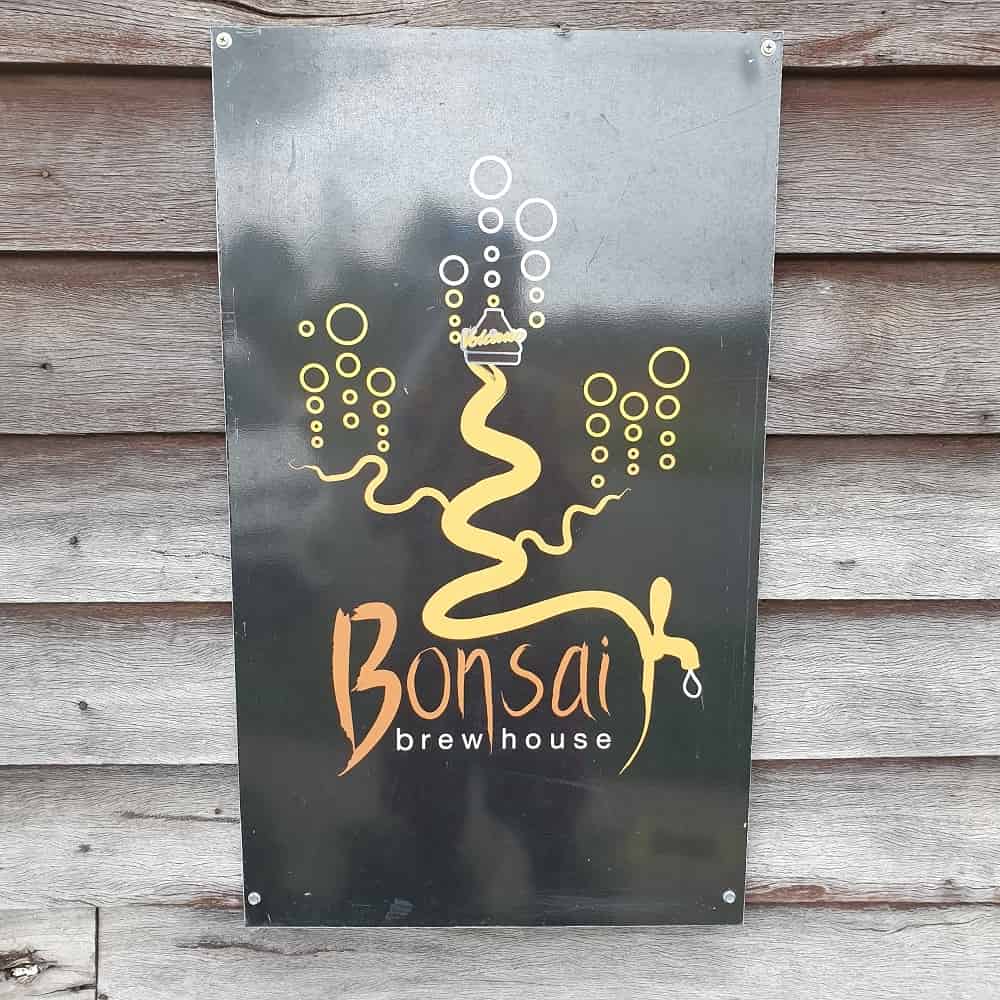 Where is Bonsai Brewhouse Located?
You can find them at 28 King Street, Cooran. It is a lovely scenic drive through Pomona once you exit the highway onto the old Bruce. Alternatively, head north from Noosa, through Tewantin and west from there. You could even combine your visit with a beer at Habitat or Land and Sea on the way.
From Brisbane, your trip will take around 1 hour and 45 minutes along the highway, or 3 hours on the train. There is a train station in the centre of Cooran, which makes public transport a real option here.
See Map Below:
Bonsai Brewhouse Opening Hours
Thursday 4 pm – 9 pm
Friday 3 pm – 9 pm
Saturday 11.30 am – 9 pm
We visited at lunchtime on a rainy Saturday. It was fairly quiet and tranquil with the rain falling on the tin roof. The temperature was perfect and the high ceilings will handle hotter days too.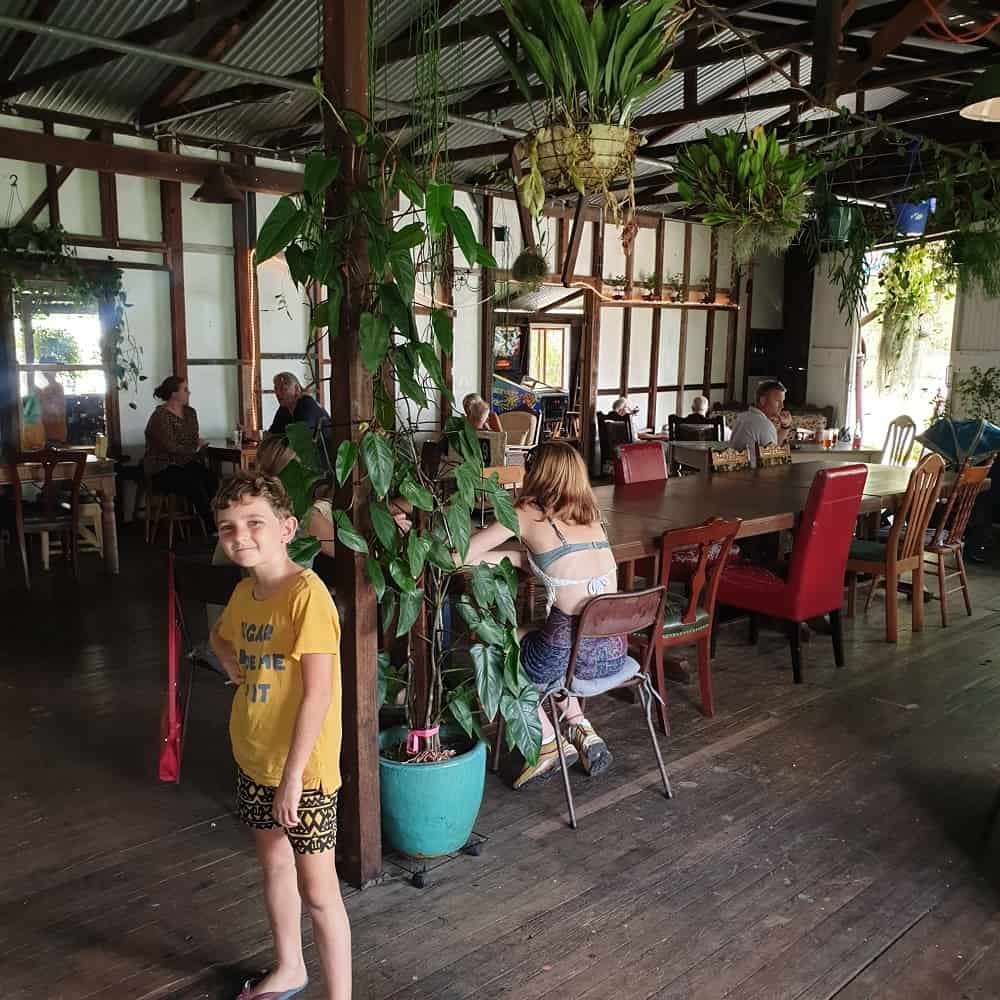 Is Bonsai Brewhouse Suitable for Kids?
Yes and no. Bonsai Brewhouse is kid-friendly for sure, but, there isn't much to entertain them. So if you are bringing your children, you also need to bring your own entertainment so the kids aren't inclined to play around on the noisy wooden floor.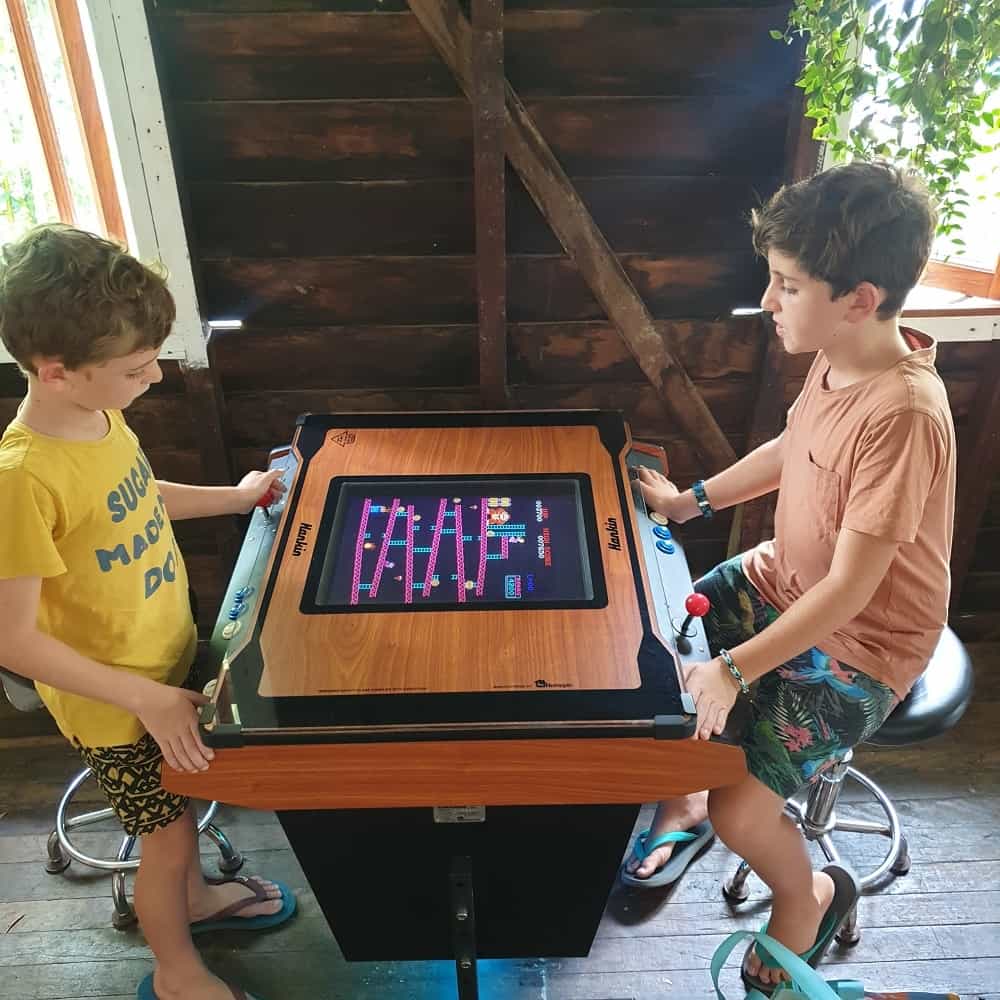 As we always do, we grabbed a table outside, as far away from the handful of other patrons as we could. We were meeting another family so between us had 6 kids between the ages of 2 and 10. There is a pinball machine and a vintage tabletop space invaders which you need coins to operate, unfortunately, and nothing else for the kids.
I think this area could be greatly improved so that Bonsai better caters to kids of all ages, all they need is a box of toys or a TV, and they would sit still. If you want to attract a family market, you have to go above and beyond.
The Beers at Bonsai Brewhouse
The brewer, Matt has nearly 20 years experience in creating our favourite beverage, so he is definitely a master craftsman. They also mill the grain right there on site.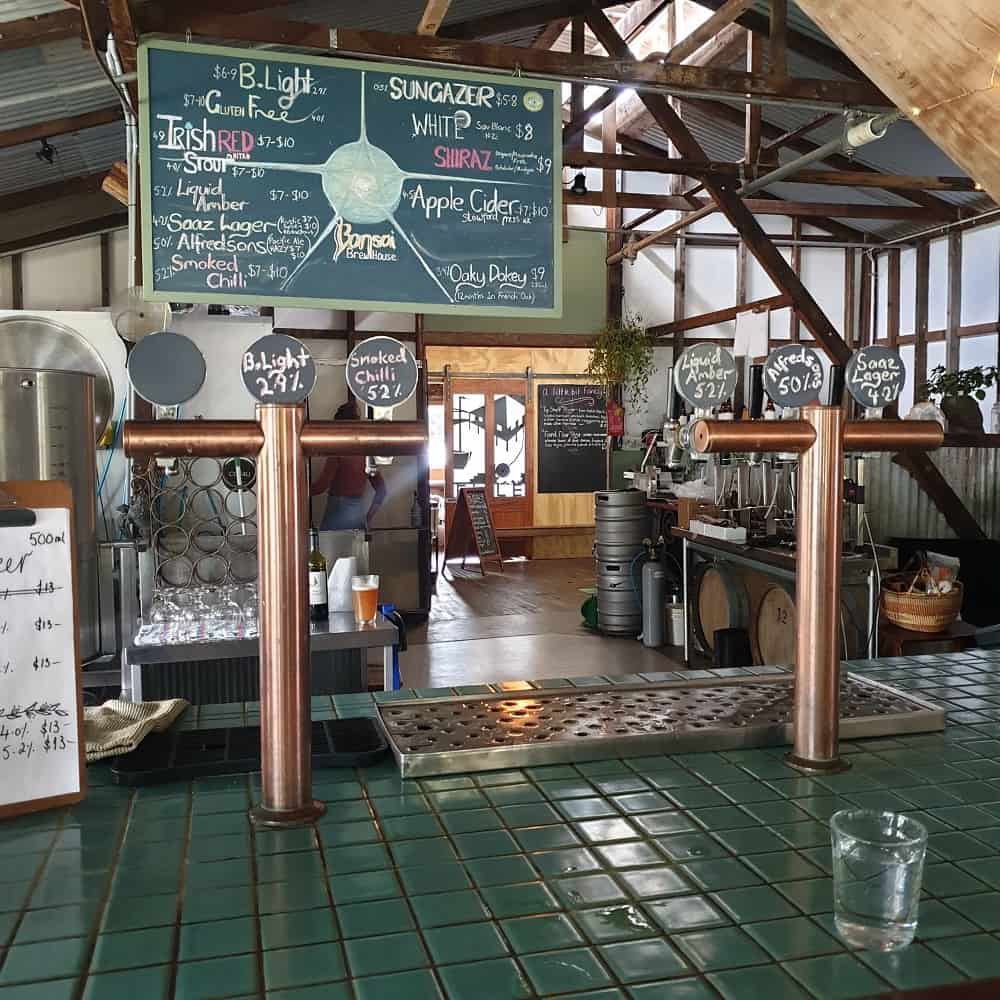 Between our party, we managed to taste most of the brews at Bonsai Brewhouse. They have a fantastic array of interesting craft beers which were a pleasure to try. They don't exactly 'do' tasting paddles, believing instead that you need a full glass to really experience what a beer has to offer. This is something I agree with. But they will offer you a taste before you commit.
We definitely recommend at least a taste of the wonderfully Smoked Chilli beer (not sure if I could handle an entire glass though). ABV 5.2%
Another firm favourite was the Irish Red which is a super smooth Kilkenny type stout. (ABV 4.9%). There is a darker Stout on tap as well.
The Alfredson's Pale Ale is stunningly fresh and fruity like a hazy Pacific Ale with an ABV of 5.0%.
The B. Light was perfect for the drivers. A delicious full-flavoured beer at only 2.9% ABV.
Liquid Amber was powerful and intense but I could only have 1 of these at 5.2%.
And the Saaz Lager is different from a traditional lager but very easy to drink at 4.2%.
Gluten-Free beer is also available on tap.
They also have some seasonal brews which change regularly.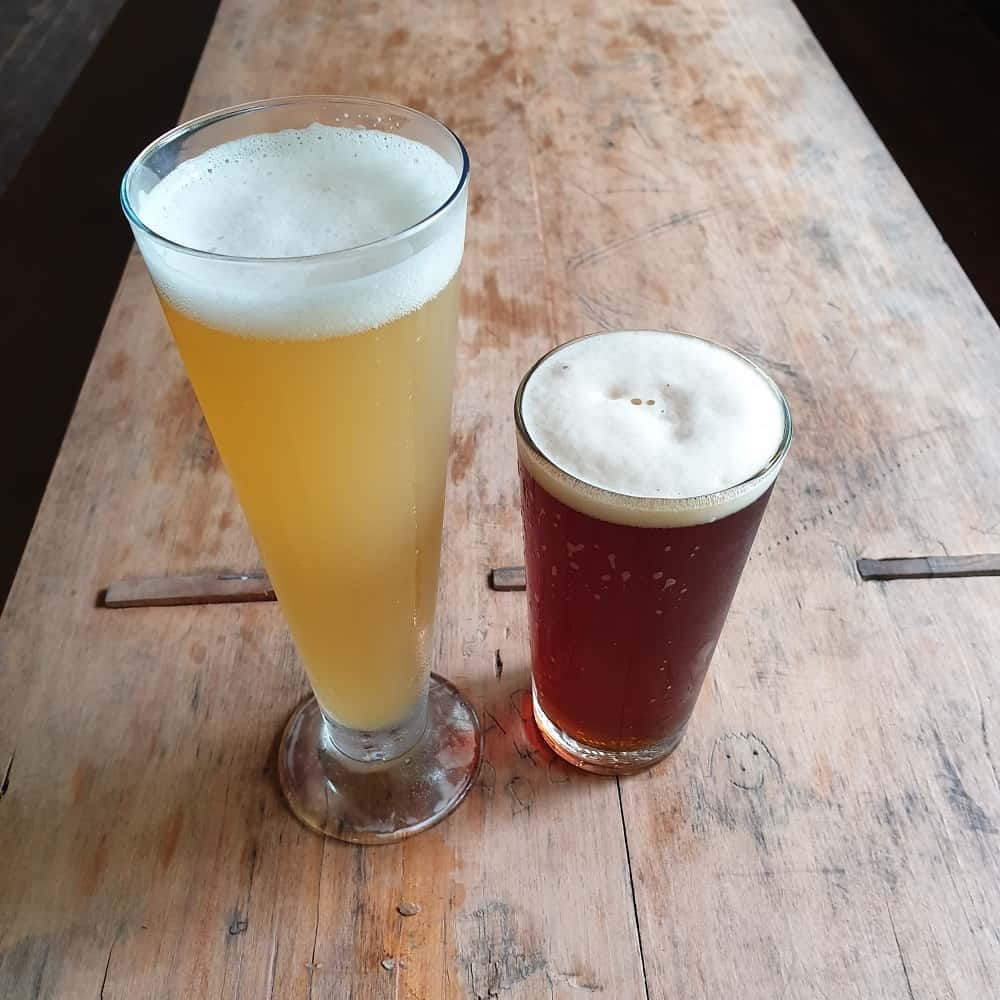 The food at Bonsai Brewhouse
They have an excellent range of delicious pizzas to satisfy your beer cravings. Everybody knows pizza and beer are a match made in brewhouse heaven.
These pizzas have fine crusty bases with high-quality toppings. Vegan choices are available.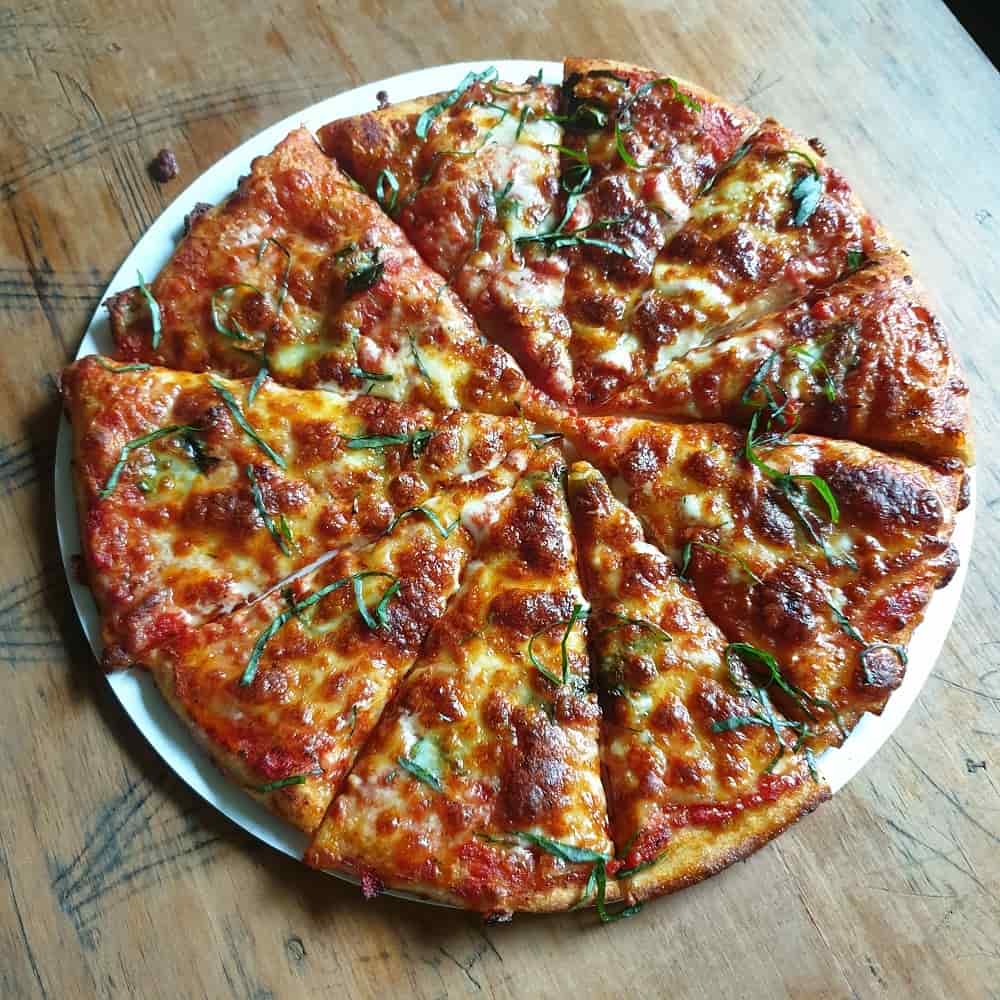 The kids were well pleased with their Hawaiian Pizza (they are the harshest food critics) and we loved the vegan pizza and we are not even vegan!
Here is the menu for the pizzas below.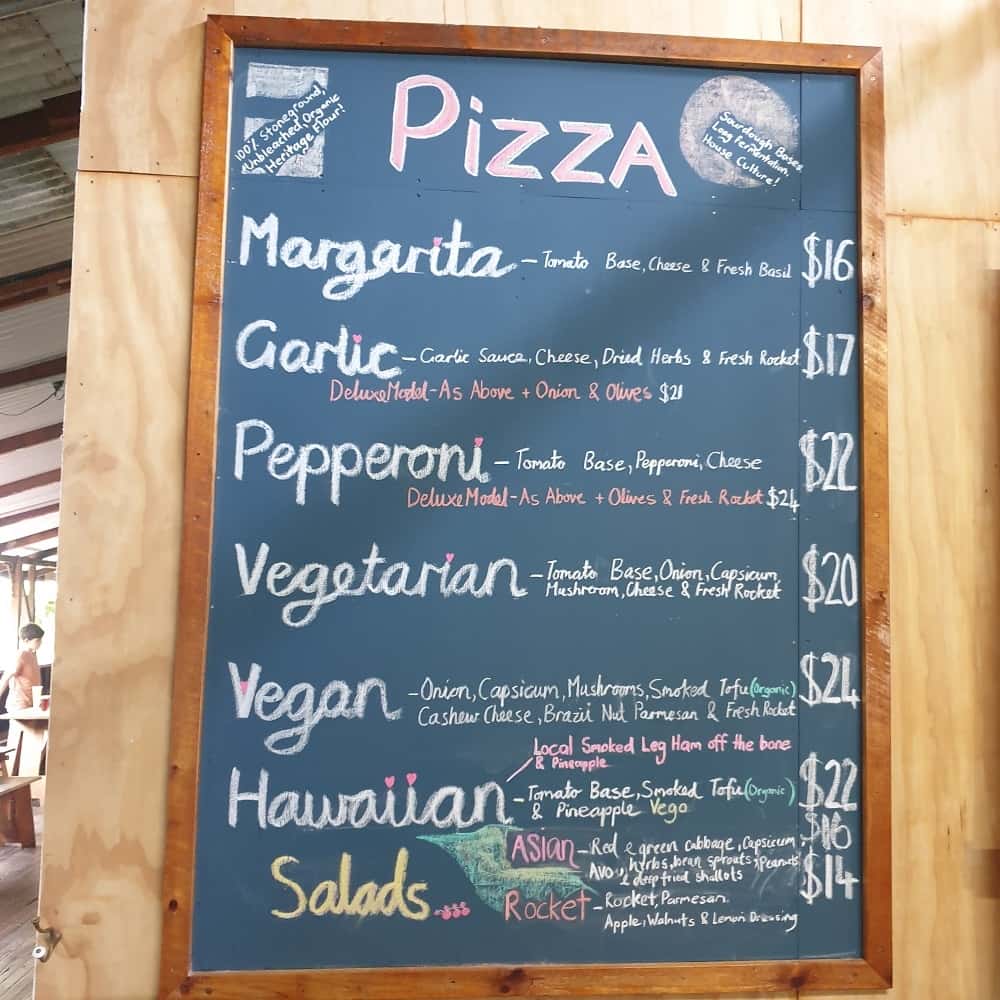 Facilities at Bonsai Brewhouse
Limited parking is available on the street outside. You can't make bookings but there is ample seating inside with cool eclectic vintage furniture.
There is 1 toilet, but it is the most beautiful toilet ever.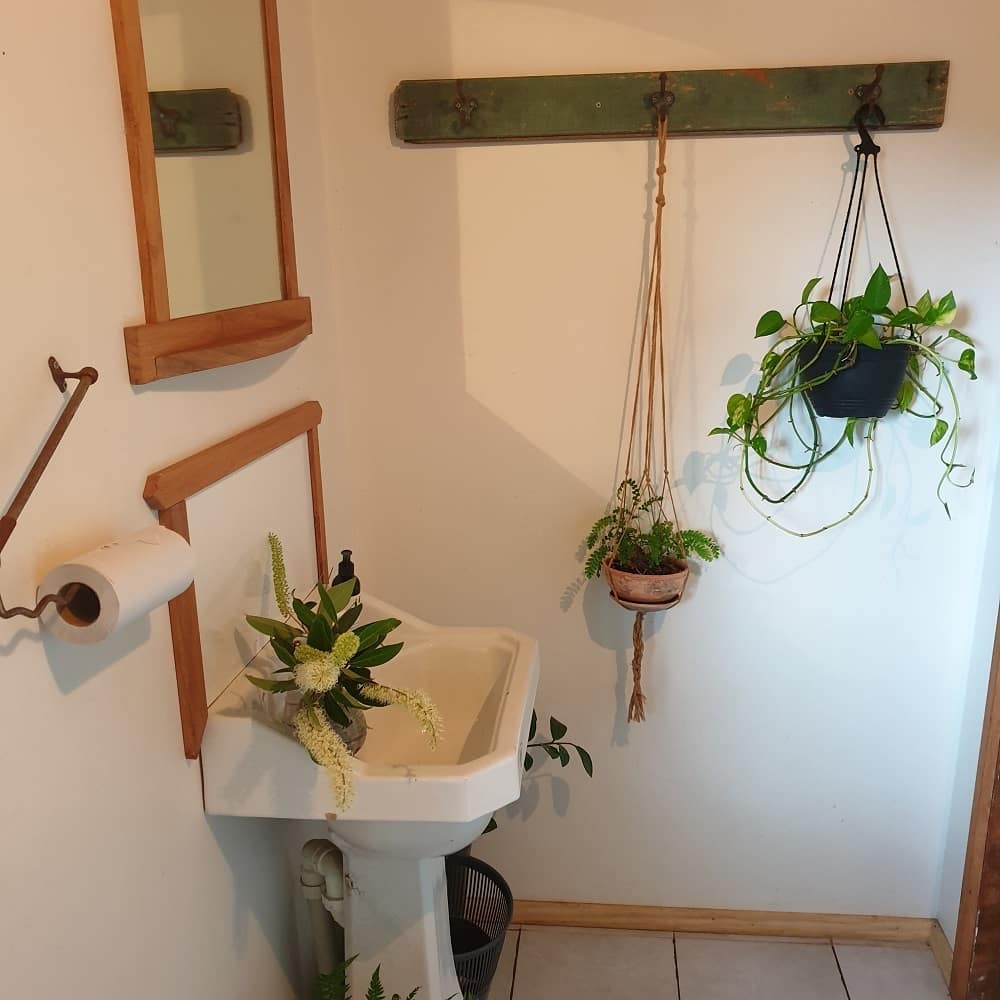 Wheelchair accessible with no steps, wide doorways and plenty of room to manoeuvre.
Our Experience at Bonsai Brewhouse
The drive out to Cooran was filled with anticipation, with a beautiful journey over hills and dales, and through tall eucalypt forests.
We actually drove straight past the brewery at first, because the Bonsai sign is much less visible than the big red Alfredson's sign, which was a little confusing at first.
It is such a cool and atmospheric old building. From the moment you step inside, you are treated to a very laid back and special ambience. The place is beautifully decorated with bonsai trees and mismatched vintage furniture. This all adds to the feel of stepping back in time.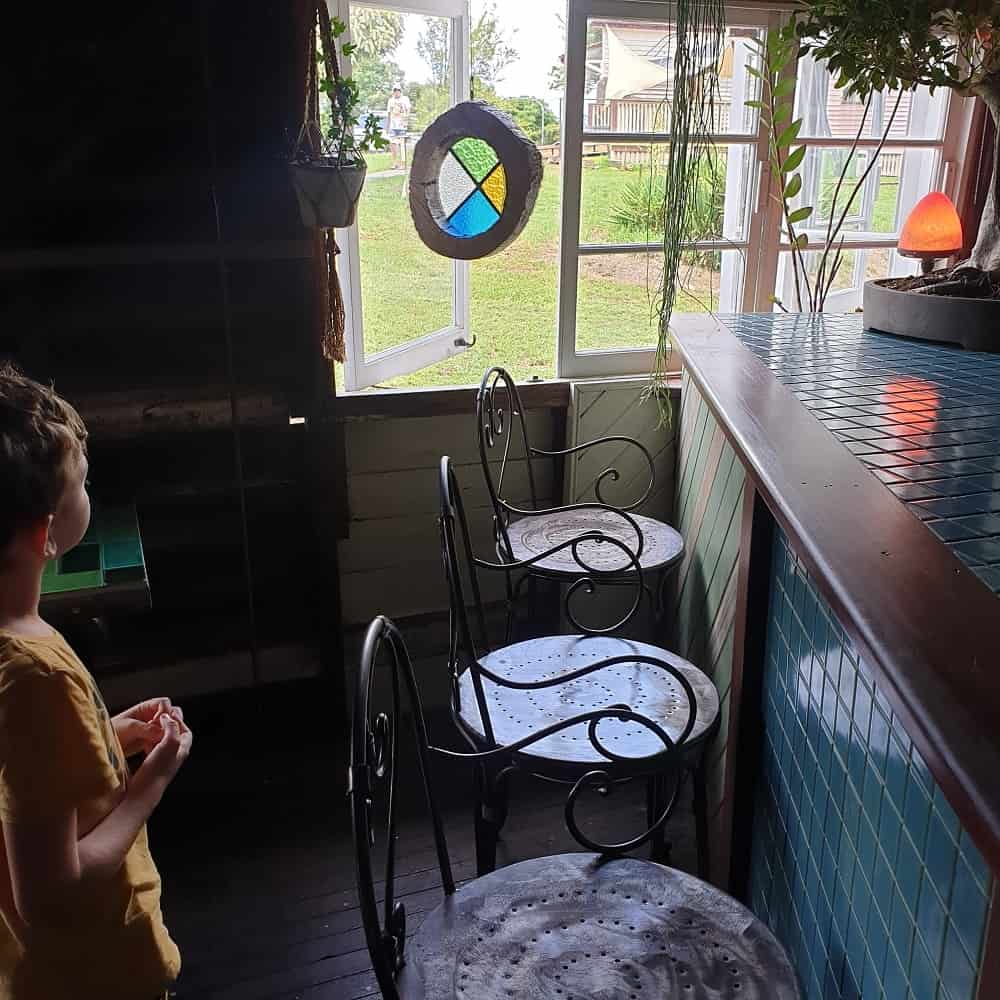 It is a country QLD experience which will warm you to your cockles.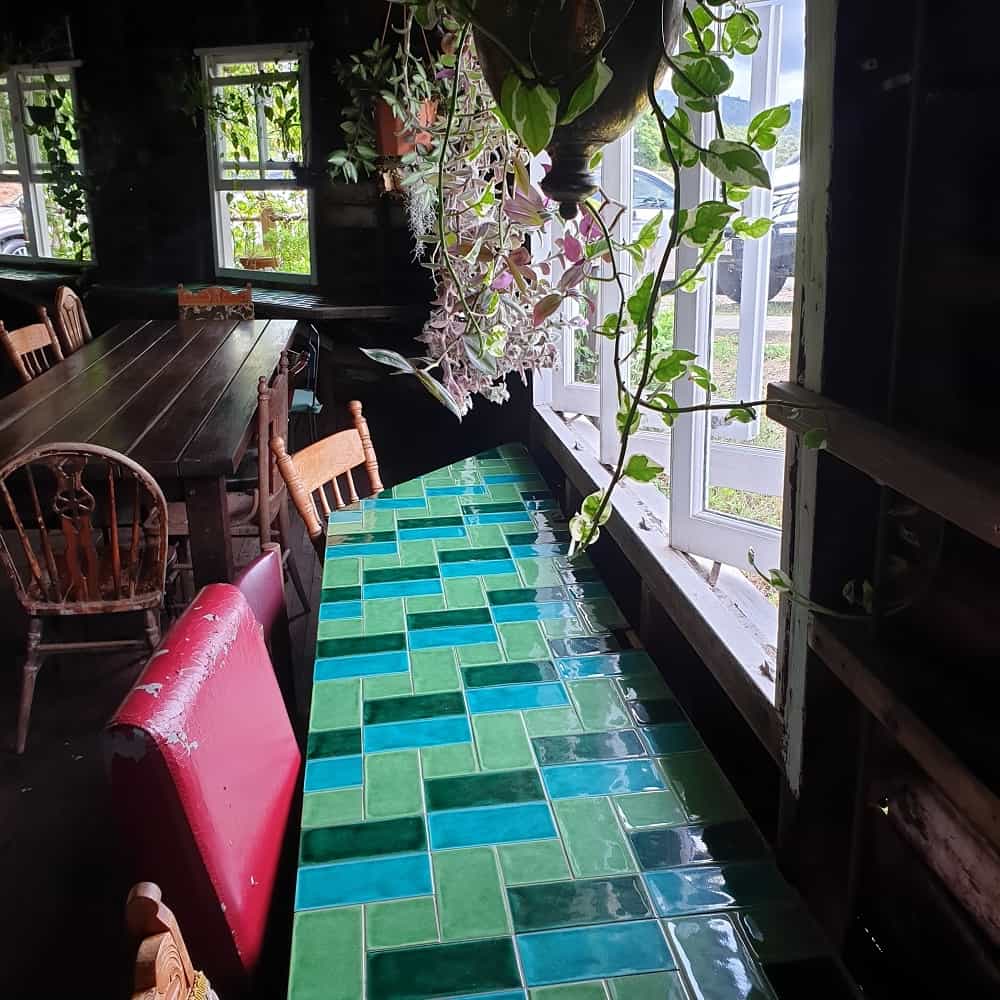 The beer was exciting, it was way better than your average craft beer. There is so much craft beer around these days, that you now find 'generic' craft. The Bonsai beer steps it up a notch creating mouthwatering and unique flavours.
The food is simple yet effective.
Really, the only way Bonsai Brewhouse could improve out of sight is to create a kid's corner so families with young children will be able to enjoy themselves even more (and drink more beer). There weren't too many customers the day we visited which added to the laid back appeal of the place, however it meant every move the kids made created noise on the wooden floors.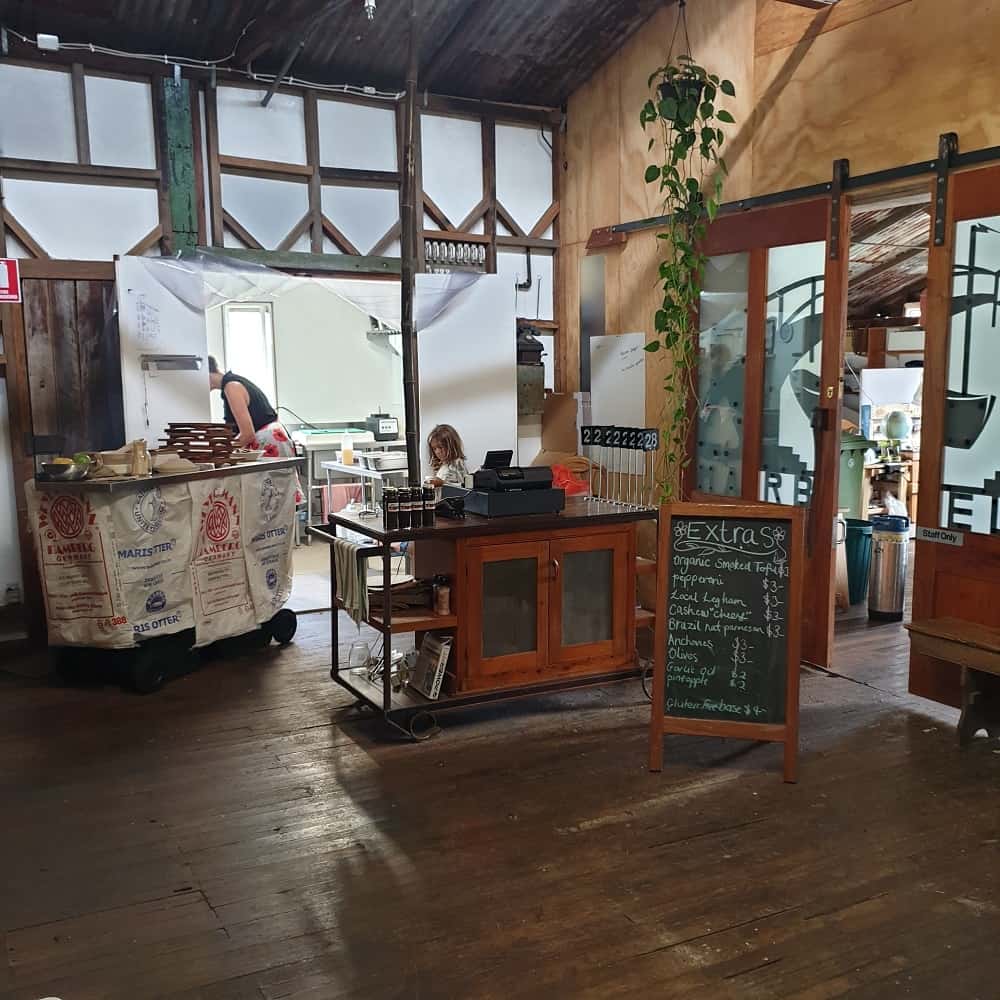 Bonsai Brewhouse Verdict
Bonsai Brewhouse is a must-visit for folks on the Sunshine Coast who are after an offbeat day trip in gorgeous scenery with refreshing brews. Combine your day with a drive and easy short walk up to Mt Tinbeerwah, or tackle the popular hike up Pomona's distinctive Mt Cooroora on the way past.
Put Bonsai Brewhouse on your to-do list today!
Accommodation Near Bonsai Brewhouse
Staying in the Noosa Hinterland puts you close to the Bonsai Brewhouse. For brewery lovers (like us) you can also visit Copperhead in Pomona and Land and Sea in nearby Noosa too.
Noosa Hinterland Spectacular Boutique Guesthouse offers gorgeous rooms in an iconic country setting, minutes from Noosa Heads.