A trip to Land and Sea Brewery, Noosa's flagship craft beer powerhouse is a must for any visitor to Queensland's Sunshine Coast. Not only is it uber-trendy and kid (and dog) friendly, but they also have some top-notch beers on tap worth sampling.
Read on to find out just why we love Land and Sea Brewery so much, and why it deserves its place as one of the top Sunshine Coast Breweries.
Where is Land and Sea Brewery Located?
You can find the impressive premises in Noosaville's industrial estate at 17 Venture Drive. It is tucked in just behind Bunnings there. I tell you what, I wish I worked in this industrial area just so I could have cheeky lunchtime pints!
You are under 10 minutes from Noosa Heads, and under 2 hours from Brisbane CBD.
See Map Below.
Land and Sea Brewery Opening Hours
This neat brewery is open every beautiful Sunshine Coast day.
Monday to Friday 11 am – 10 pm
Saturday and Sunday 10 am – 10 pm
Is Land and Sea Suitable for Kids?
YES! Our kids loved it there. They had lawn surrounding the 'grown-up' tables, with little picnic tables and chairs for the little ones too. The kids could play Giant Jenga, draw on cool little chalkboard easels, or play pinball (for a dollar).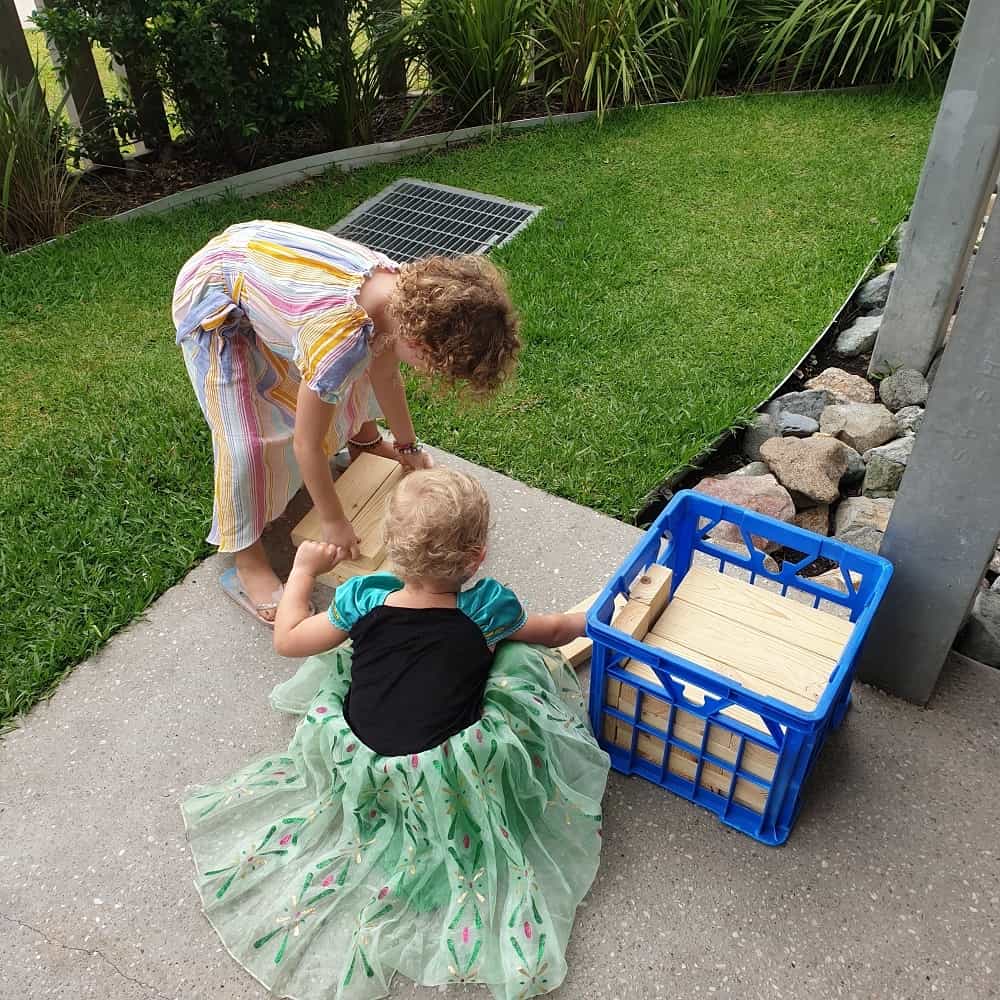 There is a dedicated kids menu where you will find all the usual items and a decent bowl of hand-cut chips sets you back $5 (plus $1 for sauce).
Dog-Friendly Too!
Not only does Land and Sea Brewery cater for your little people, but dogs are also welcomed with open arms. Do you know there is even a dog's menu?!
The Beers at Land and Sea Brewery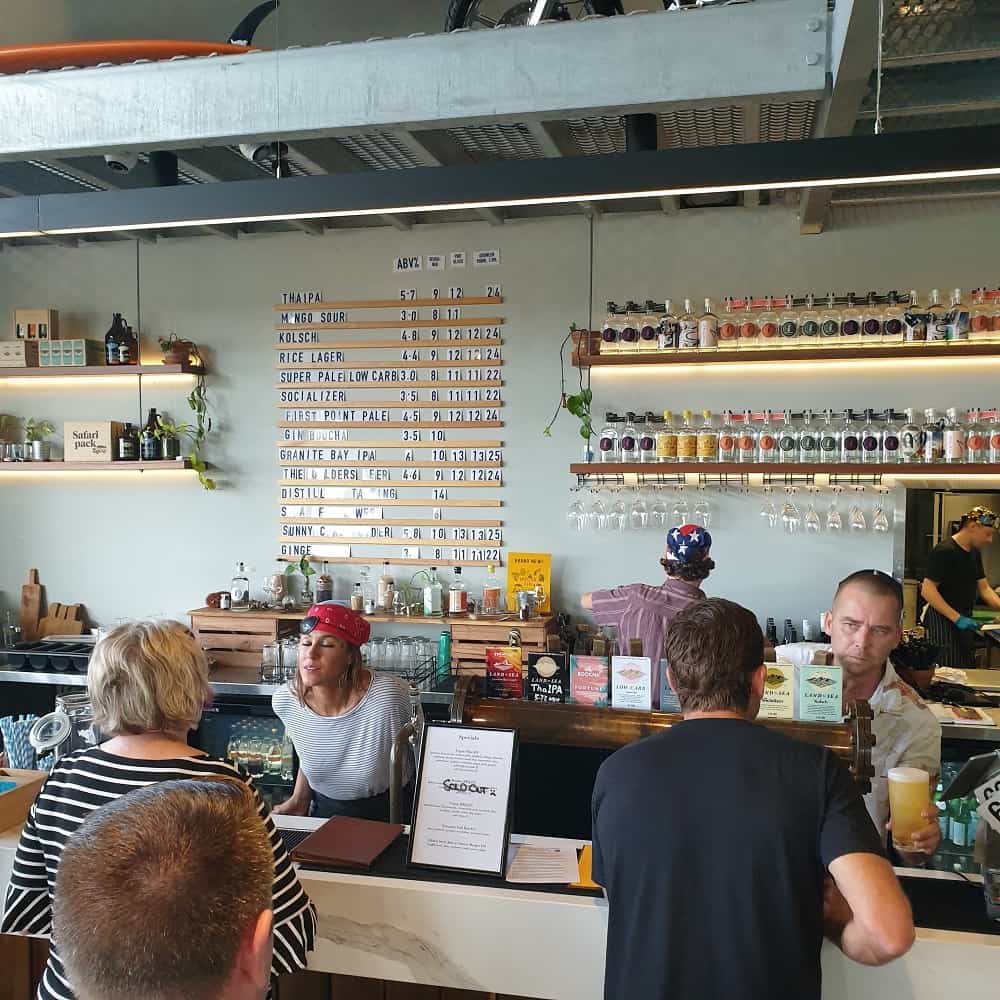 Super Pale
Super fresh, crisp and light. Tropical and very pale, this beautiful drop boasts a guilt-free calorie count and only 3% ABV.
Granite Bay IPA
6.0%! Deliciously fruity and fresh, a perfect cold drink for a hot day.
The Socializer
At 3.5% this is a great session ale boasts tropical notes and is made with all Australian ingredients.
Japanese Rice Lager
Light, crisp and easy to drink, this lager is brewed with 20% rice which adds alcohol without the sugar. Lovely drinking at 4.4% ABV.
First Point Pale Ale
All Australian malts and hops combine effortlessly to create this gorgeous session ale. It's like a delicious fruit cocktail of flavours and hits nicely with a 4.0% ABV.
Kolsch
Very refreshing, fermented ale. 4.8% ABV.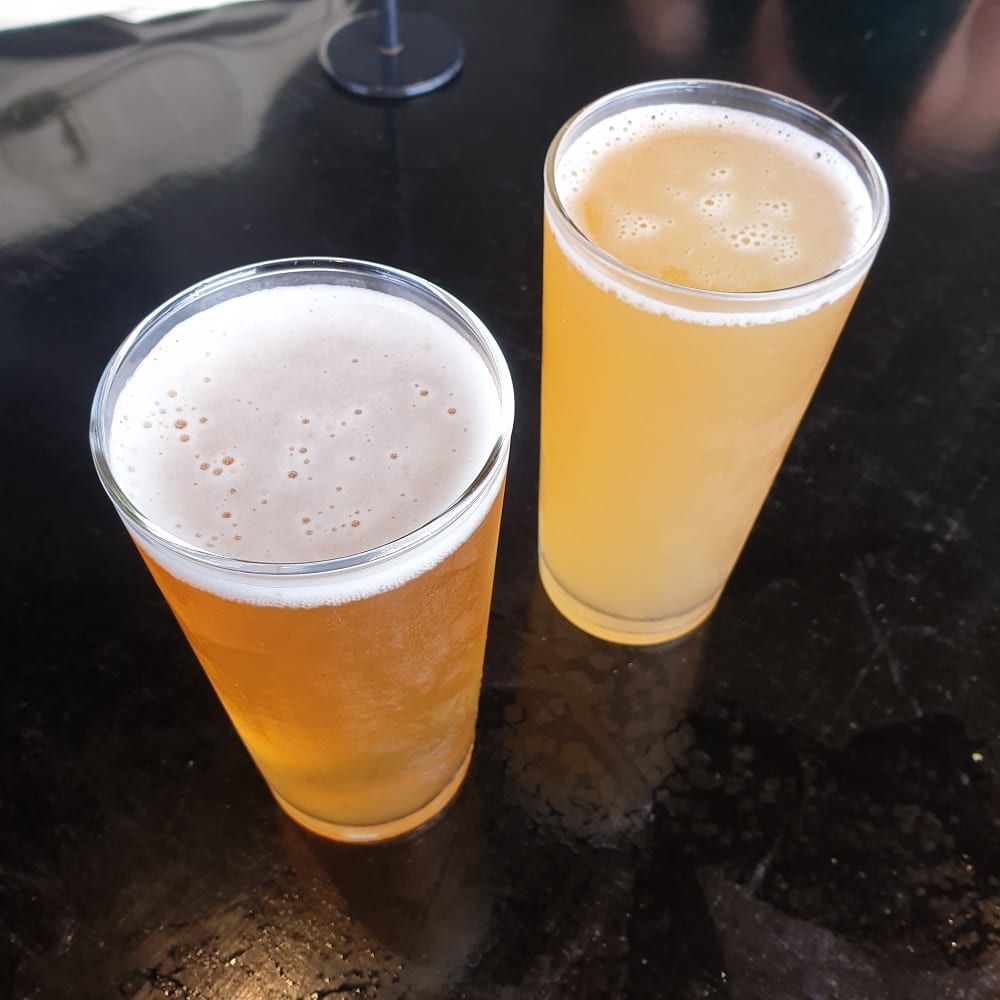 Seasonal Beers include:
Sunshine Beach Mango Sour
Hazy Juicebox
Both as good as they sound!
Either drink on-site, or you can take the beers home with you in 4 packs of cans, a 1L Canimal or Growler (2 sizes available).
A pint of beer is around $12 in the bar, or you can also grab a handy tasting paddle with 4 beers of your choice for the same price.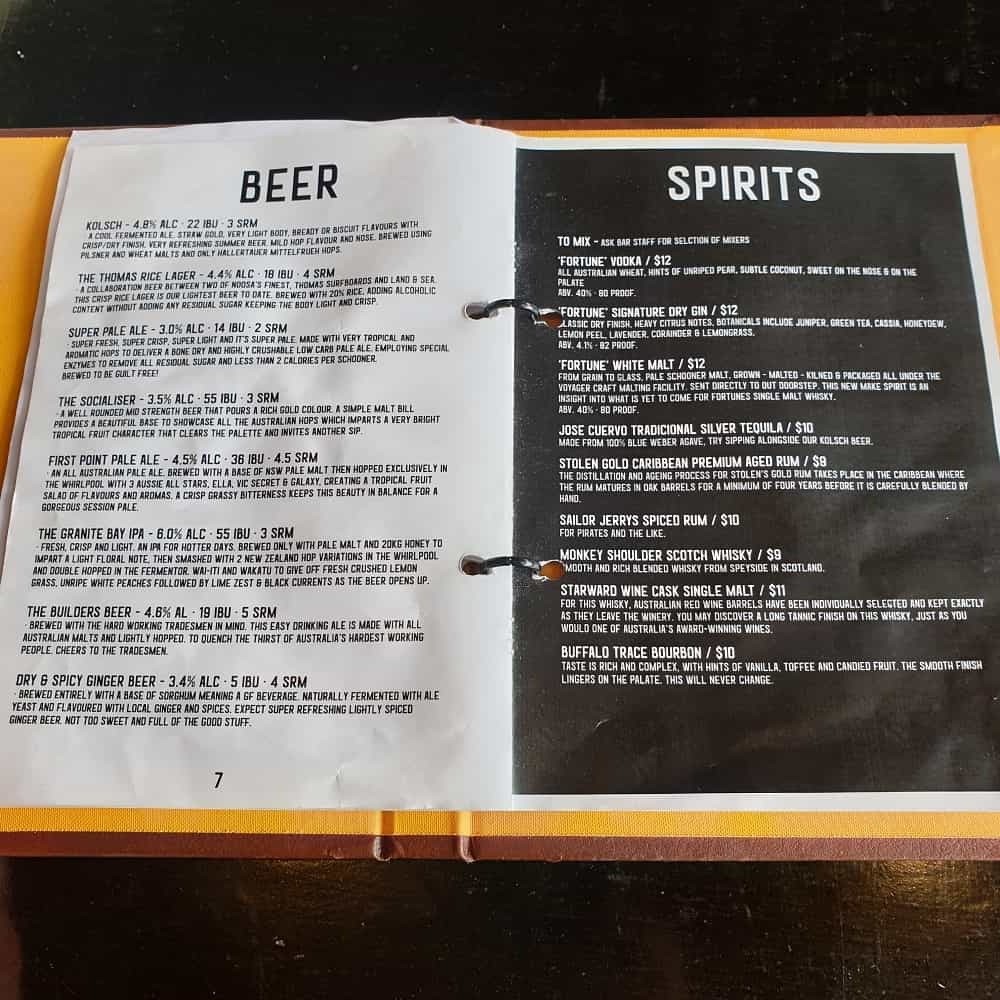 The Food at Land and Sea Brewery
In a word, the food is amazing! The service is impeccable, and super fast too.
Check out the current menu here.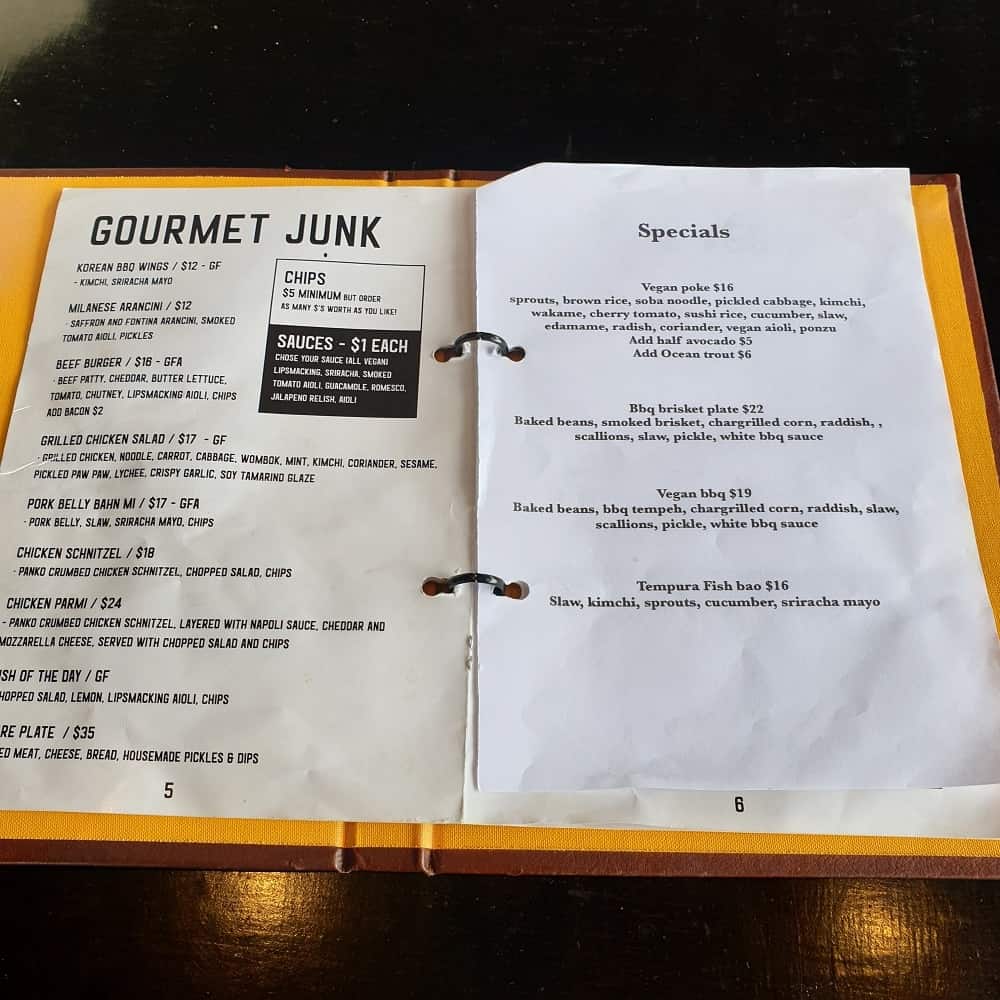 Kids, pets and vegans are all catered for on this interesting, affordable and varied menu offering everything from a chicken parmi to a vegan poke.
Entertainment
We happened to visit during Land and Sea's birthday celebrations so the entertainment was in full swing! Everyone was dressed as swashbuckling bohemian pirates and they had a free photo booth for you to use.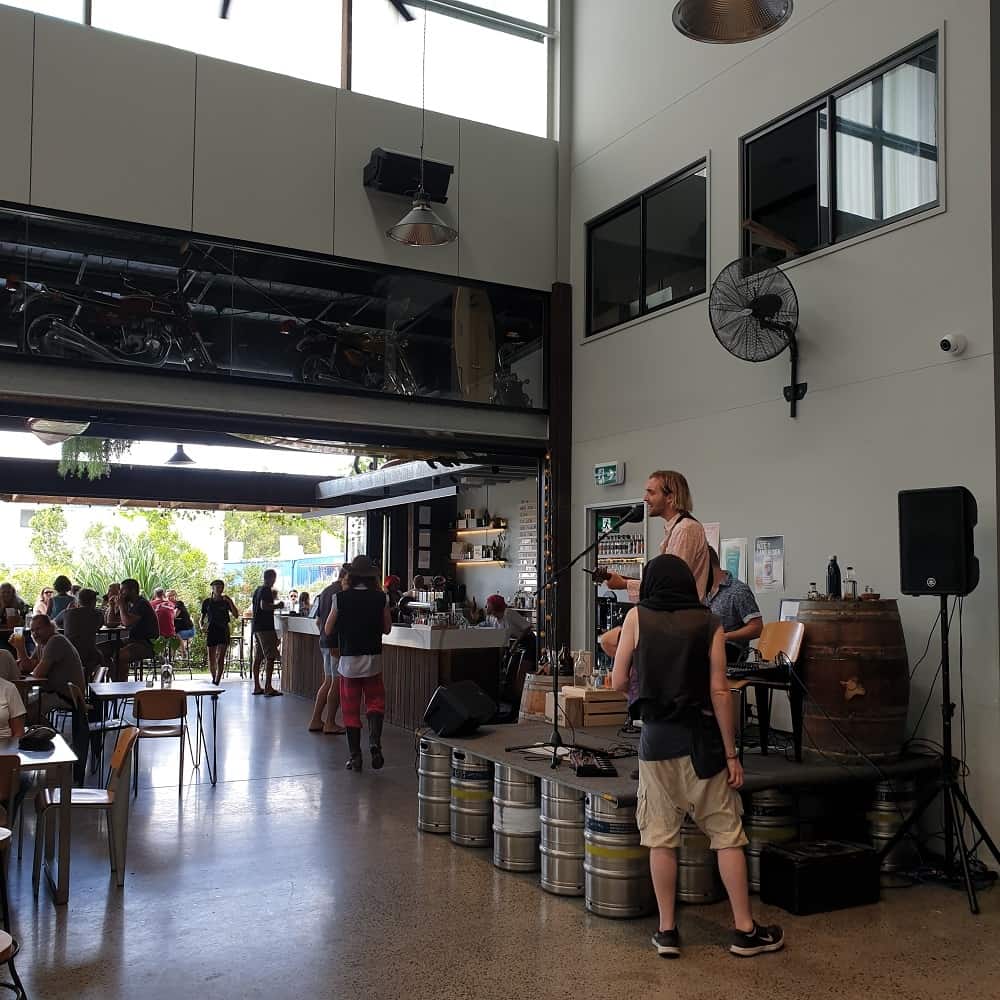 There is always live music from 3.30 pm on Sundays and weekly special events too such as:
Trivia Monday
Taco Tuesday
Wings Wednesday
Facilities at Land and Sea Brewery
Ample street parking is available.
The spotless toilets are lovely with the softest paper!
Highchairs are available.
EFTPOS
Courtesy coach available from 4 pm weekdays and 12 pm weekends
Brewery tours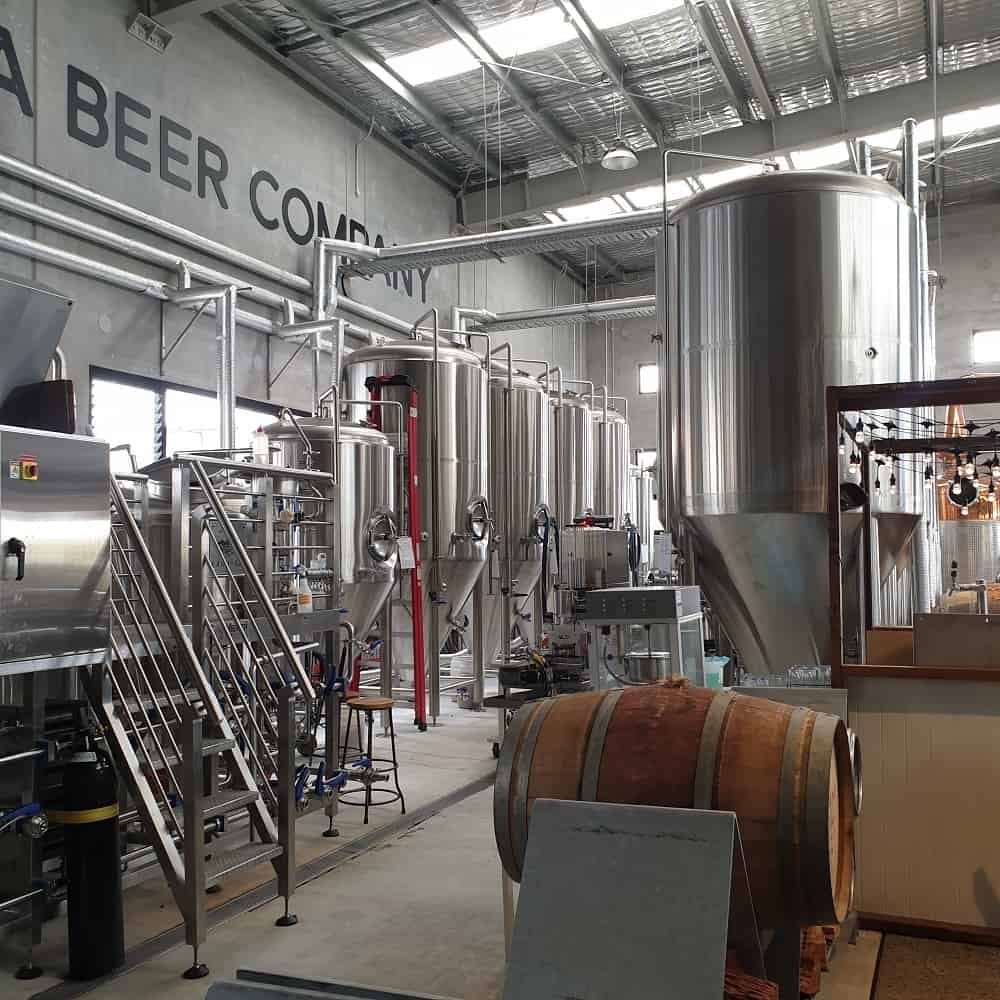 Fortune Distillery
The distillery is part of this beautiful bar and the polished pipes and tanks make more than a great decoration. Fortune Distillery offers great value tours and creates excellent gin, vodka and malt using Aussie ingredients. Check back with us soon, as we plan on doing a tour of the distillery ourselves to find out more!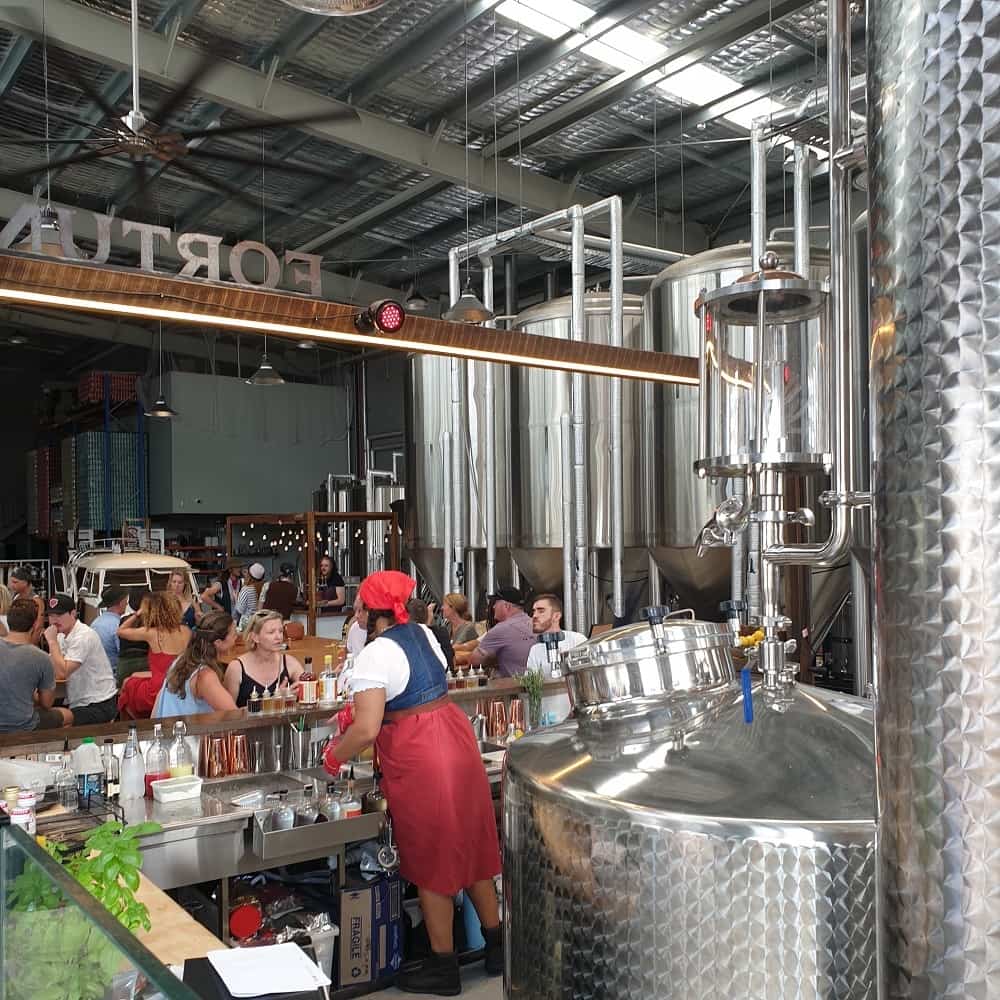 Our Land and Sea Brewery Experience
In a nutshell, we can't wait to go back. The brewery is in a gorgeous space with trendy industrial feel furnishings. Credit to the wonderfully friendly staff who are so skilled and energetic, making every guest feel welcome with a bright smile.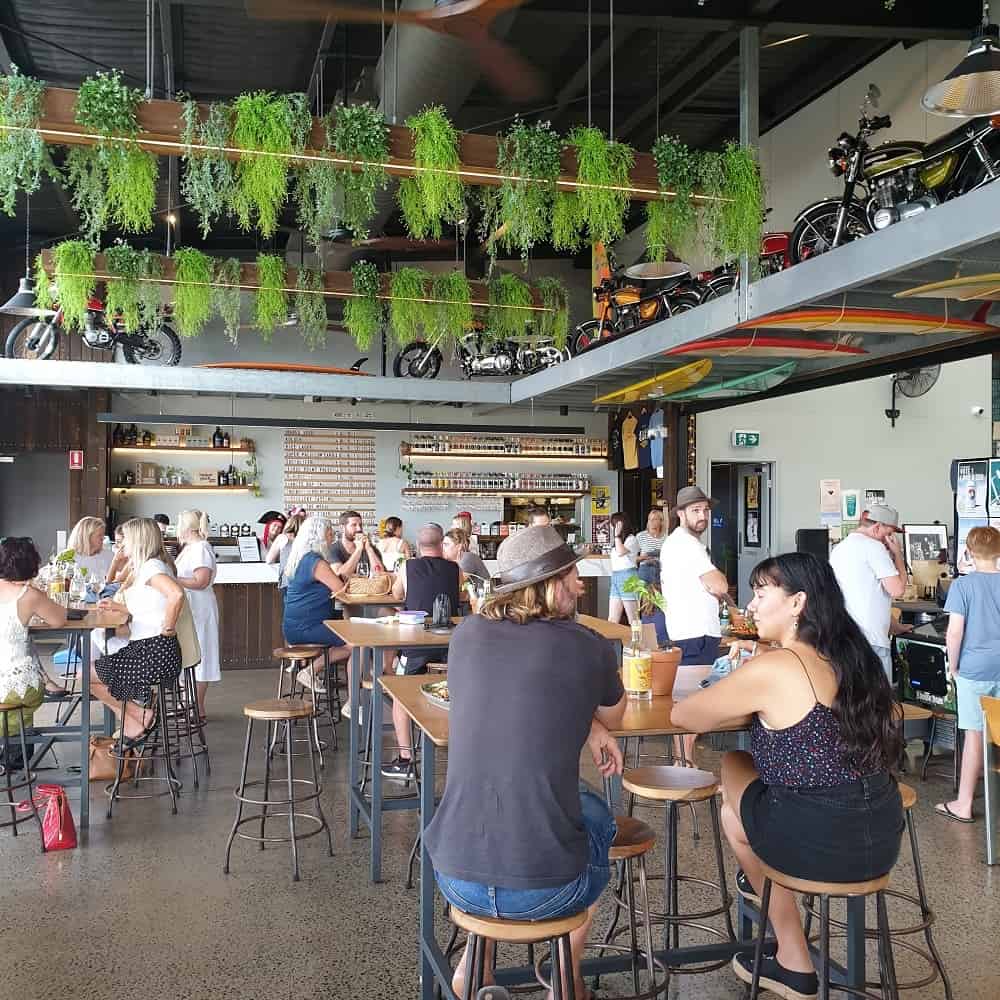 Beautiful people from all over the coast converge on this contemporary brewery and it is obviously a favourite of a well-heeled Noosa crowd, without any pretentiousness.
The delicious food complements the richly refreshing beers and makes for a perfect all-round experience. We got to sit and chill for a while and the kids built giant Jenga and left us alone for once haha!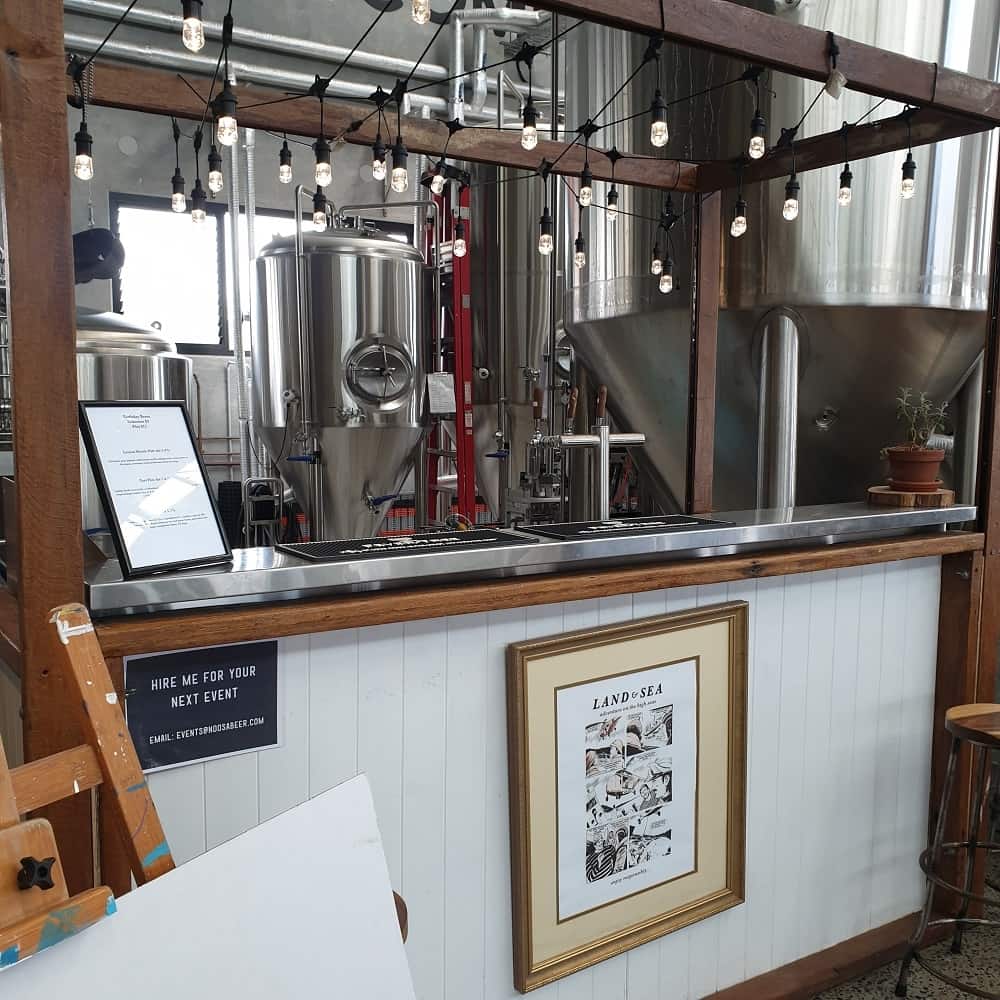 The Land and Sea Brewery Verdict
Definitely give this place a go. If you like your beers cold and your atmosphere electric, visit on a Sunday arvo for a refreshing session. For young and old, families and dog owners, Land and Sea will tick your boxes.
What's your favourite Sunshine Coast Brewery?
To check out other amazing breweries on the Sunshine Coast click here;
Accommodation in Noosa Near Land & Sea Brewery
If you would like to stay for the weekend and explore the Noosa region then check out these places.