Ever heard of the Glass House Brewery? We hadn't until a couple of day's ago so we thought we would give it a try.
As the name might suggest, it is actually not anywhere near the Glass House Mountains but situated in the small town of Forest Glen near Buderim.
I can't believe the amazing breweries our Sunshine Coast has and this one was an unexpected surprise.
Read on to find out our thoughts and everything about this little hidden gem.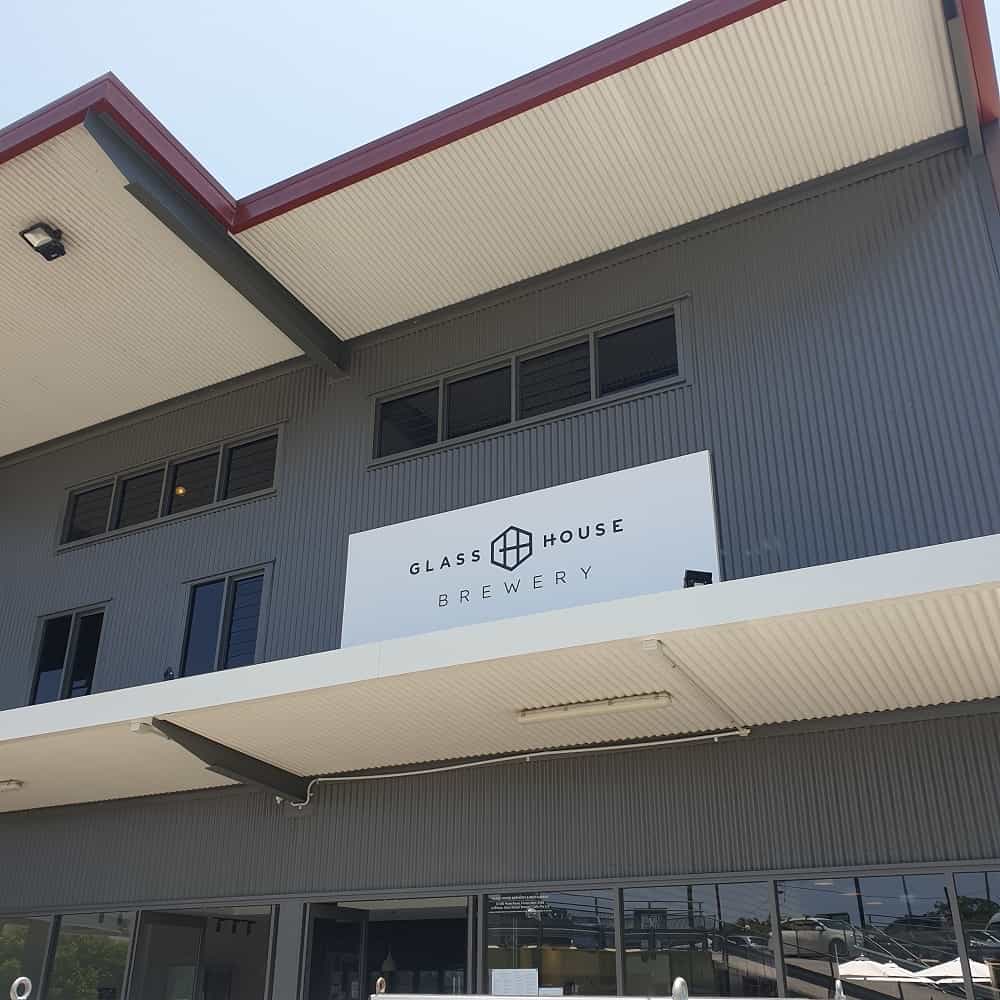 Where is the Glass House Brewery Located?
This craft beer brewery is situated in Forest Glenn amongst the vast array of organic stores, organic butcher and health food stores, which seems like an interesting setting for a brewery.
Address – 8/330 Mons Road, Forest Glenn Queensland, 4556.
Getting here is quite easy because it is right off the Bruce Highway. The brewery has a white sign at the front.
See the map for location.
If coming from Brisbane take the Forest Glenn exit and drive into the Kunara organic shops area, heading to the far left corner of the carpark.
Glass House Brewery Opening Hours
The hours of business are as follows;
Monday & Tuesday – Closed
Wednesday & Thursday – 11 am till 9 pm
Friday & Saturday – 11 am till 10 pm
Sunday – 11 am till 9 pm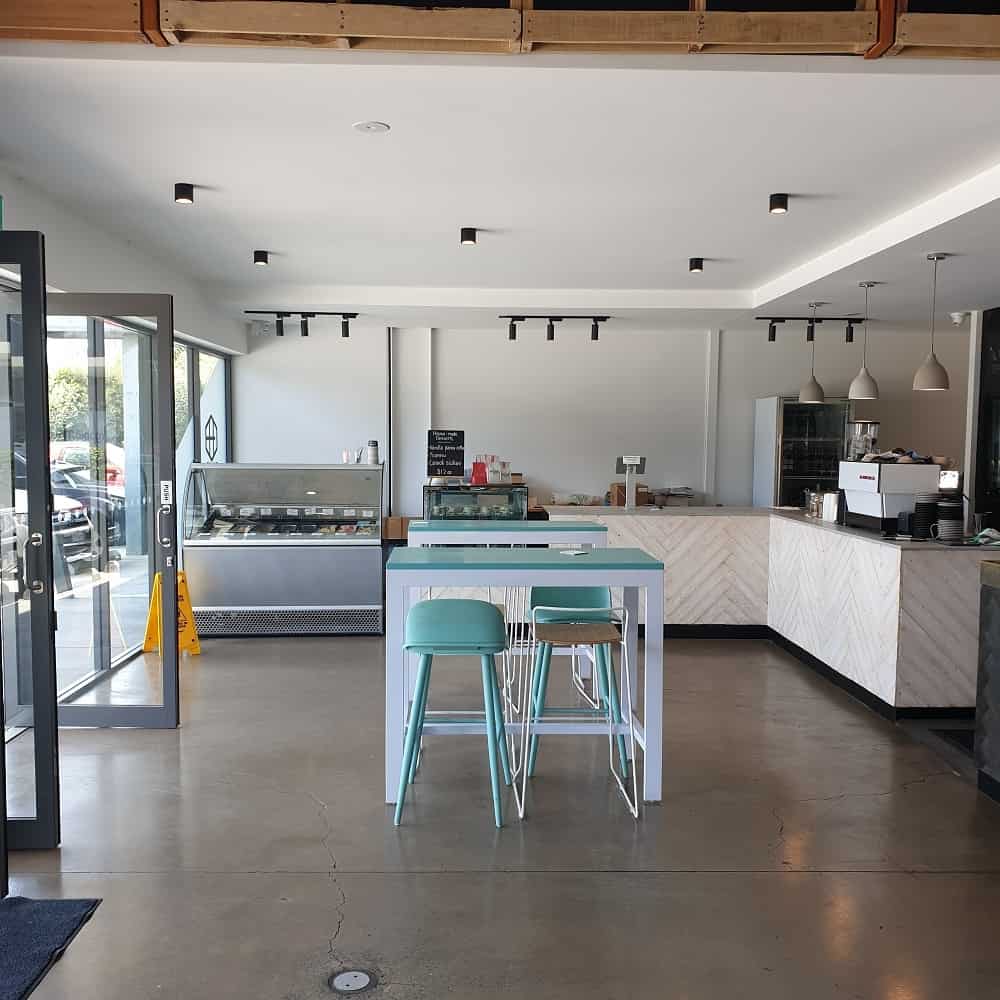 Is Glass House Suitable for Children?
Well yes! The venue has a very large space, inside and outside.
Their venue doesn't have a playground or a designated kid-friendly area but they do have a games section.
Games such as snakes and ladders, hangman, fishing and some other games and toys for the little ones.
This managed to entertain our 4 for an hour or so, but luckily ours were the only kids there. I feel like the "kid-friendly-ness" of Glass House could be vastly improved with the addition of a small play area, a slide and a sandpit perhaps out in the beer garden.
Is the Brewery Suitable for Pets?
No, sorry, it has a restaurant so no pets.
The Glass House Craft Beers
Let's show you the craft beer list that the brewery creates. They sure do have some exciting varieties to cater for all tastes.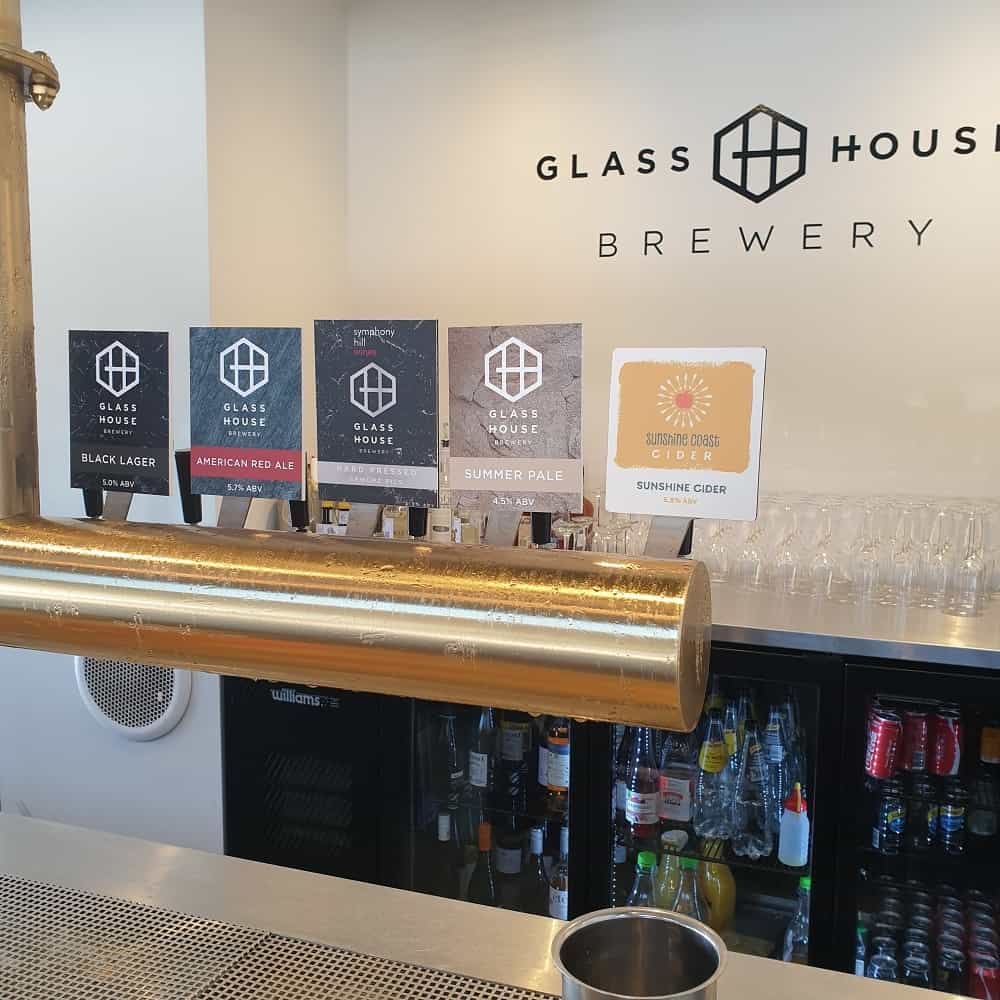 As you walk up to the bar they have everything you need on taps which are labelled with descriptions and beer strength.
Here is their core range of beers brewed on-site:
1 – Light
A light Session Ale.
ABV – 3.0%
IBU – 10.6
Schooner – $7
2 – Summer Pale
The Australian Pale Ale, this was very easy drinking and refreshing.
ABV – 4.5%
IBU – 28
Schooner – $8
3 – Original Draught
A classic Australian Bitter Beer. Great tasting and the perfect beer for a hot summers day.
ABV – 4.2%
IBU – 21
Schooner – $7
4 – Premium Larger
The Pilsner style beer.
ABV – 4.8%
IBU – 35
Schooner – $9
5 – Black Lager
A Czech Dark lager.
ABV – 5.0%
IBU – 27.5
Schooner – $9
6 – IPA
The West Coast India Pale Ale. Super strong and intense – perfect for craft beer lovers.
ABV – 6.2%
IBU – 55
Schooner – $10
If you are having trouble deciding which beer I should try then the choice is simple, just grab a paddle.
Tasting Paddles come with your choice of 4 x 200 ml Glass House beer samples and cost $18.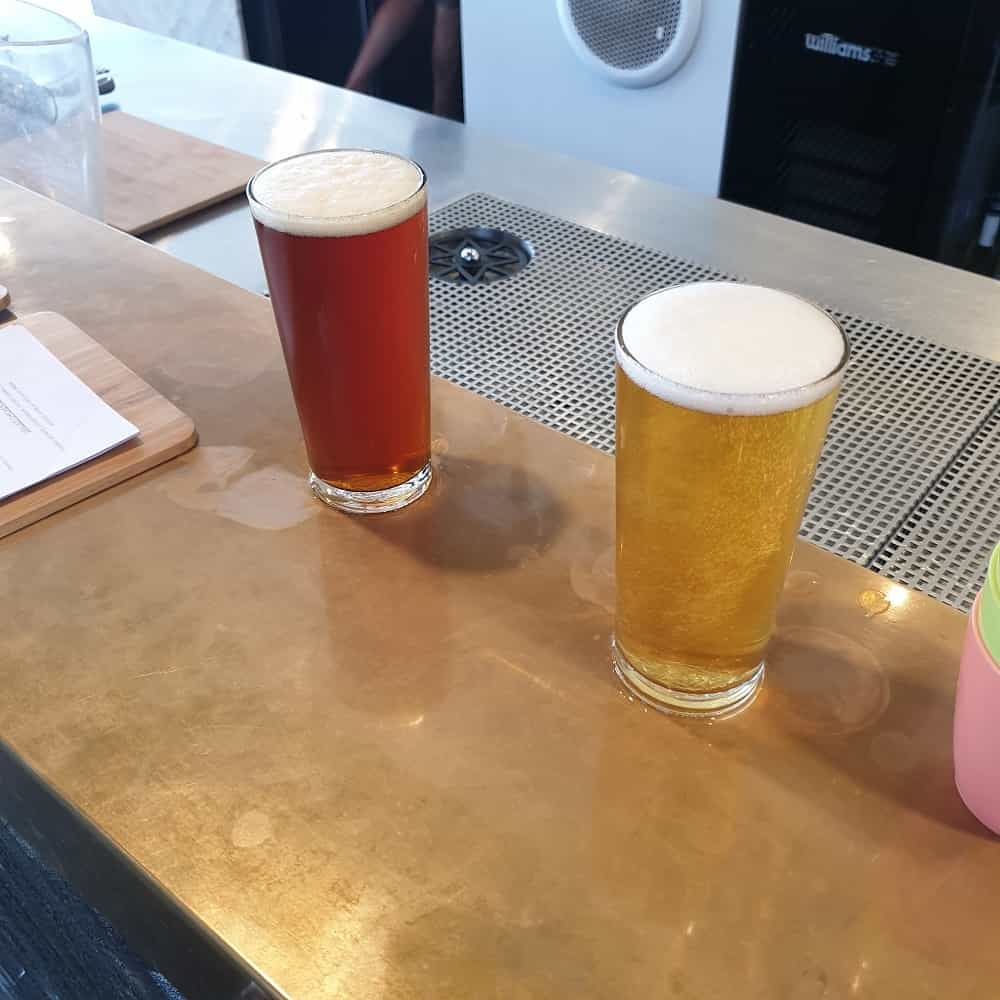 Limited Release Range of Beers
Hurry in for the limited release range and try something new like the;
1 – Strawberry Sour
A Kettle Sour Fruit Ale.
ABV 4.0%
IBU – 5
Schooner – $10
2 – American Red Ale
Style is the American Red Ale.
ABV – 5.7%
Schooner – $9
3 – Hard Pressed Pilsner
A Specialty Beer.
ABV 5.3%
Schooner – $10
The Brewery/restaurant has free cold water in jugs so stay hydrated and drink in moderation.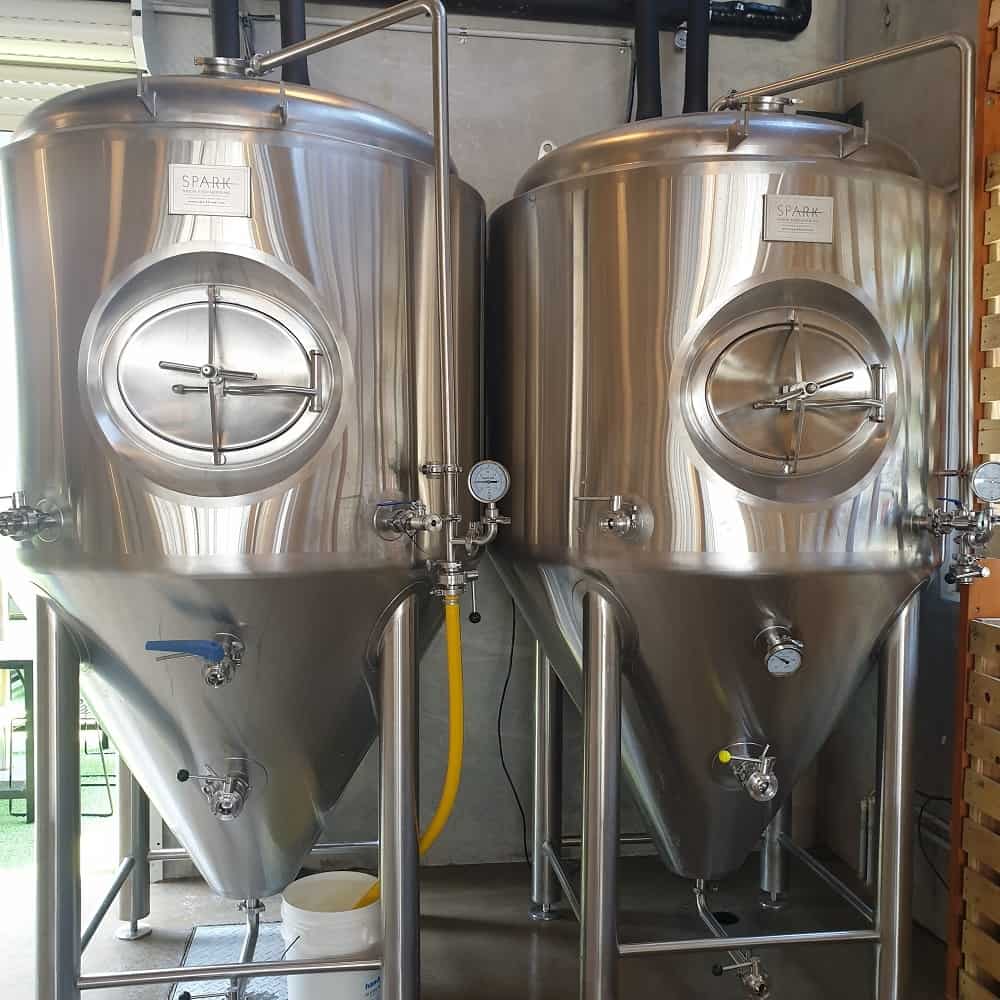 Other Varieties of Drinks Available
If you don't like beer then they have you covered also. They carry a range of Sparkling, white, rose and red wines from $9 or $42 dollars a bottle to $12 a glass or $60 dollars a bottle depending on the variety.
They can make delicious cocktails to tickle your fancy that cost around $18 and have a cider or spirit costing $10 for your whiskey, vodka and rum drinks.
Non – Alcoholic Beverages at the Glass House Brewery
Not drinking? Have to drive? Then try their range of Soft drinks and hot drinks.
Soft drinks cost around $4.50
Hot drinks such as Padre Coffee and tea cost around $3.50 – $4.50
Glass House Restaurant
The Brewery also does food and is renowned for its awesome pizza's. And let me tell you the pizza is like nothing else on the coast. I don't know how they get the base so perfectly light and crispy, but it was amazing.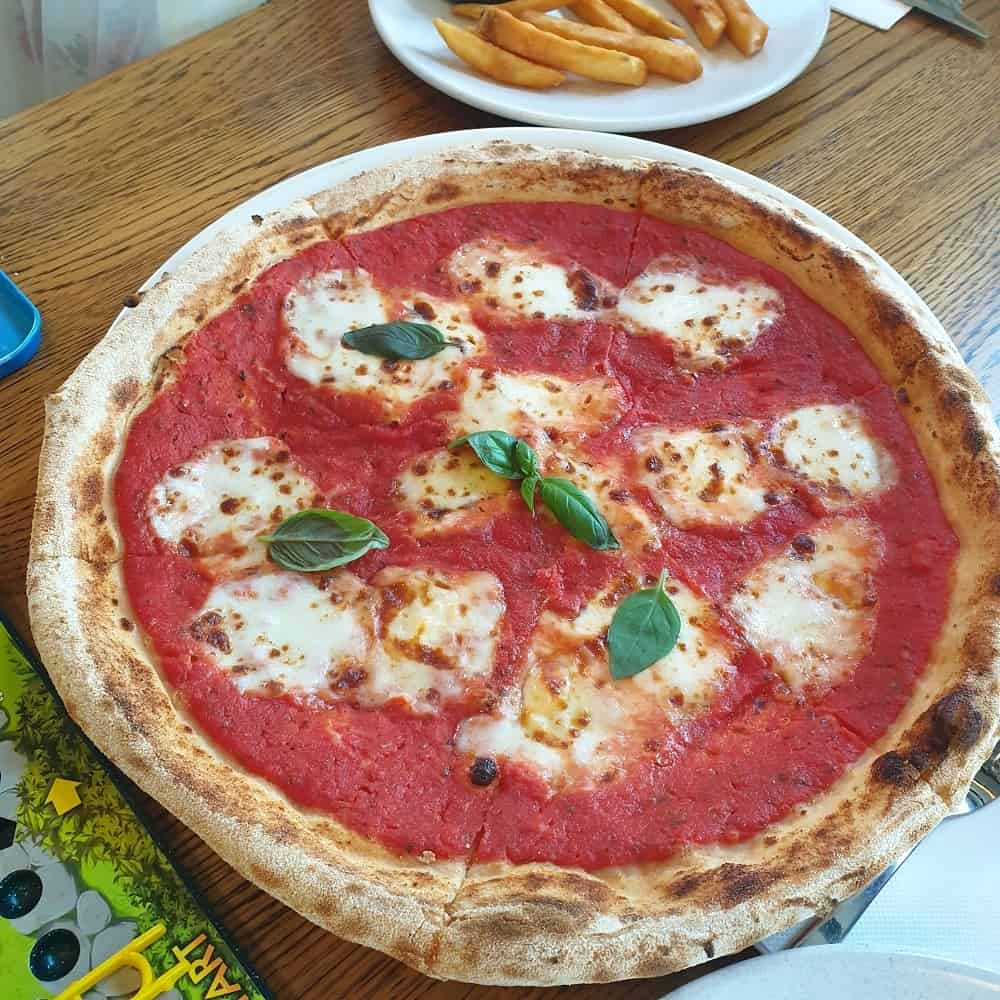 See below the main menu, prices are reasonable and all the food that we experienced was superb.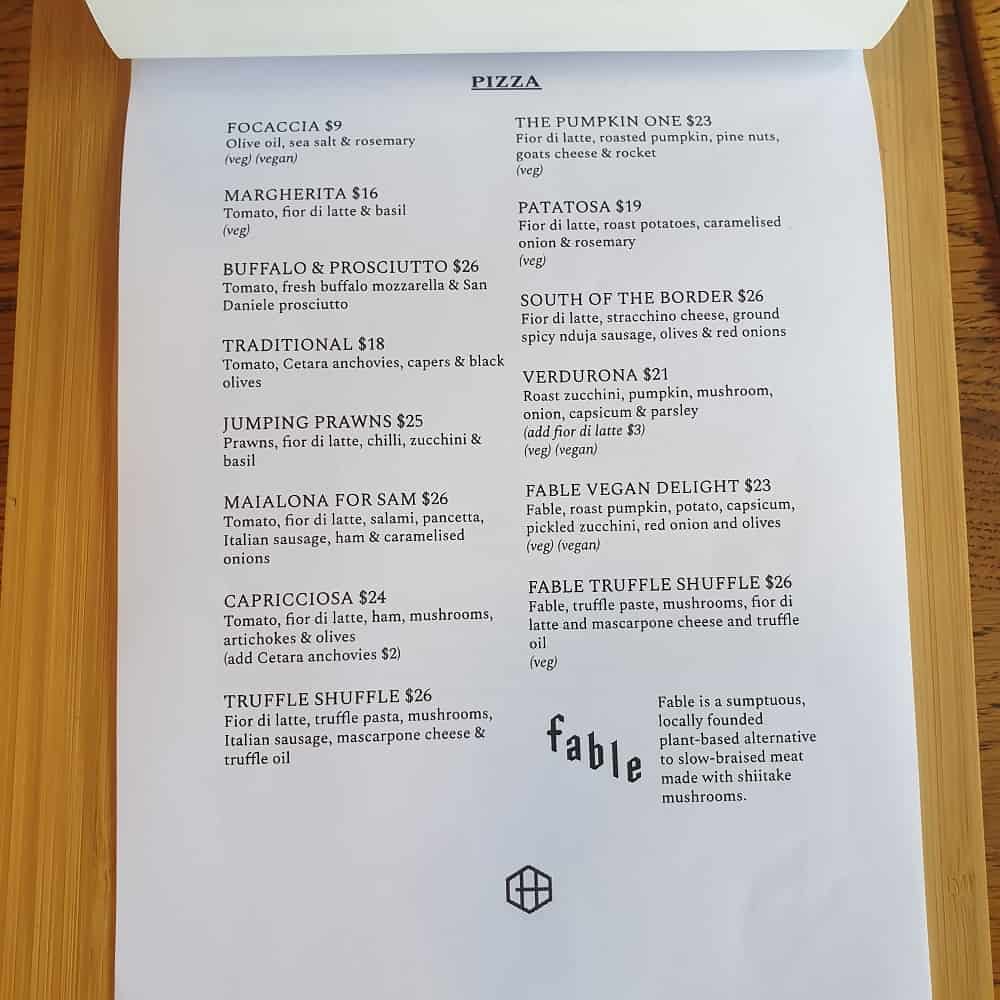 If you can they have amazing weekly specials such as:
Wednesday kids eat free! (From 5 pm)
Thursday 2 for 1 Pizza! (From 5 pm)
Friday Happy hour & $10 Margherita Pizza (2.30 pm – 5.30 pm)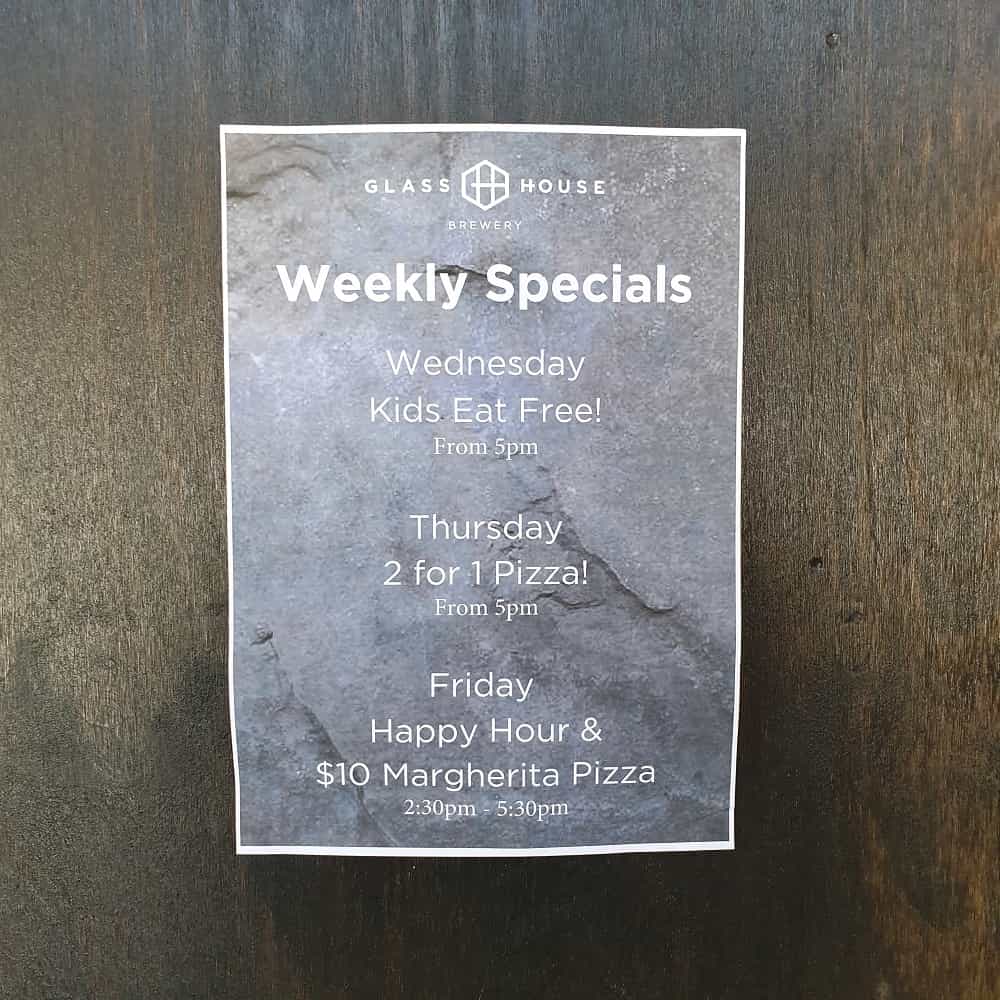 They also have $15 dollar lunch specials Wednesday to Friday from 12 – 2 pm.
Glass House also caters for kids with pasta dishes, pizza, chicken fingers and fish and chips.
If you want more they serve Gelato and desserts at the front including Vanilla Panna Cotta, Tiramisu and Cannoli Sciliani.
The food at the restaurant was so delicious we will definitely be back to try the other dishes.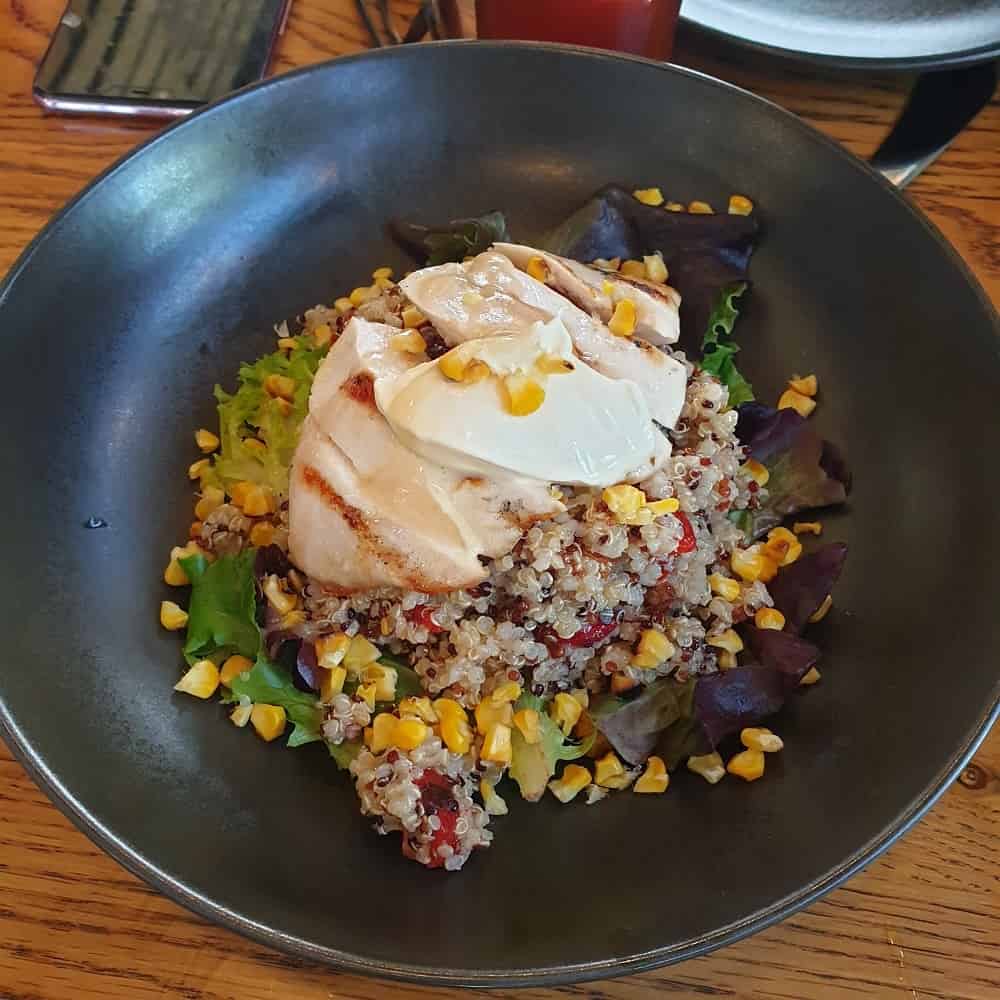 Live Music at Glass House
The brewery has live music on Sunday's featuring super talented local acts.
Glass House Brewery Facilities
Glass House has ample car parking spaces. You can park right at the establishment.
Toilets are extremely nice, very clean and new with change tables in the female toilets.
They have EFTPOS and high chairs on site.
Our Glass House Experience
We enjoyed our first visit to the local brewery after only finding out about it a week ago.
First impressions we noticed the premises was very open plan design with extremely high ceilings, polished concrete floors, large doorways and windows inside creating a very cool and ambient place to hang out.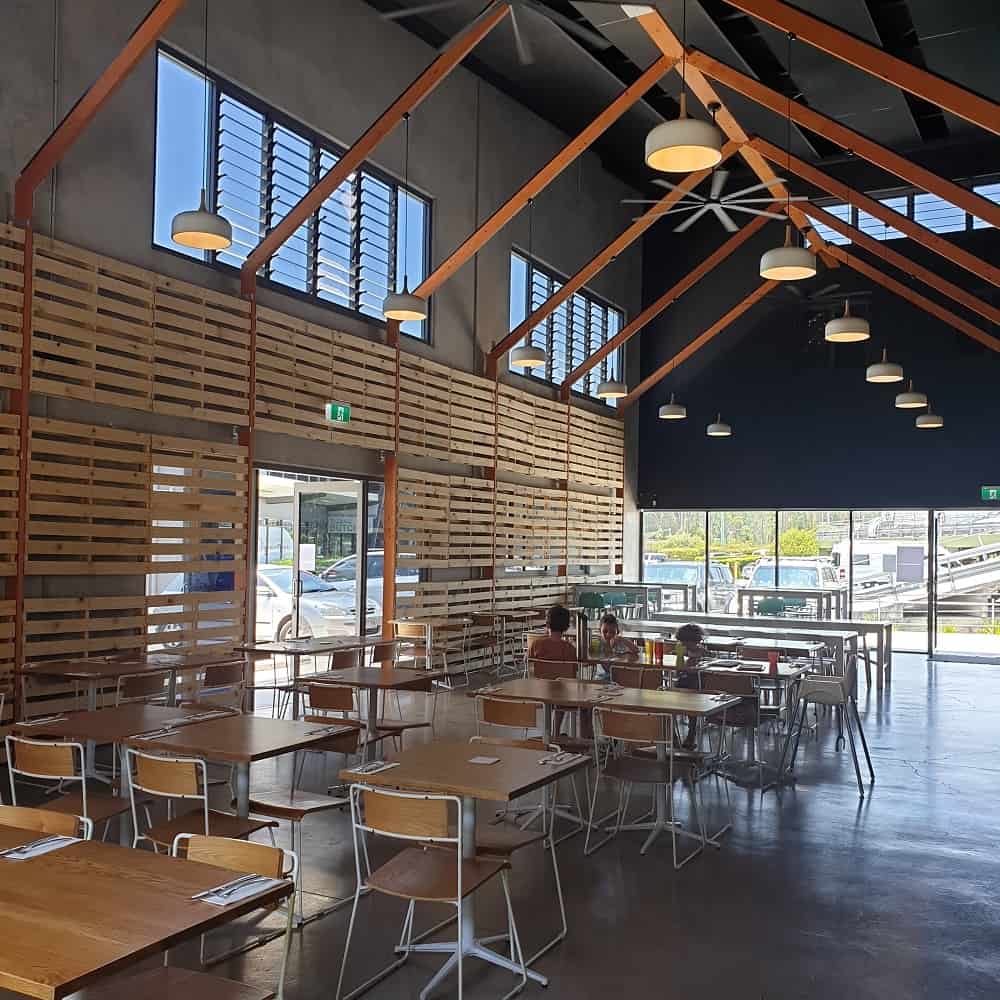 The outside area has hanging lights, outdoor umbrellas, green imitation grass and nice big tables and chairs great for beer o'clock and a function.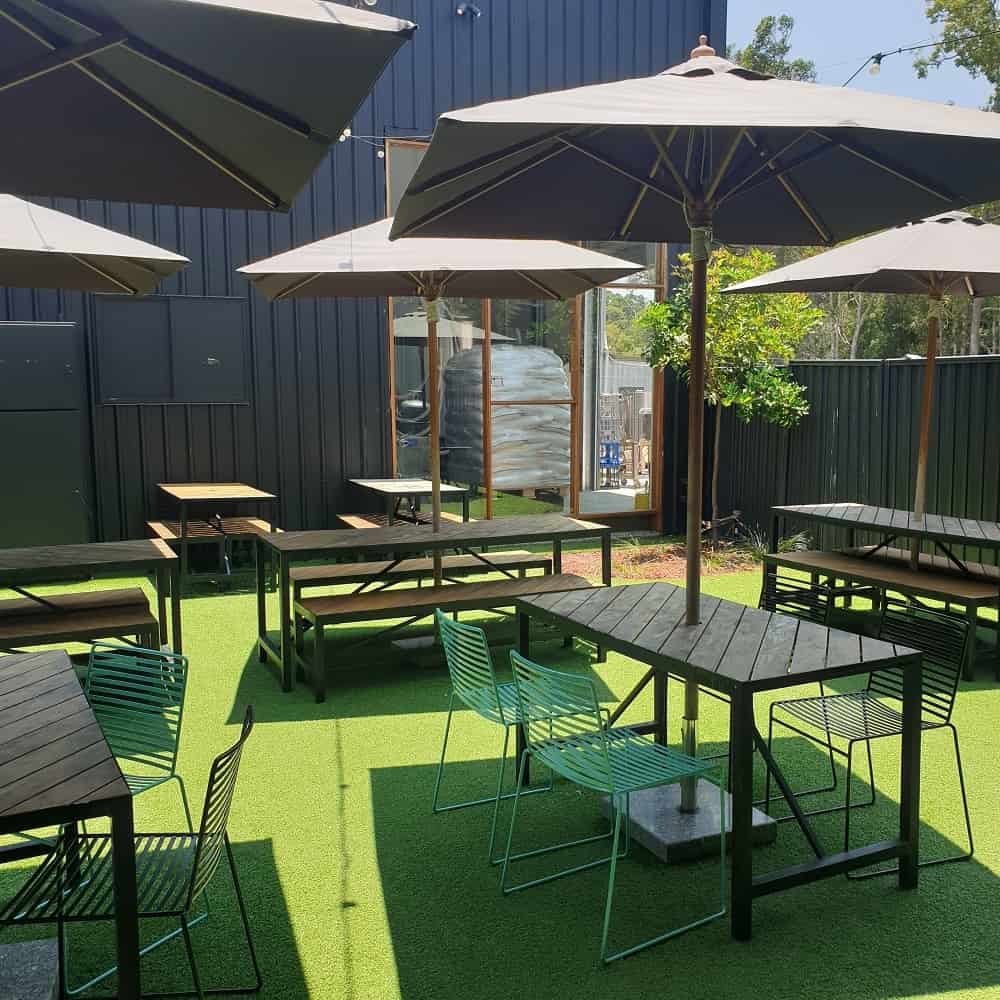 From the easy-drinking lager to the intense IPA we thoroughly enjoyed tasting their creations. They basically cater to a whole range of customers no matter what you like.
Our kids loved the food and our dishes were fresh and professionally made.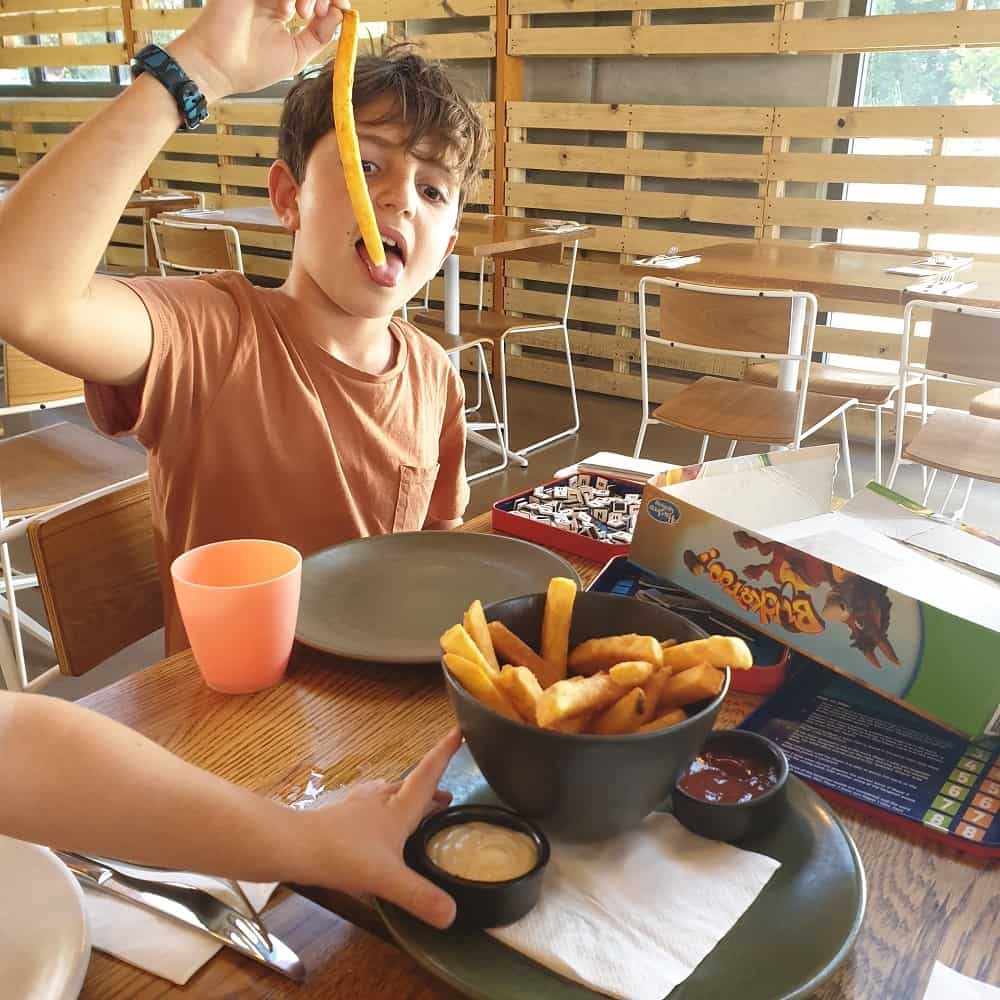 The only improvement could be adding a small kids play area out the back that would entertain most kids for a little longer (maybe in the future). They can get a little noisy especially if a large group were to attend.
From the beginning to the end the experience was satisfying and we really enjoyed our visit. I felt sorry for the guy on the day we visited he was obviously understaffed but handled it like a champ. But others might not be so forgiving so I hope they work out their staffing issues so that doesn't happen again.
Glass House Verdict
We recommend anyone living on the Sunshine Coast or visiting this beautiful region that you spend the afternoon at this brewery.
The beers get you pumped, it has ambience (the crates against the wall add a special touch).
You must order a pizza they are out of this world.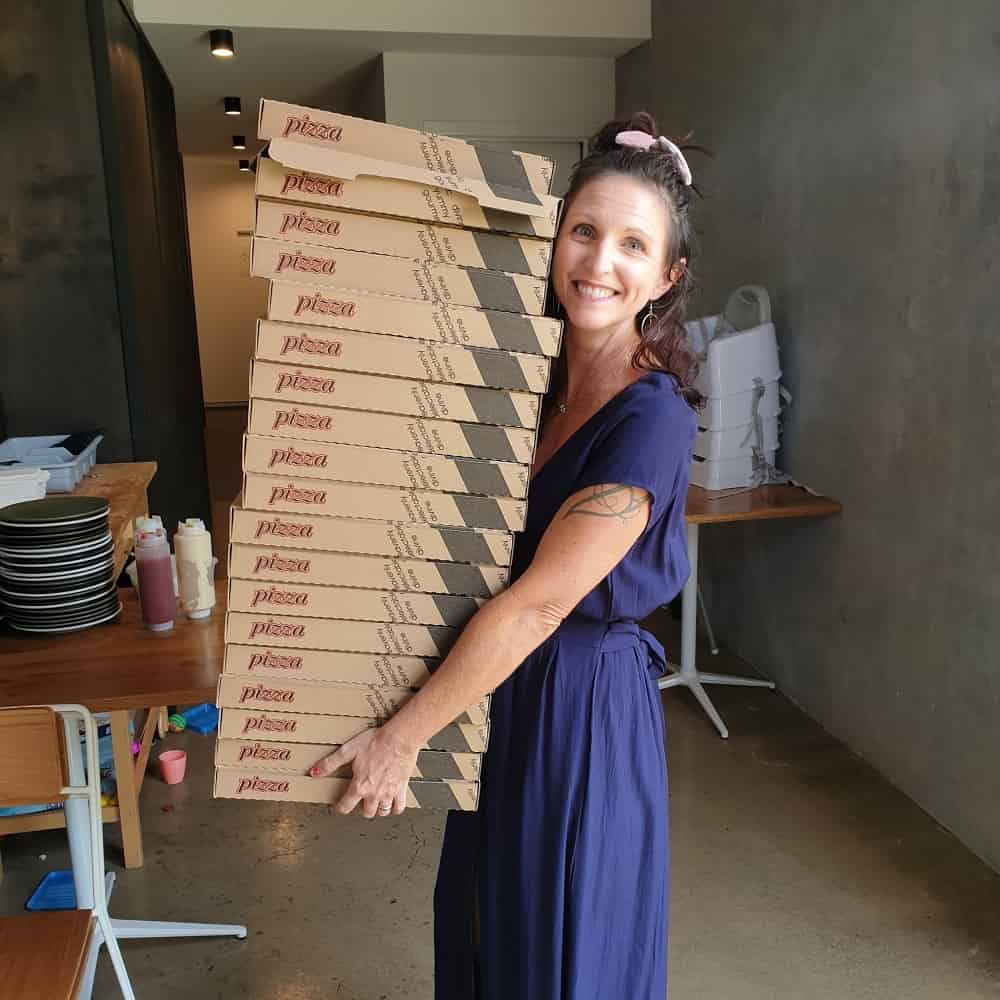 It is centrally located making it easy to access via taxi or your own transport.
Suitable for kids – games
Amazing food
Great variety of tasty beers
Reasonably priced with awesome specials
Relaxed atmosphere and ambience
Live music
High ceilings (cool temperatures)
Outdoor courtyard
Central location
Put Glass House brewery and restaurant on your list of things to do on the Sunshine Coast.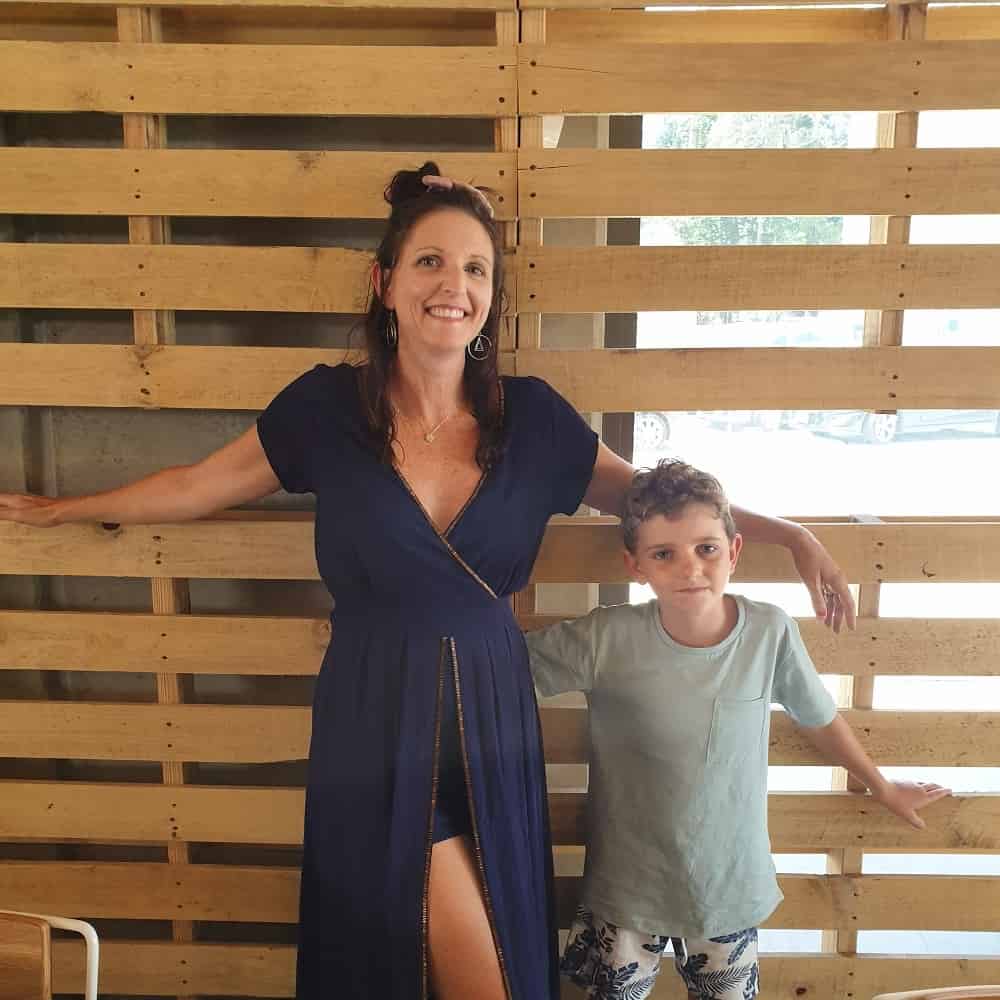 If you would like to read our other reviews of our Sunshine Coast adventures click below:
Eumundi Markets
Montville Village
Where to Stay Near Glass House Brewery
If you decide you would like to stay nearby then here are a few places that may suit your style.
Suitable for couples this Bed & Breakfast is a romantic little spot to rest your head for a night or two.
This motel offers comfortable rooms with a kitchenette, airconditioning and an onsite pool located in the heart of beautiful Tanawha.