Travel towels, compact towels, quick-dry towels, sand repellant towels. They all have one thing in common. Everybody needs one! The best travel towel in the world will improve your life. I was embarrassed at the beach this summer to see everybody still using their drab, sand attracting, heavy, bulky terry cloth towels. Get on the towel revolution!
Find out how you can win one of the best travel towels in the world at the end of the article!
Thankfully, Gadsventure has compared our top 4 to bring you the best travel towel in the world. We put the towels through stringent testing during our latest adventure through Southeast Asia. Our team applied the following categories using our kids as guinea pigs in pools, oceans and showers all over the continent.
Most Compact Travel Towel – Dock and Bay
Most Absorbent Travel Towel – Tied Evolve and Tesalate
Best Quick Dry Travel Towel – Evolve
Best Value Travel Towel – Evolve
Prettiest Travel Towel – Tesalate
Best Eco Travel Towel – Evolve
Best Sand Repellant Towel – Tied Tesalate and Evolve
Overall Winer Best Travel Towel in the World – Evolve
What is The Best Travel Towel – Shortlist
These awesome companies made our shortlist of the best travel towels in the world. You can click on the links to go to their individual reviews:
1. Most Compact Travel Towel
Sandcloud towels are made from a sustainable Turkish cotton fabric which makes them hardly heavier than a sarong. They can pack down pretty small and are an excellent entry into the most compact category.
However, the most compact travel towel here is the Dock and Bay. These beauties can easily slip in your handbag they are so small and have so little impact. Travelling with 4 young kids, I loved that I could always have one or two on hand. And they are so soft, they also doubled as blankets on plane flights and overnight train trips.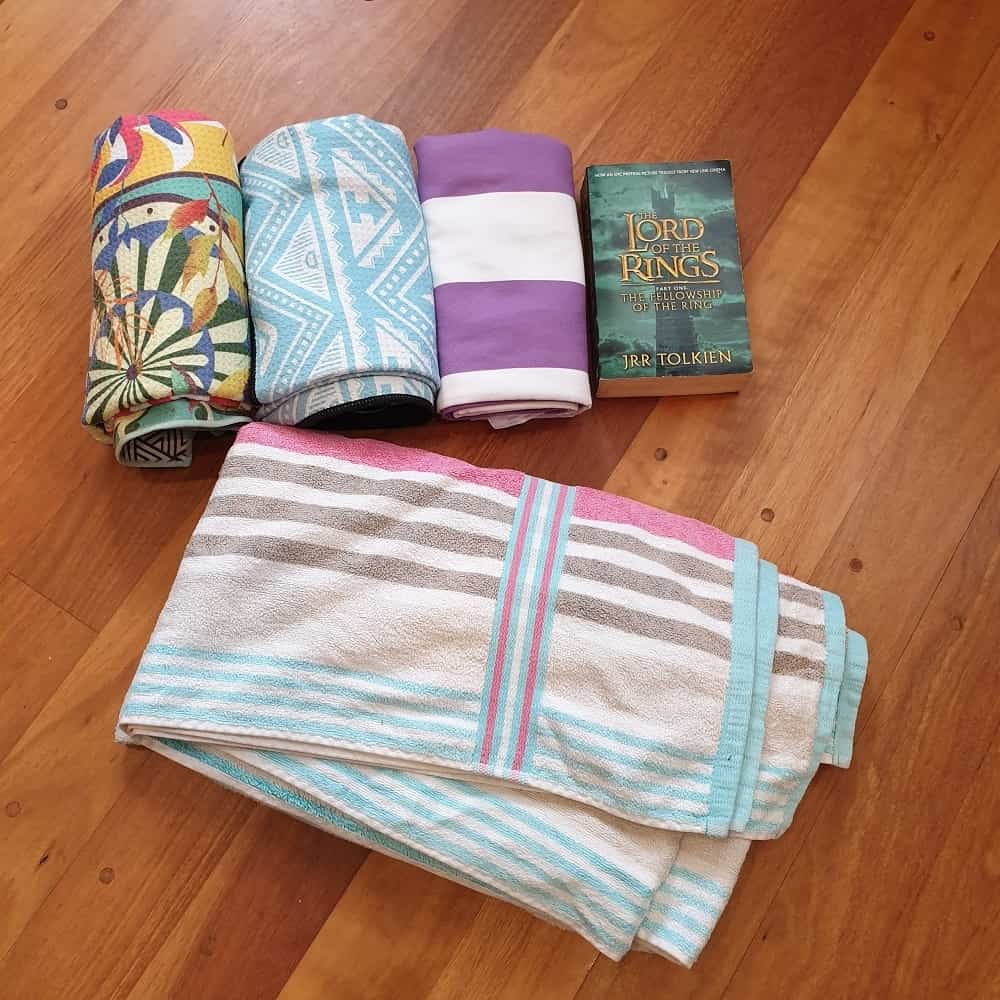 2. Most Absorbent Travel Towel
You just can't beat the superior waffle weave that Tesalate and Evolve both boast here. And these 2 companies are at the top of their game.
The waffle lets them hold around 1 litre of water, without dripping. What this means in terms of practicality is that you can take 1 towel to dry an entire family! I kid you not!
3. Best Quick Dry Travel Towel
Having the quickest drying towel is so important when you are travelling. Being able to ensure your towel is totally dry before stuffing it into your suitcase or backpack is so important. We tested these towels for their ability to quick dry by thoroughly using them all day at Waterbom Waterpark in Bali, and then hanging them all out to dry at our homestay at Padang Padang Beach.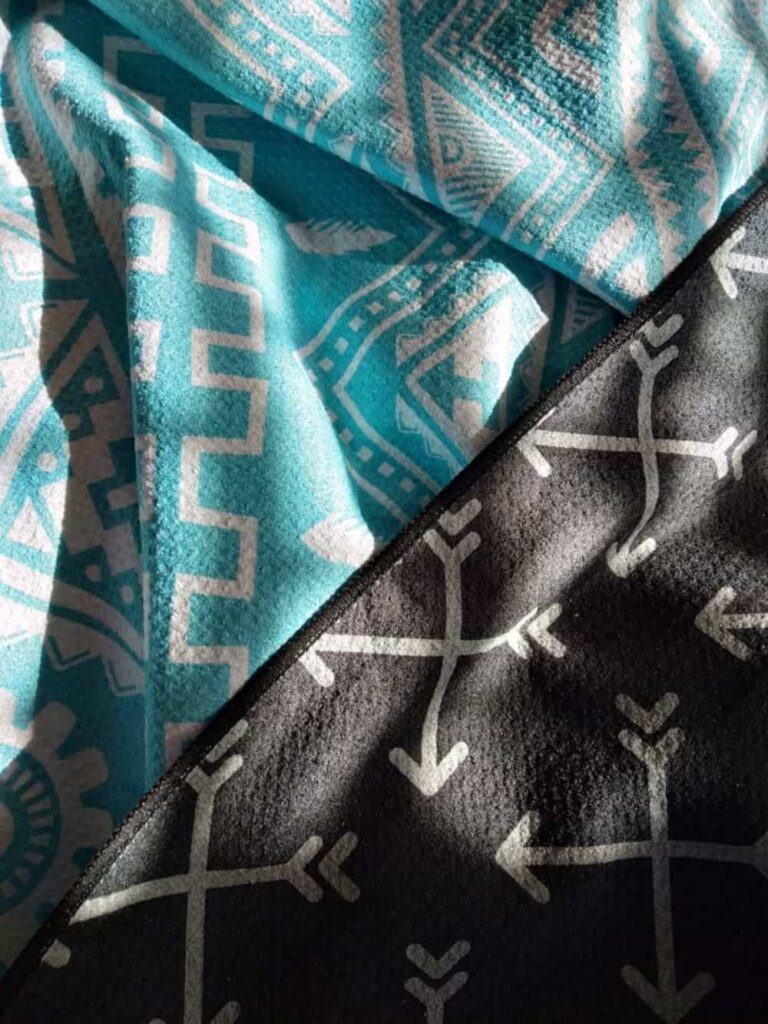 Evolve is a slightly thicker towel than the Dock and Bay or Sandcloud, however, the waffle weave is complemented by an innovative black backing which attracts the sun and evaporates the water much more quickly. This results in not only a quick-drying towel but a COMPLETE dry as well. Evolve towels were the only ones that felt TOTALLY DRY after hanging in the sunshine for under an hour.
The waffle weave and the Ecolite technology also has the added benefit of being antimicrobial as well, which is also claimed by Tesalate with their Absorblite fabric. Both of these excellent towels hardly need washing and never smell.
All of the towels tested dried in less than half the time of a conventional terry cotton towel.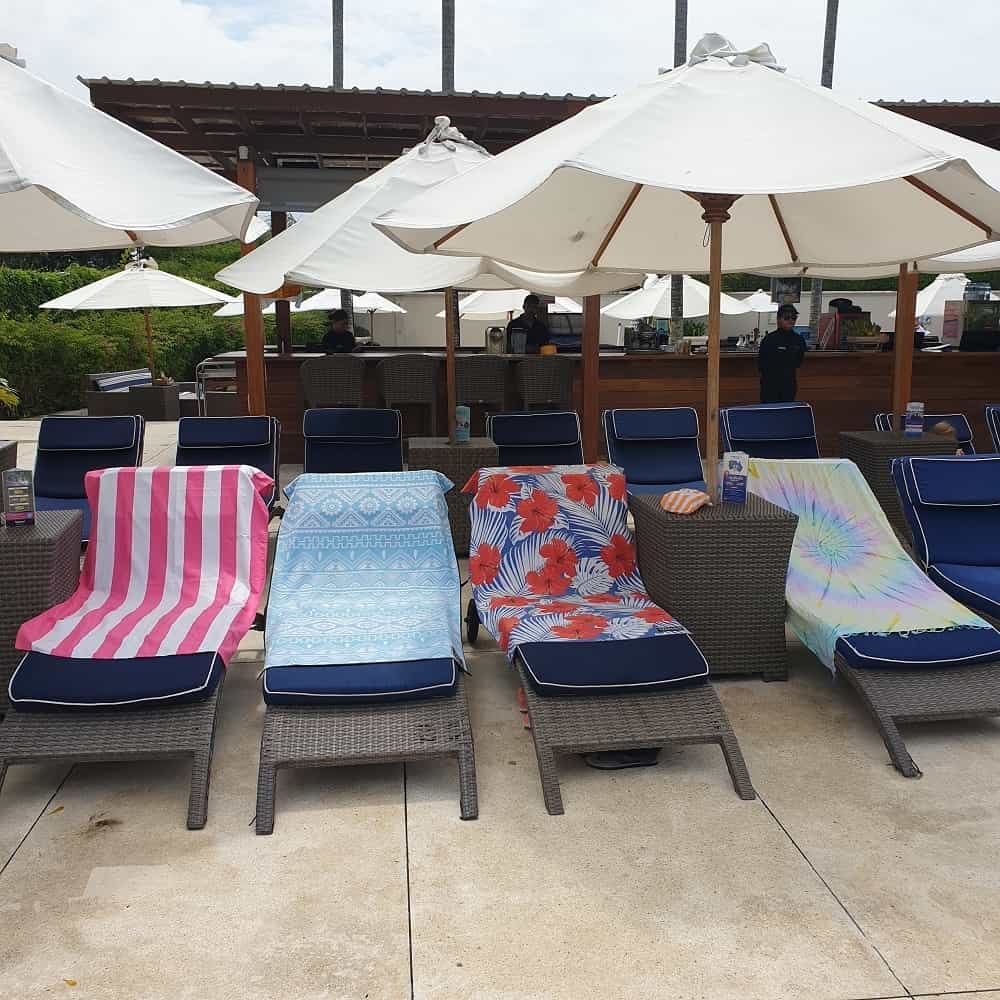 4. Best Value Travel Towel
Here are the entry-level prices in AUD for our top 4 travel towels:
Dock and Bay $38 with free shipping always
Sandcloud $65 with free shipping over $100
Evolve $69 with free shipping over $75
Tesalate $79 with free shipping to Australia
As you can tell, Dock and Bay is a clear winner here.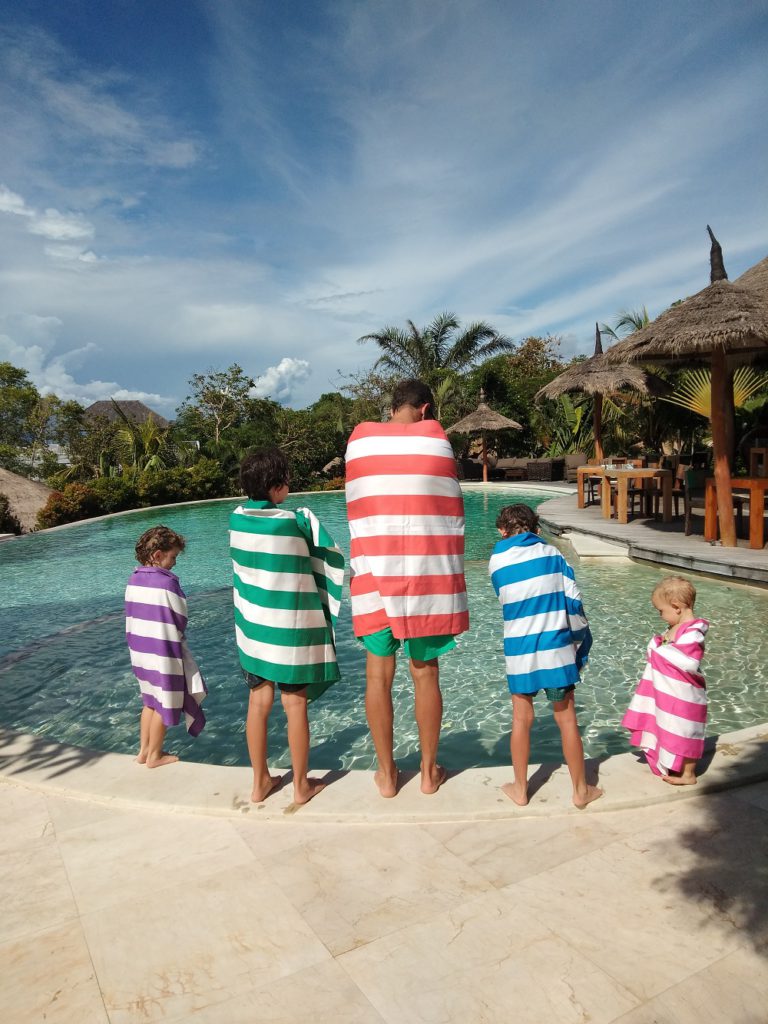 You can often grab a discount code for 10 – 15 % by signing up to each company's email list prompt on their website.
5. Prettiest Travel Towel
I just love the designs of the Tesalate towels. Their awesome range of over 35 different colourful patterns makes them the most aesthetically pleasing of all the towels. They always attract attention with their vibrant colours and haven't faded at all despite one year of constant use.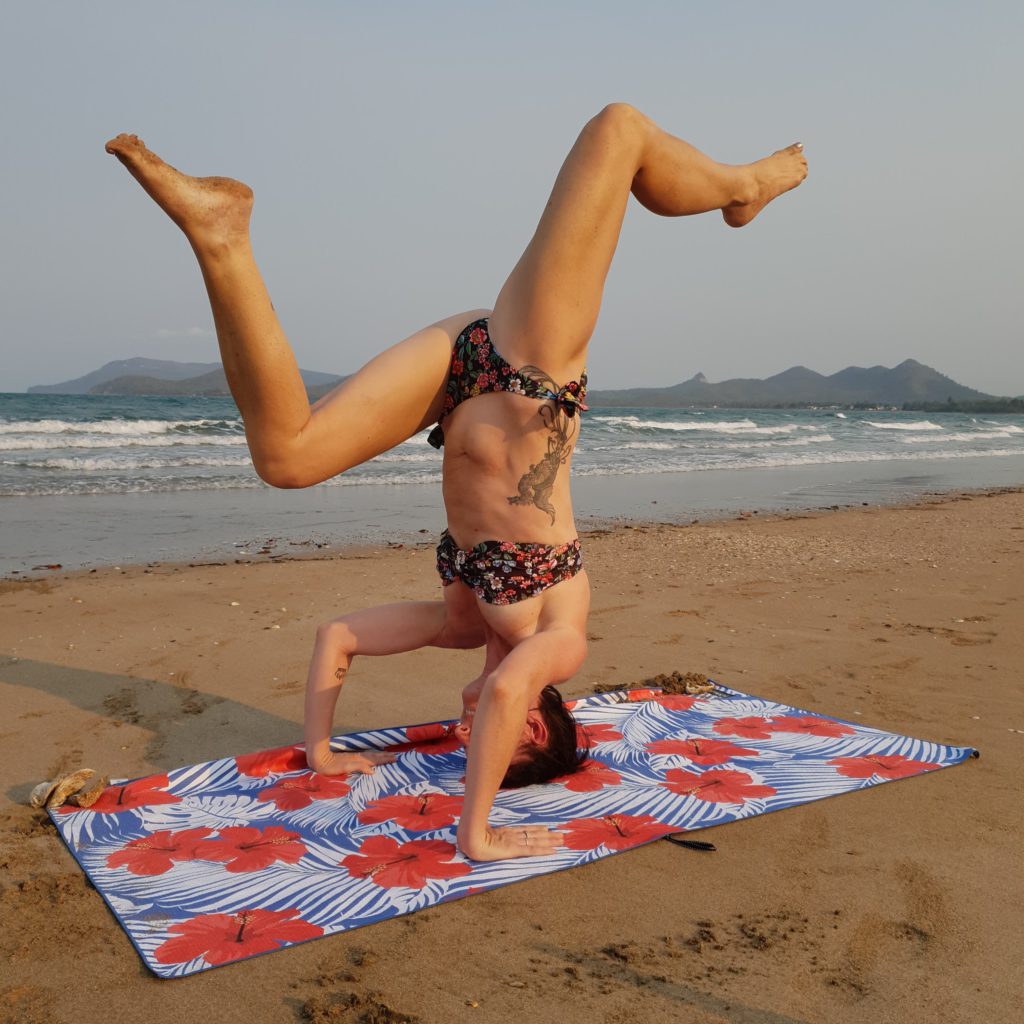 Shout out here to Dock and Bay whos classic stripes in gorgeous bright colours are always recognisable.
6. Best Eco-Friendly Travel Towel
Check out these amazing company's credentials! These guys are all striving to make the world a better place.
Evolve was founded by an environmental science teacher who is committed to helping the planet. This guy invented the revolutionary Eco-lite fabric which uses no less than 20 plastic water bottles per towel! Evolve Travel Goods also makes organic tees, and reusable stainless steel water bottles all while donating 10% of their profits to environmental charities.
Sandcloud sends 10% of their company profits towards marine conservation charities and the #savethefishies fund. Reusable waterbottles, stainless steel straws and tote bags also populate their shop, and they are all made from recycled plastic that thankfully hasn't ended up in our oceans.
Dock and Bay are doing their bit by making 100% recycled boardshorts from plastic that would have floated away in the sea otherwise. Their towels contain 30% fabric made from plastic, and they have recently released a 100% recycled towel range. This is very exciting! They also use biodegradable cornstarch material for their bags during shipping.
Tesalate disappointingly makes no mention of sustainability or eco-friendly activity. Maybe they are working towards this.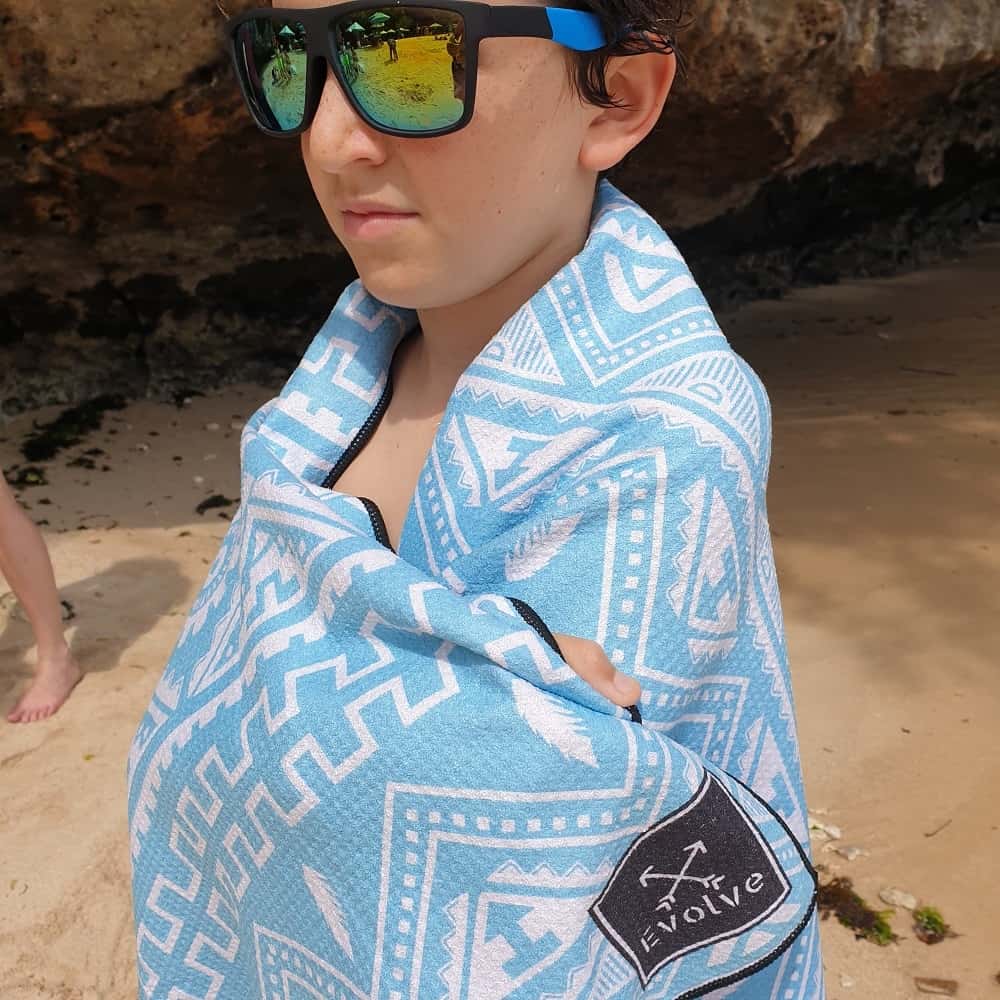 Anyone who uses recycled plastic waterbottles is a winner here, especially with 1 million more plastic bottles being sold every minute.
Evolve gets our vote for doing the most work here.
7. Best Sand Repelling Travel Towel
Tesalate was the original towel we saw with the waffle fabric which just completely repels sand. Even a wet bum sitting on the towel does not mean a pile of sand stuck to underneath. Evolve also features this wonderful tech and means you leave the sand where it belongs, at the beach and not in your car or home.
Evolve and Tesalate have both absolutely revolutionised beach days and we are so grateful! I will never buy terry-towelling beach towels again!
So, What is the Best Travel Towel in the World? The Winner Is……….
Evolve Travel Goods! These guys have the best all-round package. They are a small family company who achieve amazing things in environmental protection. The Evolve towel is the most super absorbent, quick-dry and sand repellant towel on the market today and the price is still reasonable too.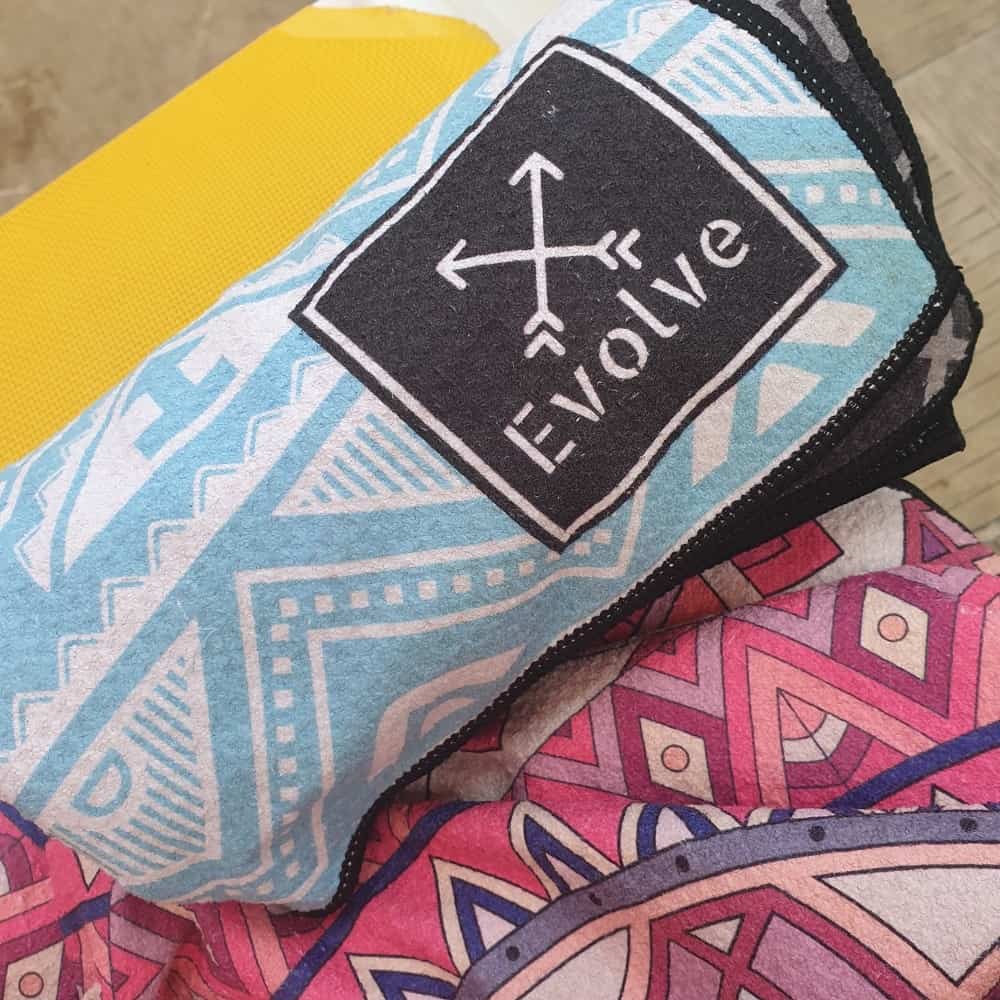 Win Your Own Evolve Travel Towel Today!
Make sure you enter your email on the popup box to go into the draw to win your very own eco-pack from Evolve Travel Goods. The winner will receive one Evolve Towel and one stainless steel water bottle.
If you are already on our email list, you are automatically in the draw! Prize drawn 29/02/2020
Evolve have just released 3 new designs which makes them a new contender for the Prettiest Travel Towel too!
The other way for you to get your very own Evolve Travel Towel – the best travel towel in the world, is to go to their website, of course, and buy one. Follow this link!
Naturally, travel towels are not just for travel but are great for home, sport, beach and pool in your 'normal' life too. And they make a perfect gift!