Australia is not all burning. By the time your trip to our beautiful shores is a reality, we will have recovered I promise. In the meantime, get planning so you can visit some or all of the best places to see in Australia. We need your tourist dollars and your loyalty. A trip to Australia, within these magical shores, is just what the doctor ordered. Tourism is the best way to contribute to the post-fire rebuild.
What are the Best Places to See in Australia?
No doubt you have seen heaps of these 'best places to see' lists when trying to plan your trip around Australia. I had too. The problem is, I never agree with their lists of the best places to see in Australia. To me, it seemed as if the authors had never even been out of Sydney. (You will note Sydney is absent from this list. It's not a bad place, but I am not a massive fan).
We recently travelled around our great country on a 12-month odyssey and can reveal an absolute wealth of places that will have you gagging for more. Australia is a wonderland of remote white sand beaches, palm-fringed shores, wildlife-rich rainforests, all the way to crown jewels of Uluru and the Great Barrier Reef. No country is as diverse or as hard to explore as this one. I feel so lucky that this is our home!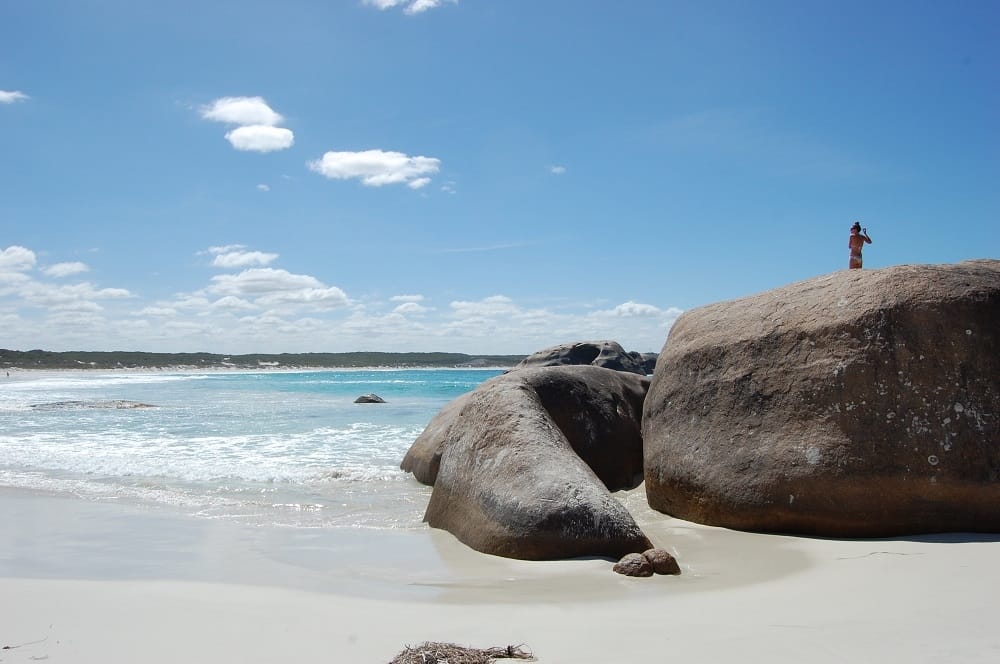 For most overseas visitors, you will only have a 3-month tourist visa or less. In 3 months, I recommend picking only one half, either east or west, and driving yourself as far and as wide as you can. Get out of the big cities. Sydney is NOT Australia.
This list comprises my favourites. The absolute best places to see in Australia. I have spent a good amount of time in each of them and highly recommend each. There are the big-ticket items that you will have heard of such as Uluru and the Great Barrier Reef, and then some top secret and super special spots that only a handful of people know about.
Best Places to See in Australia – QLD
Whitsunday Islands
I grew up here, and the Whitsunday Islands was my playground. How lucky am I?! From the stunning white sand of Whitehaven Beach to snorkelling with the fishes among the gorgeous reef and enjoying boat trips amongst the beautiful islands, the Whitsundays is heaven on Earth. Either stay at a luxurious 5-star island resort such as Hayman, grab an Airbnb on Hamilton Island, or make Airlie Beach your base and explore them all. There is something here for everyone.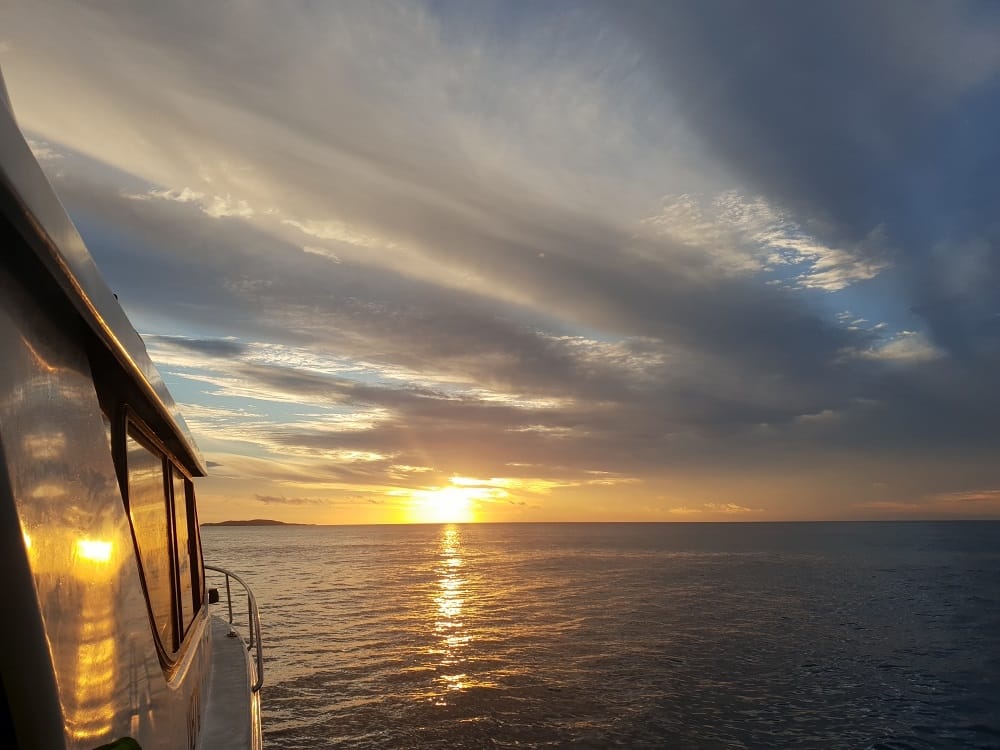 Where to Stay in the Whitsundays:
How to Get to the Whitsundays
There is an airport at Proserpine (Whitsunday Coast Airport PPP) 40km from Airlie Beach and one at Hamilton Island (HTI) so you can fly directly here from major Australian airports.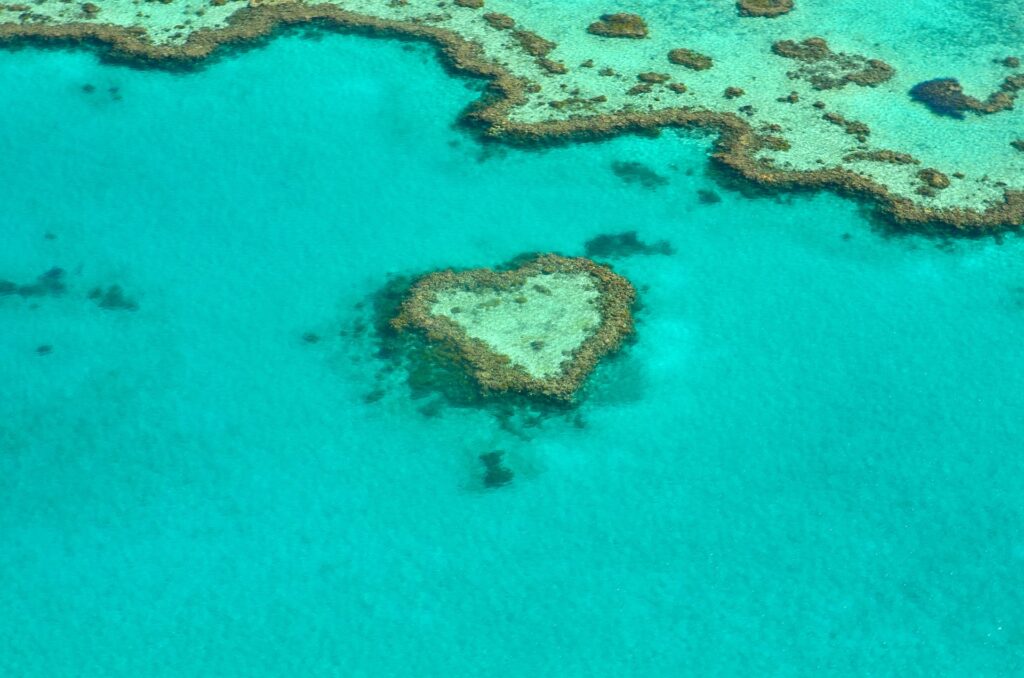 Great Barrier Reef
Getting to the proper reef is easiest from Cairns. No trip to Australia should be complete without a trip to the outer reef. And no self-respecting Aussie should say they have never been. It is our most famous landmark and a wonder of the world. The rich and vibrant soft and hard corals are presided over by millions of colourful fish. Snorkelling and diving here will take your breath away at the sheer beauty and diversity of the Great Barrier Reef.
Find your perfect daytrip to the outer reef from Cairns here:
You can even sleep overnight at the outer reef pontoon. Running down our coast all the way from Cairns, down to Bundaberg, this living breathing spectacle is a must-see.
Where to Stay Great Barrier Reef
Sunlover to sleep overnight on a pontoon under the stars
Cairns Coconut Holiday Resort is the best place to stay for families or caravanners!
You can't beat Rydges for the best spot on the Esplanade to enjoy all Cairns has to offer.
How to Get to the Great Barrier Reef
Jetstar, Virgin and Qantas fly to Cairns from all major Australian cities. At Cairns, the reef is the most accessible as it is the closest point to shore. It is a fair drive – 1700 km from Brisbane and over 2400 km from Sydney. Please bear this in mind when you are planning your Australian trip.
Double Island Point
Now this place is an absolute gem and definitely one of the best places in Australia. The catch is, you need a 4WD to get there, and some experience driving on sand. Double Island Point or DI to the locals is a quintessential beach camping experience, complete with a lighthouse, epic surf and perfect conditions. This is like Fraser Island, without the crowds. Catch the ferry across to Noosa North Shore and head up Teewah Beach for the best camping spots right on the dunes with nothing but the open ocean for company. Perfection.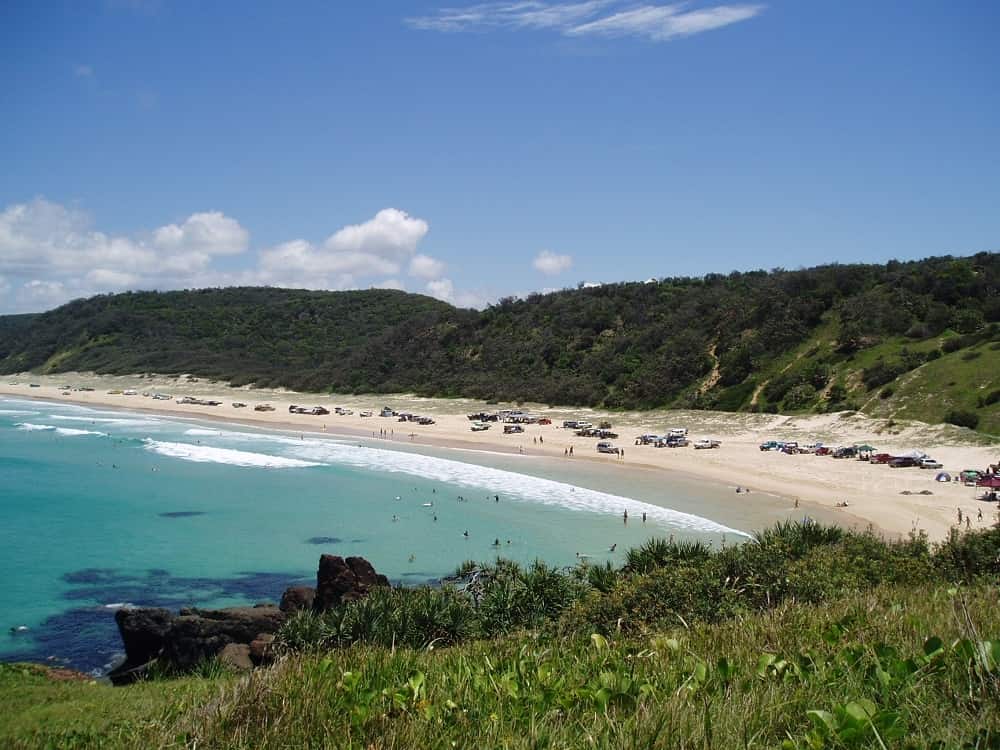 Where to Stay at Double Island Point
You can camp on the beach at Teewah or at Freshwater Point. There are next to no facilities and you need a 4WD. Sound just about perfect?
Book online with QLD National Parks here.
Rainbow Beach is the nearest proper town and you can do day trips to the point from here.
How to Get to Double Island Point
DI is just north of Noosa on the North shore. Self-driving is your best bet. From Noosa it takes at least 2 hours to cross the river by ferry and navigate the Teewah Beach highway and you need to check tide times before you go or risk getting stuck in the sand. Or you can go via highway and asphalt via Gympie and Rainbow Beach.
The nearest International Airport is Brisbane, and there is a smaller domestic airport at Maroochydore.
Cape Tribulation
At the northern end of the Queensland coast, you will find this spot this is totally north QLD at her absolute best. Cross over the Daintree River on the car ferry and drive through the thick ancient Daintree jungle to get to Cape Tribulation. The campground hugs the palm-tree-lined beach that you will have pretty much all to yourself. Stay awhile, grab a cold beer and get lulled into complete bliss with that slow steady Queensland heartbeat. This is why we are all so chilled.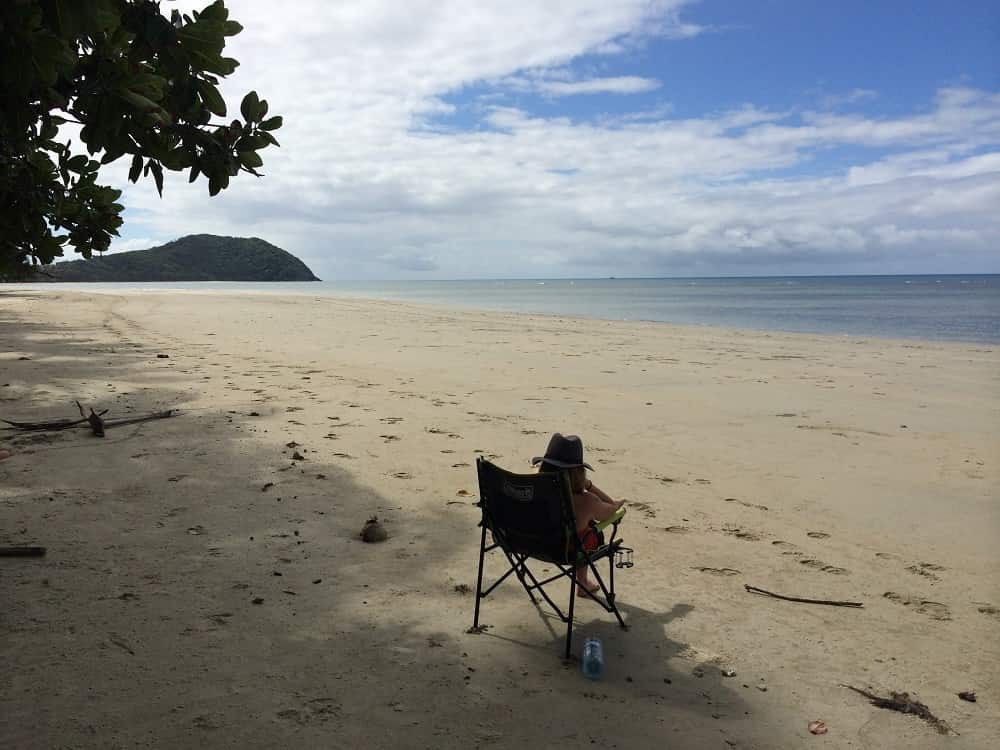 Where to Stay at Cape Tribulation
How to Get to Cape Tribulation
Flying into Cairns and renting a car is your best bet. The coastal highway between Cairns, past Port Douglas and up to Cape Trib is very special indeed.
Notable Mentions in QLD
Sunshine Coast – It's where we call home and for good reason!
When to Visit QLD
Queensland is a beautiful place to visit but you need to remember a couple of things to stay safe. Up north, it can get super hot and humid between November and March. These months are also to avoid swimming in the ocean thanks to the presence of venomous jellyfish. North QLD is also home to Saltwater Crocodiles, please heed warning signs to stay safe. We think between April – September is the best time to visit north QLD, and for south QLD – all year round.
Best Places to See in Australia – NSW
Blue Mountains
If you happen to land in Sydney, get out of there as soon as you can and head up to Katoomba and the Blue Mountains. There are incredible hiking tracks, astonishing vistas, and hair raising rides to keep you entertained here. The thickly forested mountain ranges stretch for miles in every direction and quaint villages alight the mountain tops.
Make sure you visit Scenic World with its exciting skyway, cableway, walkway, and railway. Save money and time by pre-purchasing your tickets here.
Where to Stay at Blue Mountains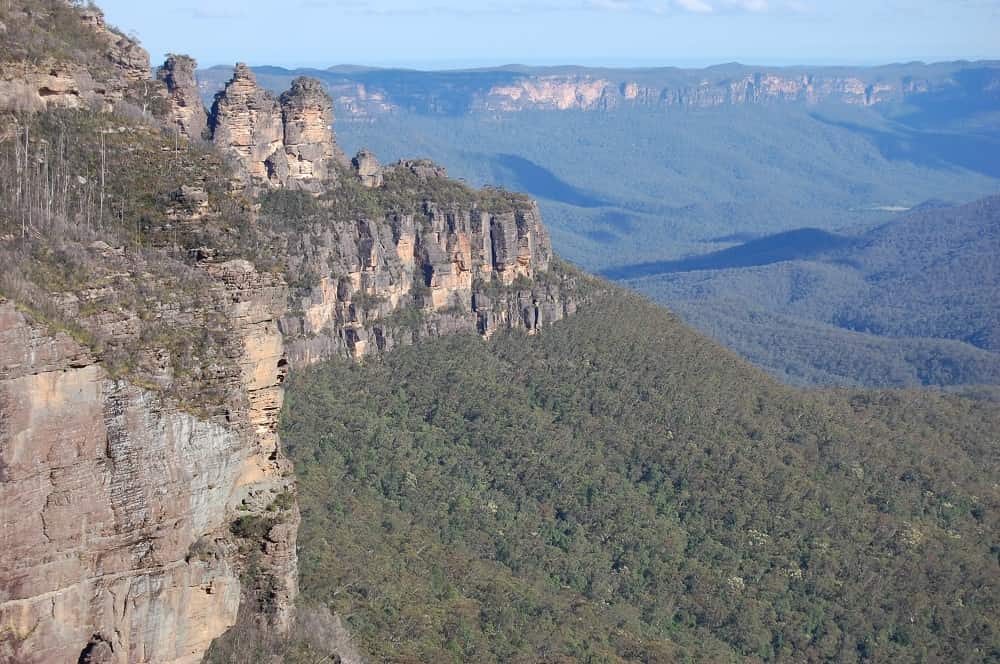 How to Get to the Blue Mountains
Sydney is your nearest international airport and flights are arriving here from all around the world. It is a 90-minute drive to Katoomba, and trains depart the city regularly from Central Station. You can also experience the Blue Mountains as a day trip from Sydney, book your tour below.
Merimbula
MMMMMMMerimbula. Time stands still here as you gaze at the dazzling river mouth and watch the clear blue water roll in and out with the waves. Merimbula is a cool little town which retains a great small community atmosphere making it one of my favourites in NSW. Great for surfers and lovers of good coffee.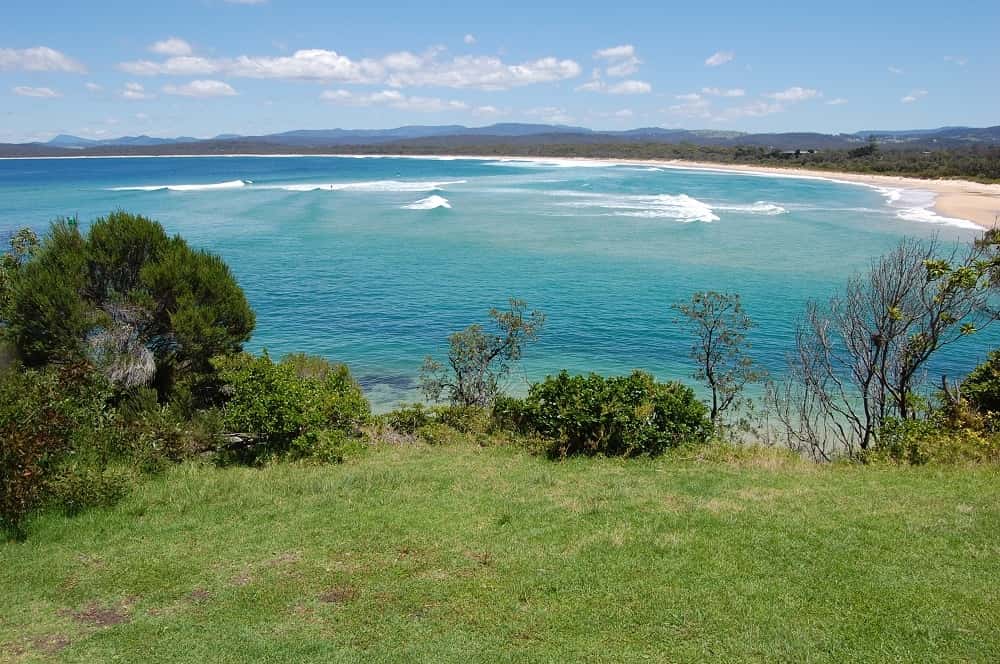 Where to Stay at Merimbula
If you want the best beach views in town, try this one – Bar Beach House offers a 2-bed and 4-bedroom apartments.
How to Get to Merimbula
Merimbula is about halfway between Sydney and Melbourne – a 6 hour drive from both. There is a convenient airport here (MIM) offering domestic flights and car rental.
Yamba
Whenever we visit Yamba, I feel like we are coming home. There is just something so incredibly charming about this beachside town. From funky cafes and seafood restaurants to the superb beaches and beautiful river, Yamba is simply stunning. One of this coast's most famous surf beaches can be found just south of Yamba at Angourie which is one of the reasons we love it so.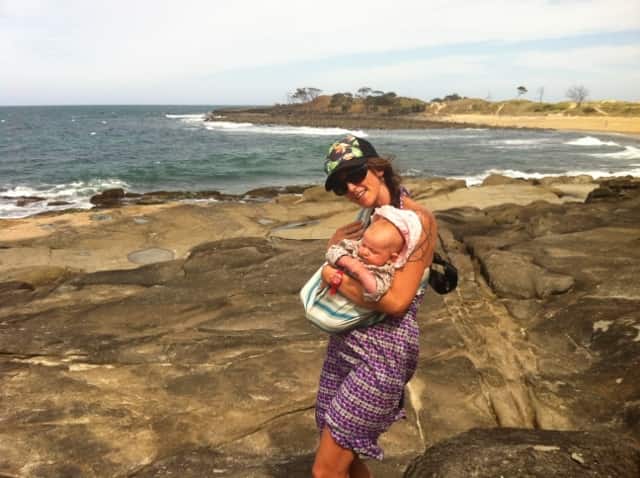 Where to Stay at Yamba
We usually stay at the Calypso Caravan Park which enjoys a perfect location on the riverbank right in the centre of town.
There are also some excellent holiday homes perfect for big groups with endless views such as:
How to get to Yamba
Yamba is located only 275 km south of Brisbane and 663 km north of Sydney which makes it a top stop on a coastal road trip.
Byron Bay
We actually got married on the beach at Byron Bay, such is our love affair with this perfect bohemian town. Byron Bay may be increasing in popularity (and cost) but at its heart, you can still find the hippy enclave of surfers and artisans that made it what it is today.
This town is just super friendly and completely hip and is definitely one of the best places to see in Australia.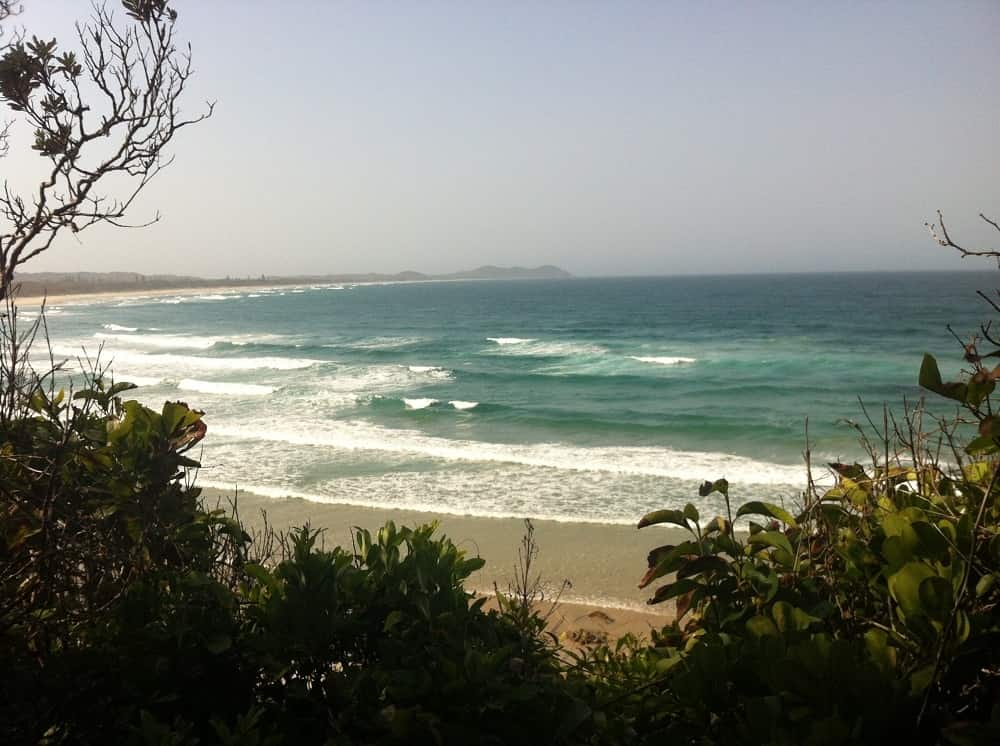 Where to Stay at Byron Bay
How to Get to Byron Bay
Although you are in NSW, Byron Bay is close to the QLD border and only 2 hours drive south of Brisbane. There is an airport at Ballina or at Gold Coast which are both only a 1-hour drive away.
The Brisbane2Byron Express Bus has multiple daily departures and only costs $42 one way per adult.
Kangaroo Valley
This is a super special and heartwarming free camp on the bank of a river inland from Kiama. The lush green grass is covered with families of local wombats. They are so tame, and you wake up to them scratching themselves on your caravan stairs. The surrounding area is lush green valley made famous for the filming of the original movie 'Babe'. The windy and densely forested roads in and out make it accessible only to the brave (no big rigs).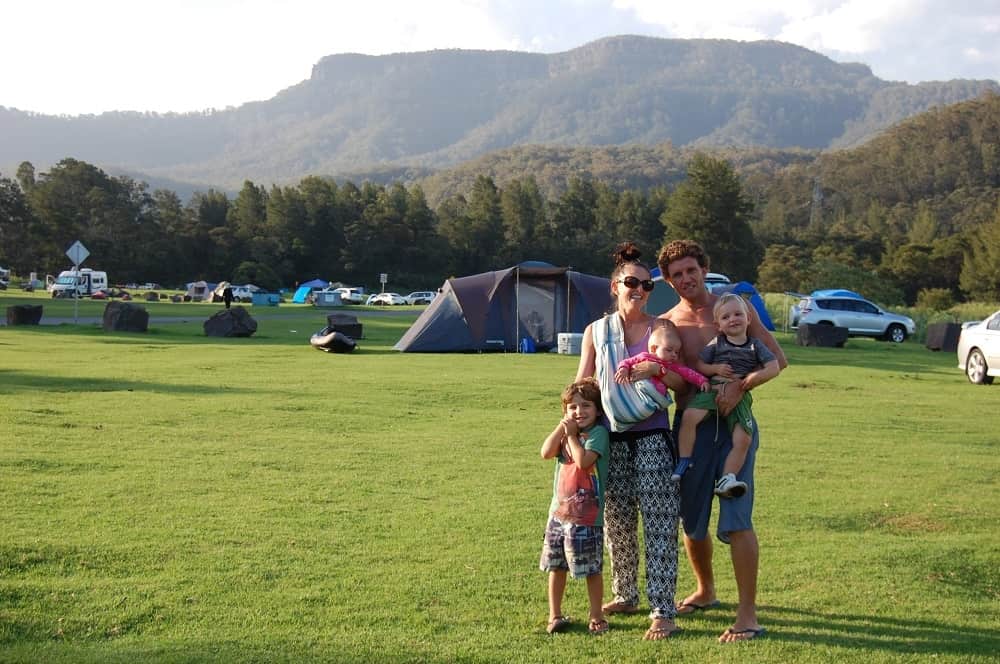 Where to Stay at Kangaroo Valley
The best place to stay is the Bendeela Recreation Area. Find it on Google Maps. It is a huge grassy campground on the river bank totally free and with so many wombats and other wildlife. There are toilets here and no power or phone service.
Closer to the village you will find charming accommodation at some beautiful holiday homes such as
How to get to Kangaroo Valley
Kiama is only 2 hours via car or train on the Southcoast line from Sydney. From Kiama you will need your own car to explore Kangaroo Valley which can be found a further 45 minutes west of here.
Notable Mentions for NSW
We loved National Parks in NSW. So many great coastal campgrounds overflowing with wildlife. Check out Yuraygir, Limeburner's, Myall Lakes, Depot Beach or Mimosa Rocks for some awesome off-grid camping.
Pre-purchasing a National Park's Pass in each state is advisable, but in NSW it is especially good as it covers park entry and vehicle fees but not camping. Get yours here.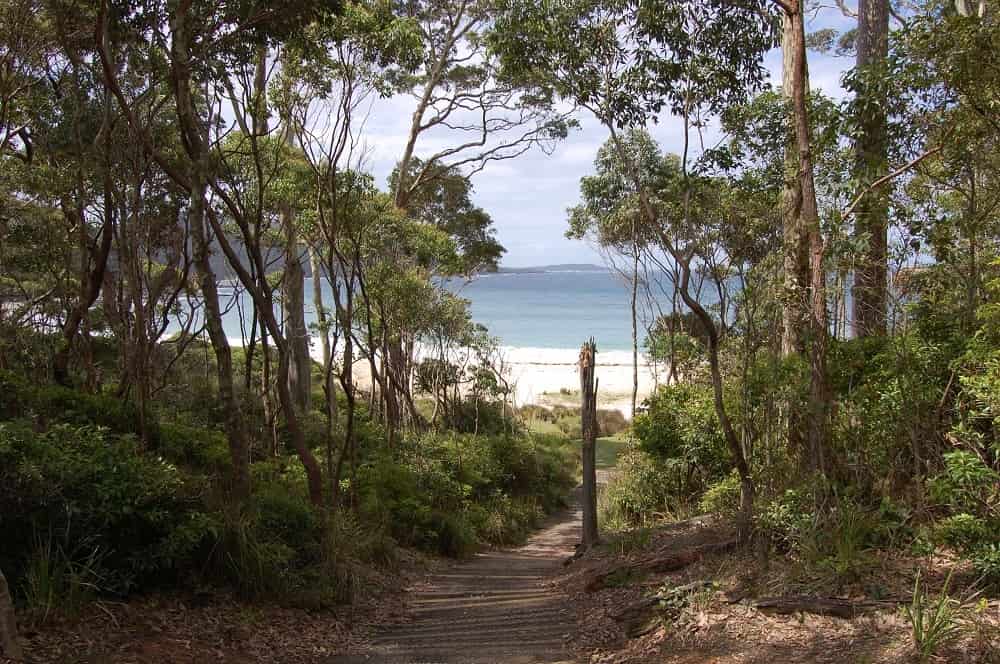 When to Visit NSW
The best time to visit NSW is usually all year. However, right now you need to check out bushfire warnings before visiting. In winter it can be cold, and in summer can be very hot. Shoulder season spring and autumn will be the most pleasant.
Best Places to See in Australia – Victoria
Fitzroy
Within Melbourne you will find the coolest suburb of Fitzroy. A haven for the hipsters, Fitzroy offers Melbourne's best coffee shops, eclectic street art, trendy bars, and international food. There are artisan markets galore, vintage clothing and anything and everything you need. Fitzroy is a welcome alternative to the big corporate city side, with a colour and energy that is all its own.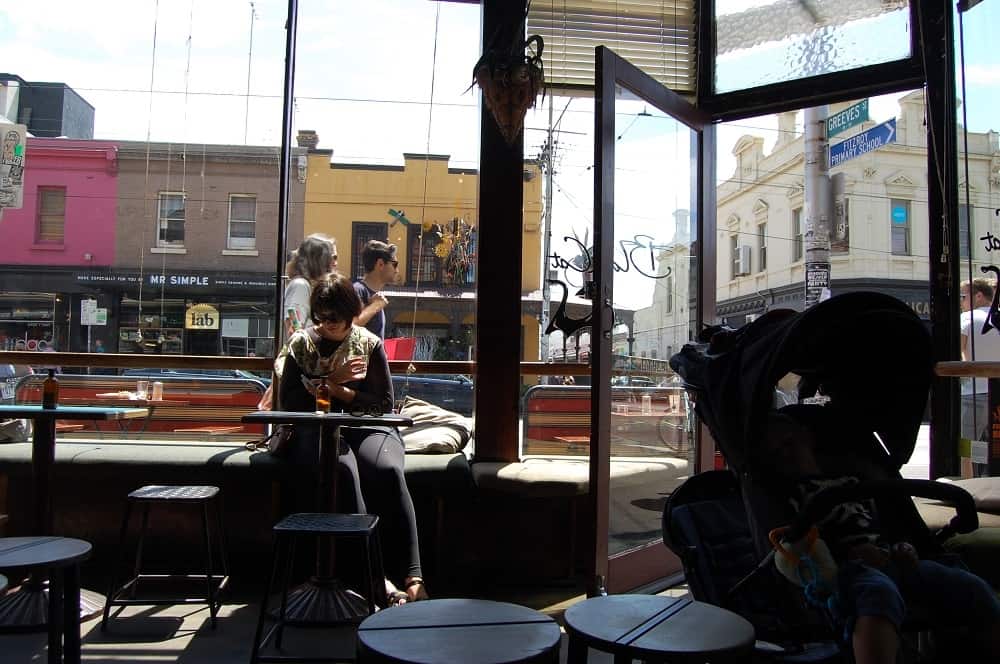 Where to Stay in Fitzroy
How to Get to Fitzroy
Melbourne has its own international airport and 2 domestic airports. Tiger, Jetstar and Virgin all have bargain flights in and out of Melbourne to other Australian cities. The quickest way from the airport to Fitzroy is via Uber which will cost around $40 and take 20 minutes.
The Grampians
When we visited the Grampians, it was only by accident. It was Christmas holidays and everywhere on the coast was completely booked out. So we found a National Park campsite at the Grampians and had a surprising time.
The bushwalks you can do here are amazing and varied, and we even found some to suit our small children. They were no boring stroll in the forest, rather super fun and interesting rock-hopping rewarded with remarkable views. You can even visit a couple of nearby wineries. The wildlife viewing here is fantastic as well with a huge amount of different birds and marsupials calling the Grampians home.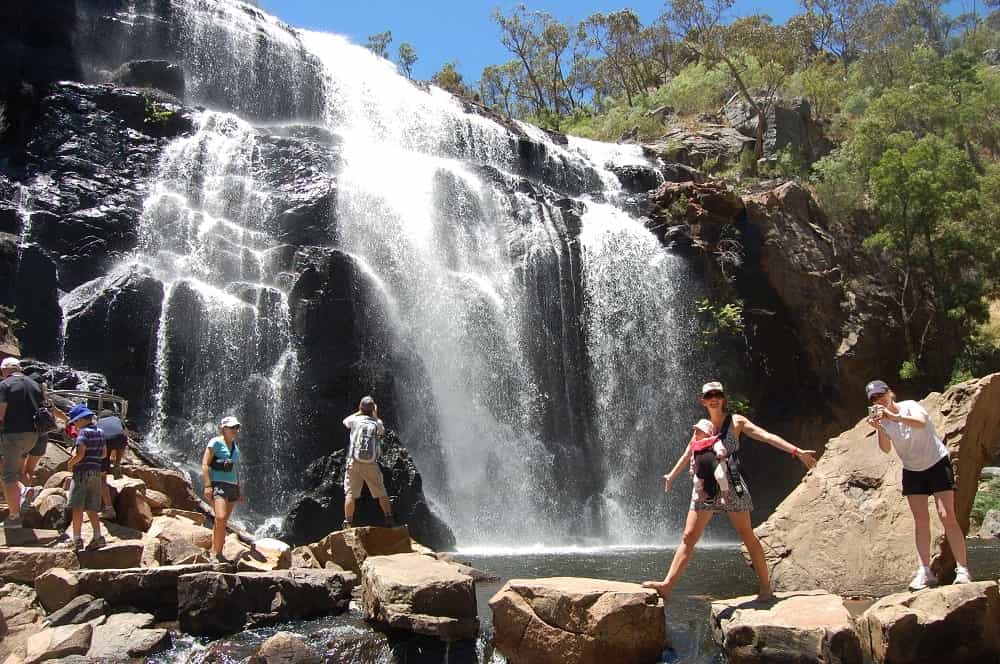 Where to Stay in The Grampians
There are some great basic National Park Campgrounds throughout the Grampians. They have pit toilets and fireplaces.
Nearby Halls Gap Gardens Caravan Park has cute villas if you are not into barebones camping.
There are also some cute cottages and chalets if the weather is cold and you need a fireplace at Day Dream and
How to Get to The Grampians
The Grampians is about a 3 hours drive northwest of Melbourne and you really do need your own car to explore.
Great Ocean Road
The 12 Apostles (of which there are only 8 left) is a symbol of the raw beauty of Australia's coastline and the power of Mother Nature. A self-drive or guided tour along the Great Ocean Road from Torquay to Warnambool is recommended to take in all that this astonishing piece of coastline has to offer.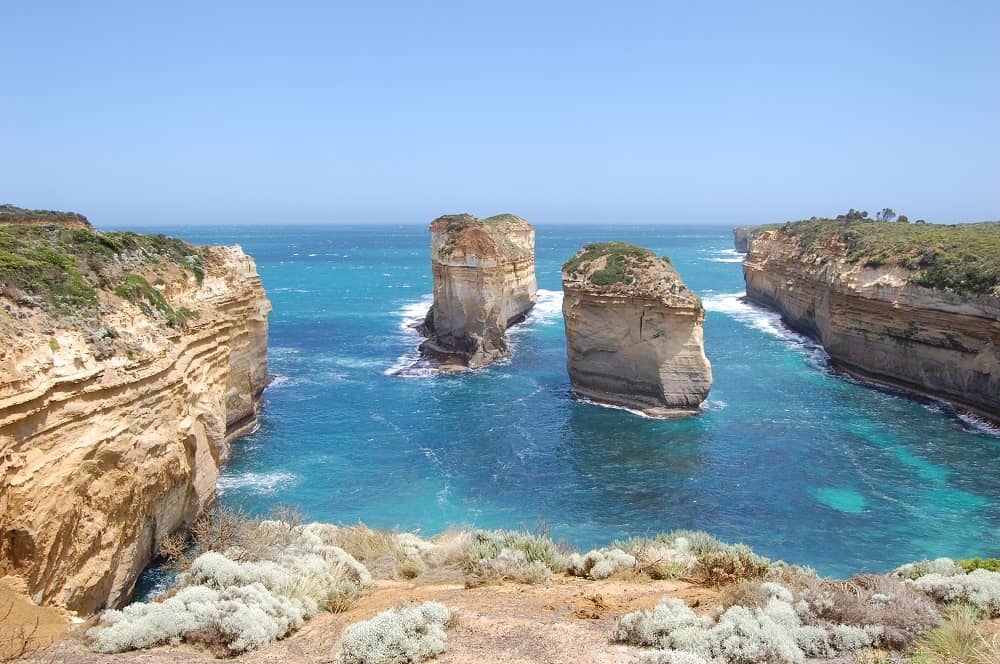 Where to Stay at Great Ocean Road
Apollo Bay is a great place to base yourself, as is Lorne. From here you can do shorter day trips along the amazing coastal highway.
Alkina Lodge is the closest accommodation to the 12 Apostles.
How to Get to the Great Ocean Road
Flying to Melbourne and hire a car is the best way to see the Great Ocean Road your way. Or join a tour. Prices for a day trip from Melbourne start at just $125 AUD. Book here:
Notable Mentions for Victoria
Thredbo and the Alpine Way, Wilson's Promontory
When to Visit Victoria
The best time to visit Victoria is usually all year. However, right now you need to check out bushfire warnings before visiting. In winter it can be cold, there is even snow on the mountains and in summer can be very hot. Shoulder season spring and autumn will be the most pleasant.
Best Places to See in Australia – South Australia
Innes National Park
On a protected area on South Australia's Yorke Peninsula, you will find the ruggedly beautiful Innes National Park. Wild coastline frames the many beaches here and you are surrounded by many emus and wallabies amongst the beautiful scenery. Surfing, camping, hiking and fishing are the orders of the day at Innes which is only 3 hours out of Adelaide.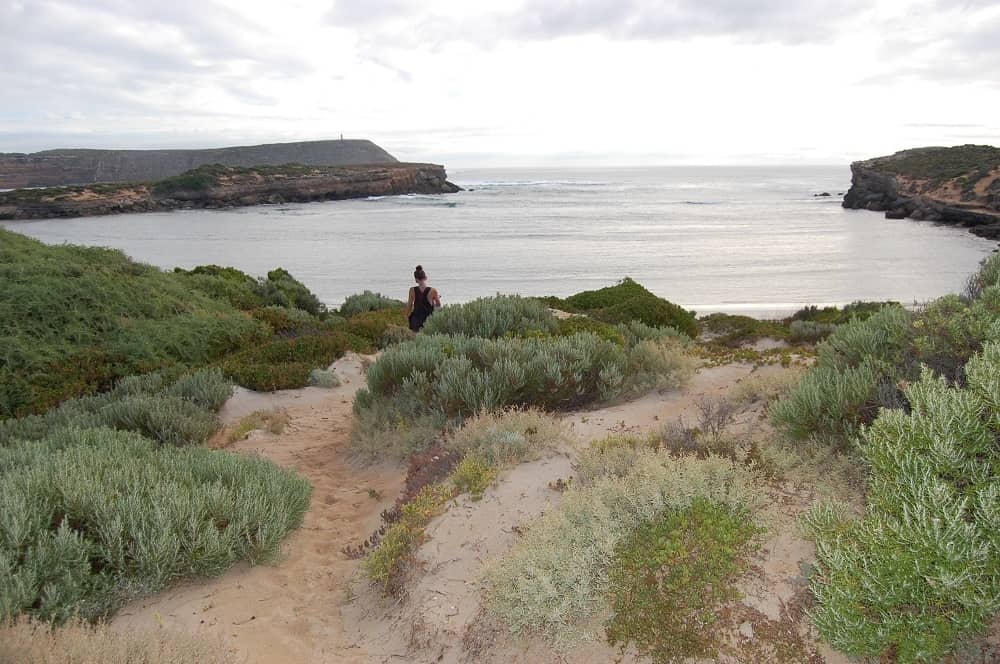 Where to Stay at Innes National Park
How to Get to Innes National Park
3 hours south of Adelaide, you will need your own car to get around.
Wilpena Pound
Wilpena is part of the astounding Flinder's Ranges found in inland South Australia. The views of the stunning rock formations are amazing from any angle, especially at sunset. Enjoy camping, 4-Wheel Driving and hiking in the pristine wilderness.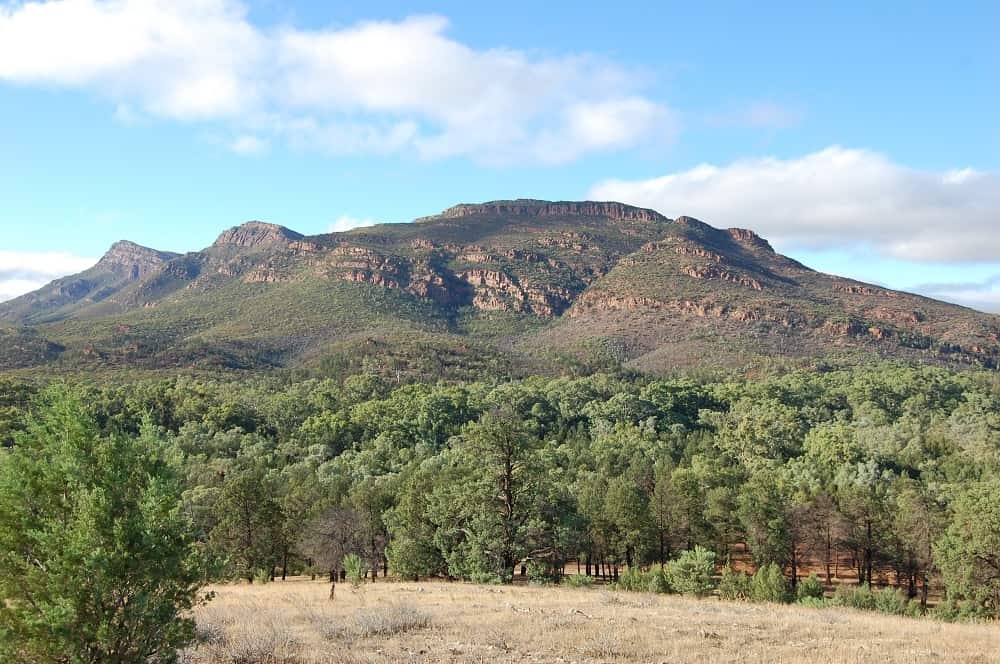 Where to Stay at Wilpena Pound
Wilpena Pound Resort encompasses camping, glamping and luxury retreats all within a stone's throw of the epic escarpment.
How to Get to Wilpena Pound
You really need your own car to get here, it is around 5 hours north of Adelaide. A 4WD will have the most fun exploring the endless valleys.
Barossa Valley
I might have only seen Barossa through wine-coloured glasses, but can definitely say that this is one of the best parts of Australia for sure! Visit wineries, breweries and a meadery in this historical area known for its rolling farmland covered in vineyards. Barossa is especially famous for its Shiraz grapes so make sure you sample a few of these at cellar doors across the Valley.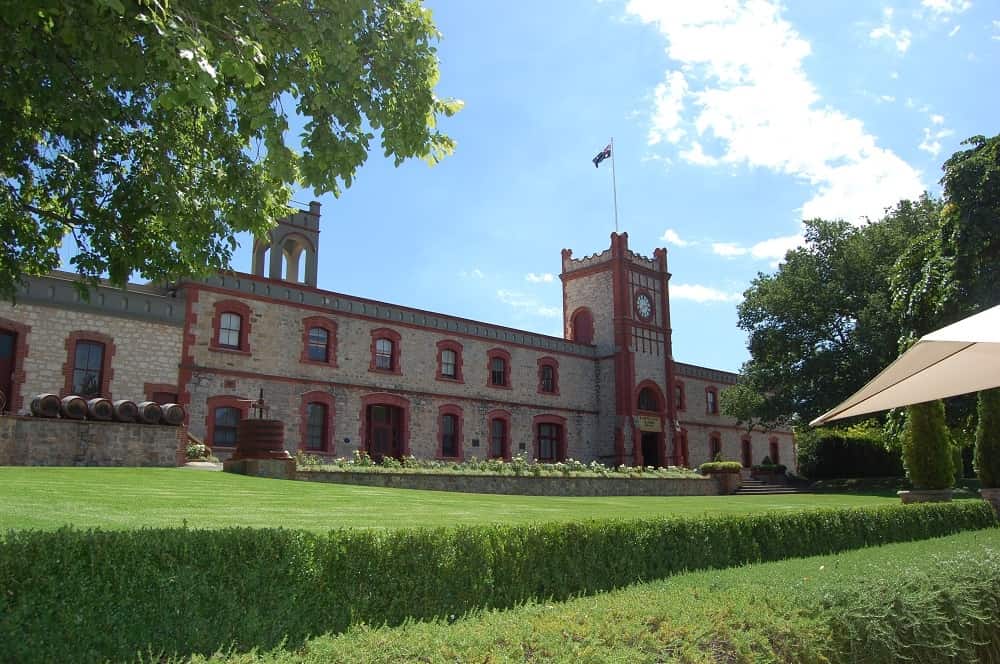 Where to Stay at Barossa Valley
How to Get to Barossa Valley
Barossa is only just over an hours' drive from Adelaide which makes it super easy to get to. Base yourself in Tanunda and get tasting! We self drove and spent a few nights here, but a day trip from the city is well worth it too.
Cactus Beach
For our full review of Cactus Beach, read this post. Cactus could very well be the best surf spot in all of Australia. And the best bit is it is so remote and pretty difficult to get to, unless you have your own car, so it is pretty quiet too. We loved the quirky campground, the spectacular coastline, and the perfect waves here. Definitely worth a visit if you find yourself in this part of the world.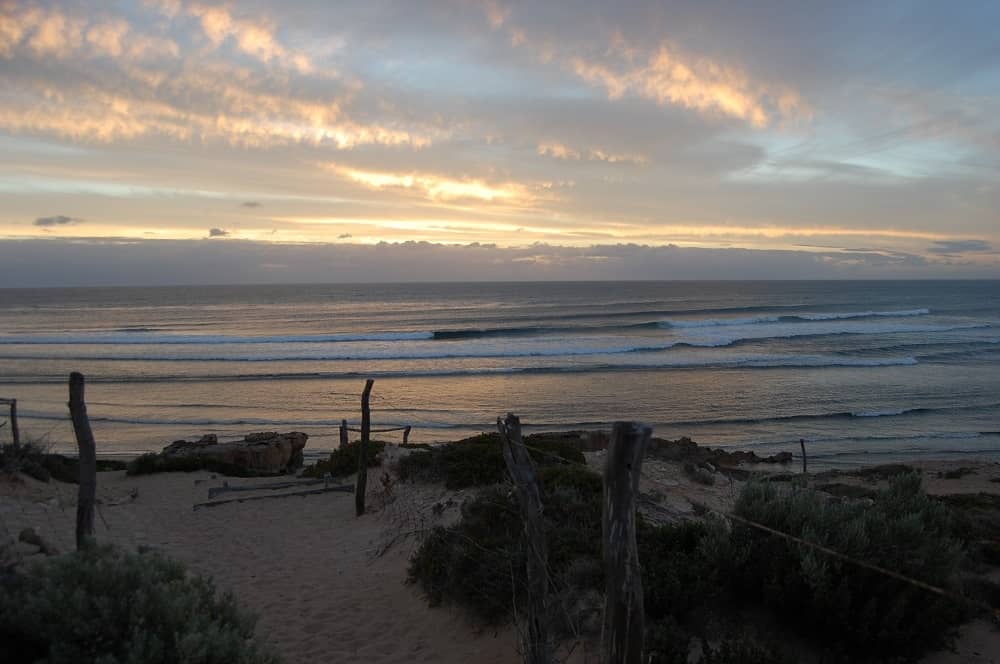 Where to Stay at Cactus Beach
The absolutely gorgeous Point Sinclair Campsite is right there offering basic amenities. Or stay at nearby Ceduna and come down for a visit.
How to Get to Cactus Beach
You definitely need your own car for this one. It is over 800km from Adelaide. The nearest major town with a supermarket and bottle shop is Ceduna – 1 hour east.
Notable Mentions for South Australia
OMG so many other places to see in this beautiful state! Victor Harbour, Second Valley, Deep Creek National Park, Port Wilunga, Kangaroo Island to name a few.
Best Time to Visit SA
The best time to visit SA is usually all summer and spring. However, right now you need to check out bushfire warnings before visiting. In winter it can be cold, and in summer can be very hot. Shoulder season spring and autumn will be the most pleasant. The ocean is surprisingly swimmable with perfect temps.
Best Places to See in Australia – Western Australia
Yallingup
The darling of Margaret River, Yallingup is one of those trendy surf beach villages with a perfectly positioned caravan park overlooking the bay. There is a really cool kids' playground at the top of the super surf break. Yallingup makes a perfect base for exploring the surrounding Margaret River Region. Wineries, chocolatiers and boutique breweries abound and you will be astounded by the majesty of these places. These places are all kid-friendly and many even have a massive playground to entertain your rugrats.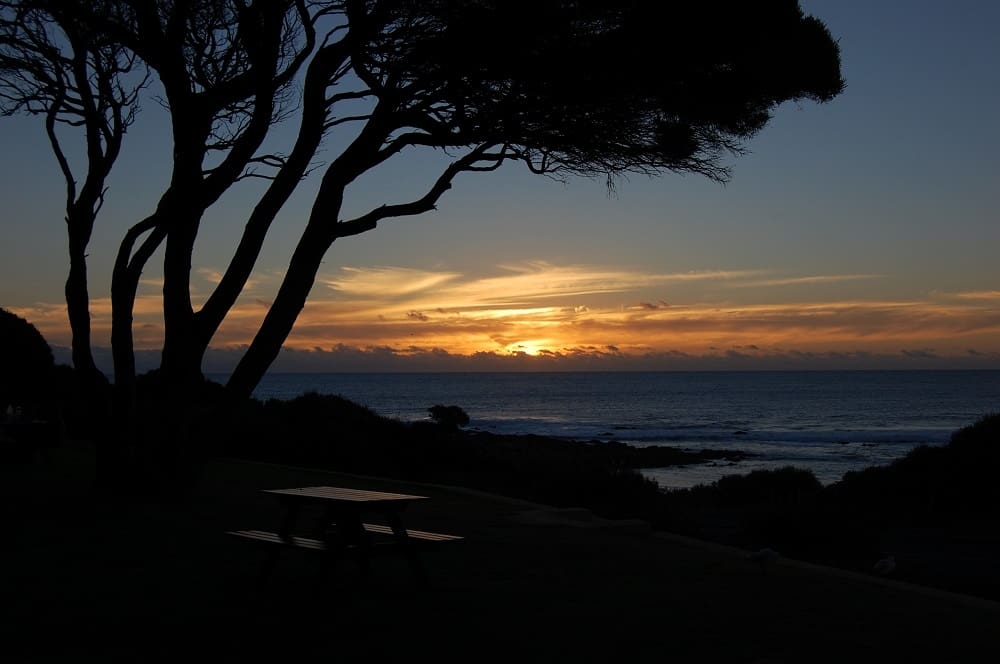 From Yallingup you can go surfing at famous places such as Gracetown, Margaret River, and the aptly named Surfer's Point. Head to Wharnecliffe Mill for mountain bike tracks galore. Eagle Bay Brewing Co. has the best boutique beer, House of Cards offers the best rose right next door to a chocolate factory, and the nearby Yallingup Shearing Shed is also a must-do experience.
Where to Stay at Yallingup
How to Get to Yallingup
Margaret River region is 3 hours south of the International Airpot in Perth, WA. It is a great place to explore with your own car. Buses will take you from Perth – Check out Trans WA for the details.
Denmark
The quaint town of Denmark on WA's south coast is surrounded by so many attractions. Visit some lesser-known and very beautiful wineries, be inspired by the brilliance of Elephant Rocks and Green Pools and try some delicacies at the local chocolate factory.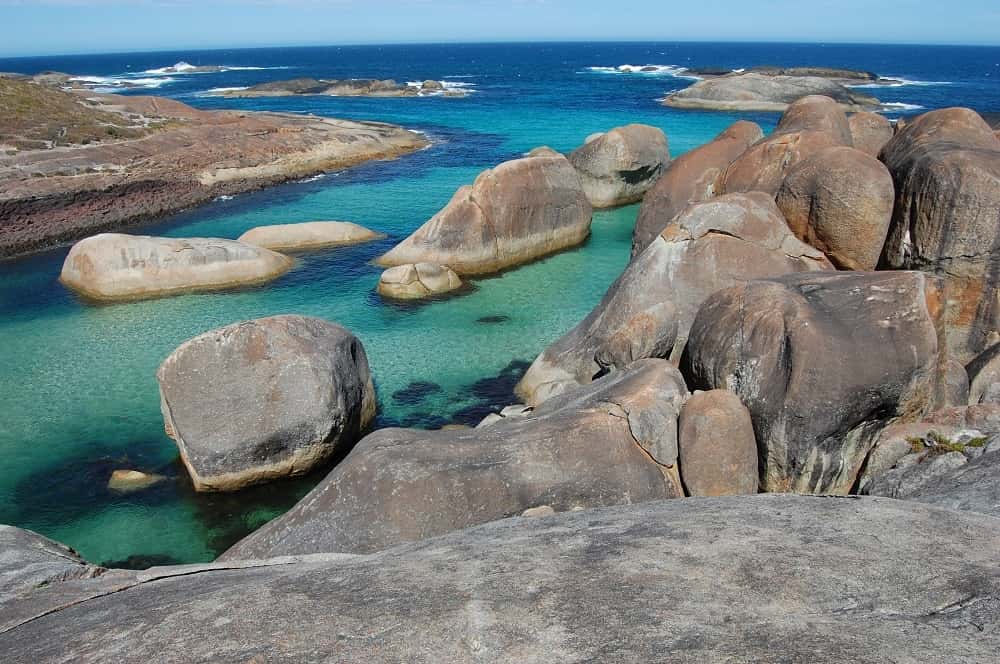 Where to Stay in Denmark
How to Get to Denmark
Nearby Albany has an airport so you can fly directly here from Perth. Otherwise, it is a 4-hour drive.
Broome
From the quintessential camel rides on Cable Beach, to the incomparable Matso's Brewery, and the adventurous Dampier Peninsula to the north, Broome is a cultural hub of northwest Australia.
Broome is a perfect place to recharge your batteries on a round Oz odyssey as the launching point for the Kimberley, or a fantastic town to visit to discover a charm and vibe unique to this area.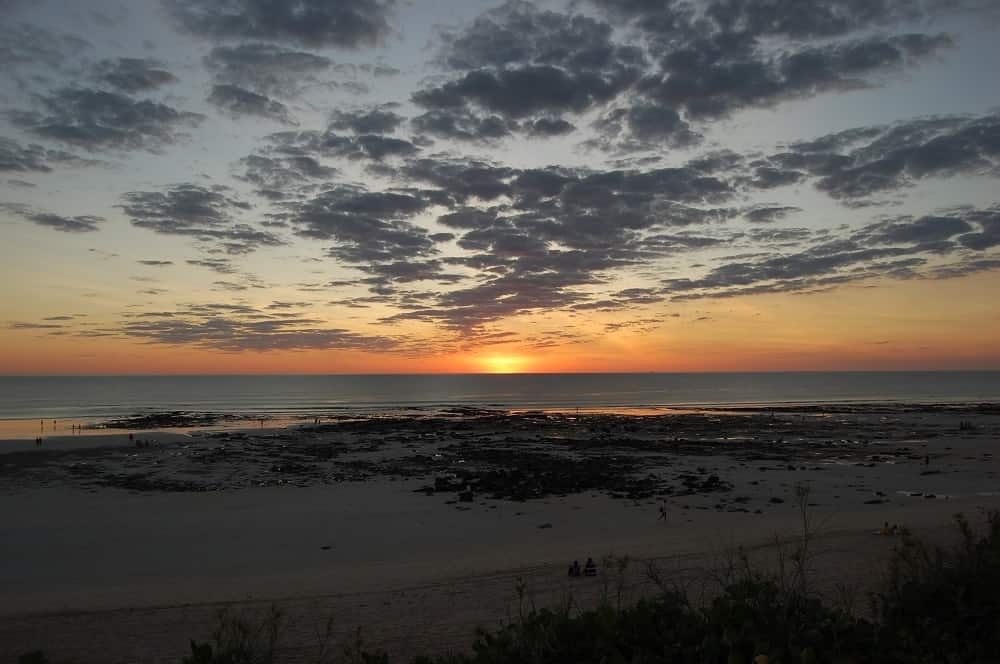 Where to Stay in Broome
How to Get to Broome
Australia's most remote town, Broome is easy to get to, as long as you have a car or a plane. Avoid wet season as many roads are closed with the monsoon. Broome International Airport services regional centres, major capital cities and soon, Singapore.
The Gibb River Road
The Gibb is one of those places where you feel completely at one with the land. It is where Australia feels so Australian. It is the outback in all her astonishing beauty. You can pass through this road only between June and October each year thanks to the wet season and you will need suitable equipment. This is my number one out of the best places in Australia.
See our in-depth article on the Gibb here.
We took about a month to cross all the way from Derby to Kununurra, but you could do it in a week if you have to. But why rush it? Visit top spots along the road such as Tunnel Creek and Windjana Gorge, Emma Gorge and the bee's knees of El Questro Wilderness Resort. WARNING: You may never want to leave.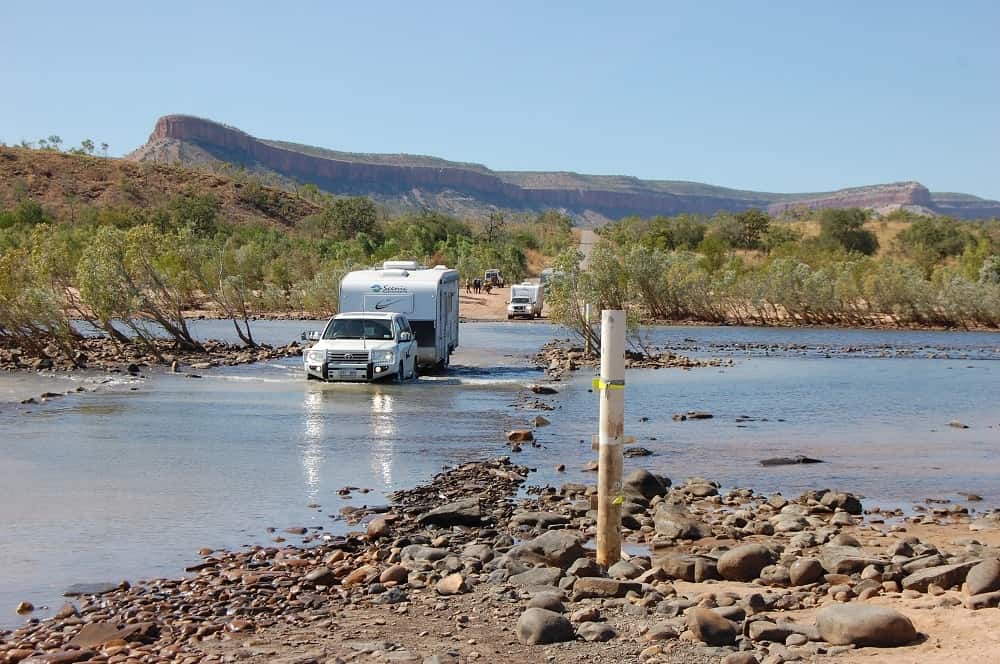 Where to Stay on the Gibb River Road
How to Get to the Gibb River Road
The Kimberley is northern Western Australia and is best accessed with your own 4WD vehicle. Take a tent.
Red Bluff
We have reviewed Red Bluff in a detailed post here.
Originally we were only staying here for a couple of nights, but we ended up parking up for over 2 weeks and just enjoyed the complete serenity of Red Bluff. It is a long drive in off the highway, and you arrive at Quobba Station. The point changes colour to a vibrant red in the sunset light which gives the area its name. There is a brilliant surf spot off the point and plenty of beaches to explore.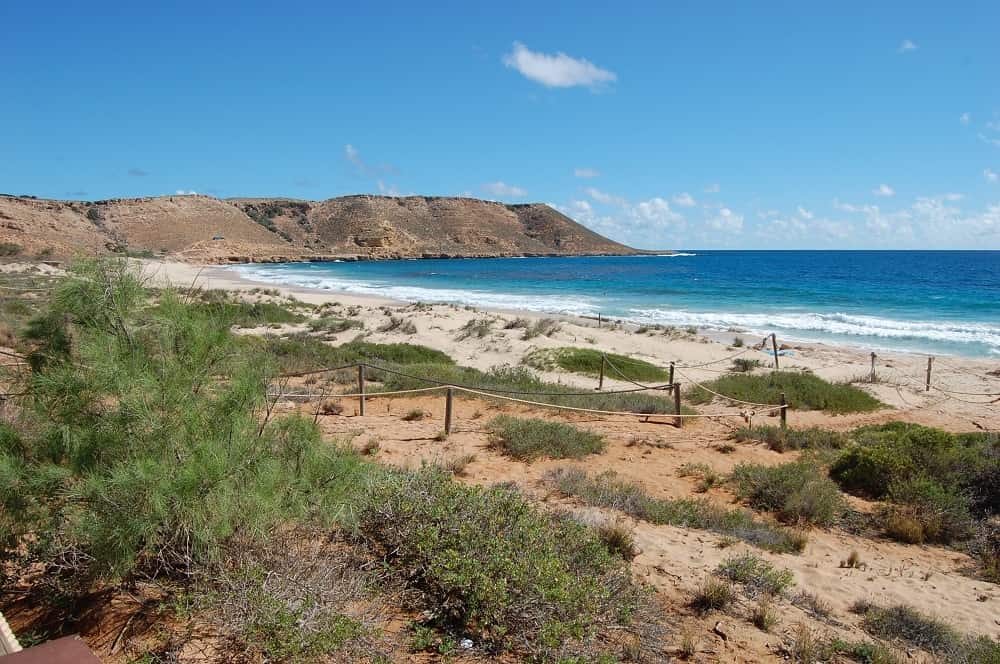 Where to Stay at Red Bluff
Incomparable camping is at Quobba Station, overlooking the bluff. Check out nearby Gnarloo Station too, and Waoorra Station further up the coast for more epic places to stay in the region.
How to Get to Red Bluff
You will need a 4WD to get Red Bluff which is located 140 km north of Carnarvon, and there is heaps of exploring to do in the immediate area too.
Karijini National Park
Western Australia is full of these wonderful National Park campgrounds and Karijini is another example of this. Hiking, swimming in waterfalls and checking out magical gorges is what you do here. It is absolutely beautiful.
Where to Stay at Karijini National Park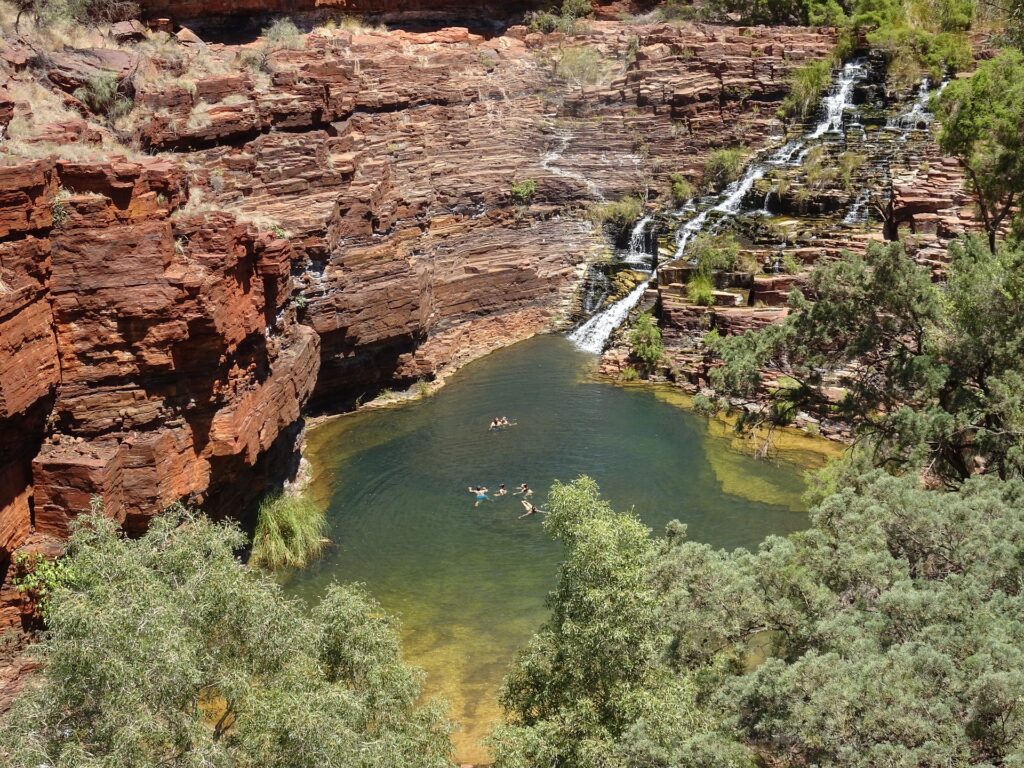 How to Get to Karijini
You need your own car to explore this amazing NP. It's around 1400 km north of Perth with loads to see along the way.
Cape Range National Park
At Cape Range you can snorkel over the Ningaloo Reef just offshore. Swim with whale sharks, seek out octopus, and even bronze whaler sharks. The water is so clear, it is like glass. The sand is white, and the beautiful coral attracts millions of colourful fish. Book your campground well in advance as spots fill up fast here. While you are there, book your whale shark or humpback experience too!
Where to Stay at Cape Range
How to get to Cape Range National Park
Cape Range is right next door to the town of Exmouth. This is the best place to go swimming with whale sharks at Ningaloo Reef which is super close to the shore at Cape Range. Learmonth Airport is 36 km south of Exmouth and Exmouth Bus Charters meet every flight for transfers to town.
Self-drive is the best way to see Cape Range.
Esperance
How could I forget Esperance!? This was our most anticipated destination when we went on our lap around Australia and deserves its title as one of the best places in Australia. Esperance is a cool little windswept community at the distal end of the Nullabor Plain and was a welcome reprieve. The nearby Cape le Grand National Park is home to Australia's whitest sand at Lucky Bay where you can camp and drive on the beach dodging the many kangaroos. Climb Frenchman's Peak for a bird's eye view of this absolutely gorgeous part of the world.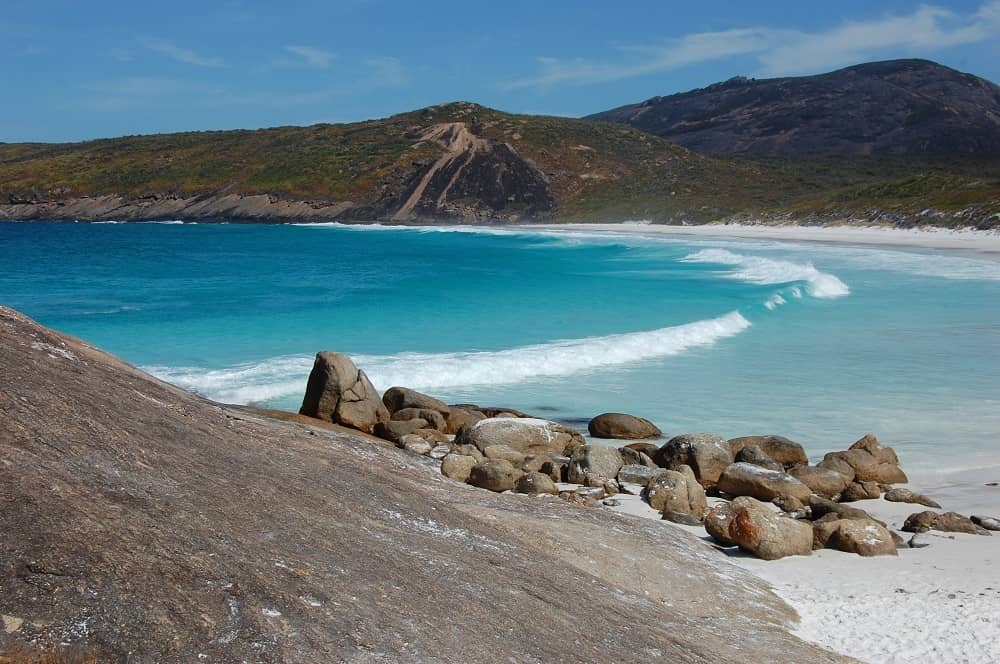 Where to Stay at Esperance
How to get to Esperance
There is an airport (EPR) offering direct flights to Perth which is over 700 km to the west. But the best way is to drive yourself.
Notable Mentions for WA
There are too many amazing spots in Western Australia – Pemberton, Fremantle, Coral Bay, Kalbarri, Derby are all great places too.
Best Time to Visit WA
We love the spring in WA, not too hot, not too cold. In the north, winter is the best time and summer is not recommended.
Best Places to See in Australia – NT
West MacDonnell Ranges
The Northern Territory is home to the big guns of the Australian tourism industry. But do you know that the West MacDonnell Ranges offer an incredible and lesser travelled route between Alice Springs and Uluru? Cruising the Red Centre Way west of town makes you feel like an intrepid explorer. Stop for a break or an overnight at Standley Chasm, Simpson's Gap and Ormiston Gorge. Keep heading west for a couple of nights at the incomparable King's Canyon. Walk around the rim for the ultimate experience. From here it is still at least 4 more hours to get to Uluru.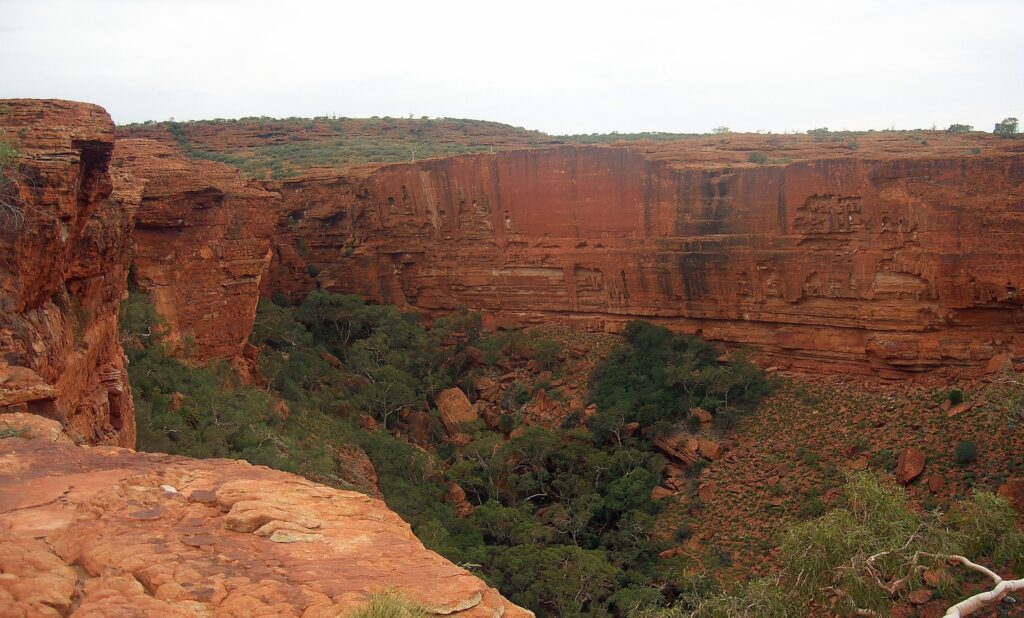 Where to Stay in West MacDonnell Ranges
How to Get to West MacDonnell Ranges
Alice Springs is the nearest town and it is best to self-drive from here. Alice Airport (ASP) has flights to and from major Australian centres.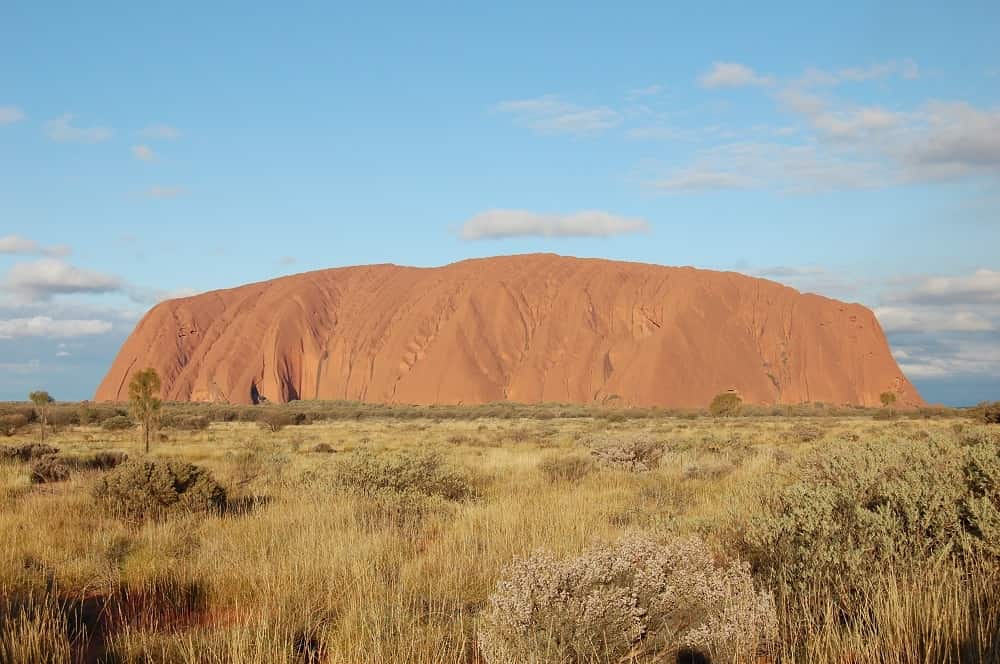 Uluru
If the Great Barrier Reef is Australia's crown, then this big red rock is our heart. It symbolises the very soul of Australia. From her original inhabitants to our modern-day country, Uluru belongs to us all. It is impressive to say the least. The rock hums with an ancient power. Put your palm against it and close your eyes, you can feel it. Uluru is ancient and mysterious. I wouldn't climb it even if we were allowed and I am happy that the ban is now in place. Camping at the nearby Yulara allows you to view the rock throughout the day and watch the incredible changing colours. Visit Kata Tjuta while you are here, and witness the incredible colours and majesty of these astounding rock formations.
Where to Stay at Uluru
You need a National Parks Pass to visit Uluru and Kata Tjuta. Get yours here. There is no National Park camping within the park.
Drive-in and camp at Yulara's Ayers Rock Resort which is 15 km from the rock itself and the cheapest way to stay near Uluru. They offer campsites and cabins.
Only 7 km from Uluru:
How to get to Uluru
Alice Springs is the nearest town and it is best to self-drive from here. Alice Airport (ASP) has flights to and from major Australian centres.
Kakadu
If you ever hear somebody say "Kaka-don't", slap them in the face for me, please. Kakadu is the best National Park in Australia. Its pristine wilderness full of animals is begging to be explored. The ancient aboriginal art is blow-your-mind awesome. Seeing the enormous saltwater crocs crossing the causeway at Cahill's Crossing will scare your pants off. The plethora of birds will make you lose your mind! Kakadu is absolutely stunning, but you do need a good few days and a sturdy car to be able to see all it offers. Nature's infinity pool awaits at Gunlom, Jim Jim and Twin Falls are for the adventurous, and Nourlangie and Ubirr are abuzz with history and aboriginal culture.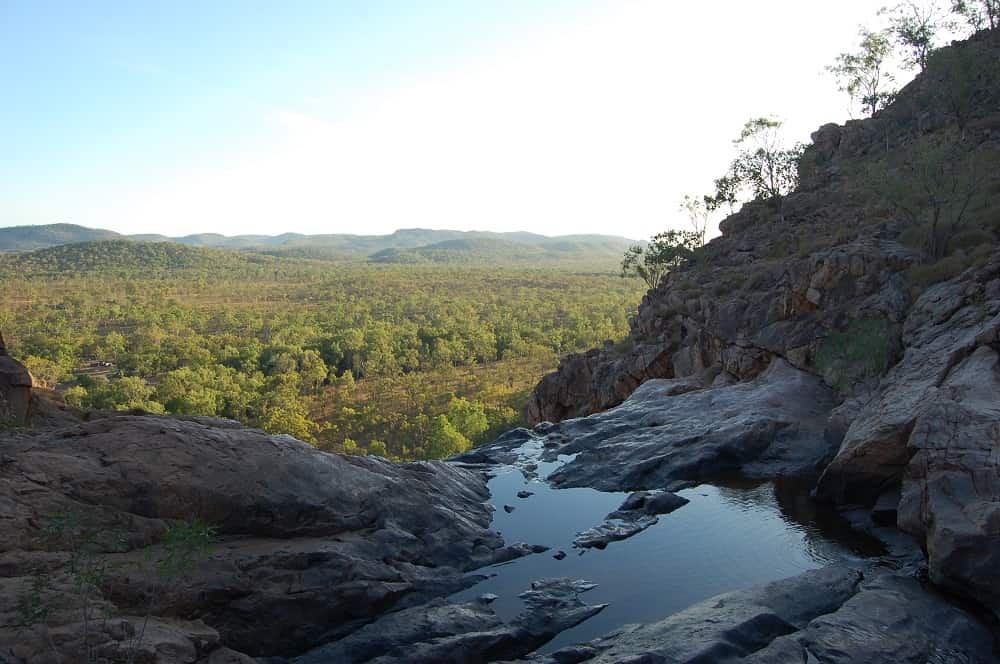 Kakadu is the place to go if you want to really connect with nature and it really has it all. Tours of Kakadu will operate out of Darwin and Jabiru giving you a taste of the park. We self drove with our 4WD and camper trailer and camped at the basic but excellent campgrounds. Don't miss a Yellow Water boat trip.
Check out the Kakadu National Park website to purchase your parks pass (which you need for visiting one of the best places to see in Australia), or grab it from Bowali Visitor Centre in Jabiru. Note that certain parts of the park may be closed during the wet season which is November to March.
Where to Stay in Kakadu
How to Get to Kakadu
Darwin International Airport is 150 km away and from here you can either rent a 4WD or join a tour. Self-drive is the best way to see Kakadu at your own pace, just pay attention to warning signs especially for creek crossings.
Check out some popular tours to Kakadu below:
Notable Mentions for NT
Litchfield NP, Mataranka Hot Springs, Daly Waters Pub
Best Time to Visit NT
Summer is out for a lot of this state as super hot temps inland and monsoonal rains in the north. The best time to visit is winter.
Best Places to See in Australia – Tasmania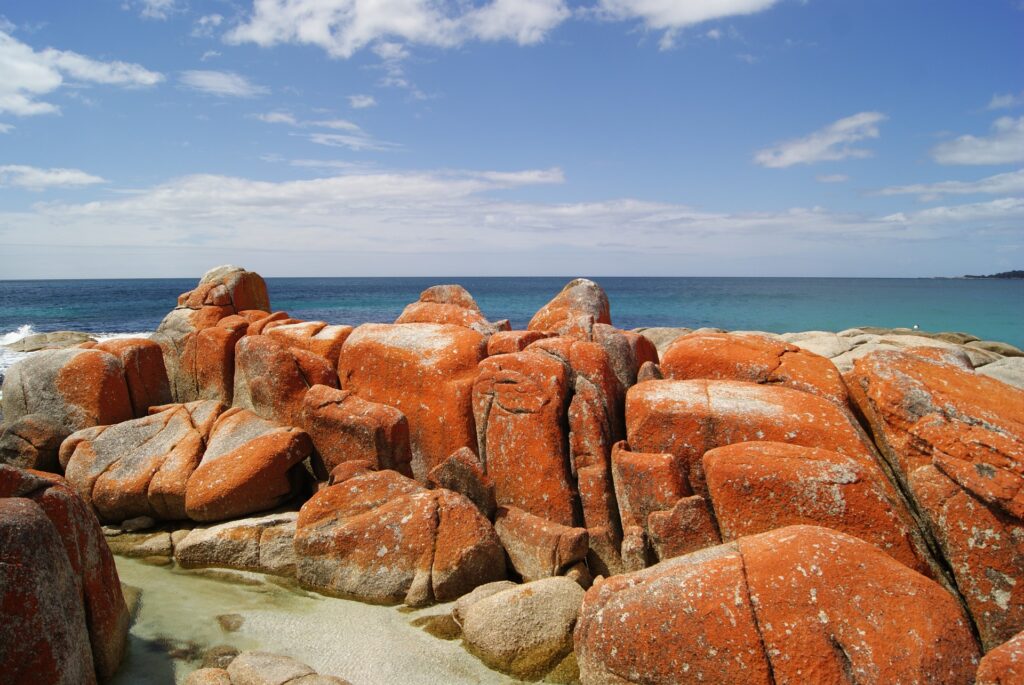 Bay of Fires
Tasmania, on the whole, is a great place to spend a month of just simply exploring and is definitely one of the best places to see in Australia as a whole. There is so much wilderness, and rugged scenery absolutely abounds. The history of Australia's first settlement, former penal colony (and the scene of Australia's first and only modern-day mass shooting) is part of Australian culture but is still under 300 years old. The Tasmanians are a people all of their own and are proud of it. It is just such a gorgeous place and easy enough to self drive as distances are nice and small (unlike the rest of Australia)
Bay of Fires is a stunning campground atop a picture-perfect beach with big red boulders. It is one of those places where you just want to bring all your friends and have a campfire. Find Bay of Fires on the North East coast of this beautiful island.
Where to Stay at Bay of Fires
How to Get to Bay of Fires
If you are self-driving from the mainland you will need to look at the Spirit of Tasmania ferry to get you from Melbourne to Devonport. Book well in advance for peak periods.
Hobart and Launceston airports service major Australian centres with direct flights via Tiger, Jetstar, Virgin and Qantas. Driving around Tasmania at your own pace is the best way to get the most out of one of the best places to see in Australia.
Bay of Fires is closest to Binalong Bay and St Helens.
Notable Mentions for Tassie
Bay of Fires is our pick for your must-see stop on a Tasmanian trip. However, you will also probably visit Hobart, Cradle Mountain, Bicheno, Freycinet National Park, Wineglass Bay, Port Arthur and Bruny Island to name a few.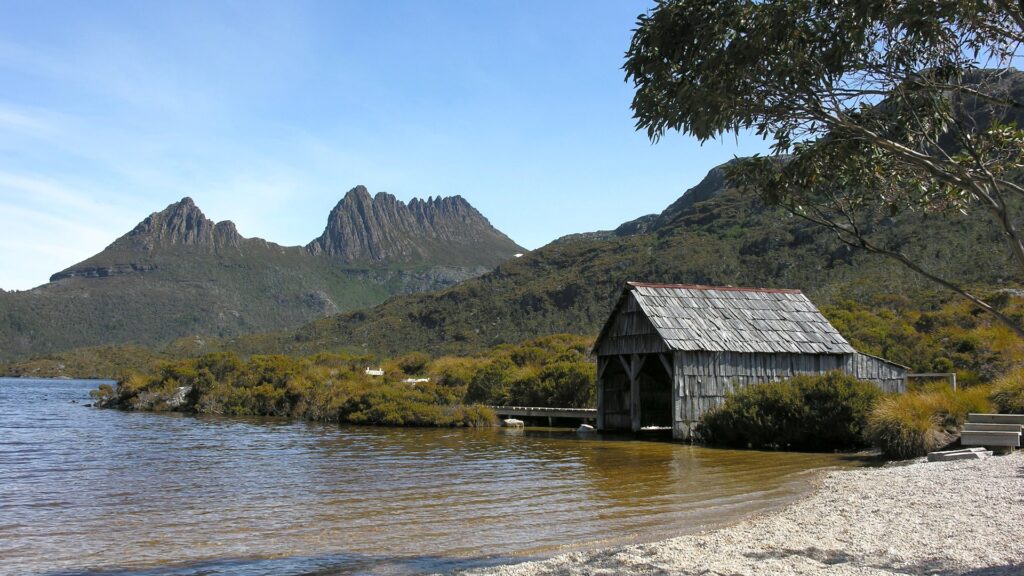 Best Time to Visit Tasmania
December and January enjoy long twilights and variable weather, it can still be cold and raining and even snowing in summer! But this is peak tourist time. Visiting in Winter gives you crisp cold days and off-peak prices.
The Best Places to See in Australia – In Our Opinion
This is purely our opinion, but honestly, what you can take from this article is that you can trust us. We have personally been to all of these remarkable places and if they have made our list, they are certainly something special.
Australia is a hard country to travel around. It can be expensive, and the distances are vast. We took 12 months to drive around with our own car and caravan and kids, but you might need to do it faster. Bite off achievable chunks of Australia, and don't try to do it all at once if you are limited for time. State by state is good, or coast by coast. We love camping and surfing so obviously this reflects on our choices above.
If you are into metropolitan cities, your list will be different from mine.
Please comment below which place you think needs to be added to the list of the best places to see in Australia, and share, share away! Cheers!