Have you ever heard of Jasri Beach? What if I told you there is a perfect right-hand point break on the east coast of Bali that hardly anyone knows about.
What if I said you would be one of a rare handful of surfers in the water?
Intrigued?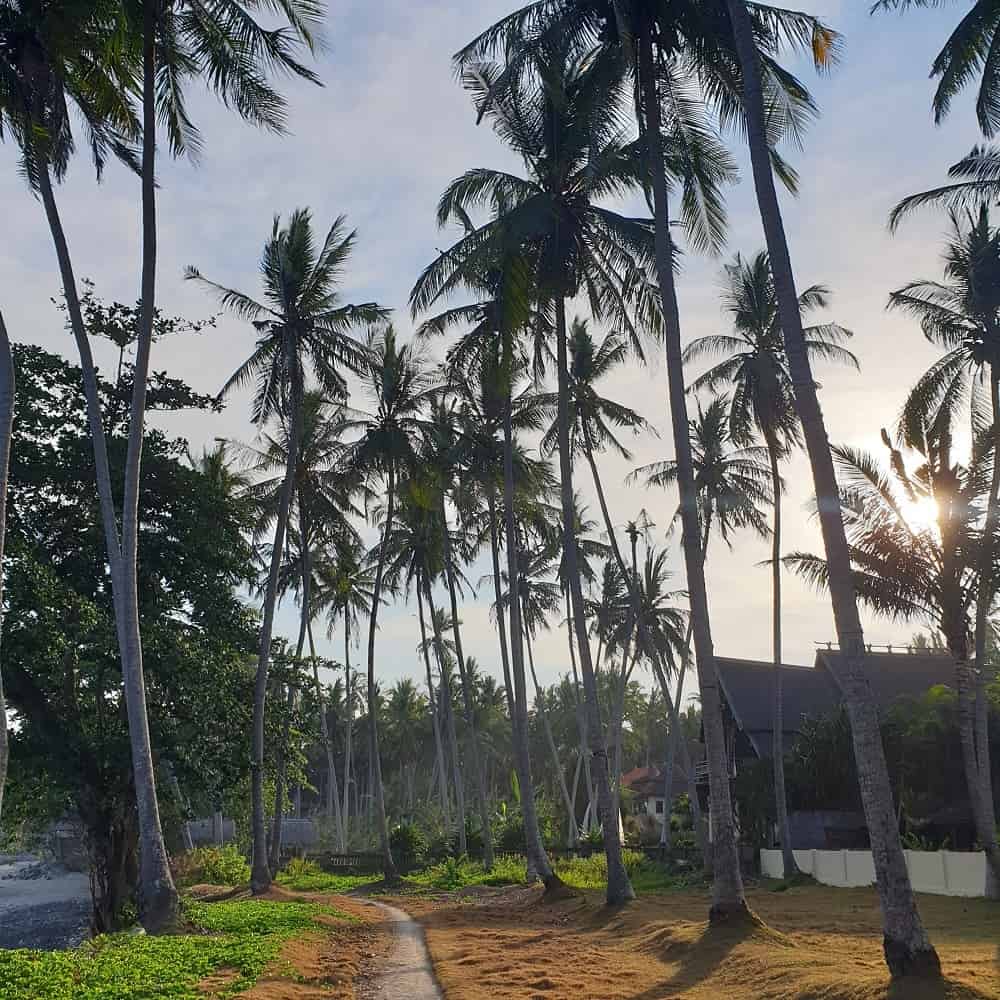 Then read on to discover this paradise that is Jasri Beach, one of the remaining few untouched beaches on the island and where you come to find the 'real' Bali.
Where is Jasri Beach?
Should I share the secret?
Most surfers won't tell you where it is because they want to keep it to themselves.
I don't blame them but we all know that most visitors to Bali only visit the likes of Kuta, Seminyak and Canggu.
So here it is the secret location of Jasri. (Shhh! Don't tell anyone!) See Map.
Getting to Jasri Beach, Bali
Transport options from the Ngurah Rai International Airport Denpasar to Jasri Beach are as follows:
Private Driver
This can be arranged at the airport or via your accommodation. We find being picked up by a driver from the airport, your hotel or guest house is the best option.
They know exactly where to go and they usually give you a great rate. When booking your accommodation, message the property directly to arrange your airport transfer. Or use a third party agent such as Klook to book. See below for more details.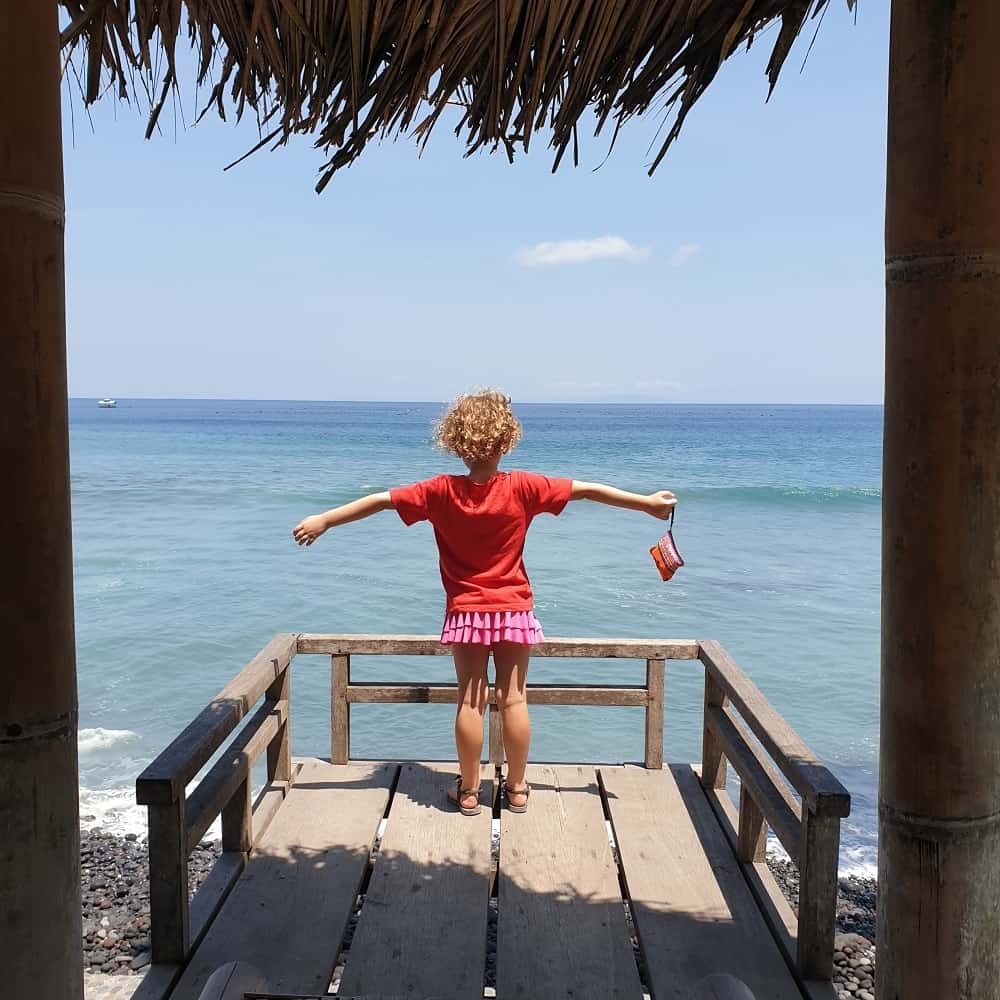 Approximate costs from Kuta area to Jasri works out at 600,000 IDR ($60 AUD) Which includes a large car or van suitable for around a group of 5-6 people. Surfboards included. Private drivers will either have roof racks, or ropes at the very least.
Klook Airport Transfer
Booking a vehicle through Klook is another great way to get to Jasri. This is an international booking agency that does transfers and tours all over the world using local operators. The best thing is being able to see reviews and to book and pay securely online using a credit card. Prices are competitive and we found using Klook always guarantees great service and peace of mind that you won't get ripped off.
Grab Taxi
Another great option is to use the Grab App and hire a driver to Jasri beach. This can be cheaper but you may have trouble finding your accommodation. (Be warned!)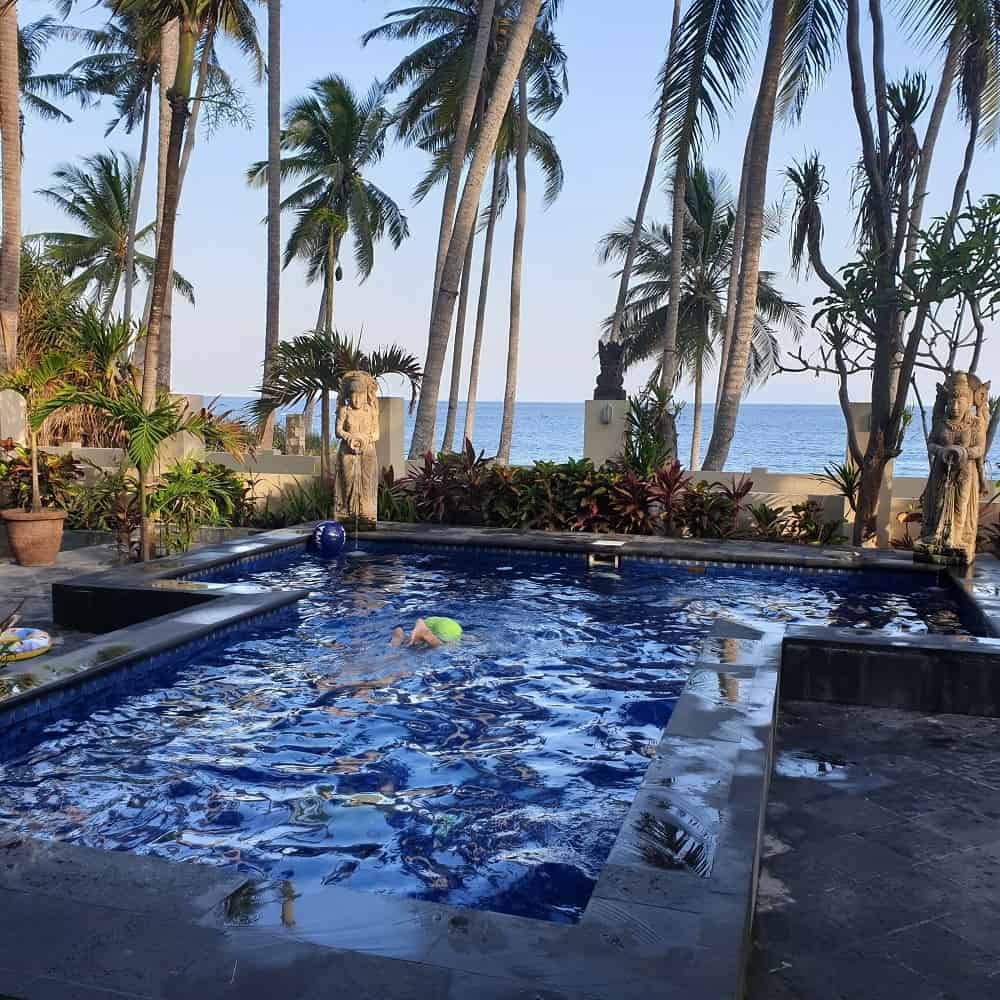 Where to Stay at Jasri Beach
Jasri is a small area and very local so don't expect fancy hotels and rows of tourist shops.
But along Jasri are some beautiful places to stay for all kinds of groups. Jasri is paradise and most of the accommodation is right on the beach close to the right-hand surfing point. This makes it the best place in Bali for a getaway.
Here are some great options for accommodation Jasri Bali:
Villa Matanai
This is where we stayed and we loved it. Situated on the beach overlooking the secluded bay Villa Matanai was only minutes to the surf point.
The villa has 10 rooms, 3 pools, pool table and an onsite restaurant serving you superb breakfast, lunch and dinner daily.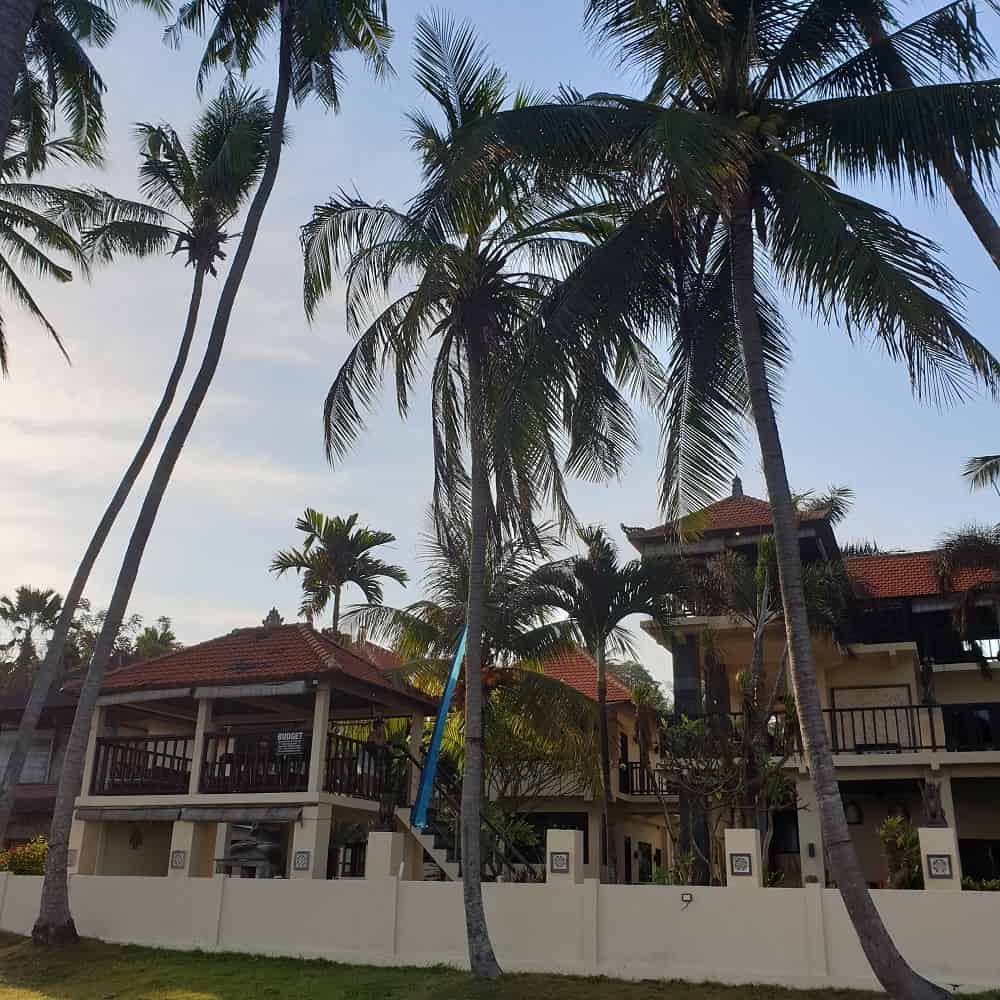 The staff were super friendly and the owner really makes sure you have an awesome stay. You will feel like part of the family staying here.
---
Jasri Beach Villas
Right next door to the Villa Matanai is the rustic Balinese built Jasri Beach Villas.
Suitable for couples and families this place is how you would picture staying in Bali would be like.
Book Here for Jasri Beach Villas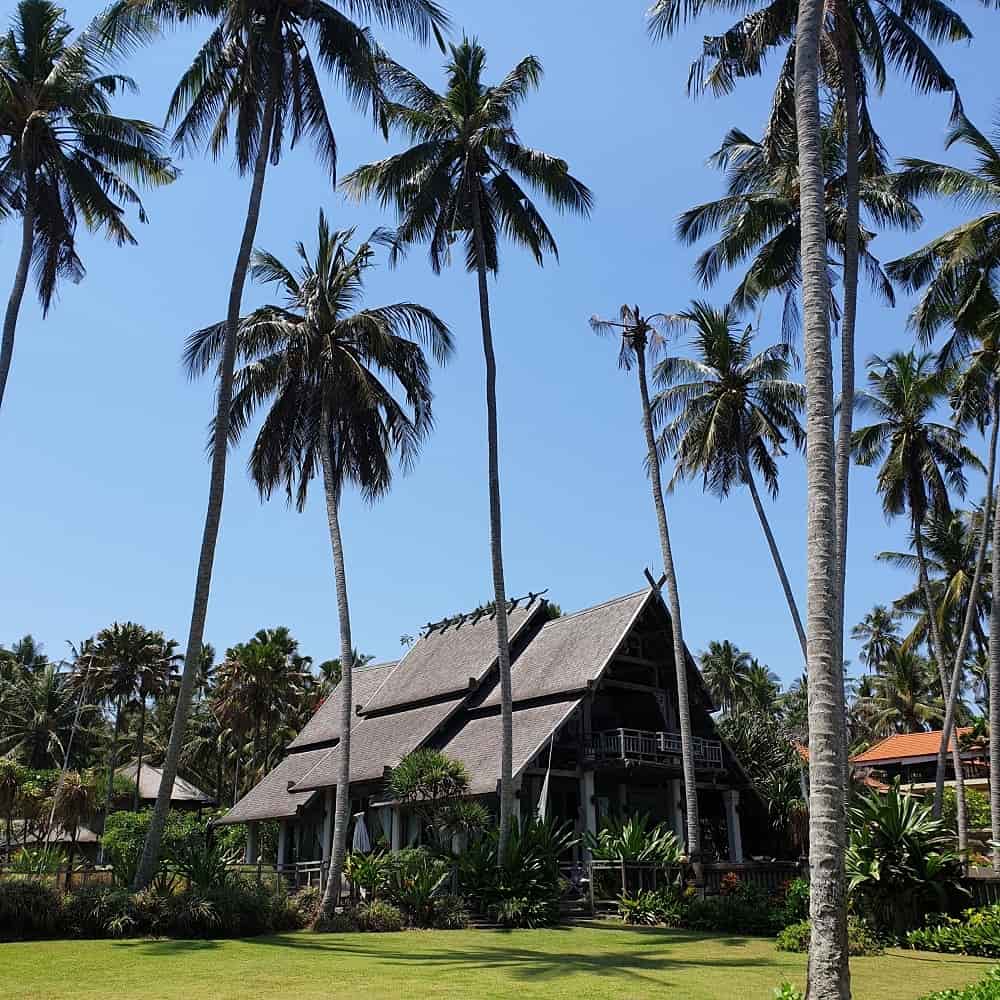 ---
Jasri Dalem Surf Retreat
If you want to be right at the surf break in bamboo style bungalows then this is the place for you.
This low-key place suits couples and singles that want to surf. The accommodation boasts a restaurant, local sandy gardens and friendly staff.
Book Here for Jasri Dalem Surf Retreat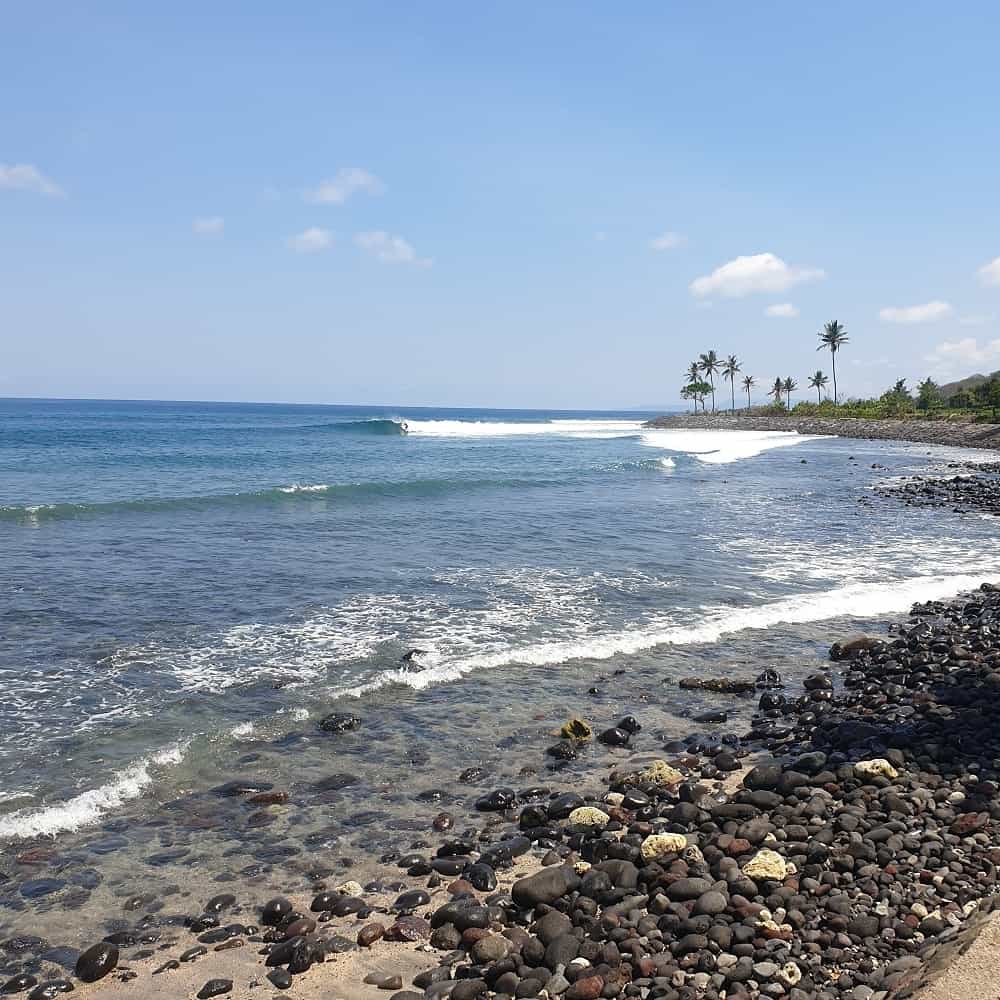 The Surf Break at Jasri Beach
Jasri Beach is suitable for learners, intermediate and pro's. Not a great absolute beginners wave though. Smooth rocky bottom, right-handed, rides of 100 meters, medium power, can barrel with nice walls for carving. Uncrowded on most days. View of Mt Agung, set in a beautiful palm tree-lined small bay.

Brian, surfer
Things to Do at Jasri Beach
There's not exactly that much to do at Jasri. That is why you will love it. We had the whole resort almost to ourselves, so we relaxed deeply into the vibe of the place and did almost nothing. It was absolute bliss.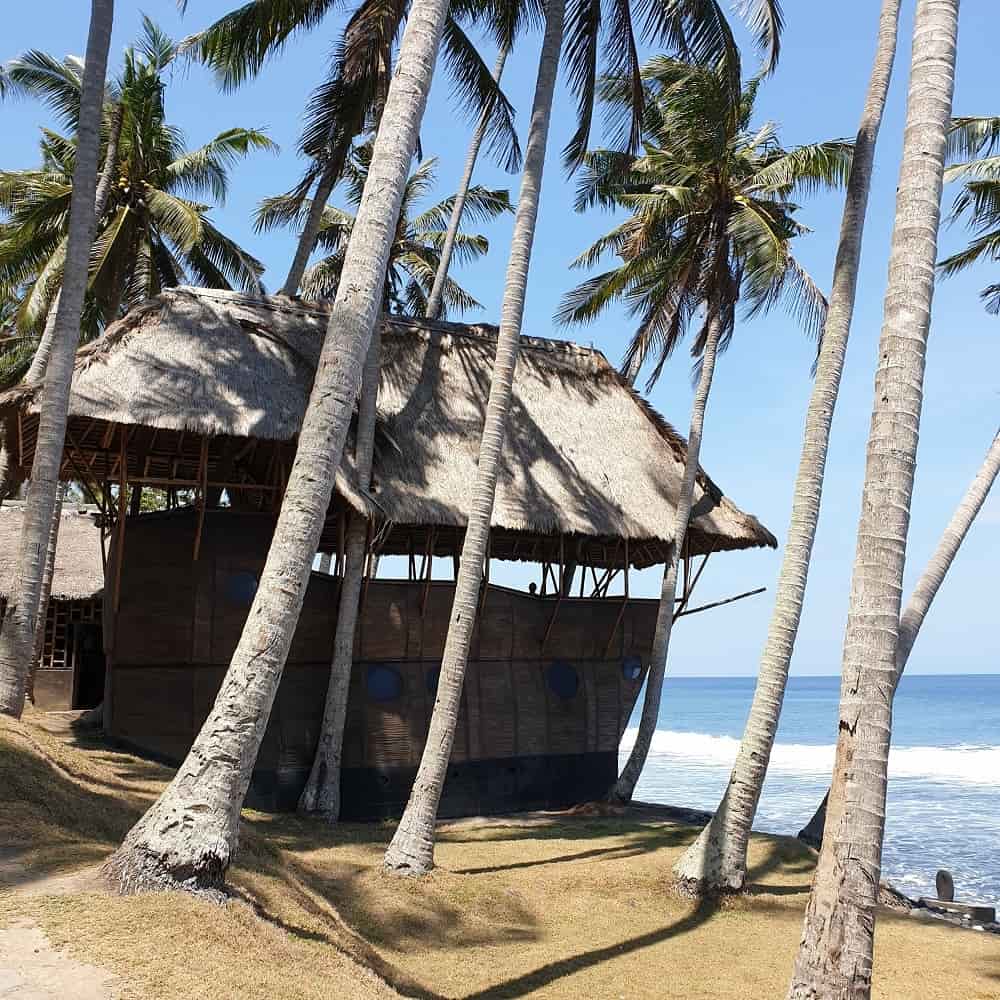 There is phone reception, and the wifi is a little sketchy.
Surf every day
Swim
Drink
Eat
Chill
Try free tastings or a hot beverage at the chocolate factory
Visit nearby Virgin Beach (powder white sand framed by palm trees with a few low-key warungs)
Have dinner at Candidasa
Plan your next move: From here it is easy to go to Gili Islands on the Fast Boat, Sidemen for countryside bliss, or Ubud.
Check out Amed for a snorkelling day trip (45 minutes away to the North)
Your villa host or reception will be able to organise day trips
Who Will Love Jasri Beach, Bali?
Well, if you are like me and getting tired of going to the same places in Bali over and over again, get off the beaten track and discover the real Bali in Jasri.
After multiple trips to our favourite island, we have discovered our paradise. We went there with our family after a long period of travel, so it was a perfect place to have a holiday from our holiday. The surf kept us happy, the food was amazing, and although you couldn't really swim safely on the rocky beach, the 3 swimming pools at our villa easily kept the kids entertained.
Read this to find out our Top 5 Bali surf spots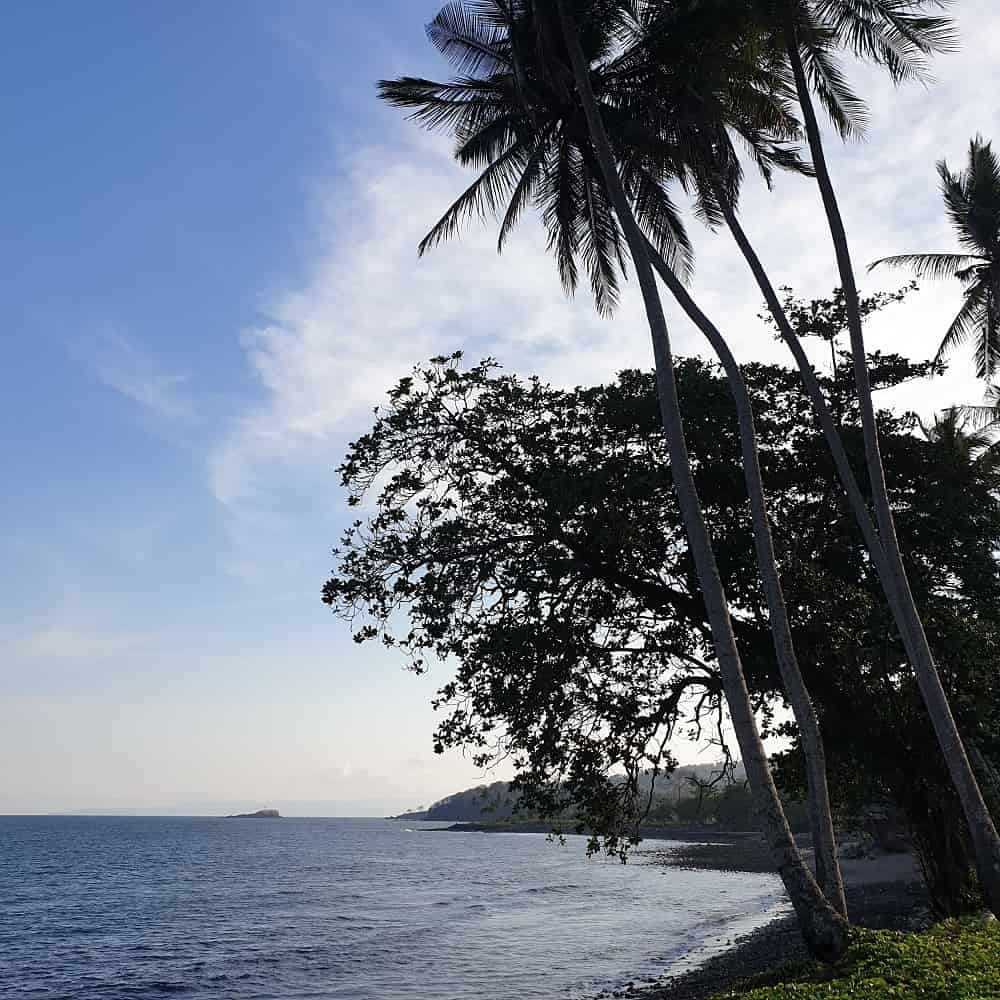 Jasri Beach Verdict
Jasri Beach is a place we will go back to again and again. The low cost, the lovely people, the peace and tranquillity and the stunning scenery has made it our favourite place to stay on Bali.
There is just no hassle here. The breeze gently swaying in the tall palms as you recline overlooking the beautiful ocean will win you over and give you absolute escape from your everyday life.
Related Articles
Find out more about Bali by clicking on these links. Ask us anything by commenting below:
Hot things to do in Bali: