If you haven't already been to Your Mates Brewing Co on Queensland's Sunshine Coast, then you are missing out. Easily one of the region's most popular breweries has just gotten extra points for being great for the kids too. Read on to discover why Your Mates has just become one of our mates.
Where is Your Mates Brewing Co Located?
Tucked away in Warana's industrial area, this little shed is heaving with action. The brewery sits roadside at the front of the premises, while the pub is at the back of the building.
Parking available at the rear of the building.
See location on Google maps: 41 Technology Drive Warana
Opening Hours
Tuesday: 11 am – 9 pm
Wednesday: 11 am – 9 pm
Thursday: 11 am – 9 pm
Friday: 11 am – 11 pm
Saturday: 11 am – 11 pm
Sunday: 11 am – 9 pm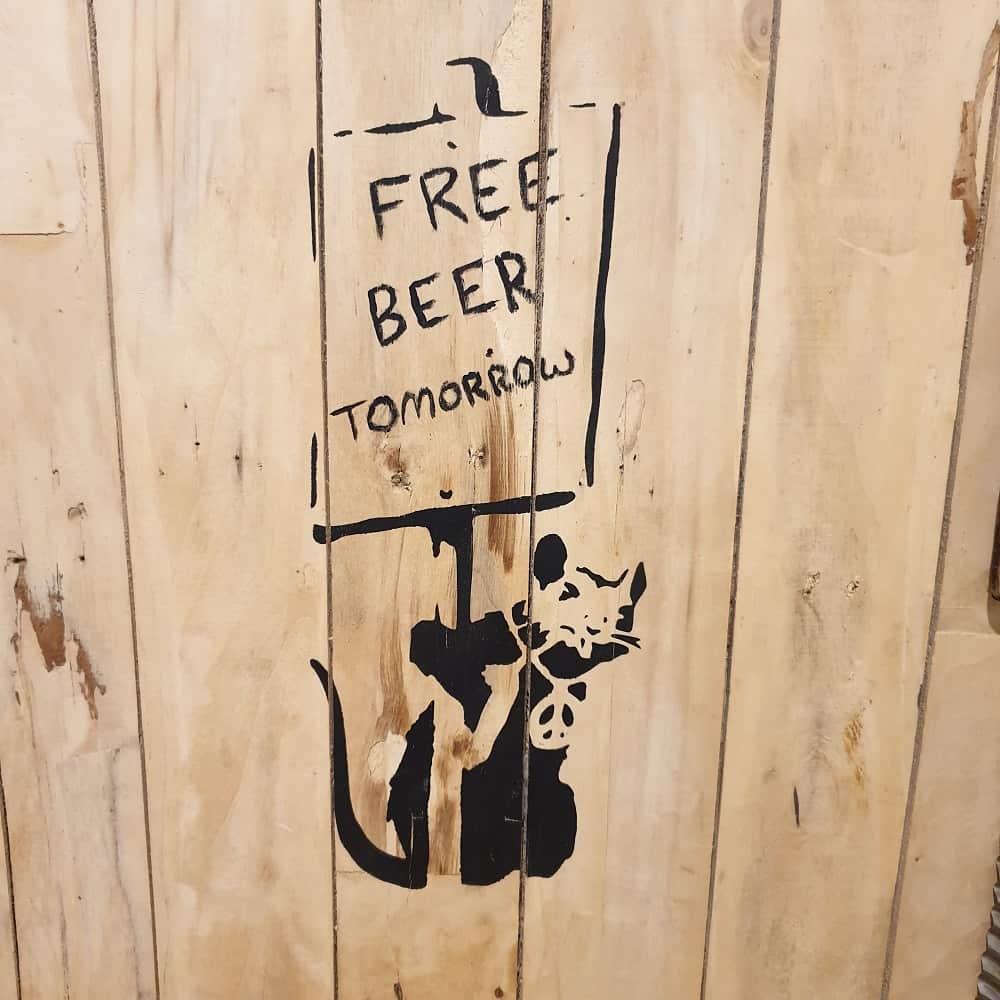 Is Your Mates Brewing Suitable For Kids?
Yes! This is such a refreshing watering hole, in more ways than one. There is a very effective kids playground at the back of the bar which was able to entertain our little ones for ages. It's just a simple cubby with a slide, but that is just enough!
Master 10 was finished playing quicker than the other 3. But they would have stayed there all day if we let them, which is great for us Mums and Dads who deserve a nice craft beer.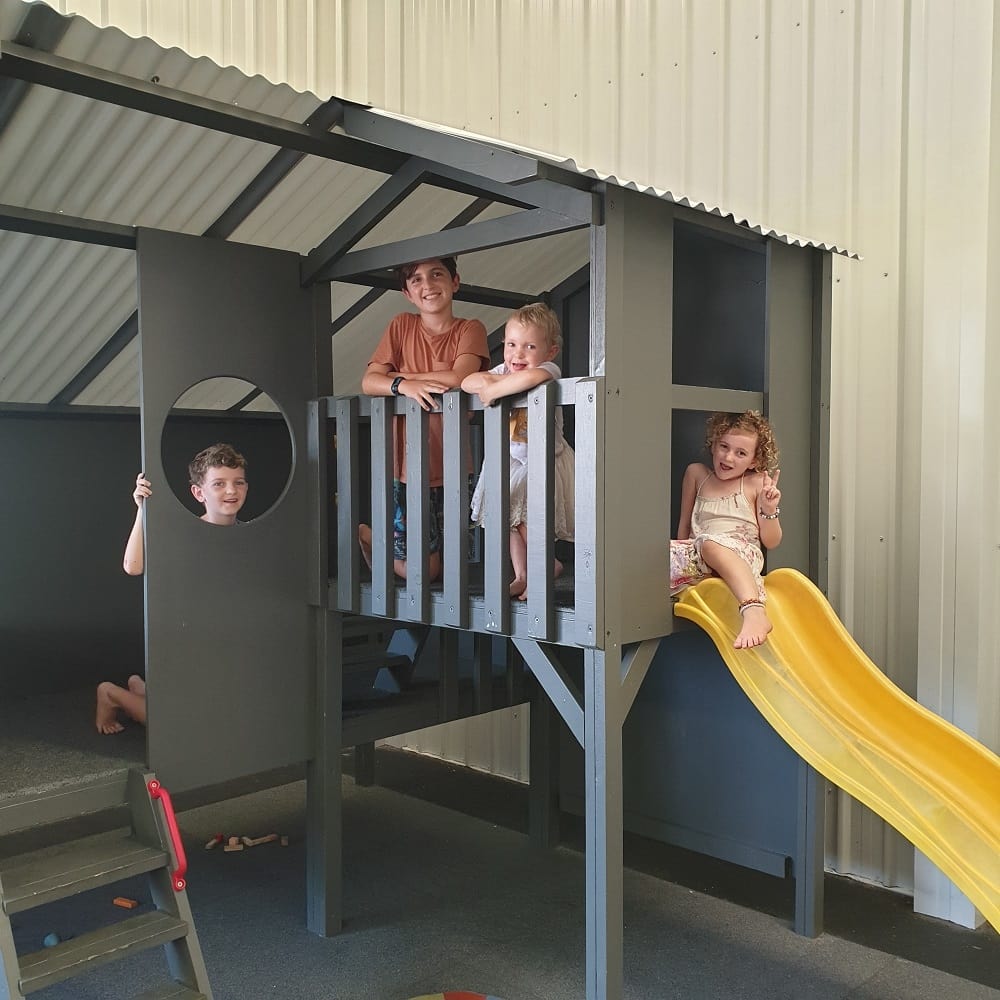 Once they get sick of the playground, there is even a games room with a bunch of $1 pinball and gaming machines. Although, the cost of these can quickly add up, especially with 4 of the little darlings.
The kid's menu is fairly standard in any Australian pub I think. But here a simple basket of shoestring fries with epic seasoning was much loved by my kids for only $7.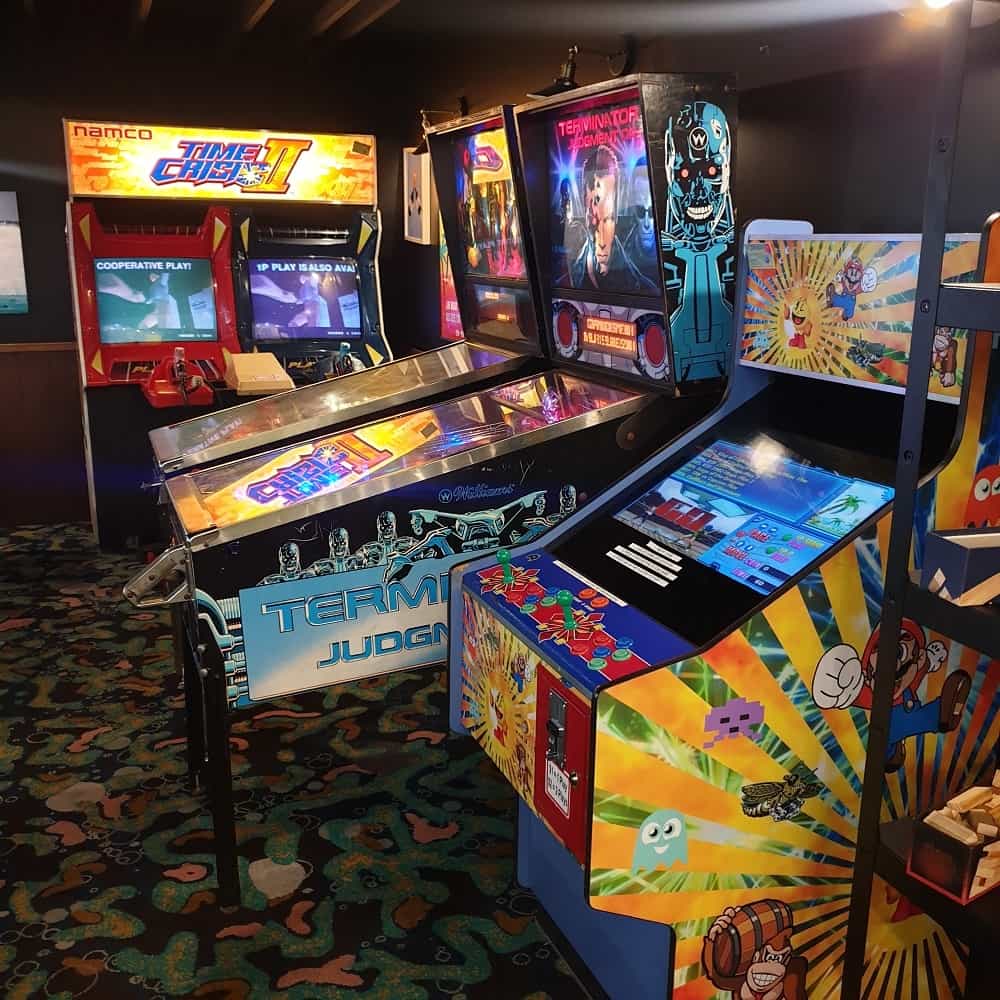 The only thing that is not really suitable for little ones is the seating which is all bar stools and high tables. So even if you get a highchair, they are still too low! I never like sitting my kids aged around 2 or 3 on a barstool, they just seem so high and dodgy!
Pets are Welcome!
There is a cute area inside the front door where you can tether your pup while you have a brew which is awesome for dog lovers.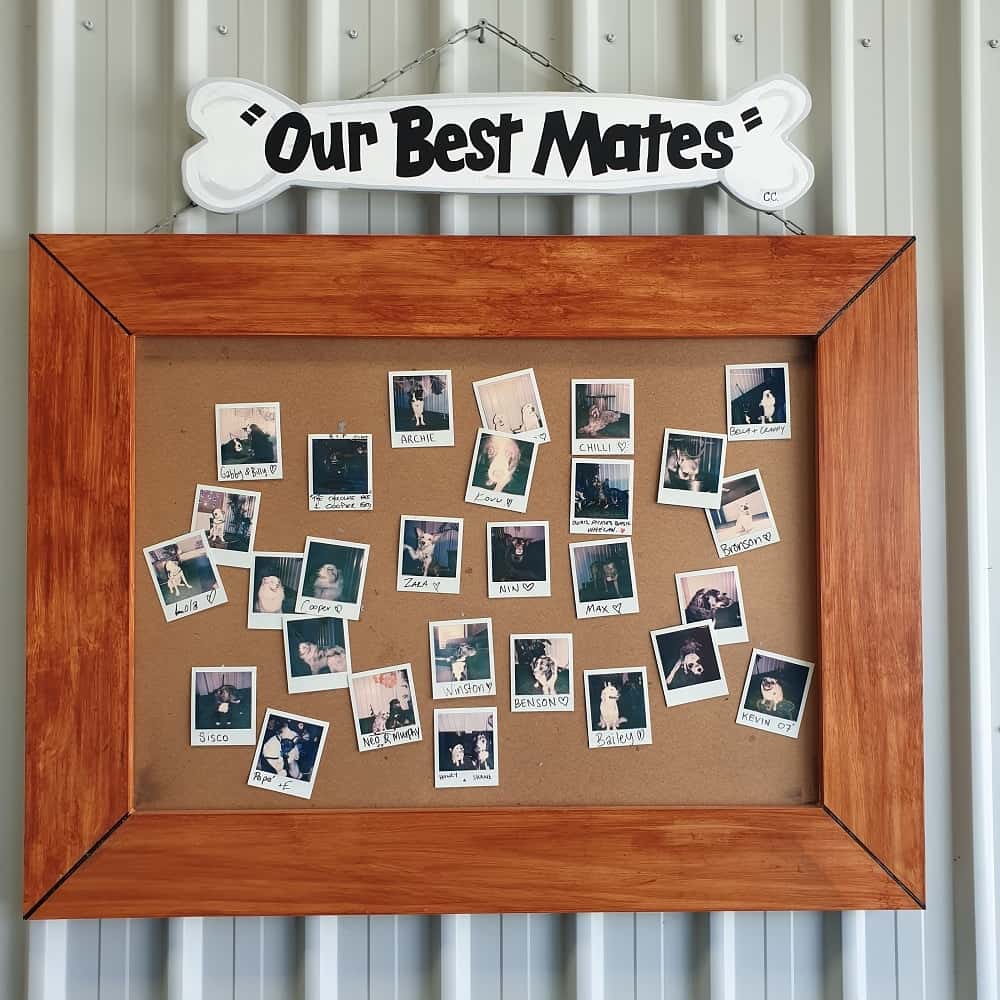 The Beers
Your Mates has 4 best mates, and some seasonal brews too. Larry, Sally, Donnie and Macca will soon become your mates too!
Larry – This is Your Mates signature brew. It's an extremely easy-drinking session beer in a pale ale style. Larry feels like tropical fruit and Hawaiian shirts. Love this beer, at 4.5% ABV. It's rated an incredible #5 on the GABS annual Hottest 100 Craft Beers countdown for 2019.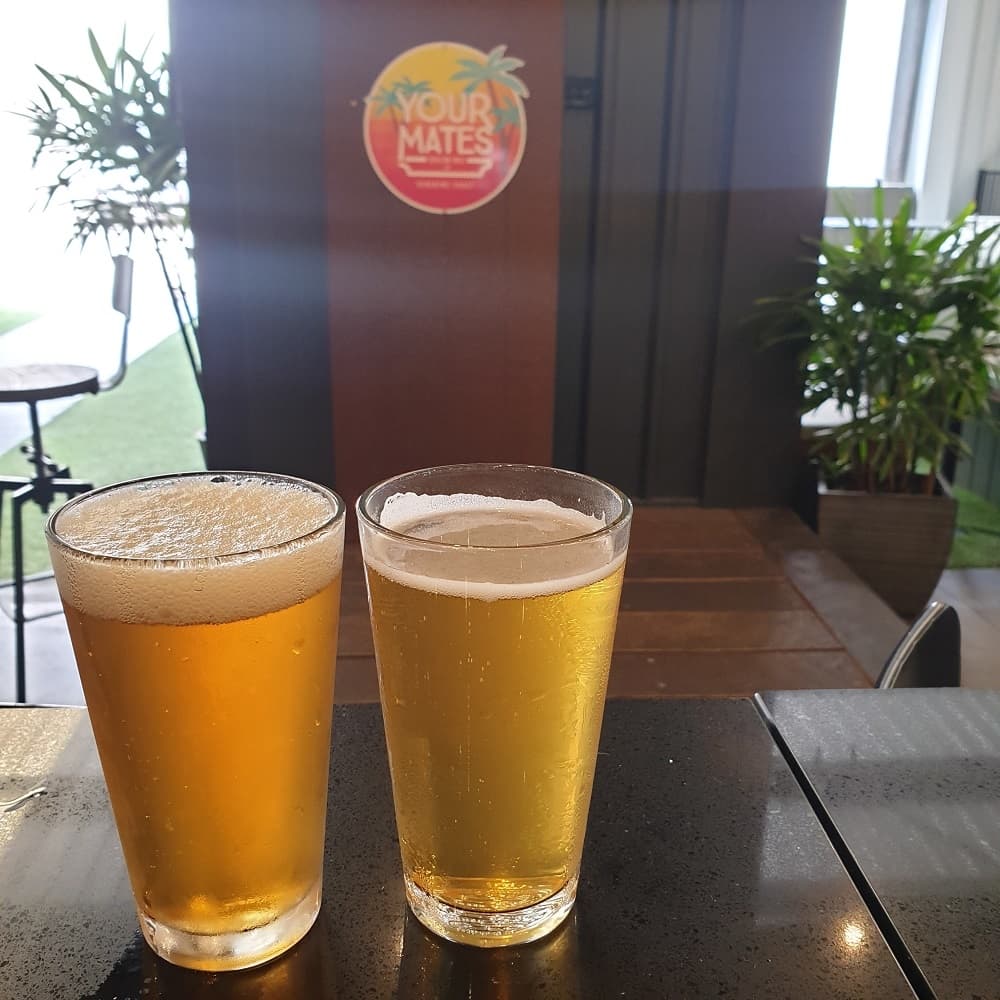 Sally – She is my best mate. Full of botanical hop flavours and medium-bodied, this mouthwatering beer will have you coming back for more. 6.0%. She came in at #40 on the GABS countdown of the best craft beers in Australia! And deservedly so!
Donnie – This is the delicious 5% dark ale with espresso and smoky notes. #99 on the GABS countdown.
Macca – A great easy to drink malty Lager at 3.5% ABV. Coming in at #49 in the hot 100 and rounding out Your Mate's achievements in the poll nicely!
You will see Larry popping up at bars all over the Sunshine Coast these days and you can also buy takeaway cans and growlers from the brewery.
The beers are perfectly priced pints and schooners and happy hour is 3 – 5 pm daily.
In the seasonal brews, we recommend the Session XPA – perfect for the designated driver – full-flavoured and crisp.
If you like your beer sweet, the Pineapple XPA is very exciting too.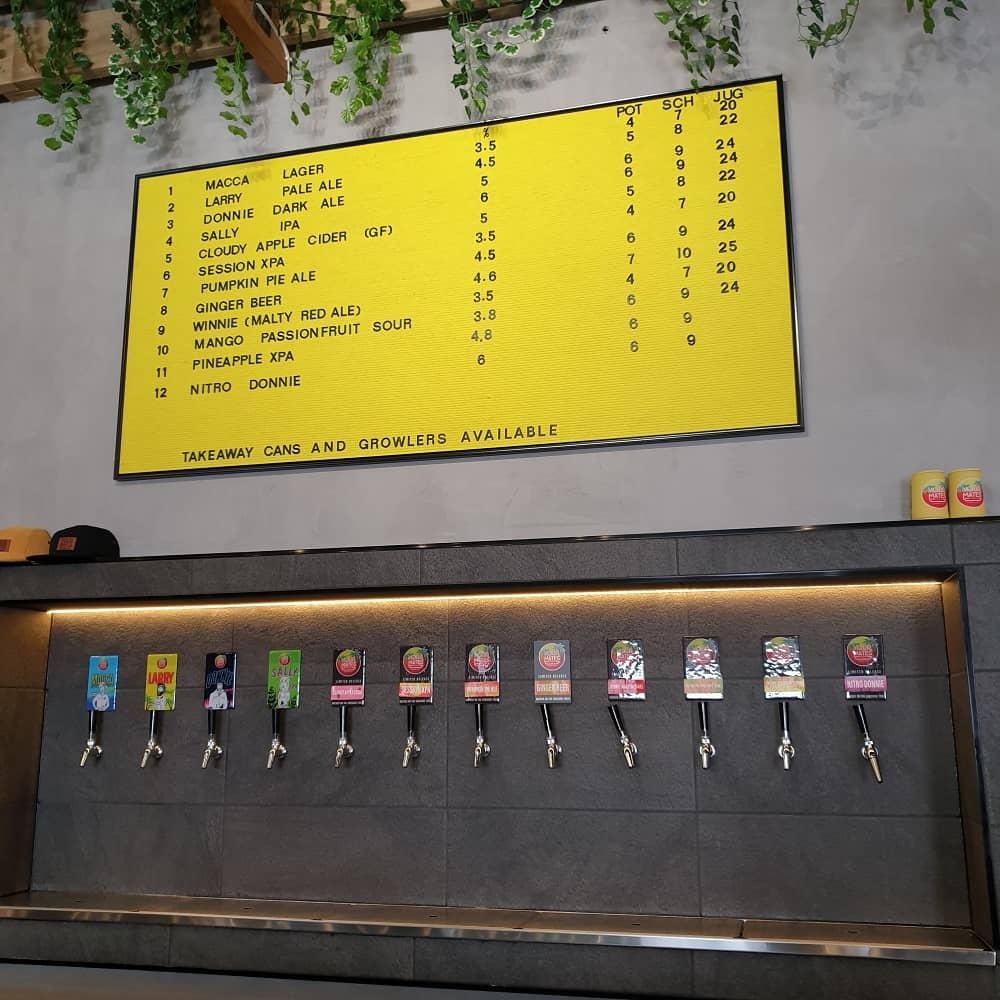 Food at Your Mates Brewing Co
One word: Burgers. Holy cow, the burgers at Your Mates are bloody excellent and complement the beers like an absolute dream. And the best part is, on weekdays for lunch you can grab a beer and burger for only $15. That's worth the trip down (or up) to Warana alone!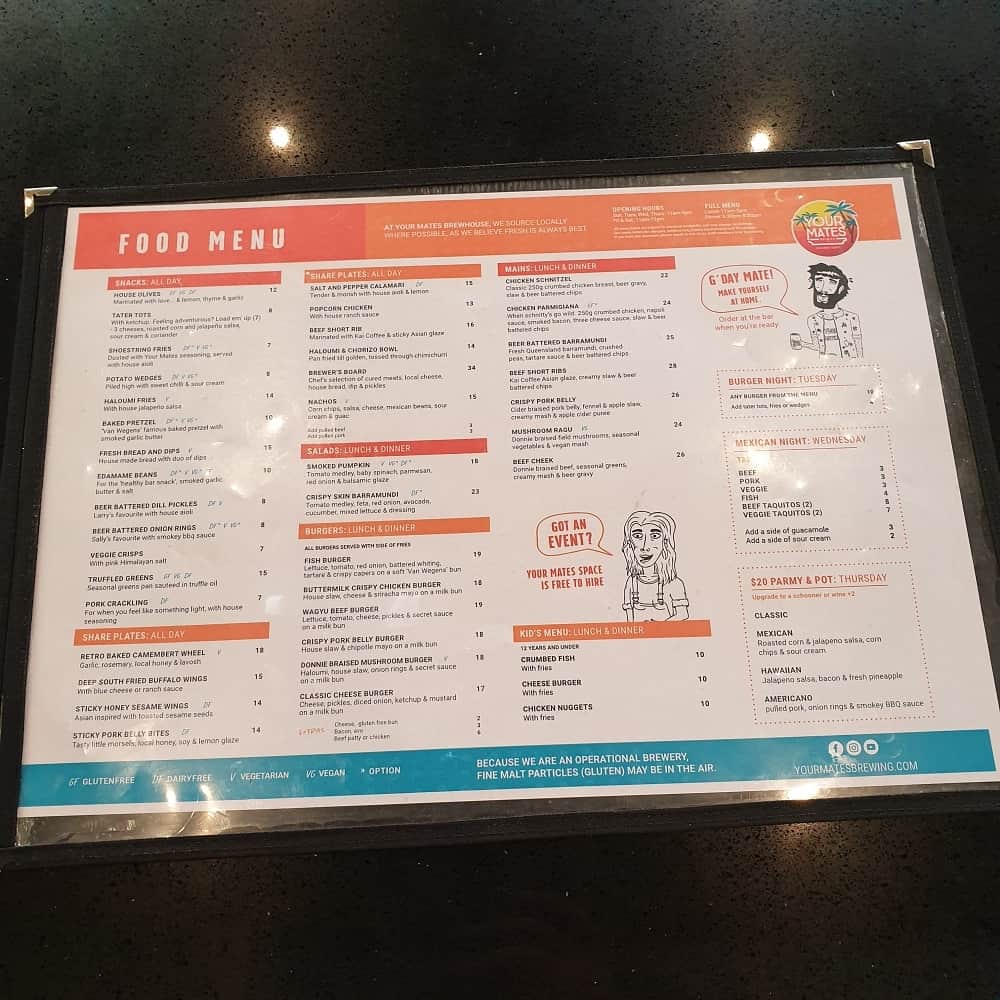 Other great weekly specials include:
Burger Night Tuesday
Mexican Night Wednesday
Parmy and Pot Thursday
Burger and Beer Lunch Weekdays
Live Music Friday and Saturday nights
Pizza Sunday Arv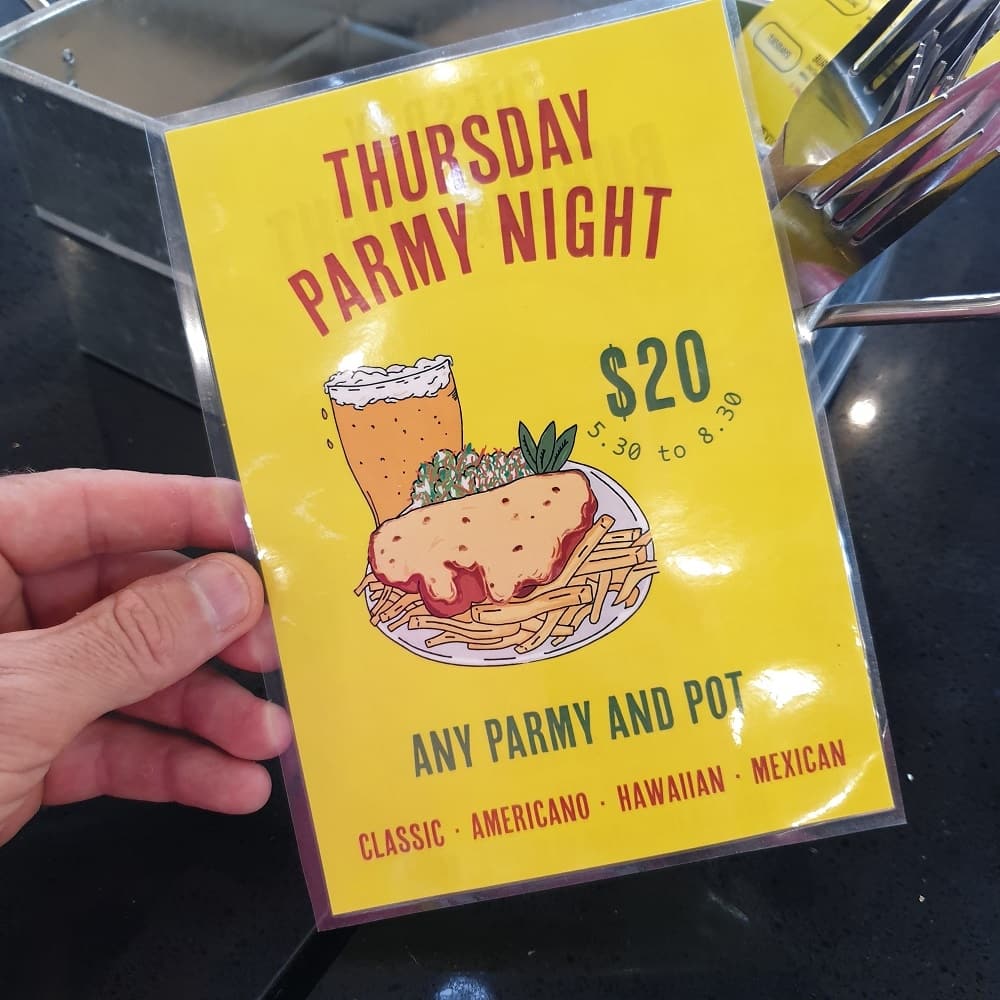 Facilities at Your Mates Brewery
The toilets are spotless and include ambulant and wheelchair access. There is a change table in there too.
The entryway is wide and also wheelchair accessible. No low tables though which could leave your wheelchair mates a little bit on the low side.
Highchairs are available.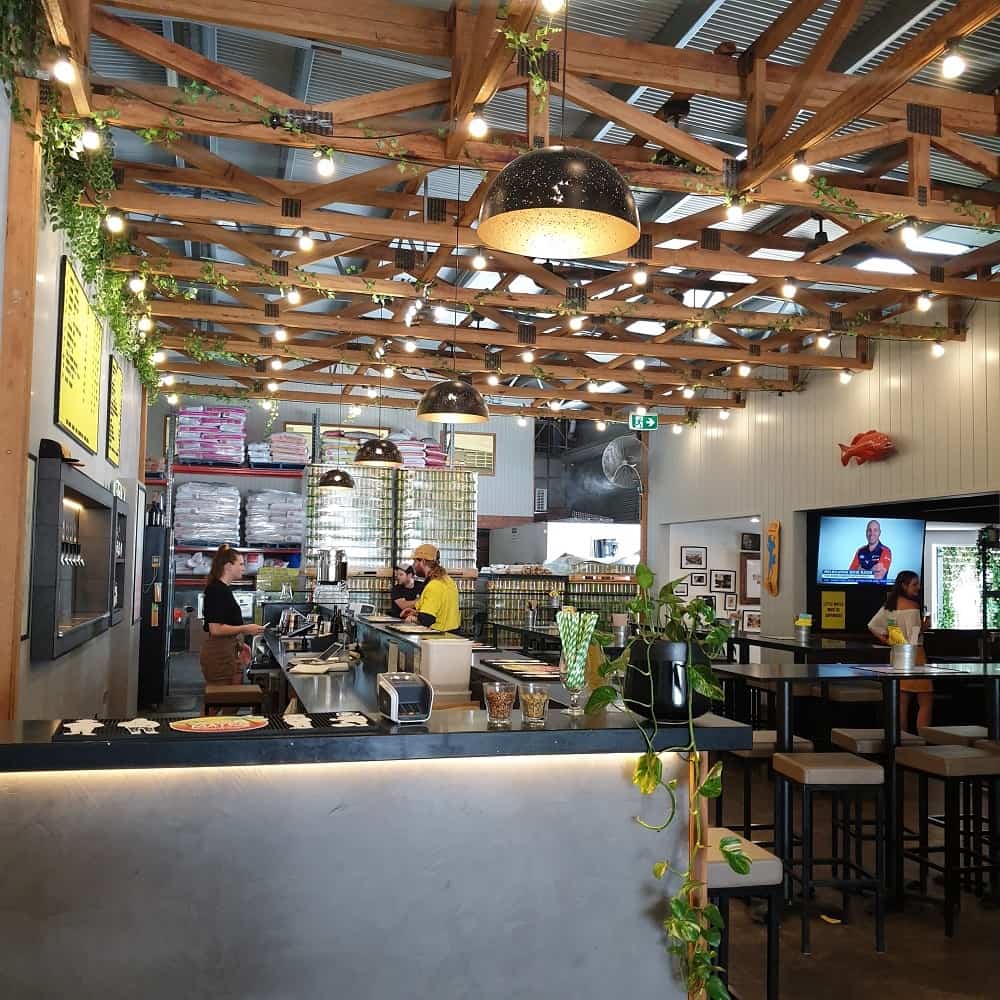 Our Your Mates Brewing Co Experience
We have been wanting to visit this brewery for a while now. We had heard great reports about it from fellow minded people in need of a kid-friendly establishment. Our visit was on a Wednesday lunch, we arrived early and enjoyed a fairly quiet and low-key lunch. The kids loved the food, and they drank cold water.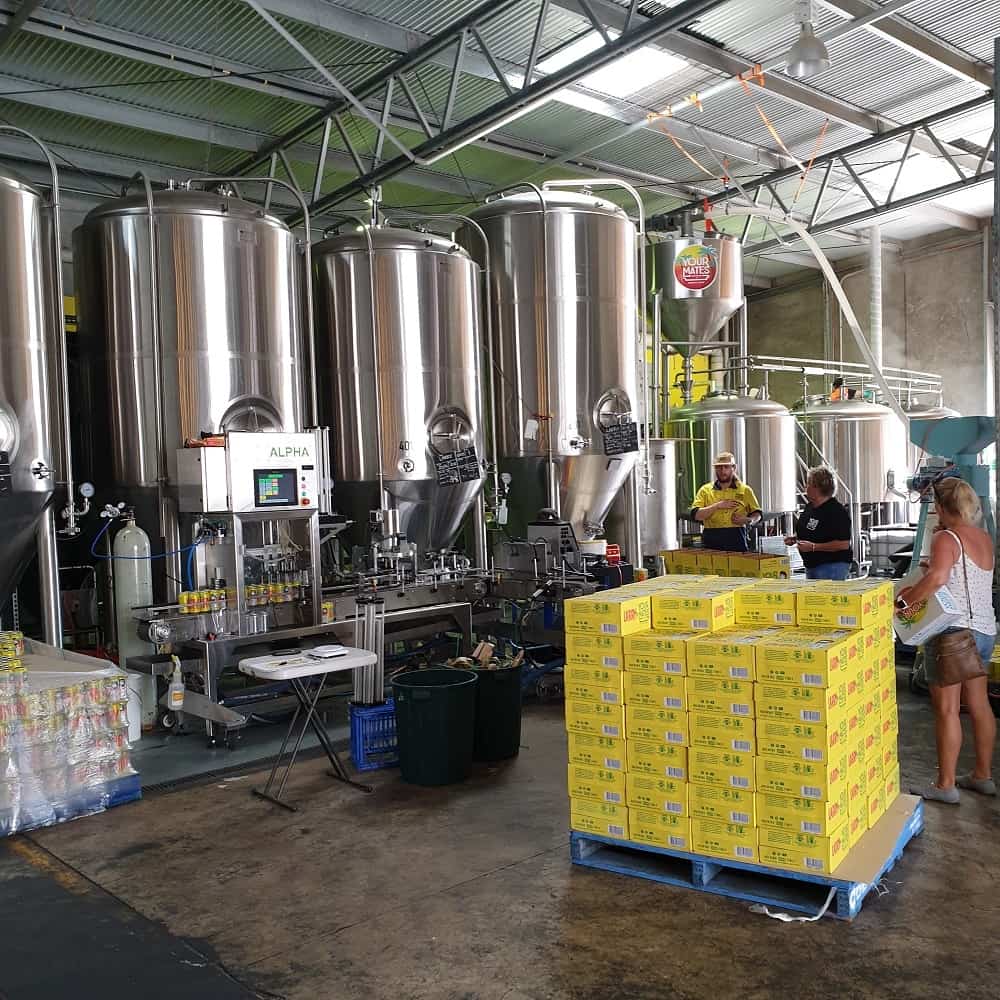 Our kids also enjoyed being able to see the brewery operations and watching the process of canning and boxing beers was pretty intriguing for them.
We absolutely rate the amazing burgers. So juicy and delicious, with a decent side of shoestring fries. The atmosphere was grand and they had tasteful easy-listening tunes playing while we were there.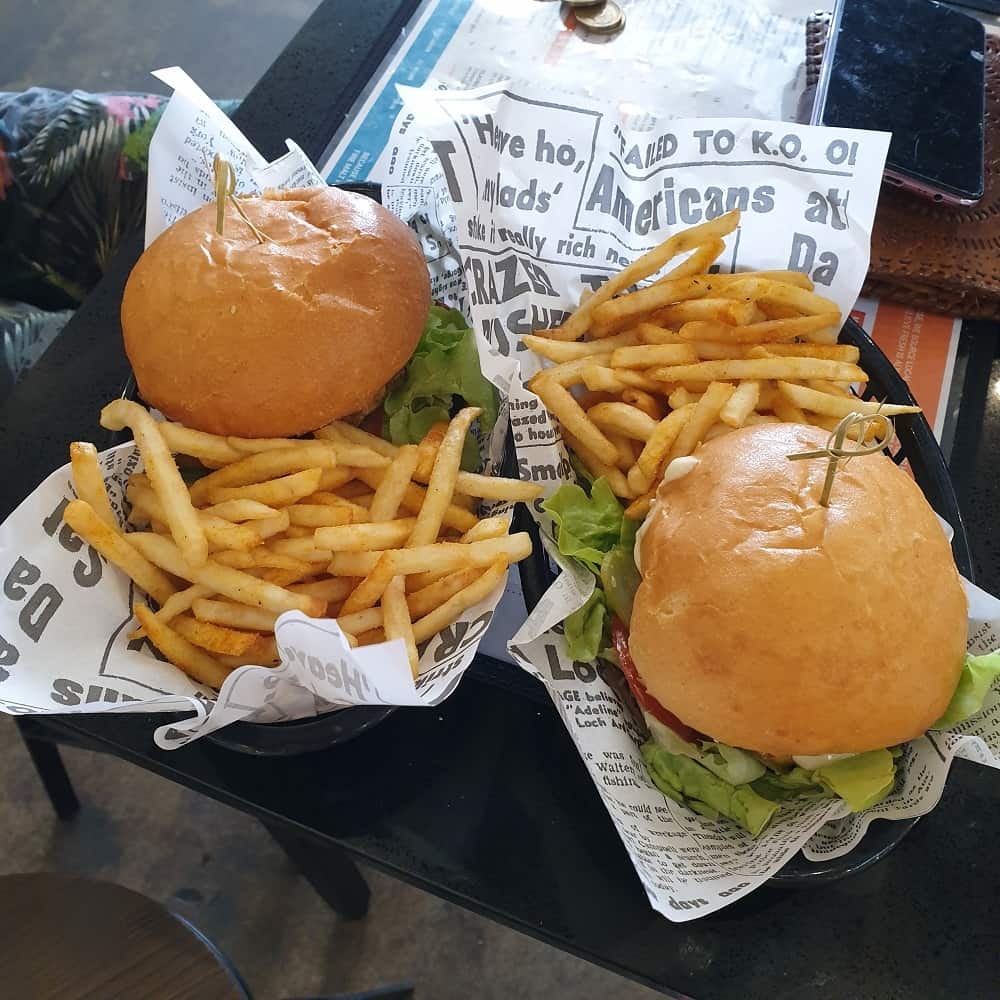 Your Mates has the feel of somewhere you could take the hardest to please person, and they would be pleased. It just makes everybody happy, whatever your age or persuasion.
The Your Mates Brewing Co Verdict
Great food, excellent beer and to top it all off, the kids were occupied which is so important in our quest for kid-friendly breweries.
Your Mates is a firm contender for the top spot on our list of top breweries on the Sunshine Coast. Your Mates are now our mates.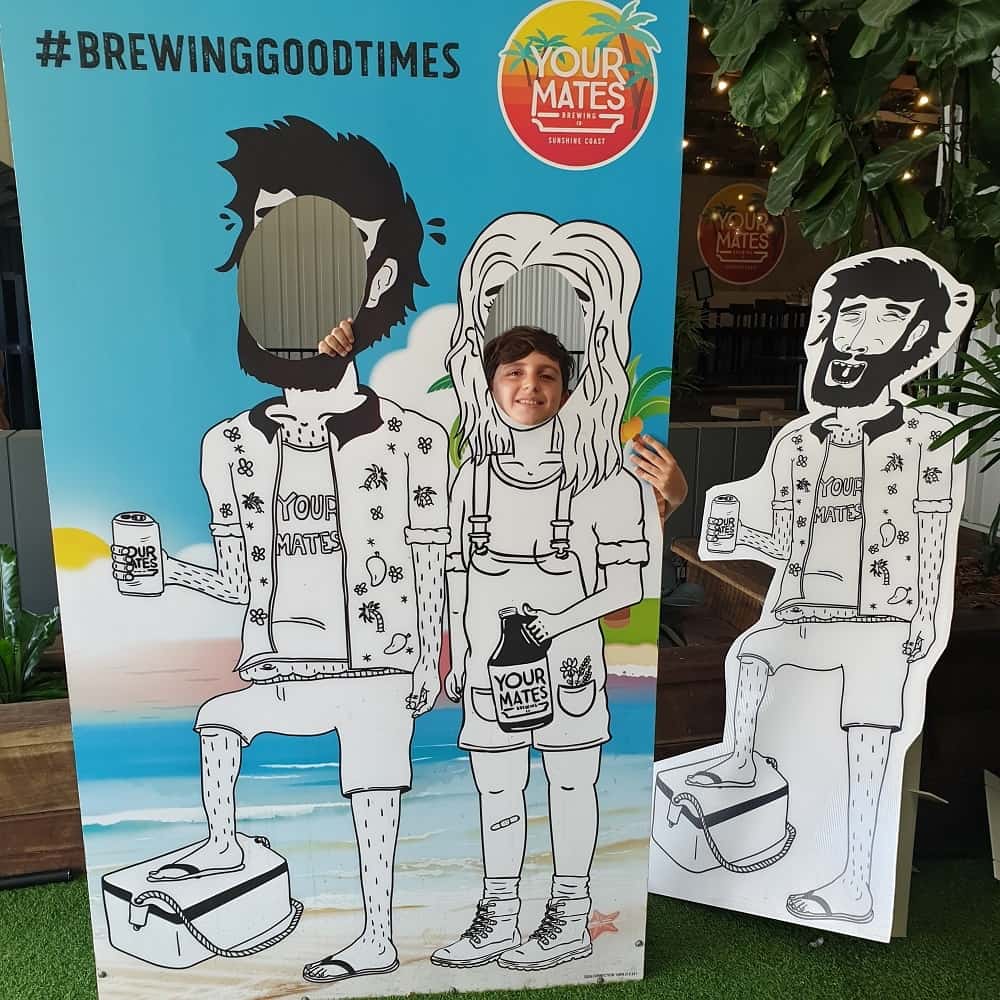 It's a hard task, but someone's got to do it. We are on the hunt for the Sunshine Coast's best breweries. After all, parents will enjoy their beer a whole lot more if they know their young ones will be entertained at the same time.
So make sure you give this one a red hot go. You won't regret it!
Check out the other challengers so far for the Best Brewery on the Sunshine Coast