Are you searching for the best-recycled backpack? If so then the Rareform Backpack may be for you!
Find out here with our detailed Rareform Backpack review everything these upcycled bags have to offer so you can make an educated decision.
---

Name: Rareform
Website: rareformaustralia.com.au
Price Range: $119 – $195 AUD
Overall Rank: 8 out of 10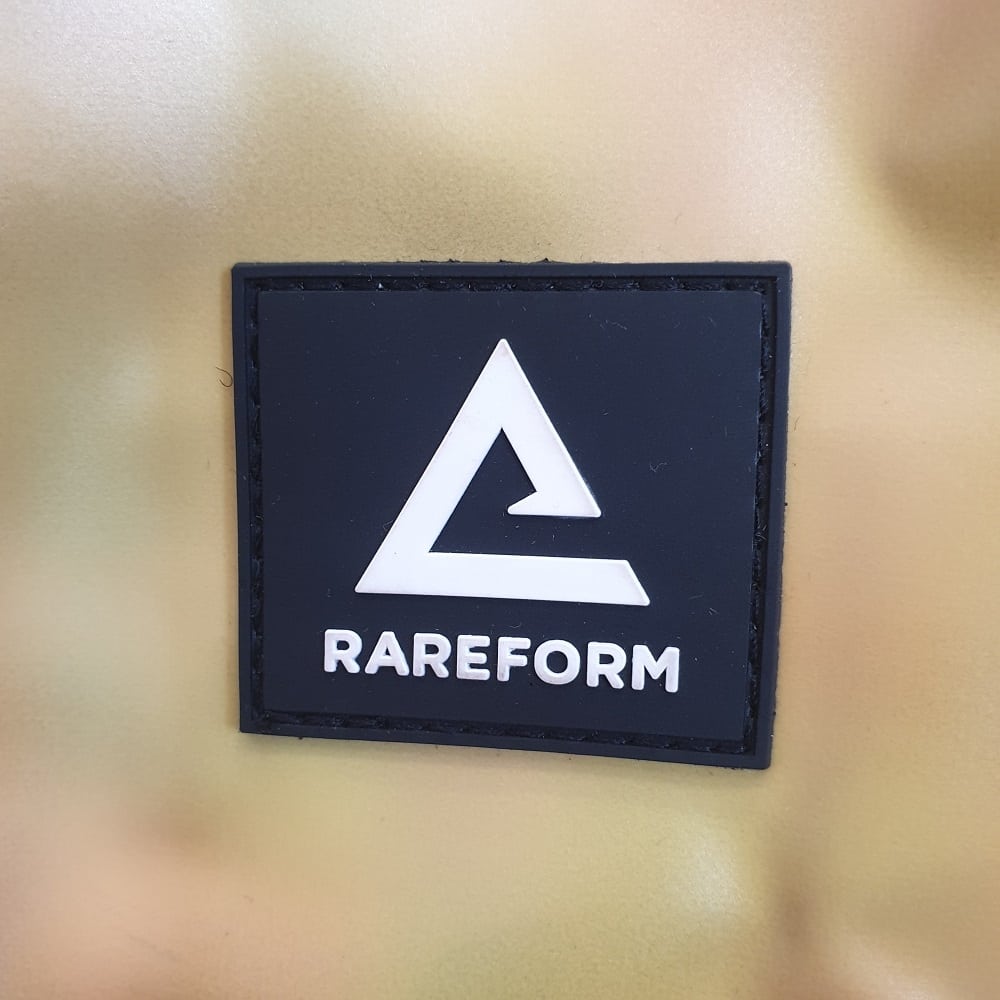 Rareform Backpack Product Overview
Rareform's recycled backpacks are one of a kind and number 1 when it comes to sustainable luggage.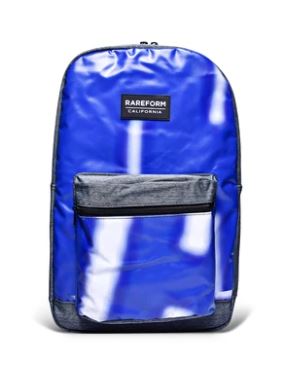 Once a billboard, now a bag is their unique selling proposition and is truly 100% unique in many ways.
Rareform takes old used billboards that would normally end up in landfill and turns them into bags. Meaning that each bag is a unique design depending on which part of the billboard was used in the making of the product.
Watch this video to see how Rareform Works!
---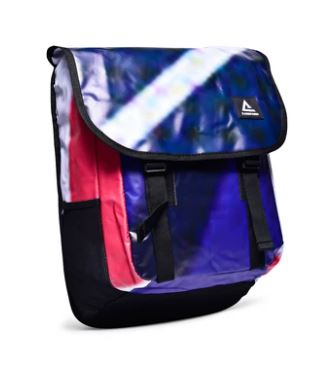 This review looks at the Rareform Backpack spectrum and answers all your questions about purchasing an eco-friendly bag.
Here we will show you the full backpack range.
The Rareform Backpack Options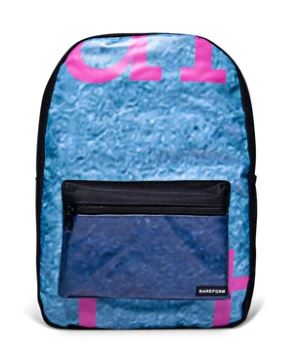 Rareform sells worldwide.
The Australian website carries the following backpacks:
ACE – 48cm H x 30.5cm W x 15.2cm D, 22.5L
BENTON – 48cm H x 30.5cm W x 15cm D, 22.5L
HADLEY – 38cm H x 28cm W x 10.1cm D, 11L
BROOKLYN – 46cm H x 32cm W x 13cm D, 20L
The Good & Bad of Rareform Backpacks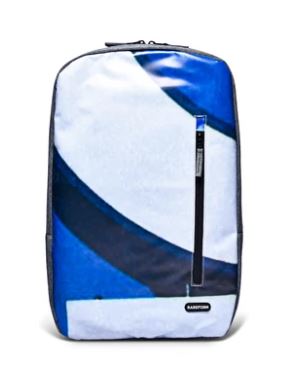 The Good:
Unique and sexy designs. You will be the only one with that exact design of bag in the world which will definitely turn heads wherever you go
Eco-Friendly thanks to the repurposed billboard vinyl cleverly used
TPU waterproof lining – Water-resistant
Nylon-lined interior
Fits most laptops up to 15 inch with ease
Strong quality YKK zippers
Vegan-friendly
Lightweight, comfortable and waterproof
Ultra-durable
Saving the planet with sustainable luggage
FREE standard shipping in the country of origin
Fast shipping and eco-friendly packaging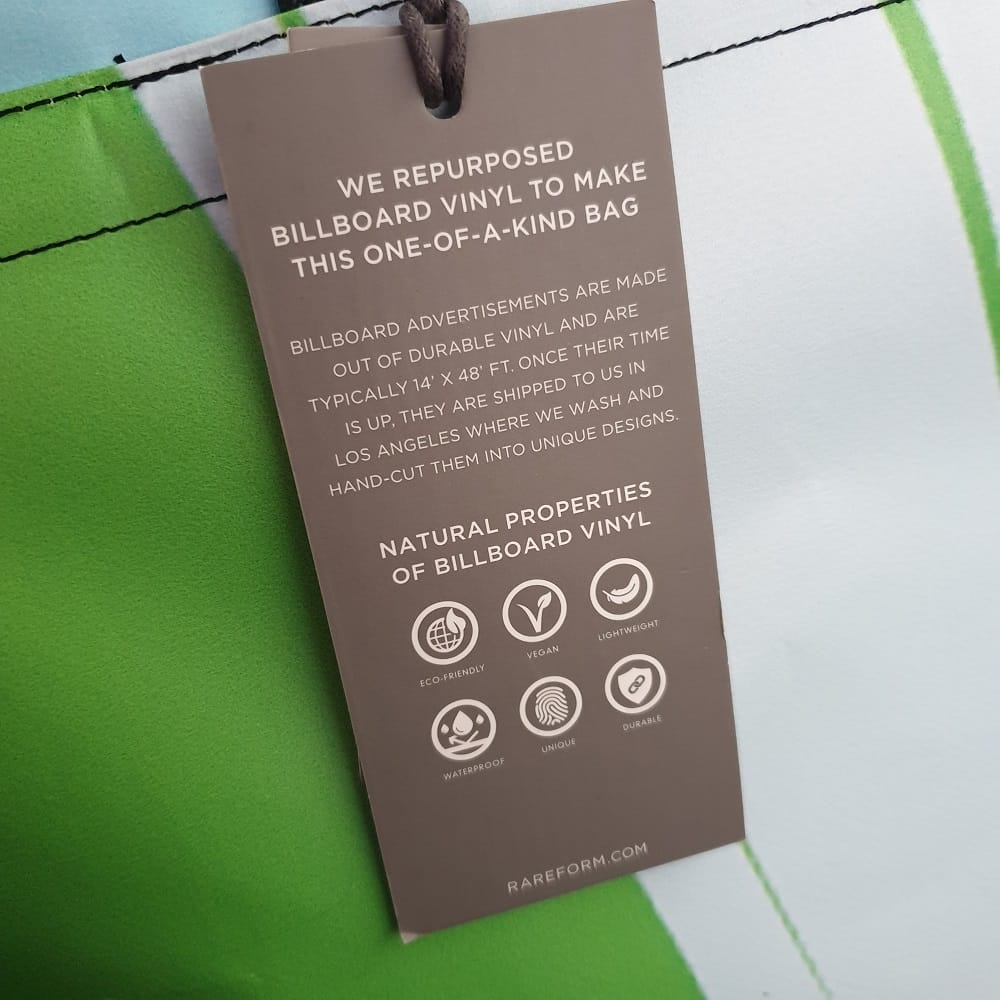 The Bad:
Storage capacity isn't the largest depending on the model of bag, but this depends on your needs. (Make sure you choose the right type of bag)
Not totally waterproof because of zips. (No swimming with bags)
Hard vinyl feel, not a soft bag that can be stored in another bag
Cannot lock bag to prevent thieves stealing laptop etc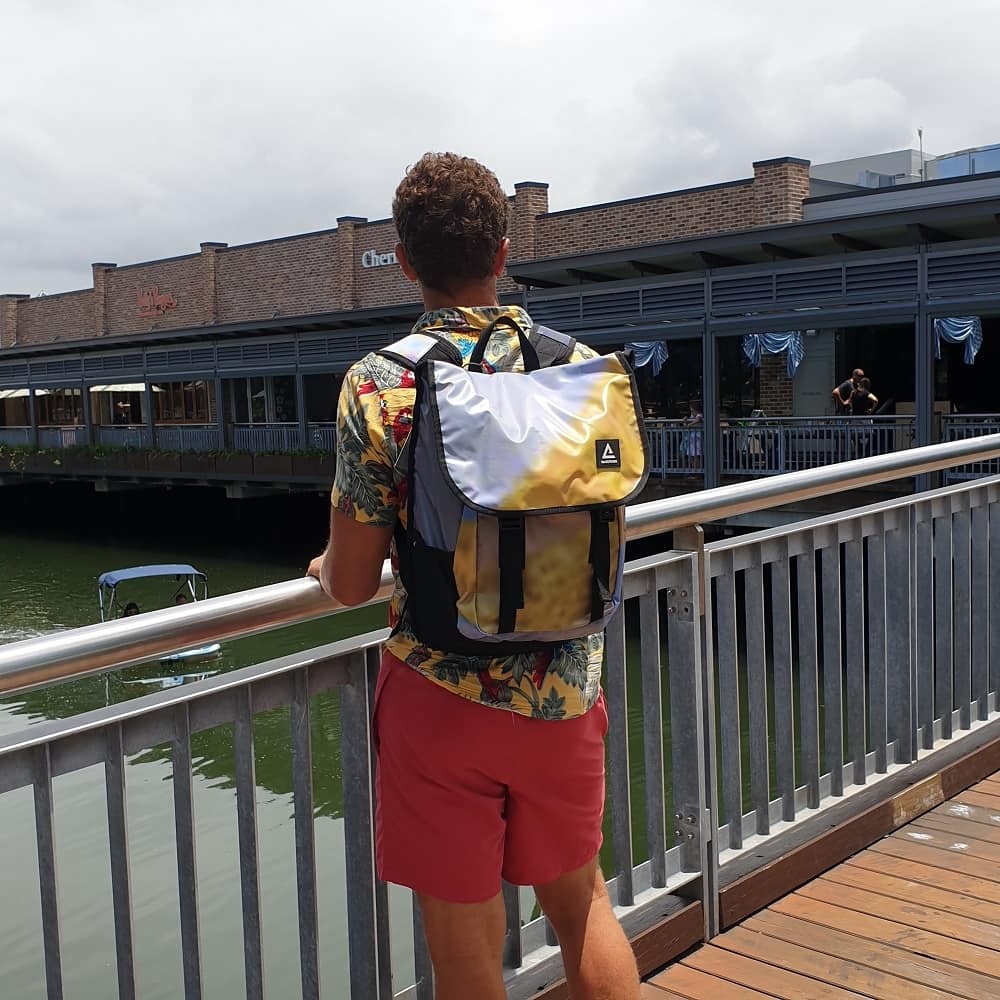 Who Should Buy a Rareform Bag?
Rareform Backpacks are suitable for people who really care about our planet and want to support sustainable companies by reducing our footprint on the world.
Rareform bags are for cool dudes who want to stand out from the crowd and want to be unique. You will never come across another person with the same bag as you.
The bag is suitable for university students, office workers, travelers, visits to the beach or just cruising down the street.
We love our Rareform backpacks because we feel like we are supporting our environment by stopping billboards from going straight to landfill. Also, the bags make you feel special and cool by creating a talking point thanks to their quirky design.
Last but not least they are really well made and strong, we have only had the bags for 3 months but aren't showing any signs of wear and tear.

We currently have the Rareform Brooklyn Backpack and Benton bags.
After testing out the two products side by side we have found some considerable differences.
1# Brooklyn Backpack
The Brooklyn backpack sure has some compartments, so many you can get lost in fact. But if you have a lot of gadgets to carry this bag is ideal.
Not the best bag for bulky items because of its slim design and compact compartments. But great for minimal footprint and low-impact shape. Perfect for public transport!
Brooklyn Bags feel comfortable to carry and look cool on your back with a high quality of workmanship. They retail for $195 AUD.
Made of durable vinyl with strong clips and zips this bag is sure strong. It also has a nifty side zip for quick access to your laptop and the straps can be adjusted for ultimate comfort.
---
Interior and Pockets
Inside the bag, you have a padded laptop section with a velcro fastener followed by a smaller un-padded sleeve. Within the front canvas pocket which closes with 2 wide velcro bands and a double clip, there is a small zippered pocket and 7 other assorted small pockets. An elastic and mesh drink bottle holder on the outside of the bag finishes it off nicely.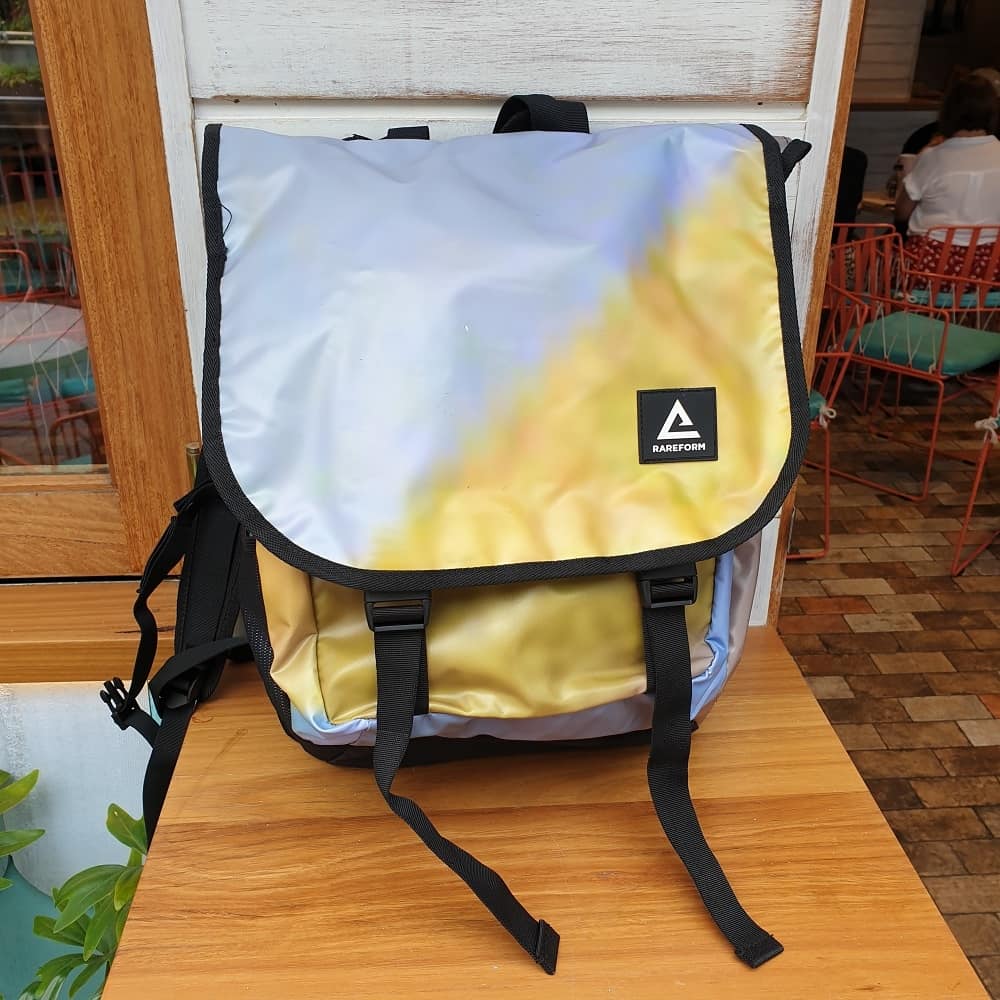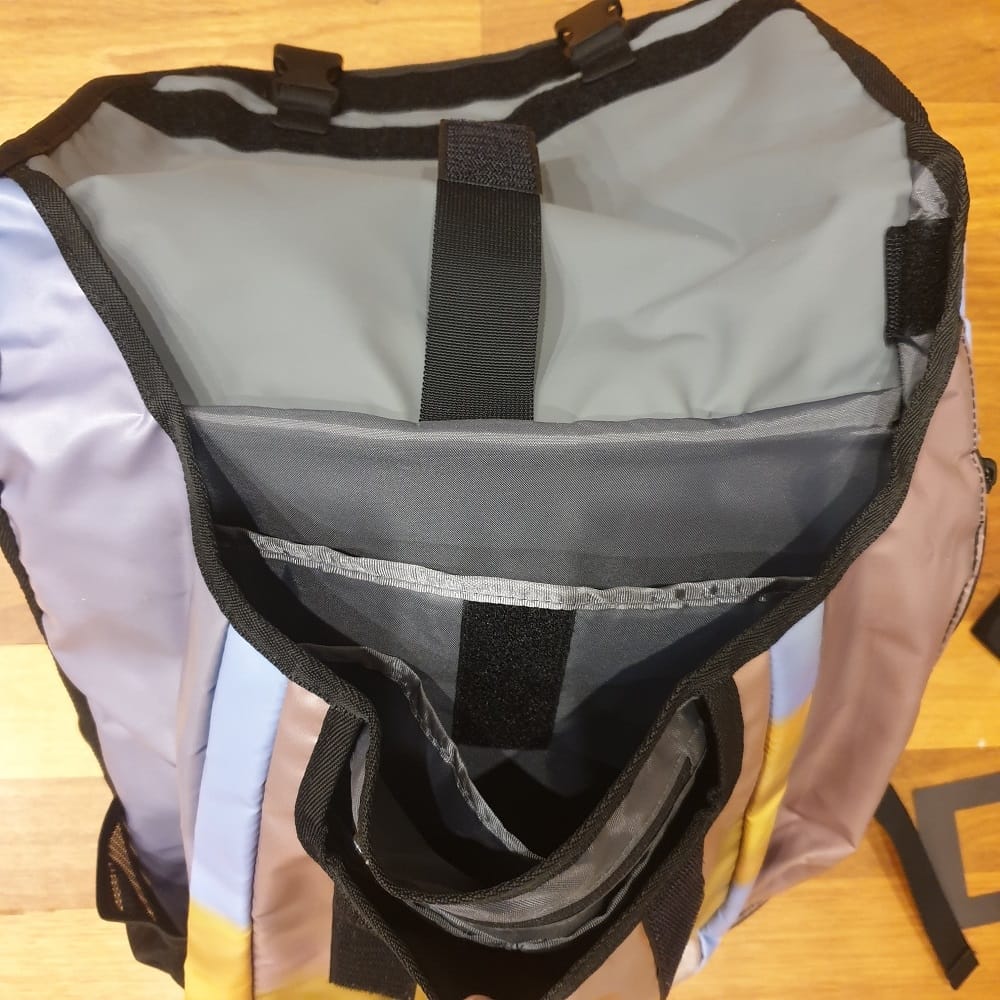 2# Benton Backpack
The Benton is a totally different bag, twice as light, probably can fit twice as much inside it and about $32 dollars cheaper with a price point of $72 USD ($140 AUD).
Rareform's Benton bags do not have as many compartments but it does a good job at separating your valuables. The unique cross pattern padding looks and feels good for laptop protection.
Benton Backpacks are able to carry bulkier items like a sweater also which is handy. It feels very comfortable wearing with a nice padded back and straps that adjust to suit the user.
It also has the softest front pocket on the planet to protect screens thanks to the super cozy fur lining.
This pack probably is the winner for me due to its weight, cost, and simplicity.
---
Interior and Pockets
Grey quilted padding on laptop sleeve with smaller fabric sleeve attached. 2x large mesh and fabric pockets inside the bag with a third generous fur-lined pocket on the exterior of the bag.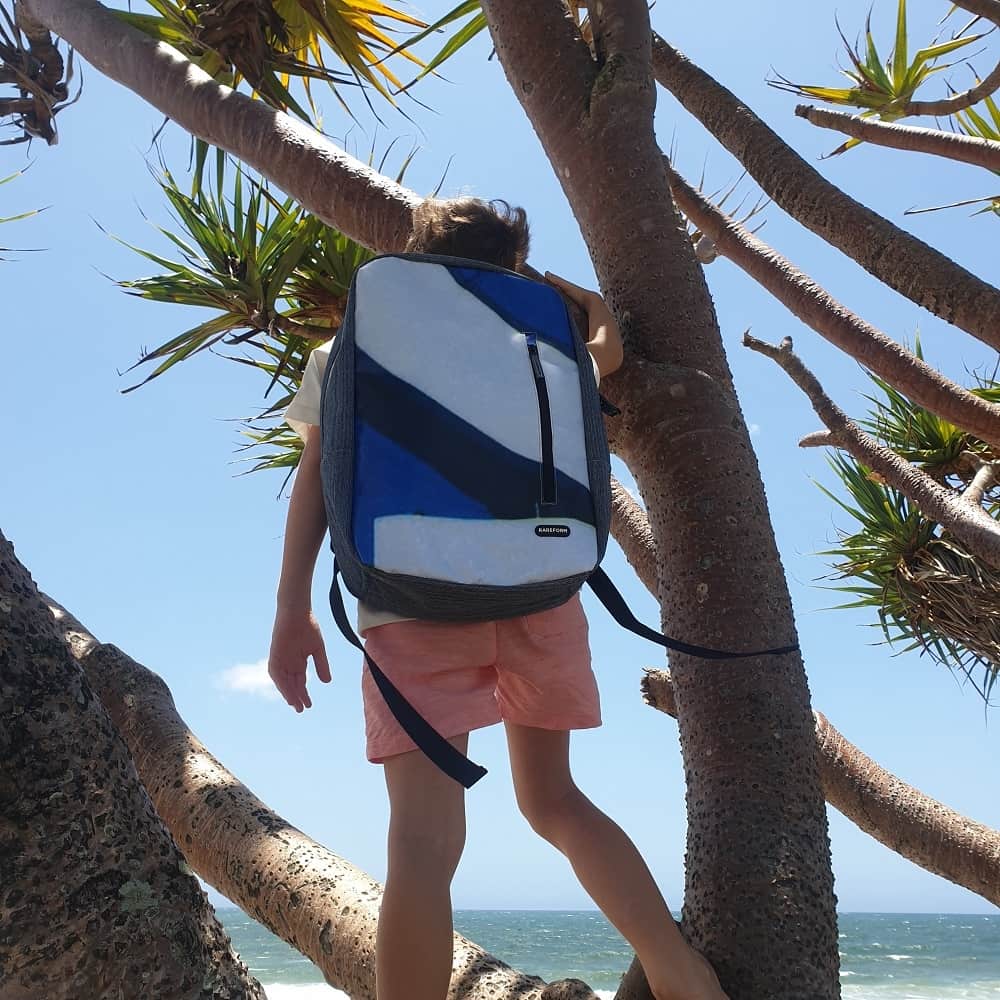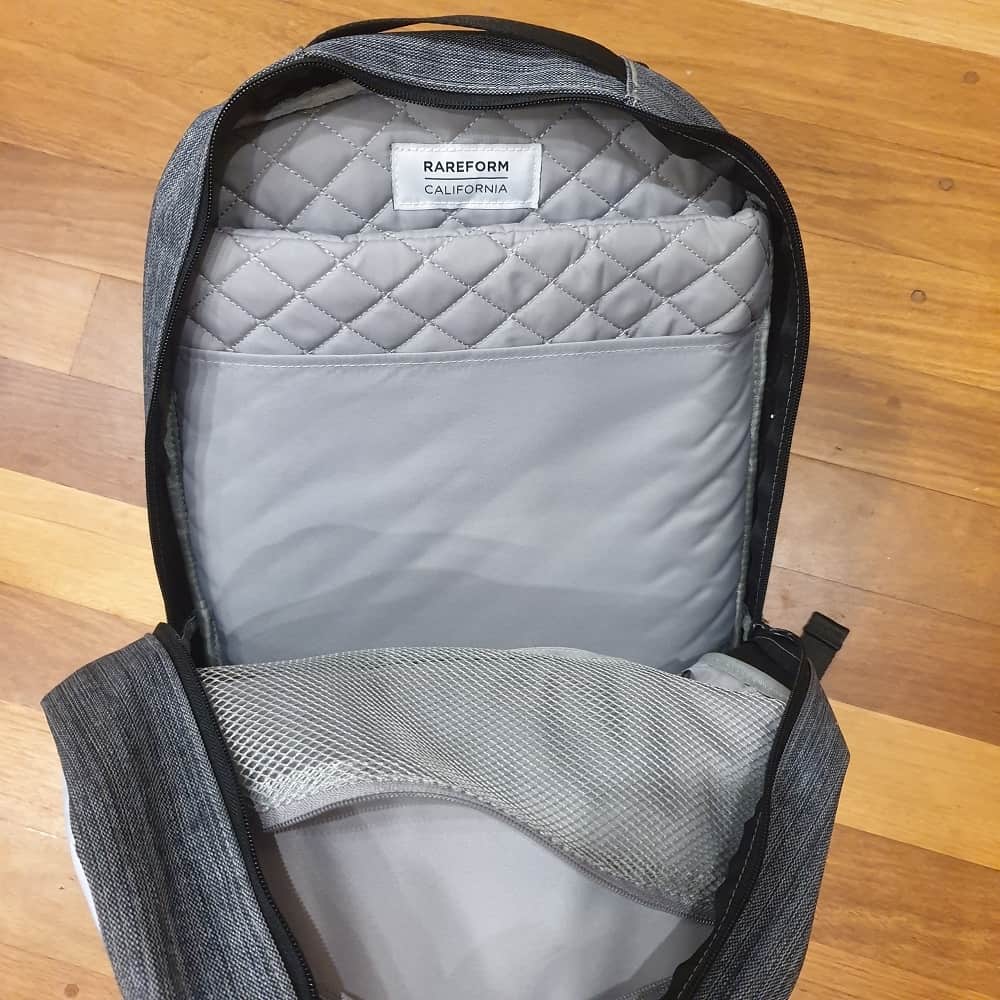 Rareform Help & Support
All products come with a 30-day return policy if you are not happy with your purchase (unused items only).
They also have a FAQ area on the site to answer questions you may have about their products.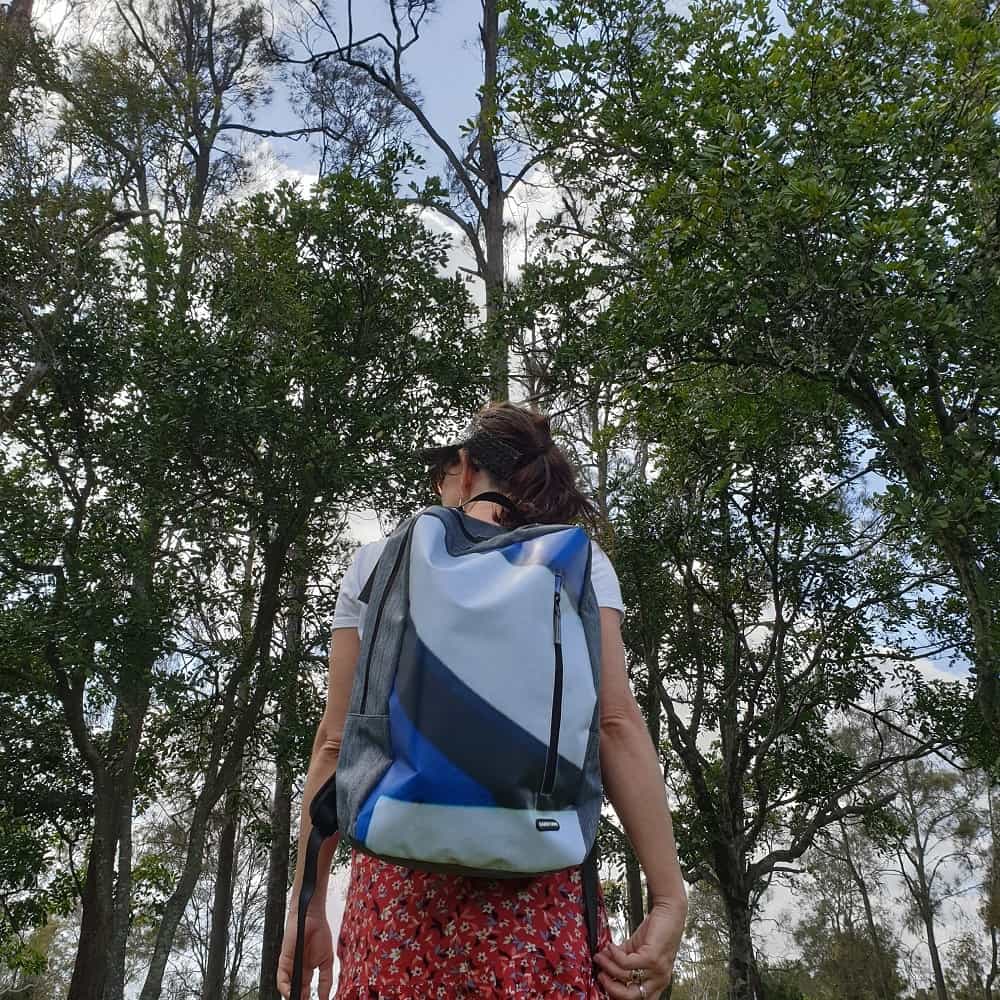 Rareform Backpack Prices
They have a large range of bags so here are the prices:
Ace Bag – $140 AUD
Brooklyn – $195 AUD
Benton – $140 AUD
Hadley – $119 AUD
All orders are shipped out of the warehouse within 1 – 2 business days and can take 1 – 5 business days to arrive.
Rareform Australia offers FREE standard shipping to all states.
Find Your Perfect Backpack Here
Rareform Coupon Code
Rareform often has sitewide discounts of up to 20% but they do have a referral program where refer a friend and you get $20 to use in-store. Check for coupons here.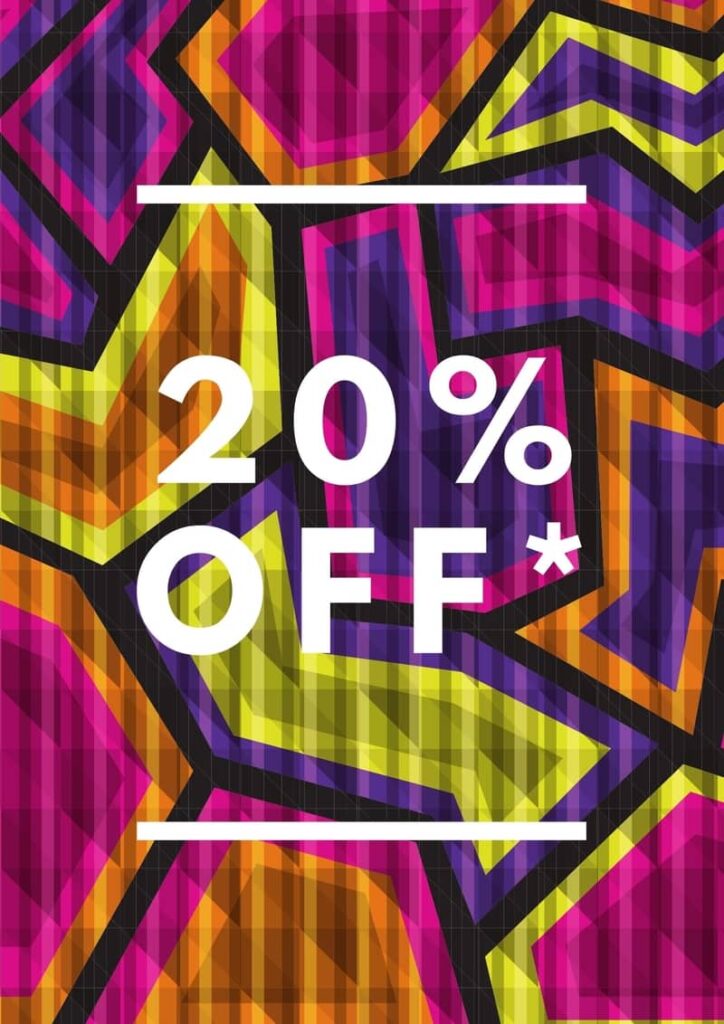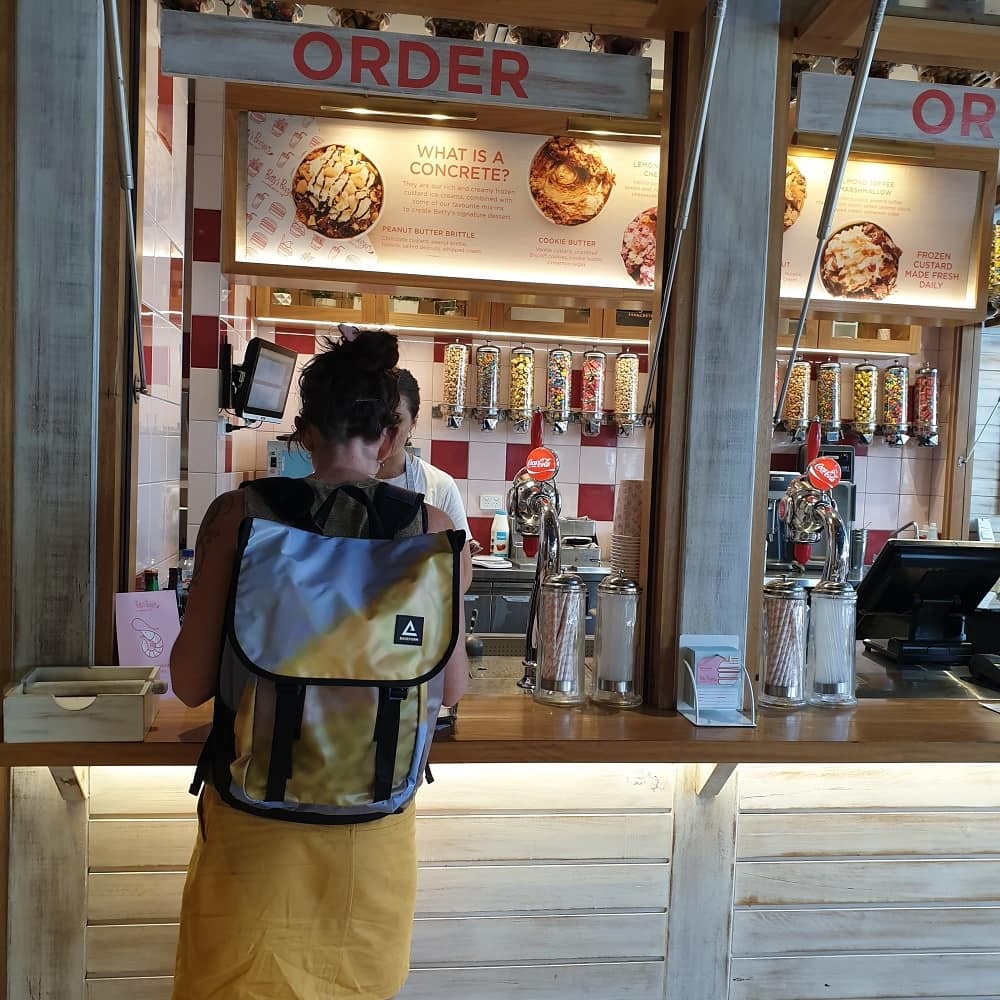 Our Opinion of the Rareform Backpacks
From the day I first heard about Rareform I was genuinely interested in their extraordinary products.
We also love what they are doing to help protect our environment. This is why we are only supporting recycled products.
They make high-quality unique bags and accessories that will turn heads just like a billboard is meant to do.
We should all be buying less but buying better and sustainable to help save our one and only planet.
I can definitely say that the Rareforms unique products are amazing conversation starters. This is due to the fact that they use and repurpose old billboards, what an idea!
Rareform Backpacks at a Glance…
Name: Rareform
Website: www.rareformaustralia.com.au
Price: $119 – $195 AUD
Overall Rank: 8 out of 10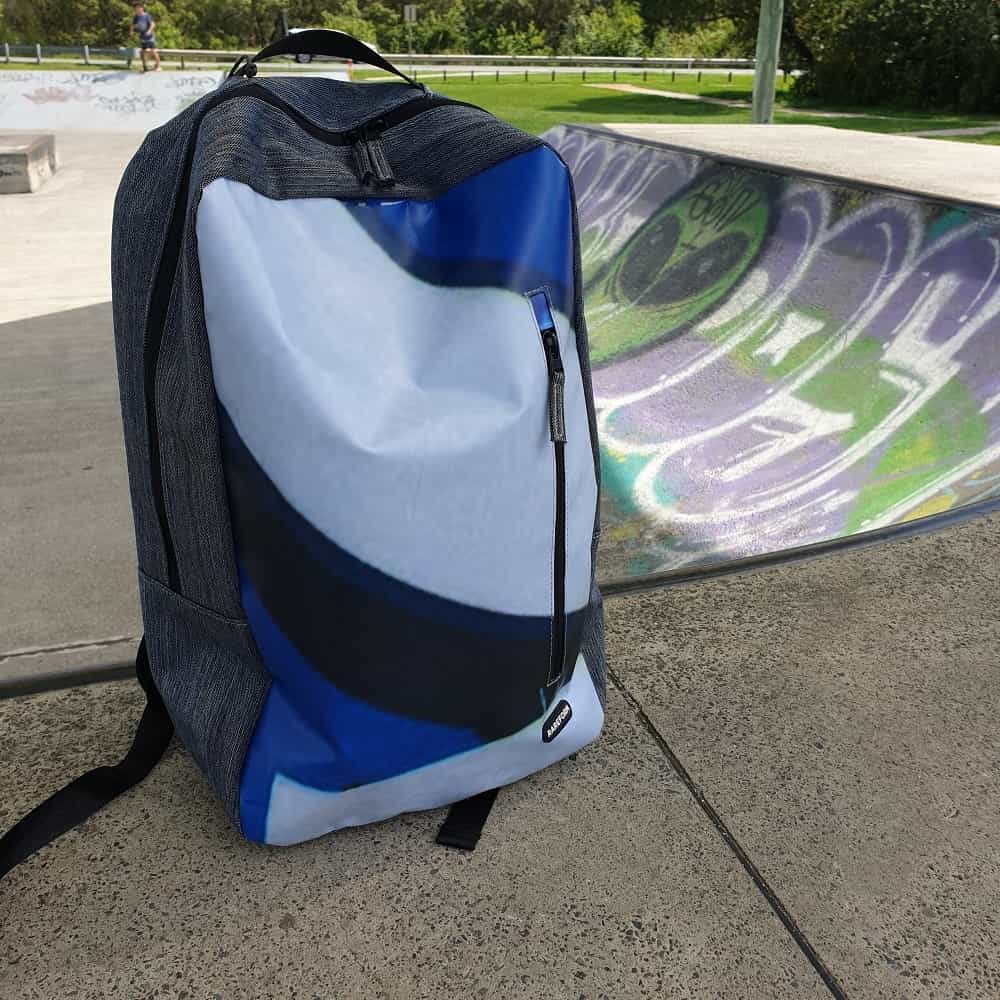 For other great Travel bag reviews checkout: