Are you on the lookout for a new gym, sports, or travel bag?
Stop looking because we have found you the perfect one, the new Rareform Duffle Bag!
---
---

Find out here with our detailed Rareform Duffle Bag review everything you need to know about these upcycled bags.
Make an educated decision before handing over your money, so read on.
Name: Rareform
Website: www.rareformaustralia.com.au (AUSTRALIA)
Price Range: $85 – $199 AUD
Overall Rank: 9 out of 10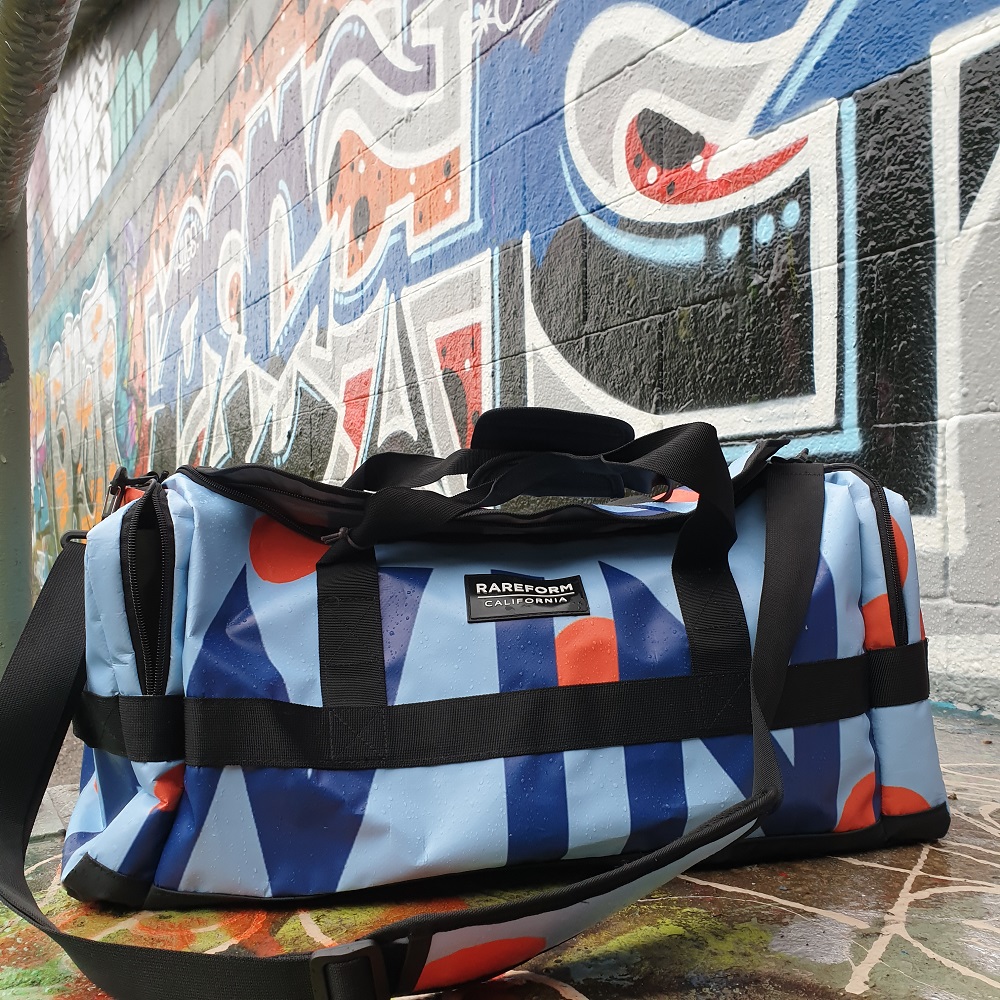 Rareform Duffle Product Overview
Rareform's recycled Duffle Bags are one of a kind literally because you will never see the same bag twice.
They are also number 1 when it comes to cool sustainable luggage.
Once a billboard, now a bag is their unique selling proposition and are truly 100% unique in many, many ways.
Rareform transforms old used billboards that would normally end up in landfills and turns them into duffle bags, backpacks, and other accessories. Each bag or product is a unique design depending on which part of the billboard was used in the production of the product.
Watch this video to see how Rareform Works its magic!
Our review looks at the Rareform Duffle Bag spectrum and answers all your questions you may have about purchasing an eco-friendly bag.
Here we will show you the full Duffle range.
The Rareform Duffle Options
Rareform sells its products worldwide but now also has an Australian importer. Below are the Duffle Bags that are available on the US site: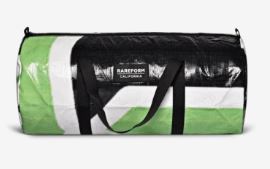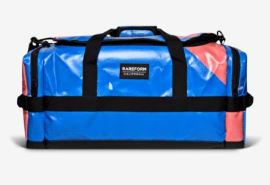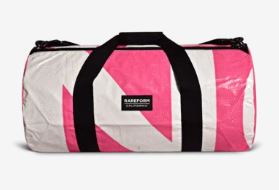 Weekender Duffle (11.5″H x22.5″W x11.5″D, 53 Liters)
Union Duffle (23″L x 11″W x 9.5″H, 40 Liters)
Light Duffle (9.5″H x 16″W x 9.5″D, 24 Liters)
The Australian site carries the following Duffle Bags:
Weekender Duffle (29cm H x57cm W x29cm D, 53 Liters)
Union Duffle (58.5cm L x 28cm W x 24cm H, 40 Liters)
Light Duffle (24cm H x 40.5cm W x 24cm D, 24 Liters)
The Good & Bad of Rareform Duffle Bags
The Good:
One of a kind designs. You will be the only one with that exact design of bag in the world because every design is unique
Eco-Friendly thanks to repurposed billboard vinyl used to manufacture
Nylon waterproof lining & side pockets (So you can put your wet shorts etc into side pockets or stinky gym clothes
PVC Base – Weather & Abrasive resistant
Padded Shoulder straps & double grab handles
Handy Internal pockets keeping your belongings super organized
Heaps of space- (24 – 53 Litres of space depending on the bag)
Strong quality YKK zippers
Vegan-friendly
Lightweight, comfortable and waterproof
Ultra-durable & Tough
Saving the planet with sustainable luggage
FREE standard shipping in the country of origin
Fast shipping and eco-friendly packaging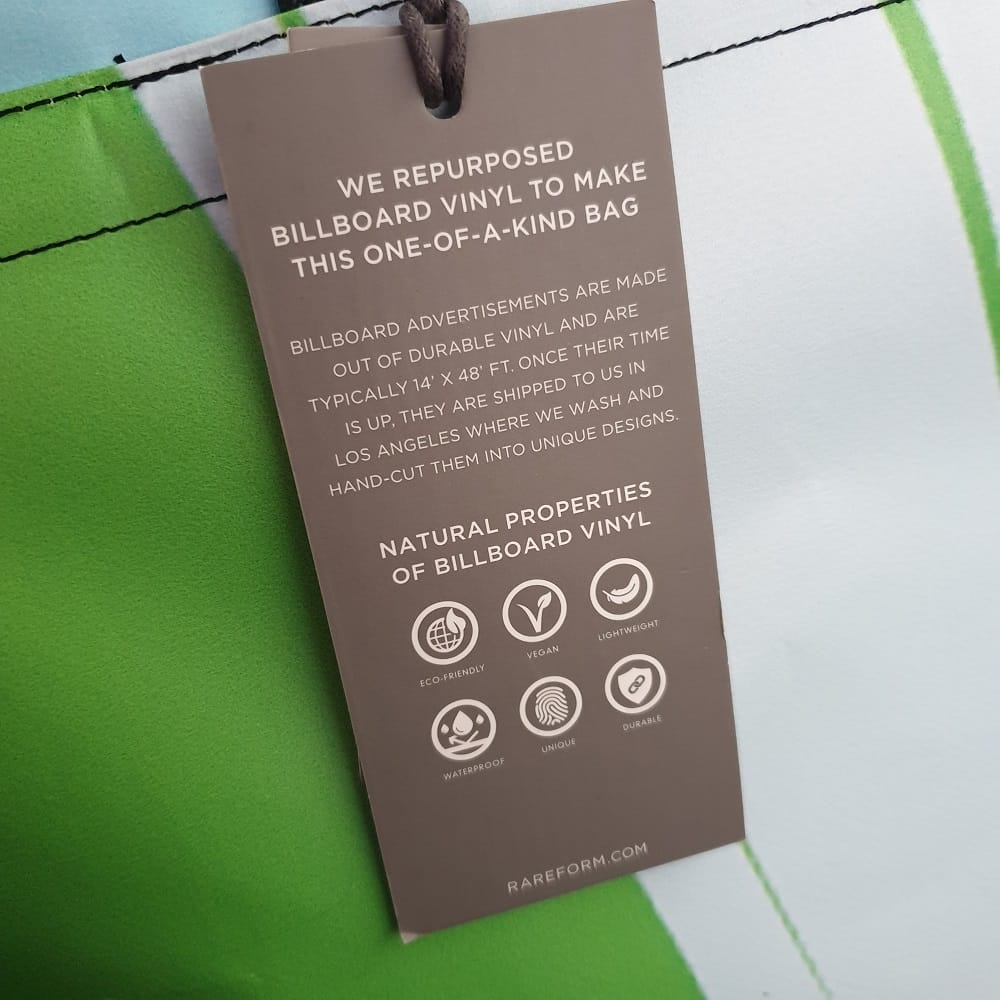 The Bad:
Weight is a little more due to the vinyl material used. Before any luggage bag weights 0.950g (2.09 pounds)
The material lends itself to produce a few creases from use (superficial kinks)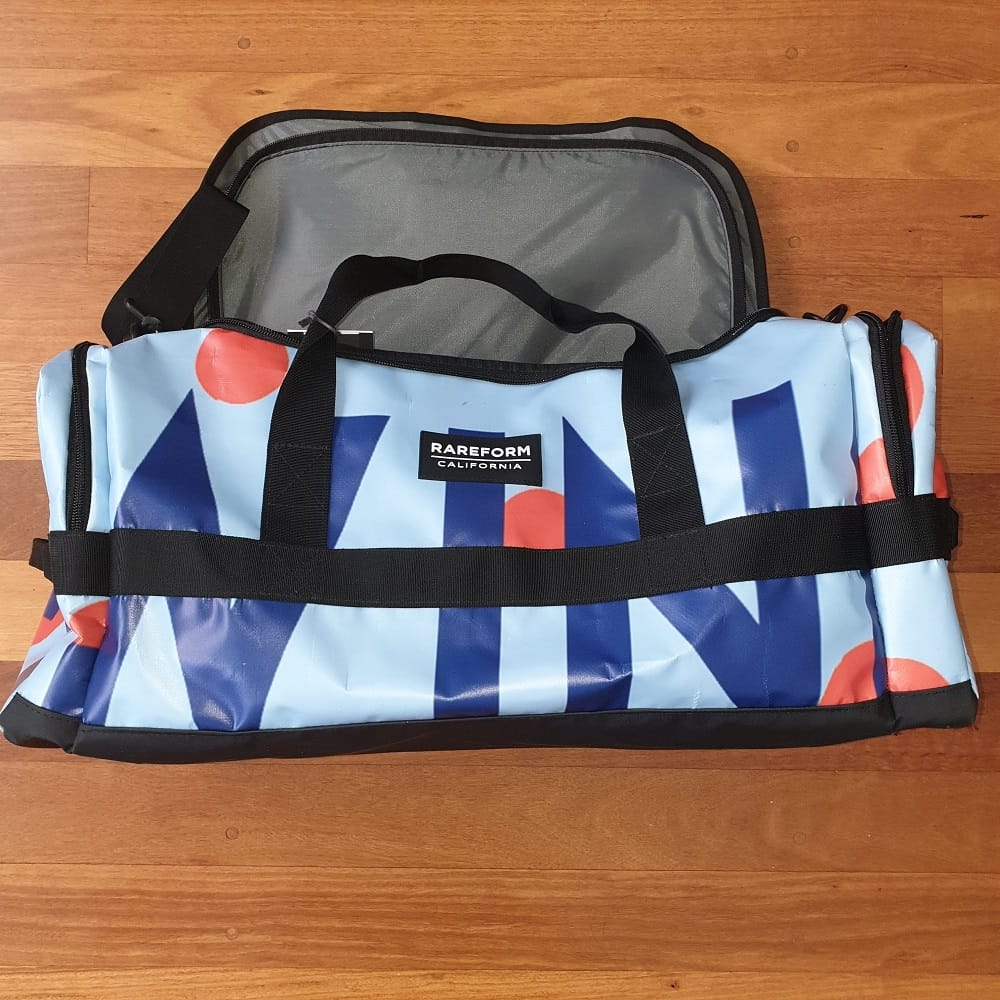 Who Should Buy a Rareform Duffle?
Rareform Duffle Bags are suitable for users who care about the future of our planet and want to support sustainable companies that use ethical production methods and materials.
Rareform Duffles are so cool when you carry one you really do feel special because you know that no one has the same one.
The bags are suitable for all kinds of activities such as the gym, carry-on, travel, overnight bags, football, basketball, soccer, or any sport that involves carrying extra gear.
The duffel bags aren't too bulky so they fit nicely over your shoulder and make you stand out from the boring crowd.
We love the Rareform Duffle bags because for one they are supporting our environment by stopping billboards from going straight to landfill. Also, their designs and fabric make you feel super unique and the coolest dude in the room.
And last but not least they are really well made and strong, withstanding the punishment sport and activities have on a bag.

We currently have the Rareform Union Duffle bag.
After testing out the bag we compared it with our other duffles but here are our thoughts on the union.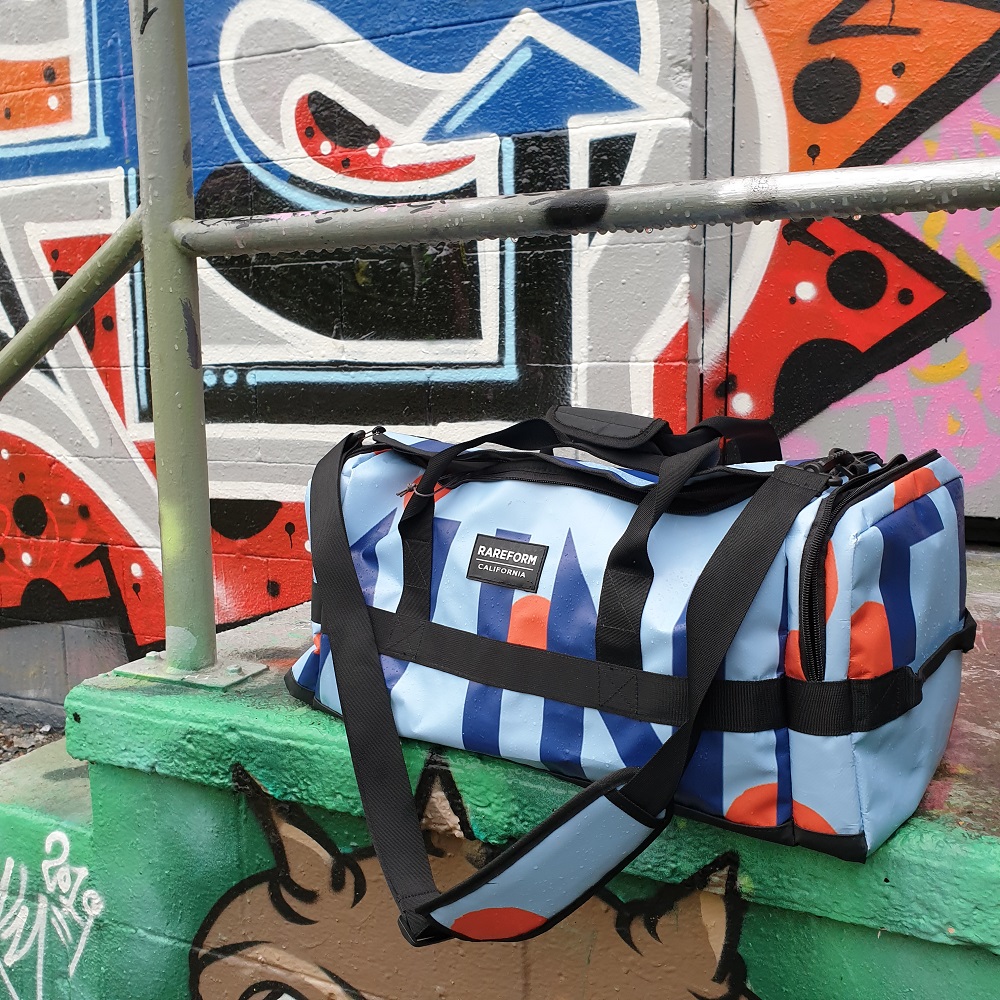 1# Union Duffle
The Union Duffle is perfect for general everyday use, perfect for travel, and a great sports bag.
Most of your items will fit into the Union such as shoes, towels, changes of clothes, and accessories. It also has 2 outside pockets that are great for placing stinky socks or wet clothing to not spoil clean items.
Will fit easily into your car, carry on when flying or public transport.
---
Union Bags feel comfortable to carry with the padded strap and look super cool by your side. They also have a very high quality of workmanship making them durable. They retail for $199 AUD.
Made of durable eco-friendly vinyl and strong zips this bag sure feels tough. It has 2 handy mesh zip pockets for small items, 2 external zip pockets, and one huge storage area for anything you like. The handy grab straps and carry strap are positioned for easy carrying also.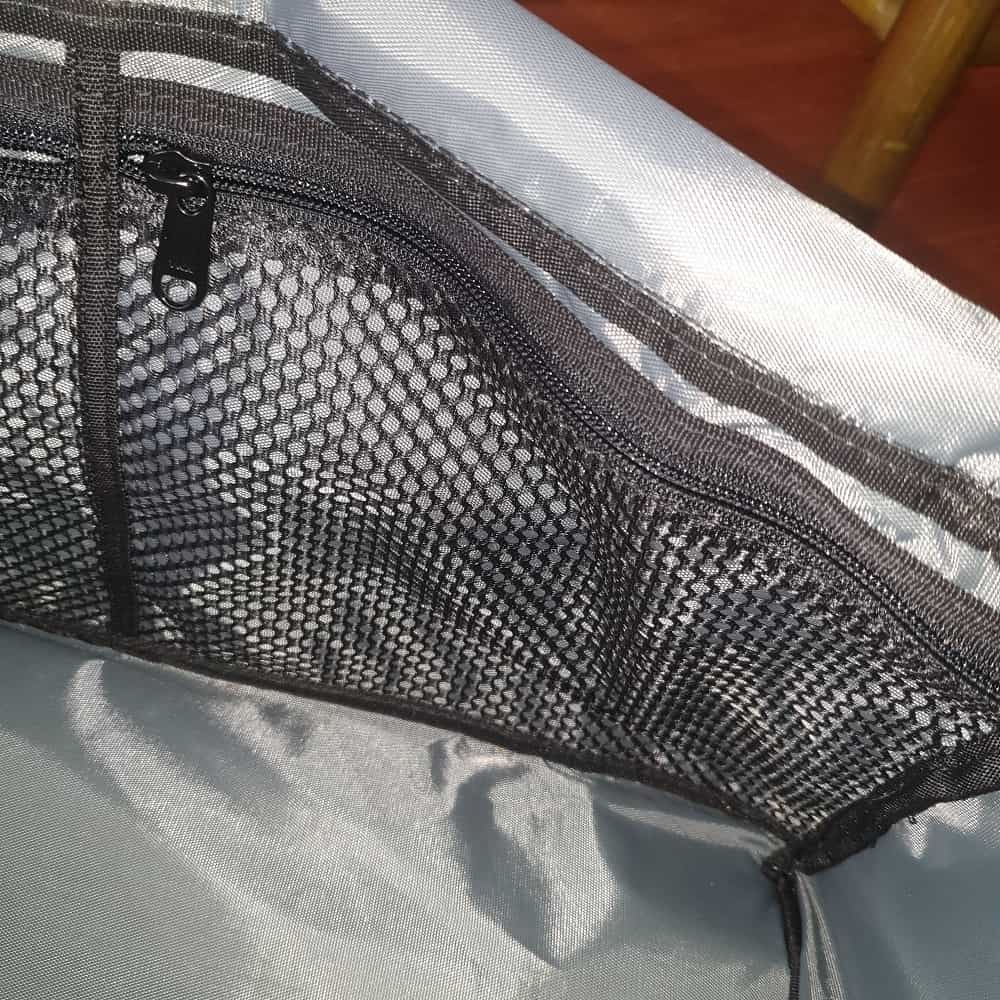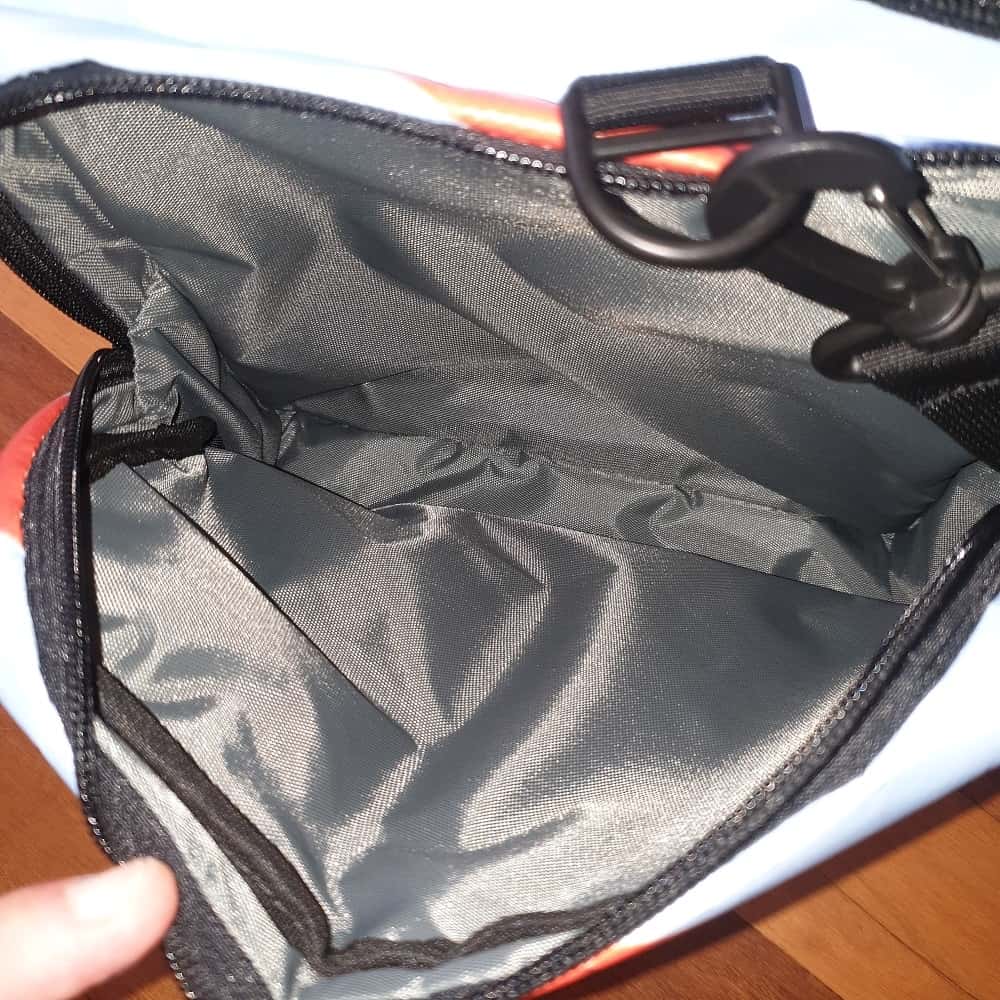 Interior and Pockets
Inside the bag, most of your valuables are protected from water and damage due to the material. The two mesh pockets are great for items such as deodorant, toothbrush, phone, chargers, or anything else that needs to be separated.
The large rectangular interior space makes fitting large items easy and everything stays in its place. Easy to organise and find items.
The outer pockets are awesome for carrying wet dirty items because the bag is waterproof to an extent. Your items in the side pockets will not damage other clean dry items.
Rareform could have put pockets on the other wall of the bag also giving it more compartments.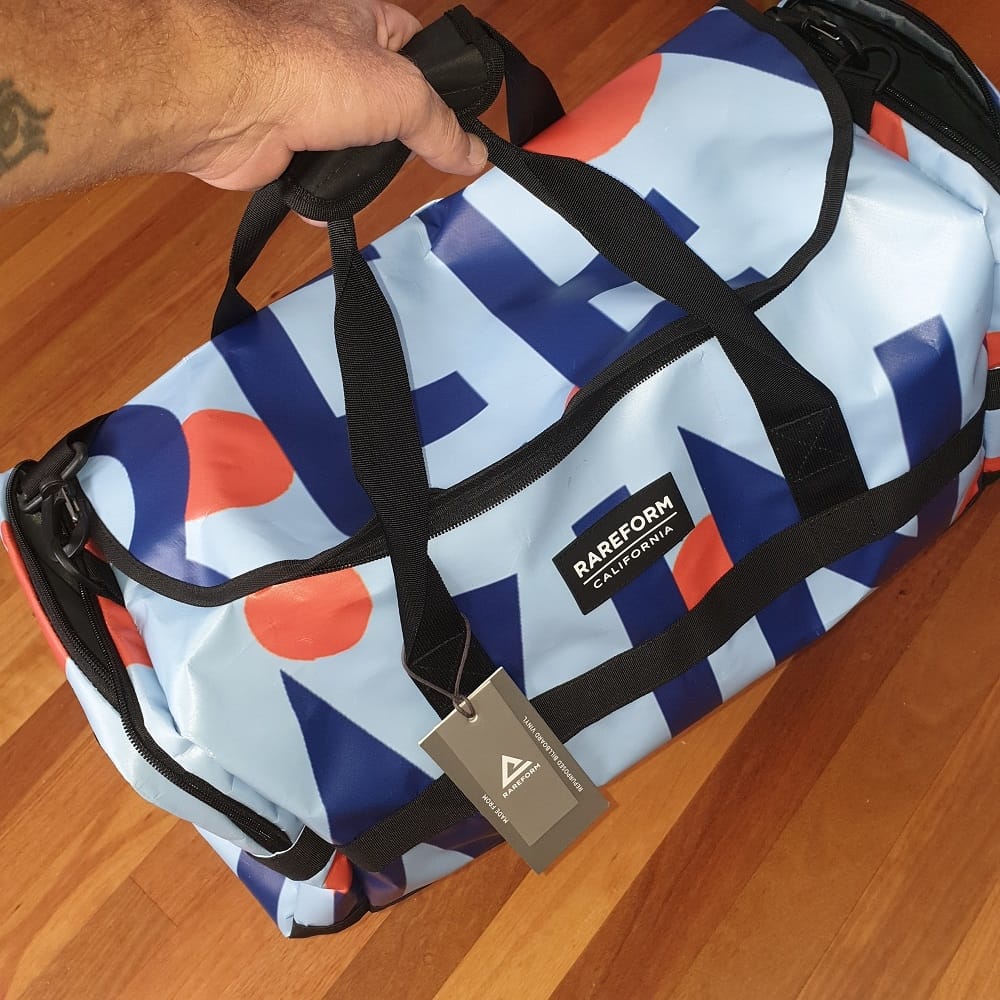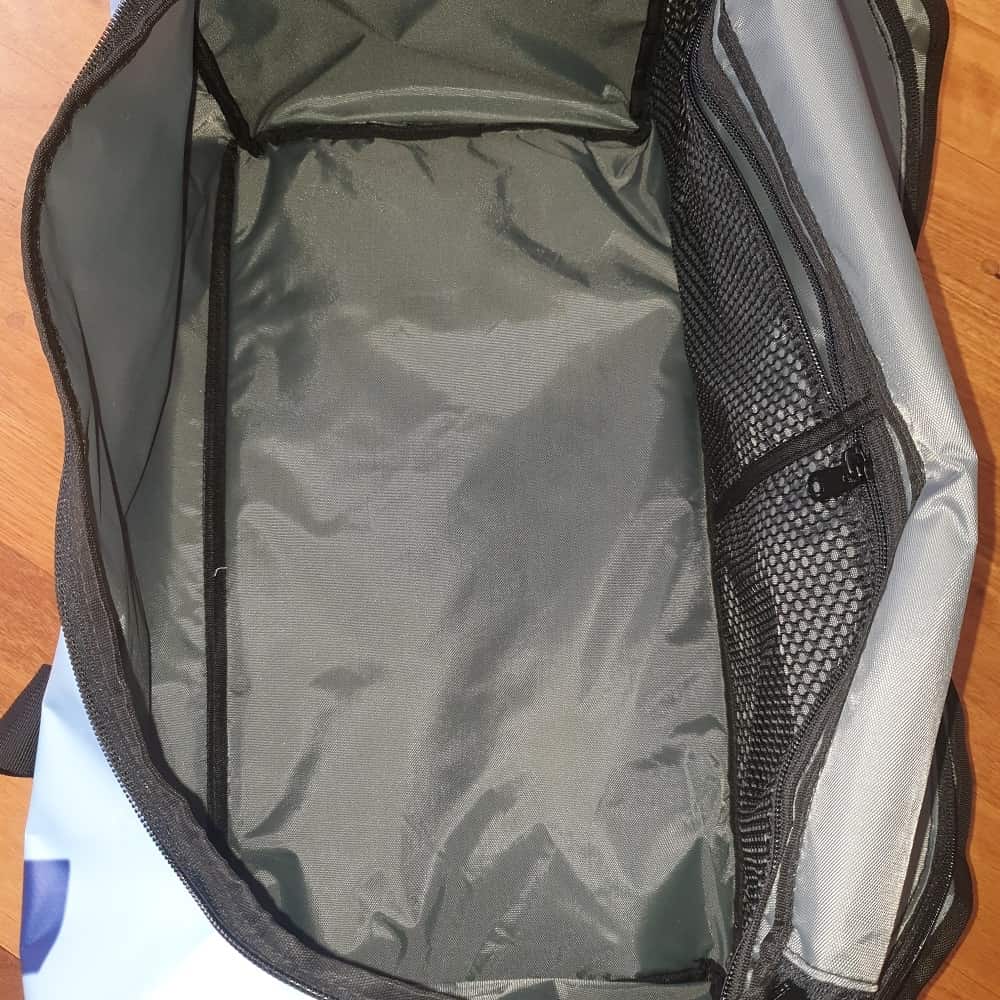 2# Weekender Duffle
This is the go-everywhere bag suited to weekend trips away and basically a great all-rounder. The Weekender Duffle bag is the largest one in the family.
Made with the famous billboard vinyl and a grey interior which is all water-resistant and versatile.
Features include;
Dual top handles & Shoulder strap
Nylon zipper closure
Grey Nylon packcloth interior
Holds 53 Litres
One of a kind designs
3# Light Duffle
Best suited to the Daytripper and short trips the Light Duffle bag is the smaller one of the family.
Still made with all the same materials such as billboard vinyl and a grey interior which is all water-resistant.
Features include;
Dual top handles (No single shoulder strap)
YKK zippers
Grey Nylon pack cloth
Holds 24 Litres
One of a kind designs
Are Duffle Bags Good for Travel?
Duffle bags are amazing for stuffing a load of gear into.
Generally better for shorter weekend trips and quick getaways. Rareform duffle bags suit one person on the run. Ideal trips for this type of bag include:
Sports Trips
Dive Trips
Working Away
Seminars (casual wear)
Short Fun Getaways
Rareform Help & Support
All Rareform products come with a 30-day return policy if you are not pleased with your purchase (unused items only).
The company has a FAQ area on the site to answer all your questions and concerns.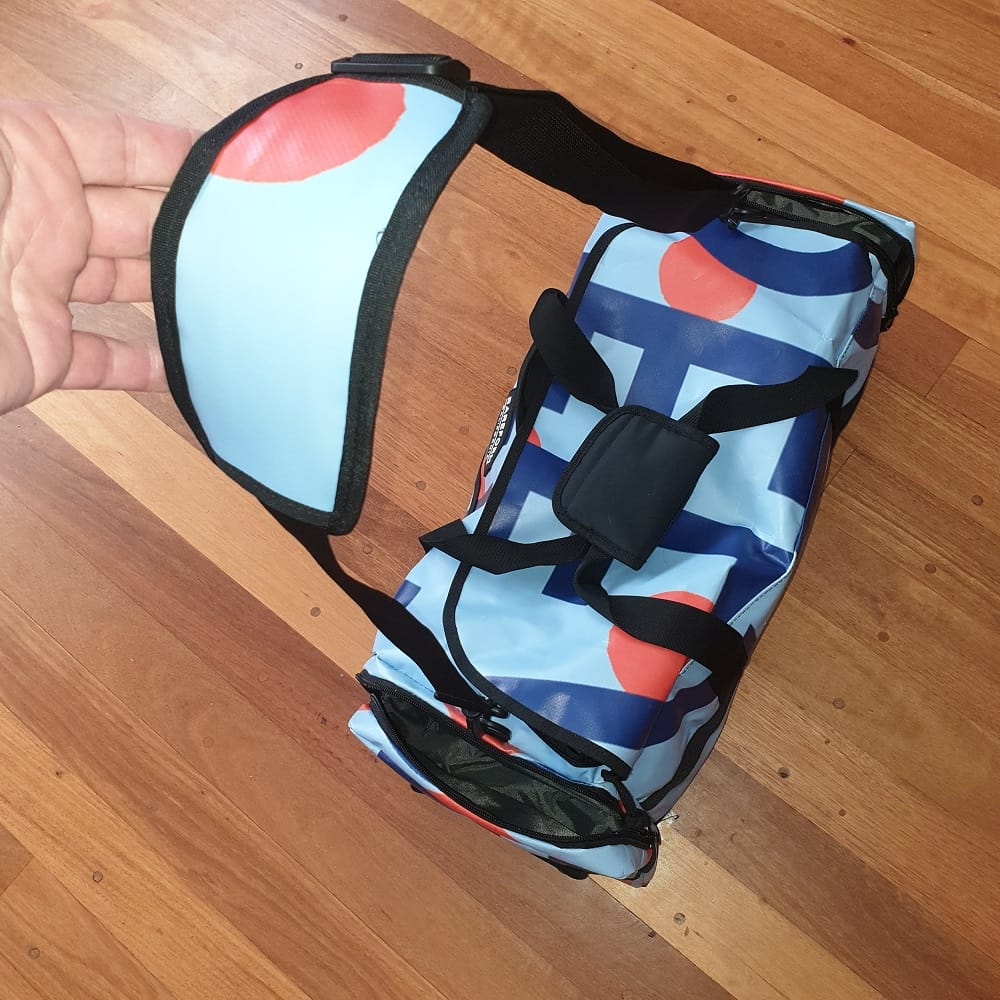 Rareform Duffle Bag Prices
They have an amazing range of Duffle bags so here are the prices:
Union – $199 AUD
Weekender – $135 AUD
Light – $85 AUD
All orders are shipped out of the warehouse within 1 – 2 business days and can take 1 – 5 business days to arrive.
FREE shipping if you spend over $100 using standard shipping in the US only.
For Rareform Australia offer FREE standard shipping to all states.

Rareform Coupon Code
Rareform often has sitewide discounts of up to 20% but they do have a referral program where refer a friend and you get $20 to use in-store. Check for coupons here.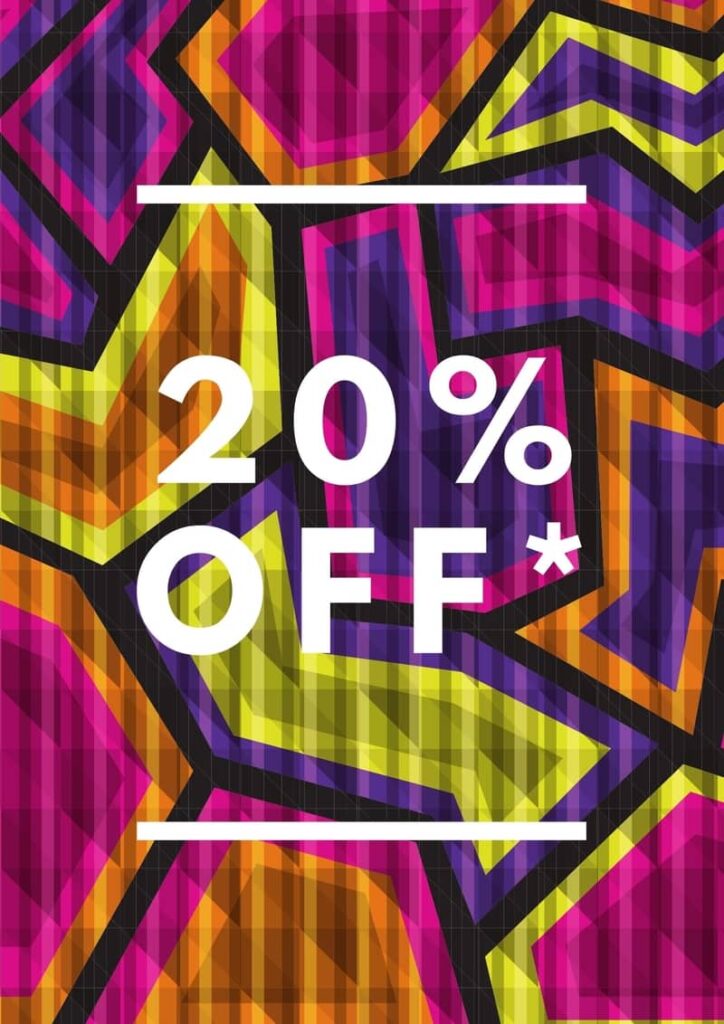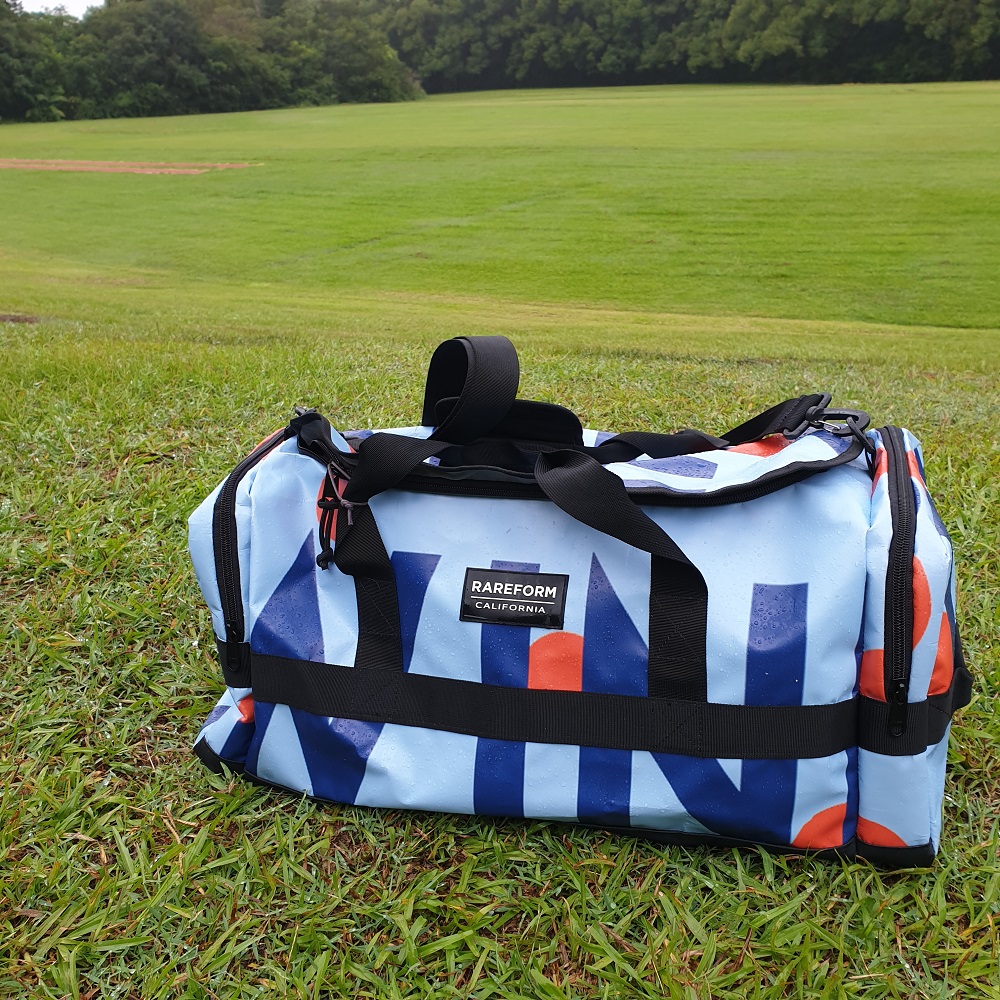 Our Opinion of the Rareform Duffle Bags
We love what they are doing down at Rareform to help protect our environment and reuse resources that are already out in the world. We cannot just keep taking, taking, and exhausting our planet's resources.
This is why we are only supporting recycled products.
The duffle bags are just downright cool and designed extremely well. From their re-purposed materials, workmanship, and design they have really done their research on the products they make.
The only thing we could falter is maybe the weights of the duffles are a little heavier than others I have owned. So loaded up they can weigh a little more. But quality and durability add to weight so there is a trade-off.
We should all be buying less but buying better and sustainable to help save our one and only mother earth.
I can definitely say that the Rareform's unique products will amaze you and start some great conversations. This is due to the fact that they use and re-purpose old billboards, what an amazing concept!
Rareform Duffles at a Glance…
Name: Rareform
Where to Buy: rareformaustralia.com.au
Price: $85 – $199 AUD
Overall Rank: 9 out of 10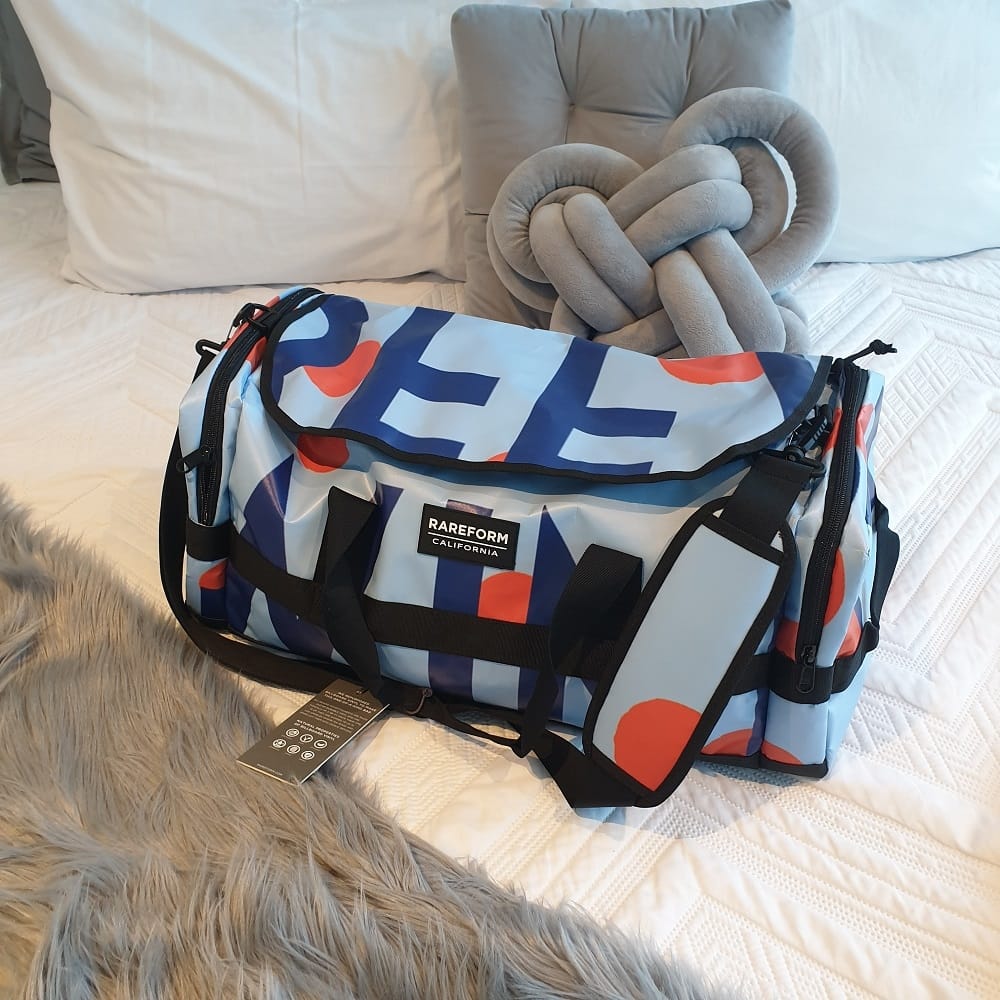 For other great Travel bag reviews checkout;