Are you wondering if it is worth purchasing Trunki luggage for your next holiday? Do you even know what a Trunki Case is capable of? This latest Trunki Luggage review is for you.

What Is A Trunki Case?
If you have done any travel with kids in the past you probably have heard of the Trunki. Or perhaps you have seen a lucky kid at the airport riding around on one.
The Trunki is basically a ride-on suitcase for kids that relieves some of the boredom for airport weary travelling tots and parents. It also allows your child to bring all their favourite belongings whilst the parents are able to keep them in check.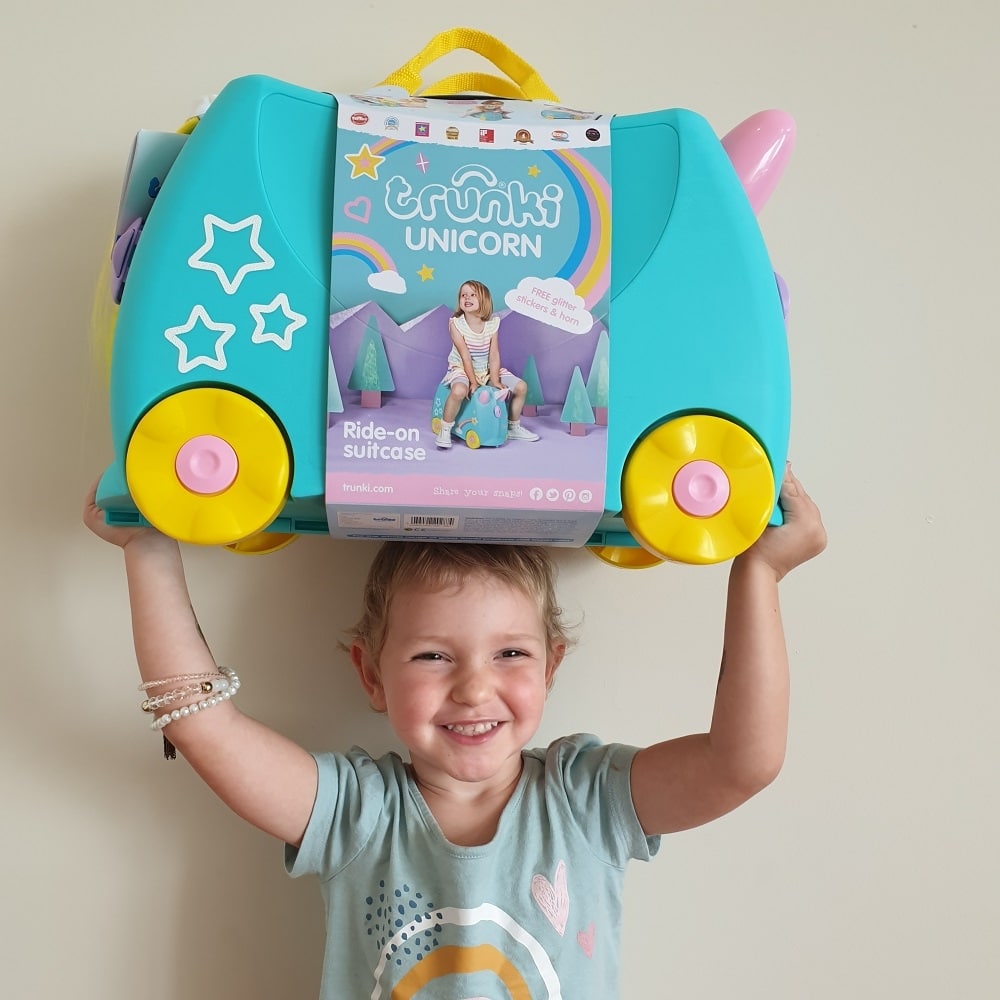 Herding your child through the airport can be painful and even scary at times. With so many people running around you don't want to lose your child. If you are running a little behind schedule there is nothing worse than having a persuade a tired 3-year-old to run to your gate. And at this age, carrying them can be a struggle too.
So the Trunki, company has made this awful experience fun again with their lightweight, carry-on approved, kid-pleasing suitcase.
Your child will be the envy of others when you head off on your next holiday, trust us!
What Age are Trunkies For?
Good question Mum! When you first look at them you would swear they are built for very small children.
But because Trunki has chosen to build the strongest ride-on suitcase in the world, it has a maximum rider weight of 50 kilograms / 110lb.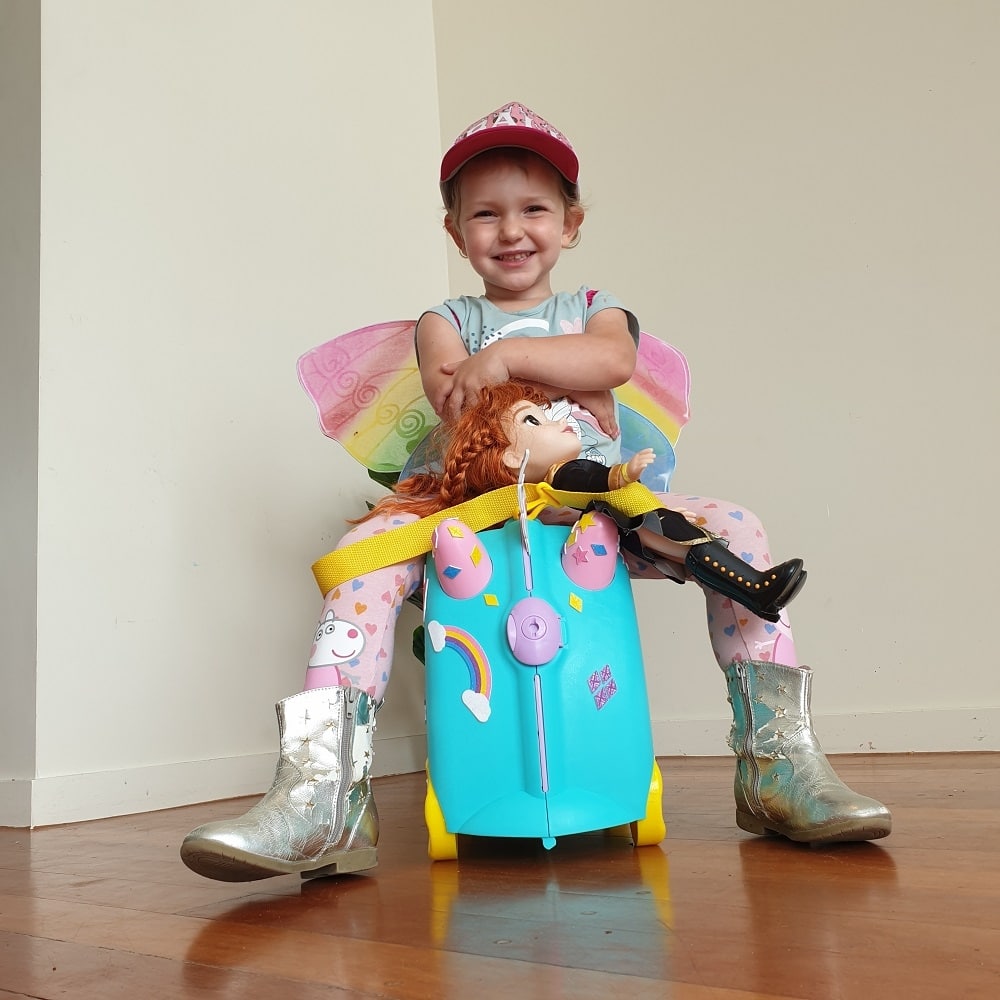 They recommend ages 3 plus, but this is dependant on your child's height and probably the length of their legs. We tested the Trunki out with our 3-year-old, 6-year-old, 8-year-old, and 10-year-old. The results were surprising! The Trunki Suitcase could even handle the weight of our 10-year-old but his legs were too long.
Master 8 found it ok and he could be towed easily. But miss 3 and miss 6 were a perfect size all round. If your child doesn't want to ride their Trunki, the detachable pull handle makes it a breeze for them to simply tow their own luggage too. It's better than carrying a heavy backpack!
How Much Can You Fit In A Trunki?
The unique way the Trunki suitcase is designed allows you to fit quite a bit of luggage inside. The technical volume inside allows for:
18 Litres / 4 Gallons of space
Dimensions – 46cm x 21cm x 31cm
Weight – 1.7 Kg / 3.8 Lb (It is light!)
Max carry weight of 50 Kg / 110lb
Everything your child wants to bring will fit into a Trunki within reason, so don't worry about the room, there's plenty!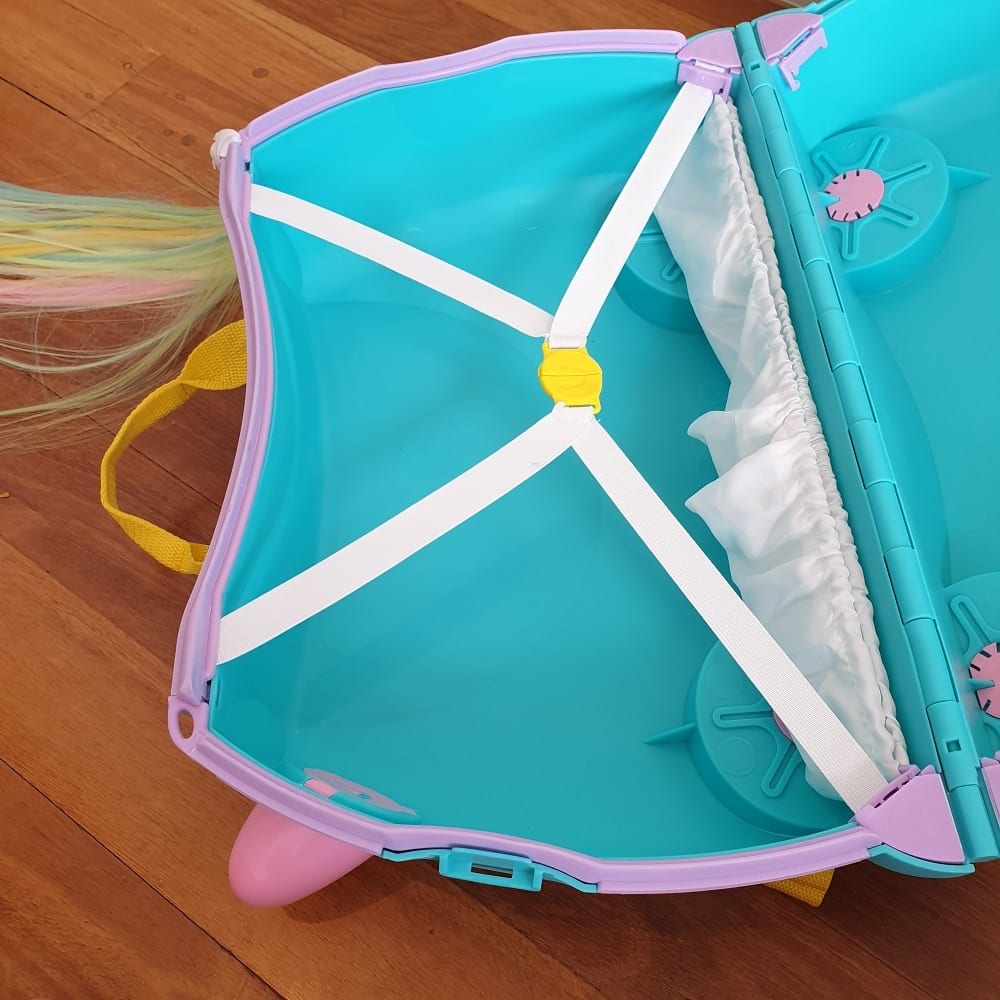 Are Trunkies Any Good?
These cases are built tough to last travelling kids many trips. The hard plastic shell is resistant to scuffs and scratches and your precious cargo inside will also be protected. The heavy-duty plastic wheels will go for ages! Even the stickers have strong adhesive. The Trunki cases are built to last. And best of all, they are lightweight.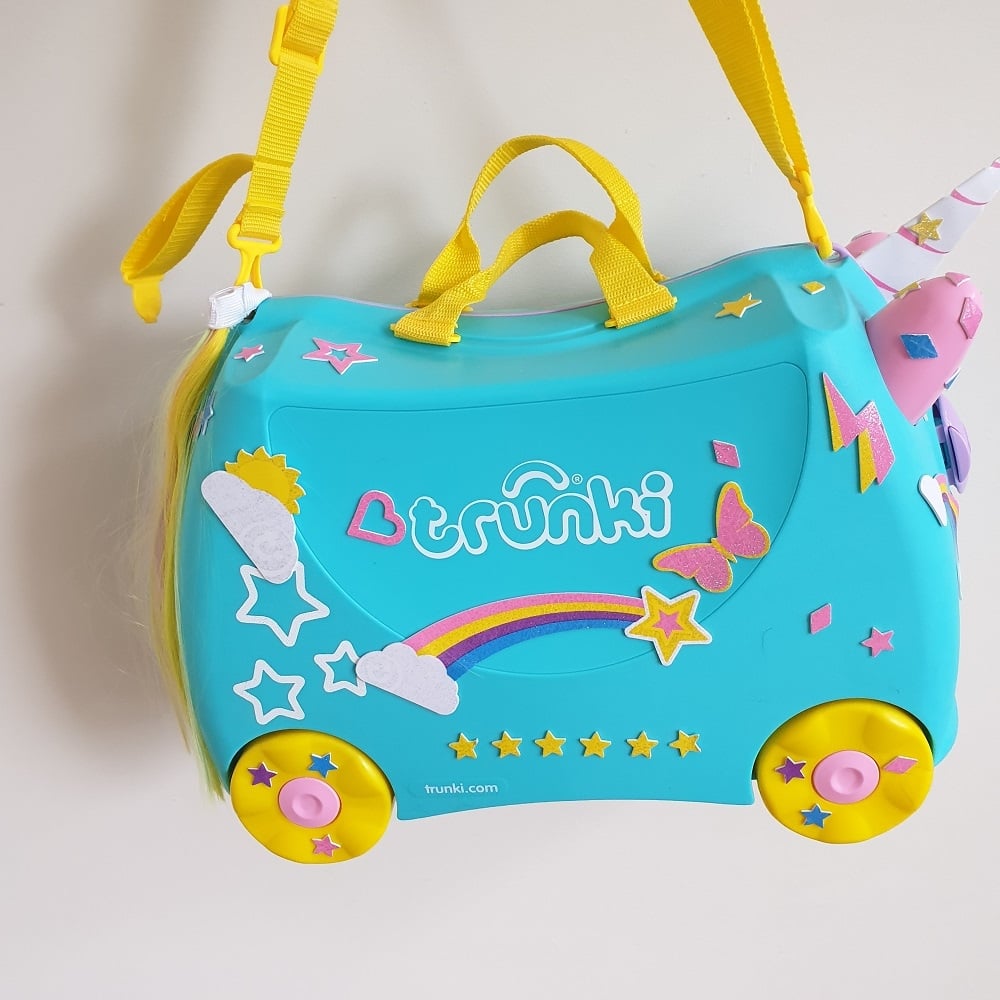 How Much Does Trunki Luggage Cost?
You can find a Trunki for around $99.95 from major retail outlets, baby stores, and luggage stores. We got ours from The Stork Nest who offers free postage over $100 and also has fantastic sales.
While you are browsing, check out their incredibly helpful Tula Toddler Carrier, the Skip Hop Flushing Potty which actually makes toilet training a breeze, and the superb Herobility eco-friendly range of toddler cutlery.

Trunki Luggage Product Overview
Your purchase of a Trunki includes a hard shell that is sweetly decorated in your choice of colours and styles (see below). The Trunki has secure lockable catches to keep belongings safe and a soft rubber trim for protecting little fingers. Inside the case, you will find a very special teddy seatbelt and a silky pocket for all your treasures.
The 18L capacity is more than ample. Trunki weighs 1.7 kg empty which means you can fit 5.3 kg of fun stuff inside while still being able to carry on.
When we reviewed the Mountain Buggy Bagrider, one of the main problems was it's weight, making it impossible to pack much inside and stay under the 7 kg limit. However, the Bagrider is still a great option for younger kids under 2 years.
Externally you find a comfy saddle with 2 horns for your little one to hold onto. There is a detachable strap for towing and you can also loop this over to form an on- shoulder carry strap.
Stickers are included with most models and this is a great way to spend some time while waiting for your flight.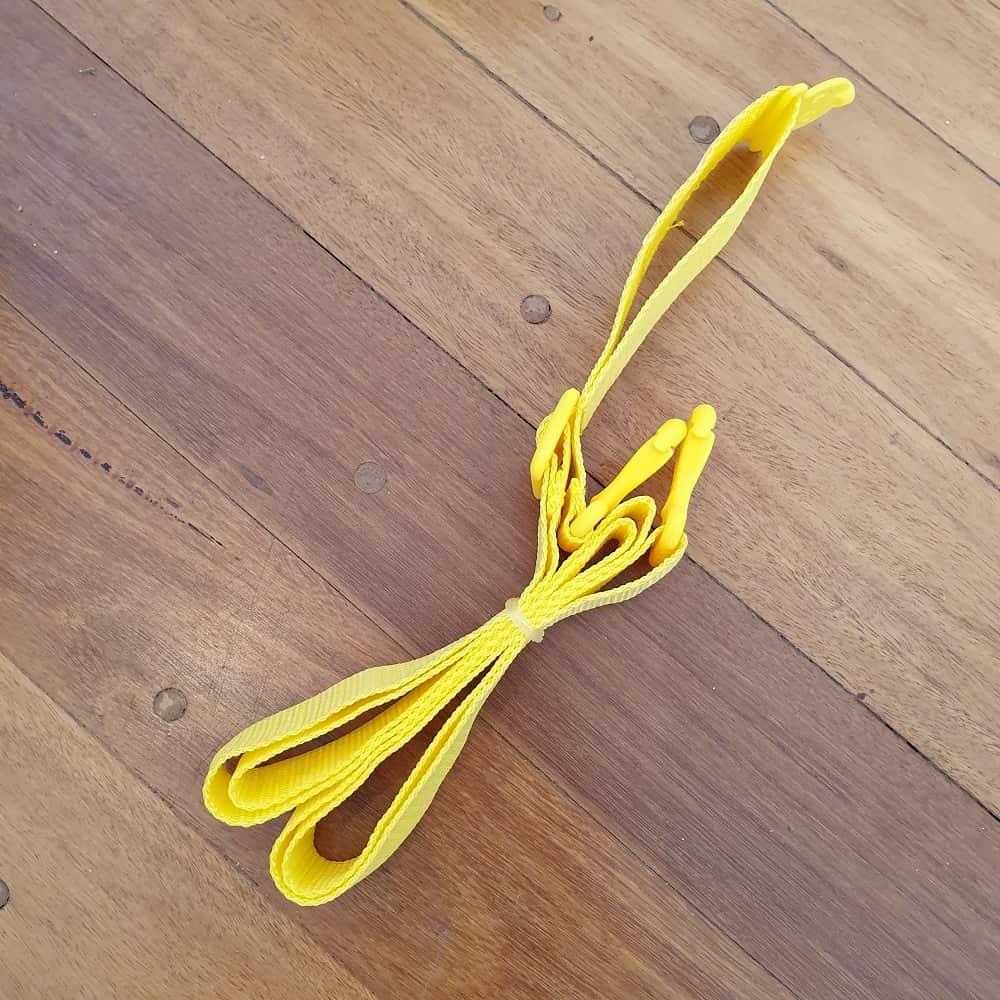 The Trunki Suitcase Options and Range
Our cute Trunki suitcase is Una the Unicorn. Some of the other sweet versions include:
Flossi the Flamingo
Flora the Fairy
Percy Police Car
Skye the Spaceship
Trixie
Cassie Cat
Harley Ladybug
Bernard Bee
Boris the Bus
Hello Kitty
Zimba Zebra
Tipu Tiger and more
What I love about the designs is that they really cater to all kids. From the super girly pinks and purples to animals and some awesome gender-neutral choices too.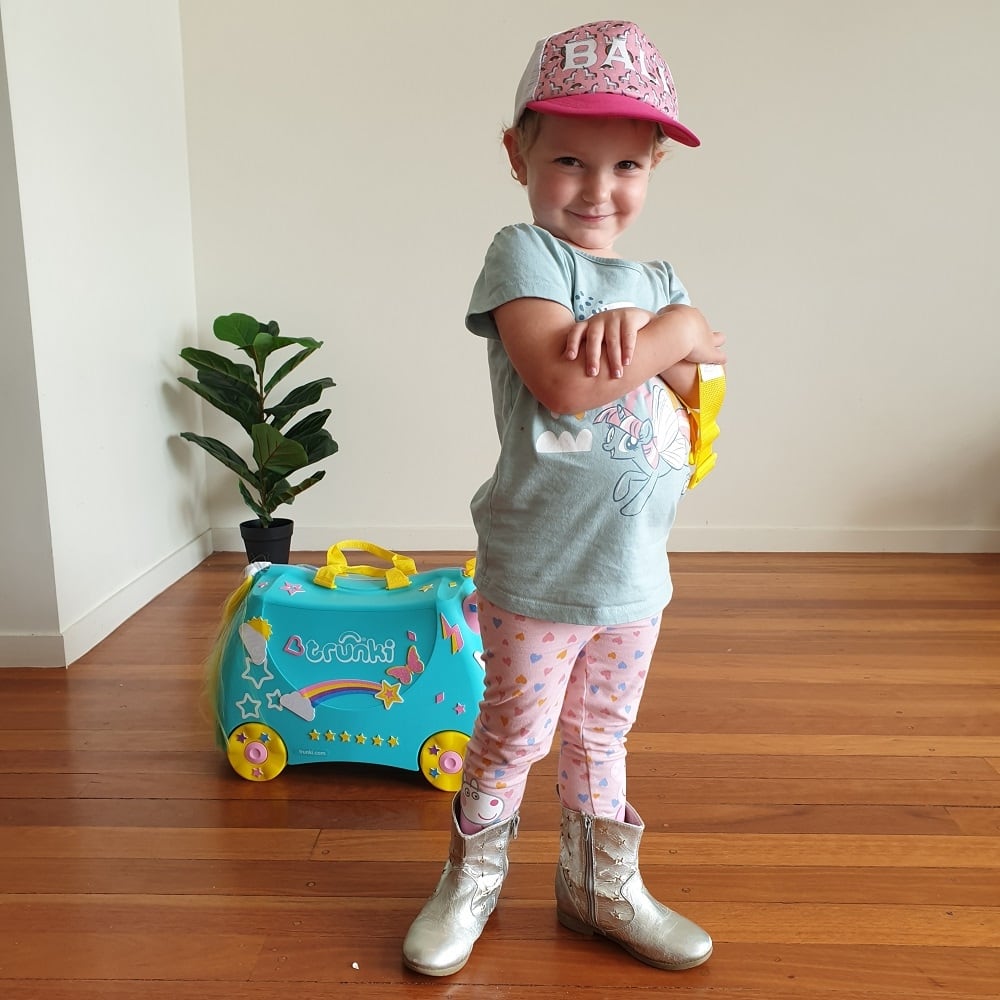 The Good & Bad Of The Trunki Ride-On Suitcase
Why we love a Trunki:
Eye-catching gorgeous designs
Kids love them
Ease of transporting young kids through airports
Durable
Super cute characters
You can fit heaps of stuff inside
Versatile operation
Cool stickers
Great for use for around 4 years all up (from age 2 to 6 is ideal)
Latches easy to operate
The bad bits:
You may wince a little at the price tag initially but it really is the price of decent luggage.
When pulling the kid along outside an airport, it is hard to steer. But it is much easier to operate when inside.
Who Should Buy Trunki Luggage?
Anyone who is heading to an airport with a child aged between 2 and 6 is an ideal customer for a Trunki. The recommended age of use is 3+. Even if they outgrow riding the case, it is still cool for your kids to tow their own character and gives them a sense of responsibility for their belongings.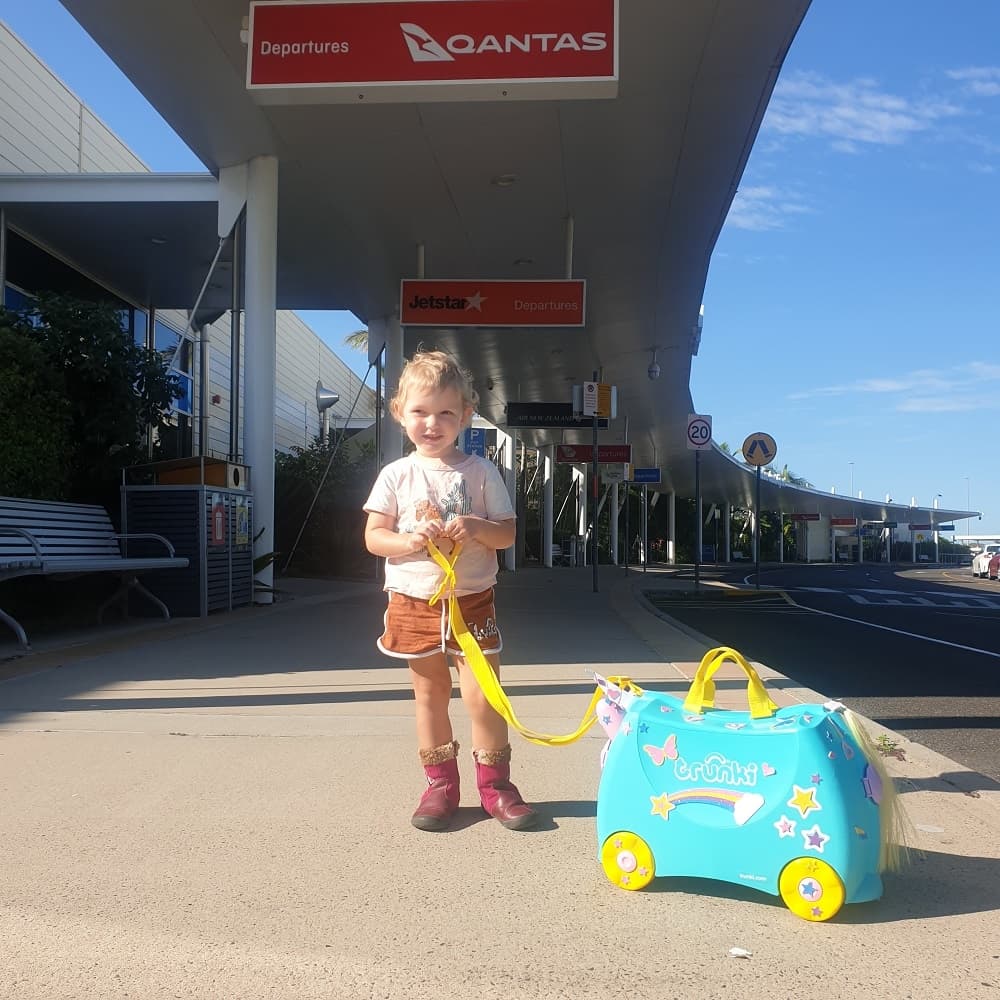 Can You Take Trunki As Hand Luggage?
Absolutely! The dimensions of 46 x 21 x 31 cm make it perfect hand luggage size and will make travel with little ones a dream.
Recent changes to Ryan Air (Europe) policies mean that Trunki is just too big to be considered free hand luggage. But it seems to be the only airline in the world that has these diminutive hand luggage restrictions.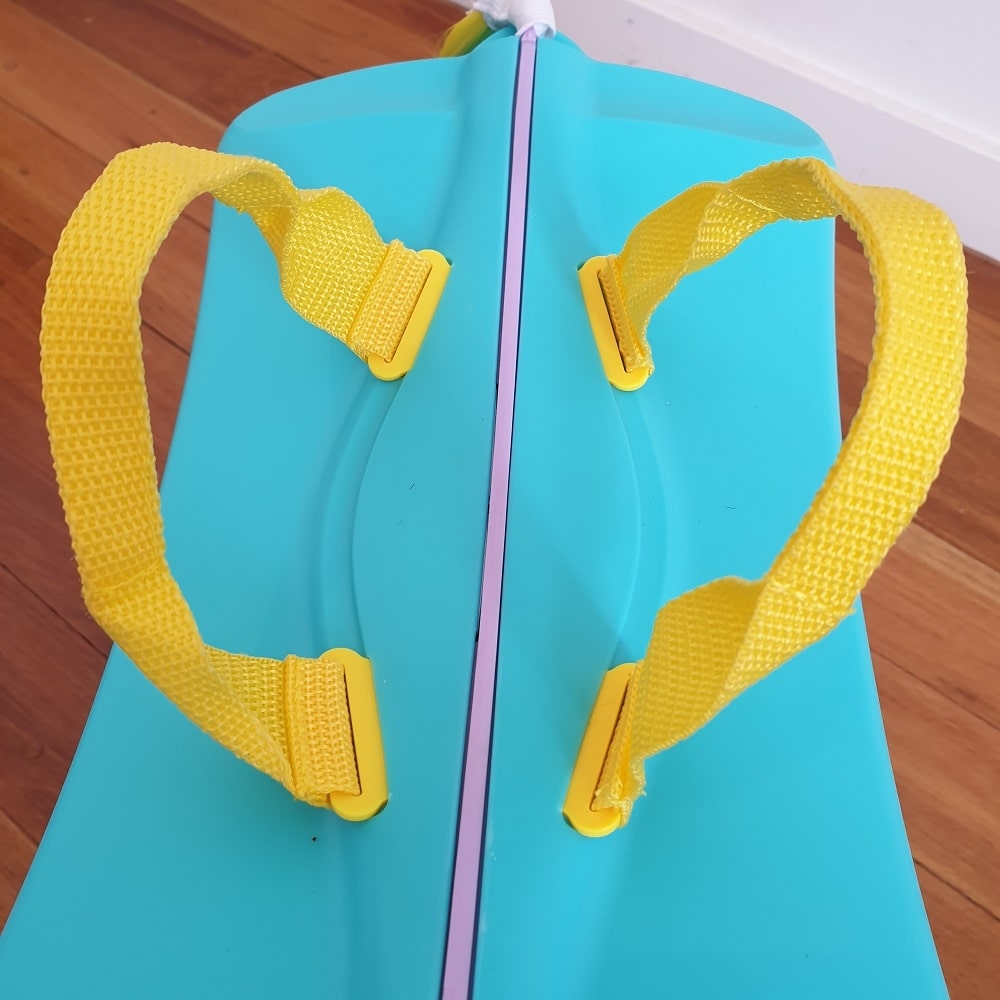 Does Trunki Fit Under Airplane Seat?
On long haul flights, you will just fit your Trunki under the seat in front of you. During domestic flights or on smaller planes you will have to place it in the overhead locker. It is so easy when you need to find a quick change of clothes not to have to rummage around at the bottom of a backpack!
Trunki Help & Support
Trunki offers a 5-year warranty on their cases with proof of purchase. Here are the details.
Our Opinion On The Trunki Case
Basically, the Trunki has made travel with our toddler so much easier. She is 3, so there are still moments when we have to carry her and the Trunki altogether! But overall, she really loves her Trunki case. It is so much better than having a backpack and I adore the way it converts from ride-on to tow, to over the shoulder. Its lightweight durability also gives it extra brownie points here. The fact that the designs are just so damn cute makes these hard to go past.
Trunki At A Glance
In my opinion, Trunkis are the best case for a 3-year old that we have found on the market so far.
I wish we had discovered them sooner when our other kids were a little bit smaller! But for now, I am so grateful that we will get the full benefit for our miss 3-year-old.
Join the Trunki Gang here and buy one today! Your little one will be thrilled and excited.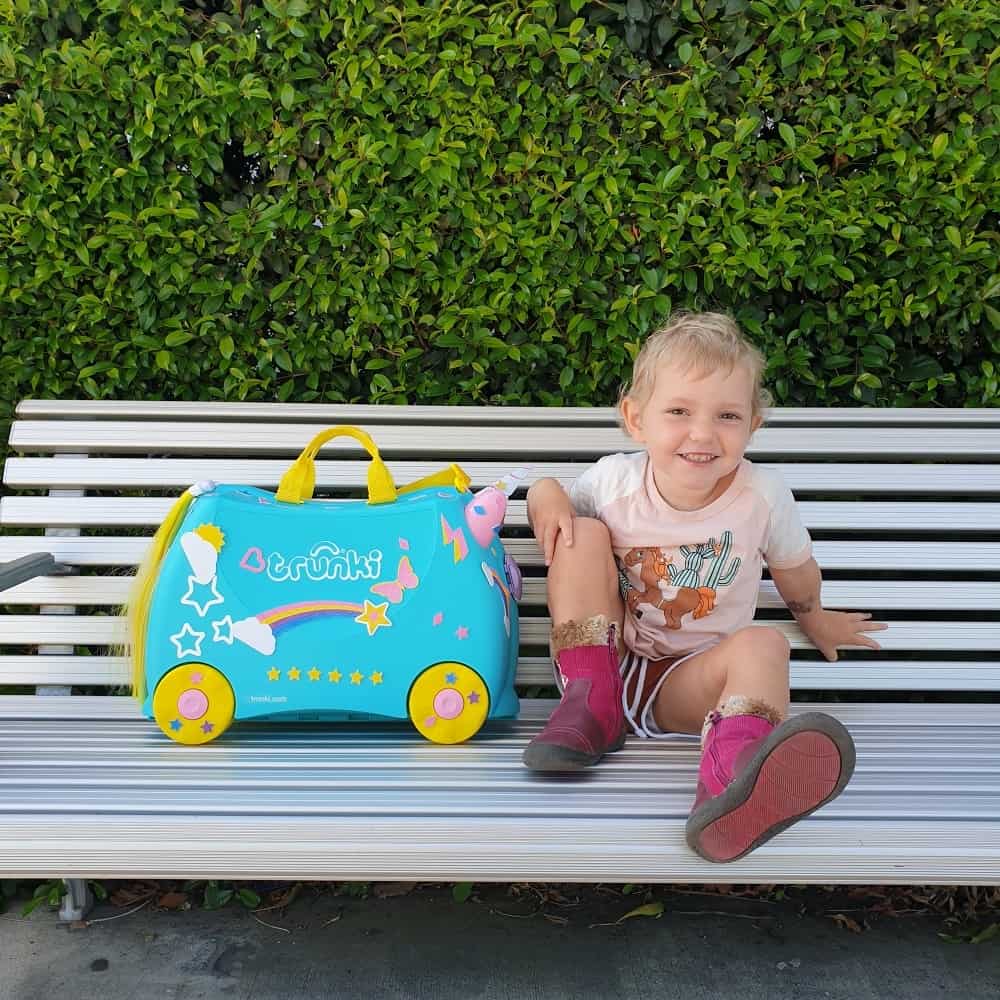 Other Bag Reviews include: