Majestic Mount Ninderry presides over Queensland's beautiful Sunshine Coast. It is visible from almost wherever you are along this stretch of gorgeous QLD coastline. We finally decided to scale this beauty on our weekend and ended up on a beautiful family adventure.
The Aboriginal Dreamtime Story of Mount Ninderry
This area is steeped in ancient aboriginal history and you can't help but feel the spiritual wonder of the place. Once belonging to the Kabi Kabi people, Ninderry was a fierce warrior who's wife was called Maroochy. However, Maroochy was swept off her feet by Ninderry's rival – Coolum. When Ninderry discovered his wife's betrayal, he chopped off Coolum's head in retaliation which landed in the ocean and became Old Woman Island. Maroochy was devastated and her endless tears formed the Maroochy River.
Where is Mount Ninderry?
Drive an hour or so north of Brisbane and aim for exit 215 on the Bruce Highway Yandina/Coolum. Head east towards Coolum and turn left at Collins Rd just after crossing the lush Maroochy River. Then it's an easy right at the T intersection following the signs and you just cruise up the windy road past some stunning properties up to the informal carpark.
From Coolum simply head west towards the highway along Coolum-Yandina Road. It will only take around 20 minutes from the coast.
Is the Track Suitable for Kids?
Yes! Our 3-year-old made it all the way up all by herself. The first part of the track is pretty smooth, and then it morphs into some fun steps up a steeper section before plateau-ing out at the top.
Parents of young kids just need to watch out for some unstable cliff edges around the lookouts.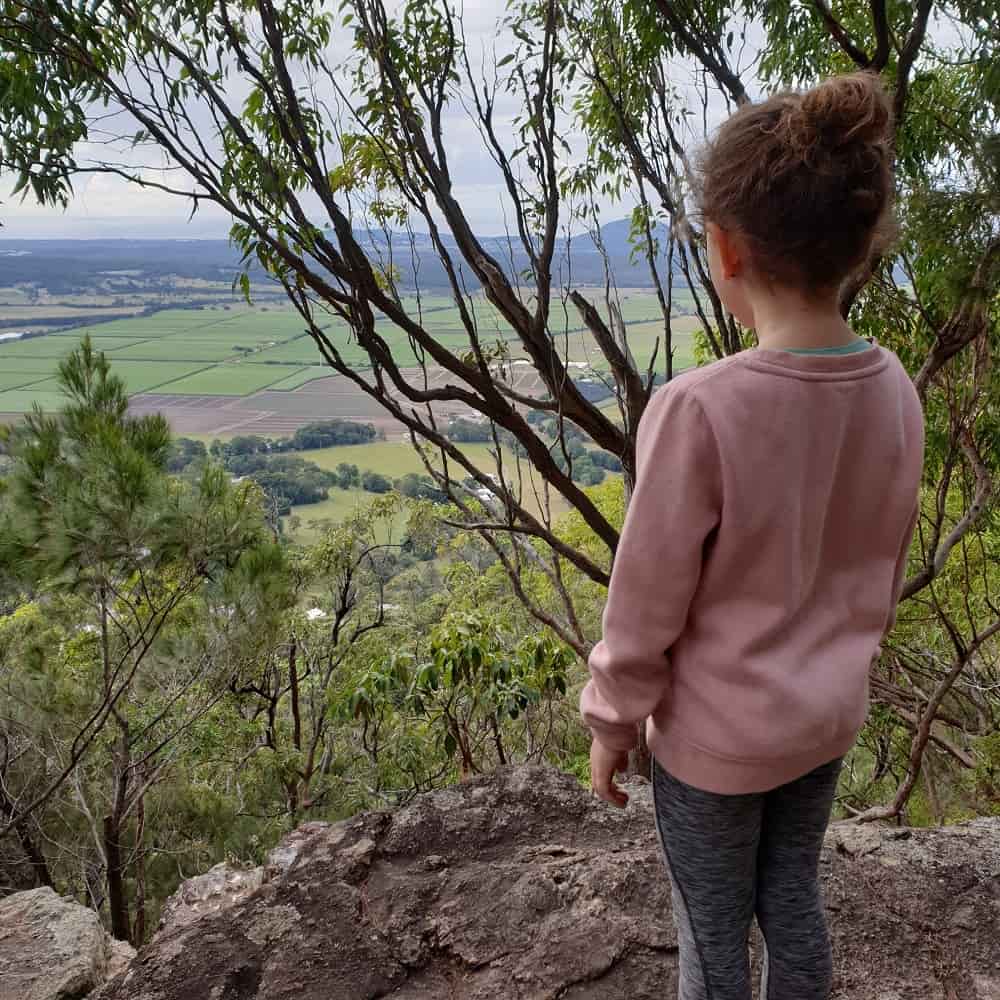 Who is Mt Ninderry Best Suited to?
Us! We are adventurous but also haven't been on a hike for ages. This one is not as hard and steep as Mt Coolum so was an easy re-introduction for our post-quarantine levels of mountain-climbing. Our family ranges in age from 3, 6, 8, 10 all the way up to 39 and 43 with a good level of fitness.
Are Dogs Allowed at Mt Ninderry?
Yes! Dogs on leashes are a familiar and much-loved sight along the track to the summit of Mount Ninderry. As with anywhere on the Sunshine Coast, please clean up after your fur-baby.
What Facilities are on Mount Ninderry?
The walking track and lookouts are well signposted. There is a rubbish bin and picnic table with shelter shed provided but there are no toilets. Parking is available up and down the driveway.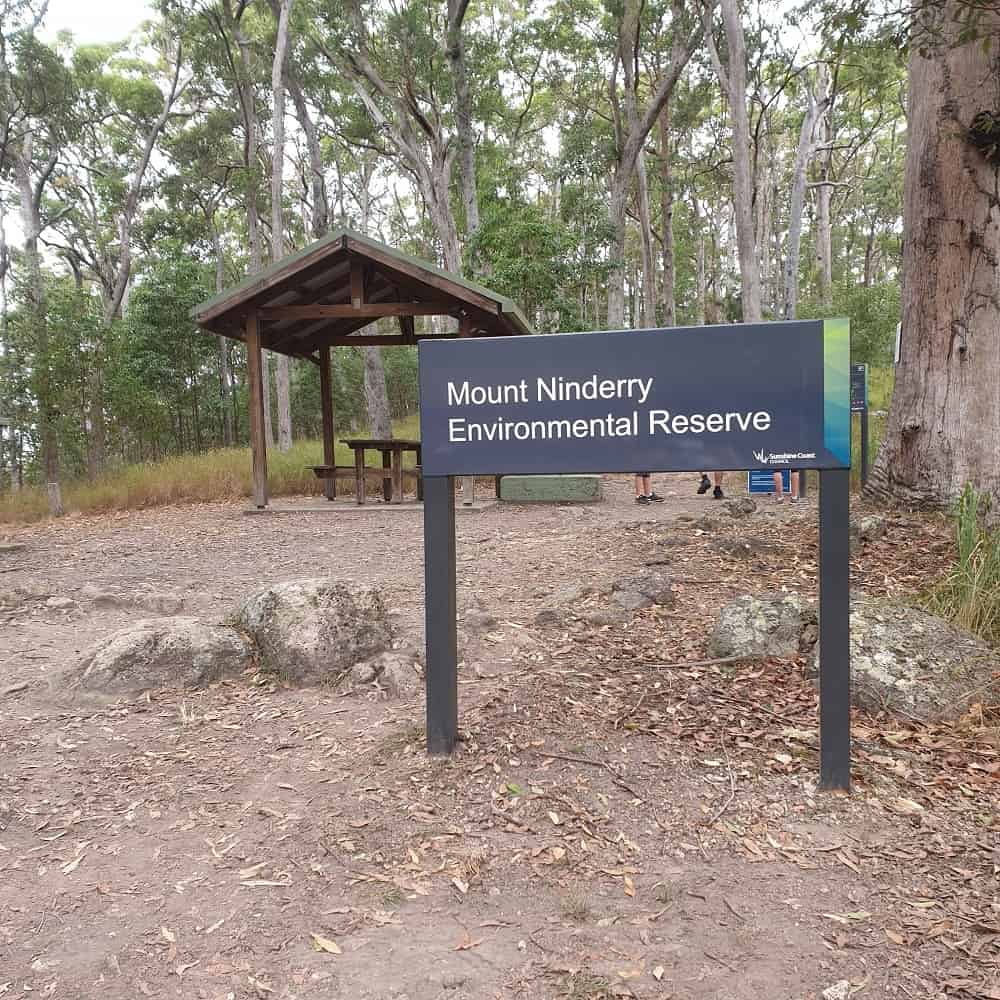 What is the Track Like up to The Summit?
The first 10 mins take you over gently undulating up and down hills through open forest. Then you spend some time ascending roughly hewn rocky steps to reach a wide plateau on the summit. The path is very well marked and trodden with dirt and rocks.
There are 3 lookouts in total. The first is halfway up on the East, then the path splits and there are 2 lookouts on the upper plateau. One overlooks the west, and the other to the east. It is a spectacular view of the hinterland, the coast and everything in between.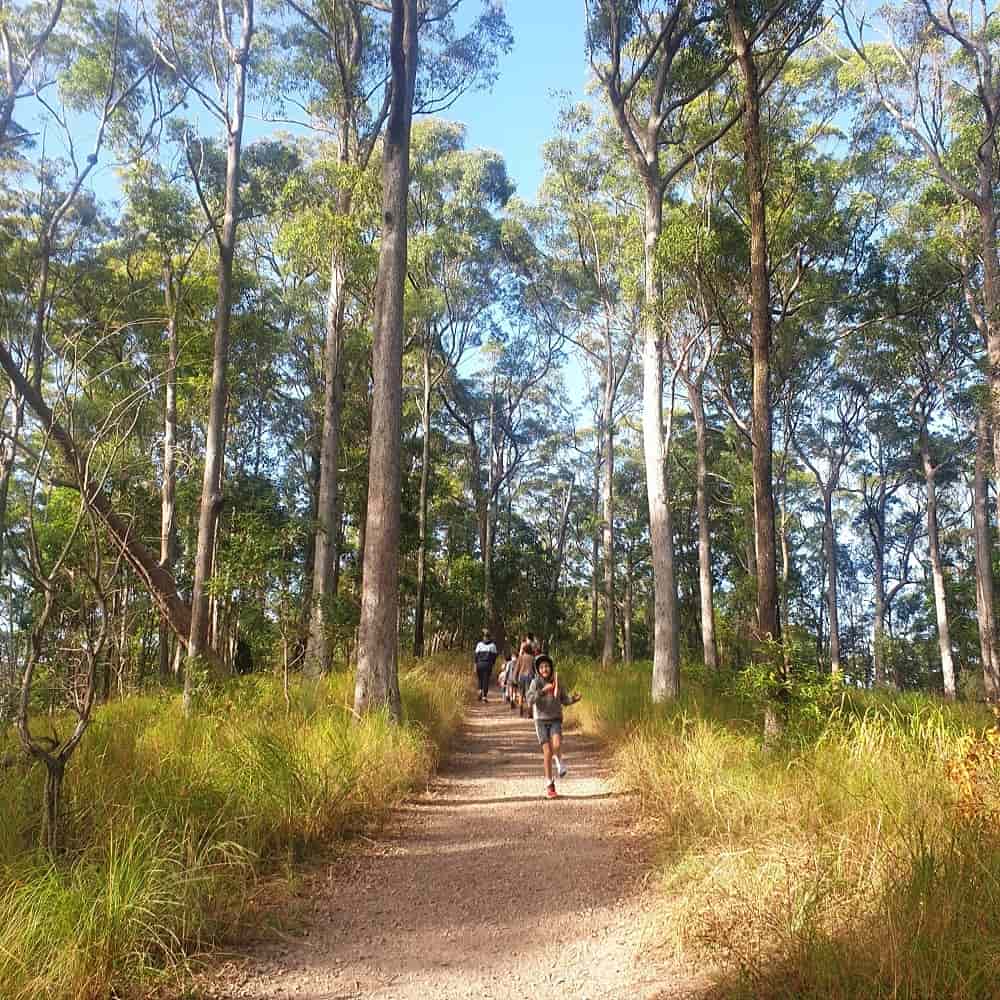 How Long Does the Mt Ninderry Hike Take?
With 4 kids in tow, our cruisey walk to the top lookout took only an hour with the descent only about 25 minutes.
What Else Can I Do Around Mt Ninderry?
Thankfully, Mt Ninderry is close to the absolutely fabulous Terella Brewing which is an amazing permaculture microbrewery in nearby North Arm. After your hike, it is a short drive to enjoy some freshly roasted and brewed Fine Fellow's Coffee or a newly tapped keg of magnificent craft beer. See our full review of Terella Brewing right here. They are open from 11 am most days.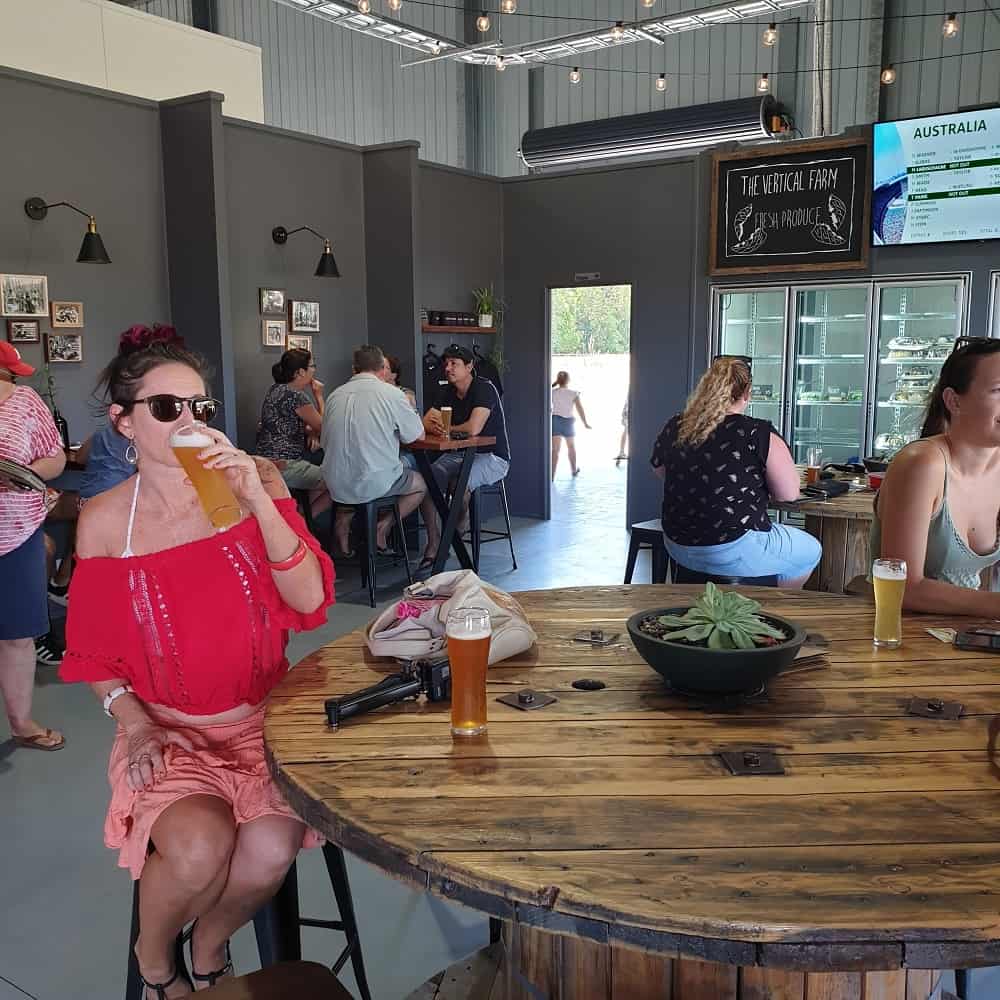 Nearby Coolum Beach is a fantastic place to stay and play for a few days. Find out more here.
Climbing Mt Ninderry – The Verdict
If you have a couple of hours to spare, a hike to the summit of Mount Ninderry is a refreshingly simple way to soak up the great outdoors. Suitable for almost all levels of fitness and all ages. Check it out and enjoy spectacular views from one of the Sunshine Coast's most recognisable and iconic landmarks.